With the decision made to get the trailer (if not done then at least) campable for the NorCal Casini Ranch Airstream Rally the third weekend in April, we prioritized the things that would make us the most comfortable.
Sleeping: In the 19' trailer, Ann had generously taken the position on the inside of the corner bed; The one where a slight nocturnal miscalculation would put your bare shoulder in contact with an aluminum wall so cold mothers tell their children not to touch their tongues to it. In light of the fact that she's "sleeping for two" at the moment and tended to look a lot like a turtle on its back when trying to get up from the bed, I graciously offered to switch sides with her so she could swing her legs out, and she graciously agreed to make another quilted bumper like we'd had in the 19' so I wouldn't get chilly. We secured a 12" tall, doubled-over piece of quilted fabric to the aluminum wall. One 5' roll of sticky back velcro and one 5' roll of  iron-on velcro allowed us to cover the approx 10' of wall if we alternated hook and loop sections.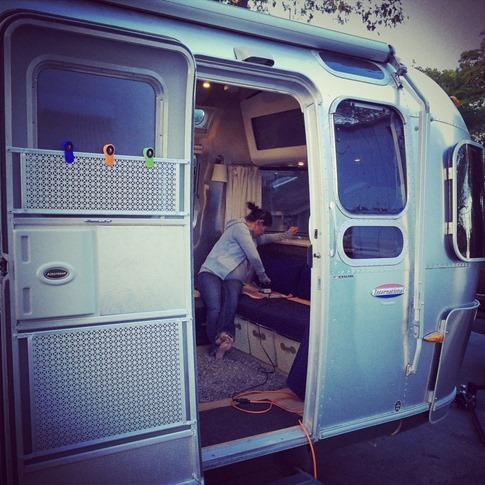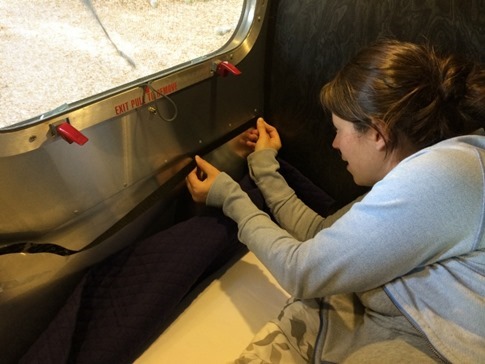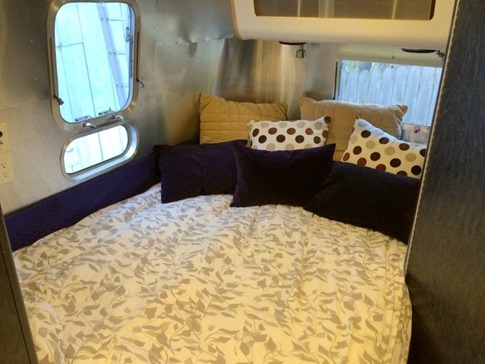 We actually got the idea later to add a few pockets into this bumper for things like phones, chapstick, earplugs, etc.
And for the sleeping toddler, we mounted one of our IP cameras for a baby monitor that connects to our internal network. One cool thing I hadn't initially thought of is that the powerful antennas we'd installed on the batwing actually receive *and* broadcast, meaning that by hooking our internal router up to the directional antenna, we might be able to "throw" the signal of our baby monitor to our iPhones while we took a nearby evening stroll.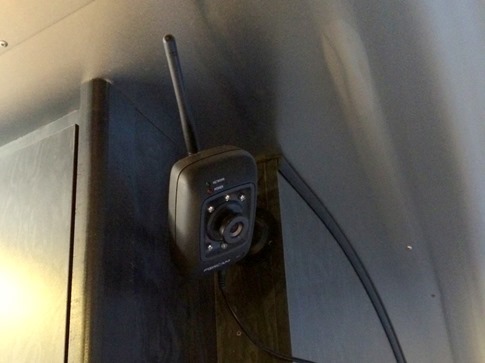 And the camera could also come in handy for some mommy and daddy time as well if ya know what I… WHAT? Who wrote that?! That's crass. In fact, we found that we had to unplug it whenever we were in bed 'cause it felt creepy otherwise.
We also got the divider curtain mounted with some snaps to keep it closed (or open). In hindsight, we may swap these out for magnets. The snaps require a little too much force to release and were starting to tear out when we used this curtain in our 19'.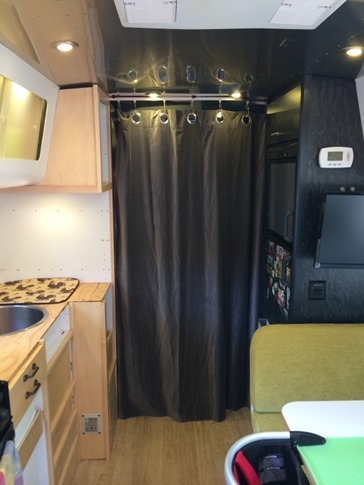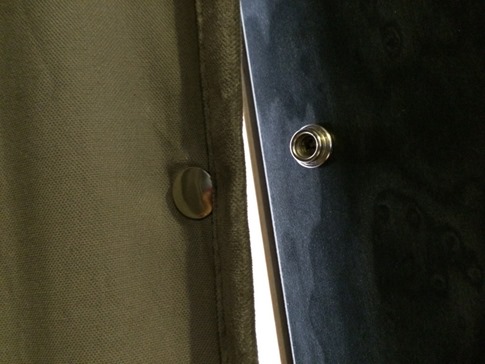 Eating: I did a rough installation of most of the drawers so we could bring a little food and some kitchen basics. In fact, I would have done more if on the last day I hadn't realized that the heavy duty full extension slides I'd bought for the long pantry drawers required a 3/4" clearance instead of the 1/2" of the medium duty slides I used for the other drawers. In reality, those were over-kill anyway, but unfortunately, the medium duty ones seem to be back ordered in the lengths we need. Oh well, we still had plenty of storage for the weekend and the two drawer fronts I installed gave an idea of the finished product.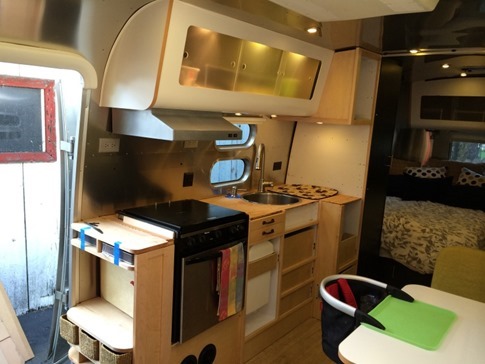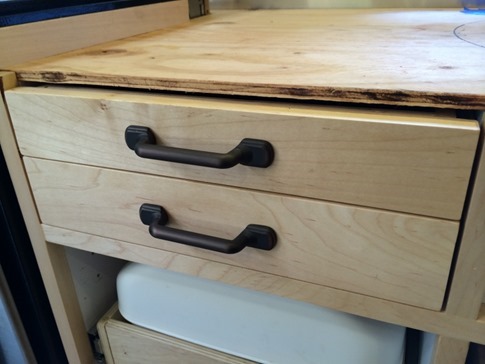 Relaxing: Gorilla eventually would get tired of lounging on the warm cement, so we were thrilled when we put in a last minute call to the upholsterers and found out that our new cushions for our lounge were ready to be picked up.
We love the way they turned out and how they fit with the sections that we'd already upholstered in the same fabric. One thing we're glad we did was having them built 4" deeper (front to back) than the stock cushions. Basically, the pull out bed "lives" extended 4" to support the extra depth, and the whole thing feels *much* more comfy. Oh yeah, they're also an inch thicker.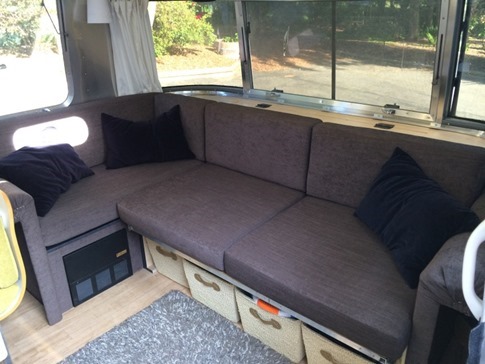 Riller can confirm that…  (she's the dark mass curled up on her blanket). The in cabinet lights are a pretty great way to set the mood…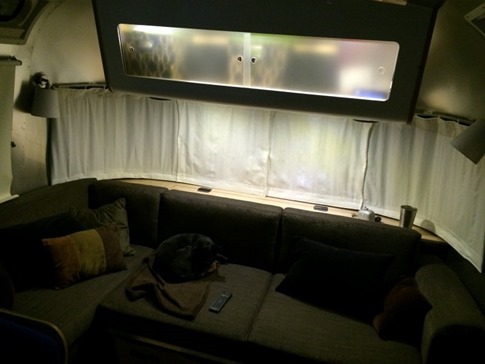 Also note the new mantle and storage access mounted behind the backrest. We've found that to be great for resting a drink while sitting on the couch. Also, we'll add a 1/2 strip in front and behind the baskets under the lounge to keep them in place. Actually, they didn't really even move much without them but look better all lined up.
And some "operational stuff": Starting fresh… We'd actually used the trailer for a few days at a time over the winter when our frozen pipes took out our well and when our septic system was on the fritz. As squeamish as some people might be about this process, I love this clear connector with a flush out for being sure the tank and hose are clean. The added quick-connect for the flush out is handy as well.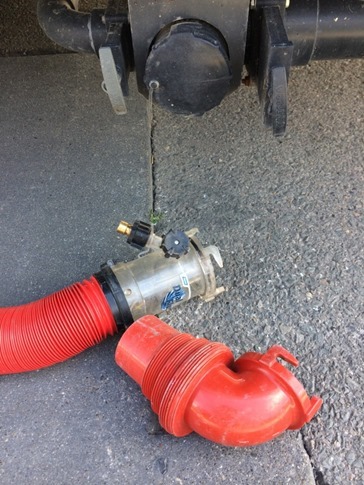 Trailer living appeals to me because of *fewer* household chores, and yet here I am, cleaning the gutters…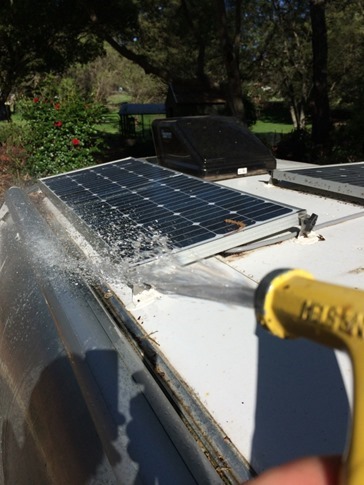 … and replacing the smoke detector (still had the original battery with the plastic on it) and the CO detector (expired 2010). Just replaced them with a couple from Home Depoot.
The final task was installing our new Equalizer weight distribution/sway control hitch since we'd hastily sold our old one to the guy who bought the 19' when the hitch he had turned out to have the wrong size ball. We would have had to upgrade a few components anyway for increased weight of the new trailer, so it all worked out. I ordered it from Amazon. Sorry, UPS guy, that package musta felt like a block of steel.
With that, we were on our way for the hour and fifteen minute drive out to the coast and up Highway 1 to Jenner. Of course, we'd been warned by the rally organizers about how "hard it would be to tow on this narrow, curvy section of coastal highway." In reality? Meh. Piece of cake compared to the Moki Dugway last May, but it was our first real tow test with the new F250 and everything felt great, including the engine braking in tow/haul mode when coming downhill into some of those turns. And, in case you were wondering, I *totally* knew the mirrors could be pulled out for a wider view while towing when we bought the truck and didn't just figure it out a couple minutes before we left.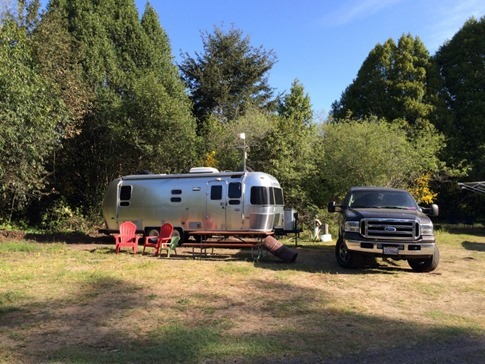 We pulled into Casini Ranch and found our site, a little removed from the group, but tucked into a nice bay of trees where I proceeded to pull a few rookie moves. First, I chocked, unhitched and put the stabilizers down before Ann-the-human-level had given her approval. So stabilizers up, hitched, unchocked and backed onto some blocks under the right wheels. All better, so I chocked, unhitched and put stabilizers down. What's that red light on the Micro-Pulse showing a full black tank? How could that be after I just dumped yesterday? Oh well, stabilizers up, hitched, unchocked and a short drive over to the dump where of course I found the tanks to be empty but the sensor reading wrong. Guess we'll have to go "visual." Backed in, chocked, unhitched, stablizers down. Sit back and enjoy the show, folks…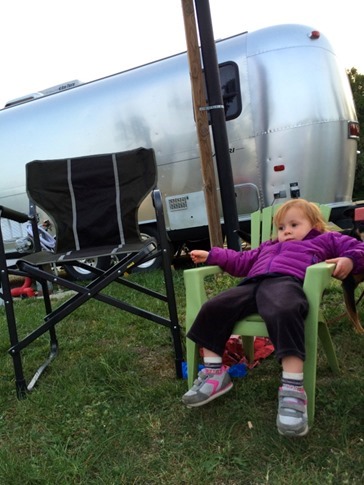 Now, were was that happy hour?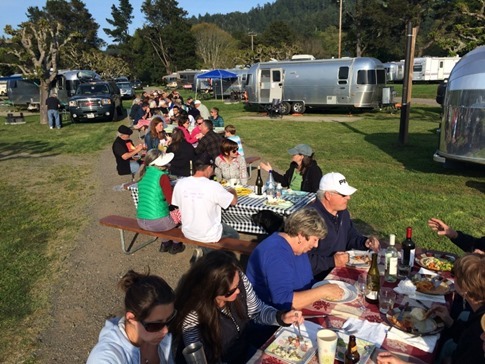 As usual, nice folks all around and convenient to have something obvious like our excellent taste in trailers as a conversation starter. Oddly enough, I didn't really have much interest in peeking inside other people's trailers. I think there's a difference between "camping" trailers, filled with red-checked table cloths and fixin's for s'mores or extra water and furry bikes for Burning Man, and extended travel/lifestyle trailers. After our last couple trips, we really tend to think of our trailer as more of a "tiny house," just one we can move from place to place. We want it to be comfy, warm, and homey, to represent us and our aesthetic, and be outfitted it with the things we need to enjoy an open-ended period of time on the road. In fact, we've commented that we likely wouldn't even take it on some "camping" weekends, and instead choose to expose the kids to tent camping and backpacking. [Pretentious mode: OFF]
NOTE 5/7/2014: I'd been thinking I hadn't written my thoughts very well above and then Doug from Troutstream called me out on it in a comment. I tried to clarify what I meant in a response. See below in the comments section.
The next morning, the campground offered an Easter Egg hunt. Well, more like an Easter Egg free-for-all. There was about a 2-to-1 kid-to-egg ratio, but our little scrapper didn't leave empty handed, just a little miffed.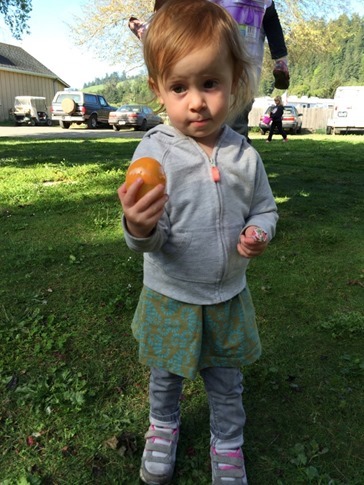 We also met a nice family from the East Bay with two twin daughters about nine. Whenever we'd swing by their site, Wynne would disappear into their trailer for minutes at a time, emerging from each exploration with a new Beanie Baby. While some of our favorite traveling friends are "non-breeders," it sure can be nice to have some kids around to absorb some of that energy. We've been in touch with them since about meeting up again.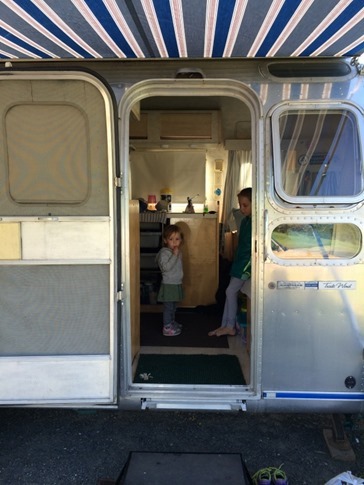 Both nights, we left the campfires a little earlier than the rest to put Wynne to sleep. She seemed to remember the process well from other nights in the trailer, and after helping to close the shades, went right to sleep.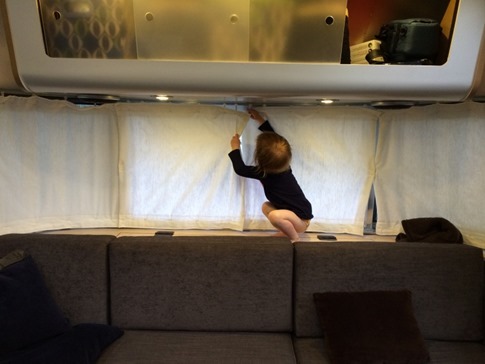 The only difference was that when we were ready to turn in, instead of levitating her porta crib off our bed and onto the floor, we dropped the dinette table and set the crib up there. While it was great to have the aisle open, we hadn't considered that dropping the dinette would result in an extreme loss of headroom for Gorilla in her bed. Turns out, she couldn't have been happier with her heat trapping cave.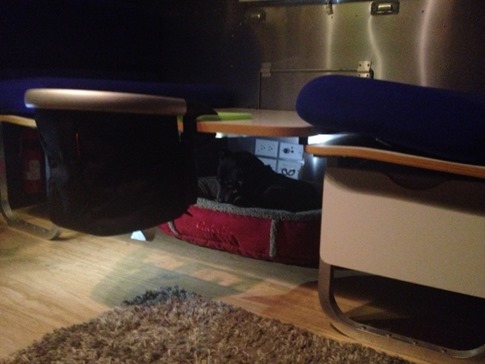 Our impressions from our first few days in the new trailer are that it's a completely different feel than our 19'. While we loved the ability to squeeze the 19' into a two tandem parking spots at a grocery store or a campsite meant for a tents and two cars, the interior of the 25' is just so much more spacious and bright. Between the skylight, vistaview windows and tons of side windows, the mornings were just kinda glorious in there.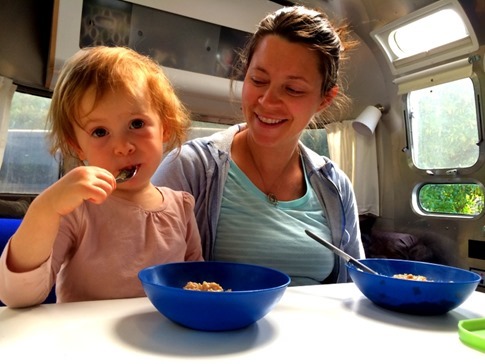 May have had something to do with this too… #hyperlocalbacon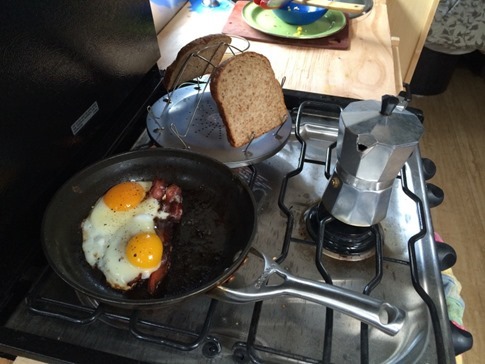 And there was plenty of room for some naked running around. Even Wynne got into the act…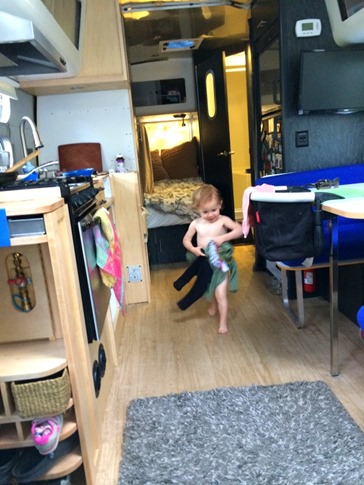 The scenery down by the Russian (not "rushing") River wasn't bad either.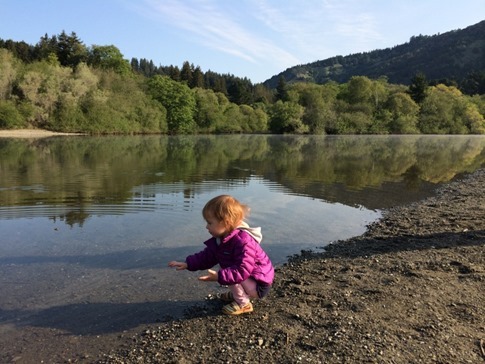 At the end of the rally, we said a few goodbyes, talked a bit to our new friends about setting up a family camping area next year, waited in line at the dump station and headed out. I'd say we were less than 2 minutes down the road before Ann said, "I mean, is there any reason we really have to go home?" We did a quick mental schedule check and couldn't come up with one. I commented that it couldn't hurt to just pull into the Wright's Beach Campground in the Sonoma Coast State Park and see if they had any space. It was Easter Sunday, but maybe everyone would be heading home. A cancellation this morning? On a beachfront site that usually needs to be reserved 6 months in advance and even then, good luck? Why yes, we'll take it!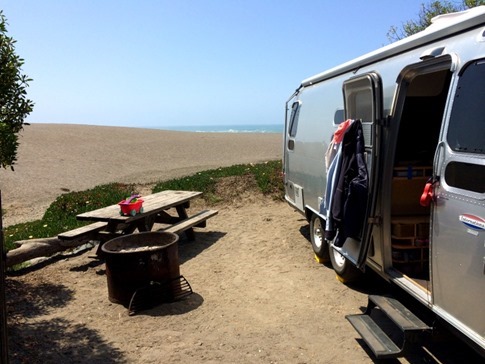 That's us, on the left.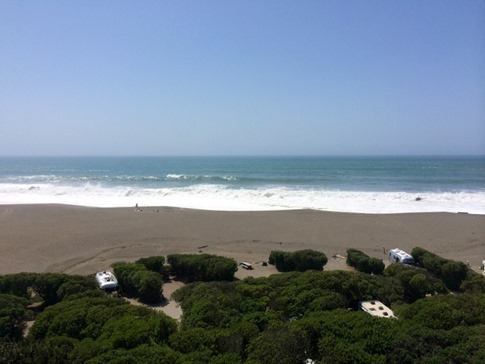 Just a stunning spot. Wynne wasted no time in making clear her intentions of breaking in the her new wagon and sand toys, reminding us of a similar picture (below) of her with a wagon "borrowed" from the MaliMish kids in Kelowna, BC last Fall.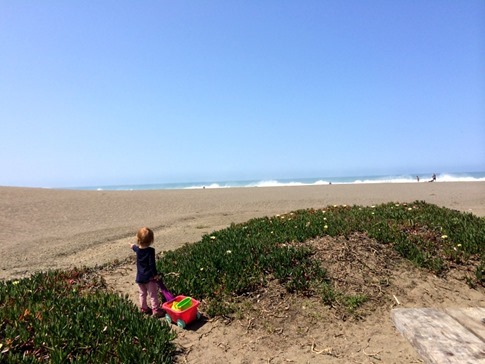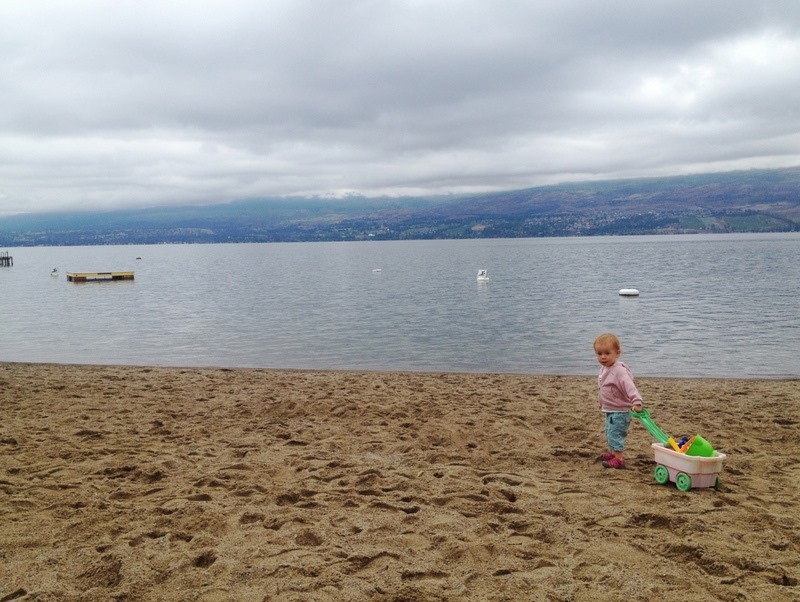 I got our new telescoping ladder out and tilted one of the solar panels just to see what we could get.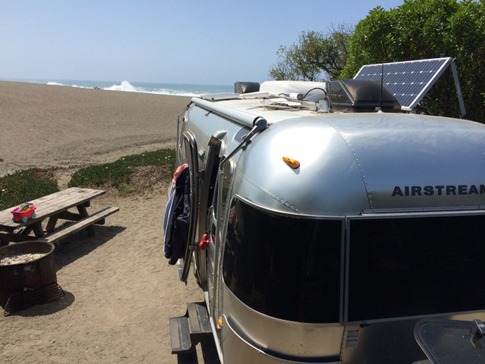 When spec'ing the solar and battery system, I'd projected that we might average about 2.5 amps/hour in the new trailer with daytime use being lower and nighttime use with the furnace being higher.
We'd arrived around noon, turned on a few fans and put Wynne down for her nap. At 11 pm, after making dinner, turning on some lights and listening to an episode of This American Life through the radio beamed from Ann's iPhone since we'd neglected to bring any other entertainment, the BlueSky remote monitor was showing the batteries at 11 amp/hours from full. Of course, the solar would have had no problem keeping up with our usage and float-charging the batteries until say 5 pm or so, meaning we'd used those 11 amp/hours from 6-11pm, an average of about 2.2 amps/hour.
When we woke up that morning, the BlueSky showed 44 amp/hours from full; 33 amp/hours had been used over 8 hours which averaged out to just over 4 amps/hour. So far, it's seeming like my projections are about right when you average in maybe 1 amp/hour running fans for 8 hours in the daytime, 2.2 amps/hour running lights and radio/TV for 5 hours in the evening, and 4 amps/hour running the furnace for 11 hours at night.
8 amp/hours + 11 amp/hours + 44 amp/hours = 63/25 hours = 2.625 amps/hour avg
And even better, when I checked the BlueSky after the full sun hit the panels in the morning, I had to call the whole family around to see. Oh Clark, it's beautiful!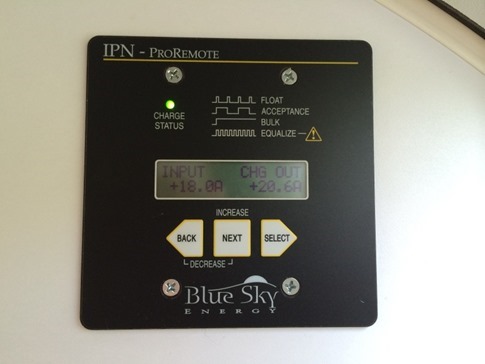 With over 20 amps coming in, we'd be full in just over 2 hours!