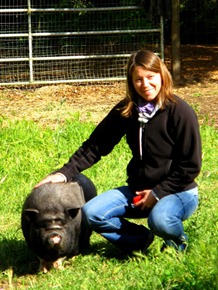 In April of 2011, we returned from a
5 month and 10,000 mile honeymoon drive from San Francisco to Panama
. For us, travel is a way to reflect on our lives at home and gather new experiences and ideas. We returned from Central America craving open space and an environment in which we could feel connected to what we do, where we live, and what we eat. We decided to continue renting out our house in San Francisco and to buy a small 4 acre farm nearby where we could start our next adventure. Below are posts from our life on the Farmlet including having two children and and learning to live a little closer to the land.
Note: As of around May of 2013, you may detect that we've once again been struck by a slight case of wanderlust, this time taking to the road first in a 19' Airstream trailer and then in a 25' trailer we've modified to suit our family of four. For now, the birth of our second daughter, Mae, is what I'm currently marking as the end of "The Farmlet Era." Now, that doesn't mean we won't be back, but for the purposes of flow on the blog, click through to the
Airstream Adventures
to see what life has been like away from the Farmlet and traveling in the Airstream.