A 10:00 am departure was set for the caravan on Sunday morning, and as that time approached, each trailer's residents were going about the familiar routine of hitching up. The great thing about traveling with a group like this is that everyone knows exactly what it takes to get their particular operation on the road by a specific time. In our case, Ann straightens up the inside of the trailer and organizes the car before her last check to make sure the water heater, pump and furnace thermostat are off and the Fantastic Fan vents and the windows are closed. Meanwhile, I'll put away the solar panel, crank up the stabilizers, lift the trailer tongue using the electric jack so I can back the truck underneath it. We've tried developing hand signals and considered walkie talkies to assist with lining the ball up with the tongue, but in the end, I can usually get it myself by about the third try and having our own defined tasks seems to help with marital harmony. Once the tongue is lowered onto the ball, the latch is closed and the electric jack is again used to unweight the truck enough to fit the heavy steel bars of the weight distribution and anti-sway in place. With four clevis pins to secure everything, the trailer can be lowered, and we're ready to go. Oh crap, I think I just ran over the wheel chocks…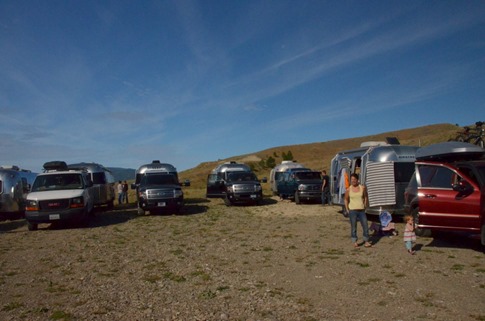 Within the group, we had enough walkie talkies for everyone to have one, and with walkie talkies come handles. "Radio check. Radio check. This is the Short Bus. We've got all pupils loaded and are ready to roll, over."
We were all a bit giddy crawling in a long silver line down the dirt road leading from Brian and Leigh's property. It was hard to believe that this was actually happening after weeks of traveling to get here and weeks of planning beforehand. Ann and I just kept looking back and forth at each other from the front seats, smiles plastered to our faces. While we'd only be traveling with the group for about a week, our departure reminded me a little of the way we felt driving across the Golden Gate Bridge as we left home for an open ended drive south on the Pan American Highway. Watch a little video we made that day if you're interested.
At the front of the line, Laura from Riveted popped up out of the sunroof of their chrome-trimmed, black F150 and snapped away like she was being chased by a herd of gray elephants on the Serengeti. Check Laura's great post on our caravans first day including some border pics at Eight Airstreams from Aluminogan to Kelowna.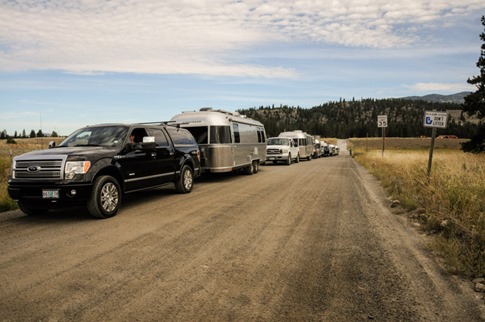 At the bottom of the hill, we all lined up at the stop sign for more photos. John from The Democratic Travelers struck his trademark "Am I taking a picture or absorbing the adoring applause of the crowd from the stage at Madison Square Garden?" pose on the top of their truck. Thankfully, his girlfriend Laura has started a soon-to-be-trending hashtag of these poses @ #myboyfriendthephotographer.
As we approached the border at Oroville, a few people stopped to fill up on gas, but we opted to continue on our own while Wynne was sleeping in the car seat. When we got up the window, I handed the officer our passports (read the post on getting Wynne's passport and the rejected pics) and whispered that we had a sleeping baby. She nodded understandingly and fed us a few routine questions - "The trailer and vehicle are registered in your name, right?" "You're the biological parents of the little one, right?" "You don't have any weapons with you, right?" – and then waved us through. We wondered how well the "sleeping baby" approach would have worked on the eight border crossings we did in Central America.
I think we had an advantage coming through before everyone else because two of the later trailers were pulled aside for a thorough search. Then again, one of them had two weapons that they'd been told they could bring across with the right paperwork and the other, well, had a driver who looked like he was "one neck tattoo away from…"
After meeting Leigh and Brian (Aluminarium) on the east side of the Sierras in May and being invited along on this caravan, we'd told them we really weren't sure we'd be ready to head back out on the road at the end of the summer. After all, we'd only been in the trailer a few days at that point and didn't even know how we'd feel at the end of the 5 week trip we had planned. Still, we wrote the word "BANFF" in big letters on the chalkboard front of the fridge and looked at it every day for about a week until… I mean, it wouldn't hurt to just book the campsites with the group and then cancel later, right? The first site we booked was the West Bay Beach Resort in Kelowna, BC.
This is not exactly what I'd been picturing when thinking about our trip to Canada…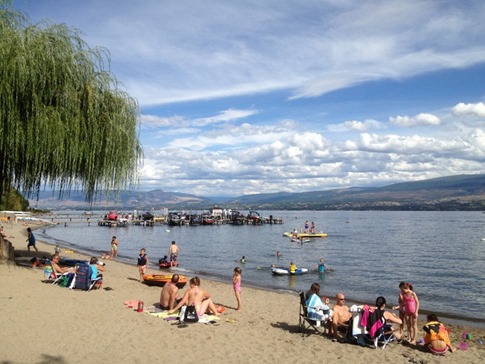 But Wynne, the MaliMish kids and Jack Works quickly adjusted to the circumstances and headed for the beach.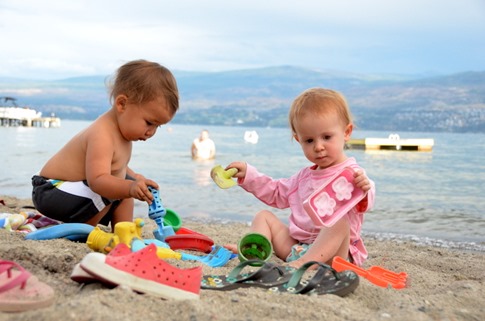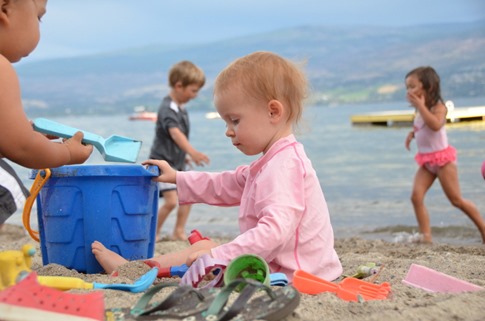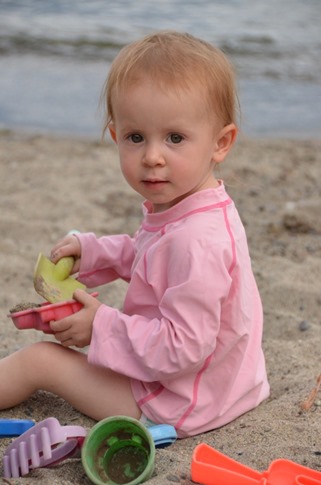 We filled an entire section of the campground with our aluminum army although unfortunately, John and Laura (The Democratic Travelers) were told their 34 footer wouldn't fit. We eventually convinced the management that we didn't mind them squeezing in but they claimed there was some rule about not having dogs (contrary to what he'll tell you, Bulliet is in fact a dog) in the spot we could fit them in. So it ended up just being the seven trailers at West Bay with the dog owners along one side and the rest on the other. Interesting factoid: We were the only trailer with both a dog and a kid. Actually, scratch the interesting part. Just a factoid.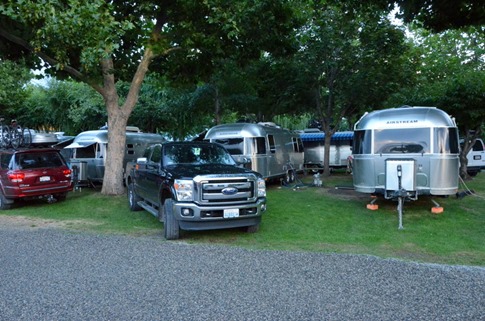 A few of the non-breeders went wine tasting in Kelowna's well-known wineries, some only minutes from the campground. I took the opportunity to fill the truck with gas and get some groceries while Ann and Wynne hit the beach. Within about 10 minutes, I'd managed to get both our credit cards frozen, including the one that had just coincidentally sent me an email letting me know that I no longer had to let them know before I traveled out of the country. After a couple expensive calls to 800 numbers, I had it all straightened out and was able to put 53 of whatever unit of measurement was costing me 132.6 Canadian cents each into the truck and restock the fridge and pantry.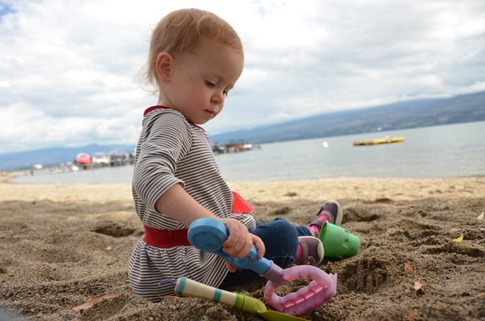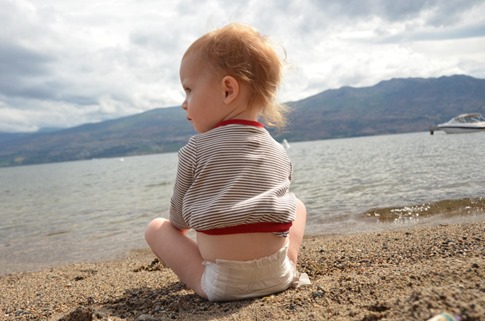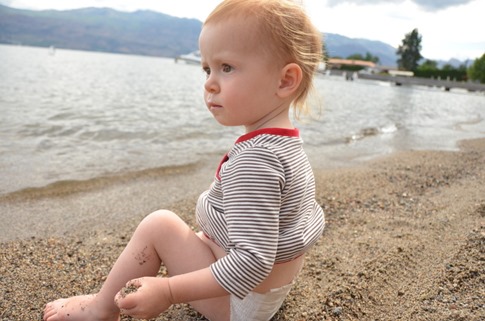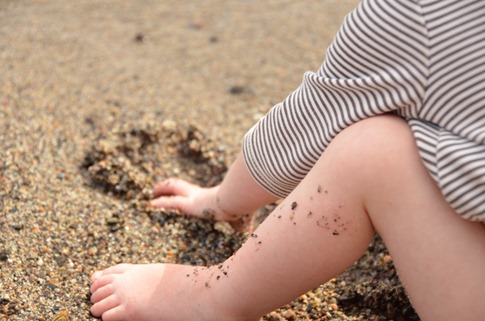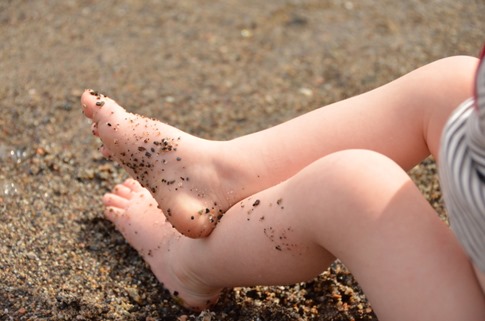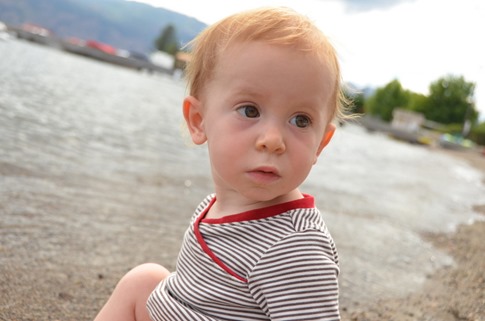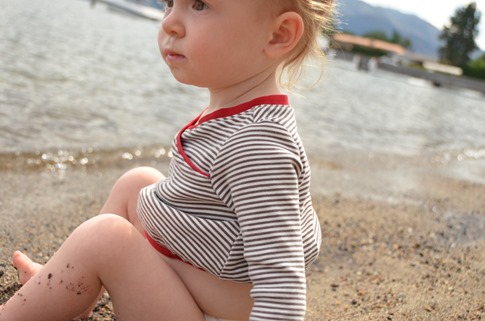 In the afternoon, we took a run as dark clouds formed overhead and returned a bit wet but able (as we ever are with a 20 month old) to do some situps and pushups.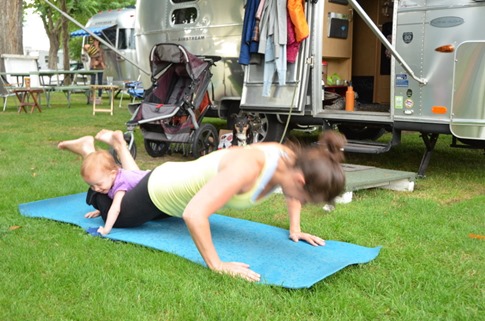 Rain was as good an excuse as we needed to indulge Wynne in a "melmo," her name for all shows whether or not they actually feature Elmo, on the bed.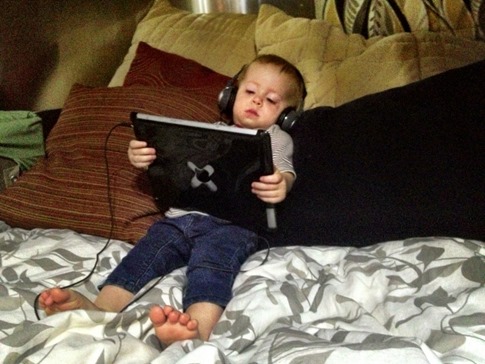 Evenings have been great. Everyone just steps out their front door for the cocktail party, especially on Monday night for Brian's 40th birthday.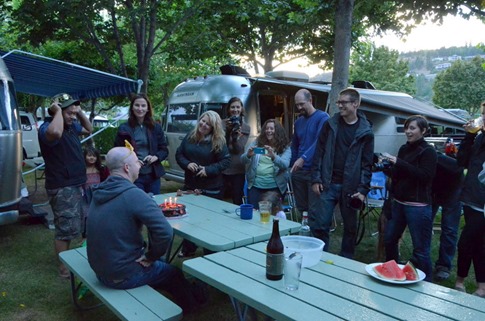 Marlene keeping an eye on Luka while Dan (MaliMish) ponders which songs we're going to work on with John tonight at "band practice."
Kevin and Laura (Riveted) demonstrating the finest in mobile patio furniture in front of the 1337Stream.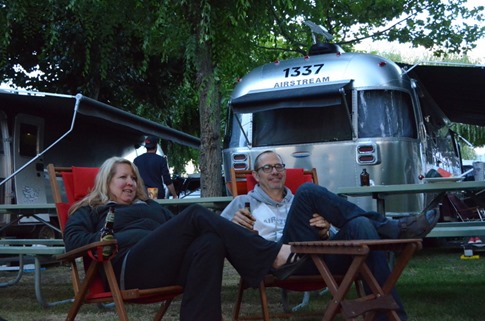 Tim and Amanda (Watsons Wander) in front of the "The Mish."
The next morning was a travel day, but I'm not sure Wynne was ready to leave. She woke up with her usual "Babies? Babies?" wanting to go see Ava and Mila but seemed content to just commandeer their wagon full of sand toys and squeeze in one more session on the beach before heading to the mountains.