Last winter, we started thinking about taking a longer trip in our 19' Airstream trailer. We'd owned it for about a year but, at that time, had only used it for a few short road trips and long weekends at music festivals. While searching for info on modifications for boondocking (camping without water, sewer or power connections), families on the road with kids and just neat places to go and adding the word "Airstream" to the query, we came across the blogs of several of the people we'd be meeting this weekend for a caravan up to Banff. After happening to cross paths with one of them, Leigh and Brian from Aluminarium, on the east side of the Sierras on that trip in May, we'd been invited to join the group. All we had to do was make it to a piece of property owned by Leigh and Brian in the Okanagan region of northern Washington on August 23rd and have the right color trailer. After all, this little gathering of aluminum trailers was called to be called Aluminogan.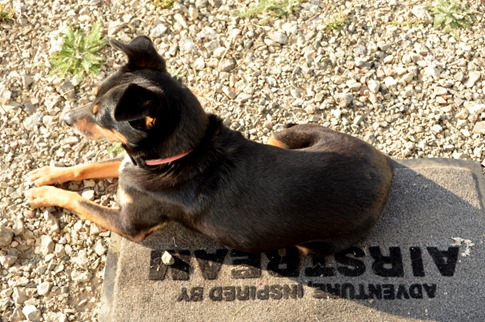 We'd been heading north through Northern California, Oregon and up to Seattle for a couple weeks, and after a short return home, we were back in the trailer and nearing the rendezvous point. A few weeks earlier, I'd found it on a map and realized it was pretty close to where a friend of mine from college had opened up a brewery and restaurant and suggested Brian and Leigh stop in. I neglected to mention that I hadn't seen him since college and had to look twice at the picture they texted me with the caption "This the guy??"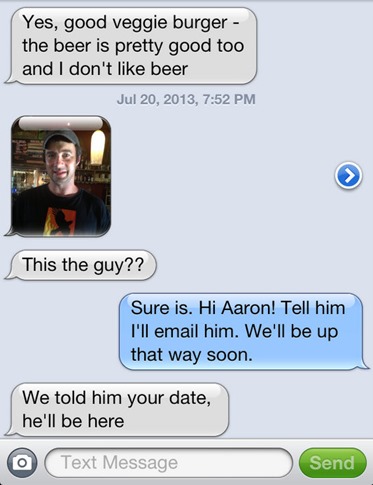 Let me back up. Sitting on our deck at the Farmlet about a month ago across from John and Laura who were road tripping across the US in a 34' triple axle Airstream trailer they'd borrowed from John's mom and taking suggestions for where to go on their web site The Democratic Travelers (another connection made through social media), I had mentioned that a group of Airstreams was caravanning to Banff at the end of the summer. While Ann and I were still on the fence at the time, I ribbed John, a professional photographer, that the Canadian Rockies weren't particularly photogenic, the jagged peaks capped with crisp white glaciers and bright blue mineral-rich waters not particularly striking, and they probably shouldn't go. Well, it turns out neither of us could resist the draw, and now we were planning on meeting up in Winthrop, WA to check out my friend's brewery and drive the final leg before the caravan.
After an evening of beer tasting and a one-stop-pub-crawl of the town of Winthrop that involved shots for John's birthday and a final ill-advised latenight IPA (while his age still started with a 2, that had not been the case for me for over a decade), we were finally actually on our way to this meetup that had taken quite a lot of logistical scrambling to make happen. Dust rose behind us as we wound up the gravel road following the final directions we'd been emailed. I'll admit I had my doubts when John swung the 34' footer 90 degrees towards the sloped dirt road road at the sign with the property numbers, and I cringed a little as a saw the back bumper of the trailer just miss as their "vintage" dually double cab long bed made the climb. At the top of a loose section of road, we came around a turn to find a level parking area already filling with silver trailers.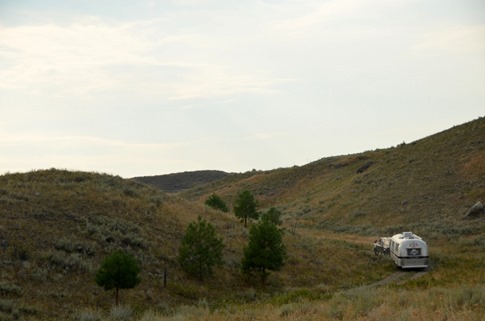 Eight trailers in all were expected for this first weekend. Since we'd found them all online – in fact, we later learned that one of them has been asked to write an article for "Airstream Life" about the power of blogs and social media to connect travelers – I thought I'd introduce each of them through their blogs and some of the fantastic posts and pictures they produced over the weekend. As an added bonus to this approach, I won't have to write as much and can justify blatantly stealing their pictures…
First, our hosts, Brian and Leigh from Aluminarium. I gave Leigh her fair share of crap for emailing out a PDF with a parking diagram on which they'd calculated precisely where each trailer would fit like an elaborate aluminum Tetris game. Of course, this only shows how excited they were to have everyone up to their place, old friends and new, and for that, we're incredibly grateful. We're also grateful for tons of info on free (or nearly free) camping spots, all with cellular reception to enable them to live and work from their trailer fulltime, and delicious vegetarian recipes on their blog.
Leigh took this funny shot of our arrival. No pressure, just 14 people who live and travel full time watching me back our trailer into our assigned spot.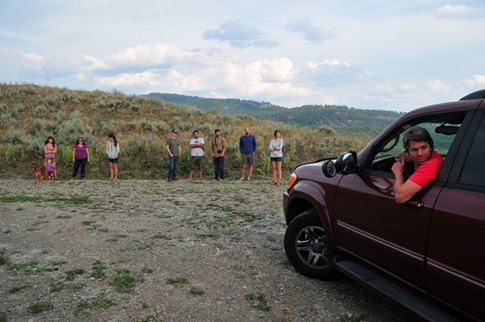 Leigh and Brian's attention to detail runs the gamut from parking diagrams to Bloody Mary's…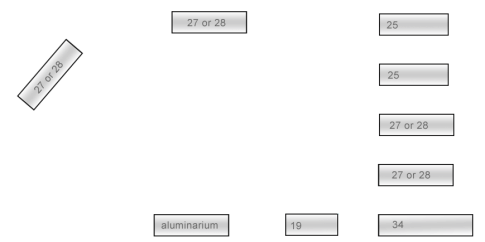 Check out Leigh's posts from the first couple days at Airstream Arrivals and 2nd Annual Aluminogan.
We'd met Laura and Kevin from Riveted just over a week before while coming through their home base of Portland. After seeing pictures of their recent flight down to Disneyland (they are both private pilots) in their sleek Cirrus (the plane that has it's own parachute), I can't say we were too surprised to see one of Kevin's iPhone-guided remote control helicopters hovering overhead shooting some amazing aerial pictures of the gathering. In addition to some of his great footage of freighters on the Columbia River, their blog also has lots of beautiful pictures by Laura (yes, another professional photographer on the trip) and reviews of tons of stylish and functional gadgets for the Airstream lifestyle. Check out their posts from the weekend at Aluminogan! and Aluminogan Day Two.
Kevin's view from above with the veloci-copter (my name for it) and a great shot of us in front of the trailer at sunset by Laura.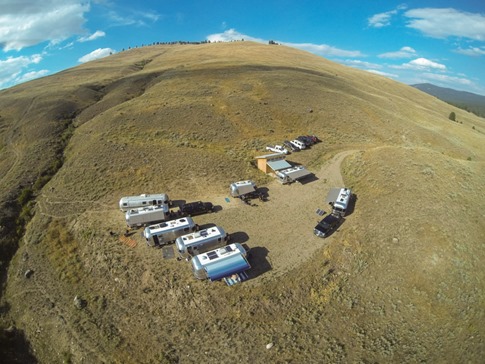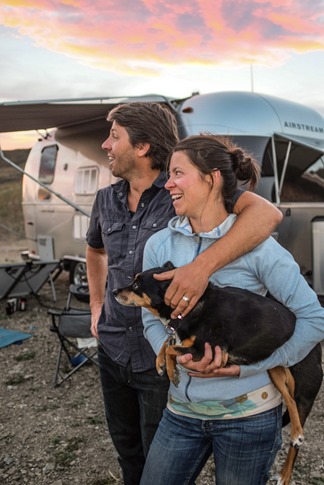 Tiffani and Deke from Weaselmouth we only knew from the great ideas we stole from their blog – chalkboard fridge front, new curtains, and a few others. They pulled in a little later than the others after a straight push from an RV park just north of Seattle where they'd been working. While they're living full time in the Airstream, they need to stay close to Redmond for Deke's job at Microsoft. But don't get a picture of a Bill Gates clone in your head quite yet. As Deke himself would put it, with his buzzed hair and thick tuft of beard on his chin, he can look like he's "one neck tattoo away from the guy who's gonna shiv you in the gut if he sees you in the yard." Almost before their F250 pulling their 25 foot trailer rolled to a stop, he'd set up the Traeger grill and was misting a wood smoked pork shoulder with a spray bottle of secret marinade. Klassy.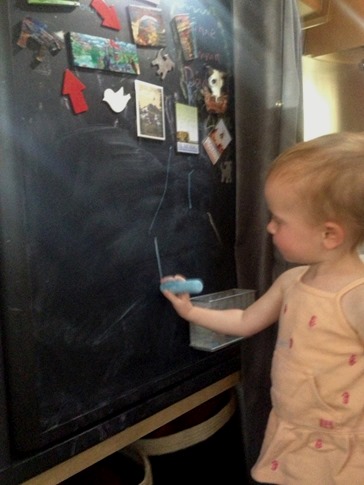 Tim and Amanda from Watsons Wander were another couple we'd actually met. We'd emailed Amanda before our Southwest trip after finding great details on hikes in Zion on their blog and asked some questions about what they did with their dog Phineas when they were off hiking (shady spots and Fantastic Fans). When we realized we'd be crossing paths in the Southwest, we met up for a night perched on the edge of the Goosenecks in Colorado and collaborated on a great dinner of our ground pork and Amanda's homemade shepherd's pie. Amanda also has a cooking blog at http://www.thinlyslicedcucumber.com/.
Tim and Amanda's trailer. Pretty homey.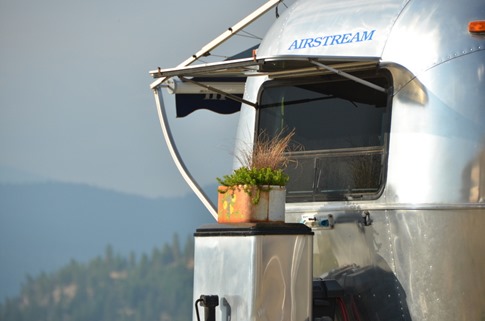 And on the edge of Goosenecks in May…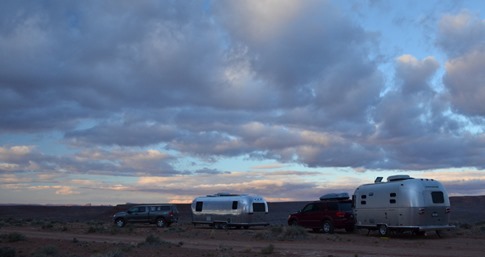 We came across the MaliMish blog when searching for families living on the road. Dan, Marlene, Eva, Mila and Luka all live in a 25 foot trailer as they travel around the country. The girls are homeschooled – oh, right, "roadschooled" – and are sharp, active and friendly as can be. Mila and Eva were great with Wynne who was happy just as long as she could watch these big girls move around her. The next morning after arriving at Aluminogan, she woke up saying "Babies? Babies?" and pointing towards the MaliMish trailer. Luka and Wynne? They'll be tight but for now are still scoping out their pint size competition…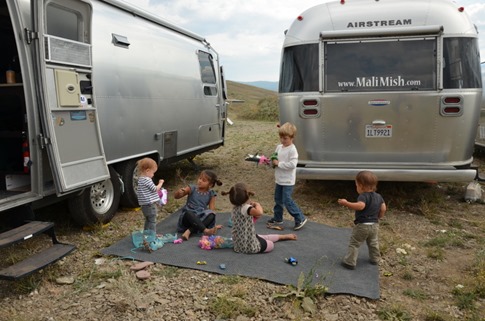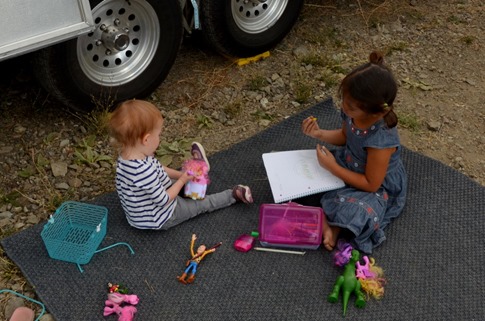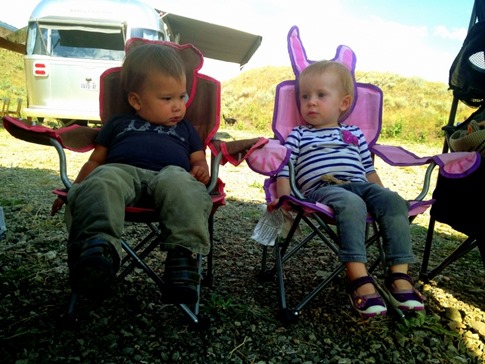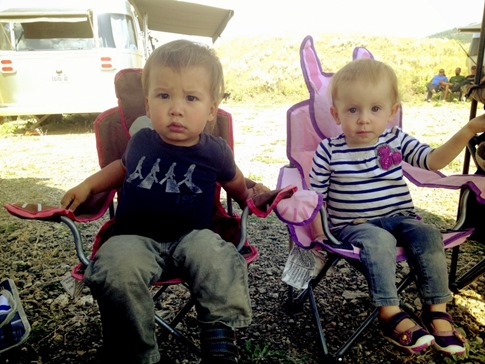 Josh and Jessa Works hit the road when Jack was only about 2. At 4-years-old, he's got his own Instagram account and more pics of him scaling trails and throwing rocks in mountain lakes than most will have in a lifetime. I saw Josh's name on the Airforums when he posted a question about bunk beds for the trailer in which they soon planned to live full time. I felt his pain as response after response stated plainly that there was no way they could live full-time in a measly 25 foot trailer, especially not with a 2-year-old and that they didn't know what they were getting into. Check out the video from Whole Food's Dark Rye on the Works family a couple years later and you make the call.
After a year or so of blogging at 1337Stream, Josh and Jessa have decided Instagram is the best way for people to keep up with them. Their followers grow daily and they've been featured by Instagram a few times and invited to tour the offices in CA. My goal for this week, in addition to getting some insight about life on the road with a growing child, is to get them to explain to me what Instagram is and why we should start doing it three years after everybody else.
While many of us had never actually met in person, conversation was easy as we deployed stabilizers and unfurled the awnings on our silver mansions. The kids played and the adults talked about weight distribution hitches, cellular data cards and the tax advantages of establishing residency in South Dakota while full-timing in a trailer. And the best part? After a few drinks and a beautiful sunset, we all had a ridiculously short walk home.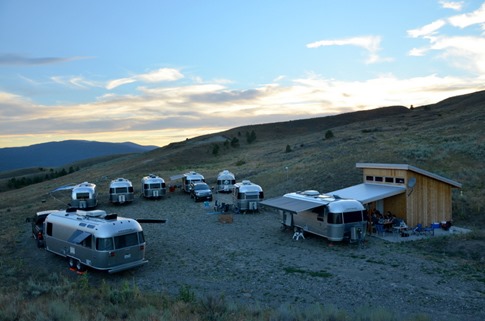 The next morning, we hung around for more chatter over coffee. They say that people at a party always congregate in the narrowest point in the house? Today, it was the 2 feet between the tailgate of Riveted's F150 and their hitch.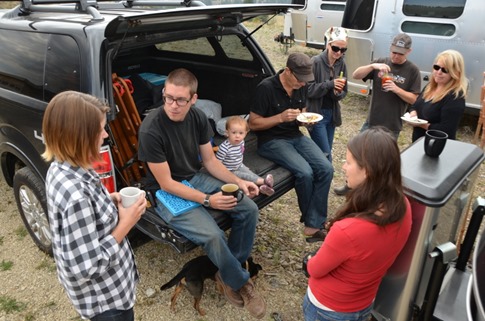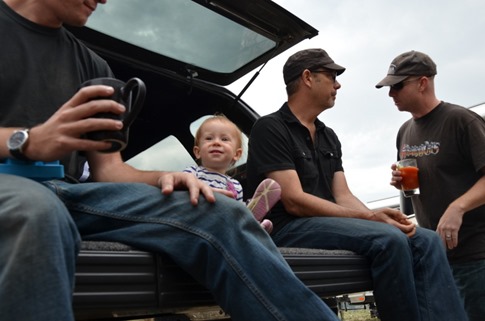 Later in the day, a large group set out on a hike and a few of us hung out in front of our trailer (again, the smallest space) to have a little band practice for our all-Airstream band. I took secret pride when Dan from MaliMish commented that despite having a 19' trailer, I somehow kept pulling out more instruments.
Check out Josh Works Instagram feed for more photos like this one of us making beautiful music in front of our trailer.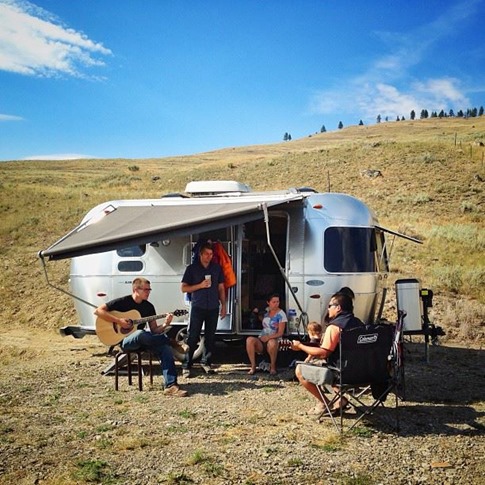 Ann an I managed to get out for a short run, and there may or may not be some racy pictures of me behind our trailer rinsing off in the outdoor shower. Graywater, graywater, graywater. Gotta save that tank space. Riller felt that our yoga mat was a perfect spot for a little downward facing dog. And once again, our 120 watt folding Zamp solar panel kept our batteries nicely topped.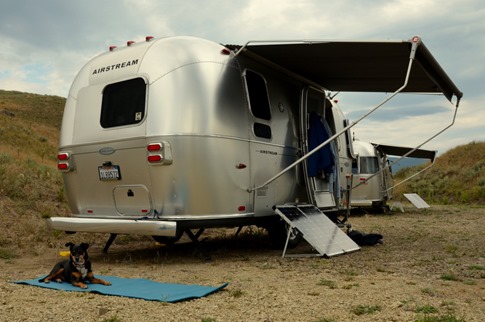 That evening, we all went in on a group taco dinner. A few people made delicious pulled pork, others bean and corn salads, others guacamole and fixin's. Ann chopped some fruit salad, and I mixed up some of my (now) famous Puerto Rican Pique sauce. For those of you who asked about the recipe, here ya go!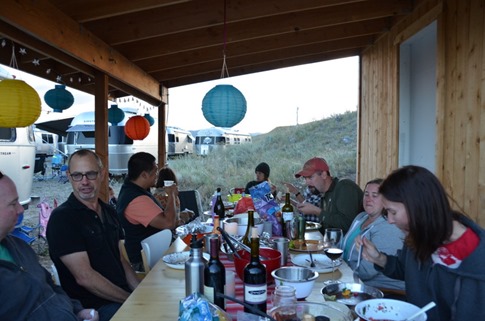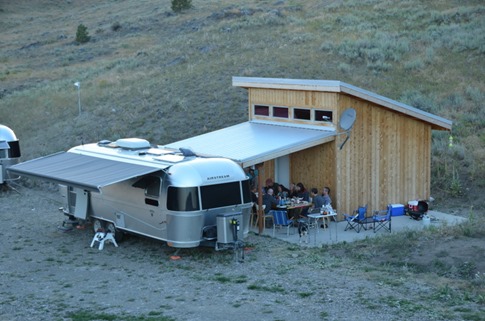 Sunset on the hill was spectacular that evening, and the combined DSLR and iPhone/Instagram shooting power was up to the task.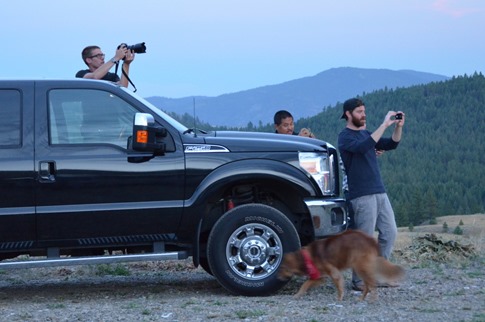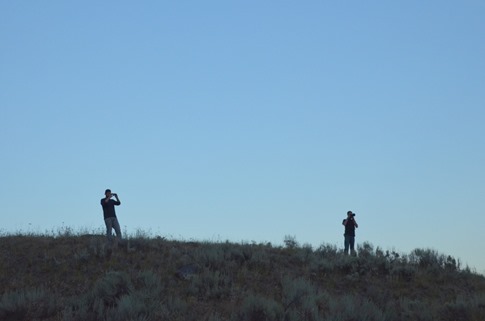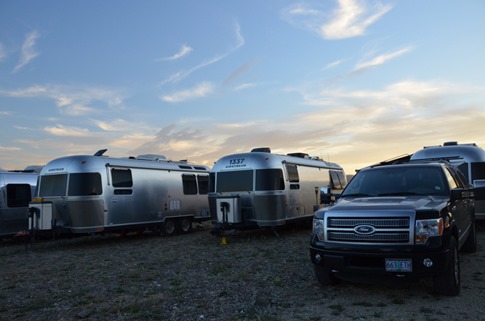 John, Laura and Bulliet.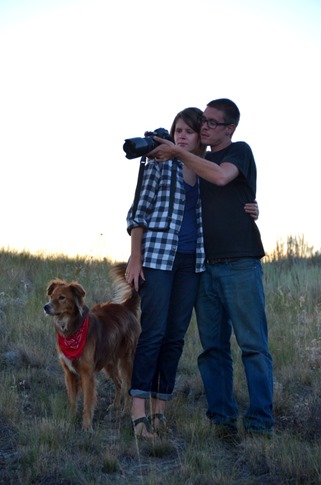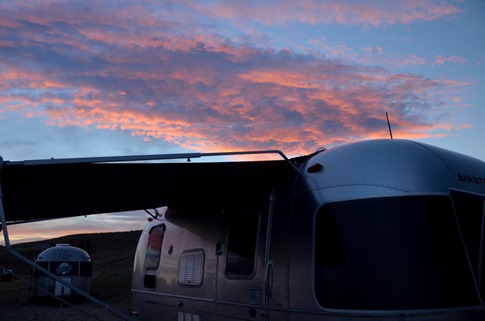 John from the Democratic Travelers did the honors of setting up and capturing these amazing group photos after which we returned to the table for slices of Amanda's homemade peach and chocolate pies and to highlight the half of three songs we'd worked out on the guitars. For a buncha folks that mostly only know each other from the Internet, this was gelling into a nice group, and we were looking forward to the next week on the road!
The Men of Aluminogan…