Our standard M.O. has become one of us waking up with Wynne – unfortunately, it's been about 5:30 am lately – while the other sleeps in a bit. Of course, whoever sleeps in is actually only just on the other side of a thick velvet curtain we got at IKEA to replace the tacky, fragile and hard-to-use accordion partition that came from the Airstream factory, but surprisingly, it can feel like you're in a whole other part of "the house." In reality, it's usually me who rolls out of bed, breaks down the porta crib in which we levitate our sleeping daughter from where she falls asleep in our "bedroom" to where she sleeps the rest of the night in the "kitchen," stows it in the shower and dumps the two baskets of toys from the cubby under the half size fridge onto the grey area rug for her to pick through. We call this deep shag rug "The Rug of No Return" because we've dropped so many things into its cavernous thread loops that have simply disappeared never to be seen again. I don't really mind taking the morning session because it means I get two hours or so to write or edit pictures once Ann gets up, and Wynne generally allows me to make coffee, do some dishes and catch up on the latest Facebook traffic before I need to put a bowl of cereal or slice of bread with cream cheese in front of her in the hook-on highchair suspended from the dinette.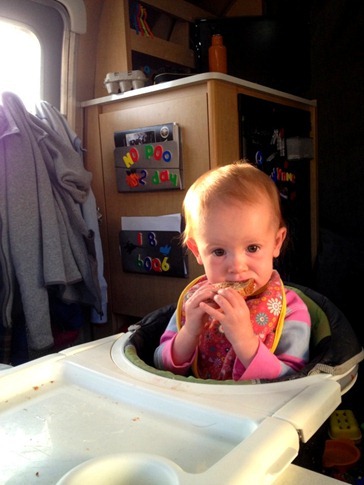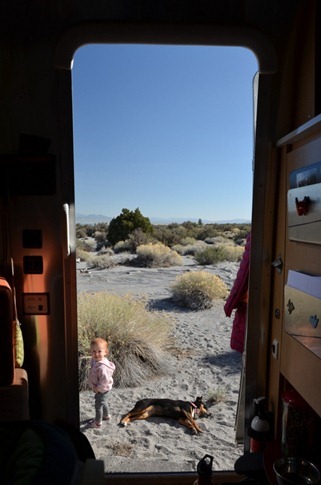 We generally try to get on the road for long stretches of driving in the minutes before 11:00 am. If we time it right, Wynne will be asleep for her nap before we even look back to check on her. This morning, we left our sandy Mono Lake overlook at around 10:00 to take a short hike at South Tufa before heading for Death Valley. Without even looking at Wikipedia, I can tell you that the tufas are formed when mineral-rich spring water bubbles up from the aquifers beneath the salty Mono Lake. The minerals solidify into towers rising from the lake floor. When the lake level was mandated to be lowered by the – aw, crap, I guess I do need to refer to Wikipedia but don't have a connection so just look yourself, will ya? – some guys who wanted the lake level lowered for some reason, many tufas were revealed though more lay beneath the water and still more are forming day by day.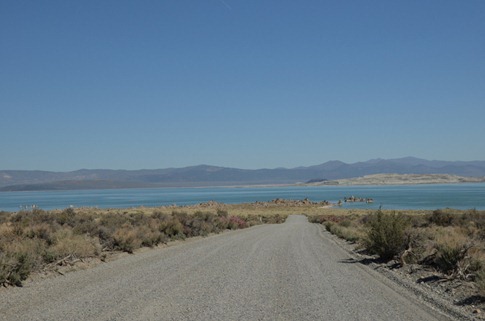 Above is the road down to South Tufa from 120 East. One of the reasons we'd been so confused about where to boondock on the shores of Mono Lake the day before was that while searching forums and blogs for info, we would come across people saying things like "The road to South Tufa is *very* rough. I wouldn't even consider bringing your RV down there." Dude, it's 1/4 mile of gravel. 1/2 mile tops. I'm sure it works the other way too with people sending 35' Class A's down donkey trails. The point is, it's not always easy to know the context of the info you find.
The loop walk at South Tufa was much better than I'd expected, passing through brush rich with high desert colors and backed by expansive views of the Sierras before reaching a stunning beach.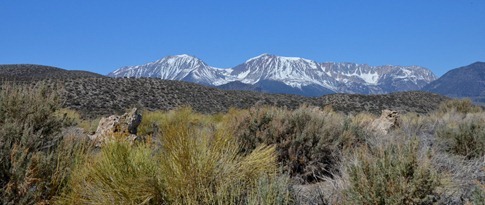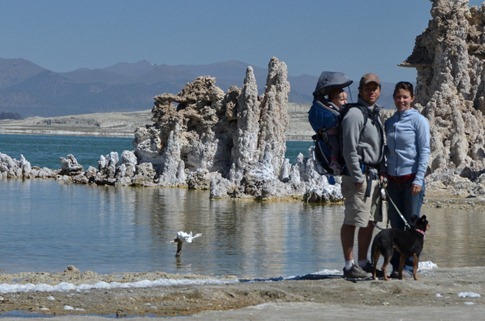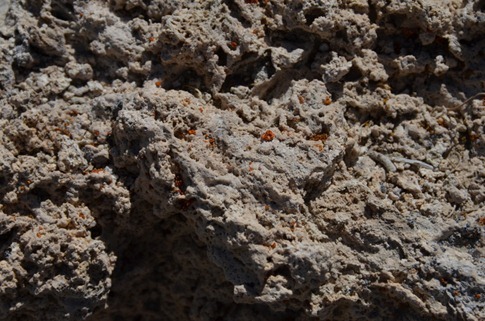 It was only when we were walking back to the trailer that I came around and noticed what looked like scratches running the entire length of the far side. I knew we'd been "tickling" the brush on the dirt road the day before, but I didn't expect what I saw. Fortunately, a tentative swipe with a finger revealed them to only be dirt. Hell, the brush had probably just wiped the dirt off that was already there, leaving the stripes.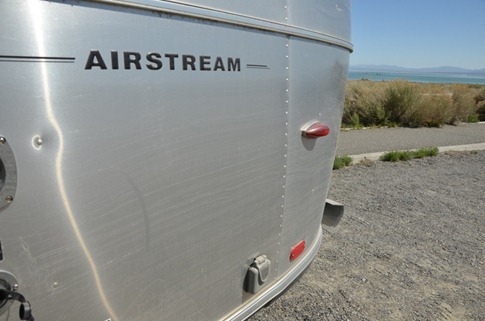 We hadn't had cell coverage our first night camping near Monitor Pass, so when we saw a few bars appear after reaching 395 the day before, we'd gotten a chance to check in on everything at the farmlet (all was well) and see what was happening on Facebook. I've said it before in blog posts from our drive to Panama, but we don't really travel to unplug or escape from anything. When we travel it's kind of just an extension of our daily life and sometimes being connected can be helpful (or just fun trying to make people jealous of where you are). The reality is, social media has become an invaluable tool while traveling, allowing us to gather information and make connections like we never could have before.
Case in point. When we got into Mono Lake, I checked Facebook and saw an update from a blog we'd been following for a few months in preparation for this trip, Aluminarium. It turned out, the writer and her husband were camped only a couple hours south of us, near the junction where we would turn east and head towards an RV park in Death Valley where we'd reserved a spot for the night. I messaged them through Facebook and proposed we all meet up for lunch in Lone Pine. I got a message back that evening accepting the invitation, only later learning that they'd done some Facebook and blog vetting of us to make sure we weren't going to try to sell them trailer insurance or invite them to walk in the eternal paradise with us. In fairness, Ann had been digitally stalking them since I mentioned the possibility.
I figured we'd get on the road at Wynne's naptime and drive a solid two hours for a 1 pm lunch. When Wynne woke up hungry after only an hour, I fought the urge to be frustrated, remembering that successful travel requires flexibility and that our lunch dates would know that from having lived on the road in their Airstream for two years from 2005-2007. After a stint in four different houses in four consecutive years, they've recently returned to mobile (home, heh) life, working from the road and spending as many nights boondocking in free campsites where they can get cell coverage as possible. In reality, the change of plans wasn't so bad for us. We stopped in Bishop, got lunch and a couple loaves of fresh-baked bread at Schat's Bakery and hung out in a great city park where Wynne could watch the ducks and learn the word "hot" on the slides of the sunny play structure.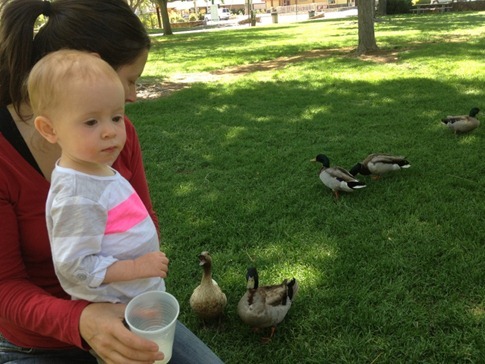 As the day slipped away, I tried to keep our social media meet-up informed and ultimately offered to just stop by their campsite in the late afternoon to say hi. They suggested we should stay the night (no dirt came up in the background check, I suppose…). While it sounded fun, Ann and I said we'd take a look at how it would affect our proposed campsites, driving times, etc for the rest of the trip. That of course was all irrelevant when fussed her way down the road leading to the Tuttle Creek Campground, making it clear that she was done for the day no matter what the consequences. We were both secretly relieved in the front seat that we didn't have to drive another hour.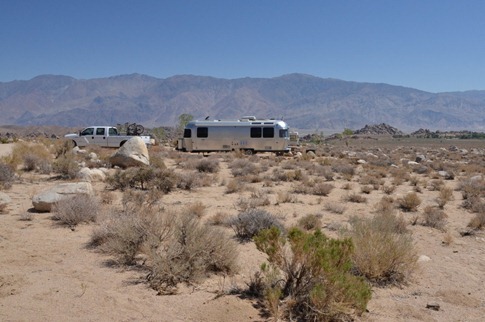 We spotted the flicker of the sun on the aluminum skin of their 27 foot trailer as we drove in. Leigh came out to greet us as we pulled around, explaining that Brian had driven into town for some supplies for the evening, just in case we decided to stay. After reciting portions of each other's blogs back and forth and hanging out a bit while we got set up, we could see why they don't get turned down too often. Happy hour turned into dinner in their trailer after we settled Wynne into her porta-crib in our "bedroom." One of things we'd done in preparation for the trip was to get rid of the Blu-Ray player that had come with the trailer and replace it with an Apple TV and an Airport Express so we could play movies and music from our computer, phones or iPad. It also meant that we could use the same IP webcam we use at home as a baby monitor attached to our local network so we could keep an eye on her via an app on our phones.
Intense rays of light coming from behind the mountains as the sun went down. Nothing's been done to this picture!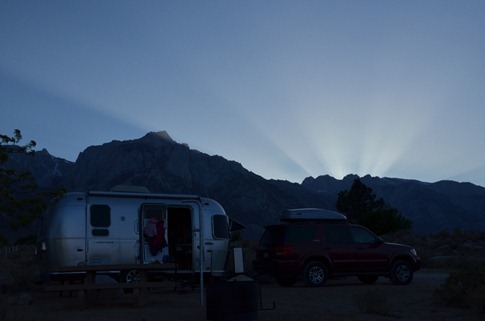 When we knocked on the door and were greeted by Curtis, their long-time four-legged traveling companion, Leigh had a menu detail to discuss with us. Now, I knew from experience that their blog posts always included details on new creations that Leigh had whipped up in the kitchen, but tonight she admitted that she was feeling like it wasn't quite coming together, at least not to company standards. Fortunately, we had two things in our trailer that might make a difference: farm eggs, some of the three dozen we'd hidden away in hopefully non-breaking areas of the trailer, and the fresh loaf of German wheat bread with sunflower seeds we'd picked up during our fortuitous stop at Schat's. See how being flexible can pay off? I'll make you click over to their blog at Aluminarium.com to see how it turned out, but we felt well fed and both went back for seconds. We spent a couple more hours, way past the bedtimes of full-time trailer dwellers and parents of toddlers, chatting about everything from the latest addictive TV series to possible future plans for Airstream rendezvous.
I highly suggest traveling with a toddler to anyone interested in sunrise photography. Here are some shots from around 5:30 the next morning. They're not as blurry as my eyes were.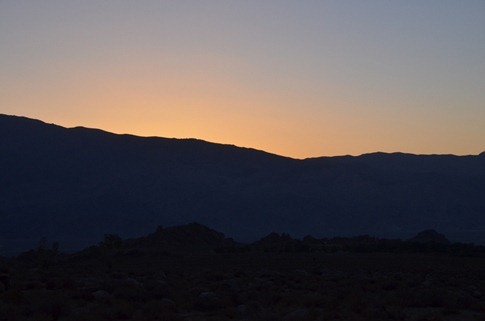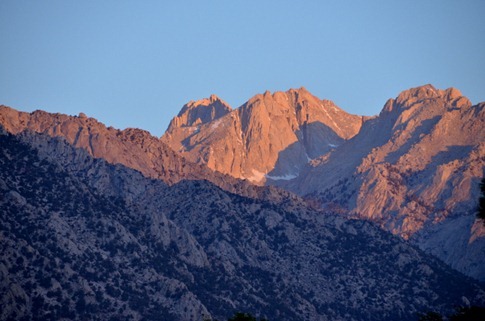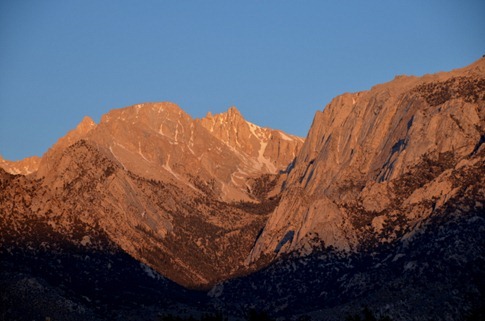 Toddlers are also very amusing while doing morning trailer yoga…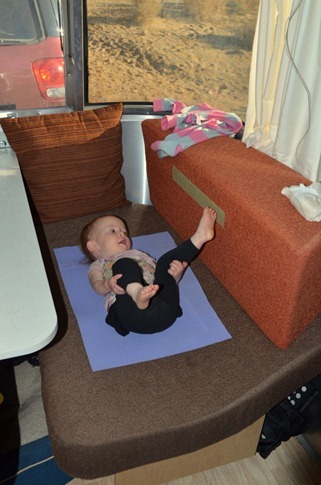 Or while exploring a small campsite as if it's an entire wilderness…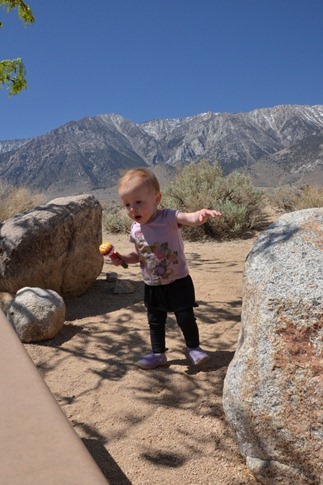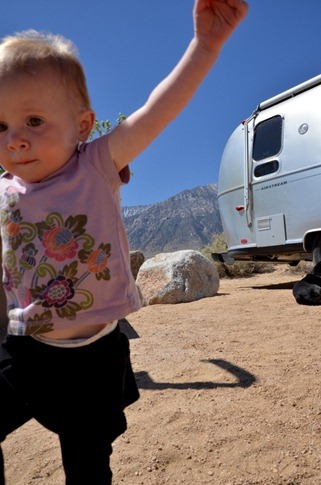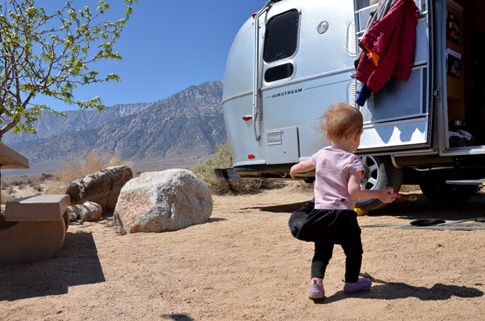 Or "helping" with setting up and tearing down camp.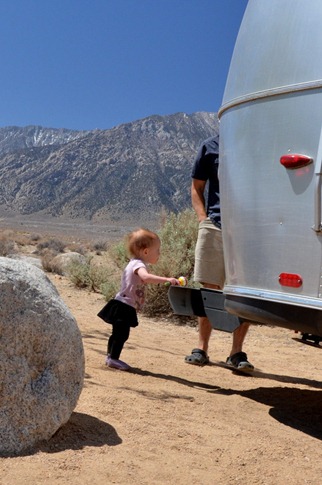 Note: If you need a break from them, try under the trailer. Unfortunately, Ann can still find me there.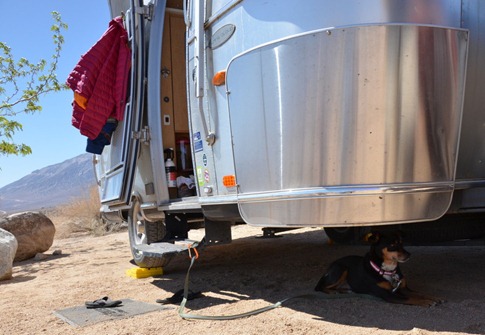 As 11:00 am once again approached, we had to cut off yet another productive BS session with Brian to hit the road. We're hopeful we'll see these guys again.
Having decided that Zion was more of a draw for us, we made plans to blow through Death Valley and make as much progress towards Utah as possible. While it was a pretty drive – and exciting going from 5000 ft to over (under?) 200 ft below sea level in a couple hours – we were somewhat relieved that we hadn't stayed there when we saw the parking lot they were calling an RV park (pic below).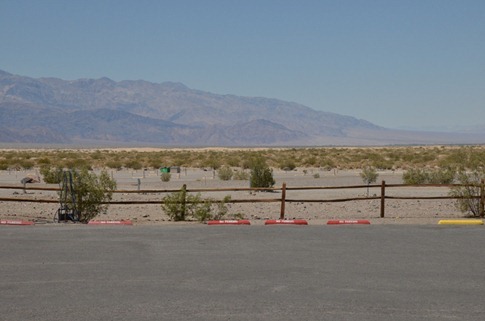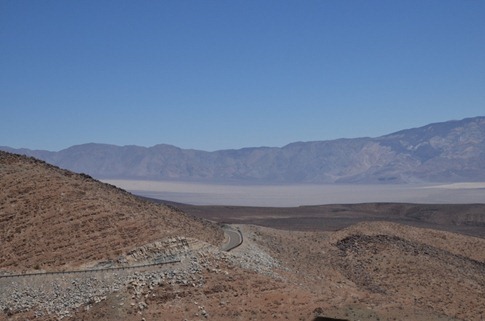 \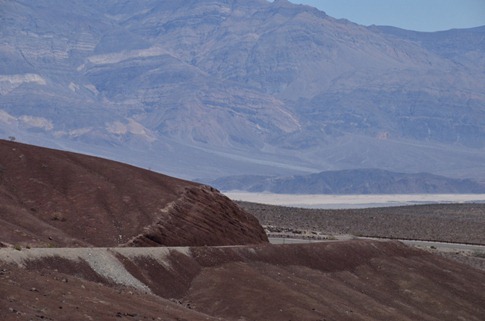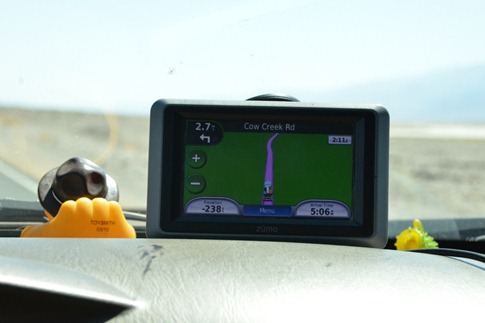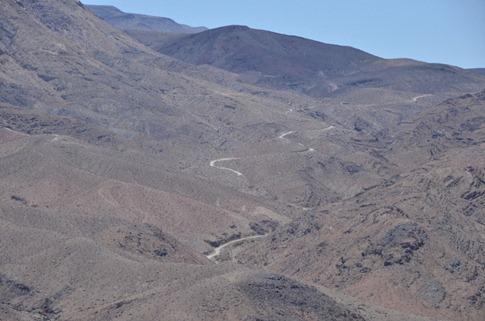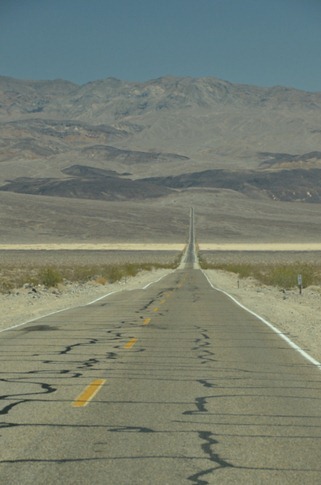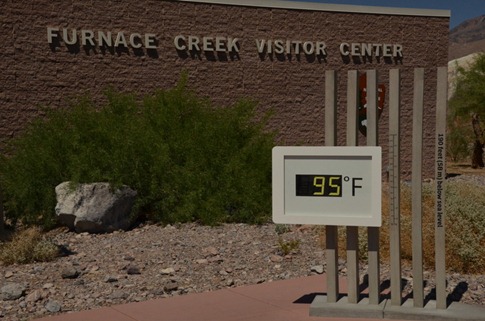 On the other side of the aptly named Furnace Creek, we looked at the clock and realized we weren't going to make it much farther than Vegas. At this point, we'd been dry camping – without water, power or sewer hookups – for three days. The batteries in the trailer had gotten a little charge while we'd been driving, and I'd plugged in our Brunton 26W foldable solar panel a couple times as well, but fresh water was really running low. On top of that, we were both sorely in need of a shower and liked the idea of finding a campground with full hookups. Once again, we logged onto Facebook and contacted Leigh and Brian from Aluminarium for a recommendation in Vegas.
We pulled into the Oasis RV park just off Las Vegas Blvd at 5:50 and had a bowl of the homemade lasagna we'd been defrosting in the fridge in front of Wynne by 6:00. An hour later, she was asleep and soon after that, we'd both enjoyed a very nice shower with all the hot water we could use. Despite seeing the beam of light emanating from the apex of the Luxor's pyramid on the Vegas Strip while walking Gorilla to the dog run, once the blinds were drawn and we were settled in at the dinette, we could have been anywhere, but we were happy.