Don't be scared
The first few days with a new baby were actually some of the easiest for us. She slept about 20 hours a day and didn't need much more than her mom's boob. But just when we were lulled into a false sense of security, things started to shift. We started having to learn to "read" our child, picking out the signs that she was hungry, tired or wet and testing out all the soothing and sleep techniques other parents had been saying had been invaluable to them. Of course, what worked for one baby or set of parents might or might not work for another. Some babies only sleep in a swing. Some only on a parent. Some warm. Some cold. About two weeks in, we felt like we'd figured out our particular baby, what she needed and when she needed it. Despite everything we'd heard, I'd even go so far as to say we had her – or should I say she had us – on a schedule. And it even included things like sleep for us and dinner and an hour or two on the couch each night.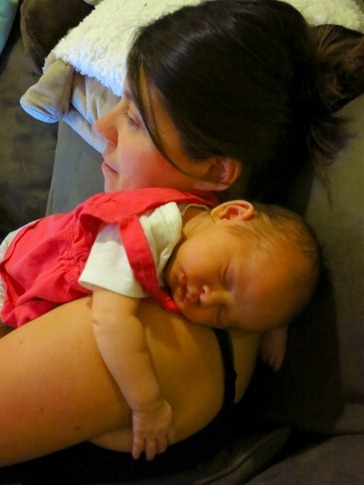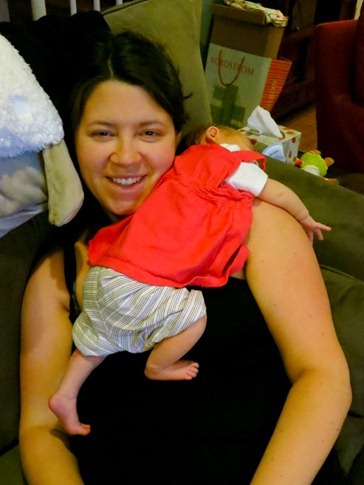 But one night, something didn't fall into place, and we had a dreaded "meltdown." She was inconsolable, turning bright red and gasping for breath between each cry. We went into panic mode, trying everything we'd been been told or could find on Google, but nothing worked. After what seemed like hours (but was probably 20 minutes), she finally collapsed, exhausted from the battle, but we were rattled. The next day, we threw everything we'd learned out the window, almost literally tiptoeing around her for fear of another meltdown, until we came to a realization; Things are going to change. She's going to have good days and bad, and she's going to be developing new awareness and abilities everyday. But we know her better than anyone else and want the best for her, and she's "ours" to take care of. Plus, we're grown-ass adults, and we're in charge. Under MY roof and all that stuff. Sure, we'd need to be flexible, but that's a lot different than being scared of her. That was something we promised ourselves and each other we would not be.
The Benefits and realities
We had a chance to put our money where our mouth is on a three week trip to Japan when she was three months old and don't regret it for a second. We found that age to be very manageable for travel; Out of necessity, she learned to sleep just about anywhere and we learned to how to feed, change and generally maneuver her through a wide variety of situations. In three weeks, we went from being unsure about taking her out to lunch near our home to eating 45 meals straight in restaurants and riding the Tokyo subway, the bullet train and stinky diesel busses and ferries. Of course, it wasn't all a walk in the park (except when we took walks in the park, I mean), but in the end, we felt like the experience was invaluable to all three of us.
We do know that travel will become more complicated once she gets more mobile and, well, "opinionated," but we look forward to facing those challenges as they emerge. Again, we're choosing not to make decisions based on being "scared of her" (or other people). In our experience, we've found her to be incredibly flexible and airline personnel and other travelers to be helpful and genuinely happy to see her. Remember, over three quarters of Americans (86-87% according to the Department of Health and Human Services) have or will have children and many on your flight are probably sad to be traveling away from theirs or excited to be going to visit. We were checked on, cooed at, brought to the front of lines and generally made to feel a bit like VIP's. Of course, one can be put off by comments on blogs from people who say children shouldn't be allowed to fly and that they ruin the flight, but really, who do you think has the time to post this stuff: Parents typing with one hand while feeding a baby or disgruntled losers sitting alone in sterile hotel room somewhere?
As I type this, we're in the Boston area for three weeks visiting Ann's family and some friends, and little Wynne is now seven months old. She did great on the 5 1/2 hour flight out with Ann making slight variations in her schedule to align feeding with take off and landing (to reduce pressure in her ears) and fitting in a couple nice long naps in the air. In addition to giving her some great time with her grandparents, aunt and uncle and cousin, it's incredible how we start to see even familiar places differently through the eyes of our child. We really look forward to a lot more traveling and to showing her – and ourselves *through* her (cue dramatic music swell) – the world. Although I will say, she seemed thoroughly unimpressed by our visit to the really cool Drumlin Farm near Boston. "Big deal, I have sheep, chickens and pigs at home. Do you guys have a llama? I didn't think so."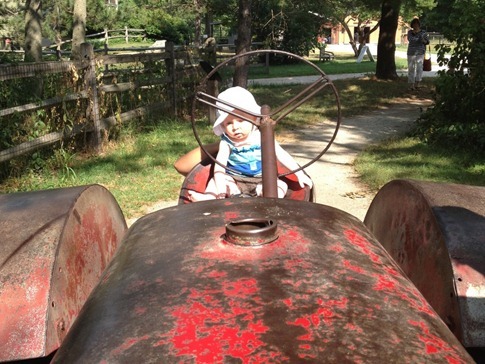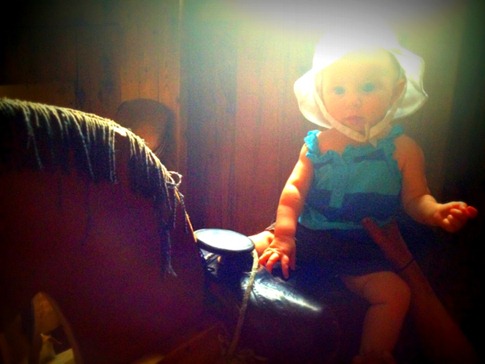 Travel Logistics
For Japan, we brought along a "travel system" with a stroller and car seat that easily click together. Because we did not buy a seat on the plane for the baby (not required until the age of two and/or parental loss of circulation in the "lapular region"), both the stroller and the seat had to be gate checked. Admittedly, I don't really want to know what those items went through out there on the tarmac, but I have to believe that the baggage handlers (remember, 86-87% breeders) would go a little easy on them and/or that anything that would cause major internal damage would leave an external mark.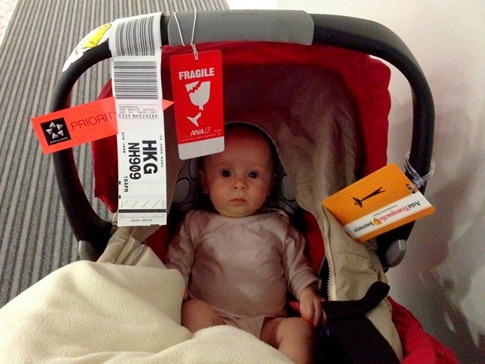 Going through security took a couple more steps of unloading and unclicking and folding but ended up being quicker because we were routed into a family-only line (Ha ha! Get a baby, losers!). Having the stroller either for the baby to snooze in or alternately to haul backpacks and plastic bags crammed with soggy $14 airport sandwiches was great. And again, at boarding, we were invited to pre-board and just unclicked the car seat and folded up the stroller when we got to the end of the jetway. While we were able to borrow a car seat for this Boston trip, we did bring along the Hummer-of-all-terrain-strollers, the BOB Revolution SE, and had no problems with security or gate check.Why not bring it? A note, you will likely need to get a gate check tag from the gate agent so mention to them that you have a stroller with you before boarding. While we did buy a travel bag for the Japan trip because we figured it would make packing in taxis and airport vans easier, we opted out of the bags they make for car seats because we were afraid they would make us look like miniature people. Do people really haul these things around?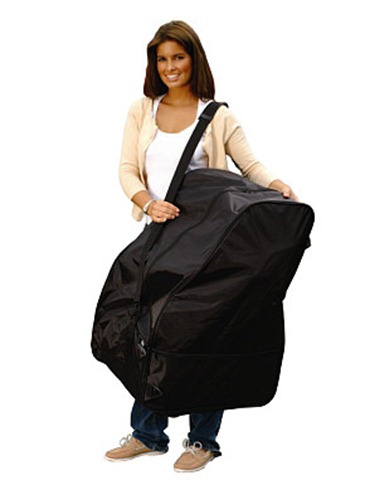 For Japan, while there were times we left the hotel "lean and mean" with only the ERGO carrier, we were very happy to have the complete travel system with us. Inevitably, there are diaper bags and backpack carriers that need to go out with you on daily excursions, not to mention souvenirs, snacks, jackets etc. In any case, at 3 months, our daughter wasn't ready for a small umbrella stroller or similar. The rolling red pod became fairly ubiquitous around town as we chauffeured her to the sights and showed her off to the locals.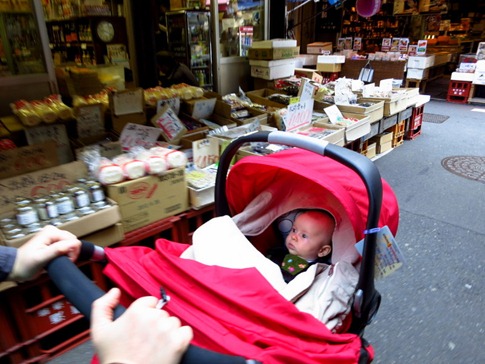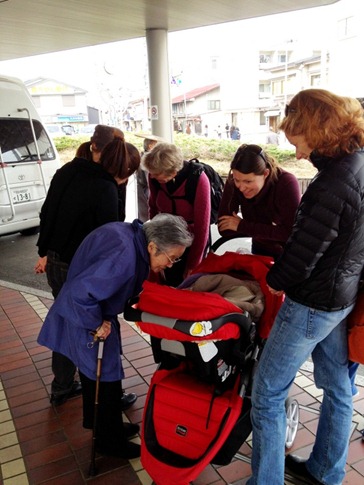 \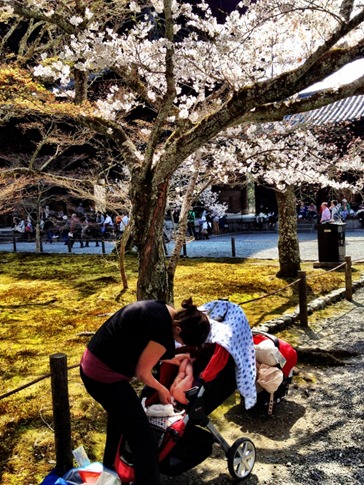 I can't resist reposting this little video I made of all the "pod's" adventures…
For stairs, we'd either unclick the car seat with one of us carrying it under an elbow while the other collapsed the stroller (the one hand fold of the Britax b-Agile and City Mini's is great) and carried it down the stairs or "fly" her down with one of us holding the front wheel and one holding the back handle. By the end of the trip, I would often just hook an elbow under the whole apparatus and lift it off its wheels (contrary to manufacturer recommendations…). We always collapsed the stroller on the subway out of consideration for commuters and, while we weren't always the best (read: never did it once) at asking taxi drivers to wait while we buckled the car seat in, she always rode in her seat in the middle position with her two parents holding on with a white-knuckle grip. For this Boston trip, we figured out that we could get a private towncar *with a car seat* for $100 each way (we live in the boonies about an hour and a half from the airport) instead of paying something like $300 to park at the airport for three weeks.
getting a passport
While in Boston, we've been planning our next trip, a long weekend in Sayulita, Mexico with a group of friends – including 3 kids under 2 years old. I thought this would be a good motivation for me to put together some of the resources we used to get a passport for an infant.
The Department of State web site actually has everything you need to get started with a passport for a minor under 16. For proof of citizenship, you will need a certified birth certificate. This means, not a copy and usually with a raised stamp or seal that can be obtained from the county or city clerk. You can fill out the passport application online or print it and fill it out by hand (if you enjoy hand cramps and live in 1980). Note: If your child does not yet have a Social Security Number, enter all 0's in the SSN field. You will also need photocopies of identification for each parent. This can be a driver's license or valid passport. The instructions say to copy both sides of the ID but we just submitted copies of the photo page of our passports. Note: You will also need to bring this identification with you when you apply.
Finally, the most important (and sometimes most challenging) item you will need is a passport photo. For a toddler, you might just head down to the local Walgreens or CVS and have one taken. Not a big deal other than the potential for tears when you won't buy them that ring pop from the candy aisle. But for an infant who may resemble a bobble head doll, it can get a little more interesting, and you may want to take the picture yourself. The Department of State has some tips on taking a picture of an infant including laying them on their back on a white sheet or putting them in their car seat with a white background.
We opted to take the picture ourselves when Wynne was about 3 weeks old so we could be sure we'd get the passport back by the time we were going to Japan 9 weeks later. We laid her on her back on the changing table, set up a couple desk lamps and just held down the shutter on the digital camera in continuous shooting mode. Before you start snapping away, read through the specific requirements the picture must meet including no parent's hands, no shadows, no smiling and eyes open and looking at the camera. Turns out it's not so easy to get but with enough shots, you're bound to find one.
The Department of State also provides a great little Photo Tool that allows you to upload a picture and crop it using the composition template. Using the tool, we went from the above, to this: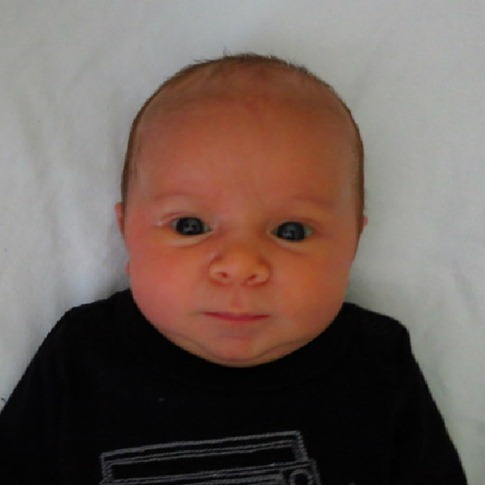 The funny thing is, this passport – with this picture of a tiny thug - will be valid until she's 5 years old. While the Department of State web site specifically requires a new picture for significant changes in appearance if you've had "facial surgery or trauma, added or removed numerous/large facial piercings or tattoos, undergone a significant amount of weight loss or gain, or made a gender transition," it does not require one for changes due to the normal aging process of anyone under age 16.
With all your materials collected, your application must be submitted *in person* at a passport application acceptance facility (find one close by). Note that this will likely not be the passport office but rather a post office or other government building and may require an appointment. Check the specifics including payment methods accepted through the link above. You can typically only apply at the passport office if you can prove that you are traveling within 2 weeks and will be required to pay an expedite fee ($60). The Department of State web site lists current processing times for applications which is usually about 4-6 for regular service and only a little less for expedited service by mail. I would recommend just motivating to do it early and you shouldn't have any problem.
Departure
By now, you're either ready to hit Kayak.com and start booking flights or rolling your eyes at our naivety about what the next few years hold for us in the way of toddler tantrums and managing more than one child, but we can't help but think that the best way to get good at something is just to do it. That holds for parents and children. We take inspiration from James, Angela and three-year-old Parker and from NoLimit Expeditions who we met while four wheeling through the jungle in Belize and who built a hotel on the beach in East Africa and now run an outdoor adventure company in Central America; the "Bodeswells" who have been on the road in Mexico, Central and South America with seven-year-old Bode for almost three years in a 1971 VW bus; or Pat and Ali "Bumfuzzle," the couple whose adventures sailing around the world, racing across country in a vintage Porsche, driving the Americas and Europe in a '58 VW bus and most recently living with two kids on a sailboat in Mexico, were our first inspiration to hit the road without a concrete plan.
Now (don't take this the wrong way, guys), but these are not particularly exceptional people. They are not necessarily the offspring of gypsies or diplomats, were not born into unlimited cash and are not running from the law (with the exception of "mordida" traffic stops). They're pretty normal people who just made a bold decision on how they wanted to live their lives and raise their children. Some may stay on the road forever while others may return to life under a fixed roof, but I doubt they or their children will ever regret not letting fear keep them from exploring. I recently came across this post by yet another family embarking on a round-the-world adventure that looks at the similarities between being stay-at-home parents vs world traveler as well as the advantages of the later. I think it sums it up pretty well: "Are We Crazy?"
For more thoughts and links on the topic, I recommend this post by a family with two kids who rode bicycles from Alaska to Argentina, "Why Travel Isn't Wasted on Kids."
Of course, lots more on this to come as we feel our way through it all…