We'd gotten in touch with James and Angela from NoLimit Expeditions, an off-road adventure tour company we'd seen on the ExPo forum and knew were operating in Central America, to ask their opinion about the safety of traveling in northern Guatemala. In the past month, the government has imposed a "State of Siege" in an effort to crack down on the Zetas, originally a Mexican drug cartel, that now operates in the northern state of Alta Verapaz and is said to roam the streets in armored Hummers committing crimes with impunity. James and Angela had been recently living in Antigua, Guatemala, and we hoped could offer some insight.
As it turned out, James, Angela and their three-year-old son, Parker were heading towards Belize when we heard from them. They suggested we meet near the border at Clarissa Falls where there was camping and a good restaurant on a farm beside the Mopan River. They also mentioned that they would be heading out "into the bush" for a few days to explore some backroads, and we were welcome to join them. I replied that we'd think about it, knowing that their idea of "roads" might be different than ours. We made our way to Clarissa Falls, stopping to get some supplies along the way.
Grocery stores in Belize are owned by the Chinese; I can just say that outright because it's true. In every town, there are about 5 large, square buildings with names like "Chen Market" that are packed with everything from American brand food like Uncle Ben's and Delmonte to washing machines and flat-screen TV's. These stores feel a little I imagine a PX store on a military base: an outlet for hard-to-find luxuries in a remote setting. The one we stopped at was called "The Mall," and we ran giddily up and down the aisles loading our basket with Betty Croker muffin mix (see my Double D-licious Griddle Banana Cups) and packages of Indian dal and lentils. To top it off, we raided the $2 rack of recently released movies on DVD; There's a possibility that they were pirated – the DVD-R format with titles written in Sharpie were a clue – but we later rationalized that they might say "For Awards Consideration ONLY" because our opinions were being solicited by the Hollywood Foreign Press. Between everyone speaking English, the fixed 2-1 exchange rate to the dollar, jungle lodges and these Chinese grocery stores, Belize was making us soft.
When we arrived at Clarissa Falls, the two beautifully-outfitted NoLimitX Land Rover Defenders, each with dual roof top tents, were deployed beside the river. We had a nice lunch with James, Angela and Parker while we filled each other in on the circumstances that found us all in Belize at that moment. An ultra-simplification: After getting married in Colorado, James and Angela never returned from their honeymoon in Playa del Carmen, instead starting a business and building a condo there. When the travel bug hit again, they sold the business and set out for Africa, this time being sucked in by a beachfront property in Ghana which they built up into a successful luxury lodge for diplomats and high-end tourists. It was becoming clear that this was a couple with an incredible sense of adventure, attention to detail and conviction to accomplish anything they set out to do. In other words, dangerously good role models for us.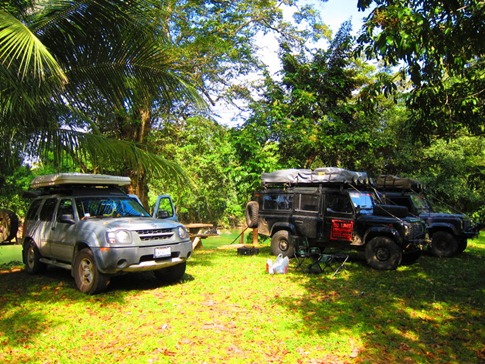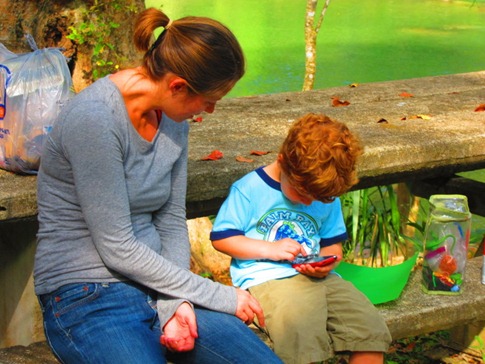 To top it off, three-year-old Parker is a sharp, funny and creative kid who has grown up learning that he won't always get what he wants for dinner, sleep in the same bed or have mommy and daddy's undivided attention. He happily entertained himself through most of lunch, chasing the geese in the parking lot, petting the dogs lying in the sun or explaining to us how the wild parrots who inhabit the thatched restaurant roof like to eat tortillas and poop in their sleep.
Assured that machetes would only be required for part of the route they had planned, we drove out with them the next morning, the Xterra sandwiched by black Land Rovers, feeling like we had a military escort. The destination was the Mountain Pine Ridge Forest Reserve, 300 square miles of pine forests, rivers and waterfalls south of San Ignacio and the Chiquibul (chick-a-bool) National Park beyond. NoLimitX had been exploring the area, also used by Land Rover to test their vehicles and until recently by the British military for jungle training, after hearing about a rumored track that ran south across the Maya Mountains into southern Belize; Thus far they had only heard of people walking the route and wanted to know if it could be driven.
Unfortunately, many of those who walk it are Xateros (sha-tare-ohs), young Guatemalans who cross the border in the mountains to illegally harvest the Xate (sha-tay) fern that grows in the area. Depending who you talk to, the fern is either a much sought after staple of the flower arrangement industry or used in the creation of US currency, the former more likely being the case. Recently, Xateros have expanded their activities to include looting of Mayan artifacts from caves and poaching Scarlet Macaws for sale on the black market and have become violent to protect their interests.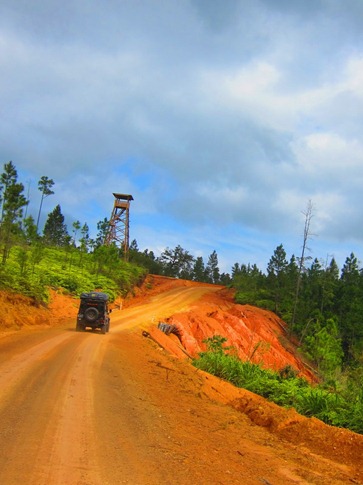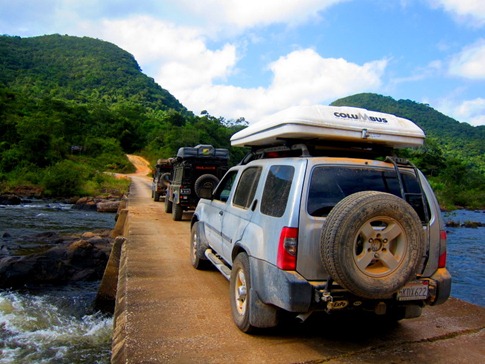 Assured that we'd stay north of the Xatero territory, we drove down the bumpy dirt road into Mountain Pine Ridge, trying to keep up with Angela - who had obviously been trained at the Sebastien Loeb (rest assured, this is a solid World Rally Championship reference) school of off-road driving - in the lead Land Rover. The first stop was 1,000 Foot Falls which, as you might guess, is 1,600 ft. tall, the tallest waterfall in Central America. Unfortunately, you can only see about half of its height from the viewing platform, so after lunch we continued on, looking for a connection that existed on some maps to loop us down to the main road.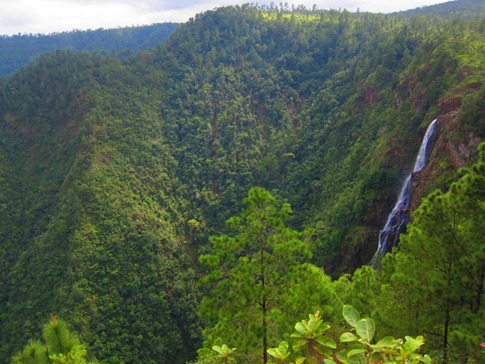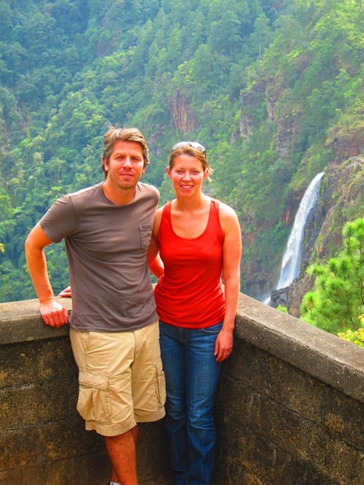 As the road got worse and worse and we switched the Xterra into 4 wheel drive, we descended a steep, overgrown track for about a half mile before running into a wide river with nothing continuing on the other side. We backtracked up the hill, this time in low range 4 wheel drive, and settled for an earlier cutoff to a camping spot at a former British training base. The current occupant is the Belize army, a member of which greeted us wearing camo pants, a t-shirt with the sleeves cut off and an MP5, a compact submachine gun used by SWAT teams, slung around his neck. I actually had a chance to shoot an MP5 at a friend's bachelor party where we contracted with a "patriot" to take us out into the Nevada desert and "blow $h*t up." Pulling the trigger sent the barrel windmilling skyward and my 20 rounds were spent within seconds.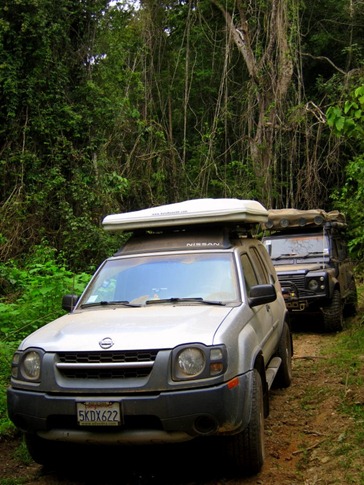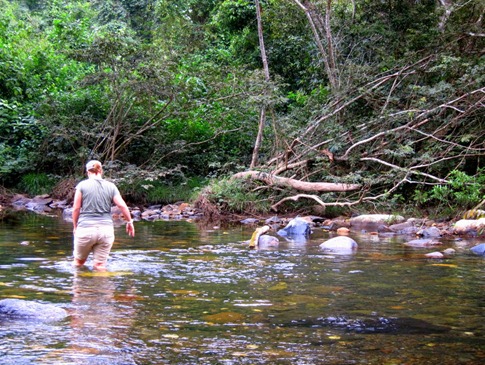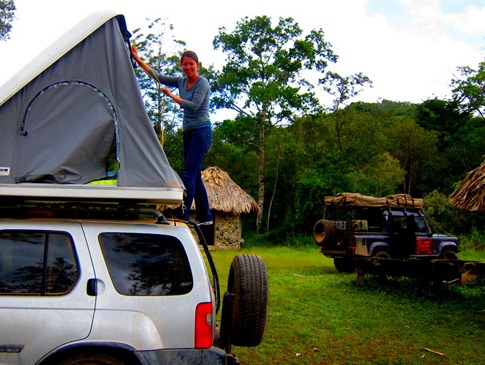 After dinner by gourmet chef James, several Belikin's over good conversation and a very low fly-by by a mysterious black helicopter we convinced ourselves was the British military, we climbed into the roof tents parked among the pines under a sky of bright stars.
In the morning, we made our way along increasingly rough roads and past military checkpoints that provided escorts for tour buses on the road out to the ruins at Caracol; A convoy would leave from these outposts, really nothing more than houses in the jungle where a couple Belizean troops were stationed, at 9:00 am every morning, but James and Angela were able to convince them we knew what we were doing.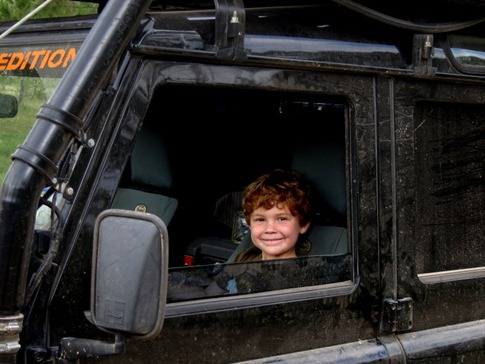 Remember, the Land Rover's are right-hand drive…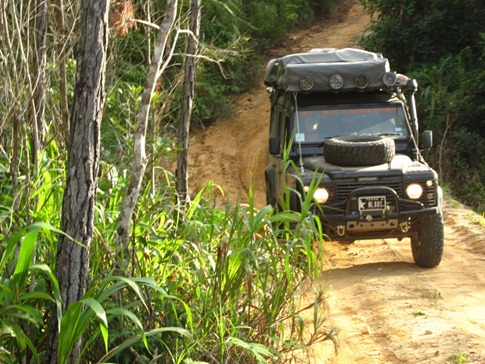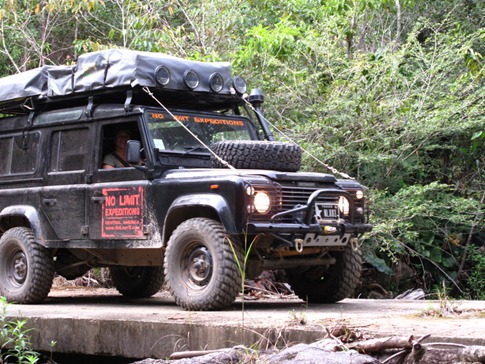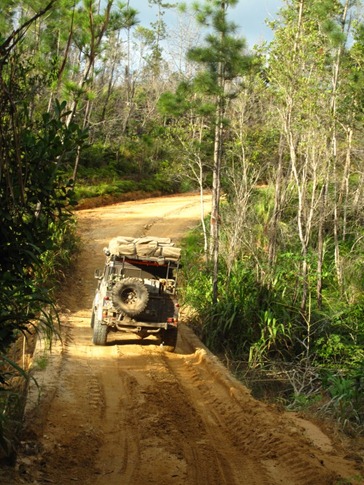 "One of these kids does not belong here…"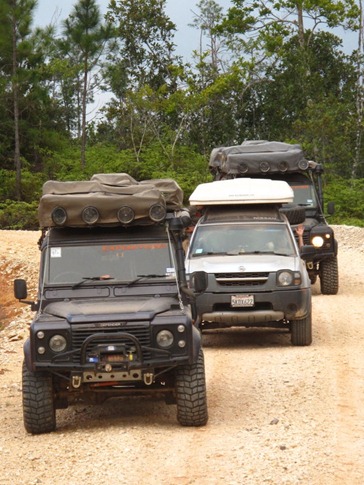 James: "I think it's driveable…" The route to an elusive "Bird Tower" turned out to be hike.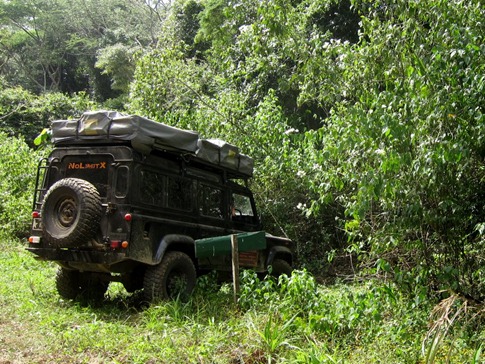 Huge ant hills. I think I disguised my hysterical tears and Palenque flashbacks pretty well…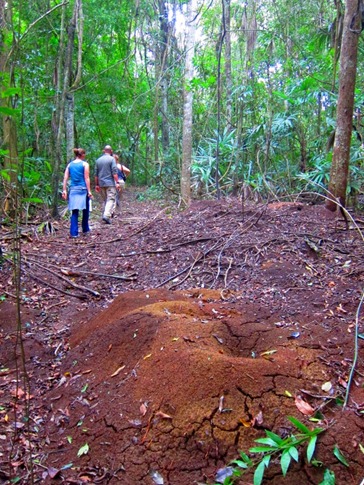 Mahogany tree. I wonder if it and my Martin D-18 are cousins?
Superhighway cleared by ants.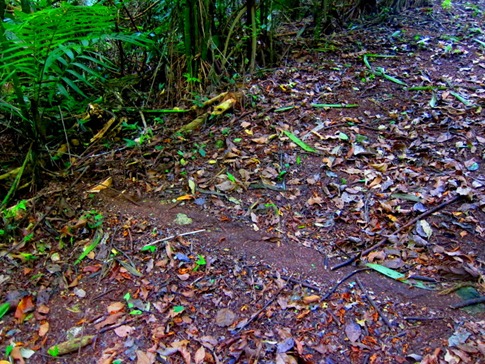 The landscape changed from pine forest to jungle as we approached the Chiquibul National Park. Around 1:00, we arrived at Cuevas Camp, a research facility designed to house visiting scientists studying the diverse and plentiful flora and fauna of the area. James and Angela quizzed the director on remote jungle trails in the area, and after lunch, we decided to take the Land Rovers down a 2 mile track towards a river. James' had eyes lit up the moment the director said it wasn't accessible by vehicle. Ann opted to stay behind in the large, peaceful meadow at Cuevas Camp, while I jumped at the opportunity to play Indiana Jones and ride in the badass Defenders.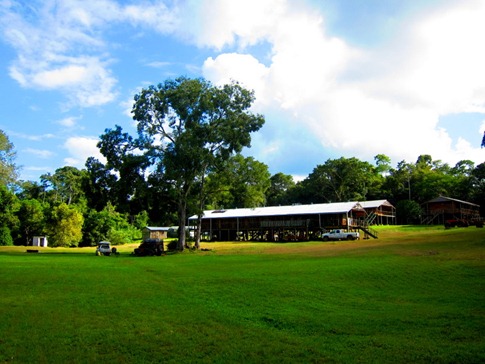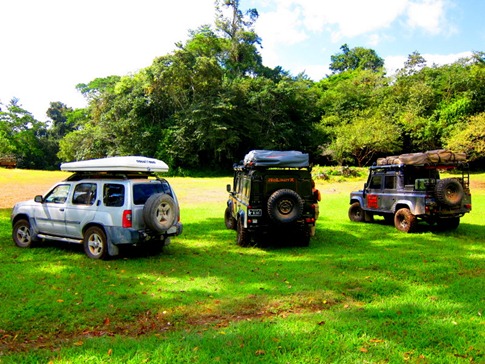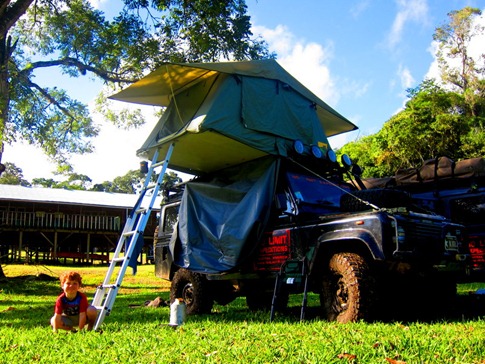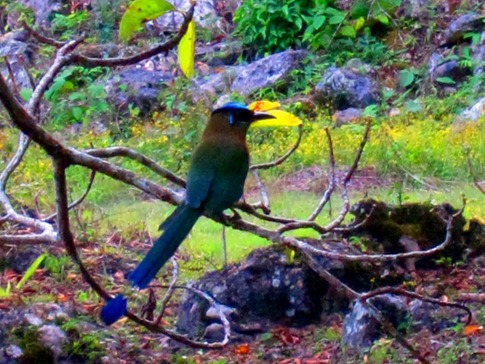 I swapped back and forth between the passenger seats of the two right-hand drive Land Rovers, having offered to take some video for them using my helmet cam with a suction mount and the HD on our point-and-shoot camera. Parker sat happily in a back seat, glued to "Alvin & The Chimpunks: The Squeakuel," desensitized to the adventure unfolding through the windshield. After a quarter mile or so, progress slowed as the track turned muddy and frequent stops were required to machete low hanging vines, about an inch thick and incredibly strong. Next thing we knew, one such vine had reached down and torn the rear roof tent off the second truck; We'd have to pick it up on the way back.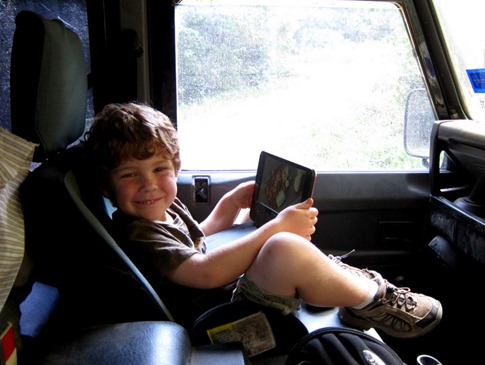 As we pushed on, the jungle continued to close in around us. At times, I'd completely lose the track, but James and Angela ably navigated the brutish Land Rovers through each obstacle. This was the real thing; We were exploring roads rarely if ever driven through dense jungle in Belize. Amazing.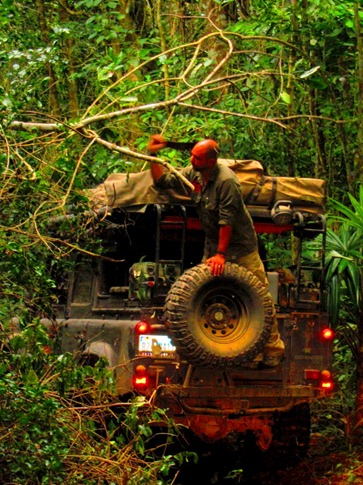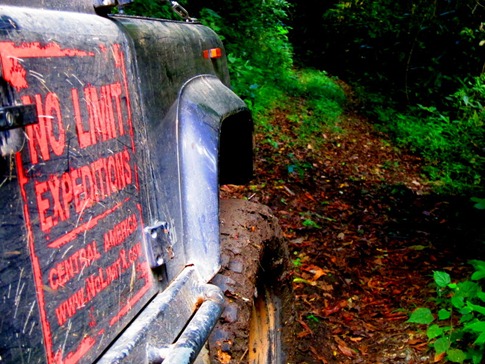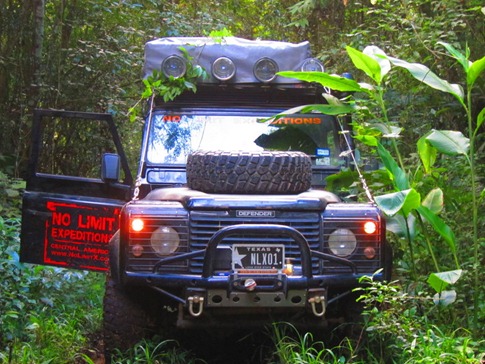 A check of the clock and the increasing challenge of the trail and the decision was made to head back to camp. As you might expect, that's when the lead truck got stuck in the mud. Not to worry; NoLimitX's vehicles are fully equipped, and a dynamic recovery strap was produced, secured to the trailing truck and the extraction was performed. When the lead truck again lost traction, this time because of the deepening ruts we'd created on the way in, James positioned a set of MaxTrax, rigid orange plastic panels molded with traction-yielding nibs and protrusions, and we navigated his mud-caked tires onto them. The tires bit when they reached them, and we were through the obstacle.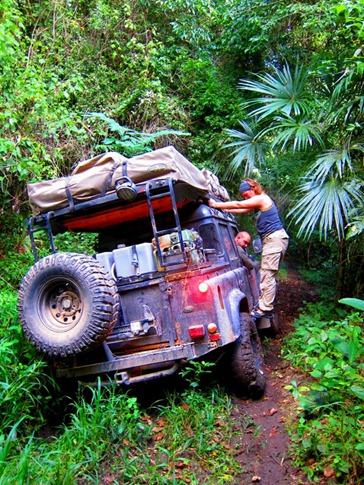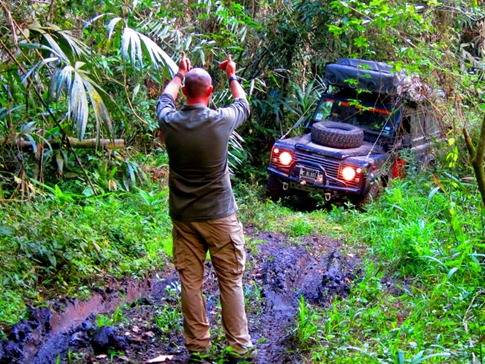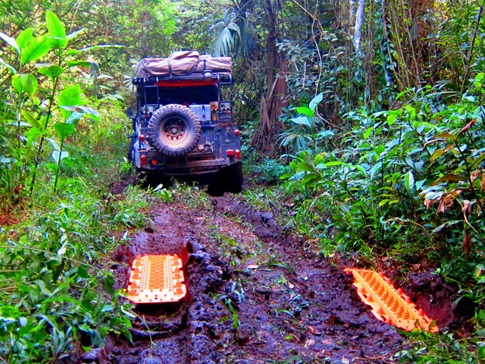 By now it was 5:00 pm, and we were making time back towards Cuevas Camp, wondering if Ann might have started making dinner yet. Angela and I were in the lead truck, narrating the terrain ahead to each other - "Looks a little loose ahead, stay left, watch that vine." – when we found "rutzilla," a 2 foot deep track we'd left on the way in. We tried to stay high but the mud-caked tires slid right and the gravitational pull of the rut dragged us in, leaving the truck at a precarious lean. After some "colorful constructive criticism" from James, we started the recovery, though this one would be a little more complicated; Angela's truck didn't have rear recovery points since it would usually be pulled from the front by the lead truck. Of course, it did have a winch, and James fixed a strap to a strategic tree as the daylight started to fade. The torquey pull of the electric winch could overcome even the thickest mud, but progress was slow before all four wheels were on the same level, and we could proceed. Angela did an excellent job of concealing her glee when James was also unable to avoid the rut and became similarly tipped; I thought it best to stay diplomatic and agree that our slide could have torn up the safe line so much that there was no way to avoid it. Only the jaguars watching from the underbrush, licking their chops as they called dibs on each of us, know for sure…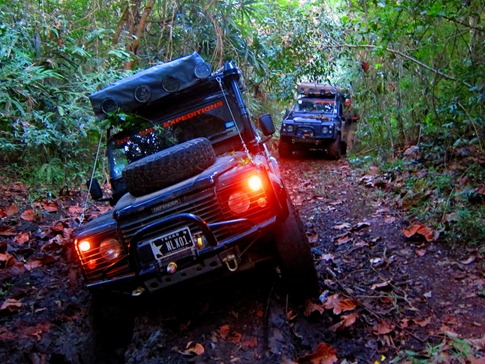 Darkness fell hard on the dense jungle, not particularly permeable to light even during the day, as we rescued the second vehicle from the pit of despair. By this time, we knew we had everything under control and were still enjoying the jungle outing, but I began to think of Ann back in camp, watching the sun go down with thoughts turning to how much those pretty trucks might appeal to well-armed, 12-year-old Xateros. She was pretty relieved when we emerged from the jungle, off-road lights blaring and diesel engines purring with quite a story to tell.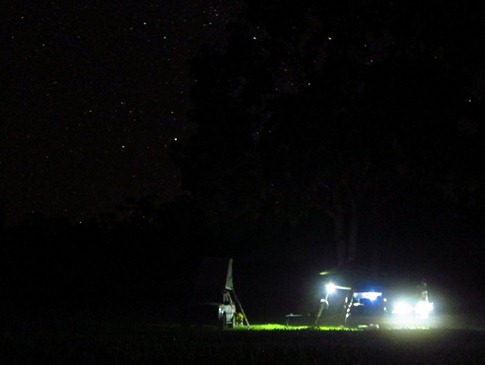 Hopefully James and Angela will be able to use some of the video I shot, but here's a little movie of the trip from my perspective…
The next morning, after exploring a huge cave, the source of Cuevas Camp's name, we unraveled our adventure, moving from the jungle back into pine forests and waterfalls.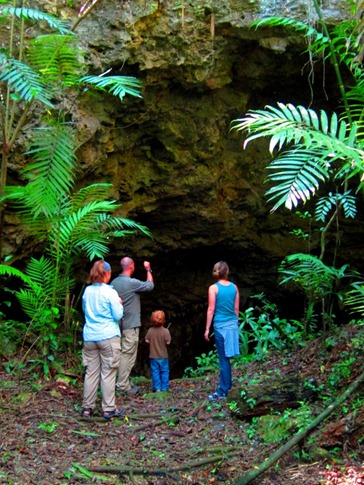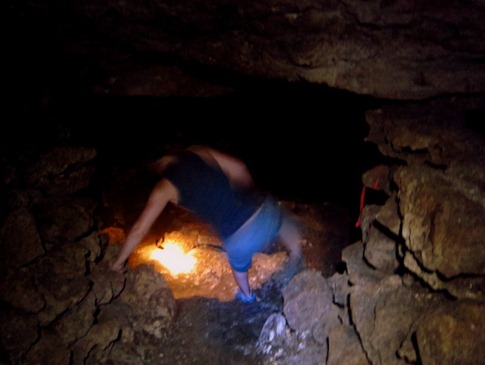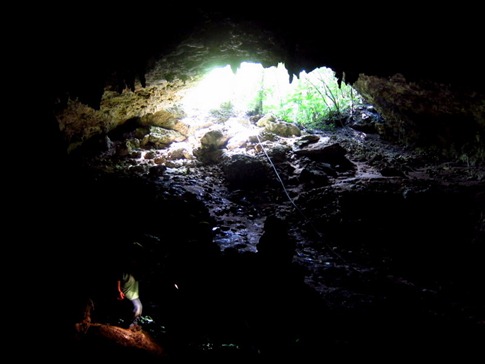 Following the two Land Rovers, we saw a hand extend out of the front truck and point towards the sky. Tracking it, we saw the bright red and blue birds keeping pace with our convoy. I quickly grabbed the camera, turned it on and switched it to video, and perfectly framed the two NoLimit X trucks traveling the remote jungle road beneath the wings of two wild scarlet macaws. The step I had forgotten was to hit "Record."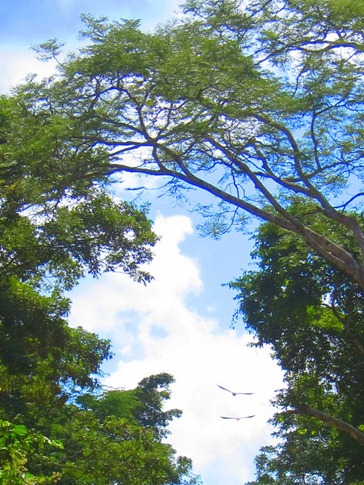 We made a lunch stop at the Rio On Pools and swam between the cool tubs of water. Ann and I crossed a larger pool and climbed onto the rocks at the far end. As we looked back across, we saw ripples appearing in our tracks; Then they expanded to cover the entire pool. After eliminating the possibility of piranha, the rain reached us. Standing in full sun, we looked skyward as huge drops of water emerged from the dark cloud above and grew bigger as they hurled towards us. Fifteen seconds later, we were drenched in blinding, tropical rain while the sun shined around us. Didn't bother us much; We couldn't get any wetter.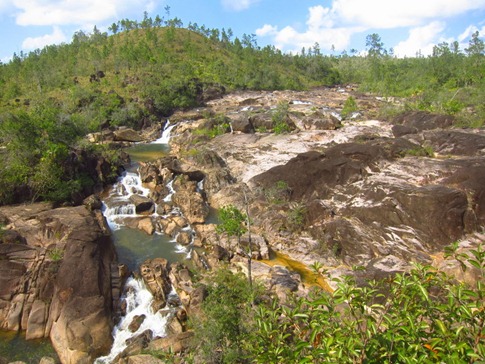 The trip into the jungle with NoLimitX was an unexpected surprise and blew away the preconception that Belize is all about the Cayes. We had a great time with James, Angela and Parker; We parted with simply a "We'll see ya soon," knowing that we'll all do what we can to have our paths cross again in the future. Who knows? We might need to consult with them on building a beachfront safari lodge.