My father was born in TsinSin, China in 1939. His parents met in Harbin, his mother having fled southern Siberia ahead of the Russian Revolution around 1917 and his father part of a trading family with business in China. His father, my grandfather, had been sent to the US (actually about 10 minutes from where I grew up) for high school so he could learn English and become a citizen. While the Japanese had been in China since 1931, it wasn't until later in the decade that the US started imposing trade embargos to keep their expansion into mainland Asia in check. In response, the Japanese bombed Pearl Harbor on December 7th, 1941. On the morning of December 8th, all citizens of enemy nations living in the Japanese occupied areas of China – and that meant Americans – were rounded up and sent to internment camps. After three years in the Weihsien camp in North China, seven members of the OSS, a predecessor to the CIA, parachuted in to inform them that the US had dropped atomic bombs on Hiroshima and Nagasaki and the Japanese had surrendered; They were free to leave.
My mother's father was sent by the US Navy to China to assist Americans in recovering property and belongings seized during the war. It's likely that he sat across a desk from my father's family at some point during this period. While he would return to his three small children and my grandmother in Pennsylvania after his duty, he accepted a post shortly thereafter with the YMCA to return to Asia, Korea this time and with his family. That same year, 1950, the Korean War began, and he was sent to Tokyo instead. After the war, my father's family had bounced back and forth between the US and Asia, finding that the latter still felt more like home. They eventually settled in Tokyo, my grandfather buying a bar which lead to a business importing Johnny Walker scotch and French wines into Japan.
My mother and father were both sent to the American School in Japan where they and some of their closest friends met. While they only dated briefly in the nine years they were in school together, they would ultimately meet back up in the US, my father at the University of Chicago Business School and my mother and Northwestern Nursing School, and get married.
While my two older brothers and I had tagged along on a few of my father's business trips back to Japan, the business overseas was mostly wrapped up more than 20 years ago and none of us remember much from the trips other than Dad returning with a dozen new dress shirts custom made by a tailor in Hong Kong. While my father passed away 7 years ago, for my mom's 70th birthday, we all agreed to pack up our families - 15 people in all including my mom, her brother and his wife, the three brothers and their wives and 6 kids ranging from 16 years to 3 months – and return to Japan to explore the roots of our family.
My thoughts on their experiences growing up in Asia, the value to kids of living abroad (including our trip two summers ago to visit the town in Provence where my sister in law spent 3 years as a child), our thoughts on doing something similar with our kids are enough to fill 5 blog posts… no 10… or maybe a book… maybe that's where all this is going - give me some time to process it all and get back to you – but for now, here are some pics and highlights from the trip that barely scratch the surface.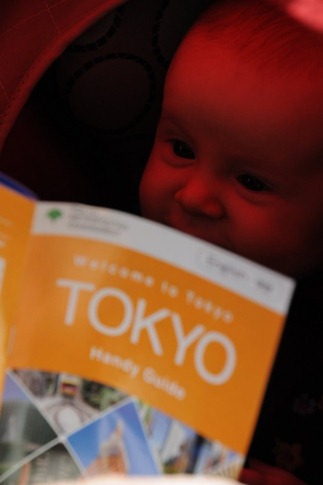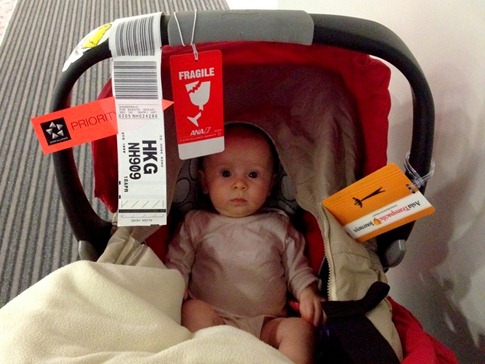 People's first question is how it was travelling with a 3 month old. Wynne spent hour after hour each day being moved from one place to the next - the Tokyo subway at rush hour, taxis, buses, stinky diesel ferries, the bullet train from Tokyo to Kyoto, not to mention 11 hour flights to and from San Francisco – and it didn't phase her in the slightest. Our approach has always just been to read her: If she's hungry, feed her; If she's tired, put her to sleep; Oh, and change her every once in a while. It didn't much matter to her that we were half way around the world.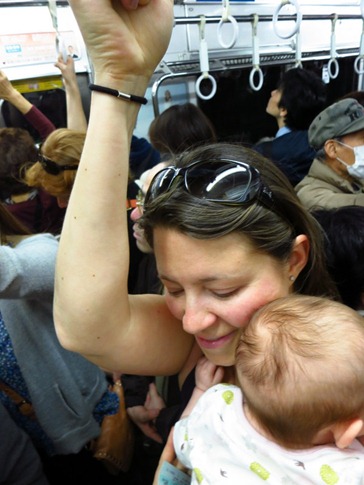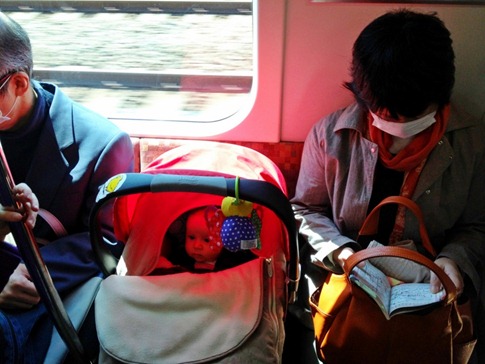 Note: the facemasks are either because the wearer is sick and doesn't want to infect anyone else or to minimize the effects of allergies, not because anyone without one will soon contract a flesh eating supervirus.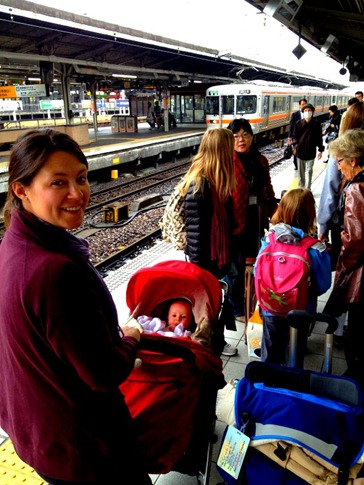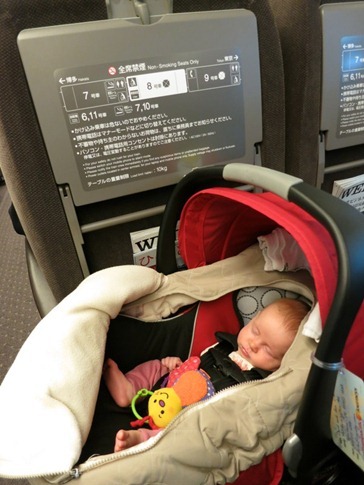 Wynne handled the 15 hour time change better than either of us did. The second day there, she fell into a perfect little schedule that had her waking up at 8 am, napping while we ate breakfast at 9, sporadic wakefulness and naps throughout the day, and a last nap at 7 pm while we ate dinner. We ate 45 meals straight out at restaurants and she slept through most of them!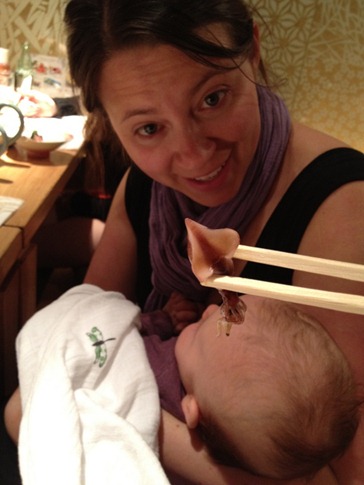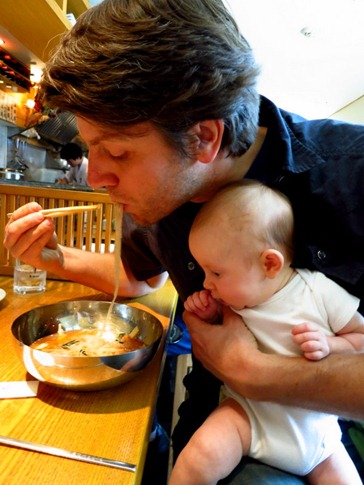 Our first three days in Tokyo were timed – by wishful thinking and a whole lot of luck – with the height of the cherry blossom bloom.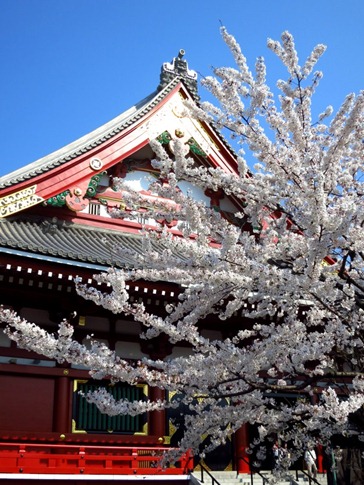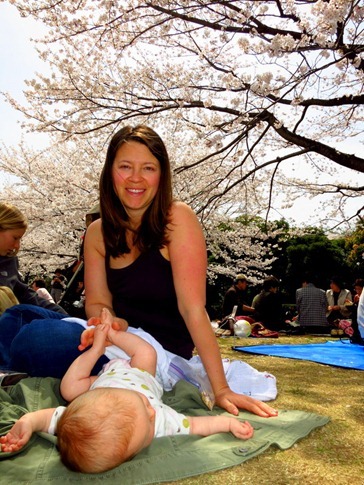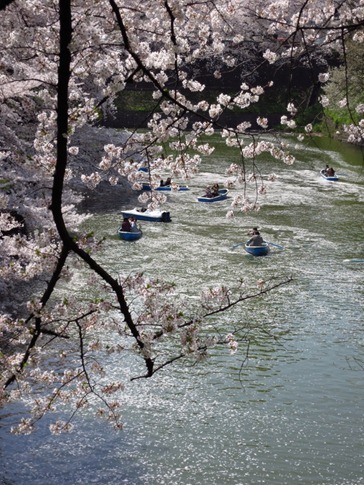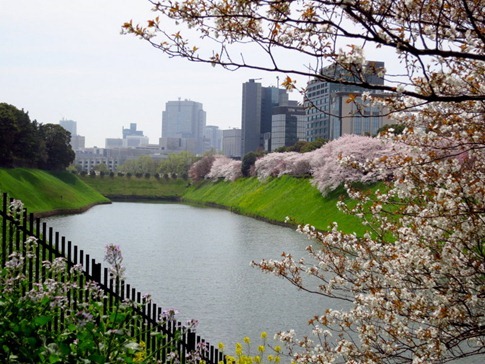 And the cooler weather in Kyoto meant they bloomed there just as we arrived on the bullet train three days later. They are only at their peak for a few days before wind or a rain shower knock them off the trees.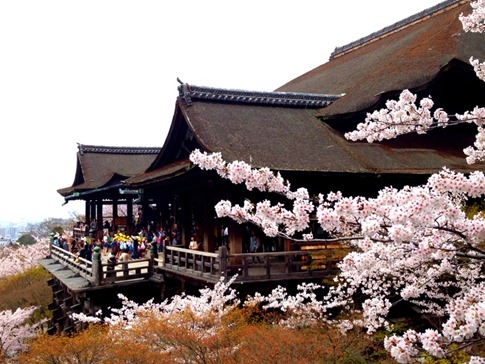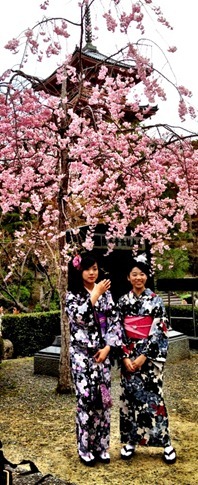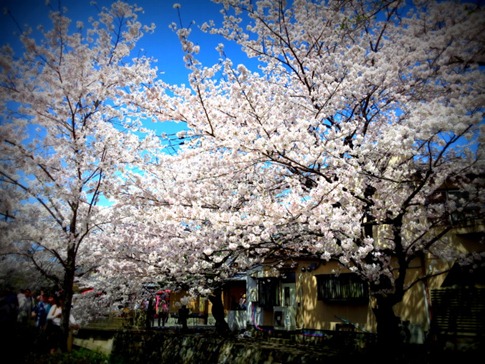 We spent the first week mostly seeing the cherry blossoms and visiting beautiful temples and gardens.
Of course, they can't all be beautiful top to… well… bottom.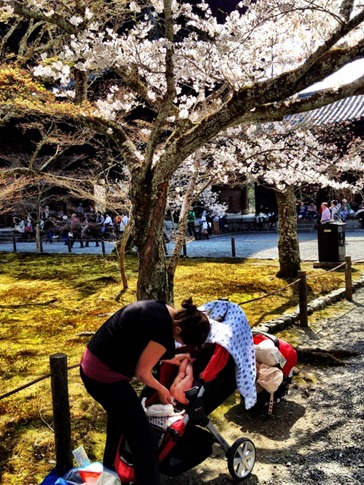 On the train rides, we interviewed my mom, trying to piece together the world politics, geography, economics and family dynamics that brought the two branches of our family tree together in Japan.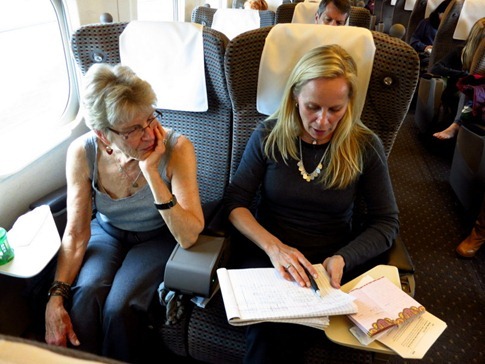 From an old box of curled photos at Toshiko Seki's home in the country about an hour train ride from Tokyo, a picture of a family from Pennsylvania (my mother in the center) transplanted to post-war Japan. Toshiko had come to work for my mother's family in Tokyo almost 60 years ago, and she and my mom have stayed in touch ever since. She and her family welcomed us with a huge spread of food, homegrown shitake mushrooms and plum wine. They produced a long extension cord attached to an amp and a battered electric guitar, and nephew Austin and Toshiko's son found common ground on Rolling Stones and Beatles tunes.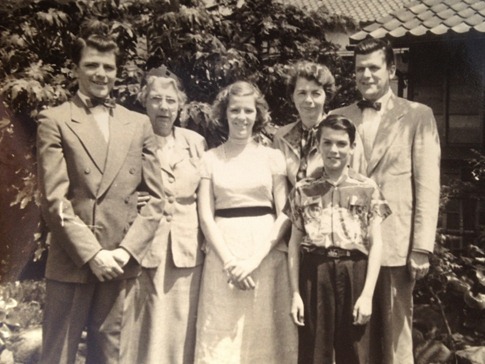 Our days were jam-packed between sightseeing and retracing the old routes my parents would take to school and to places they'd hang out. The line of 15 of us, Wynne usually in her bright red mobile stroller-pod or asleep in the Ergo carrier, would sometimes stretch out for blocks as the leaders, my mom and her brother, hunted for landmarks that would jar their memories. Unfortunately, when we finally found the compound in which they'd lived with two other YMCA families, it had been turned into a parking lot. My dad's family office was now a pharmacy. Of course, that was more than 50 years ago, and it still meant a lot to my mom – and to us – to have everyone there walking the old streets.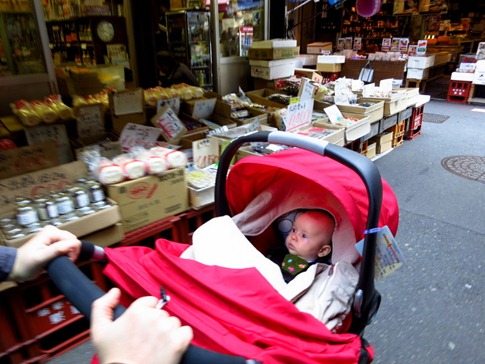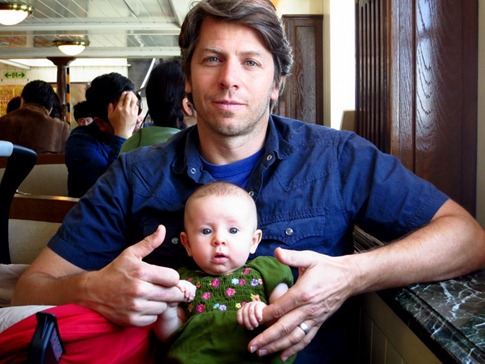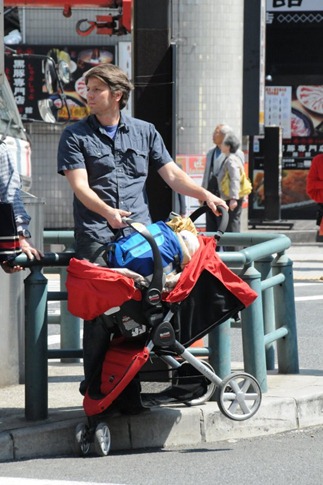 For our dinner with a Maiko, a girl in training to become a Geisha, we thought Wynne should step it up a bit with the kimono her cousin Maya (her biggest fan and star babysitter) bought for her.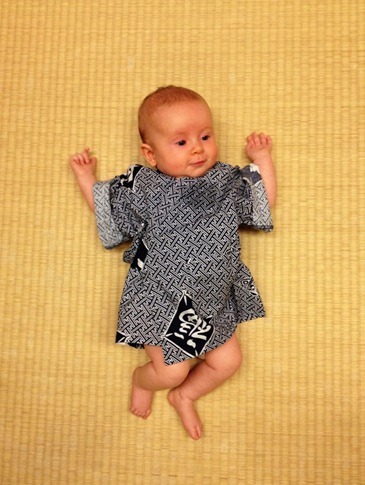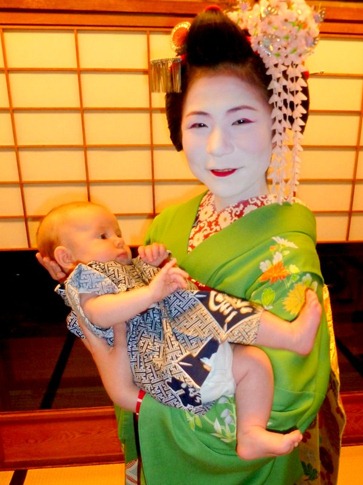 The 16 year old Maiko, along with every old lady, business man, shopkeeper and taxidriver in Japan, thought she was "kawaii" or "cute." While she got a lot of attention everywhere she went, she wasn't alone; We could hear a rising wave of what can only be termed "giggle-blushing" as my 16 year old, nearly 6 foot tall nephew walked by a group of school girls. My niece finally threw him under the bus by turning around and calling them over for a picture. They swarmed him for pictures to be taken with each and every one of their camera phones.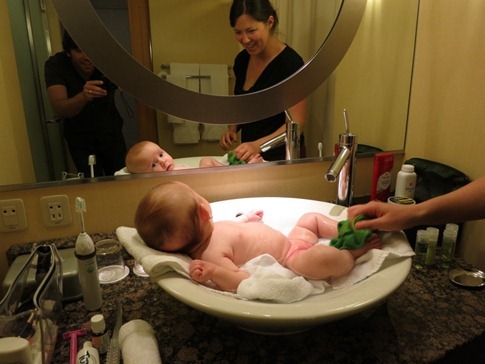 Otherwise, it was pretty much business as usual for little Wynne: a bath in the hotel sink when she started getting cease and desist letters from dairy farmers feeling threatened by the cheese production operation going on in the folds of her neck and knees.
She was a great sport but sometimes you could just tell she was tired of being hauled around everywhere.
Like the top of Victoria Peak overlooking Hong Kong Harbour in sideways blowing rain.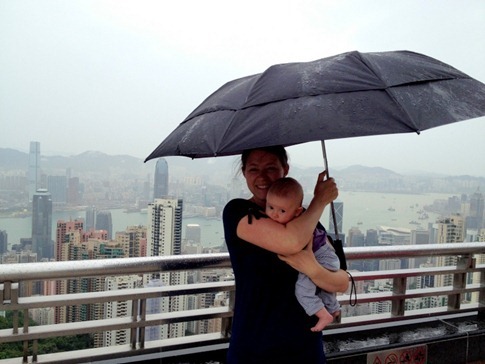 Or out way past her bedtime.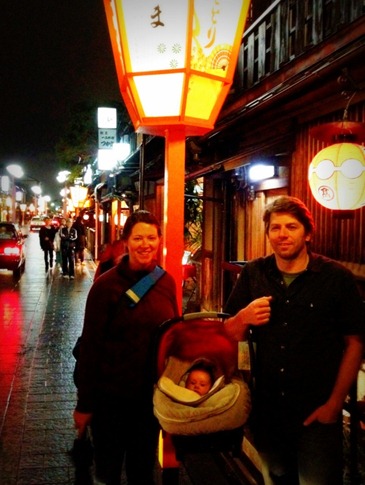 But we're not gonna stop traveling anytime soon; We wouldn't do that to ourselves or to her.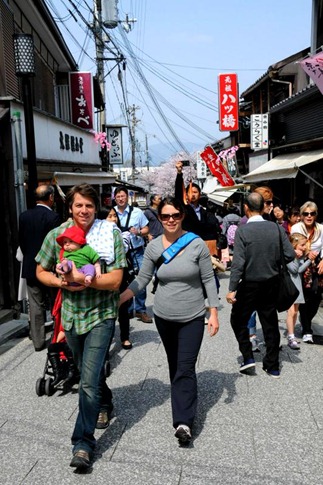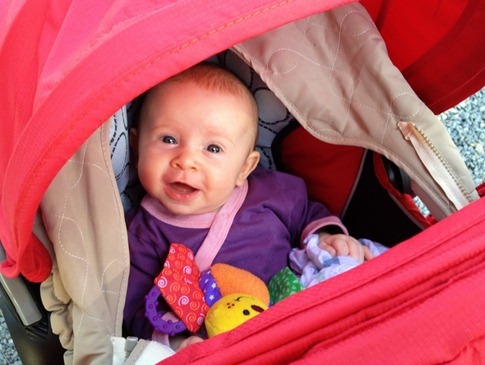 A little video I put together of Wynne's trip…
A few final thoughts. Japanese culture struck me as one of deep tradition and respect. Shoes are always removed in traditional houses or restaurants because the living is done mostly on woven tatami mats on the floor. No question was ever answered (sometimes to our frustration), with a "No." We were made to feel comfortable and at home throughout our visit and were impressed with a society as modern and industrious as ours, but often with a significantly different approach to the same issues. While English was not spoken as much as I might have thought, travel was easy and efficient. Particularly in Takayama in the hills inland between Tokyo and Kyoto, Ann and I immediately felt like, while there would be challenges with the language and some local customs, we could have found an apartment and settled in quite well.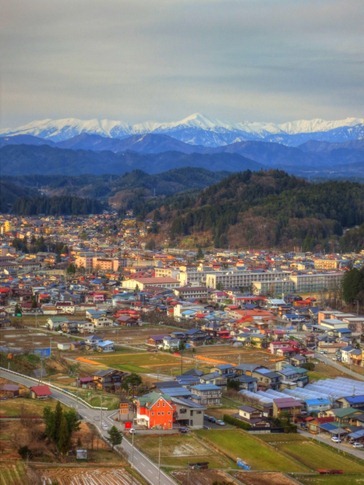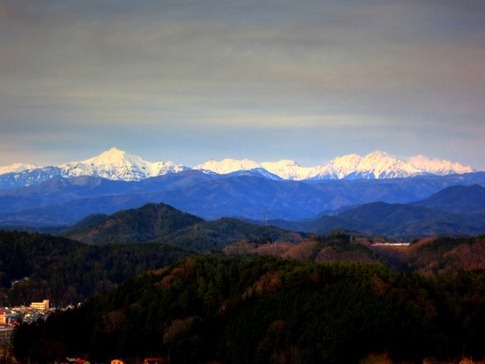 Our last few days before returning home were spent in Hong Kong, a stark contrast from Japan. The frenzied action reminded us much more of Central America while Japan had been very much like the US. Markets selling anything you could imagine were crammed into tight alleys, taxis and busses aggressively jockeyed for inches of gain in gridlocked traffic and the air hung thick with pollution. It may have just been travel fatigue or the hot, wet weather, but we were ready to take a few pictures of the beautiful and chaotic harbor and be on our way.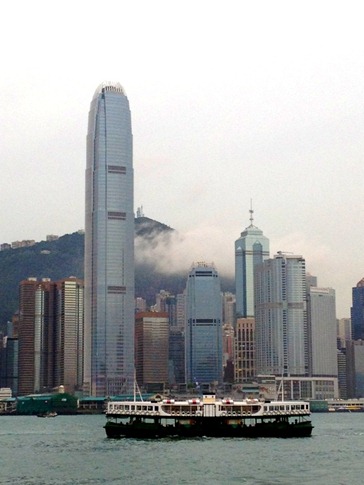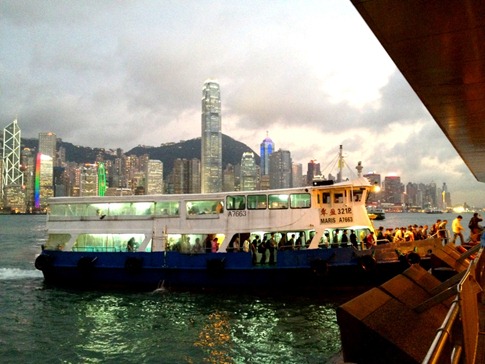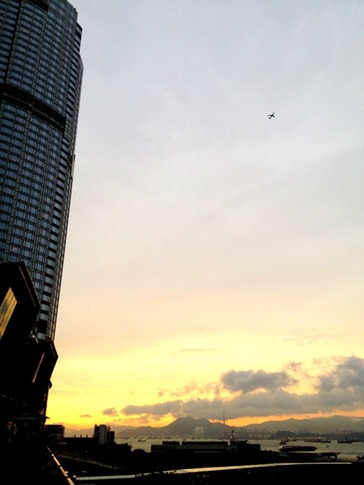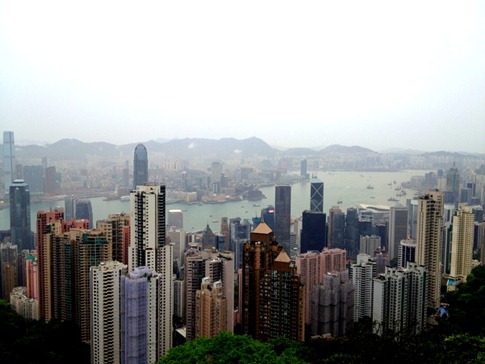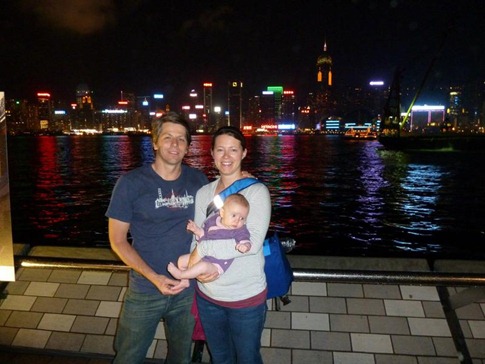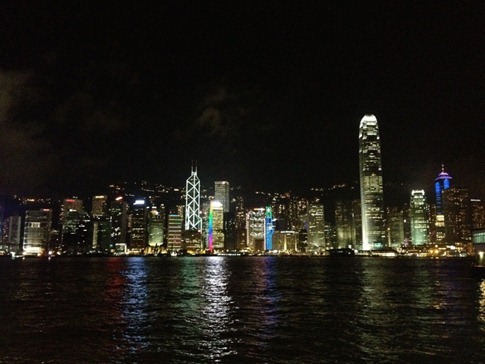 Still, we did have one thing we wanted to do, a visit to a tailor recommended by the hotel to have a suit made for me. It seems that somewhere between moving out of our house in San Francisco while we were in Mexico and Central America and returning to the US and moving to the farm Petaluma, all my nice clothes had disappeared. For the price of Men's Wearhouse at home, we picked the fabric, had custom measurements taken and selected every option from button to collar and cuff to cut. When the tailor recognized our last name, we realized that my father's dozen new shirts had come from the very same shop. A fitting (no pun intended) close to an incredible trip back into our family history.