Hendy Woods State Park sits along the Navarro River adjacent to Highway 128 as it winds through the Anderson Valley from Cloverdale to the coast. Though we'd never been to the park before, we'd missed two opportunities to visit this area in the past two years: first, when my oldest brother threw together a last minute music and camping weekend for some friends after the music festival they'd been planning to attend was cancelled due to the Rim Fire and second, the next year when he expanded his impromptu gathering to a full fledged festival with 500 people including all my family and most of our close friends. The first time, we'd been in Banff caravanning with several other "young" Airstreamers, and the second time, we'd been waiting for the birth of our second child. Despite my assurances that my middle brother who is a doctor could easily deliver the baby in the shelter of a hollowed out Redwood stump and that I would only briefly lobby to have the child named "Bark," I was never quite able to get Ann to come around to the idea of making the trip.
But this time, we 'd finally make it and had everything we needed, including a 405W solar array mounted on the roof, a 120W portable panel and two new 260 ah 6V batteries we were curious to test in the notoriously dark redwood grove. As we pulled into our campsite, things did not look good (for the solar, the campground was beautiful!).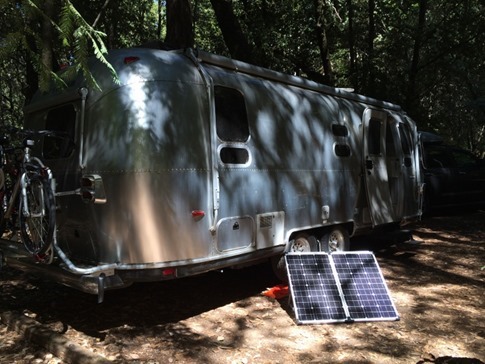 My thought was that if we moved the portable 120W panel around enough, we could harness a few hours of its 6-7 amp output each day, thus extending our roughly 130 ah hour useable capacity (50% of 2 x 260 ah 6V batteries @ 12V) a bit. Our solar/battery planning works on the projection that we average 2-2.5 amps per hour or 48-60 amp hours a day (the lower number with conservation and less furnace use), so if we could even pick up 15 amp hours a day over three days, we'd extend our range by another day.
While looking at the path of the sun beams through the dense trees, I opened the compass app on my phone and noticed that we just happened to be oriented exactly East/West, so I slid the telescoping ladder out from underneath the platform I'd built for it just before leaving and used it to tilt the panels to the South to try to catch a little more as the sun came across the sky.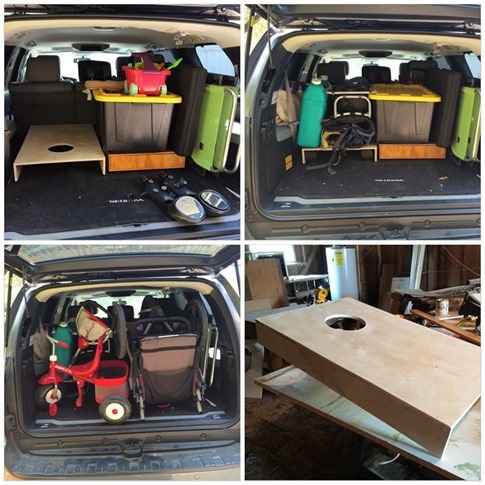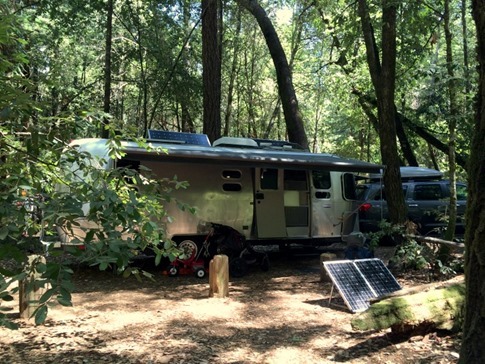 That evening, I decided to use the readout on the remote solar control panel to get an idea of the draws of various things in the trailer. It's interesting to note that, with nothing "obvious" turned on, I still saw a draw of 0.5-0.7 amps which could be attributed to the DC powered lights/controls on the fridge, the propane detector and maybe a little from the monitoring panels themselves. But, that means just sitting there, we'd need almost 17 ah of power a day.
Power Draws:

Radio
0.4A
LED lights (3 @ 9 diode bulbs)
Note: You can figure 0.1A per fixture so only 0.1A for a reading light
0.3A
Incandescent closet light (still haven't replaced)
1.3A
Bathroom fan
1.3A
Fantastic Fan (Level 1/2/3)
1A/1.5A/1.8A
Water pump
5A
Furnace blower
5A
Inverter turned on w/o anything plugged in
1.3A
Laptop plugged in and charging
3.5A
Laptop plugged in and running
5.7
A couple things to mention: LED lights are awesome. You could leave a three light cluster on for 5 hours every night for a week and only use 10 ah total. Incandescent lights are terrible power hogs. We don't have any overhead incandescents to test but using one closet light (or accidentally knocking a light on in a storage compartment) for an hour uses the same power as three LED's for 5 hours. The water pump is power hungry, though it's rare to use it more than 5-10 mins at a time (like for a shower) which would cost you almost 1 ah. I was a bit surprised to see the draw of the inverter with nothing plugged in, but we did know there would be some overhead for using it.
In any case, with a base draw of 0.7 amps, a couple groupings of lights (0.3 amps each) and a Fantastic fan running intermittently, it's pretty easy to see how you'd get up to burning 2 amps/hour pretty easily.
At 3 pm on the second day, 24 hours after we'd arrived, the monitor showed us 44 ah down. Assuming just a little coming in from the roof panels and a little from the portable and only minimal furnace use, our usage was just about in the range of our projections.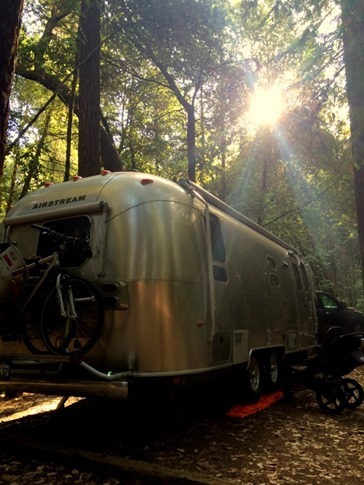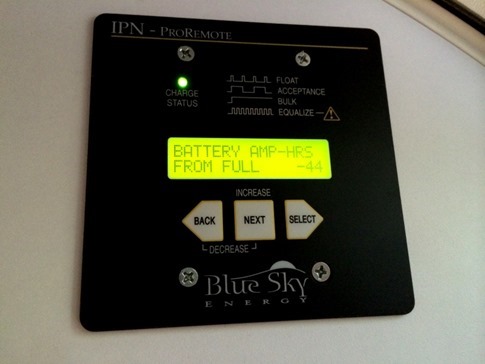 But we weren't just sitting there staring at the solar monitor *all* day. We did get out for a hike in the Big Hendy Grove one morning, which was perfect for Mae's morning nap.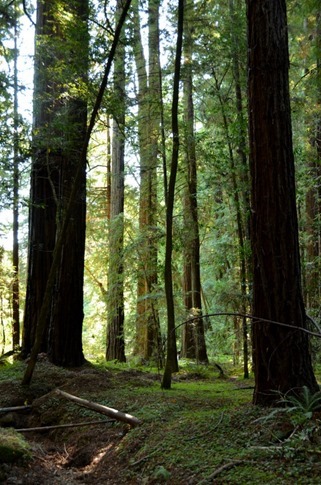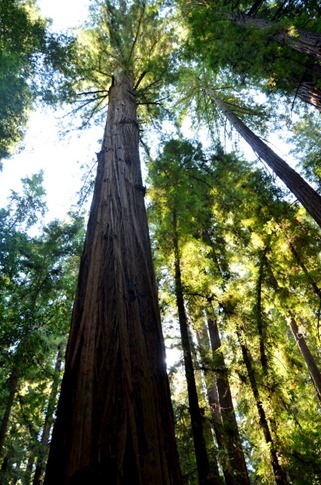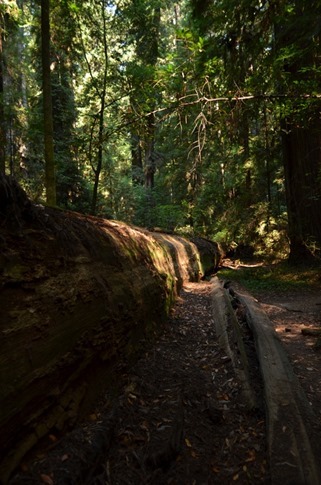 And got a new family picture to replace our last one at Big Trees…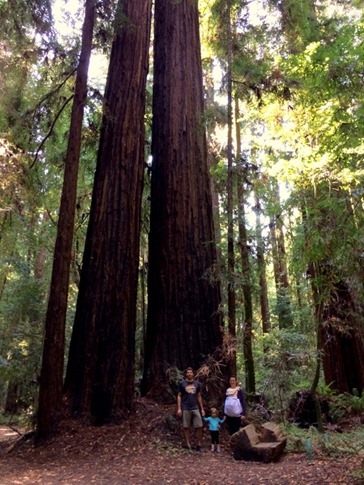 … and another not-so-family-friendly one.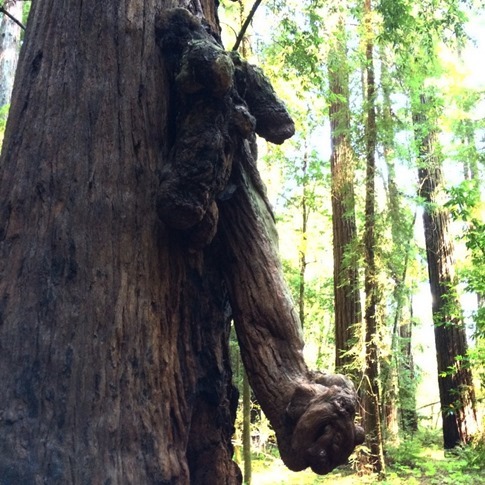 Another afternoon we went down to the Navarro River…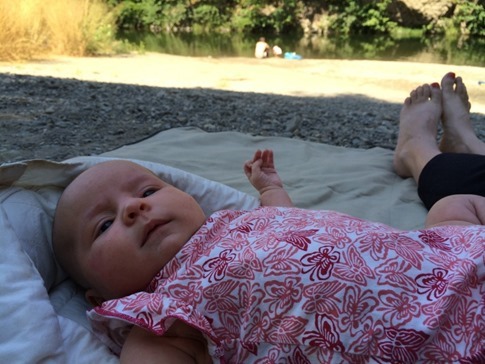 …before heading into Boonville that evening for a good dinner and a local beer(s).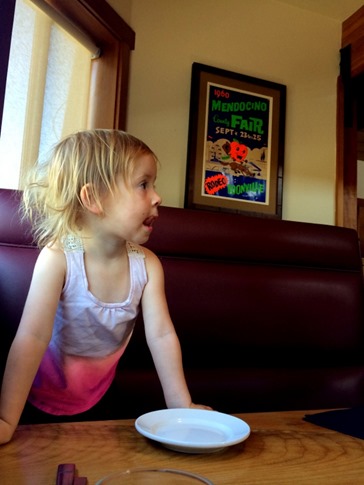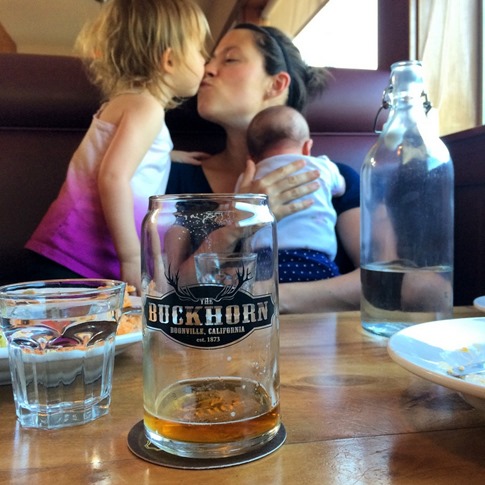 But in truth, we mostly did a lot of hanging around the trailer, sitting in the hammock and going for strolls around the campground loops.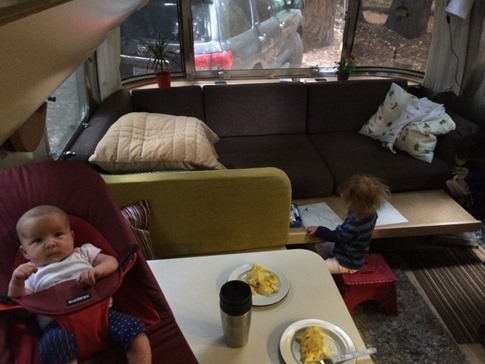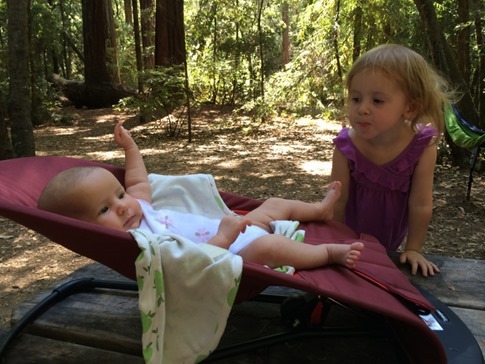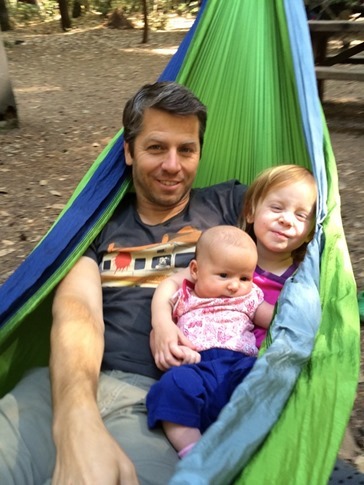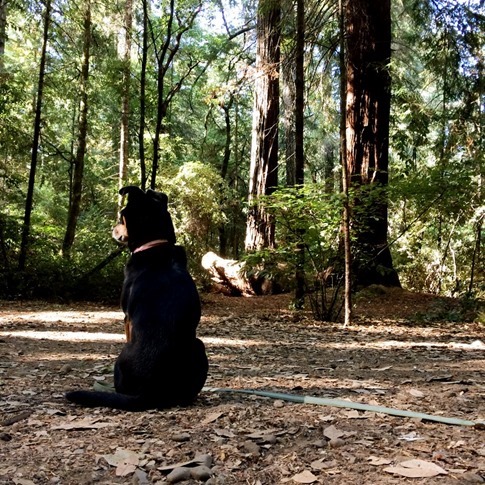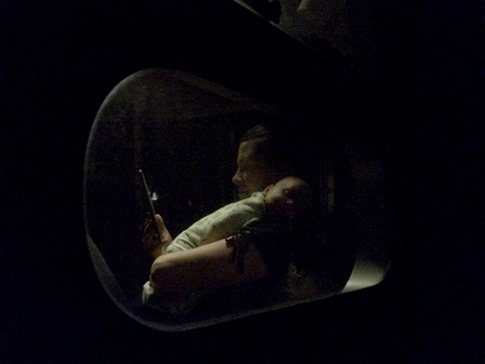 Not exactly a life of unbridled adventure, but we're calling it a "win" for just keeping two kids alive and not hating each other on the road.
At the end of the second full day, we were down 88 amp hours, exactly following our usage pattern from the day before, but it was clear that we wouldn't pick up the extra charge we needed for the fourth night. The next morning, we packed up with the monitor reading –109 ah. At that point, we had nothing to lose and went for it; Ann made some smoothies in the Kitchen Ninja, and I charged my laptop for an hour.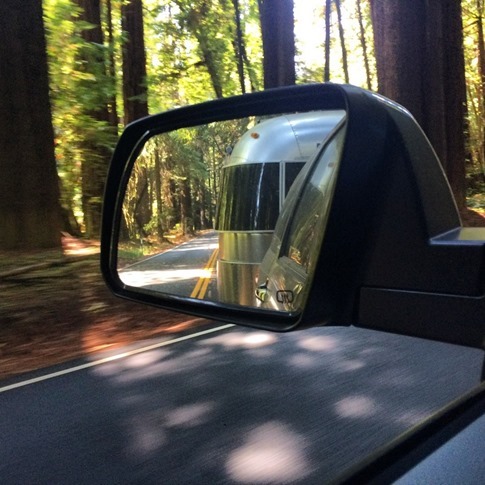 Winding out on Highway 128 through the redwoods was absolutely beautiful, but likely didn't allow us to collect too much power. But by the time we hit the coast and had driven an hour or so north before stopping at a particularly scenic pullout overlooking the Pacific, we climbed inside to find the monitor at –77, more than 30 better than when we'd left. In addition to the 7 amps or so coming from the tow vehicle, our panels can add over 20 amps while driving in full sun, another huge benefit to solar in our minds. A two hour tow could give us enough power for another night as opposed to needing to drive for 7 hours if we were just charging from the tow vehicle.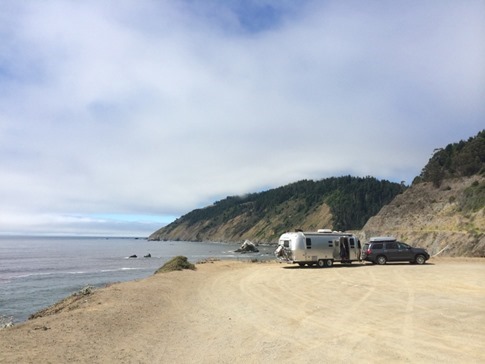 After raising the batwing and firing up the inverter to power the 4G booster connected to the omnidirectional antenna, we were able to squeeze off a couple Instagram pics. At that point, I realized something; We'd been in this spot before. In 2009, we'd ridden our F800GS motorcycle from San Francisco up to the Avenue of the Giants to run a 10K race with some friends. On the way home, we'd cut over on Highway 1 at Leggett to the coast and had pulled over at this same scenic spot. We'd gotten off the bike, set the camera on the ground and taken some self-timer pics. So this time, I forced Ann and all the kids to pose for a new version of the pic. Things have changed a bit, but I like to think that same sense of adventure is there.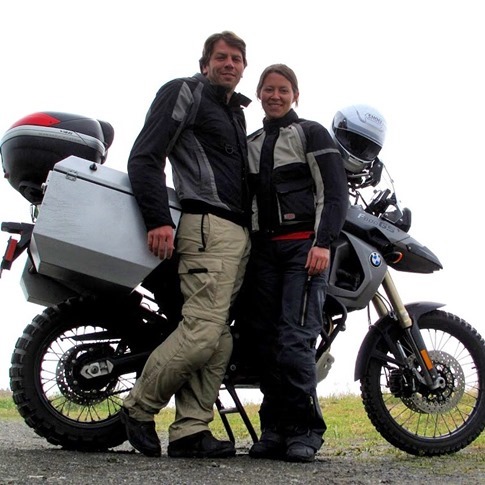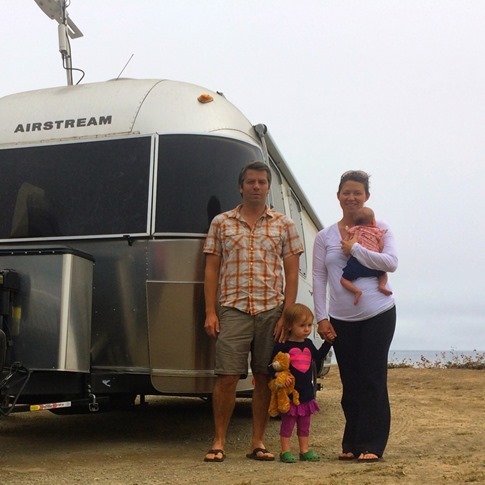 The last leg of the day was, frankly, pretty brutal. Each time Wynne would say "I want to get OUT!" we'd nod, feeling exactly the same way, and Mae had a particularly hard time settling into the sleep that seems to consume the majority of the hours in her day. After a steep tow up curvy hills where, despite some revs up into the mid 3,000's and an occasional 4,000, the Sequoia was doing a great job, we looked back into the jumble of mirrors that lets us check on the kids in the backseat to see them *both* zonked out. It was the dream!
On the way down the hill towards Leggett, I tried to lay off the brakes as much as I could, and the Sequoia seemed to want to used the engine's compression to keep our speed in check, possibly due to being in "Tow/Haul" mode. I didn't think anything of it as we connected with the 4 lane sections of Highway 101 and negotiated a few more strenuous ups and downs. We were glad to find availability in the first campground we came to within Humboldt Redwoods State Park, and despite the steep and very narrow campground loops, managed to back ourselves into a spot just before dusk.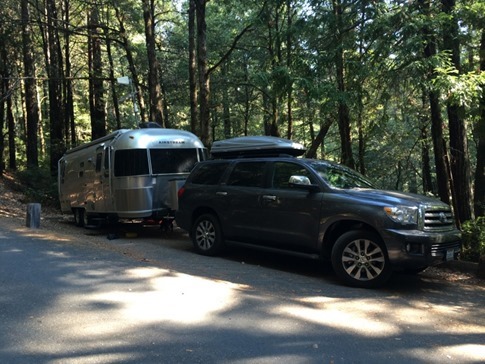 Just as I was about to turn off the truck, I noticed a red warning message appear on the dash. "Warning: High Transmission Fluid Temperature!" Looks like I'm going to have to keep a closer eye on the dedicated transmission fluid temp gauge in the future and experiment with taking it out of "Tow/Haul" when descending steep grades, but truly, this was a pretty rough day to be a tow vehicle.
Though we were back in the Redwoods, the monitor was reading only 51 hours down, and we only had one more night before we'd be on full hookups for a few days, so we turned on every light in the house, cranked up the radio and some fans, and settled in for the night.