Neither Wynne nor I are exactly morning people, but in a routine we established soon after her birth to allow Ann some much needed sleep after waking up every two hours for feedings, we get up together 4 days a week and kinda grunt back and forth at each other while the sun is coming up.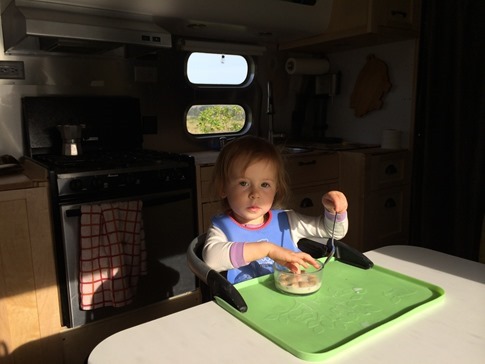 After a bowl of "Puffins" – she may be the only two year old who can tell the difference between a puffin and a penguin thanks to the pictures on the box of the lightly-sweetened cereal that has become her favorite - and a densely-brewed cup of espresso from the Primula one cup for me, we suited up and headed out for our morning exploration.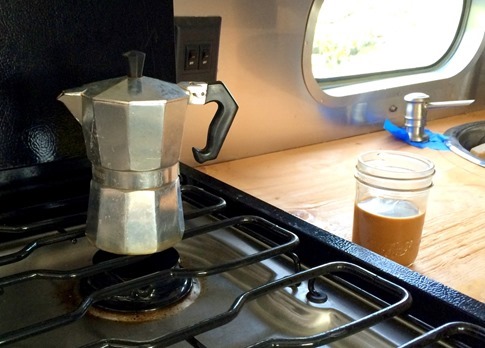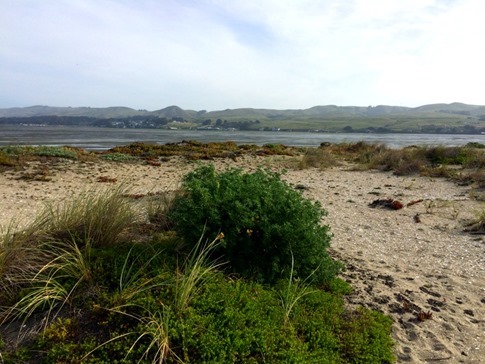 At home, Ann and I run "shifts" where one of us is the primary care-giver for a set period of time and the other can actually get a few things done. The shifts usually last four hours unless we're running one hour "speed-rounds," the details of which are not important unless you are planning to have children with us and then you can read all about it in the "Family Processes and Operations Guide" you'll be issued at orientation. During my shifts, I like to try to take Wynne out on an adventure, both because I find that keeping her occupied out in the world is a lot easier and more interesting than trying to entertain her while sitting on the floor in the living room and because I think it's nice for the person who's "off" to have a little quiet time around the house, or in this case, the 184 square foot trailer.
We've been talking a lot lately about how this system will change when our second child comes in about 6 weeks. The hope is that, at least after the first months of intense need for "mommy," we'll be able to fall back into shifts where one of us takes both kids for a set period of time and the other can retain some sanity. I, for one, know I'm much more ready for the parenting portion of life to get significantly harder than I am for the "get $h!t done" time to disappear altogether as would be the case under a "man-to-man" defense. That being said, we've been pretty much spending the entire "nesting" period this time around trying to minimize the $h!t that needs to get done and generally trying to simplify our lives.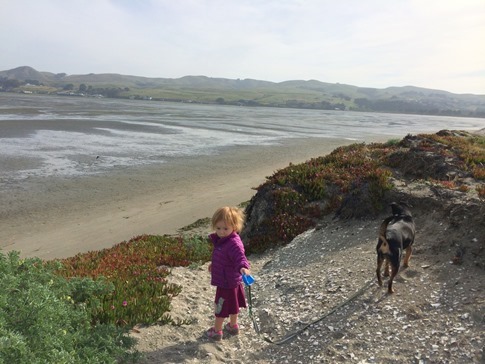 And so Wynne and I hooked up Gorilla's leash and stepped out onto the sandy grasslands leading to the beach with no particular plan, a morning that exemplified everything that feels simple about our times in the Airstream.
After finding one crab shell, she ran between the piles of seaweed looking for others. I explained to her that we would bring them back to mom to cook for lunch. Understanding sarcasm is not likely to be a problem for this particular child.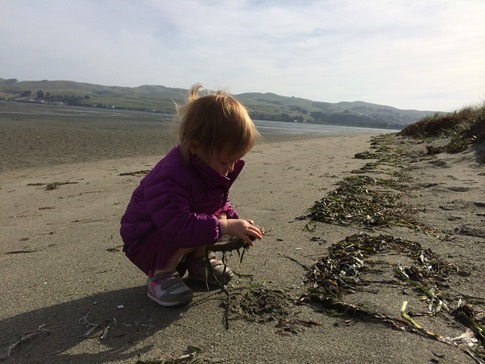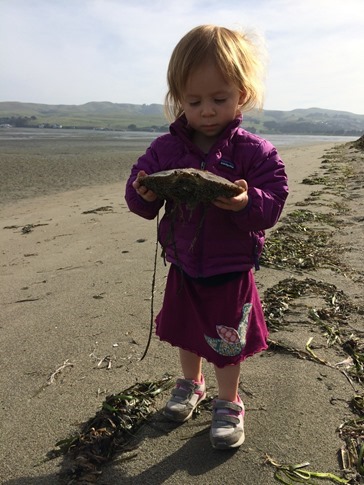 Back at the trailer, she played a bit on the pull out play table, just the slideout for the bed beneath the lounge refaced with some hardboard instead of splintery 1/4" ply. I'd also replaced the slides with 22" versions to give as much play area as possible, especially since we had the new lounge cushions built 4" deeper than the originals. With a small folding stool for her to sit on and toy baskets beneath, I'm really happy with how this came out.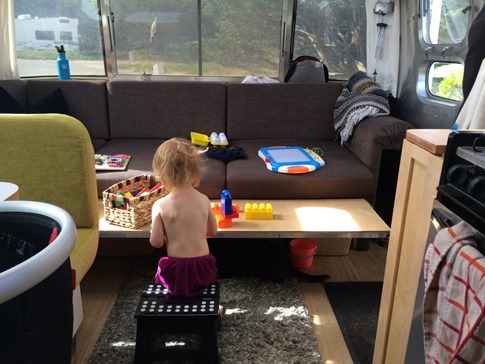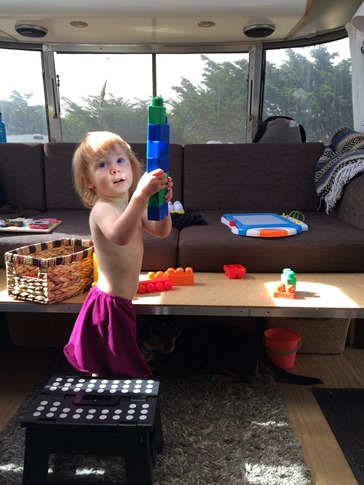 In our world, there's not much point in trying to cover much distance with an awake toddler, so nap time rules the schedule. On the plus side, that meant we had until noon to hang out on Doran Beach before putting her in the carseat to pass out.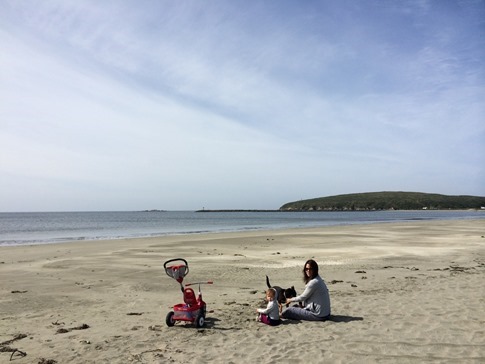 Our drive for the day took us back past our house, convenient if we'd figured out that we'd forgotten something, and all the way across the north end of the San Francisco Bay and the central valley below Sacramento into the foothills of the Sierra Nevada. It also reminded us why, after towing our 19' trailer on this route behind the Nissan Xterra we'd driven to Panama, we decided we needed a new tow vehicle. And once again, despite our gratitude for the borrowed Yukon XL that was the only reason we were able to keep our weekend on track, the conversation on this bumpy, two-lane, windy stretch again turned to tow vehicles.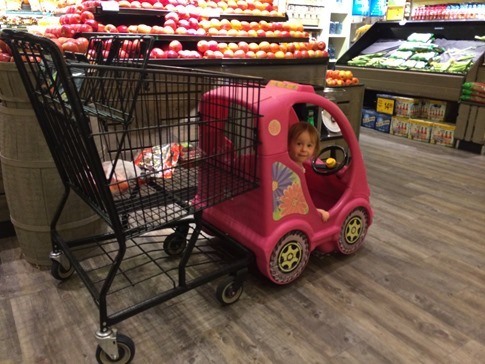 While stopping for groceries, I'd gotten a call from the Ford dealership where I'd dumped our disabled 2006 Ford F-250 the day before reporting that, in addition to needing a new fuel pump, we'd need at least one new fuel injector. He went on to suggest that, while they were in there, they should probably replace all four injectors on that side since injector failures were pretty common on these trucks. At this point, I was just about over hearing the list of common failures and, after talking about it on the drive, we were both ready to admit that we kinda hated that truck. We spent the next three hours venting on how much we disliked the rumble and smell of the big diesel, what a pain it was to drive around town and park and that we'd lost confidence in its reliability.
But for this weekend, our borrowed Yukon XL ably dragged our silver tiny-home-in-progress up a few moderate slopes and through the twisting one lane access road up to our friend's parent's property in the foothills near the town of San Andreas. While a few other early arrivals set up pop up travel trailers and six man REI tents, we deployed command central.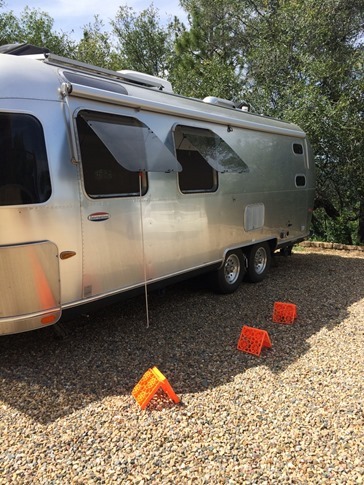 Directional antenna on the batwing plugged into an old Linksys WRT54G router flashed with an open source firmware (DD-WRT) to extend our network range so we could access the baby monitor from our chairs on the deck of the house. 405 watts of solar on the roof easily supplying current for the Fantastic Fans to pull cool air from windows on the shady side of the trailer to battle daily temps in the high 80's. I thought the use of the Lynx Levelers propped up into makeshift cones to prevent people from bashing themselves on the curbside windows was rather inspired.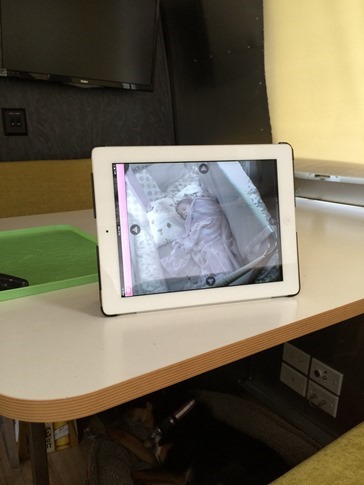 While in previous years, these friends have hosted a 200+ person mini-music festival on this property – remember our final weekend of our Southwest Loop in the Airstream last year? – this year they had a 6-month old daughter and opted for something much more intimate with just a few friends. Oh, and their friend's kids. Just a few…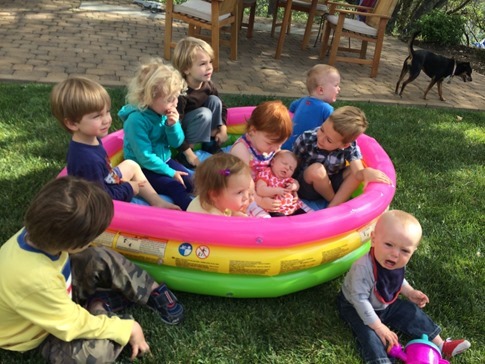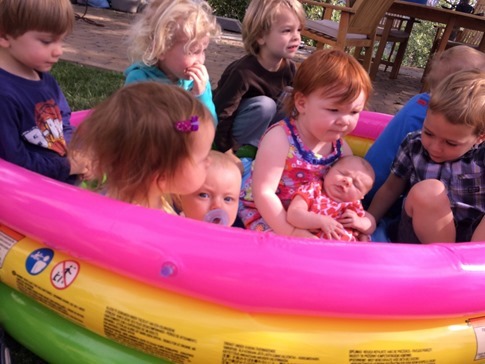 In addition to ample opportunities for her absolute favorite thing (holding babies)…
… Wynne spent lots of time with her "frousins" (friend cousins). Although, while the boys tended to run around in a frenzy, she and her friend Zoey were quite happy watering the rosemary bushes with toy watering cans.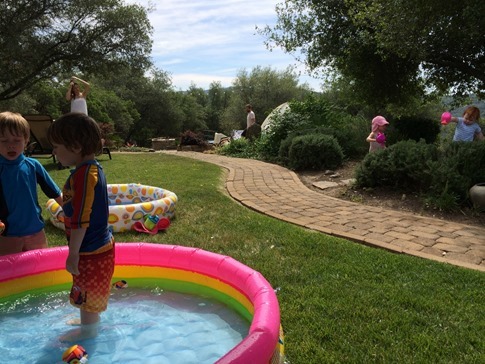 Girls just wanna have fun. I'll admit that we're a little scared of the "boy energy" and will be very interested if that's what our "surprise" turns out to be in early July.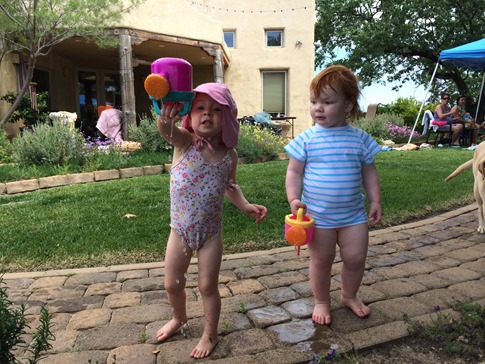 As everyone packed up on Sunday, several friends popped into the trailer to check it out. As Wynne pulled out baskets of toys or showed her friends the magnetic chalkboard (or kids busied themselves turning on and off every light in the trailer), we got a chance to give people a little look into this lifestyle that's so been so appealing to us. Of course, my mouth starts running to the guys about every little bit of technology, but the real appeal to us is actually the relative simplicity. Just what we need, easy to clean and manage, flexibility of place with all the comforts of home. And after a weekend of "camping" with friends, all we need to do is do a few dishes, drain a little gray water, top off the fresh and we're ready for a new adventure.
With that in mind, about an hour south on Highway 49, we turned east into the mountains on Highway 4 towards Bear Valley and Ebbets Pass, an 8,700 ft one lane pass over the Sierras which is a must-do in a car or on a motorcycle but not ideal for a trailer and not the plan for today. We'd actually been in the area on our first few days of the Southwest Loop as we search for an open pass to get us from home over to Mono Lake but had never stopped in at our destination for the night, Calaveras Big Trees State Park. It being Sunday night (and a bit early in the season), we had our choice of sites in the first-come first-served campground.
This'll do…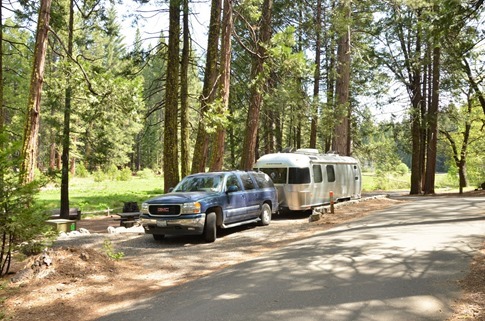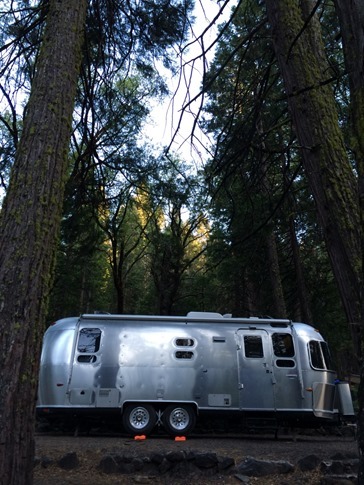 The dot of silver right of center is us.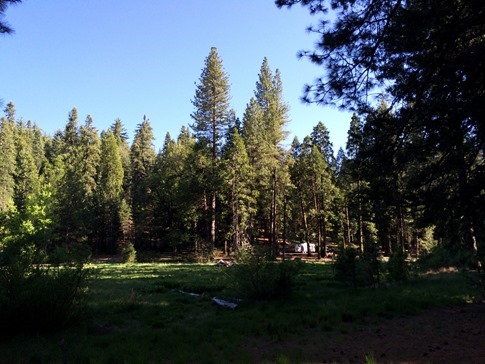 After a dinner improvised from fridge contents and a bath for Wynne, we settled in to fire up an episode of Homeland, catching glimpses from time to time out the window of tenters huddled around smoky campfires swatting away at mosquitoes. No, this isn't camping, it's just life in beautiful places.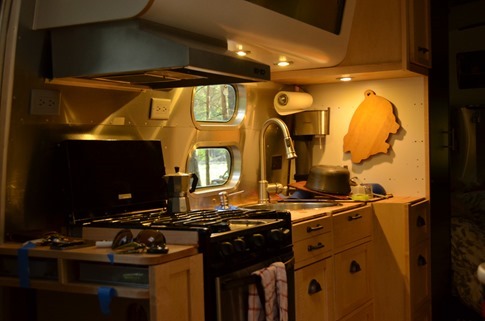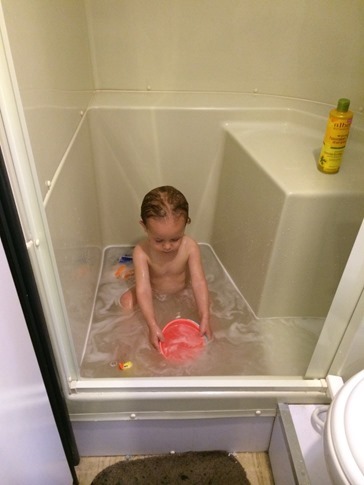 We'd heard about a flat 1.5 mile hike through the North Grove of the park and set out the next morning. The Radio Flyer *steerable* push tricycle (watch our assembly timelapse) works great as a middle ground between a stroller and a self-powered bike.
It's hard to believe that water had been diverted from this meadow in the 20's and 30's to be used for farmland and as a popular winter sledding destination. As the ground dried out in the summers, the wetland vegetation would die off and the forest began to encroach. Only in the past decade or so have administrators restored natural conditions and allowed the meadow to regenerate.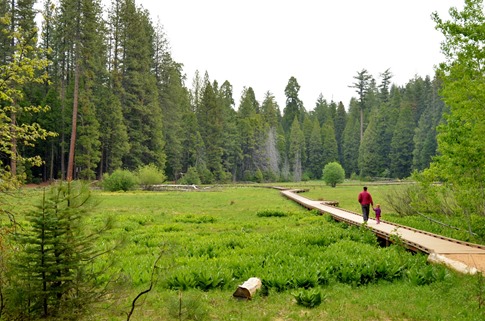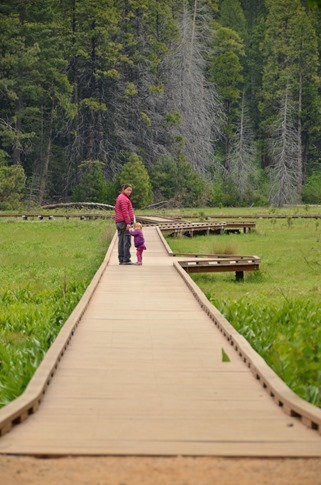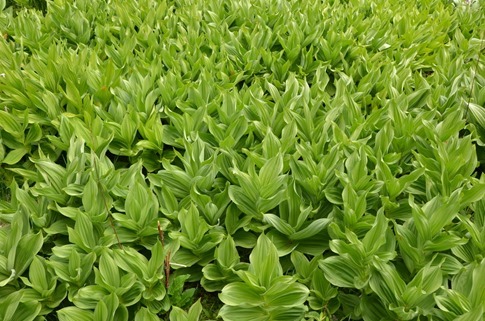 In fact, the story of Calaveras Big Trees is really one of recovery from this early exploitation. A giant hotel stood in the North Grove from 1861 until it burned down in 1943. Below, you can see notches cut in the horizontal tree that served as the foundation for the hotel.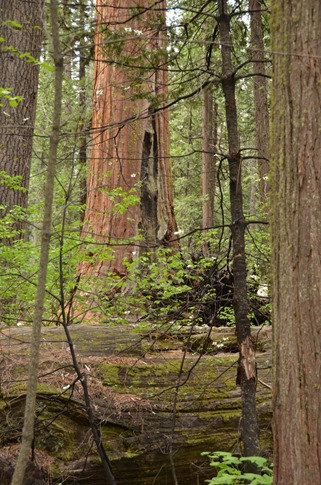 HUGE trees, 25+ feet in diameter and almost 300 feet tall, were foolishly cut down and bark samples sent around the world on display. Dances were held on the "Big Stump" that was all that was left of the Discovery Tree felled in 1853.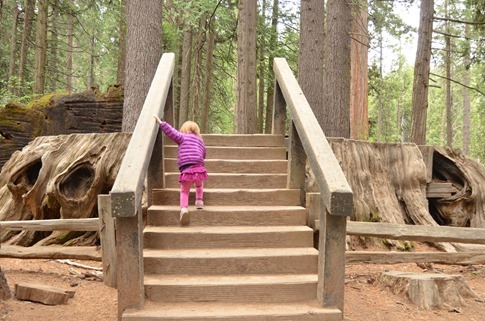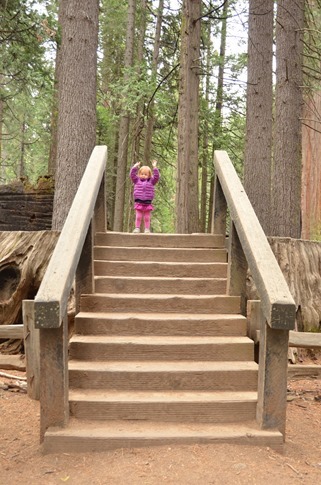 Still, there are some incredible examples of these Giant Sequoias which only grow along a very limited swatch (250 miles) within a narrow band of elevation  (4,600-7,000 ft) in the Sierras Nevadas. While Calaveras Big Trees is a much smaller park, it reminded us immediately of our time in Sequoia/Kings Canyon.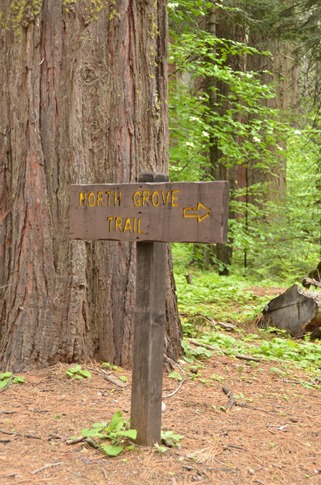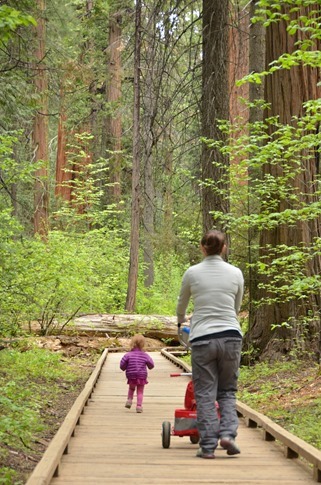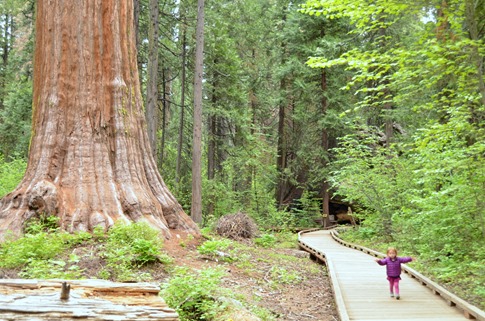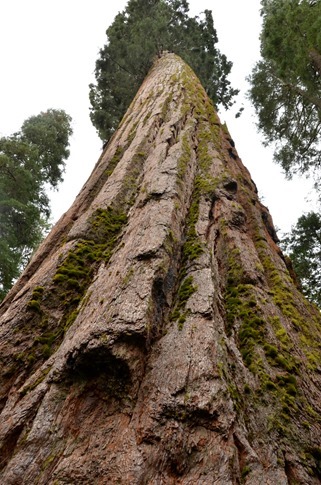 She may not be the tallest in the grove, but she has the most mass. What?! I'm just telling you what it said about The Empire State tree in the trail guide! #gonnagetpunched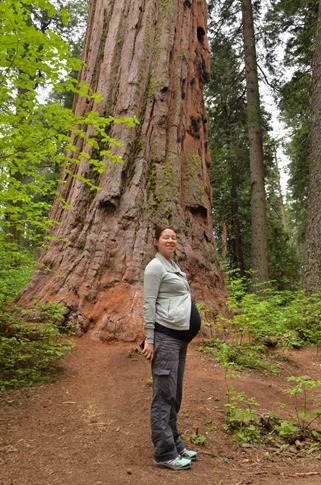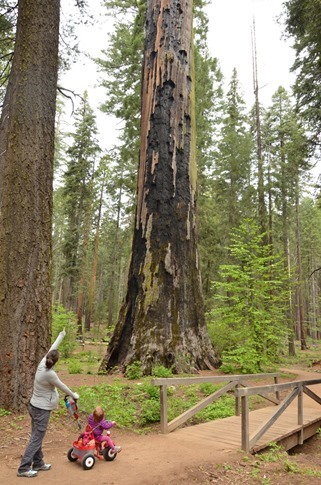 The hollowed out trunk of the Father of the Forest gives a neat perspective on the scale of these trees – from inside.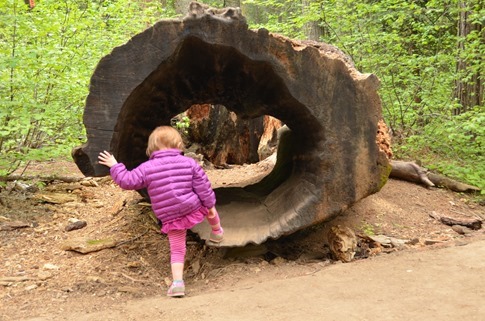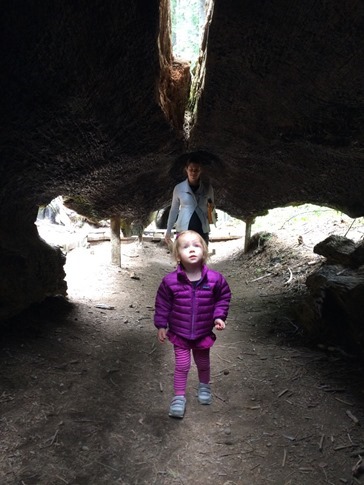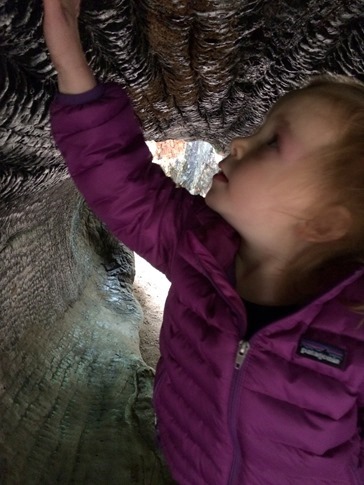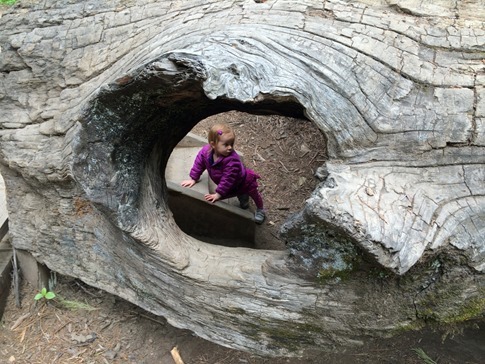 We figure at some point Radio Flyer is gonna wanna start sending us free stuff, right?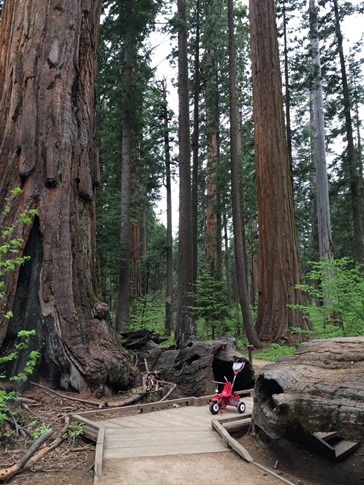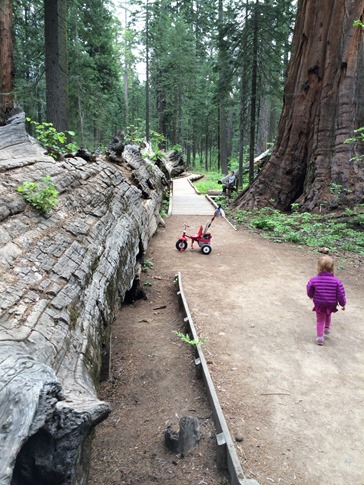 The perfect bench to take it all in. Reclining.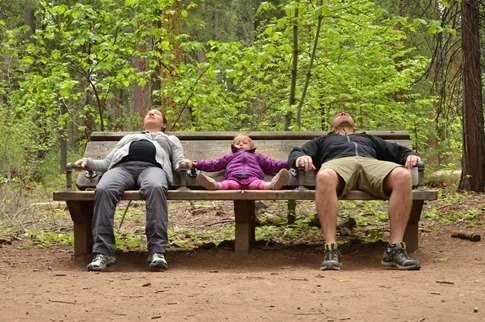 A rare snow plant that appears just after the snow melt.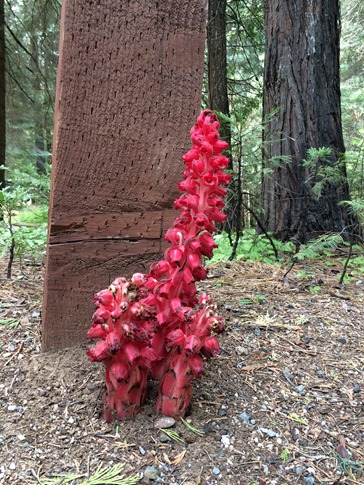 We've made an effort to make sure Wynne isn't one of those girls who's afraid of things like bugs and point them out to her every chance we get.
Unfortunately, we were also finding that as much as she liked them, they seemed to like her even more. Here she is after going about 9 rounds with the hungry mosquitoes.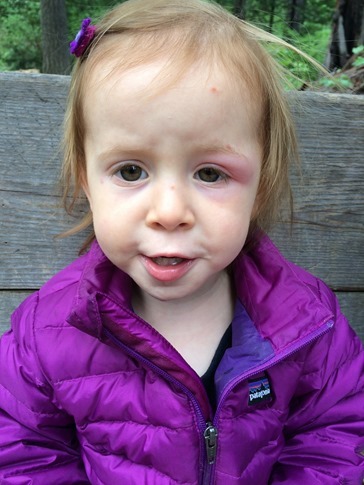 We finished the loop off with a stop in at the visitor center and the requisite magnet for our collection. Of course, all parents know, it can be hard to get out of there without a kid wanting a little something else (kids these days just don't appreciate a stylized park magnet like they did in my time). We considered ourselves lucky at how pleased Wynne was with this small stuffed chipmunk, although I did receive an earful from the volunteer manning the cash register when I didn't correct my daughter when she called it a "squirrel."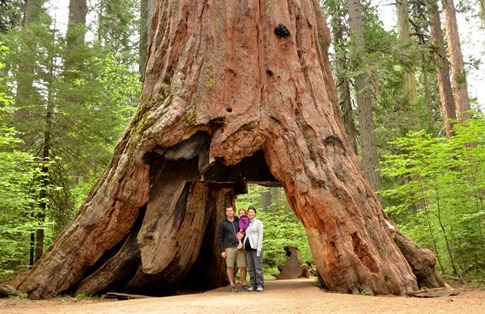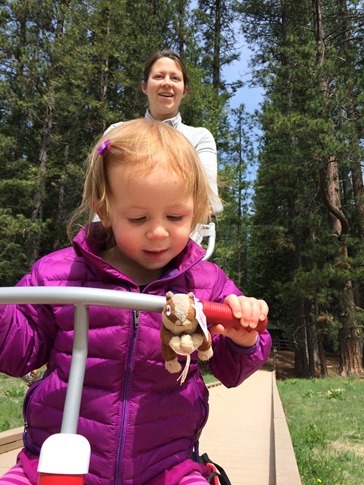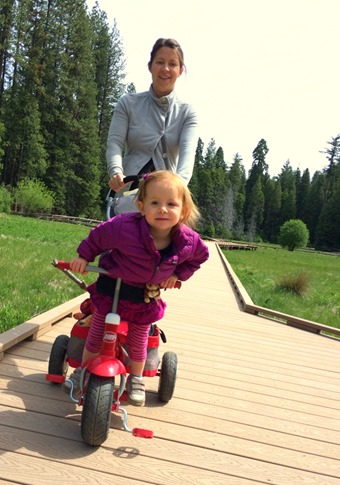 As we approached the campsite, Wynne spotted the Airstream through the trees. "My big taila! My big taila!" Yep, that's your big trailer.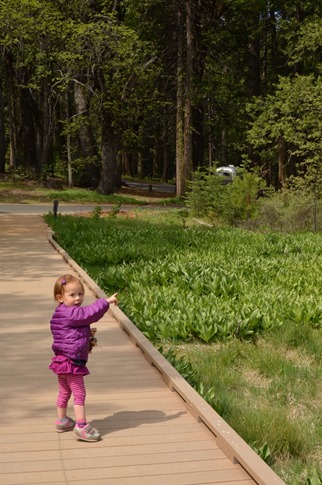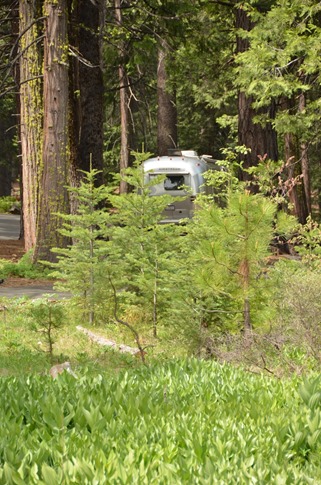 Though we had to head home that afternoon to get her back in time for her "school" on Tuesday, we talked a lot about the pace we'd like to keep on our next extended trip in the trailer. While acknowledging that 5 days could be an entire vacation for some, we'd love to be able to spend that long just at a place like this before moving on to another destination. Sure some days might be spent cleaning the "house," nursing a child with a cold, catching up on some work, or doing otherwise trivial chores of daily life, but if the morning walk was across that resilient meadow, or the afternoon lunch break was on the patio at one of the restaurants in the cute nearby town of Murphy's, or the evening view was of the sun losing its battle to slip in between the massive trunks of Giant Sequoias, that seems like a pretty good way to pass a day.