When I think of Yellowstone, I think of the bright yellow flyer I got last time I was there that showed a drawing of a bison goring a tourist with warnings about not approaching the wildlife. That was about 25 years ago. As we passed through entrance kiosk this time, the ranger handed us a park newspaper, a map and that same yellow flyer.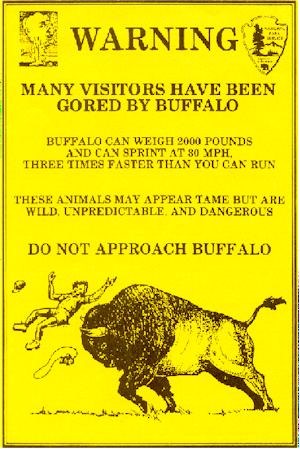 We'd left Bozeman the day before and were surprised at how quickly we were able to get down to the park. Still, after one more stop at the co-op and a to-go lunch of fried chicken sandwiches from Roost at the recommendation of the Works' (so this is what it would be like if we...), it was getting late in the day as we approached. Fortunately, we'd camped next to the people who wrote the book on National Forest camping in Bozeman. Wait, that might not have been clear. These people literally write the books on National Forest camping and had mentioned a spot called Eagle Creek just outside of the north entrance. We'd read a few posts by the others in the Canada Caravan chronicling 12 hour days of driving all over the park trying to see everything. This way, we'd be able to sightsee the next morning on our way south. Plus, the views didn't exactly suck.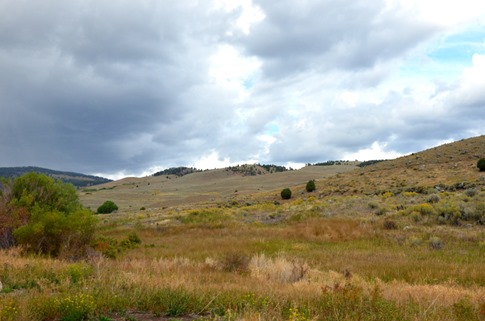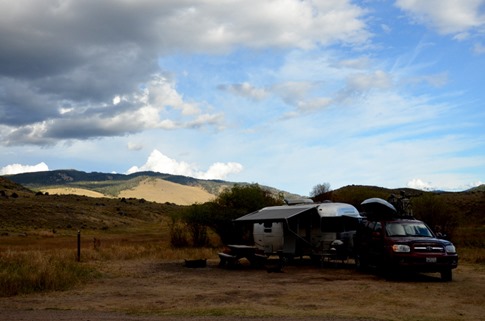 From our vantage point looking down into the Mammoth Hot Springs area of Yellowstone, we watched as dramatic clouds formed over the mountains. Fortunately, we could use a "stunt Airstream" that just happened to be parked next to us to capture the show.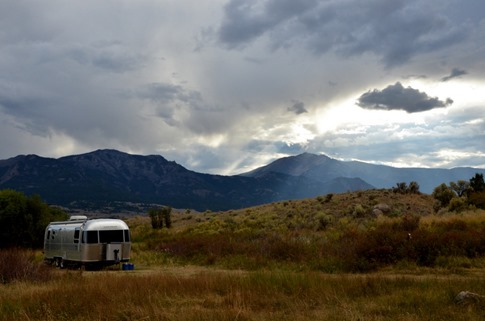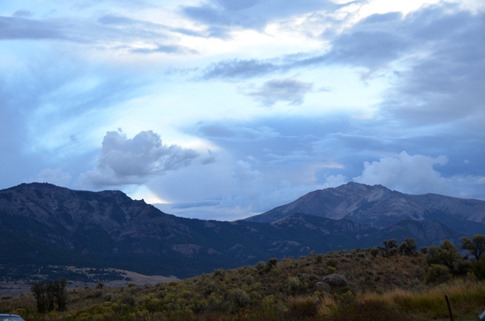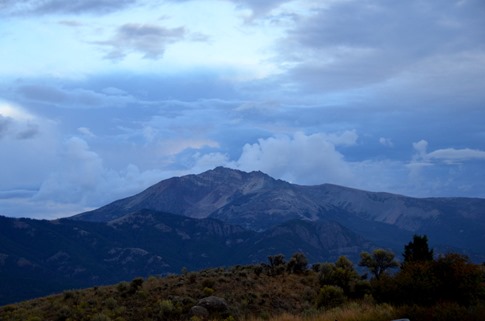 The rain eventually caught up with us, but inside, we were nice and cozy.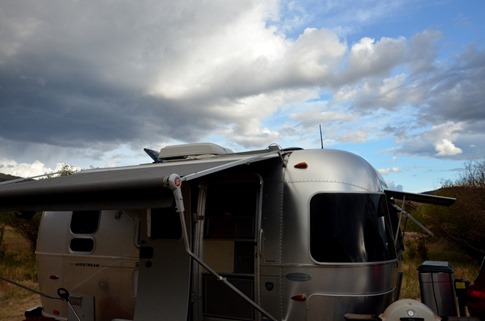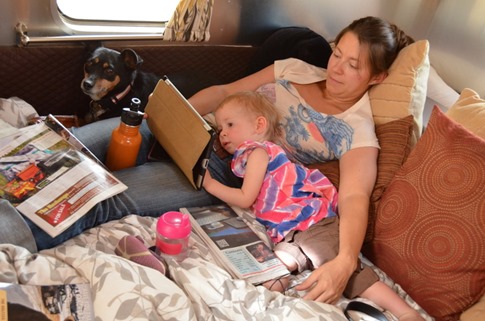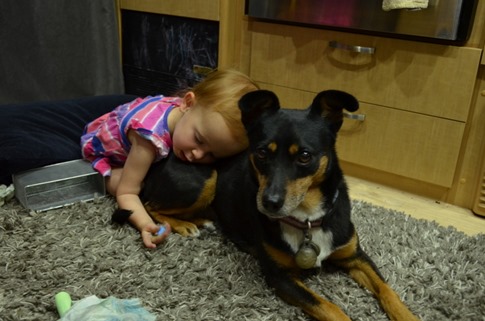 The next morning, we were in the park within 10 minutes of getting hitched up and had seen our first elk within a few minutes of that.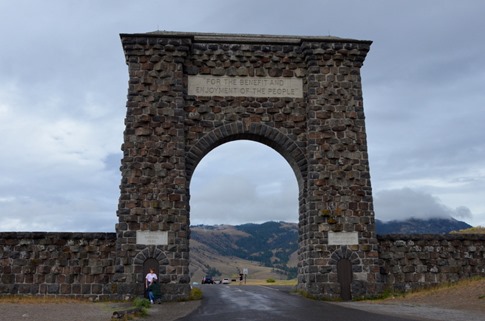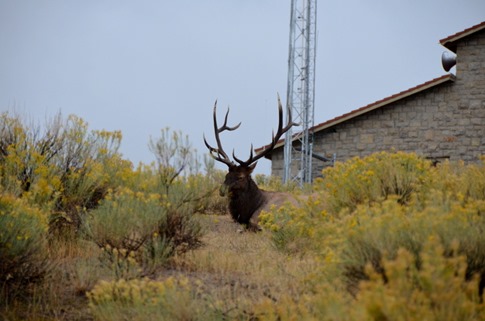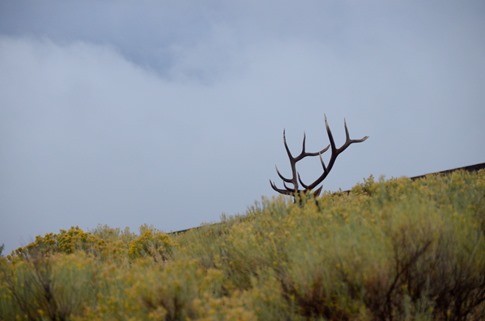 The first stop was Mammoth Hot Springs. These rock waterfalls are left behind as superheated water from the volcanic vents that are pretty much everywhere in Yellowstone leaves behind its mineral solids.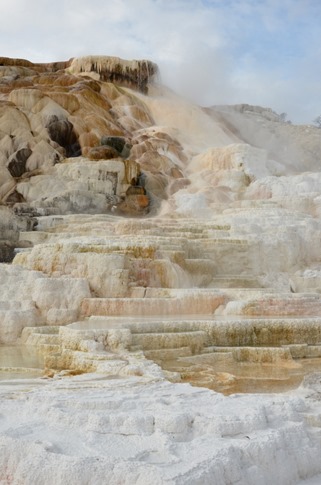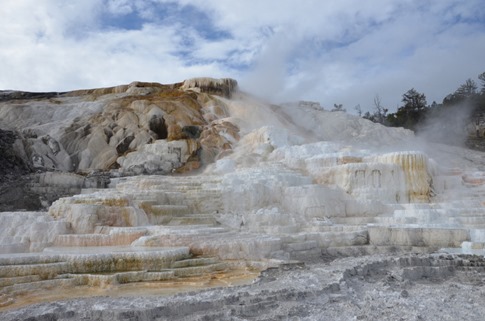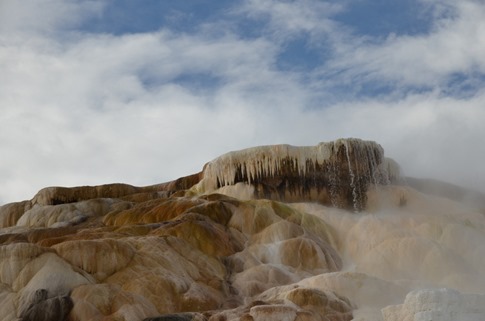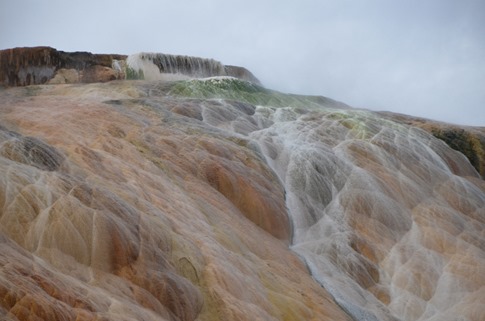 These formations reminded us a lot of the ones we'd driven a long dirt road to see outside of Oaxaca at Hierve el Agua ("the water boils"). Scroll down towards the bottom of the linked post to read about it. Heck, I kinda feel like going back and reading through all that too!
Up close, the patterns they form are incredibly intricate, like honeycombs or seashells or ice crystals.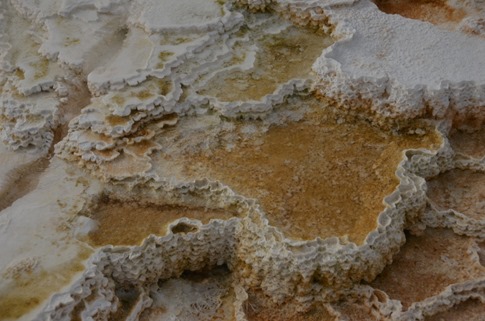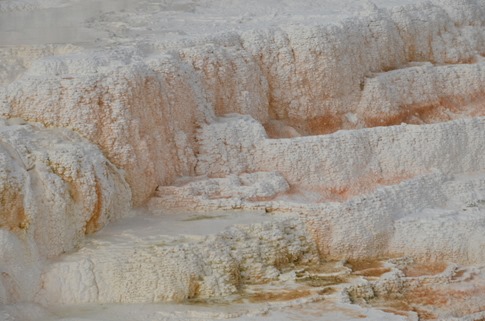 Wynne was pretty fascinated, though it was a bit unnerving having a toddler walking along on a wooden boardwalk built on a thin crust over boiling water.  Erp, I guess we've done that before at Lassen Volcanic Park. Wait, was that *this trip?* Yep, it was, and only about 6 weeks ago though it seems like 6 months!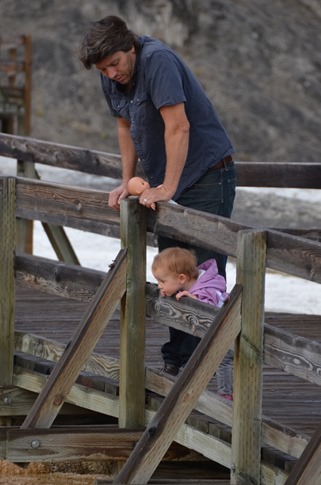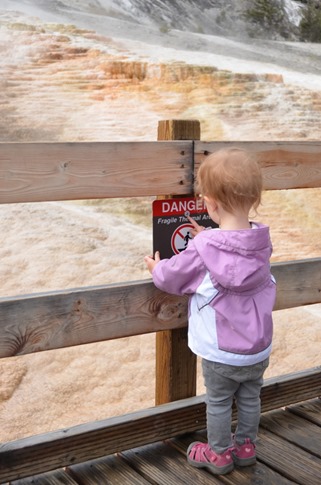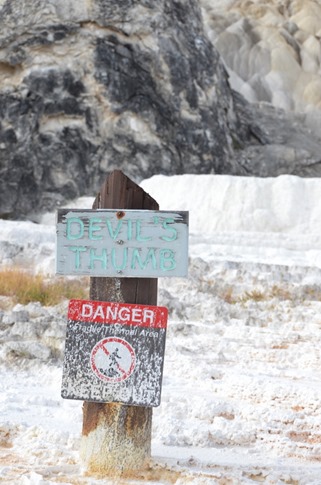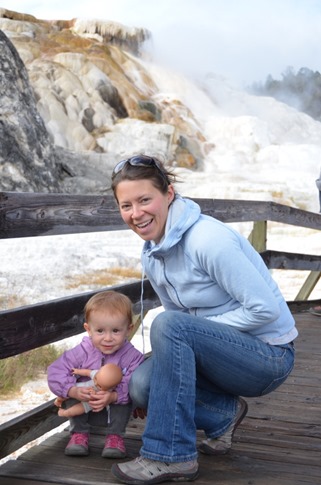 Ladies and gentleman, prepare yourselves for a cute-splosion.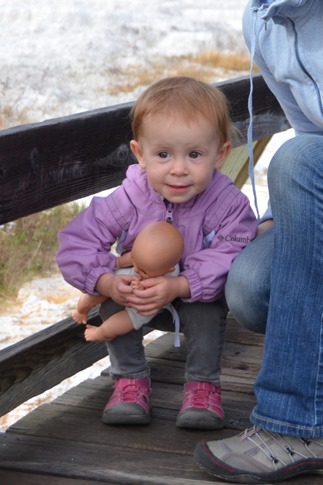 Views from the upper section of boardwalk.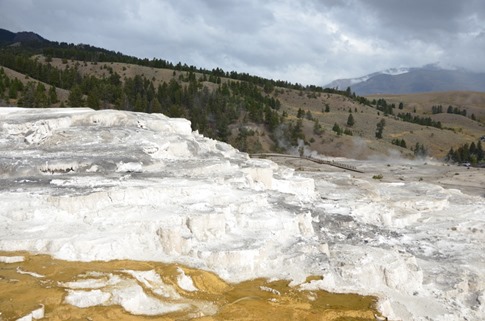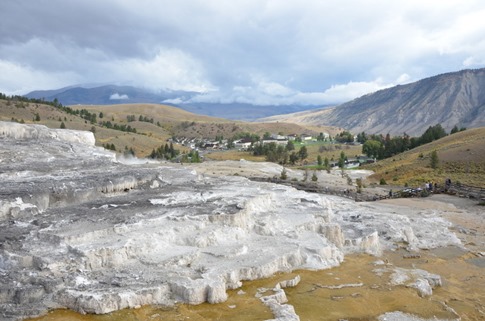 Soon after taking this picture, a guy walked by me and said, "Hey, nice doll." I looked down and saw that I was holding Wynne's creepy baby doll with a cotton body and plastic extremities. I wasn't so much mad that he'd zinged me as I was jealous I didn't get to do it to somebody else.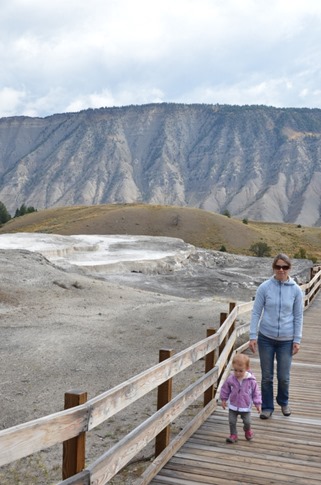 Driving south, it's just amazing to see steam rising from pretty much every creek, meadow and, literally, hole in the ground. This area is so active that just about any ground water is forced upward by heat building from beneath.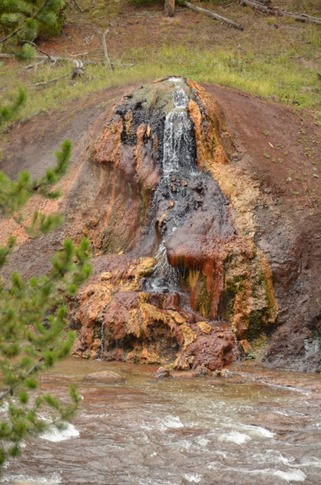 And speaking of that very phenomenon, after an evening in the Grant Village Campground, we set out early the next morning for Old Faithful. Our plan mostly worked as there was hardly anyone there at 9 am and the next eruption was predicted for 9:38.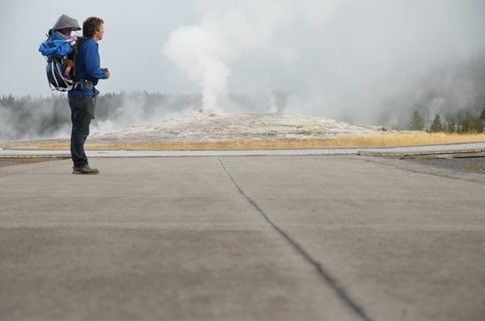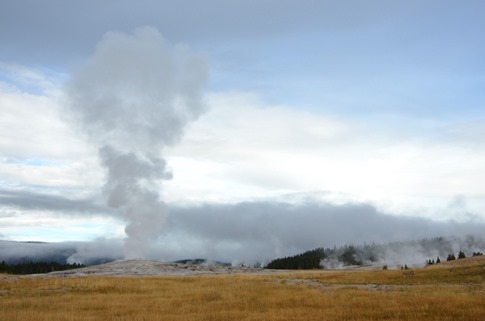 While we waited, we walked around some of the nearby boardwalks, continuously amazed at how much geothermal activity there was everywhere we looked.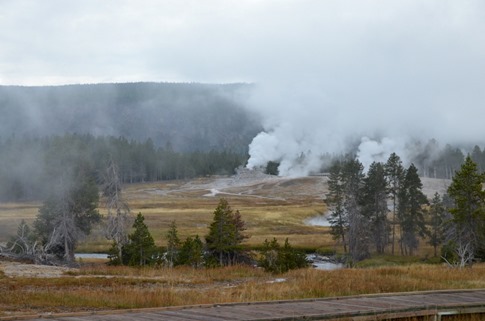 Then, right on schedule…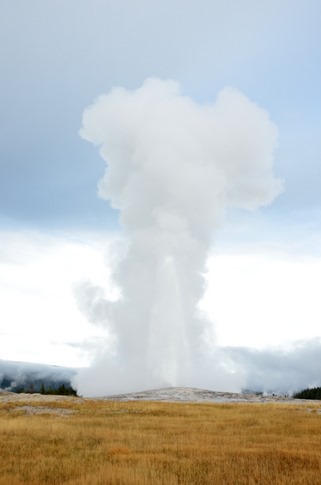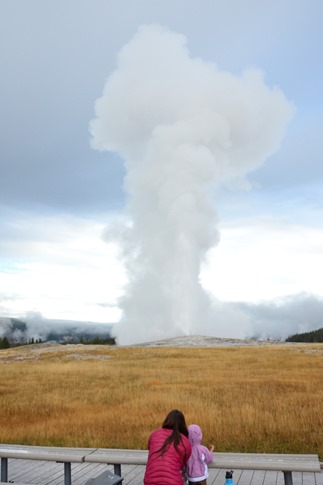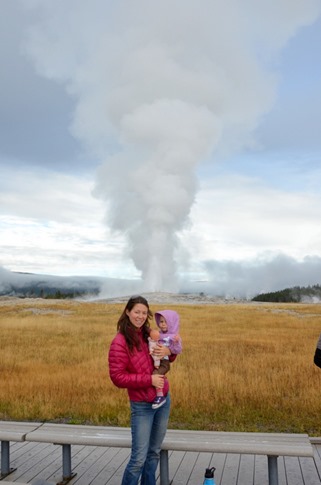 While Old Faithful's the most regular of the geysers – the kind you build a huge lodge and visitor center and bench seating for the show around – there were others along the Old Faithful basin that had the potential to erupt more powerfully and for longer durations, just not as predictably. While it was neat to be able to get much much closer to these, you kinda had to wonder how many tourists would be mortaly scalded if when one of these things randomly went off every 7 years.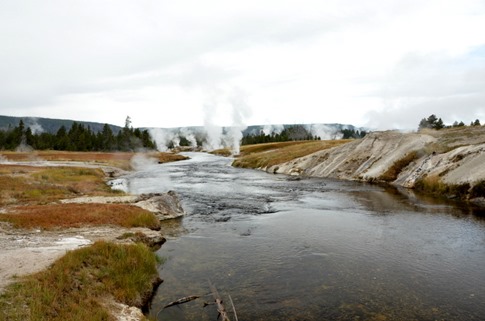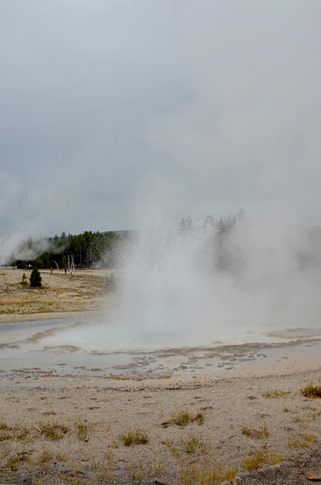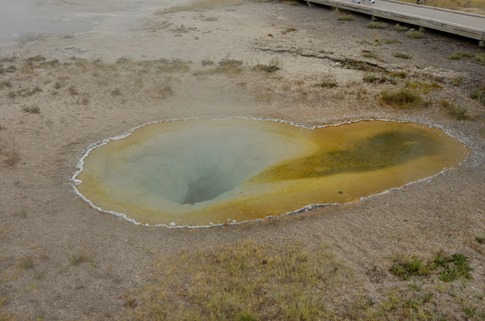 "WOMAN IN THE GREEN SWEATSHIRT, DO NOT COME ANY FURTHER. YOU MUST GO AROUND. IN THE GREEN SWEATSHIRT! YOU! MA'AM! DO NOT PROCEED! GREEN SWEATSHIRT! STOP!" I tend to think a couple portable signs on the pathway adjacent to where this particular bison probably hangs out every day – you'll notice a permanent sign is already there - would be a little more effective than this female ranger yelling at people from 200 yards away, but it was pretty entertaining.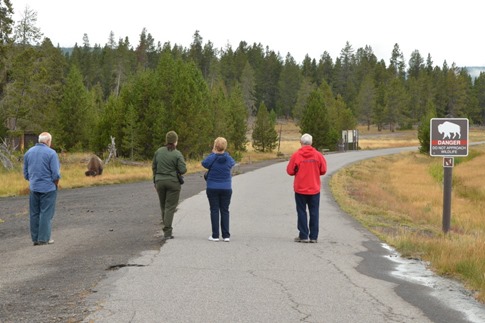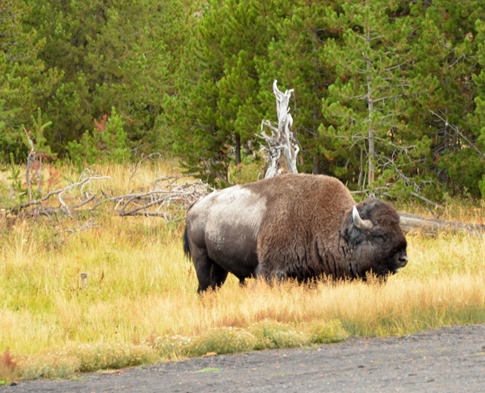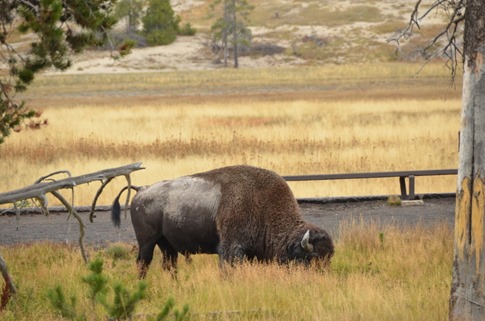 "ON?! ON!?" No, Wynne, for the last time, you cannot get on a bison.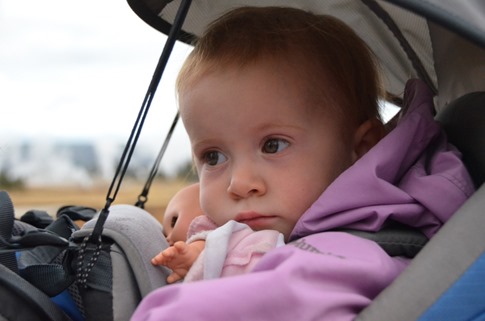 Around lunch time, we got caught in a downpour out on the boardwalks. With Wynne yelling "AGUA! AGUA!" we bundled her, Baby and String Frog up and headed for the lodge, just as Old Faithful put on another show.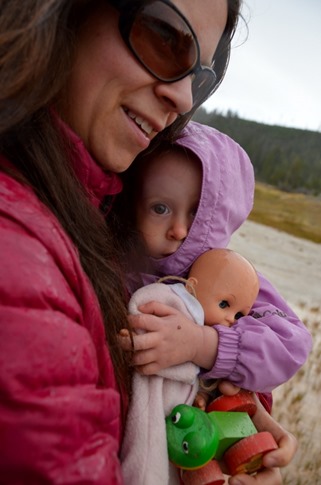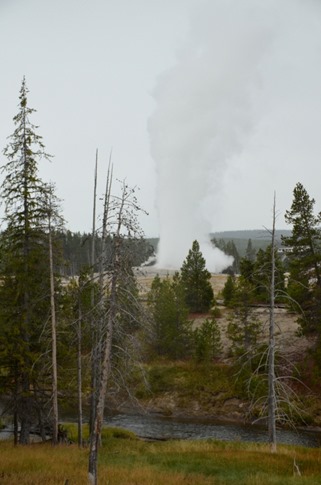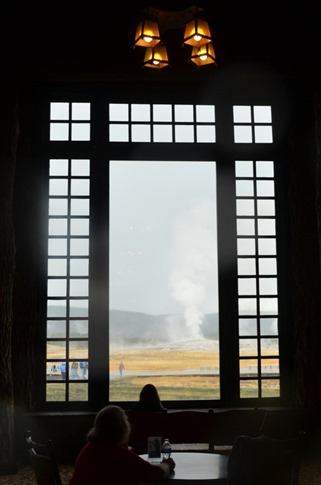 Earlier that morning while we'd been in the lodge buying Wynne a magnet for her collection on the fridge in the trailer, we'd felt the whole building shake. The people at the front desk nodded knowingly and a search of the USGS site on the iPhone confirmed that it'd been a 3.9 earthquake, not terribly uncommon in such a geologically volatile landscape. But we're Californians, 3.9 is like a massage chair to us.
The need for a nap (particularly Wynne, but who am I kidding?) made the drive all the way to the other side of the Grand Loop road seem like a good idea. An hour and a half later, she woke up just as we pulled into the first overlook of the Grand Canyon of the Yellowstone. Yes, if you're keeping score, this does mark yet another visit to a place called the "Grand Canyon of something," the most recent of which being the Grand Canyon of… well… just the Grand Canyon. Since we're flashing back to our Pan Am trip a lot on this post, check out our visit to the "Grand Canyon of Mexico," Copper Canyon (Barranca del Cobre), if yer interested. Fine, another link to a rainy ride 2 up on a motorcycle through the Gorge du Verdon (GC of France) so we can flashback our pre-breeding days.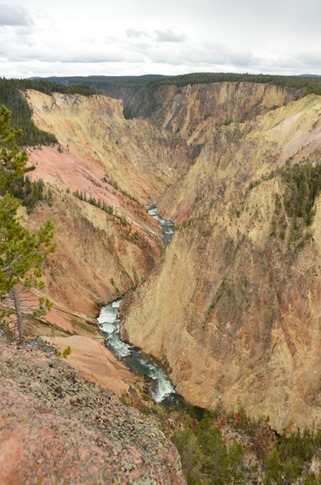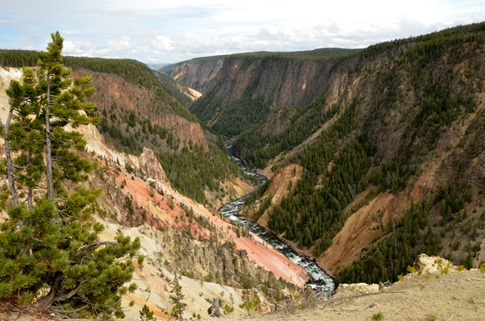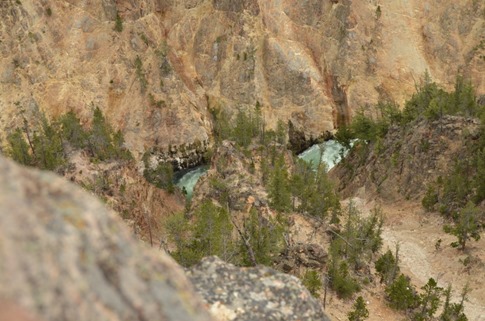 Lower Falls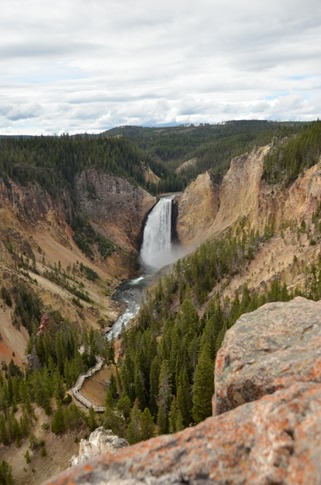 Big black bird with a white head in a huge nest on a pinnacle. Thanks to the current government shutdown, I can't even access the National Park Service web site to get you more information, but I'm just gonna assume it's an extremely rare eagle/hawk/condor/dodo.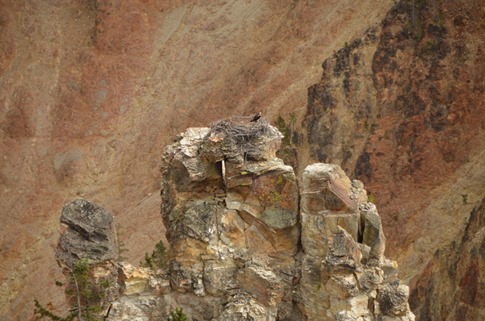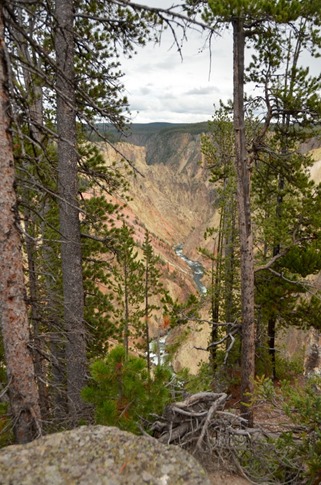 Even Gray Buns had to come down to check this out. Also, stay hydrated everybody.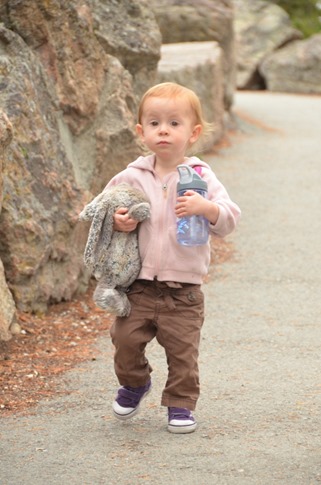 Baby got the nod at the next overlook.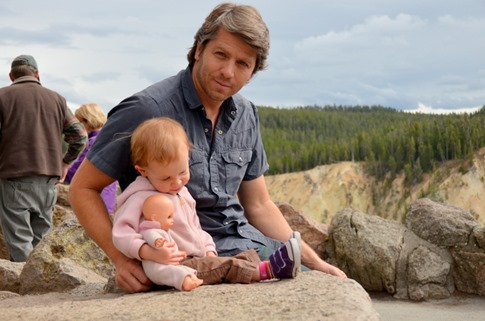 But then it was time to get back in the car…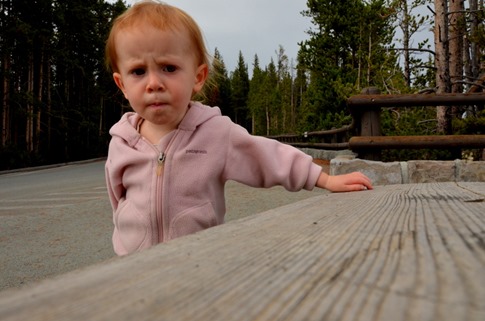 And wouldn't you know it, right at the end of the day, traffic.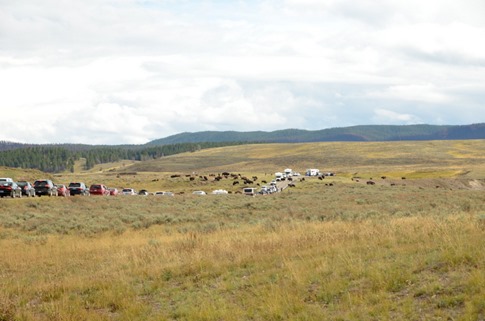 What could be causing this backup?! Oh, it's bison beside the road and it looks like they're holding auditions for tourists to be on the next yellow flyer they hand out at the entrance gate. I'm voting for the guy about 15 feet from a bison with his back turned.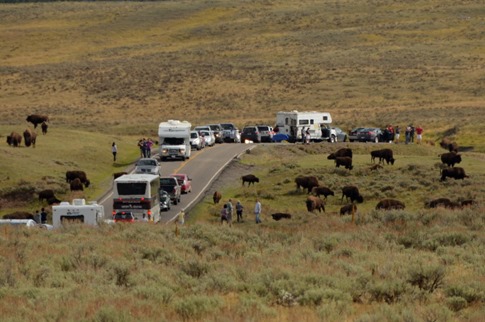 "Oh, looky, there's one right behind me. I think I'll walk towards it." He *really* seems to want this flyer gig.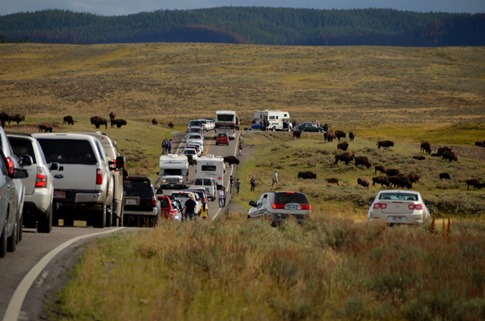 While looky loos and morons abounded, the backup was credited tp bison one by one randomly deciding it was time to saunter into the road, take in the sights up and down the dotted yellow line and then leisurely complete the crossing.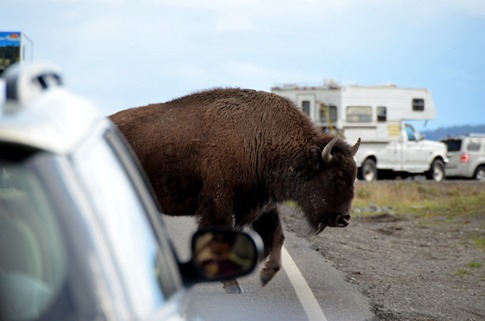 "ON!? ON!?" we heard from the backseat. Even facing backwards, Wynne could see the reflection in the mirror mounted on the back seat so we can keep an eye on her. In the right rear seat, I could hear the shutter snapping away as our staff wildlife photographer was getting the shots…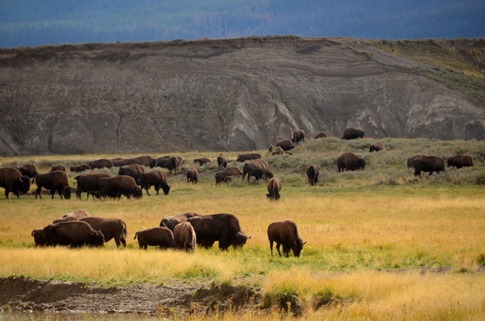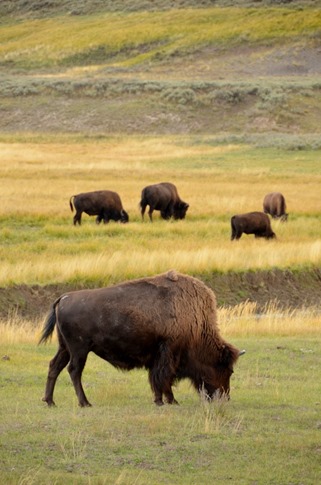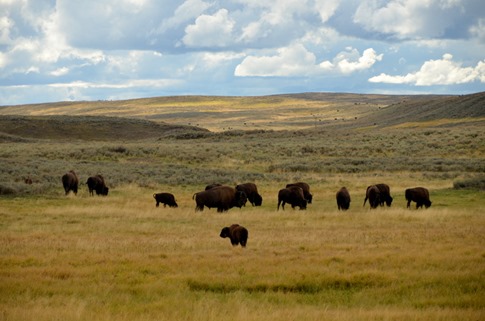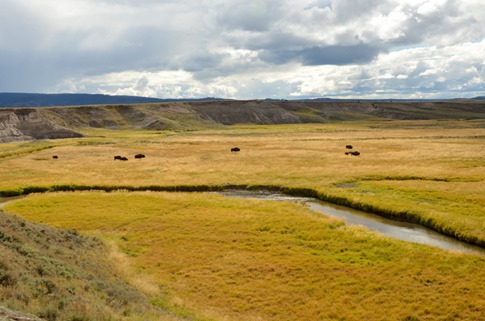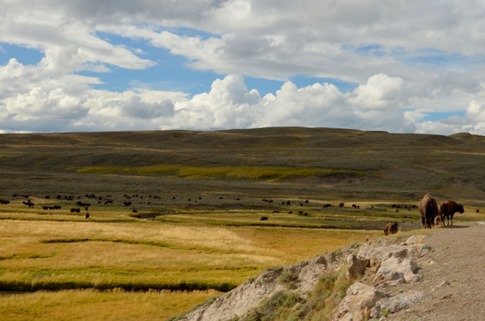 Back at camp, we'd entertain ourselves by parading around the campground loops with Wynne and Baby ridin' tandem on the trike.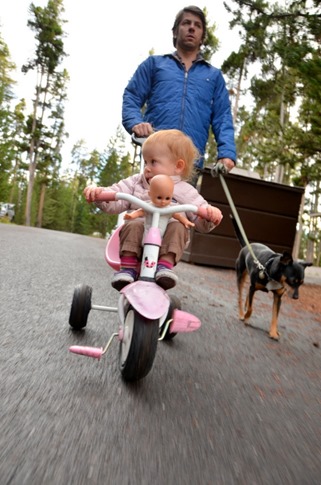 I wonder if anyone make a subwoofer for these things.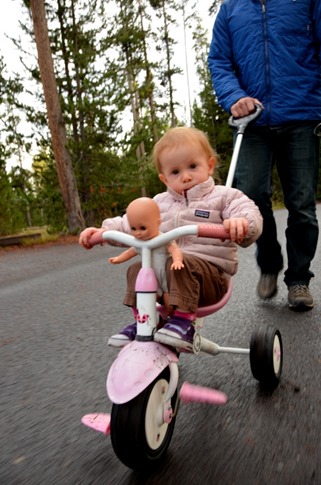 On our last night, we were drawn out at dusk by an incredible sunset light show peeking through the trees.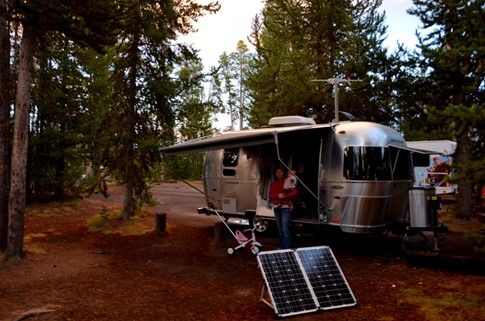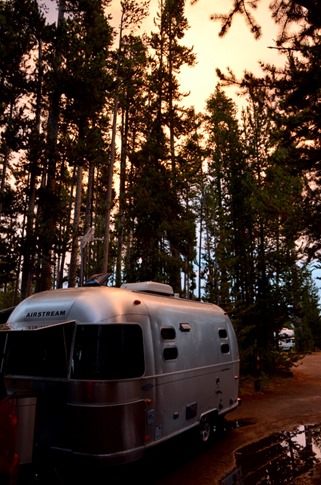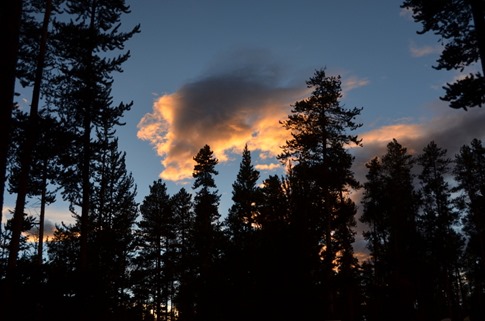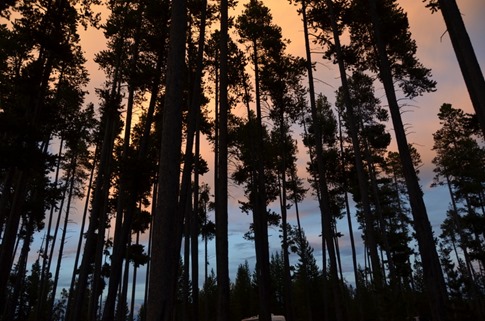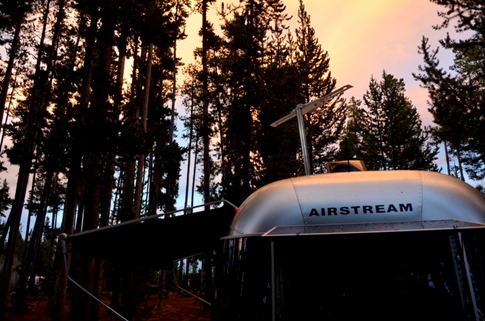 We knew we'd just barely scratched the surface of Yellowstone, and that under that surface, were even more wonders created by the geothermal caldron on which the park sits. If we had a time machine (or if perhaps I was about three weeks late in writing this blog post and already knew "the future"), I could tell you that in a week or so we'd be retracing the path that this plate techtonic hotspot had traveled over the course of about, oh, 15 million years. But, of course, I don't have a time machine, and I'm always *super* up to date with the blog, so you'll just have to keep following along…