Lassen National Park was a bit of an unknown for us. I'd read a post from someone claiming to have visited some huge number of national parks in which he said Lassen didn't compare. It's completely possible that they changed the name to Lassen Volcanic National Park, just to sound more badass. But as usually dictates our route planning, it was a green area on the Road Atlas between where we were and where we were heading and Highway 89 actually runs through it, so it was determined that we would stop. Initial views didn't disappoint.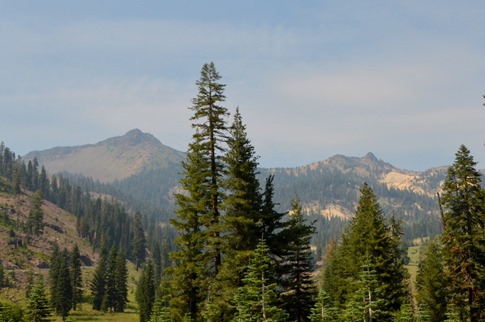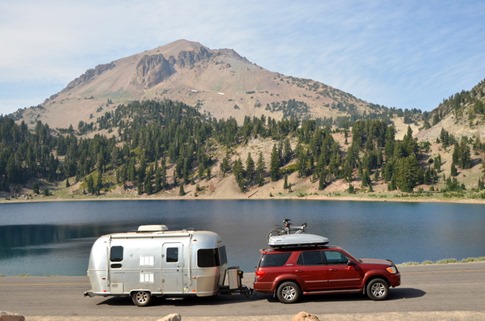 After the requisite labored sighs from rangers and camp hosts bemoaning our lack of reservations, we took our choice of a few available spots in the central campground at Summit Lake. There were a couple closer to the road that would have fit us, but we took advantage of our "just smaller than large" size to angle the trailer and truck beside each other like the // in a web URL next to an open area where Wynne and Gorilla could run around.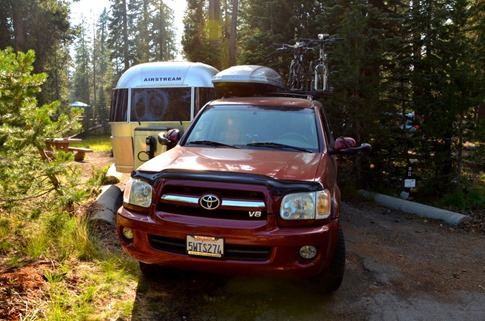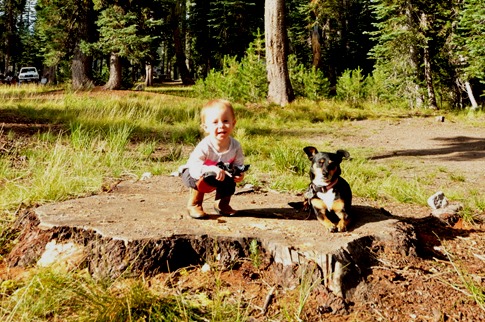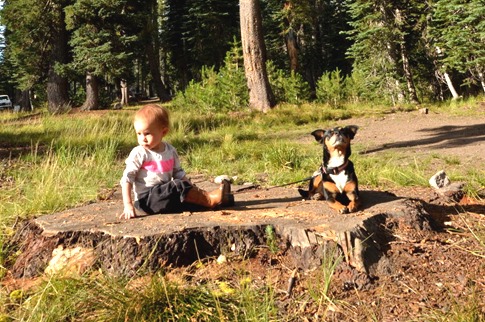 I actually got a short swim in in Summit Lake before sunset. I wouldn't exactly call it a training swim, but I did a few strokes while dodging sunken logs and felt pretty good from the little bit of running we've already started.
The next morning, we locked Riller in the trailer with fans on high – remember, national parks kinda suck for dogs – and backtracked down the road in the truck for a hike. The description was a three mile round trip with some moderate and some steep up-and-down to a spot where you could walk between the sulfur vents of the volcanic group most of the park sits on. The name of the hike? Bumpass Hell.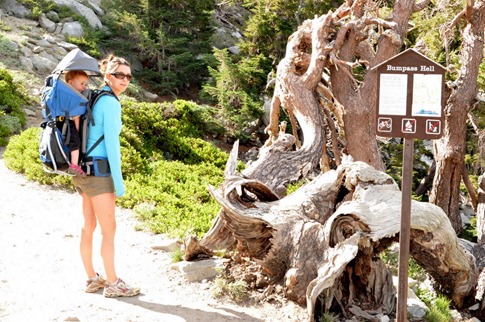 It may be because we've been watching too much Downton Abbey on this trip, but I picture the first explorers returning from the area and being asked "How'd it go, then?" to which they'd respond, "She was a rough and weary trail. Twas a bumpass hell, indeed, she was." Yes, they were British, maybe, and spoke in cockney accents (in my mind).
We climbed the wildflower-lined trail beneath a bright blue sky accented with wispy white clouds, taking in views of Lassen Peak, Brokeoff Mountain, Mt. Diller and Diamond Peak.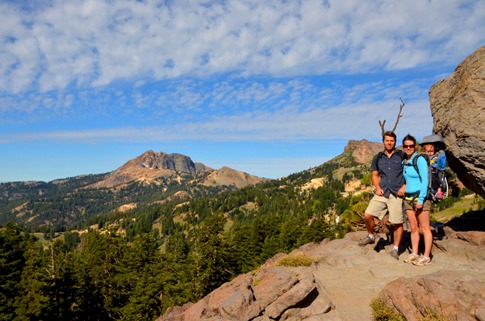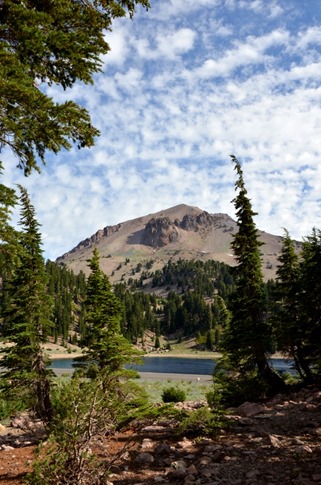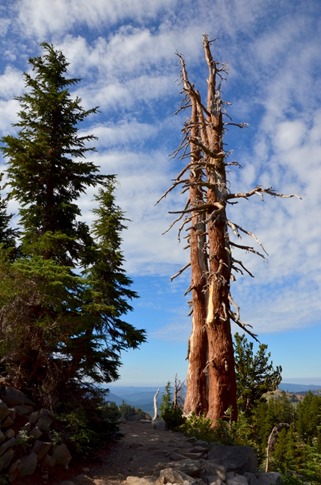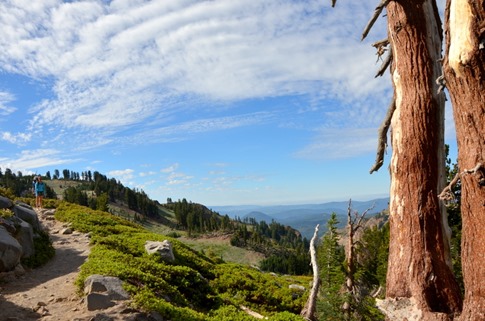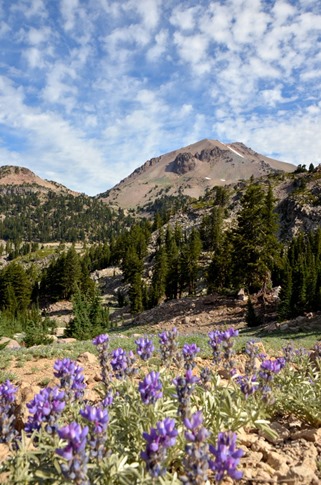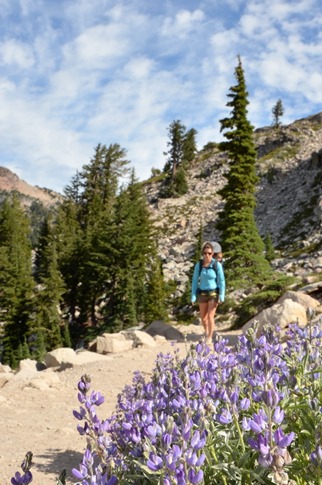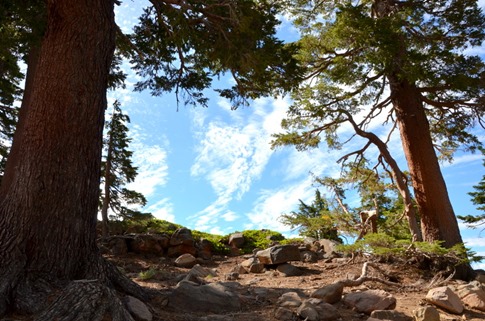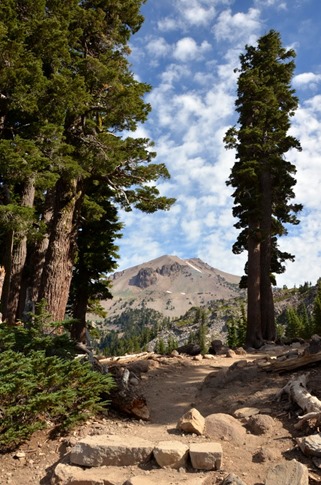 Halfway up Bumpass, we were pretty convinced anyone who said Lassen "didn't compare" was, himself, a dumbass. From the overlook, we learned that the peaks pictured below are more like shards left over after the collapse of a super volcano called Mt. Tehama that would have been taller than Lassen Peak. Look closely in the picture below for the white outline of where the mountain once stood.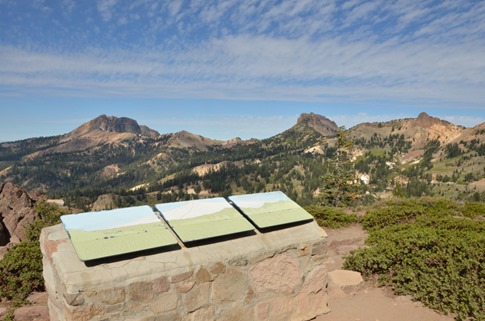 After a long a steady climb, we reached a plaque commemorating the original explorers of the region.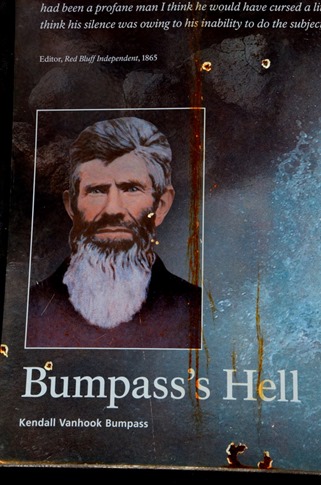 Wait, Kendall Vanhook Bumpass? With a name like that, I'd bet middle school was more of Bumpass's Hell than this hike. Kids can be so cruel. I mean, "Kendall?" C'mon!
As we descended, I had that favorite feeling of mine in National Parks. I don't get it that often – the last time was on Angel's Walk in Zion - but it goes something like, "Wait, they really shouldn't let people do this."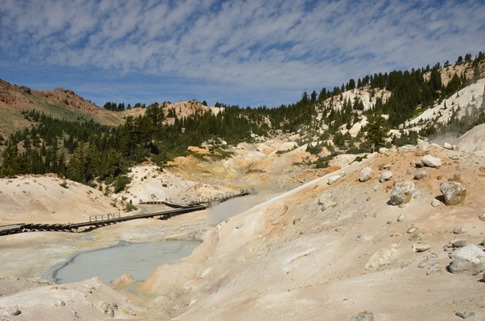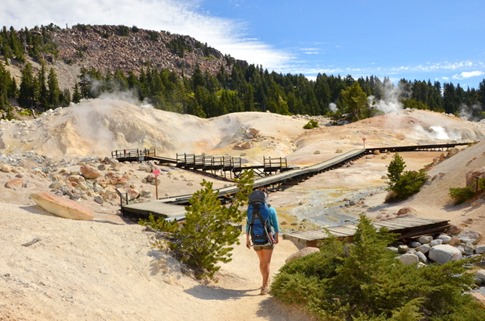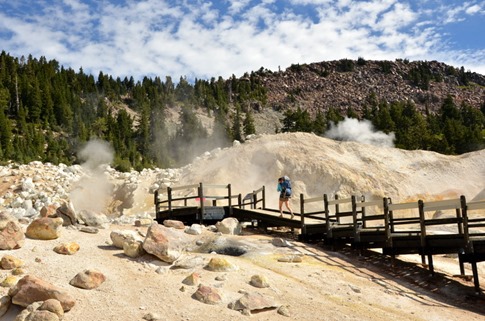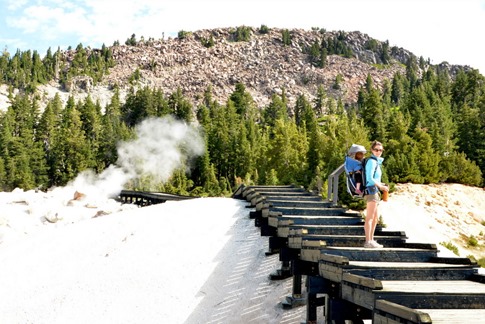 Boiling mud pot. The black sludge is actually Pyrite, otherwise known as "Fool's Gold" when it cools.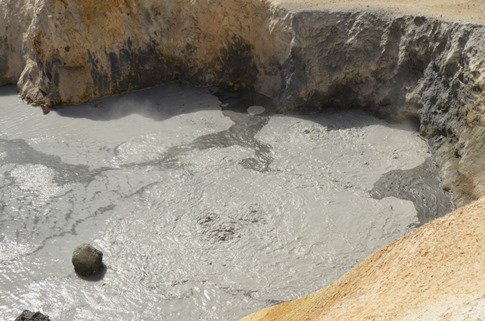 The whole thing reminded me a little of visiting Volcan Masaya in Nicaragua where they urged you to back into parking spaces so you'd be facing the exit in case it erupted.
We cut back west from Lassen, through Redding, towards the Trinity Wilderness and some property owned by a friend. We'd heard a lot about his place but never visited, instead having caught up with him on his sailboat in Mexico a few times, including on our way to Panama. Michael used to do work evaluating watershed protection plans for the State of California and when he left, instead of pocketing a stapler or two from the office, he took the knowledge that Canyon Creek emerges pretty much untouched by agriculture or industry from the Trinity Wilderness, and when he had a chance, he bought a piece of land on it.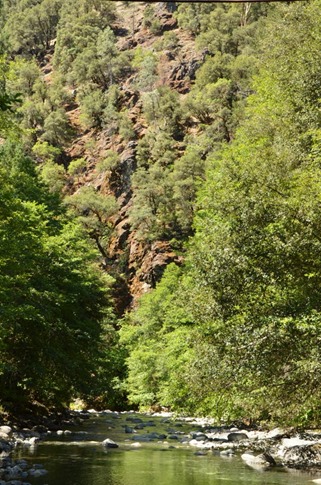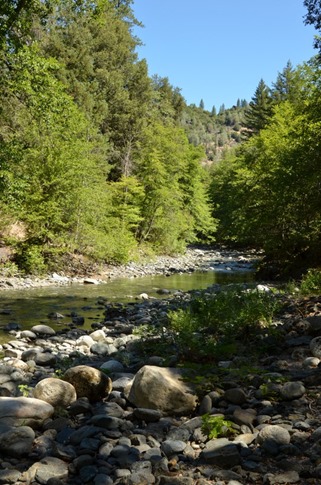 Armed only with an address, the GPS sent us all the way to the top of Canyon Creek Rd, including some sections where only a single lane clung to the steep hillside above the creek, but the house wasn't there. Convinced that Garmin's reality was critically different that what we were seeing and with no cell service, we tucked into a pullout to consider our options. The nice thing was, we had absolutely everything we could need with us and had seen a campground near the top of the road where we could happily spend the night if we needed. We climbed into our mobile apartment, I poured a cup from the stovetop espresso maker into my tiny koozied mason jar and Wynne rolled around on the gray shag rug while Ann flipped through the Road Atlas at the dinette. Trailer travel rulez.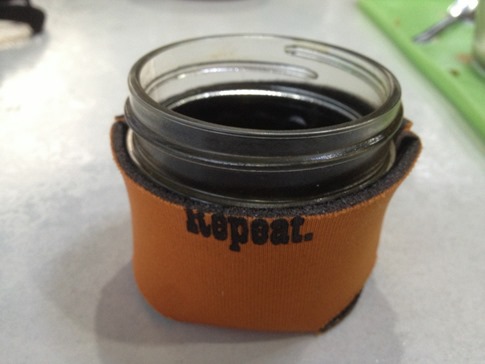 We ultimately flagged down a passing pickup who didn't know Michael but knew someone who would. Sure enough, she did and casually instructed us to take a right a couple miles down the road where there was a couch at the side of the road. We later learned that this corner was the local version of a Bermuda Triangle for unwanted furniture; Put something out there and it would magically disappear. Good thing the couch was still there when we got there, but if you visit in a couple days, good luck.
We pulled into a perfect flat spot Michael had set up for friends with trailers, plugged in our power cord and had a cold Mexican beer in our hands within minutes. In reflecting on the couple days we spent with Michael and his wife JJ in Trinity, the concept I keep coming back to is "balance." For starters, they spend half the year down in Mexico enjoying the perfect weather of the winter months and vibrant expat music scene and the rest of the time in the US, visiting family and friends, going to music festivals and enjoying their property. Two other friends who were staying on the property as well had managed to balance their finances in their late thirties to effectively retire onto a catamaran they built themselves and sail back and forth between Mexico and Ecuador for a number of years. The property itself had a perfect balance between nature, a human artistic touch and just enough comfort  in the form of power, satellite wi-fi, water and septic in a spacious two room house converted from an old machine shop.
As if to illustrate the concept, we spent most of the day lounging in the river stacking rocks into improbable piles – what the Inuit call "inukshuk," English call "cairns" and many Americans call "ducks" since they can be used as trail markers with a beak pointing the way – and the nights playing music with another friend from Mexico who happened to be passing through on a road trip with his wife and daughter.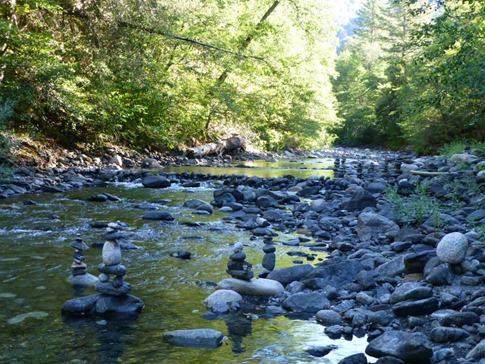 Photo by Michael McNamer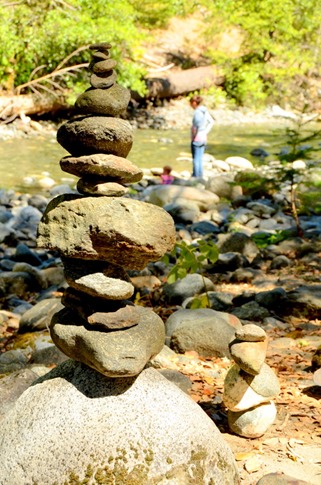 Wynne playing in the rocks.
I have no idea where she learns this stuff…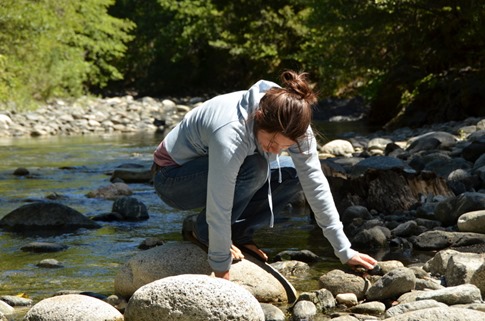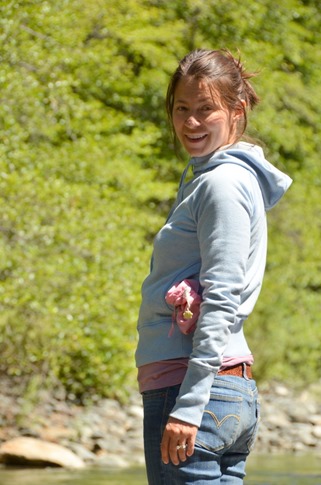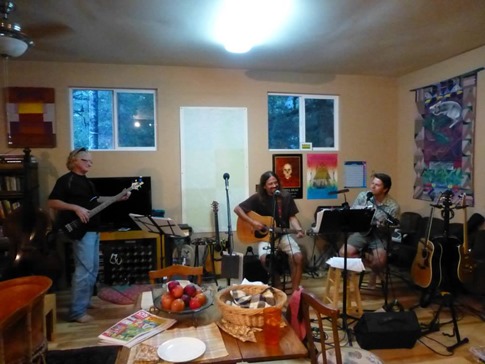 We'd been moving pretty fast since we left home and talked a lot about how nice it would be to stay a few more days, but we had some key dates to hit (friends in Portland and flights home from Seattle). Plus there was all of Oregon to explore! The question was mountains or coast? Crater Lake and Mt. Hood or rugged beaches, lighthouses and cute coastal towns? A good problem to have, but in the end, we decided we'd been in the mountains since we left and hit the road for the coast.