For some reason, they don't make a very big deal about Thanksgiving down here. In fact, the three friends from Guadalajara, Mao, Paulina and Laura, who joined us at Kim and Alex's for Thanksgiving dinner were anxious for us to explain to them what this crazy gringo holiday was all about. We started with the story of the Pilgrims and Native Americans sharing a feast in appreciation of a bountiful harvest, but our politically correct upbringings inevitably took us off onto tangents dealing with some inadvertent communicable diseases and perhaps some light raping and pillaging. They chimed in with several stories we'd never heard from the 1800's about Native Americans rising up against the US government and seemed to take particular delight in how the indigenous people had outsmarted those who threatened to occupy their land. Sure, it's not their holiday, but I suppose the reason they don't celebrate Thanksgiving could also have something to do with parallels they see in gringos pushing locals out and buying up choice property in Mexico. Or it could be that you just can't get a decent turkey down here.
Kim and Alex left their Cole Valley apartment in San Francisco almost two years ago to live in Mexico for 6 months. At a New Year's Eve party last year, a friend mentioned plans to head down to visit them for a weekend of sun. When we said how great that sounded, they quipped "Well, you should come." Right then, we told them we were coming, but I don't think they thought we were serious until the next morning when they learned that we'd booked flights when we got home from the party at 3am. On that visit, Kim and Alex were rationalizing that 12 month visas and car insurance extensions were only marginally more expensive than 6 month and they might as well get the longer ones. It was clear then that they were not coming back anytime soon. And why would they? Having plugged into a network of retired gringos, younger transplants from elsewhere in Latin America, and ambitious locals, they've carved out quite a nice life for themselves.
At the end of our last visit, we told them about our developing plans to drive the Pan American Highway and that they should expect to have us for Thanksgiving. People have got to start learning to take us more seriously because on the Wednesday before Thanksgiving, we pulled up to their house in San Pancho, 10 minutes north of Sayulita and 45 minutes north of Puerto Vallarta, and made ourselves at home for a week.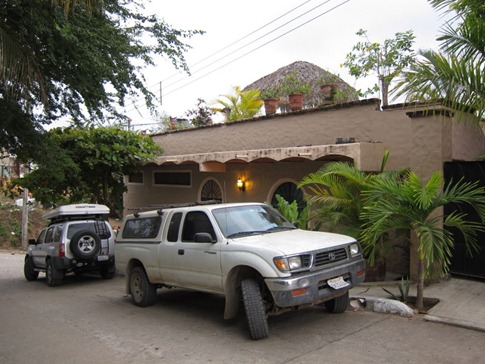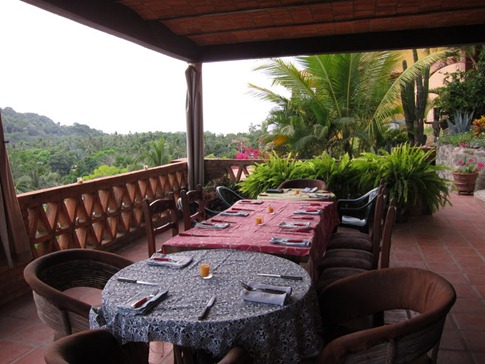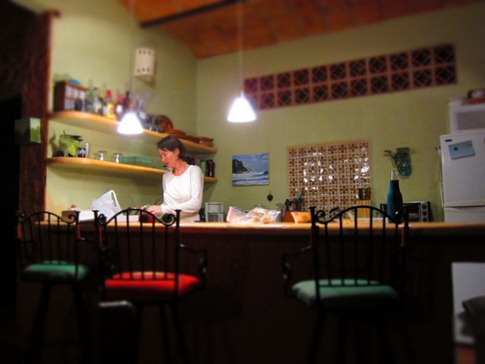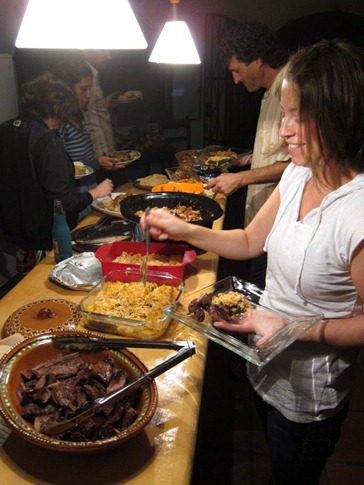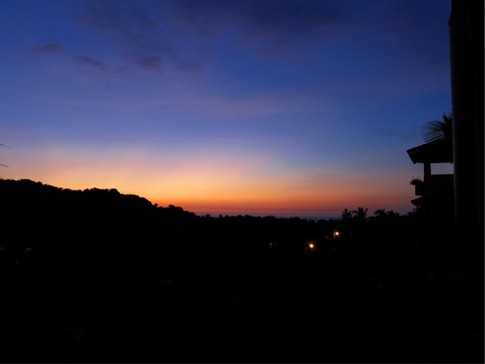 Most of the gringos you meet in Mexico spend at most the 6 months between October and April down here, the Summer and early Fall months just being too hot or too rainy (or too many ants or bugs or…) Sometimes they don't come down at all for one reason or another, and are all too happy to have someone looking after their place (and paying a modest rent).  Which is how Kim and Alex came to stay in a beautiful Mexican house on top of a short, steep hill with an incredible view of the town of San Pancho as it extends down to the ocean. And down the side stairs, beneath the large covered veranda, separated from a back patio and small soaking pool by only curtains hanging on a wire, was our "room."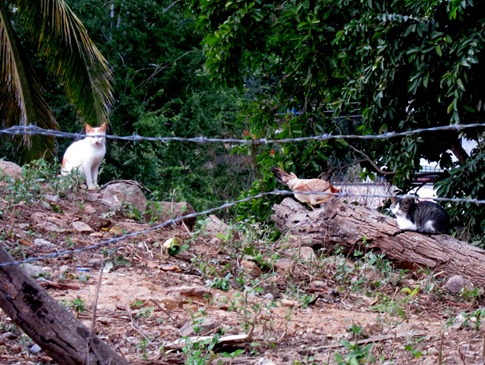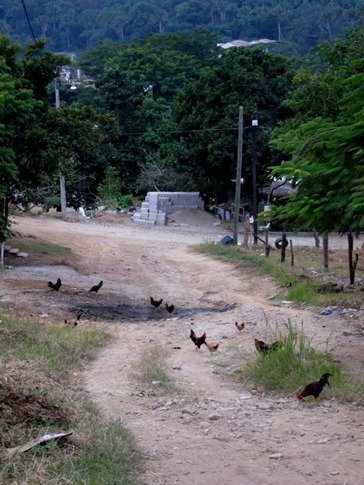 The noises that go on in a Mexican town take some getting used to, particularly when your room has no walls. As night falls, the sound of ranchero music wafting out a second story window or blasting from the open doors of a pickup truck on the mainstreet is a constant. Territorial stray dogs bark and confused roosters crow throughout the night. Out on the highway, trucks belch and fart as they undertake unlikely passing maneuvers then downshift and slam on brakes to avoid catching air on a surprise tope. And if there's a holiday within a month, which pretty much covers the entire calendar year, deafening "bombas" and assorted whistling fireworks should be expected at any time. But surprisingly, all these sounds seemed to weave together into a kind of south-of-the-border-white-noise that left us sleeping soundly.
At first light, makeshift mobile market trucks selling vegetables, nuts, propane, water, tamales, bread and jugo de camarones (shrimp juice, whatever the hell that is) start crawling the streets with comically large megaphones strapped to their roofs. Blasting from these speakers are descriptions of the offerings, either in a stream of syllables that would make an auctioneer say "Wha?" or in a jingle that has a way of running through your head for the rest of the day. "Ze-ta, Ze-ta, Zeta gas!" "El panadero con el pan, el panadero con el pan."
At this point, Alex and Kim seem to have Pavolovian responses to these and much more subtle sounds of the town. On the other side of the kitchen wall, an engine bears down as it makes a run at the steep hill. Without a word, Alex looks at the supply of water beneath the table in the kitchen and walks to the front door. As he swings it open, a young man walks in with two full 5 gallon jugs of water. Another time, a distorted voice explodes unintelligibly from a loudspeaker somewhere in the town below, interrupting a conversation about what to have for dinner. Kim looks at Alex and says "Or we could have tamales."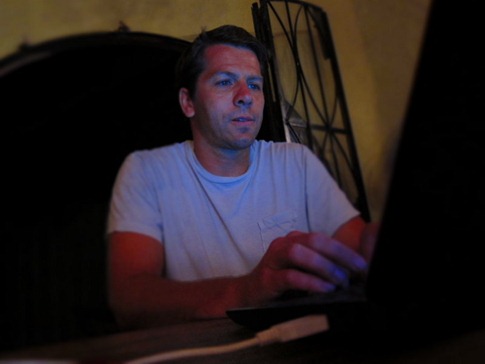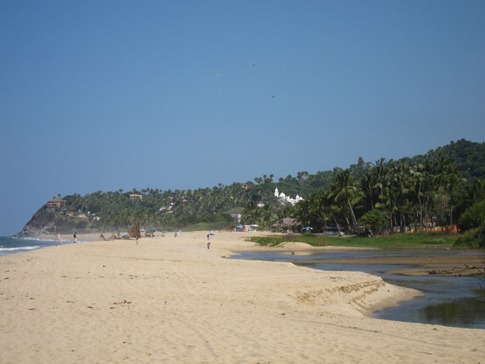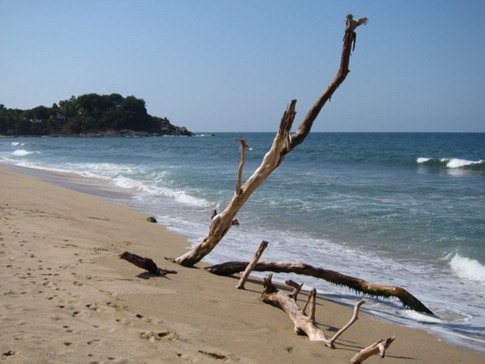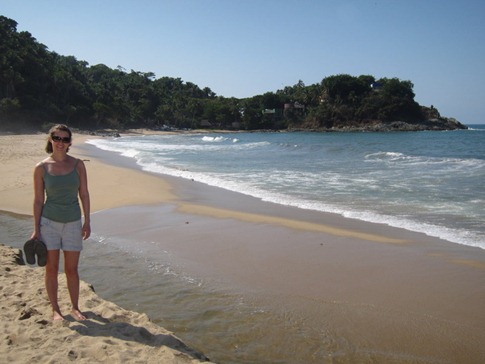 Our first few days in San Pancho were spent relaxing at the dining room table, looking out the double doors to the veranda and enjoying a great wireless connection to update the blog, Skype with friends and even listen to little morning news from KQED back home. Alex and I estimated that we must have transferred a few terrabytes back and forth as we raided each other's music and video libraries. Evenings were been filled with delicious meals whipped up out of Kim's refrigerator followed by dominoes and "Russo Blancos," Alex's favorite cocktail to order in Mexico since it's a direct translation from "White Russian." If we walked into town for a taco, we were greeted at each street corner by the resident pack of dogs, each having been assigned a descriptive name like Hound, Two Socks, or Marble. The pack clearly knew Kim and Alex and greeted them enthusiastically, plodding alongside until they reached an invisible delimitation that marked where this pack's turf ended and another pack's began.
We did a double take when we say this dog who looks a lot like our dog, Gorilla, at home.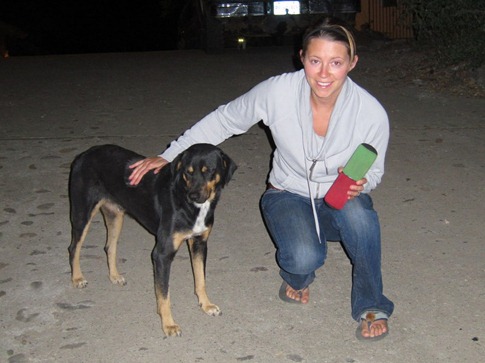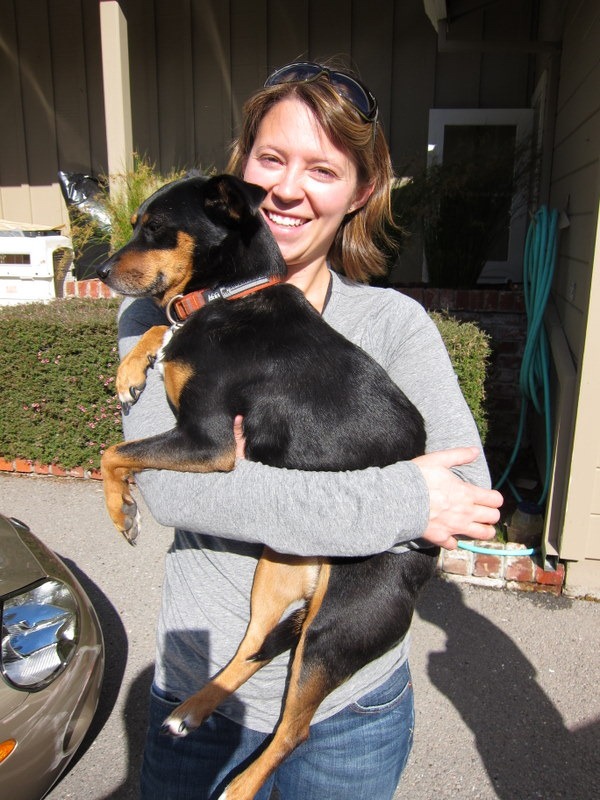 In case you're wondering, yes, Ann does have more than one shirt but no, she does not wear the other one.
We did manage to get out of the house a few times for errands in Sayulita (you simply can NOT find flax seed tostadas in San Pancho!) and a walk in "the jungle" to some soaking pools in the river and to see some of the damage from the rains that destroyed bridges in San Pancho, Sayulita, Puerto Vallarta and more this Fall.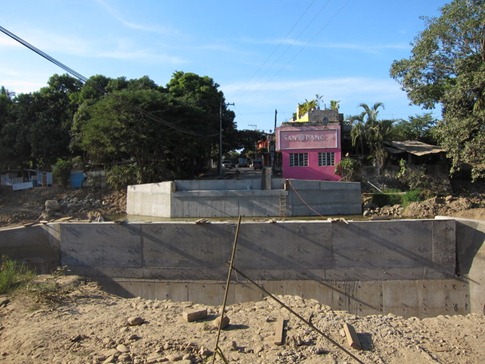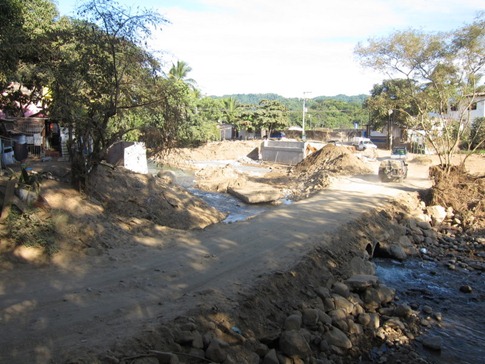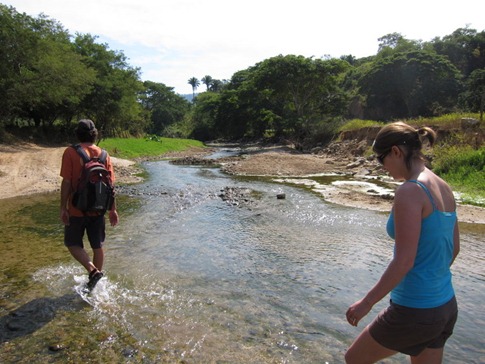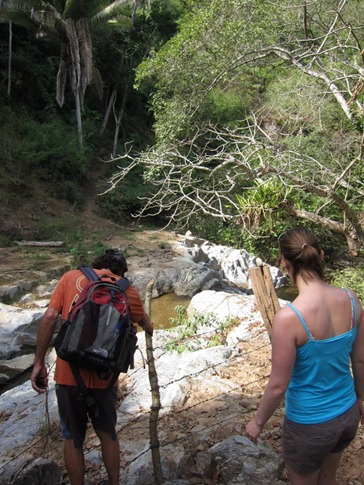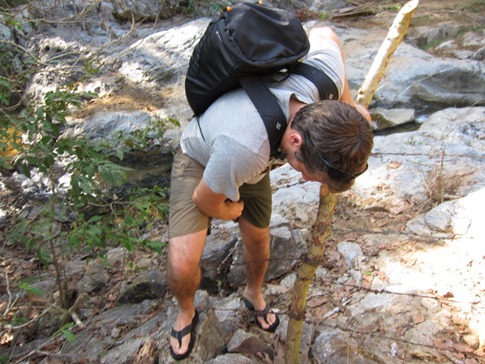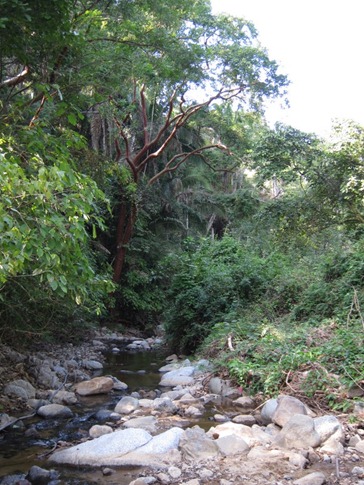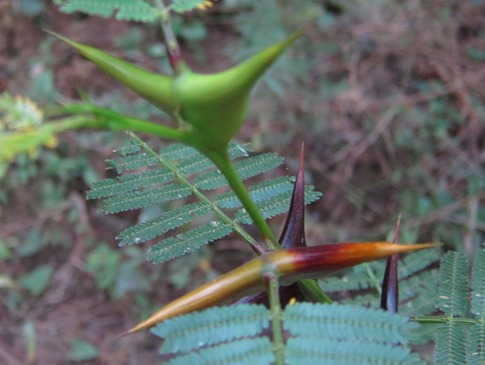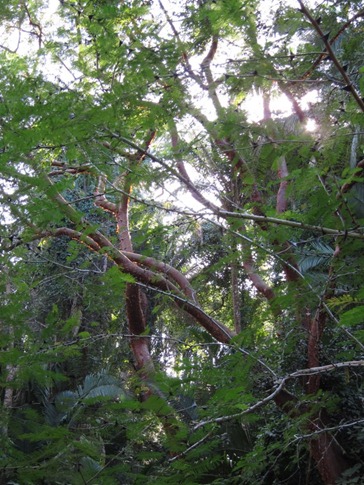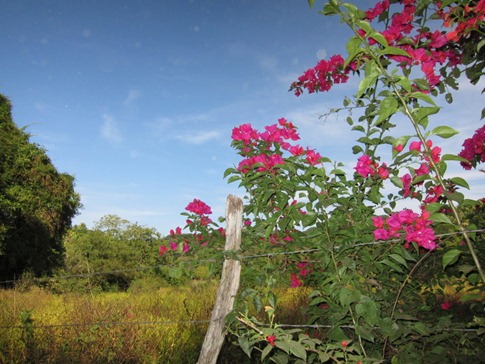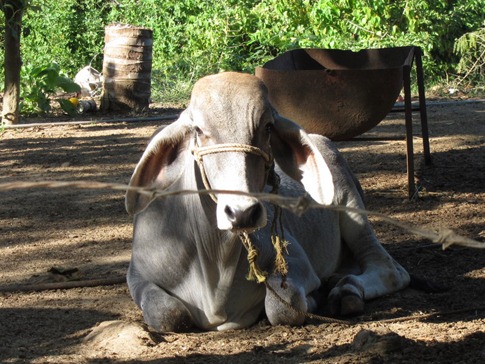 Out in the jungle, Alex introduced us to Richard. A few years ago, Richard bought some property outside of town, built himself a cabinet making shop, and set about creating a retreat comfortable enough to convince his wife to come join him. It's been a couple years now, and we walked past the completed pool, built extra deep for their son-in-law to teach scuba lessons, and up to a platform with a thatched palapa roof and floorboards Richard had beautifully milled from a local insect and water resistant hardwood. Sure, the progress on the walls had been going a little slower than planned, but his wife was down for a visit and they cheerfully recounted the story of their honeymoon 20 plus years ago: hiking deep along the Napali Coast of Kauai to build a tree house and live off the land for 6 months.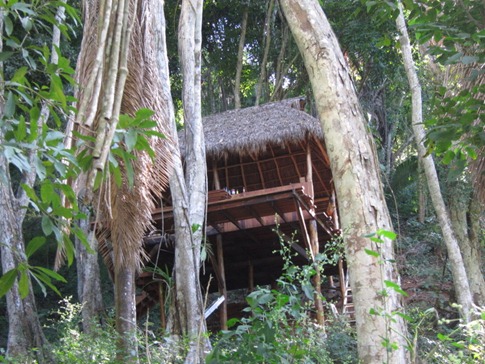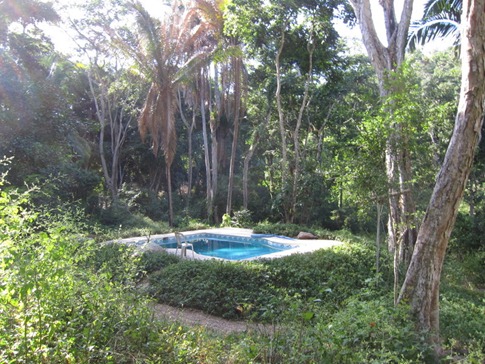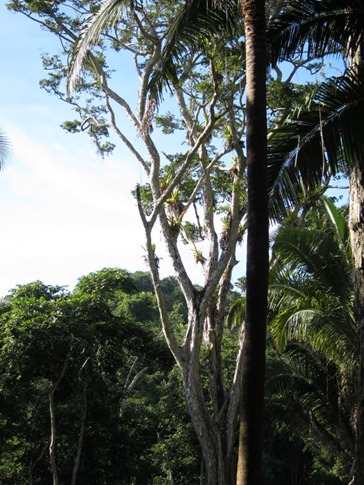 It's always interesting hearing the stories of those who've relocated to Mexico. Whether they've made their money and want to retire in style, don't have any and are trying to live on the cheap or somewhere in between, you know one way or the other that they've made a big decision to take control of their lives and live in a non-traditional way. I'd said before that that was one of the things I expected to be particularly rewarding about this trip: meeting people and hearing about the set of circumstances that led them to be on the road and having an adventure.
Another thing we were looking forward to on the trip was getting a chance to volunteer and help in the communities we're traveling through, and we got a small taste of that in San Pancho. Since soon after she arrived, Kim's been working with entreAmigos, a community-focused education, culture and art organization that negotiated use of an abandoned government building in town and renovated it into an incredible public space that includes a library, computing center, sports and dance area, craft workshop and gallery, all free for students. In addition to giving kids a place to go after the extremely short school day provided by the government, entreAmigos runs a scholarship program in which $600 provides the uniforms, books and school supplies, and tutoring the kids who show particular potential need to stay on the right track. We spent an afternoon at the center with Ann helping to paint a mural (albeit with a bitchy brit) and me evaluating a bunch of donated audio video equipment (which ended up being equally bitchy) and ended up deciding to fund a scholarship.
Check out the video below put together by Mao of some of the "scholarchip" students…
That night, we did our usual limbo under our mosquito net and climbed into bed, tucking everything securely back under the mattress. I was looking at the laptop and Ann was playing a game on her iPhone when all of a sudden, she swept her hand across her chest towards me. "Scorpion!" she yelled. "Why'd you throw it at me?!" I replied. We both sprang into action and located the little bugger just as he crawled into a pillow case. As soon as he was "neutralized," we began what would become a nightly ritual of stripping the entire bed, carefully shaking everything out and remaking it.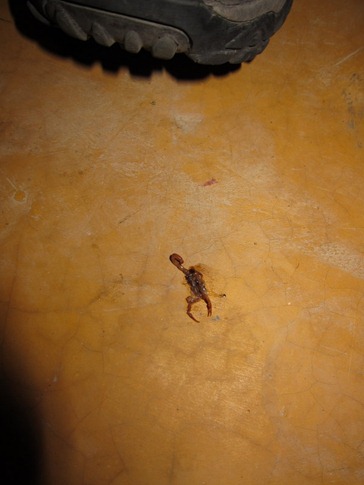 The next morning, we stopped by entreAmigos to pick up a few things at the gallery. While trying to find just the right set of glasses made from recycled bottles, Ann found a spider the size of a mandarin orange in one and somehow managed to not throw the glass through a window. I guess animals just like her.
After the better part of a week being spent in one place, we had a few field trips we needed to do. The first was some errands in the big city, Puerto Vallarta. No sooner had we finished shipping a box of presents home when…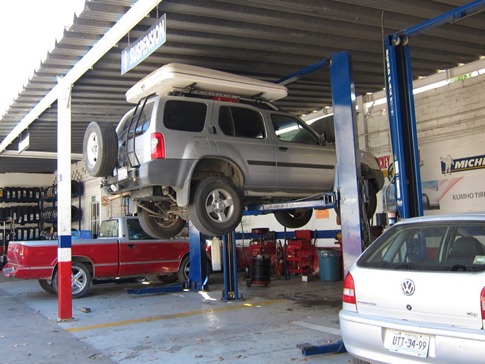 … we got an oil change. Oh, sorry if that picture led you to the wrong conclusion there. My mistake. Everything's great with the truck.
On the way home we stopped in La Cruz to see our friends, Michael and Ceacy, who have been living on their sailboat for the last few winters. In fact, our first visit to see them a couple years ago may very well have had something to do with setting this whole trip in motion. As usually seems to be the case, Michael had a gig scheduled at one of the many gringo bars in La Cruz and rallied me to sit in. Nice people and great environment.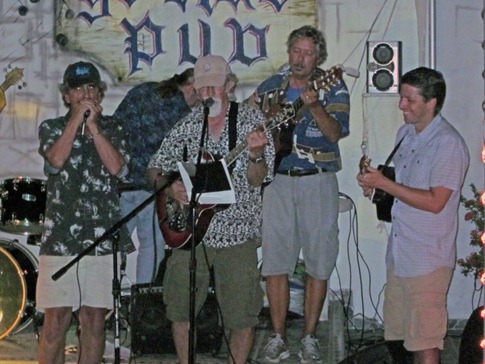 The next day, we met them in Sayulita to look at some property they bought the year before and help them brainstorm some ideas for building a little place on it. While neither of us thinks we'd like to do the same someday, it's always fun starting from scratch and thinking about what you'd do.
Our "fancy" night out with Kim and Alex was to the polo fields which, for reasons no one seems to be able to give, are just at the bottom of their hill. Apparently, people come all the way from Puerto Vallarta to see matches but on this night, the crowd was a little sparse. As a matter of fact, the field was a little sparse as well with a local team of two riders playing a visiting team with three, and trouncing them at that.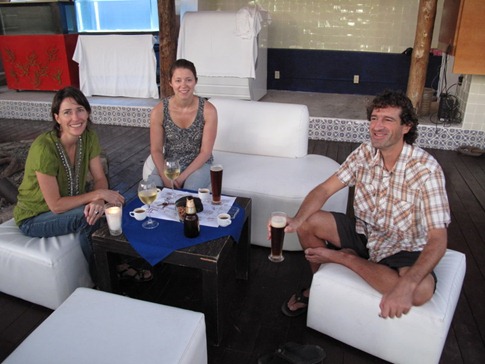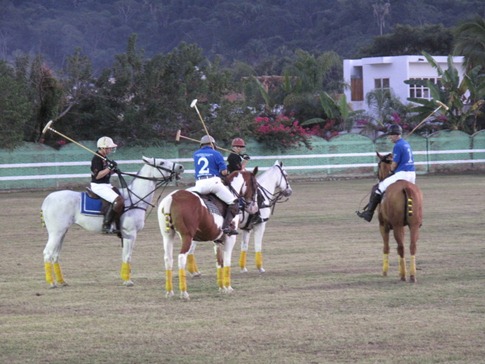 The high point for the players and spectators alike was clearly when Ann took the field for the bowl in to start the third chukker (try to keep up people).
Afterwards, the female announcer got back on the mic and graciously offered, "Let's all clap for our gringa helper."