There, now that I got all the cliches out of the way, I'll also mention that today we saw someone dressed in lavender taking a picture of lavender. A bit of a meta-Provence moment, but I'll start at the beginning.
The flight from SFO to Munich is eleven hours, plenty of time to watch movie ("Invictus" in our case), a couple TV shows (on-demand from the in seat monitors), and still catch the better part of a good night's sleep (thank you, Ambien). By the time we landed, I was ready for some coffee, a ham and cheese croissant and the Japan/Paraguay World Cup game, all of which were easy to come by in the Lufthansa terminal.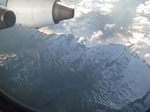 We were glued to the window on the short hop south to Nice as views of the snow-capped Austrian, French and Italian Alps slid beneath the plane, only to be replaced by terracotta palaces and half moon beaches dotting the Mediterranean coast. After opting out of the local custom of taking a helicopter from the airport to Canne or Monaco or St. Tropez, we decided to slum it in the black Mercedes at the front of the taxi line. Ann was so embarrassed she could have DIED!
The driver dropped us just off Rue Massena, a pedestrianized central street filled with a mix of locals and awkward tourists that we figured about matched the ratio of San Francisco's Union Square; Yes, it was a destination for visitors but also a place where Nice residents would come to stroll or sit outside at a cafe.
And this night, all seats were full for the second half of the Spain/Portugal World Cup match. We squeezed in with the crowd, gave each other the "wait, I think we're actually in France and will be here for the next MONTH" look, and began what would be an ongoing practice of confusing waiters and waitresses. I'll say that we really haven't gotten much of the stereotypical French attitude about English speakers. In fact, I'd say they usually have seemed more frustrated with themselves for not speaking English better.
Whereas in Spain they would look at you and hurriedly spit "Digame" or "Talk to me," here they approach the table with a barrage of French syllables that would seem sufficient to describe the ebbing light of the pastel sunset we saw driving into town or the colorful, illuminated sculptures of human figures perched atop high poles in the central park. When they're done, we try to formulate the only French we know, "Je ne parle pas francais," which confusingly means "I don't speak French." and there's a momentary sigh, not of "Ah, stupid Americans" but of "Okay, I've been through this before. Here we go."
Our approach is usually to try to make things as easy as possible for them. Choose something simple on the menu reference it with a combination of the brutalization of its name and pointing, and we'll deal with the consequences if it's not what we thought it was. But even our first waitress was not going to let us get away with that. On my first beer order (it's gonna take me a while to pronounce it like the Lonely Planet says as "be-yehr"), a "Monaco," she gave me a quizzical look and said, "You know what that is?" "No, is it brewed in Monaco?" "No, it's beer mixed with lemon lime soda and sugar syrup" and accompanied her response with a face that indicated that no self respecting male would want such a thing. I agreed and opted for the ubiquitous Kronenbourg, but there's still some debate as to whether she called me "mademoiselle" as we were leaving.
The other thing that keeps happening is that when we order one of anything, they always ask "Du?" meaning "two?" like we're not ordering enough. Then again this has happened just about every time from us splitting a crepe (perhaps declasse?) to me by myself ordering a cappuccino. We've gotta be missing something.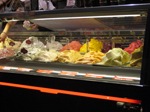 After a gelato from the heaping mounds of deliciousness beneath a glass counter, we called it a night.
I was on like a light switch at about 5 am. I tried to listen to a CarTalk podcast (they always joke that they'll put you to sleep in the car) but an hour later decided to get up and walk around. I left Ann a note in my best French: "Took a douche. Looking for cafe olay and cwahsont."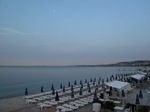 The streets were devoid of pedestrians but bustling with a steady stream of delivery trucks and scooters and cafe owners hosing down the sidewalks before setting out tables, chairs and umbrellas. I walked along the waterfront and watched the old men set out line after line of chaises and blue and white umbrellas within penned-in areas on the beach for which they would demand a premium from sunbathers in a few hours.
After a proper petit dejuener (a light breakfast of coffee and a some bread that's come to be known to us as "dijionaise"), we took a municipal train about 10 blocks to Holiday Bikes, the rental location for the motorcycle coordinated by AdMo tours. The guys at the shop spoke a little English and were very accommodating as we completely unpacked our bags and repacked into the two sidecases and top box inside the door of their tiny storefront. The bike was a dead ringer for my magnesium (read: gray) 2009 F800GS at home, down to the scraped plastic on both sides. All the better should we have one of the unexpected gravitational shifts at which we had become quite practiced on the Colorado trip.
Around the time we finished packing up (and they closed up for a long lunch), Ann realized she'd left her shampoo at the hotel. No problem, we'll swing by and pick it up. Well, despite my flawless navigational skills, by the time we routed through one way streets and closed pedestrian alleys and arrived at the hotel, we were drenched in sweat. While Ann got us some bottles of water, I broke out the four specific tools I'd packed to install the straps for the tank bag and the mount and battery connection for the GPS. With the sun blazing overhead, plans of following the steamy coast and checking out Cannes quickly gave way to routing into the cooler mountains ASAP.
The only town we knew of in the hills was Vence, where we'd be staying for a couple weeks with the family, so we plugged it into the GPS.  We found our way to a little square (no idea where it is in relation to our "moulin") with some shade and a fountain. We'd read that people would come to the central fountains to fill up containers and that it was good water, so we tried to blend in with the locals. We stocked up on some bread and cheese and climbed higher into the hills tracking towards the Gorge du Verdon.
| | | |
| --- | --- | --- |
| Classic, tightly packed hill towns around every turn. | Is this cannibalism? | Motorcycle Journeys through the Alps to the rescue |
The skies were darkening as we approached the Gorge and before long, we started feeling rain drops. After the heat of the day, the rain was refreshing…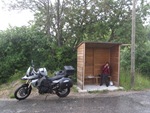 until the lighting started. We pulled over to put away some electronics and cover the tank bag and agreed to backtrack to a town we'd seen a couple minutes before and hunker down. We that restaurant didn't appear to have been in business any time recently and there was not much else besides houses to be found so when we spotted the covered bus bench, we went for it. Then it really opened up!
Before long, another rider came along with the same idea and the three of us squeezed into the bus shelter and snacked on fresh bread and packaged triangles of soft cheese while trying to make small talk despite the fact that his English was only marginally better than our French. He kept popping his head out of the shelter, looking the way we'd come and saying "Ah bon," then looking the way we were heading and saying "O-la la" and making a clicking sound with his tongue.
Once the lightning subsided and the rain lightened, we decided to get back on the road. By the time we got into the Gorge, the rain had stopped and left a mysterious mist hanging over the Verdon River and climbing up the striated cliffs.
At the western end of the Gorge, it was starting to get late in the day and we were feeling weary from the extremes. Routing towards our reserved hotel room in Aix-en-Provence, Monsieur Garmin took us through some desolate one lane back roads winding through endless fields of lavender. I have to guess these are some of the roads on the well-advertised bus tours seen on pamphlets throughout Provence. Oh, and here's where we saw the aforementioned appropriately dressed photographer.
The last 30 minutes on the autobahn were a blur, both because we were doing 85 (to stay out of the way of traffic) and because we were exhausted. GPS brought us right to our hotel room door where we took well-deserved showers and walked around a little before passing out.