Over the three months from August to the end of October, we'd been home a grand total of two weeks, first to meet Ann's sisters coming out for a visit to the Farmlet in mid August and second to drop off the trailer and fly to Boston for three weeks to visit the rest of Ann's family. And that's where the last blog post left off, with the snow melting on the roof of the Airstream after getting surprised by an early season snow storm in the National Forest near Winnemucca. The day before that, we'd left Boise, ID after looking at what we hoped might be our next trailer, a 2005 25' CCD model with a side dinette we'd found on CraigsList. We weren't even outside the city limits of Boise before sending an email to the seller proposing that we send him a deposit check as soon as we got home and work out the details of getting it out to California later.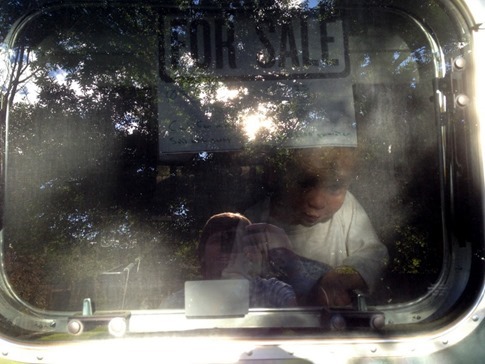 The problem (in addition to our plans to be in Boston for the following three weeks) was that we weren't sure our 2006 Toyota Sequoia with a maximum tow rating of 6200 lbs would be able to safely tow the new trailer with a max weight of 6300 lbs home from Boise. After committing to memory every discussion thread on the Airforums on tow rating and safety margins, tongue weights and axle ratings, payloads and wheel base, we decided that a new tow vehicle was going to be necessary and that a truck with a cap was going to be the best solution. While we like the flexibility and relatively small size of an SUV, we wanted to be able to carry more gear inside and less on the roof and also keep it (particularly stuff like a generator) isolated from the passenger cabin. Then Ann wouldn't have to crawl back into the cargo area every 15 miles in search of a random squeak that was driving her nuts, and I wouldn't have to picture the mound of hard-edged gear that would come tumbling over the back seat directly into the rear-facing baby seat if we had to slam on the brakes.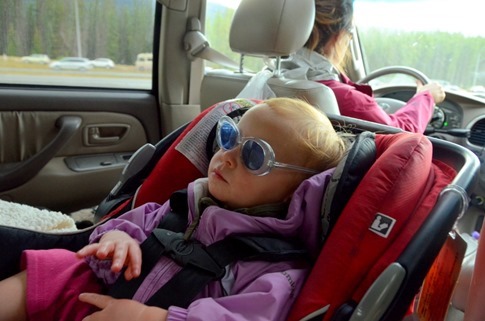 Now the questions were Tundra or F150, 1/2 to or 3/4 ton, gas or diesel, Powerstroke or Duramax or Cummins. Again to the forums where our heads spun, and we waffled back and forth for the next month. Ann's brother Andrew and I *may* have gotten a little caught up in the masquerade when we finagled a few test drives at a Boston Ford dealership, explaining that while my license was from California, I was relocating my ball-bearing and O-ring supply company to Acton and would need a truck for hauling all my what-nots and so forth. Wynne was definitely finding that running around in the back of her Uncle Andrew's F150 was just a plain ol' good time.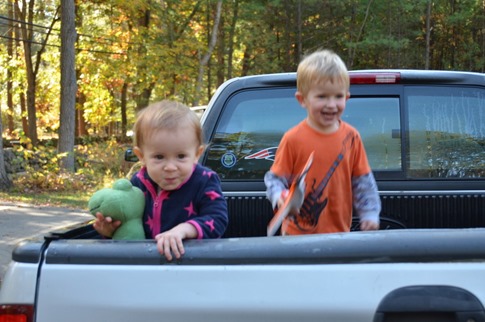 When not scamming test drives, I managed to get out every few days to finally start doing some swimming before the Marin Sprint Triathlon I'd committed myself to in a couple weeks. Ann and I had been pretty good about running every other day while in the trailer and found it a great way to explore new places, but swimming had been neglected. In addition to being beautiful and peaceful, Walden Pond is a great place to train. Someone has taken the time to measure out several routes across the lake so you know exactly how far you're swimming. Of course, that didn't stop me from misreading the map and swimming over the distance I needed to each time. I had some good motivation to make it back to shore tho…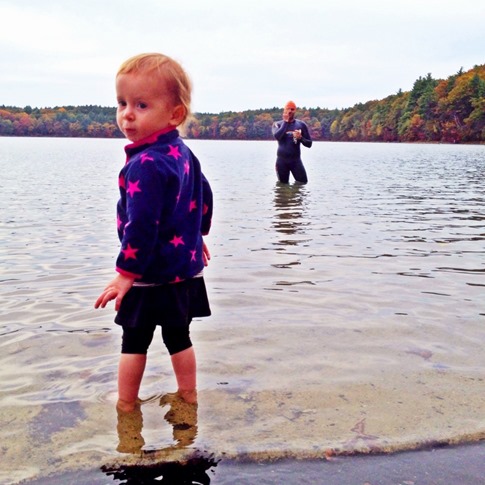 By the end of a great Fall visit to New England, we'd decided on the exact truck we wanted and hatched a plan. Since neither of us was really looking forward to driving 14 hours out to Boise (even with a grandma ready and willing to have her traveling granddaughter all to herself for a few days while we did it) and we needed a new truck anyway, we set several dealers in Idaho loose trying to find the truck for us there. That way, we could fly in rockstar style, pick up the truck, hitch up the trailer and still have a few days to try it out on the way home. That'd be awesome right?! What a plan!
In keeping with our pattern, we'd planned to only be home for a week, but days passed and the departure date grew closer and still no truck matching our (admittedly detailed) needs list. Grandma was all scheduled for her overnight babysitting, the seller was standing by, but still no perfect truck. There was just always something missing from the ones the dealers were finding. I felt myself getting ready to compromise. Do we really need leather? I mean, purple grape juice and a paste-like slurry of goldfish crackers can probably be cleaned off of a cloth backseat just as easily, right? Maybe bright yellow would actually be a good color for us. It sure would help if we needed to be spotted by a rescue plane the next time we got caught in a snowstorm. And 216K miles on a diesel engine is basically just getting broken in, right? But then it hit us. We weren't in a rush. There was no reason to compromise. Within 15 minutes, I had started an auction on uShip and was already receiving bids to transport the trailer that were much less than it would have cost us to fly out to Boise, make a bad decision on a truck and pay for campgrounds and gas on the way home. Final score? Awesome: 0, Practical: 1.
But what about grandma? She really had her heart set on having Wynne for a few days. We couldn't really take that away from her could we? That would just be cruel. So what'd we do? We dropped the baby off right on schedule and went home. Parents can attest, the idea of just being at your own house without a toddler constantly needing attention sounds like a pretty great vacation. We slept in. We did projects. We watched movies. We did whatever, whenever. We went out to late dinners. I really didn't want to believe Chez Panisse in Berkeley could be as good as they say, but it was!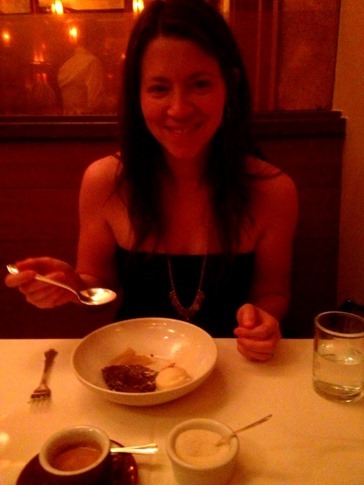 And this in contrast to our usual, but less relaxing, dinners…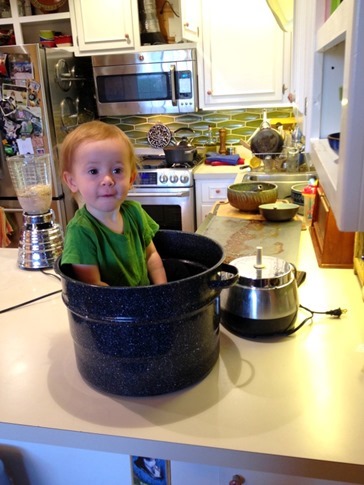 And on the last evening of our "staycation," we got a call from our uShip shipper saying that he was a couple hours away with the trailer. Later that night, we led the bright headlights and orange running lights of his massive F-Zillion-50 truck up the easement road along the side of our property to a gate into the upper pasture. Our 19' had always scraped a little as we entered our steep front driveway, and I didn't feel like taking a chance at getting our new trailer permanently wedged. We figured if The Democratic Travelers had fit through the side gate, this rig should be able to. Petunia and the sheep scattered in the darkness as the lumbering load just barely squeezed through the gate leading down into the lower pasture, past the chicken coop and the feed shed and into the parking area from the opposite side.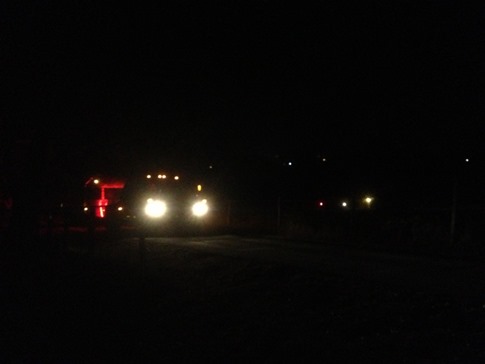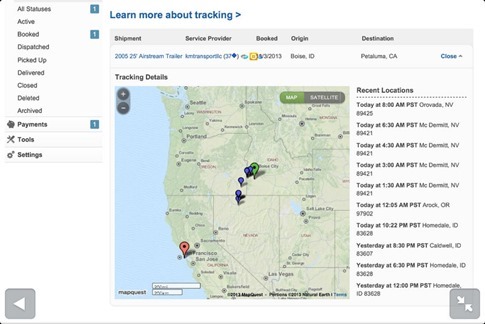 As he unhitched, I made small talk with the driver. "I was tracking you on the GPS. You made pretty good time."
"Yeah, just stopped for a little in Nevada to sleep a bit."
"Oh, did you grab a motel or something?"
"No, I got a sleeping bag and a little bed in the back of the cab," motioning towards the rear doors of the truck.
I laughed, "Kinda ironic when you're towing this big nice trailer with all the comforts, huh?"
"Yeah well, if it gets real cold, we'll definitely head back there, fire up the furnace and hang out. You know, it's just kinda part of the deal."
Uh, no. I don't know. I was actually not aware that was "part of the deal…"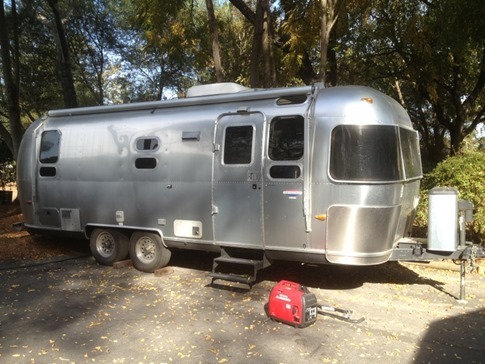 Well, the driveway's starting to look a bit like a dealership. Time to start getting the 19' ready to sell (any leads are helpful or else she'll show up on the Airstream Classifieds in a couple months). And in the next posts, I'll dive into our decision process for our new tow vehicle and the mods we have planned for the 25'…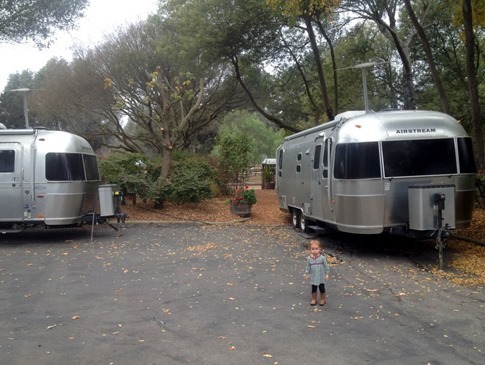 Oh, and the triathlon? I killed it. Well, let's just say we almost killed each other… Actually, I felt pretty darn good and finished in 1:23, about where I expected.