Just over a year ago, we returned from 5 months and 10,000 miles driving south from San Francisco through Mexico and Central America to Panama. We left our comfortable home and friends and family unsure of how long we wanted to be on the road. Around the fourth month of travel, we started thinking about home. Not necessarily the home we'd left, but one we wanted to create. We'd met friends on the road who thrived on seeing a new vista through the windshield every day, finding a new hole-in-the-wall restaurant with amazing empanadas and looking forward to the next sunset happy hour on the beach. We shared not only experiences with them but an outlook on life that valued flexibility, personal relationships and having a positive effect on the world.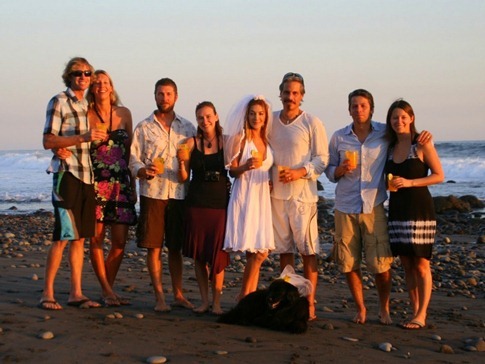 While many of them continued south in search of their ideal life, we returned to Northern California to find ours. A few months ago, we heard the news that some of these friends from the road, Tree and Stevie from SprinterLife (getting married on the beach in El Salvador above), were planning on having a baby somewhere in South America. They had been so happy for us when they found out Ann was pregnant and have been eager for updates and pictures of Wynne. When they emailed to tell us they'd be in Southern California for a baby shower in a couple weeks, we thought it a fitting time to return to the nomadic life for a few more days, only this time with a little more style.
A few posts ago, I mentioned that we were in the market for an Airstream trailer. In fact, we've been tossing the idea around for almost a year, debating the merits of gutting and remodeling a vintage trailer vs. taking advantage of the technology and efficiency of a new one. We know we'd like to continue to travel with kids and thought the classic aesthetic and great design of the Airstream would be a great platform for a growing family. As always, plans can change but there's talk of an Alaska road trip in the summer of 2013.
After several months of having the classified listings on the AirForums constantly open on the iPad and our CraigsList search radius expanding into the Pacific Northwest and Southwest, we ultimately decided that a new one was going to be the only way to really get what we wanted. Unfortunately, the salesperson at the closest dealership preferred to answer my comprehensive emails with single line, uninformative (and unpunctuated or capitalized) responses. When we gave him the opportunity to match a quote we'd gotten from a very responsive dealer in Portland, he was furious that they could compete with the inflexible quote he'd reluctantly given me. We arranged for the exact trailer we wanted to be delivered from Portland the next week and have been very happy with the purchasing experience – and the trailer!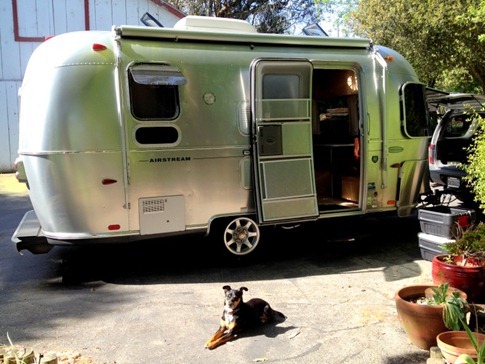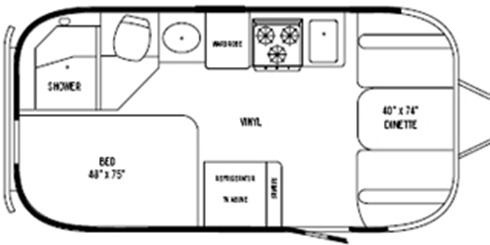 We went with a 19' Flying Cloud, the smallest layout with a separate shower and toilet. This unit includes a fixed bed and the back corner as well as a dinette that converts to another. A curtain in the middle allows either section to be closed off for privacy or a sleeping baby. We wanted something small enough to tuck in at state parks (many have a 23 foot trailer limit) and at music festivals and that was under the 5000lb weight limit for towing with the Xterra, at least until we decide if we want to buy something larger to tow with. It's this damn rural living; Even those Ford F-250's with four doors and a full-size bed start to look reasonable after you see enough of them. For now, we had an Equal-i-zer sway control hitch and Prodigy brake control installed on our Xterra that would dramatically improve the towing performance.
The next day, we dragged the new "expedition vehicle" out of the driveway, once again header south, but this time only as far as the baby shower in LA. Not an hour from home, we heard a loud thump and felt the back of the truck start to wobble. We'd had one of the General Grabber tires that come stock on the Xterra delaminate on us on the way home from our Baja Shakedown trip. Still, we'd decided to stick with them for the trip and had only one more flat in 10,000 miles of topes, potholes and dirt roads through Mexico and Central America. That one was on a remote dirt road in Costa Rica with endless river crossings, and I'd had to change the tire on a loose slope in the mid day tropical sun. This time was on the side of 880 in the East Bay with traffic whizzing by at 70 mph and felt a lot more exposed.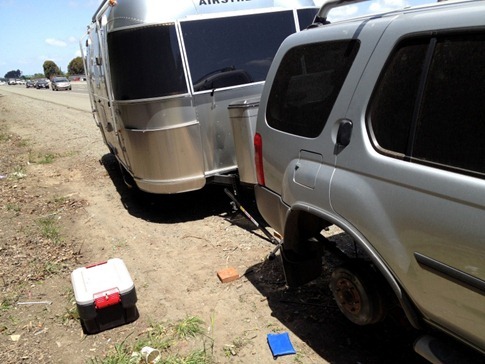 I chocked the wheels and detached the trailer -  only the second time I'd ever done it - and was relieved to find that I'd put all the necessary tire changing tools back into the Xterra after removing them from the various recovery boxes and toolkits we'd brought on the trip. I was still more relieved to find the key to the locking lug nut in the glove compartment. That woulda been bad. In Mexico when we had the brakes done, I didn't remember they'd need it until the truck was 10 feet up in the air on the lift. Lo siento! In this case, we were back on the road with the spare mounted in fifteen minutes, heading towards lunch to evaluate our situation.
After some of the challenges one faces crossing seven Latin American borders and living out of a truck in foreign countries for 5 months, the prospect of sitting at a Chipotle while checking Yelp reviews of tire shops within a 5 mile radius was not terribly daunting.
Tangent #1: As far as road food goes, I gotta put a plug in for Chipotle. Maybe I'm just a sucker for marketing, but between this awesome video showing at the shift towards factory farming (shut up, *you* cry when you watch it, not me, just shut up and watch it)…
… and their recent partnership with our local Petaluma Creamery, I tend to believe that they are actually trying to run a larger scale business in an environmentally, socially and ethically responsible way. Check out their Food with Integrity page and a feature on Nightline with the founder and pastured meat evangelist Joel Salatin and decide for yourself.
Tangent #2: I recently read a post from a couple who just finished driving from the Northwest all the way to the southern tip of South America over 16 months that talked about their reflections on life at home after the trip. In 28 Days Later, Logan and Brianna from PanAm Notes mention that while they'd been afraid of being bored at home after such a large adventure, instead their perspective on daily life seems to have changed; Not only do simple things suddenly bring them joy, but not much seems to intimidate them. "Casually throwing around 'impossible' ideas is our new normal," they say. We had much the same experience coming home. Travel breaks us out of our routines, warms up our problem solving tools and frees us up to choose our own path. Setbacks begin to feel like opportunities and successes all the more sweet.
So after a bit of a shock from a high speed blowout the first time towing our new trailer, we'd gotten ourselves and the baby fed, arranged for new tires (these rated for a higher load) and taken a nap in the trailer while we waited outside the tire shop. An hour later, we were back on the road refreshed and ready for the next experience. The road was gonna hafta do a lot better than that to rattle us.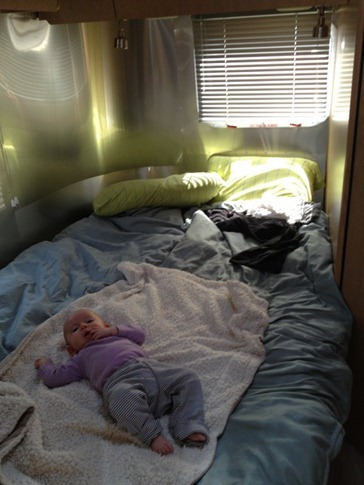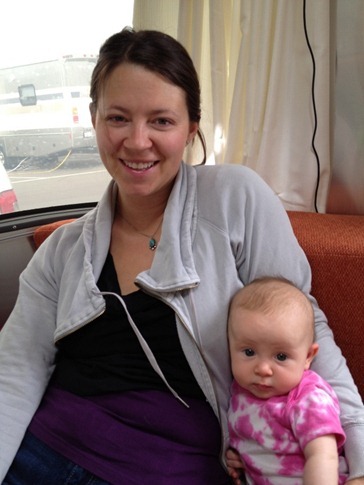 On the way down, we stopped to pick up a few things we'd need for our new life as "RV'ers" - water and sewer hoses and some extended towing mirrors - and pulled in for the night at an RV park recommended by some friends. While it was very clean and manicured with tons of amenities, it wasn't really our scene. The next morning we picked up the rest what we needed - one of those little sewer hose trestles that keep the contents flowing in the right direction – and headed towards one of my biggest concerns of the trip, the Grapevine. The Grapevine is a 40 mile stretch of highway leading from the San Joaquin Valley over Tejon Pass into Los Angeles, but the steepest part is the first 5 miles, climbing at a 6% grade from about 1500 ft to over 4000 ft. I knew this section would be the real test of the Xterra as a tow vehicle.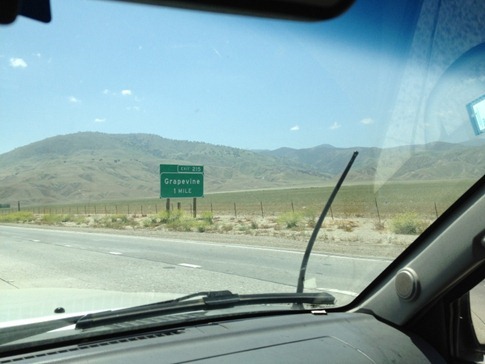 Fun Wikipedia Fact: The song "Hot Rod Lincoln" was written by Charlie Ryan about a race up the Grapevine between a Lincoln and a Cadillac. I first heard it played by Bill Kirchen at the Hardly Strictly Bluegrass Festival. In his version, not only are both cars passed by a kid in a Model A Ford but also by countless vehicles and musicians whose horns and trademark licks Bill uncannily mimics with his Telecaster. The first chance I got, I took Ann (and her Dad) to see Bill Kirchen play at the (old) Freight & Salvage. When it came time to pick a band for our wedding, it occurred to us to see if Bill was available. He was and it was awesome, even sitting in with us on a few songs.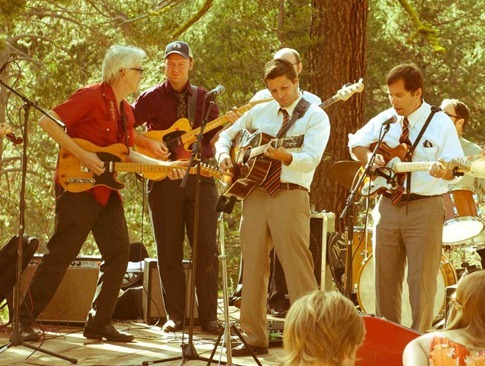 While little V6 engine in the Xterra did have to rev, it kept us moving at a reasonable 45 mph up the grade, faster than many of the eighteen wheelers that make the trip daily. I was particularly glad for the anti-sway hitch and brake controller on the way back down the other side. The next challenge was the narrow lanes of the 405 through LA to our campground at Hermosa Beach. In the end, it was a bit of a white knuckle ride, but she got the job done – barely - leaving us a little unsure as to whether or not we needed a new tow vehicle for future trips.
Ten minutes to set up the trailer in a spot with a view of the surf, and we only had a few miles to go to the baby shower. We hadn't "seen" Tree and Stevie – other than on their blog - since a year before when we left them in southern Costa Rica to head for Panama and our flight home while they surfed and planned their life abroad. In fact, we hadn't "met" them – other than on their blog - until 3 months into our trip in Antigua, Guatemala when after being a couple weeks behind us, they finally caught up. With the exception of a few extended periods of caravanning through parts of El Salvador, Honduras and Nicaragua – during which they forced us to go through all police checkpoints first, claiming that we had to lead because we had the GPS – ours was largely a virtual relationship consisting of instant messages, Skype and anxious anticipation of the next blog post, yet somehow had a familiarity and closeness that often takes years to develop. Emily from Pleasure Device also made it up from San Diego although Chad was too busy jockin' the bitches and slappin' the hoe's to make it. It was nice to see those guys back in the US and get the old "Adventures of Pleasure Life" crew back together.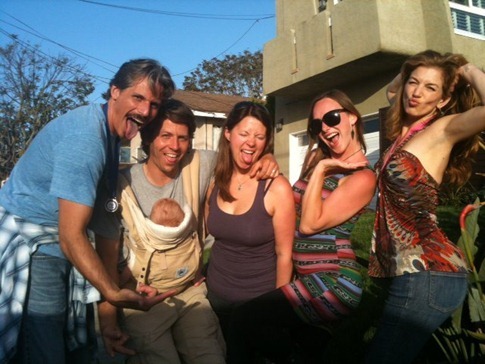 I forced Tree to hold the baby. I think he looks about as comfortable as he did in Honduras while Chad and Emily were talking to the guy with a gold-plated glock stuffed in his waist band.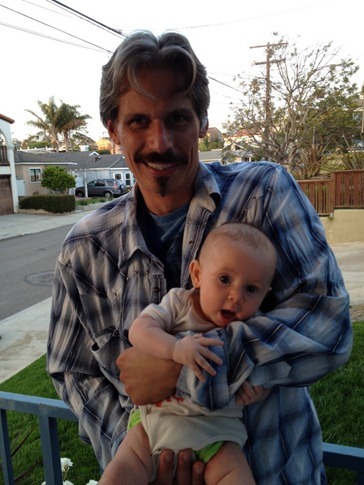 You can read the SprinterLife account of the shower on their blog.
Back at the Dockweiler State Beach campground, we had a pretty nice setup. Sure, we were basically just in a parking lot, but we were steps from the beach in our awesome new rolling condo. I got the feeling the owners of the other HUGE RV's parked along the front row had booked way in advance and treated the campground like their beach house. Without question, some of the rigs were bigger than beach houses I've stayed in.  While it didn't have the amenities of the previous night, you couldn't beat the location and a much more relaxed vibe.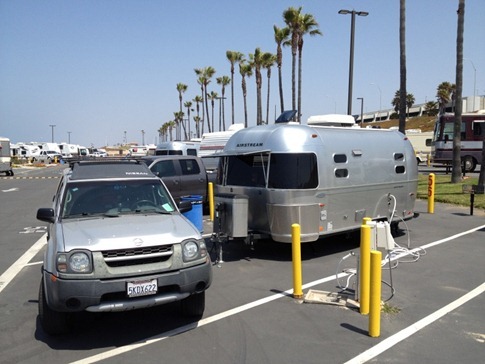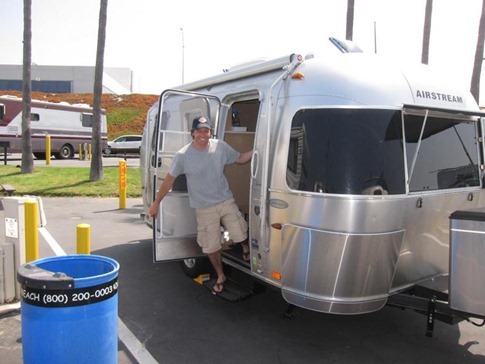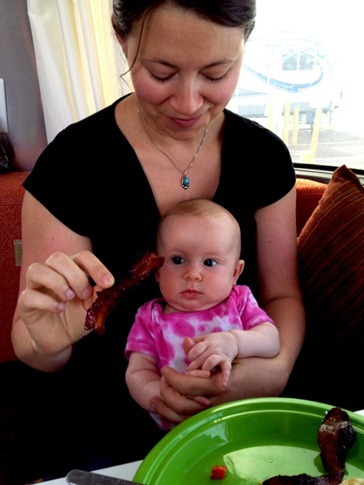 The next morning, Tree stopped by for some farm fresh eggs and hyper-local bacon before we hitched back up and turned ourselves north. He'd mentioned a place just beyond Santa Barbara called "Refugio" so we punched it into the GPS and hit the road. After a brief but expensive stop at the Patagonia headquarters in Ventura - another socially conscious company including a Footprint Chronicles feature on their web site that contains detailed information about the material sources and manufacturing processes behind each article of clothing they sell – we pulled into Refugio State Beach.
The campground reminded us of something in Mexico or Central America. Very simple, rustic but comfortable. We got out the manual for the awning, set it up for the first time and started the charcoal to cook a couple of our homegrown pork steaks.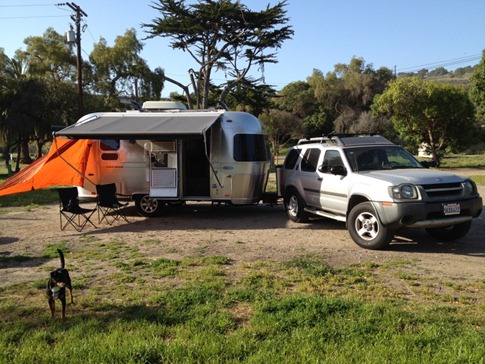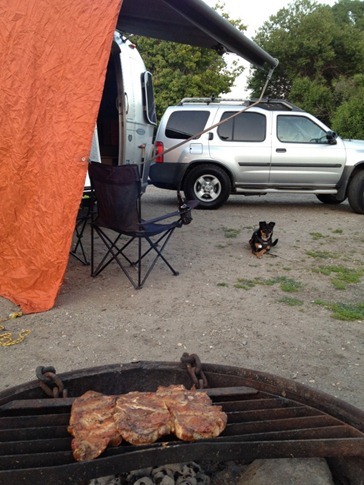 Wynne didn't seem to have much trouble getting into the rhythm of camp life.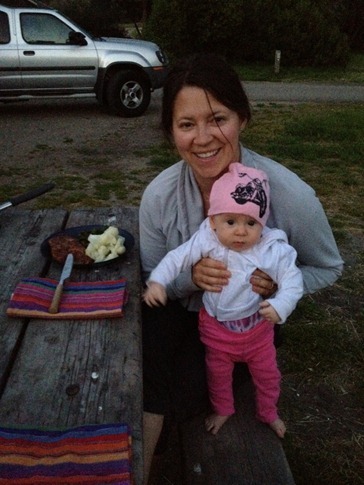 Neither did Gorilla. She jumped up into this chair on her own. I have no idea how she got that beer open.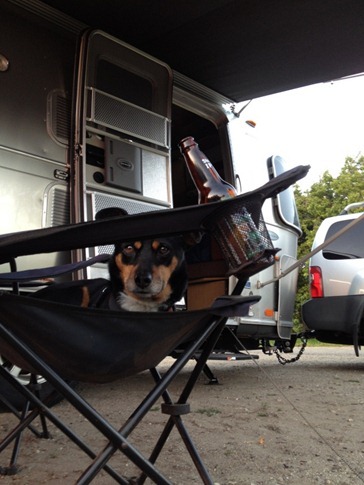 It really did feel like we were back in Mexico.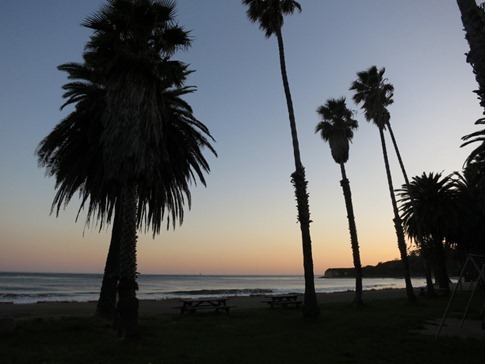 So much so that we decided to stay another day, reminding us of the benefit to staying flexible while traveling. The next morning, we walked around Santa Barbara and hung out at Hendry's Beach while hang gliders turned lazy circles just above us.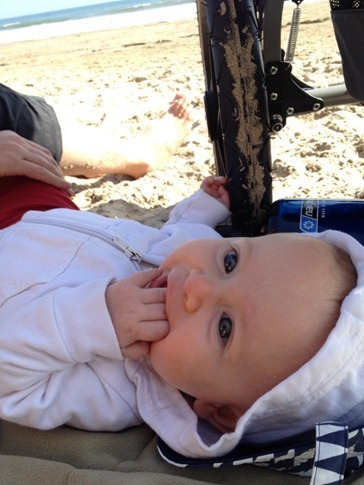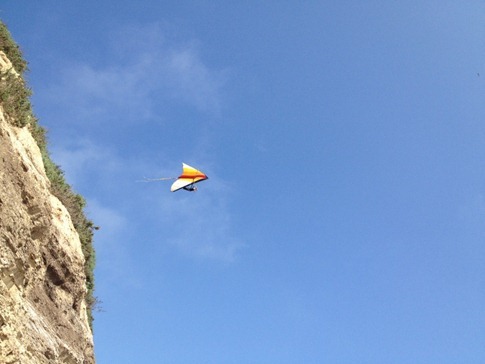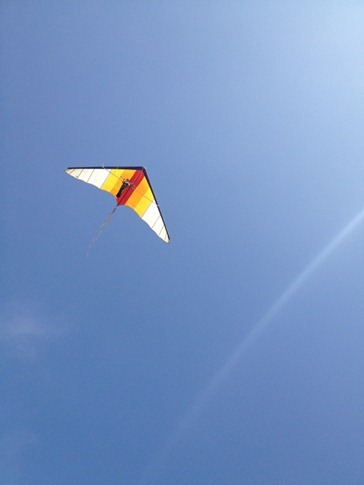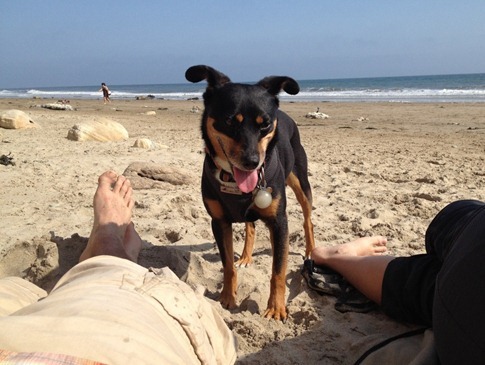 When we returned, were told by the camp host that we had to move to a new site. As it happened, this one right along the water next to a playground was open. We swore to try to get back here with friends. There's a small little surf break on the north end, a nice beach and a protected cove that would be fun for kayaking or stand up paddle boarding.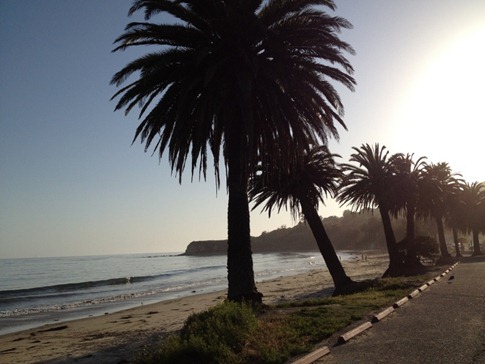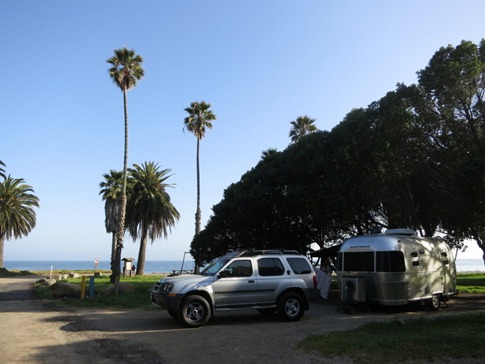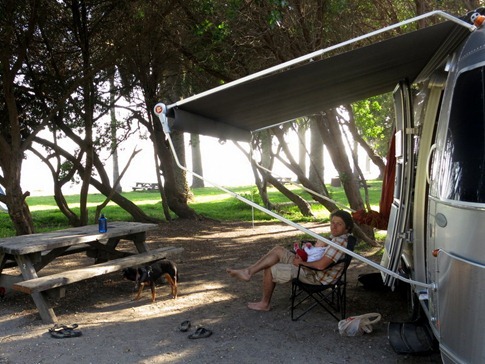 In the next few weekends, we took the trailer out two more times, to the Strawberry Music Festival near Yosemite and to Whiskeytonk, a small festival put on by a good friend in the Sierra foothills. We were particularly glad to have the trailer at Strawberry where we had rain, hail and even a brief snow shower over the course of the weekend. But we were well prepared with portable heaters and plenty of bacon and ham to keep us warm.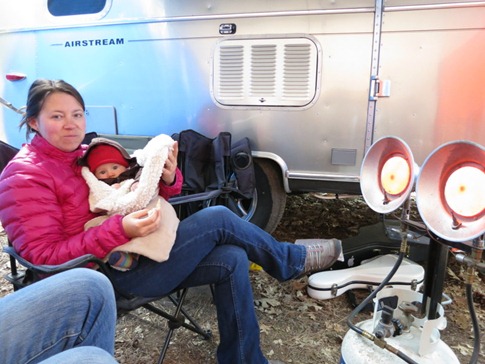 It was definitely a different experience attending this festival as a parent. For the past 10 years or so, I would arrive on Thursday morning (or Wednesday night!) and start drinking and playing music immediately, only to suddenly realize it was somehow Sunday night already. This year, our schedule was dictated by naps and feedings yet somehow I managed to play a little, see a lot of music, hang at camp and take long walks around the camp while trying to get her to sleep.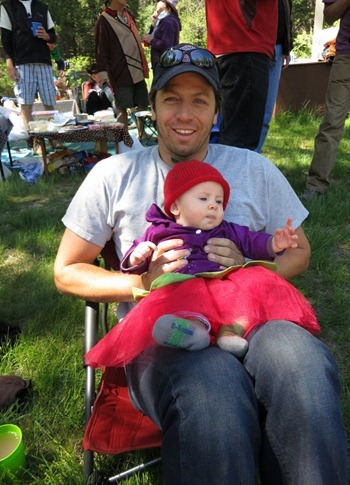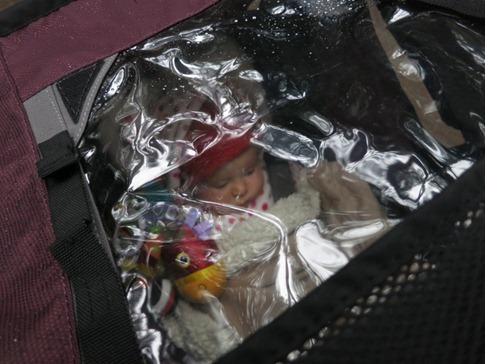 On one such walk, we peeked into a 23 foot Airstream attached to a Volkswagen Touareg and met a couple who had been living on the road in the US for the past two years. By now, they'd found a couple places that they really liked - Ashland, Oregon and Austin, Texas – that they used as home bases while they explored on the way back and forth between them. I actually had a Touareg for a couple years but sold it because the gas mileage was terrible. Since then I've heard great things about them as a reasonably sized tow vehicle and now they're available with an efficient diesel V6. It was a nice looking setup…
Fortunately, Whiskeytonk had the opposite weather: a beautiful-but-not-too-hot day at a fantastic house with a sweeping view.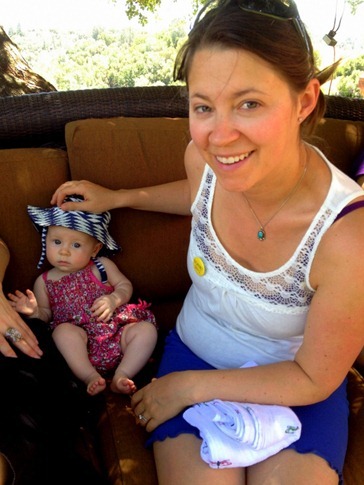 And great music.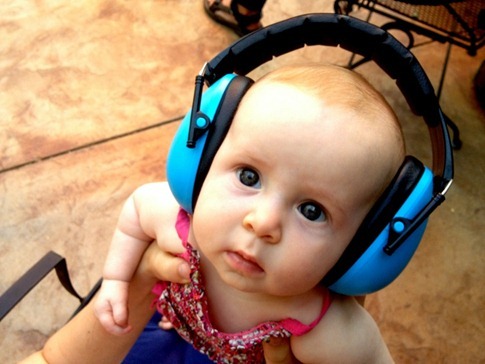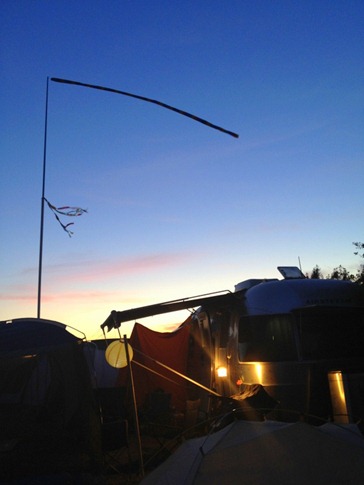 Despite how much we love our new "expedition vehicle," we're glad to be home for a while. Between chicks, sheep and a new addition you'll hear about in the next post, there's been a lot of ups and downs. For now, the Airstream is tucked away in a nice spot overlooking the sun garden and waiting for guests. Come on up and visit or if you're an overlander coming through Northern California, drop us an email and stop by the farmlet.