The day after returning to El Tunco with our tails between our legs was spent pouring through guidebooks, maps and blogs to figure out our next move. A part of us wanted to be out of El Salvador as quickly as we could, but we'd also really been enjoying ourselves before the mirador at Cerro Verde. Plus, any direction we went, we'd be entering Honduras, the country with the reputation for the most corrupt cops in Central America.
Option one was to continue down the Pan American Highway and cross the border into Honduras at El Amatillo. We'd read countless blogs (Luis and Lacey's in particular) detailing corruption at the border followed by relentless shakedowns at police checkpoints, often as many as 10, along the 4 hour stretch of highway that passed through Honduras and were not looking forward to it. The other option was the one we'd been planning when we first left El Tunco, crossing a quieter border into Honduras and driving a longer but less travelled route not as closely monitored by the police. Of course, given our recent experiences, more remote and no police wasn't exactly what we wanted either.
Fortunately, Tree and Stevie (SprinterLife) and Chad and Emily (PleasureDevice) were in the process of making the same decision. When an email came in from a couple who had crossed the border the day we arrived confirming everything we'd heard, the six of us decided to convoy the northern route through Honduras together.
The Eco del Mar in El Tunco…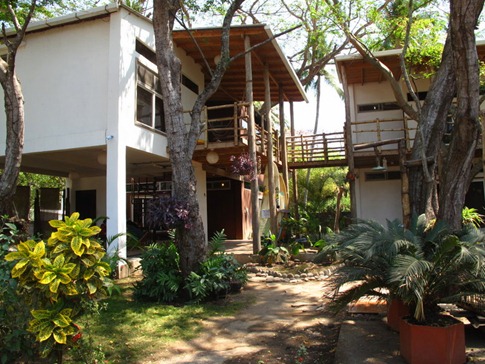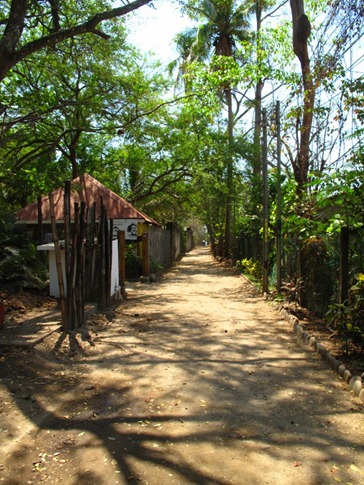 The idea of traveling in a group for a few days suited us perfectly, particularly the next morning when we found our battery dead. In our truck, we run a 12DV compressor refrigerator off of a beefed up, deep cycle battery, an Optima Yellow Top. We'd regularly run the fridge for two nights without starting the car (longer with a solar panel plugged in), but this was the second time in a week we'd killed it. We rationalized that the first time, we'd left another accessory plugged in and charging. This time, one of the doors didn't feel completely shut. We're hoping that's the explanation rather than our battery starting to lose capacity. It's also possible that the heat down at the coast caused the fridge to have to run more to maintain its temperature. We'll be keeping an eye on it.
It's a big change traveling with another vehicle after being on our own for three months, but in this case, we were thrilled to be zoning out without a care while staring at SprinterLife's big white butt on the road in front of us. Heads turned and kids pointed as their tall, narrow van with a wide rack piled high with surfboards passed by with a tiny silver Xterra trailing. Chad and Emily would follow a day behind. Somehow, Tree and Stevie have been functioning without a GPS, relying only on bad maps, vague guidebooks and stopping to ask directions for the duration of their trip. As the convoy approached San Salvador, a typical Central American city with a complete lack of signs, we took the lead. With me at the wheel and Ann navigating, Senor Garmin, thanks to Espen and Malin's maps, led us through the city with only one wrong turn.
On the other side of San Salvador, we found the ridiculously over-signed route to the colonial, lakeview town of Suchitoto. All of a sudden, big blue signs with white writing over icons of the activities and amenities we'd be enjoying - apparently ducks, people walking, beds with nice looking pillows, and a place where we could wash our hands – zig-zagged us through a crossroads town and onto a country road that climbed north from the Pan Am. A few of those signs would have been great just south of San Salvador.
We pulled into the central square and made the mistake of looking at the nice hotel overlooking the sleepy plaza. Four post beds, air conditioning, wifi and balconies were too hard to pass up, and we were soon watching the sunset over the picturesque church from the wicker furniture while telling ourselves, "It's a splurge, but it includes breakfast." And another huge benefit, Kiki could squeeze her head through the wrought iron gate between our balconies so we could pet her.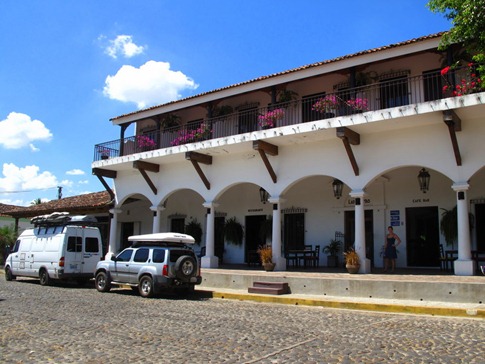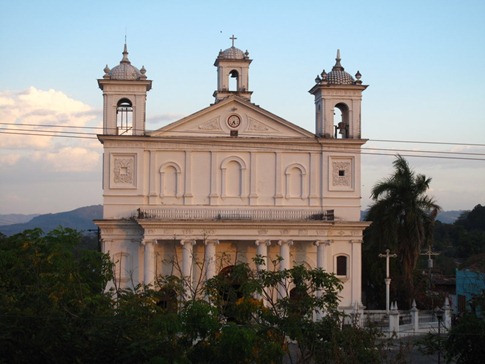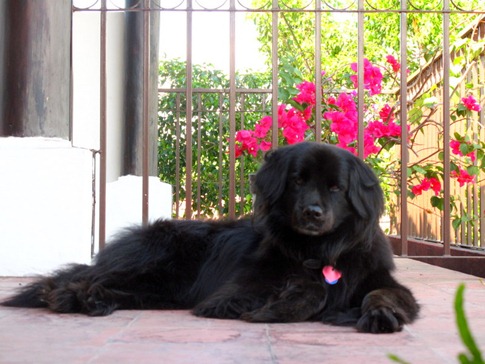 An email from Tree in the next room meant it was time to go to dinner; The four of us had a huge meal of papusas - thick tortillas with anything from beans, jalapenos, meat or veggies baked inside - and burritos at a place recommended in one of the books. On the way home, we poked our heads into a performance my a military symphony in a large theater a few blocks from the hotel. Playing with no amplification, the band could be heard from anywhere in the town. Locals and a few tourists sat in molded white plastic chairs set up in rows on the theater floor.
That night, we'd scheduled a mini press conference: Skype sessions with each of our parents to gently let them know what had happened to us. We'd told them our phones were stolen and that there was "a story" but needed to fill them in completely before we published to the blog. I think the Skype video helped to show them that we were okay (the nice hotel in the background didn't hurt), and they felt better that we were traveling with some other people for a while. We also sent an email to friends, some who may not check the blog frequently, so they didn't hear about it from someone random. Of course, everyone was very concerned and supportive, a few who we knew had their own travel crime stories and could understand. My favorite response was from a friend who wrote: "You guys caved for three dudes wearing ski masks and carrying machetes? Pussies."
The next day, the four of us walked around town, looking at the amazing wood work in the church, browsing the interesting local galleries and shooing local dogs away from Kiki. With her thick black coat, clean teeth and clear eyes, she must look like quite the prize to these mongrels. We found a hotel with a patio overlooking the lake a good ways below and had a drink in the shade.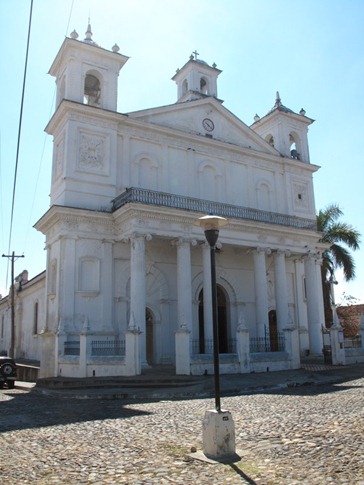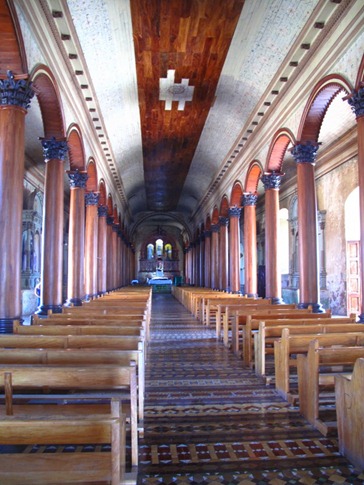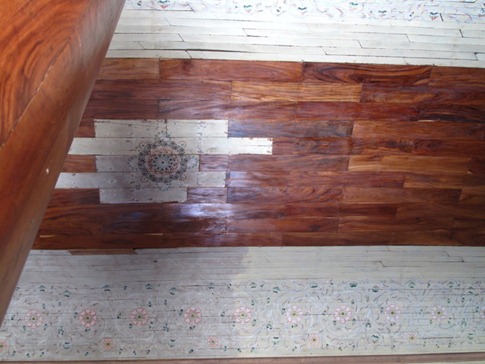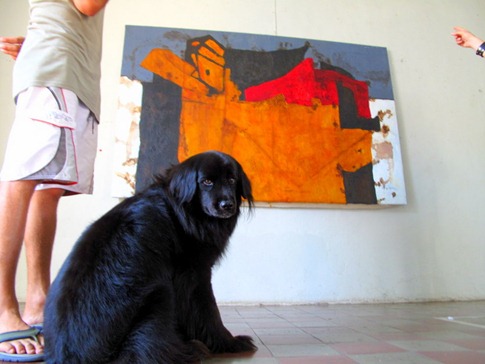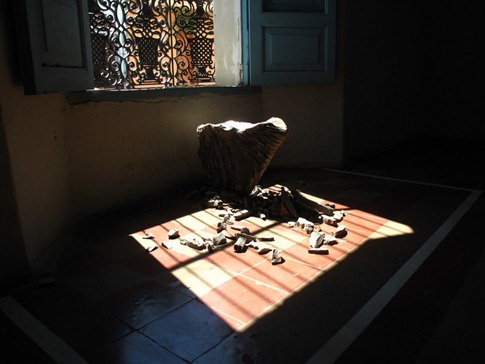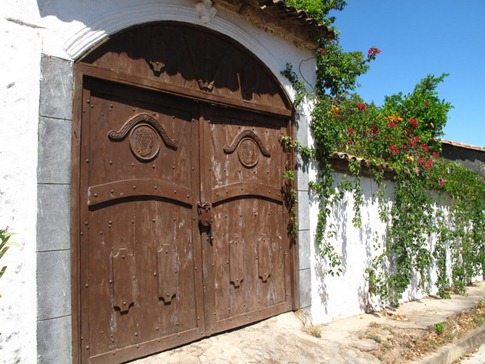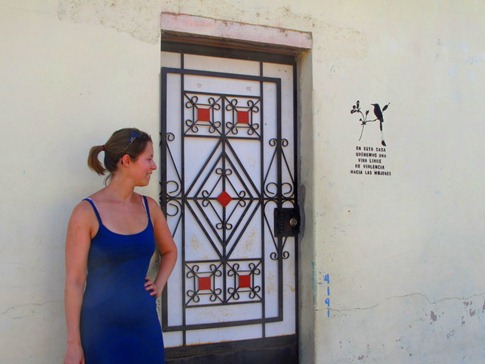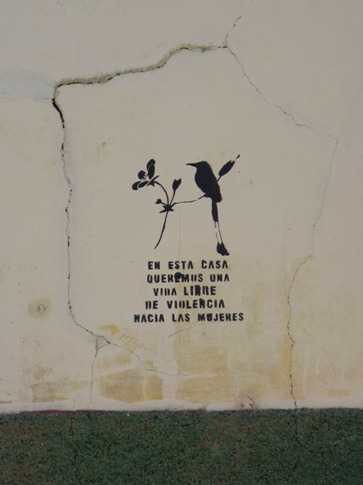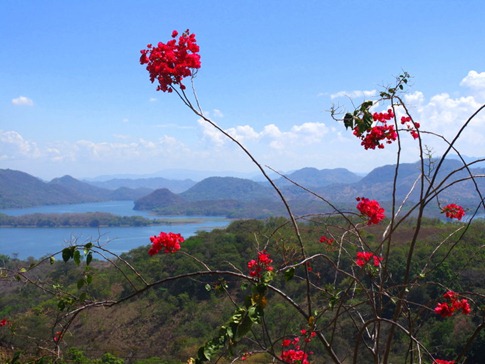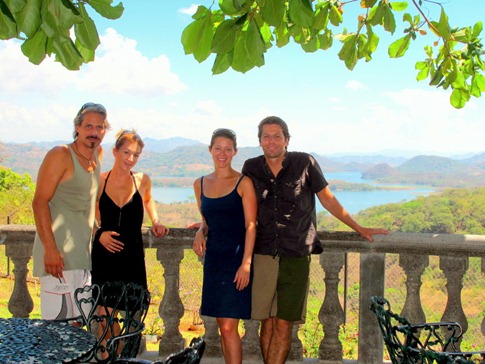 Chad and Emily pulled in about 2 hours earlier than we'd expected them. Imagining how much trouble we would have had in San Salvador without the GPS, and knowing their general distaste for too much planning in the form of, say, buying a map, we'd assumed the worst. Chad claims to have navigated using only the map of San Salvador in the Lonely Planet, but we all suspected that Emily's fluent Spanish may have played a role.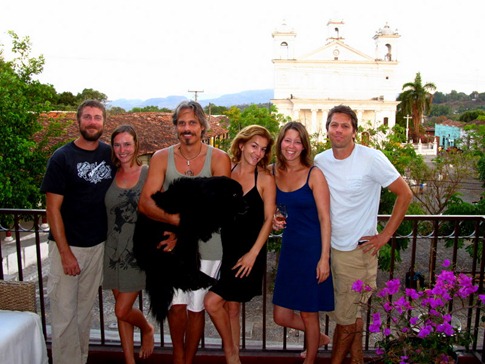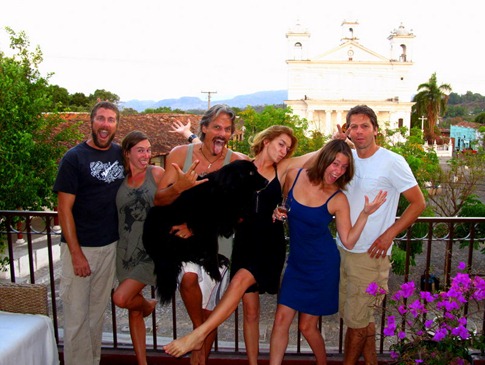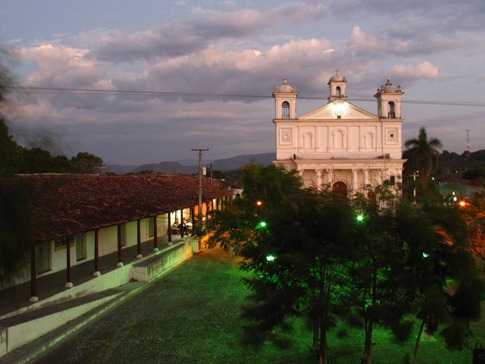 Two nights in a nice hotel in a mellow, colonial town with some friends was exactly what we needed. We were feeling great and ready to hit the road.