In Costa Rica, every beach is the best place to learn how to surf, every jungle is the best place to see this bird or that animal and every road is the worst road in Costa Rica. We continued south for a closer analysis of a few of these claims.
The mist hung thick on the highest points of the Interamericana. Frustrated drivers couldn't understand why this gringo truck with California license plates and some kind of huge white storage box on the roof refused to pass the myriad semi trucks, busses and farm tractors around blind curves shrouded in fog. We really weren't in a hurry; We'd planned to cross into Panama sometime around the first week of April, and it was only March 23rd.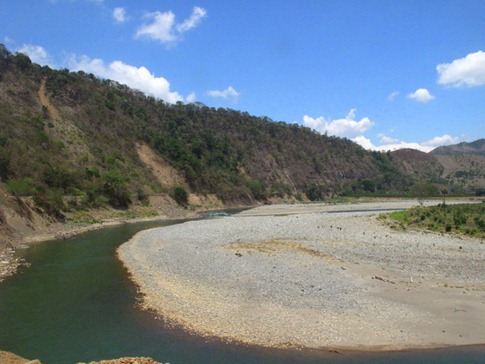 This bright green grasshopper seemed to be trying to look in the window at the GPS to see where were were taking it. It stayed on the windshield for a couple hours; Our contribution to spreading biodiversity?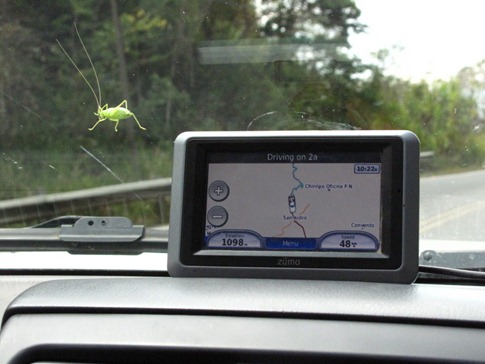 The Osa Peninsula is a hook of land jutting off the southern coast of Costa Rica, known for its remoteness and hence, unspoiled beauty and wildlife. Most people arrive by boat and others in a plane so small that the pilot makes his inflight announcements by turning around in his seat and cupping his hands. Although they recently paved the airport, the terminal still consists of just a bench. But, we're not over-airers or over-waterers – though this last assertion would soon be tested – we're over-landers and as such, would drive. This despite having been told, of course, that this was the worst road in Costa Rica. But we had to check it out; We'd also been told that the Osa was the best place to see this bird or that animal.
Drake Bay is pronounced DRAH-KAY by the locals despite having been discovered by Sir Francis Drake. I'm not sure quite why, but I refuse to do this; It just seems a little forced. Then again, we don't pronounce "San Francisco" correctly either, so I suppose I should go with the flow. It just seemed that in the past few days, we'd been getting a lot of "Tranquillo, pura vida" from people when we were trying to get anything done. We'd been traveling for a while now and were well in the swing of things and yet were being treated like we'd just gotten off the plane from NYC. They'd been even more relaxed in Mexico and Guatemala but had at least looked up from their phone conversation when we walked in. S'all good. Pura vida. Tranquillo.
From the first turn off the Interamericana, the road did in fact get worse by the mile. At first, I saw the potholes as an obstacle course, following the lead of the locals who were swerving from side to side across the road to find a smooth path. And these potholes were actually shaped like pots; They had vertical sides with sharp edges, sometimes more than 6 inches deep. Hitting one of these at speed could definitely rip a wheel off. Often, one of these monsters would have expanded across both lanes; The only solution was to throw one wheel off the right side of the pavement and straddle the edge of the roadway while the truck tilted at what felt like 45 degrees.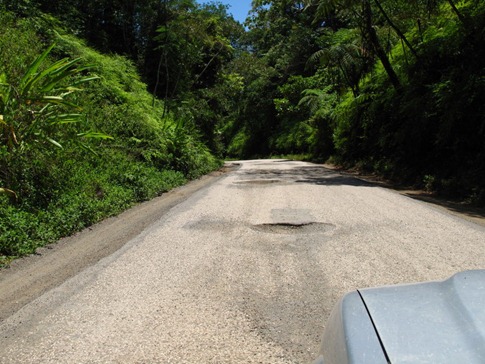 The pavement would start and stop at various times, the dirt sections being the easiest because of the lack of surprise potholes. At the turn for Drake Bay, we thankfully left the pavement behind and started the next challenge: water crossings. We approached the first moving quickly. To the left was a road leading directly into a 15 foot wide creek. To the right was… was it a bridge? It barely looked wide enough to fit a car. How old was it? Would it hold us? We took the left fork and crossed through the water without a problem. Soon after, some deeper water and another bridge. A kid of 10 or so was playing with an old tire near a shack by the side of the road. We asked him, "Puente?", is the bridge okay, figuring he was too young to get sick pleasure from watching gringos tumble into the creek. He nodded and pointed to the bridge. We chose the water anyway.
The next bridge was just too good to pass up. 30 feet of a huge tree, probably 4 feet in diameter, had been cut in half the long way. The two semi-cylindrical halves were laid across the river a few feet apart, their flat sides facing up as tire treads. Between them were some planks that didn't inspire much confidence. Ann got out and walked across the bridge. It was solid (enough to hold her anyway?). As I edged the tires each onto their own tree, we had six inches of clearance on either side. Waiting in the driver's seat, it seemed like minutes passed while Ann ran around to the side to take a picture.
Check out this video of some of the highlights of the road…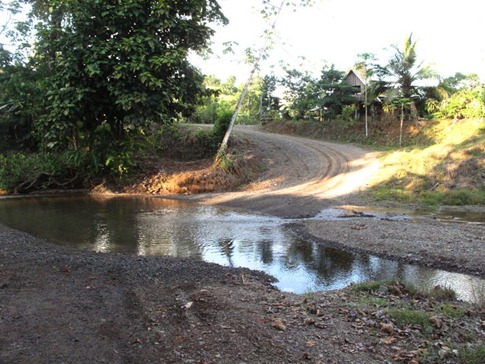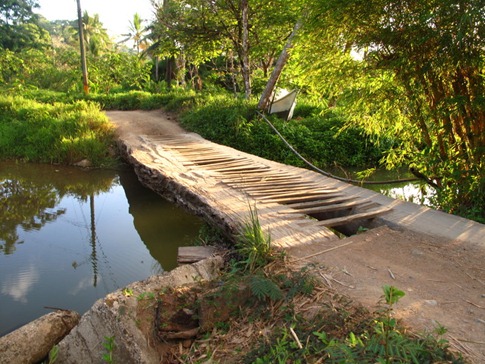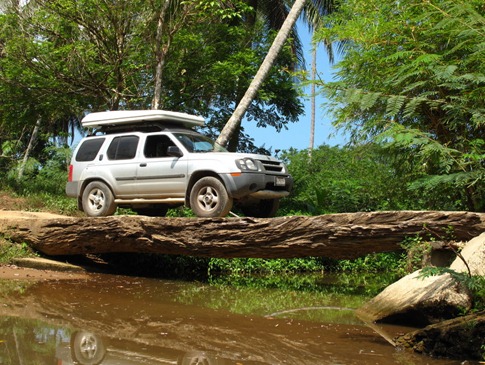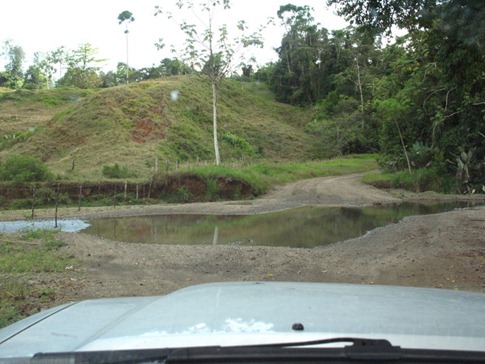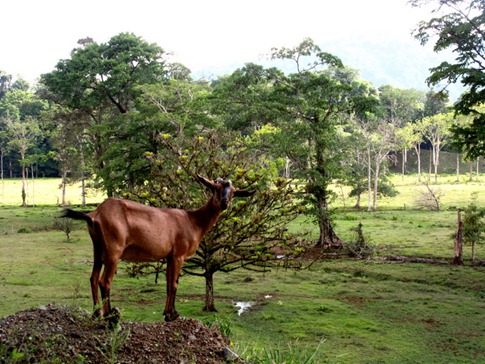 We came to one particularly wide crossing where the water was actually moving. As we considered our options on the bank, a guy walked up and said something we didn't understand in Spanish. Clearly he wanted to come with us across the river, we thought in exchange for a couple bucks. We told him thank you but we didn't need his help and would figure out the best crossing ourselves. He looked at us confused and repeated what he'd asked: Could he ride across the river on our bumper so his feet didn't get wet? Oh, sure! He hopped on and pointed out a u-shaped path across the shallowest sections.
I was really enjoying driving on the dirt and through the water, feeling very remote as we watched our GPS trail cut a path across the center of the peninsula. It was about 4:00 pm, an hour and a half until sunset; We had plenty of time to find the cabinas where we'd made a reservation. After another routine shallow crossing, we started to climb a steep slope covered with loose rocks and heard the noise, a little like a wet flag flapping in a breeze; The right rear tire was completely flat.
We were halfway up a hill on a narrow and rocky road. I pulled over as far as I could to the left side, and we started our tire change drill. Because of the built-in kitchen in the back, we'd had to relocate the jack to a thin, plastic box that slides underneath the rooftop tent. To get it out, we needed to remove the rear crossbar of the factory roof rack using the small ratchet handle and star-shaped T25 bit we'd bought to fit into the tight space beneath the tent. The process takes under a minute but is complicated enough and requires a specialized tool so as to function quite effectively as security for the two other storage boxes and spare fuel canister we also keep under there.
While we were too sweaty and covered with dirt at the time to think, "Hey we should take pictures of this!" – not to mention a little concerned with the fading light – the video below from before we left should give you a good idea of what it looked like.
Once we arrived, all we really wanted to do was hang out on the deck and watch the sunset. And that feeling carried over into the next day despite the frequent asking and re-asking by the staff about which of the $85 per person tours we wanted to do. This was an inexpensive hostal, but they were still used to people flying in for four or five days for their first jungle experience, eager to see a scarlet macaw or a sloth. We'd just wandered in out of nowhere with no idea how long we wanted to stay and, as bizarre as it is to say, were hard to impress.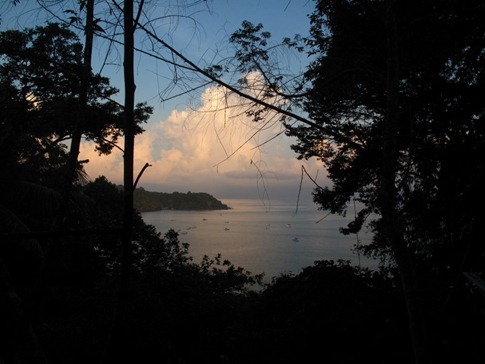 The next morning, the place was empty, the rest of the guests having literally been given 5:21 am breakfast seatings before their various boat rides and jungle hikes. We sat on our deck, listening to parrots in the trees, watching hummingbirds and catching occasional glimpses of the macaws as they flew overhead. In the afternoon, we walked down to the beach and looked out at the harbor filled with tourist boats and a few large yachts.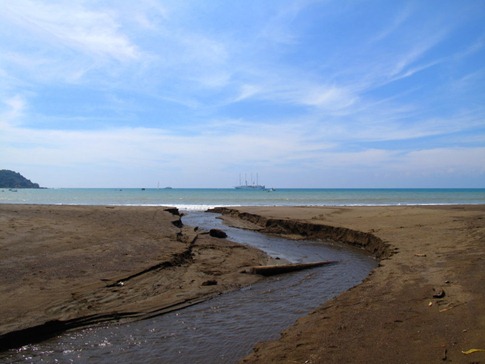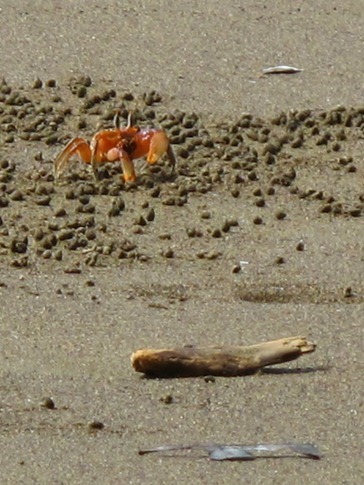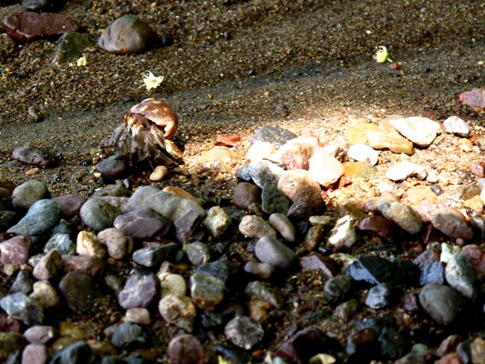 I spent my first substantial period of time reading on Ann's Kindle. After a lot of procrastination, mostly fear of learning too much, I started reading Michael Pollan's "Omnivore's Dilemma." I was a tough sell; My body seems to function just fine on 90% corn or whatever it works out to be, and I have enough trouble finding things I'm interested in eating without having to worry about every stage of their production. My dad used to say, "If you are what you eat, then won't more preservatives make you live longer?" Still, whether it was Pollan's well-presented revelations about the motivating factors behind today's food system or the fact that I refuse to believe that the Kindle would lie to me, I was reluctantly finding myself convinced. I'm usually a pretty pragmatic person; If there's a more efficient and convenient way to do something, I'm not one to stand in the way of progress based on an outdated idea of how it should be done. For me, it's the ethics of humane treatment of animals – despite plans to kill and eat them later – as well as flashbacks to the sight and stench of the cattle feedlots in Tracy every time I drive I-5 south from the Bay Area. The alternate vision of a diversified farm with grass converting sunlight into energy for animals which turn it in to energy for us, their waste fertilizing the growth of more grass, is hard not to prefer.
We started to wonder; Is Central America a good place or a bad place to start thinking too much about the origins of our food? While it's common to see a family cow or a yard filled with chickens, the cows are often emaciated and the chickens are pecking through the garbage. We've seen sides of beef hooked to the bed of pickup trucks driving through town; That's "local food," right? Actually, we've seen a lot fewer local mercados with vegetable stands and butcher shops since leaving Mexico. The farther south we've come, the more white bread, slimy compressed deli ham and American cheese slices we've eaten. Of course, the variety and quality we have in the Bay Area is a luxury – that it's available and that we can afford it – but one we're likely to find ourselves particularly motivated to explore when we get home.
While we have to qualify our experience by admitting that we really didn't explore much, Drake Bay was just okay for us. If you only had a week or so in Costa Rica, taking a boat out there and doing a couple tours in the reserve would probably be a great way to experience the flora and fauna while avoiding some of the crowds at the more convenient Manuel Antonio National Park. But we had a problem; We were developing a bit of a "seen it" mentality. I've said it before, but we were just having trouble maintaining the enthusiasm for each new thing we'd had for the past several months. When people would ask us what the highlight of our trip has been, we'd always say Mexico, though we're not sure if that's because it was full of natural and cultural surprises while being easy to travel through or because we were completely new and open to the experiences. Of course, our response is always met with "Mexico?! Did you have any problems?"
While splashing through the water was just as much fun on the way out, the return trip was much quicker. The tire shop at the junction with the Interamericana must do a brisk business; We added to their bottom line by having a permanent patch put on the flat to replace the temporary plug I'd found a guy to put in in Drake Bay. I'm sure I got the gringo price, but at $8 for a nice repair job, I wasn't going to complain.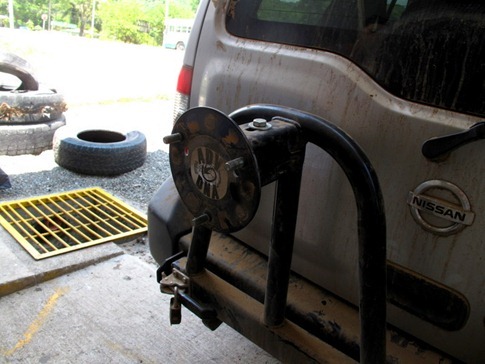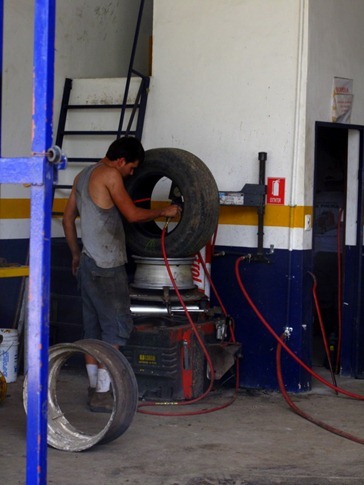 After only an hour or so back on the main road, we took another detour, this time down the opposite side of the Golfo Dulce. Tree and Stevie from SprinterLife had been at Pavones, yet another "best surf spot in Costa Rica," for more than a week, and we had one more chance to stop in and see them; We'd probably be shipping out of Panama before they'd catch up with us.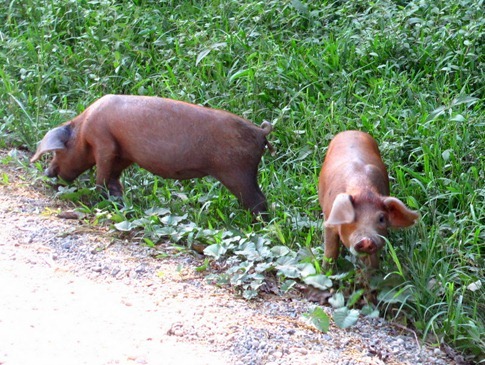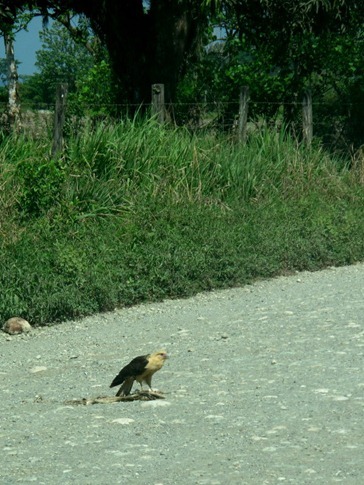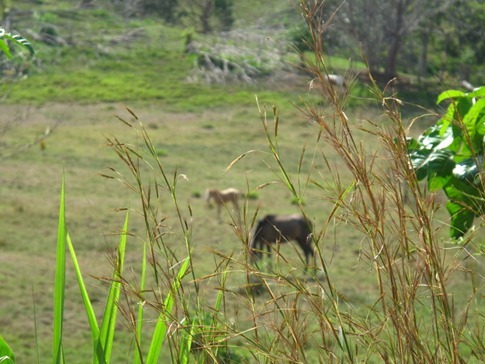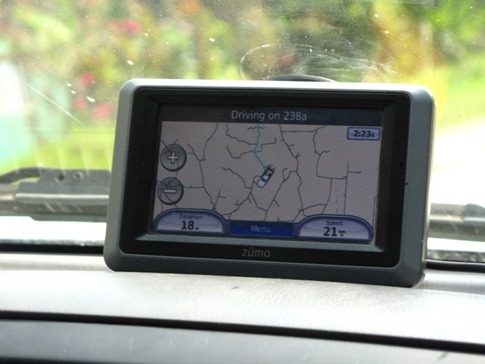 Pavones had a similarly remote feel to Drake Bay, but while it was just as undeveloped, the few restaurants and cabinas there were a lot less rustic. The surf break is apparently known for its length; When conditions are right, it can stretch for 2km along the coast. When that happens, word goes out, and surfers flock to this tiny, mellow town. While it's not clear how the town supports itself the rest of the year, we enjoyed catching up with Tree and Stevie over $1 Milwaukee's Best, a fresh green salad and tasty lasagna at a casual but modern beachfront restaurant.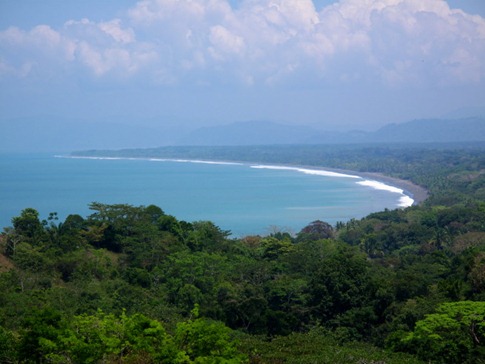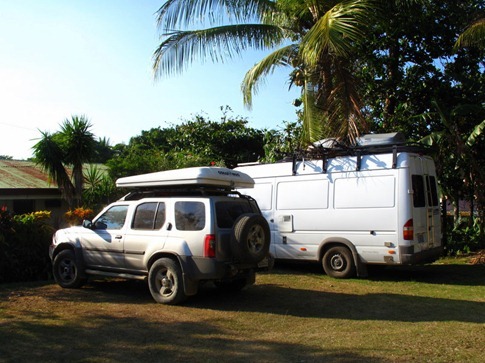 Tree and Stevie are in planning mode for South America and beyond. Their plan is to be on the road for the foreseeable future. Our thoughts are already starting to turn towards home. If you remember our emotional goodbye at Playa Asseradores in Nicaragua, you'll understand the contrast to the response (below) we got when we told Tree we were once again leaving them.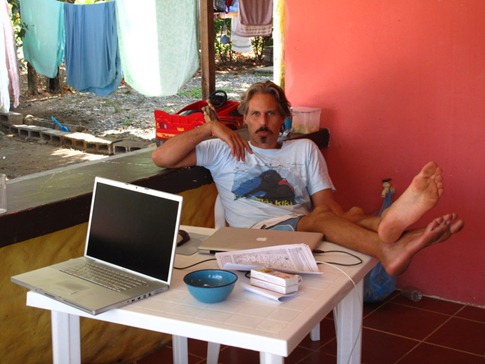 But we were mentally and physically depleted from the past few days in the coastal heat and were ready to be on our way. This guy seemed to know how we felt…