Sometimes it's hard not to come to the conclusion that the reentry experience is why you travel in the first place. Everything is new again, and hopefully you've been gone long just long enough to forget your old routines and approach your home town with the traveller's mindset. You do what you've been doing for the past however many months; Wake up in the morning, check your state of mind, consider the options the area has to offer, and set out on your next adventure.
Out the window, endless hills of vivid green rippled below as the plane descended towards San Francisco. Dotted with tiny houses, lakes and mountain roads, it was not hard to imagine that we were landing in some far off tropical locale like Costa Rica or Guatemala, places that had sounded so exotic only so recently. Every time I fly into San Francisco, I'm disoriented by all this open space and swear I will look at a map to figure out exactly where these secret valleys are, just miles from the urban sprawl. 
Over the Bay, we paralleled one of those bridges (not the one pictured below) I only know from radio traffic reports about congested traffic. Traffic on the 8's, I think it is. Let's go to Sal in the jet copter. Out towards the middle of the span, two windsurfers skimmed across chocolate milk-colored water frosted with whitecaps, seemingly miles from the shore. Even from seat 24F, I could see that they were wearing thick wetsuits with booties and hoods, and I wondered whether the enthusiasm I had felt for kiteboarding in the temperate waters of Lago Arenal would carry over to the frigid San Francisco Bay.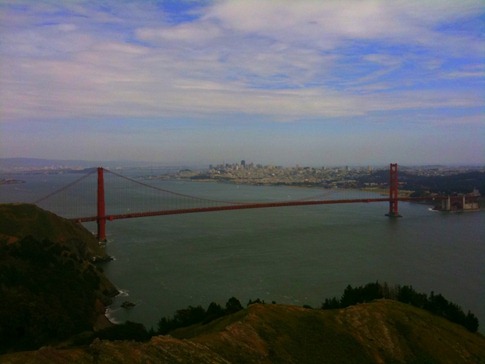 In the terminal, we commented back and forth about how easy everything felt. While our Spanish had improved immensely on the trip, and we'd found that we could ultimately accomplish anything we'd needed to, there was a hesitation every time we went to open our mouths. Is this going to be right? Am I going to be able to say what I want to say? Is this person going to understand my accent? Are they going to appreciate that I'm at least trying?
I think one of the signs that you're getting a feel for a language is when you start deciding how you want to say a given thing based not on whatever's easiest but on what sounds best to you. Thinking about how differently Ann and I might choose to say the same thing in English, and knowing that the same variations exist in other languages, explains why it was sometimes hard to pick out what someone was saying to us in Spanish. But of course, that's the power - and definition – of knowing a language: the ability to utilize the components to form a sentence or thought that can be comprehended by another though it may never have been spoken in that way before. We felt a layer of stress melt away as we reverted to our native tongue and could express anything we wanted to in any way we wanted to.
That night, we both woke up a few times, squinting around the room in an all-too-familiar exercise: waiting for sleep to fade enough to remember where we were, where the bathroom door was, where the truck was. And with the realization that we were home, safe in the guest room at my Mom's house, with little possibility of 3:00 am fireworks or loud voices in a foreign language outside our door, another layer of tension disappeared.
Around Rio Dulce, Guatemala, we had had to acknowledge that being so far away from home, constantly having to figure out new customs and currency, where to sleep and eat, and with a vehicle that represented our freedom and our lifeline, it was never easy to relax completely. I envy those people who can lose themselves into any environment and completely go with the flow, but there will always be a part of me that's aware of the fact that it wouldn't take much for someone to decide to steal the truck… or kidnap one of us… or worse. It's not something we thought about on the surface – if we had, we wouldn't have left home and never would have had the experiences we did, not a viable way to live in my opinion – but, rather than pretend to ourselves and each other that we didn't feel it, we talked about it and made changes to our route to make ourselves feel as comfortable as possible.
I mention this in no way to create the impression that we were paranoid and looking over our shoulders constantly, nor to imply that we were in constant danger in a wild and unpredictable environment, but because it was part of the experience for us: being out of our comfort zone, facing challenges with every day activities, and communicating with each other on how we wanted to deal with it. But now, home in a familiar bed, we sank back into our pillows, not regretting one second of the trip and the experiences we had, but thankful for the opportunity to completely relax.
That weekend, we went to a baby shower for a friend who looked like she was about to pop; When we'd left, she was just barely starting to show. Another friend had given birth in January while we'd been on the Yucatan Peninsula, and we were excited not to miss this one. The shower, technically billed as a "Co-Ed Baby BBQ" so as to keep the guys interested, was a great place to catch up with a lot of people. We got just about every response from "It must have been AMAZING" to "I'm so glad you made it back alive" to "Oh, were you away somewhere?" But true to the theme of the evening, we spent some quality time with our newest "frephew" - child of a friend - as well as with some huge foil pans of ribs and chicken from a BBQ place up the street.
My brother offered his season tickets to the Giants for the following Monday night, and I instant messaged a friend who's a big fan about coming along. I should mention that I don't really follow sports but enjoy watching with friends and know enough, though all my trivia is from watching games with my Dad in the 80's, to realize that the "infield fly rule" has nothing to do with why baseball pants don't have zippers. It may have been two beers I had on the ferry, motoring out from the Larkspur terminal with Mt. Tamalpais on the right and the beautiful but imposing San Quentin prison on the left, paralleling the Richmond-San Rafael bridge with the jagged San Francisco skyline in the distance, getting a peek of the Golden Gate through Raccoon Straits between Tiburon and Angel Island before skirting Alcatraz and passing under the Bay Bridge to the ballpark, but I had that reentry feeling; It felt comfortable and familiar, but at the same time, like I was seeing it all for the first time.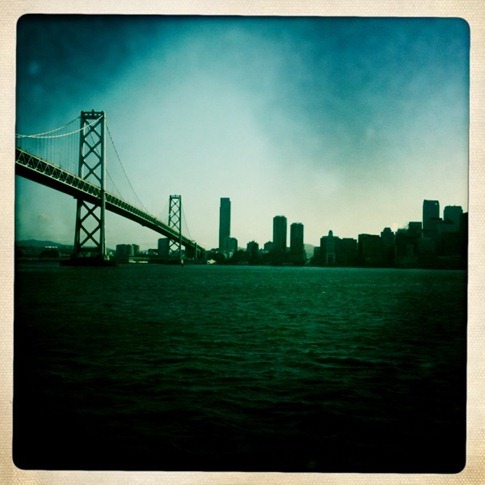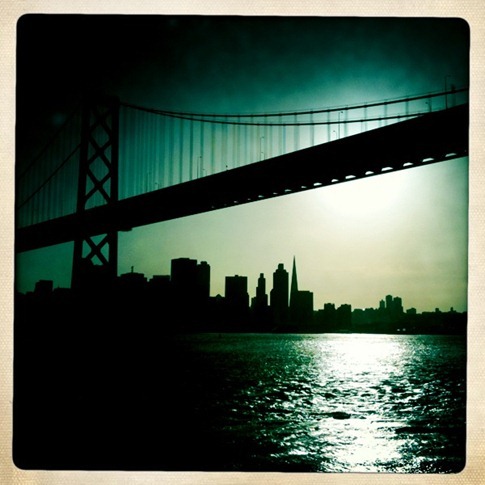 I'd lived in the city for the past 6 years, having moved from the suburbs after a divorce, looking for a social scene and some energy to distract myself. Ann moved about the same time, from a similar yet perhaps not as "storied" suburb of Boston. Actually, it's just that their stories are about Paul Revere and "The shot heard 'round the world" while ours are about hot tubs, peacock feathers and, more recently, liposuctioned and botoxed women driving their Lexus SUV's between their morning and afternoon yoga classes while their nannies are home with the kids. Ann and I met while working on a house for Habitat for Humanity, an organization that uses volunteers to build homes for low income families who repay 0% interest loans on the cost of the materials. To this day I swear it's the best place to meet single women who don't mind getting their hands dirty. Sure, it took me 4 months of working on the house one day a week, but the first phone number I asked for turned out to be a keeper. We bought a house together and started remodeling the bathroom soon after.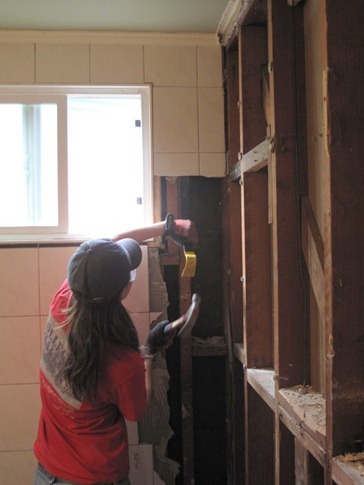 The city gave us what we needed; We met friends, went out several nights a week, and had a constant flow of activities to choose from. We became proud of our "locals only" insights into the best burrito shops, shortcuts through the hills between neighborhoods and locations of the best parking spots. It felt right to be part of this vibrant community of creative people, always looking for the next new thing while carefully cultivating a "too cool to care" affect. We became tolerant of the certain level of "grit" that city living presents.
But returning now, seeing it through new eyes, it felt like entering into some concrete art installation; Beautiful at times, yes, but not inviting. Sure there are oases in the form of open plazas and parks, but their very existence implies the need for escape from something else. The people now seemed like theater, either trying too hard to show off their success or trying too hard to look like they had none. And after 5 months of constantly feeling a little on edge, the "grit" had lost its cache.
The truth is, for the past few months, we'd known we didn't want to return to our house in the city. Sure, there was also the fact that we couldn't return to it because we'd rented it for nine months, not being sure how long we'd be gone. But we'd also decided that we wanted a change. We'd had our fill of the impermanence of daily travel through the unpredictability of Mexico and Central America, but we weren't ready to plug back into our old lives.
So we did what we'd been doing for the past five months; We woke up the next morning, checked our state of mind, considered the options the area had to offer, and set out on our next adventure.