Our caravan left Suchitoto at a responsible 8:00 am, planning on a 2 hour drive to the El Salvador-Honduras border. Being the only vehicle with a GPS, we were nominated to lead. After a full loop around the hotel and a brief stint going the wrong way on a one way street, we found the lateral out to the main north-south road towards El Poy.
We climbed up into the hills, passing huge trucks when the curves would allow – of course, the locals passed regardless – through small towns with a kind of frontier feel.
The border appeared out of nowhere after about three hours. At the first checkpoint, an official took all three of our temporary import permits and walked them into the aduana building. Unlike the reports we'd heard from the southern border at El Amatillo, there was not a helper in sight, and we walked around the border area with only a few inquiries from a guy changing money, which we needed to do. Without much direction from us or communication with us, we watched through the windows as a few officials passed our papers back and forth between them, and emerged about 10 minutes later with our three cancelled importation permits.
The next stop was an immigration office where a professional but stern agent took our passports and asked a few questions about where we'd been and where we were going. Tree approached the window first and left with his and Stevie's passports stamped. Emily was told by the same agent Tree had seen that he needed Chad to come into the office before he could stamp the passport. I got a different agent but the same story and ran out to tell Ann to come inside. This was the only border where I hadn't been able to handle immigration for both of us. I don't remember if we paid anything to exit El Salvador, but if we did, it was nominal.
After a final document check, we drove out of El Salvador and to a checkpoint on the Honduras side. We parked and filled out tourist cards at a small building on the left side. With a $3 per person fee, I was able to get both Ann and my passports stamped and the tourist card stapled inside.
At the end of a long strip of customs facilitators used by truckers, we pulled into the main aduana building and were all directed to a single window for vehicle permits. There was a clear sign in English detailing the originals and copies needed to complete the process, but based on the guy's reaction, we might have been the only foreign vehicles to come through in a while. Still he diligently set about processing SprinterLife. A full hour later, with noon approaching and us all fearing an impending lunch break, he started on Pleasuredevice while we drove back up the row of customs processors to get the copies we needed.
The two other vehicles in our caravan are traveling with dogs and usually try to fly under the radar before going through the full process. Today, the agent was a little more thorough and opened the rear door of the van to find Luna, a pitt bull mix, in the back. While Chad and Emily walked back towards immigration with Luna's official docs in hand, the agent returned to his window and continued to process their vehicle.
At this point, we realized that the process this guy was going through is likely the exact same one they do at the border at El Amatillo, and the reality is that each one takes a full hour to do. At a busy border crossing with truck drivers pushing at the window, it's easy to see how it becomes an 8 hour ordeal for people and why an industry of aggressive helpers has sprung up. At this point, we were working on two hours and had at least one more to go before we had our permits in hand. But at this quiet border, with all of us there and an ice cream truck doing laps in from of the office, it was slow but not stressful.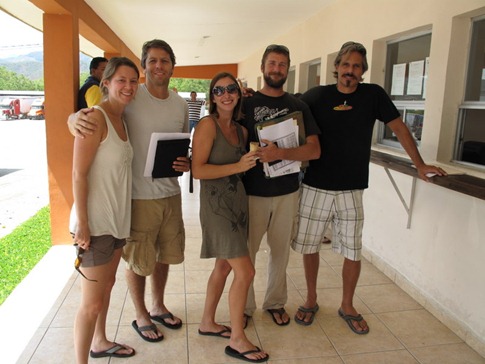 With a brightly colored permit all filled out by the agent, we walked back towards immigration to pay a $34 (I think) processing fee. Actually, it was itemized on the posted sign and I do remember that $5 of that went towards "Typing in the computer." Though the agent had insisted we have two copies of all of our vehicle documents, when we got to the bank, they wanted copies of the invoices and permit but didn't want the others. Like I've said, I could try to tell you what it will be like for you at the border, but my experience is that it's a slightly different story for everyone. Just do each next step as it comes and you'll get through it.
Bringing the paid receipt back to the window, we resolved some confusion with a few of our documents being mixed in with others – us whiteys all look the same – and drove under the bar into Honduras.