With Labor Day approaching, I was more than a little nervous about finding a campsite for the holiday weekend and had targeted the Westport-Union Landing State beach north of Mendocino as one with several first come, first served sites (note: check out this handy list of all 1st/1st CA state park sites). Driving back along the twisting route from Highway 101 at Leggett all the way out to the coast seemed to take much less time than it had on the way up (heading south so it was downhill, right?), and we arrived at Westport-Union Landing in the early afternoon. While the choice sites parallel to the water had been snagged, there were plenty of others left. With some careful orientation (which of course meant we needed to be up on four leveling blocks as seems to be the standard for us), the one we chose opened up an unobstructed view of the Pacific from our front lounge and dinette windows Airstream FB (front bedroom) owners eat your heart out!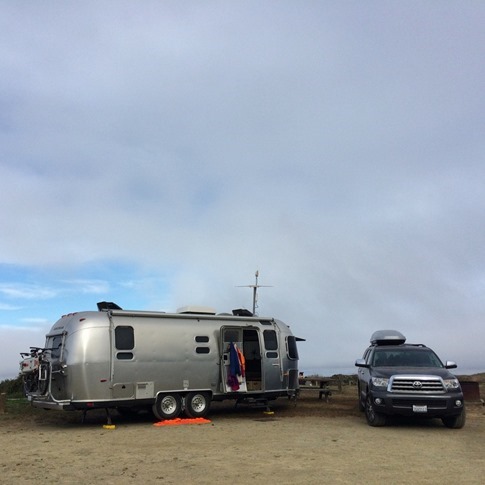 It feels crazy to admit that, for us, this was not an "OH MY GOD" site, perched above the Pacific with miles of rugged Northern California coastline as far as the eye could see to the north and south. Maybe it actually felt a little *too exposed,* visible from the highway and just kinda in a parking lot. For some reason, I couldn't get myself to pay for more than one night at the "iron ranger." Still, one member of the family was not to be put off by a 5 minute walk down to the beach and immediately requested her wagon full of sand toys.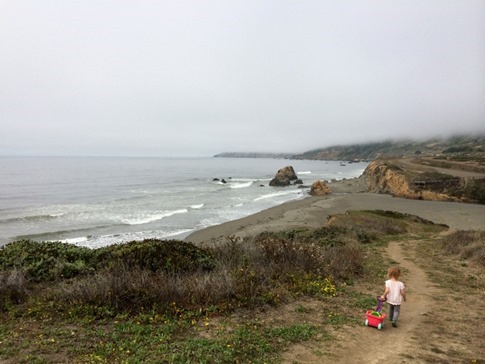 And even found a friend to play with in the waves.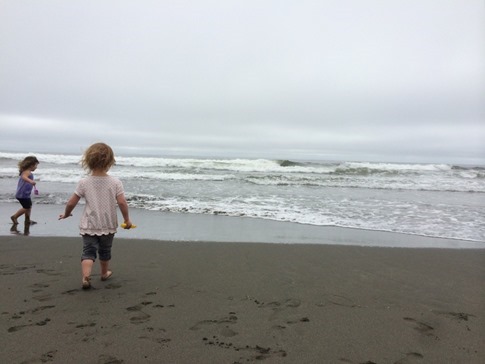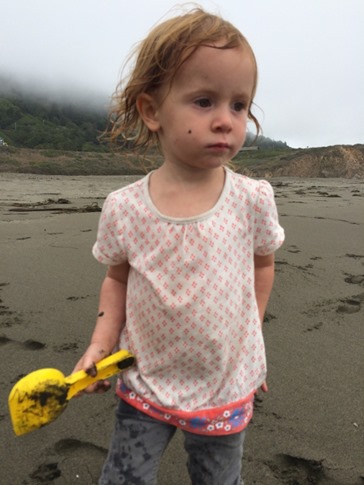 We made the best of it, immediately settling into our routines around our rolling silver tiny home,  which generally means me cooking and Ann holding a sleeping baby while Wynne bounces (sometimes literally) back and forth between us.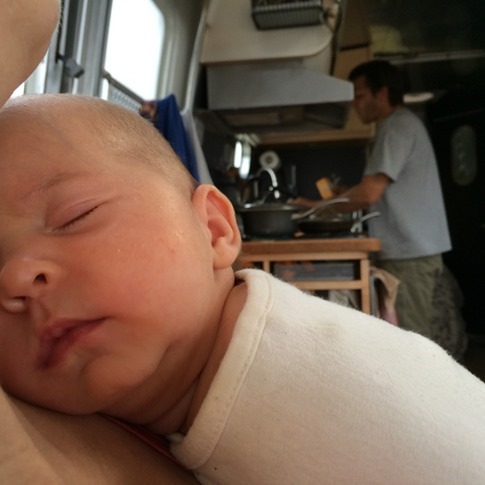 Below is a re-creation of a pic I took on one of our first trips in this trailer out to Bodega Bay and then up to Calaveras Big Trees, but this time, with one more family member.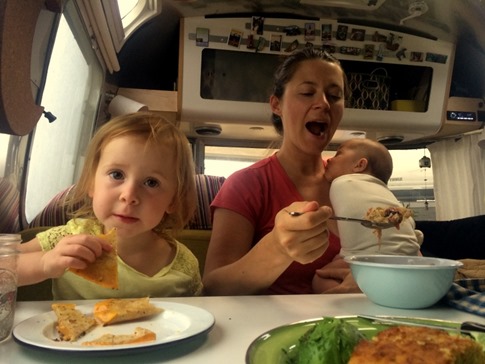 Yeah, we could get used to this…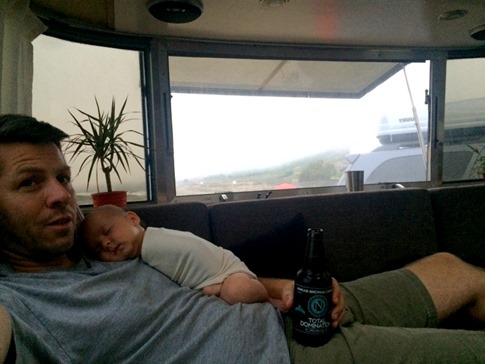 … if we could only shake that feeling that there was something better waiting for us…
The next morning, Ann took the kids to the beach while I got to enjoy some quiet time alone in the trailer, something we're trying to give each other whenever possible while living in close quarters.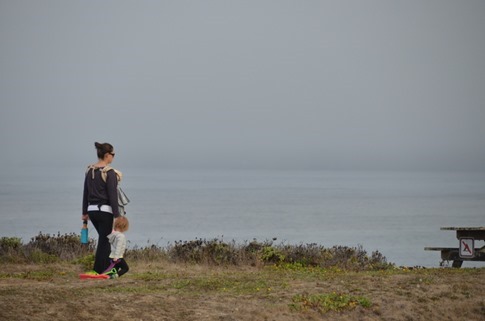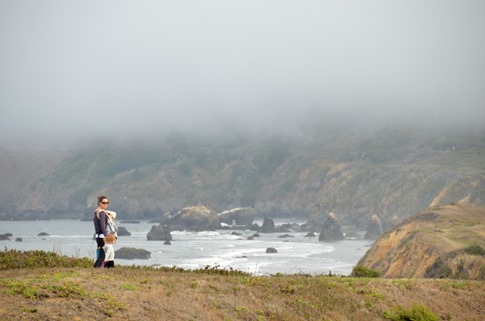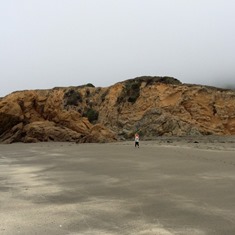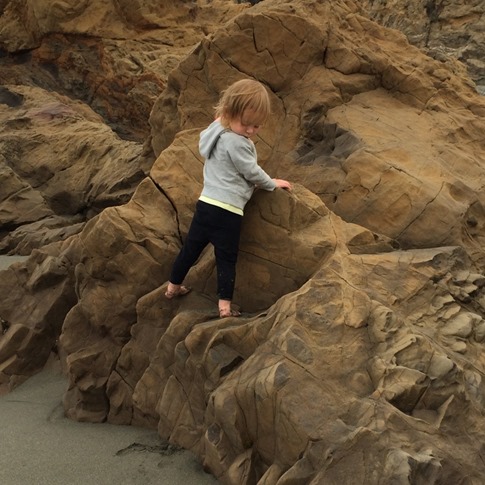 I fired up the inverter – plenty of solar power being collected out here in the open on the coast – and stuck my phone in the Wilson Sleek Universal 4G booster which I'd connected to the directional antenna on the batwing. With just the right positioning, I was able to bring the "No Service" reading up to alternate between two and three bars of 4G. Although I was only able to do anything when that third bar appeared, it was enough to get a text out to a good friend of my brother's who had commented on Facebook that he'd be camping in the area too. While he'd initially asked if maybe we could save him a spot somewhere, his response that morning was that he'd left late the night before and scored one of the only 10 1st/1st sites at the beautiful Navarro Beach and that there were more available.
As we'd hit the coast on Highway 128 leaving Hendy Woods a week before, we'd seen that very beach far below as we wound up a particularly curvy and steep section of Highway 1. I'd commented that, while we'd been enjoying longer stays in each campsite on this trip, I was excited for a time when he had even more flexibility and could see a beach like that and just decide on a whim to stay for a few days, a time when destinations weren't as important, when the experiences along the way were the goal, when we could decide to stay somewhere a couple days or a month depending on how we felt.
When Ann got back from the beach, I made the pitch, knowing that there was some possibility we'd hitch up and get down there only to find nothing available. After some quick considerations of nap and feeding schedules, she agreed to go for it. Within 10 minutes, I had the stabilizers up, the water topped off, antenna down and the truck backed up and ready to roll us of our four-high tower. If we were gonna do this, I wanted to get there as early as possible. After all, at this point, it was almost noon on the Friday of the last big camping weekend of the summer.
Coming around the corner just past the two or three storefronts of the little town of Albion, we looked down below to see Navarro Beach, as enticing as we'd remembered it. The ten campsites are the vehicles you can barely see against the bottom of the hillside at the left end of the spit of sand.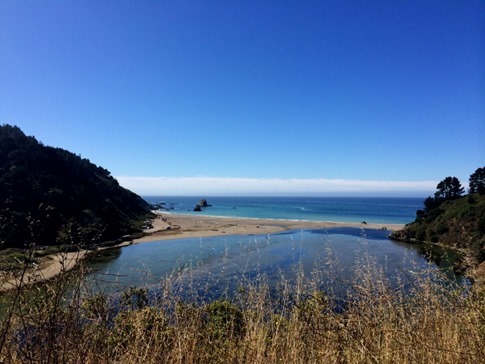 An even better sight was the extra chairs and gear our friend had put out in the spot next to them to dissuade any would-be site poachers. Soon enough, we were back all set up like the move had never happened. Except this was our view…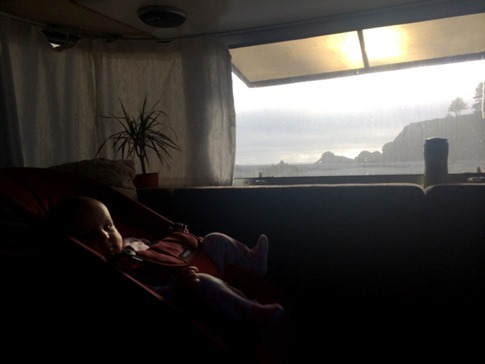 And this was our beach… At one point, a sea lion popped it's head above the water in the surf near the shore. I pointed it out to Wynne. "See that little guy? That's a sea lion." We walked over to the end of the beach where there were some caves where apparently people had been living until not too long ago. In fact, someone had told us that this beach had been filled with old buses and vans for years. On the way back, we again saw the little brown head peak out of the water to check us out. "The tiger!" Wynne shouted.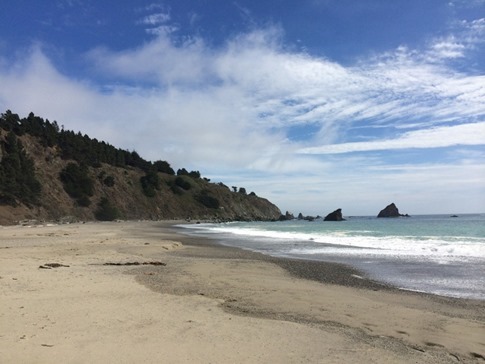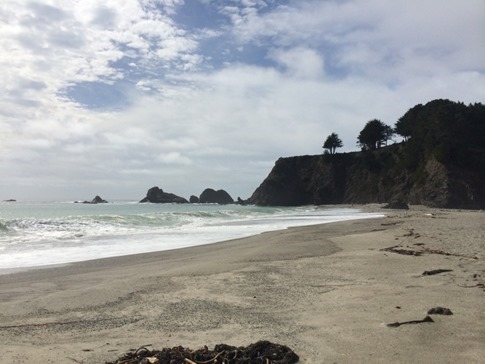 And these were our neighbors… Our friend Jason in the center with his two buddies.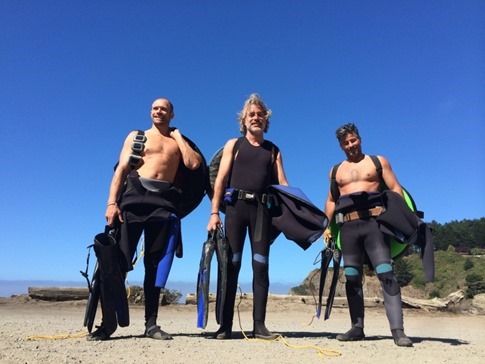 And this is what they brought back from beneath the kelp bed just off the point… Licenses allow for three abalone per diver per day.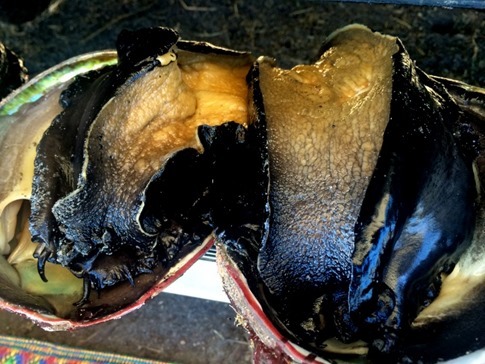 This is what they did to get it ready… We all tried a few thin slices raw which were a little tough but delicious before being pounded with a mallet to tenderize.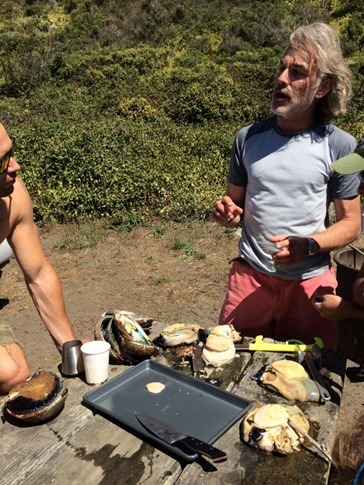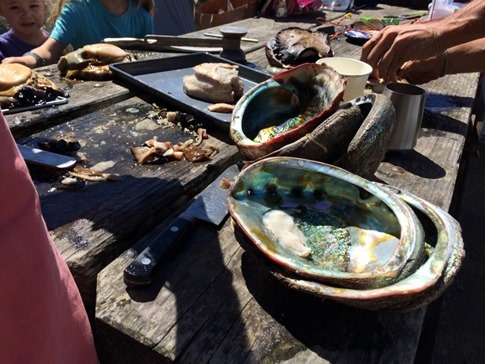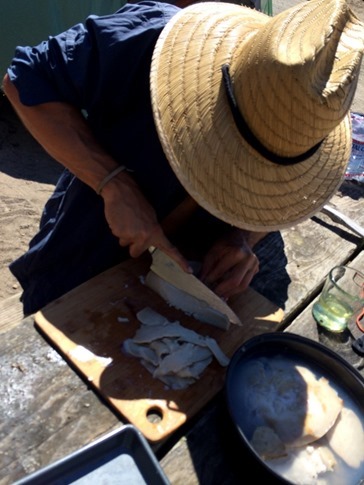 This is how they sautéed it up… Bacon, chives, garlic, champagne and a little maple syrup in a cast iron pan on the stove in Jason's awesome Syncro Westfalia.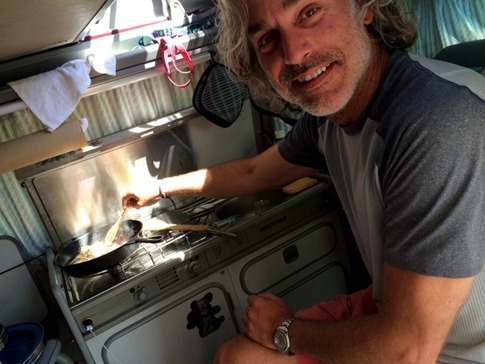 And this was lunch… And the plates kept coming, and coming, and coming. So good.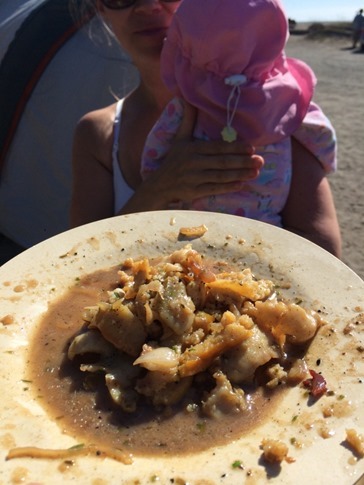 A job well done boys!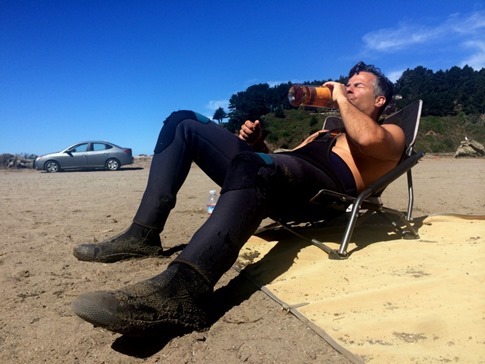 Hey, wait a second!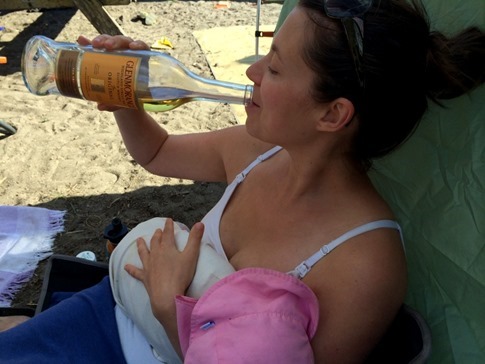 The two other couples who joined us (two of the conquering abalone slayers pictured above) each had young kids, and another friend who arrived later had a girl just about Wynne's age. The young kids pretty much took over one if their big REI tents with the floor covered in air mattresses and sleeping bags and went nuts.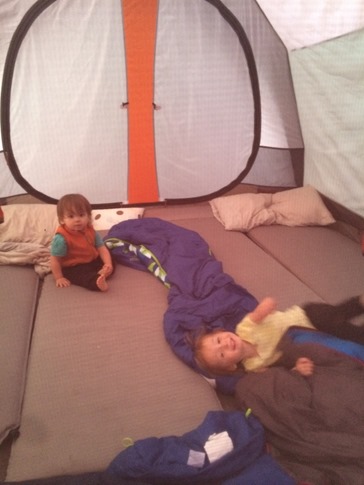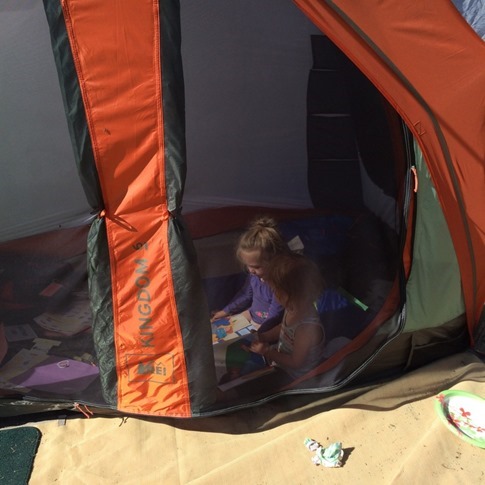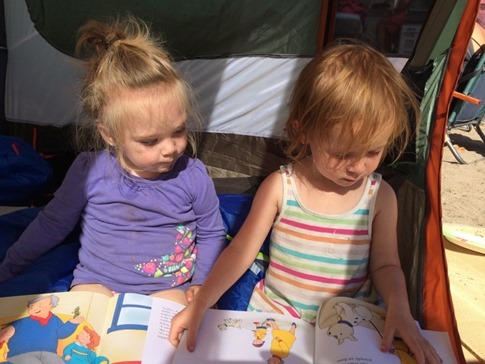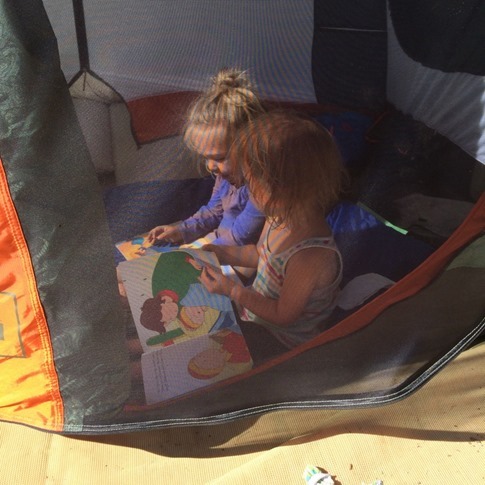 Not a bad little scene we'd stumbled into!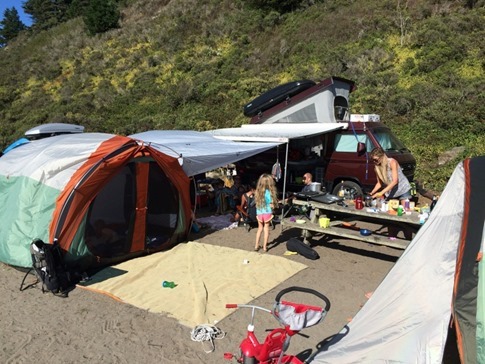 Wynne certainly made herself at home.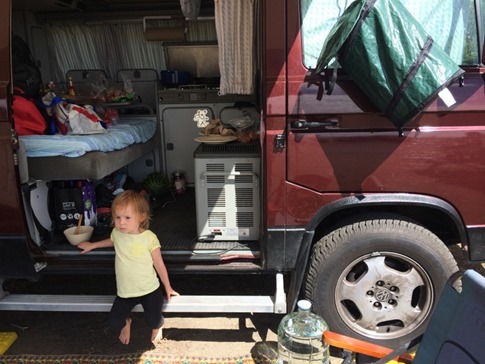 For the other families, this was a rare camping weekend and, as such, naptimes and bedtimes went right out the window ("We'll deal with it on Monday!"). But we'd already been fighting some battles on those fronts over the past couple weeks, and despite our best efforts, naps had been hit-and-miss, and we'd only rarely gotten both kids to sleep before 9 (and on that night, for some reason Episode 12 of Season 2 of "Orange is the New Black" wouldn't play through the Apple TV!). With Mae at under 2 months old, things just change often. We knew that. But with Wynne, it's been this increasing awareness of every possible thing she could do to derail the bedtime process. We struggled for a solid week trying to stay one step ahead of her…
"But I want mi…" And we'd present the sippy cup full of milk before she could even finish her sentence.
"My belly's not fu…" Well, here's a plate of peanut butter on tiny squares that would be perfect to snack on while we finish reading our last book.
"I have to go p…"  How that sentence was going to end was irrelevant, we'd already spent 20 minutes on the potty happily drawing on her favorite magnetic Etch-a-Sketch type toy and accomplished both "ee" and "oo."
"I want to change my shirt!" Well that's just not going to happen.
For a while there, it was like the movie "Groundhog Day" where each new day we got a chance to repeat all the steps that had worked out and try to avoid the ones that hadn't, but you had to remember the exact sequence perfectly each time for it to work.
So while the other parents kinda shrugged their shoulders around 12:30 in the afternoon, we hit play on our carefully choreographed routine. Believe it or not, the picture below is the tell-tale sign of success! "What happened? How long was I out?" We got two naps and two early bed times while we were out at the beach.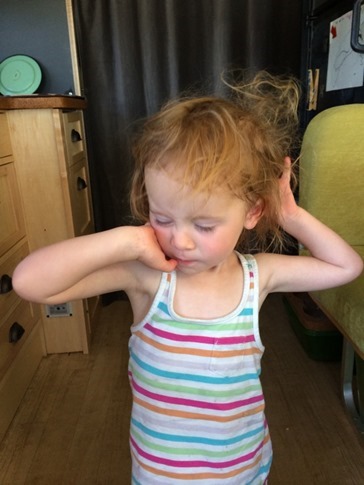 And we were loving the idea of just living wherever we were. Sometimes we'd forget where we were and emerge from our warm, bright home, freshly showered and well fed, to find the rest of the group squatting over a water spigot to wash camp dishes, shaking sand out of their tents or huddled by the campfire to stay warm. Oh yeah, we're "camping!"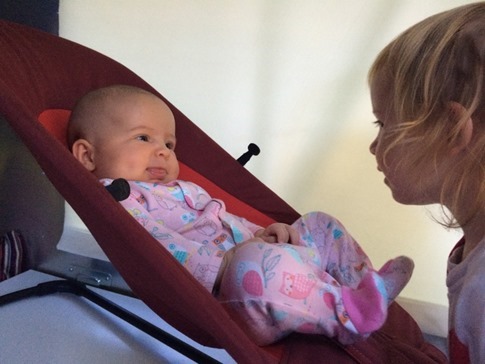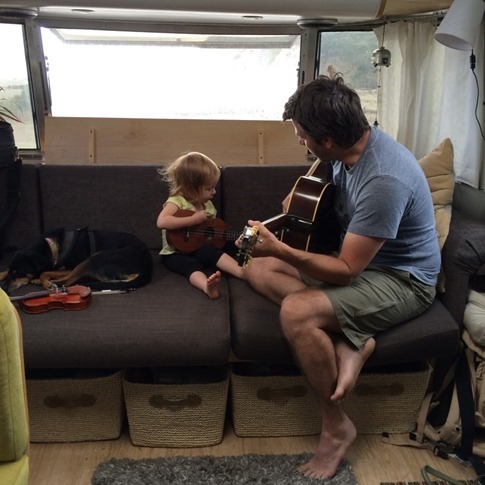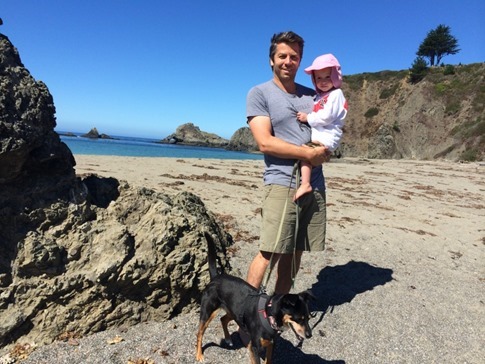 Yeah, that's her baby doll Wynne's got in her backwards backpack. Mini mom.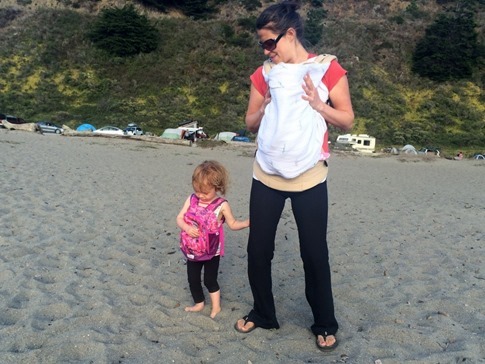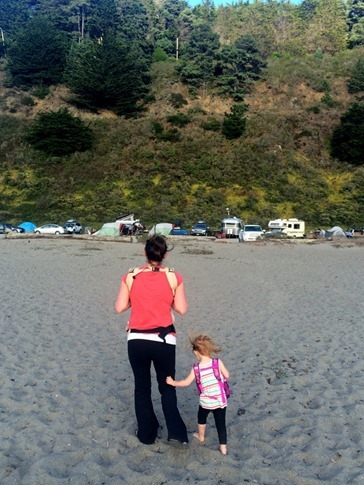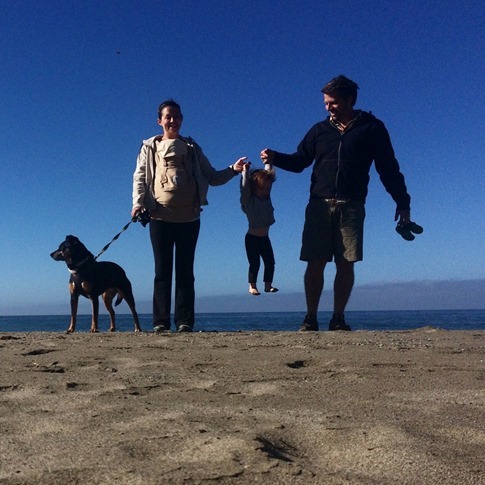 We'd be heading for home on Sunday instead of spending Labor Day here, but without question, it was a great move, and we appreciated the location and company. Not a bad way to end a couple weeks on the road and leave us wanting more…