We'd done so much research into buying a new tow vehicle – payloads, tow ratings, cargo space, overall size – but now that we'd been using the 2006 Ford F250 Lariat Crew Cab we'd chosen for the past 6 months, we weren't so sure. Despite our best efforts to rationalize it – Look! I bought some hay and put it in the back of the truck! This is going to be perfect if we ever need pick up pigs again! – we also suffered through a daily negotiation between it and our Toyota Highlander Hybrid, each of us lobbying based on who needed to drive the farthest or park the tightest in an effort to avoid having to drive the stinky, rumbling monster.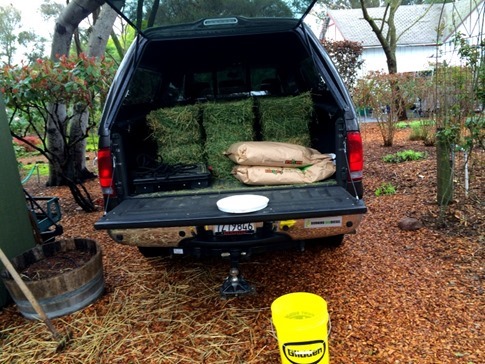 And in truth, we'd picked up four pigs last year in our old 2006 Sequoia, and I'd loaded the same number of bales of alfalfa in the back as I could fit in the truck with the cap on. We'd only sold our old Sequoia because our new trailer's max weight exceeded its tow rating by a 100 lbs. Plus, we'd convinced ourselves that we needed a big 3/4 ton to haul around everything we'd need for extended trips, and one of us (I don't really think it's important who) was hanging onto the idea that we might want to carry a motorcycle while towing or stick a pop a truck camper on the back and head to Baja. (Silly, Ann.)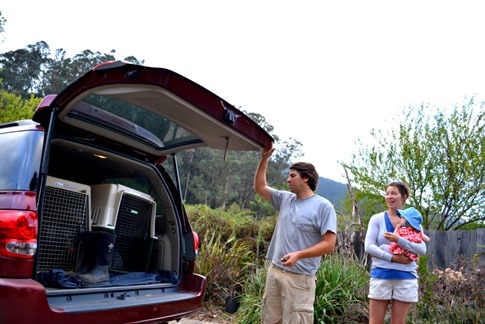 There was a great article I saw (but sadly cannot find for you now) about packing a backpack for a round-the-world trip that offered some advice that really stuck with me; It said, choose the backpack you want to be carrying everywhere you go for the foreseeable future, and only pack what you can fit and carry comfortably in it. We needed to be able to take our "backpack" into garages at aquariums and museums, into tight downtowns in cities, to park in small town mainstreets or up twisting, rocky, dirt roads. We were coming around to the fact that more space meant more stuff, stuff we likely didn't really need, and that the size of the truck could end up actually limiting us. Oh, and did I mention we both hated driving it? Given the adventures we have planned for the coming years, both in the trailer and out, and the fact that we'll soon be adding second child into the mix, I was starting to feel like I could live without a motorcycle in the bed or the promise of washboarding a truck camper to pieces on a dirt road in Baja. (I mean, Ann could live without those things. Ann.)
But, of course, the two non-negotiable criteria for a tow vehicle are towing prowess and reliability. I'm afraid the memory of being stuck on the side of 6th St in a crippled F250 with a hungry and tired two-year-old while plans of towing our trailer into the mountains to see friends fading before my eyes is going to go a long way towards shaping my feelings on the latter, but there was no denying the towing abilities of the big truck. The question was, could something smaller tow as well?
It just so happened that across the street from the Ford service center where I'd left our sputtering F250 was a gleaming Toyota dealership. It also happened that while waiting to pay the $2500 to retrieve our monster truck, I may have "accidentally" searched CraigsList to check the prices on the new generation Toyota Sequoias that were getting good reviews for towing and boasted an increased capacity and found one right across the street. It couldn't hurt to walk over and take it for a little spin, could it? 
Compared the F250, the Sequoia felt like a sports car. Nice acceleration. Smooth. Quiet. Interior with all the bells and whistles. Pulling back into the dealer's lot after the test drive, I swung into a parking spot between two shining vehicles with balloons tied to the mirrors without giving the size a second thought. What a difference. Of course, as much as we'd like to have something like this, I explained to the salesman, we plan on doing a lot of towing and aren't really sure it would be up to it. "Take this one home for a couple hours, hook it up to your trailer and see how it feels." I was not expecting that. This guy was gooood.
At home, I set up the Equalizer weight distribution hitch for the borrowed Sequoia and eased the combination out of the driveway. The standard thing that people say about tow vehicles they love is "It felt like the trailer wasn't even there!" Now, I've always said the F250 drives the same whether it's hitched to a 6000 lb trailer or not, but the difference is, it's just sluggish either way. With this new Sequoia, honestly, the only problem I had was remembering to slow down enough around turns so I didn't whip the trailer around. After a 30 minute test tow over a few good inclines on the road towards the coast, I had absolutely zero reservations about it as a tow vehicle. And after the drive back to the dealership to drop it off, I had no doubts that this was a much better fit for us than the F250.
I sat down with the sales guy to get some preliminary numbers on a 2014 model that had a few interesting features like a new sway control system borrowed from the Tundra trucks. He returned with a quote for the full MSRP and $15,000 to trade-in the truck. This guy really *was* good. He proceeded to explain to me that the trade-in was low because these F250's were notorious for engine problems. I explained to him that that was strange since when I'd been shopping for the truck 6 months ago, they'd had one on the lot priced at $34,000 and had told me they needed to price it there because of what they'd paid for it as a trade-in. He kinda laughed and started to backpeddle until I let him off the hook and told him there was no way they were going offer me a trade-in value that would make it worth my while not to sell it myself on CraigsList.
Now for the price of the new car. He explained that they only had two of them on the lot and there really wasn't much he could do to lower the price below MSRP. I told him I understood completely and would just go home and call every dealer in Northern California and tell them I would buy a 2014 Sequoia this week from whoever had the best price. As I stood up, he hastily mentioned that, of course, they would match any price from another dealer.
So over the next week, I did exactly what I told him I'd do. And, what do you know, each time I mentioned to a dealer that I had a quote from a competitor, they would come down $500. And so would the next guy. And so would the next guy. By the time we got about 9% below MSRP, I was feeling pretty satisfied. I called the first sales guy and told him I'd found the exact car with the color and options we wanted at a neighboring dealership and would come in the next day to sign the deal if they could acquire it and sell it to me for the lowest price I'd gotten. He agreed.
The next day sitting across from the sales guy at his desk, the manager stopped by to "graciously" shake my hand and make sure my experience at his dealership had been everything I'd hoped it would be. I said, "Well, actually, a few days ago you offered me an offensive amount for my trade-in, tried to get me to pay MSRP for a new vehicle and then claimed there was nothing you do about either, so, well, it's pretty much what I expected, but I can't say it's what I'd hoped for." I tend to say things like that with a bit of a smirk, so nervous glances and awkward weight shifting was about all the response I got.
I picked up our new Sequoia a couple days later, and despite having an appointment, sat around for 20 minutes waiting for it. The sales guy kept poking his head out and saying it would only be a couple more minutes, adding that he'd had them detail it the night before, but that he hadn't been satisfied with a few things and sent it back to them this morning. I explained that approximately 15 minutes after I left the dealership, a two-year-old would begin fondling every inch of leather with hands slathered in a deep orange-colored, paste compound formed from the dust of goldfish crackers and saliva and that I didn't really need it perfect. He asked if I could bring it back later in the week to have them detail it again. I told him it would be even better if I could bring it back and 6 months and have them do it. I'm gonna take the nervous laughter as a "yes."
That Friday, I took a buncha good pictures of the F250 and wrote up a CraigsList Ad. I had a deal with the first person I showed it to for $10K over the trade-in offer by the end of the day on Saturday. In the end, we definitely took a hit on the truck (and of course, on the new Sequoia), but after a week or two of driving it around town and knowing what it felt like with the trailer behind it, we're incredibly happy with our (re)decision.