Before we actually would actually commit to joining the caravan of Airstreams into Canada, we wanted to be sure we would have enough time to see some other sights while we were so far from home. There were two options: head west from Banff to Whistler and Vancouver and then drive the inland route south through Oregon to visit a few places we'd missed on the way up like Bend and Crater Lake, or, head south from Banff into Montana to visit Glacier National Park, Yellowstone and the Grant Tetons. In general, we've accepted that most of our friends think we're crazy. "We're driving to Panama." "We're buying a farm." "We're buying an Airstream." So when some of our closest said they were going to rent a house for a week just outside of the Tetons and that they'd asked the owners if we could park a trailer outside for a few days, the decision was obvious. When we saw the view from our parking spot, we knew we'd chosen well.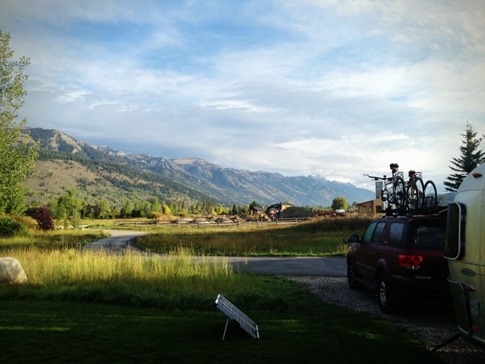 We were among the later of our immediate friends to have kids, so Wynne is just now at the point where she can really play with all her older (mostly male) "Frousins." Our first evening was spent catching up, watching the kids play and grabbing an early dinner at Snake River Brewing in Jackson.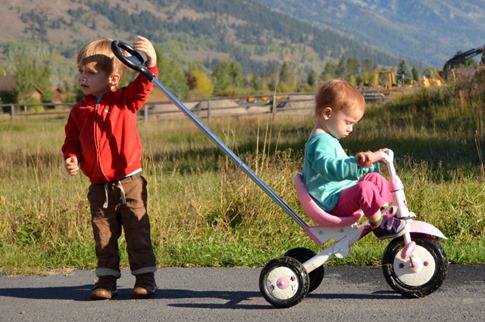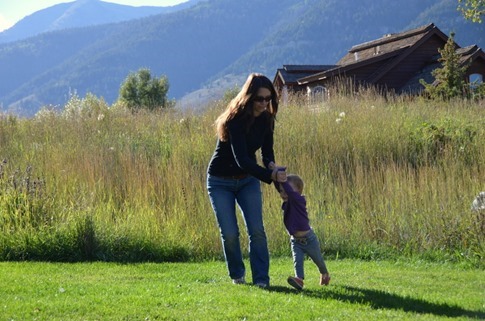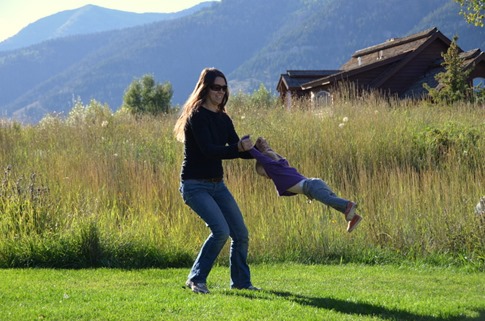 This is how they insult people in Jackson Hole. Sweet Veep slam.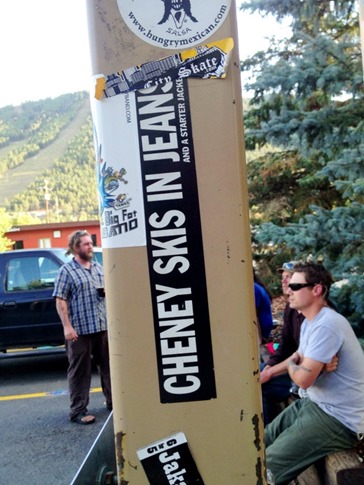 The next day, we came back into town to walk around and take the requisite pictures under the antler arches at each of the four corners of the central square in Jackson.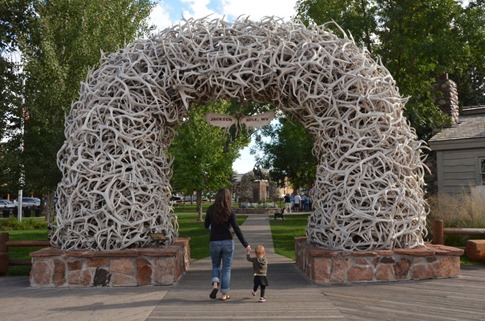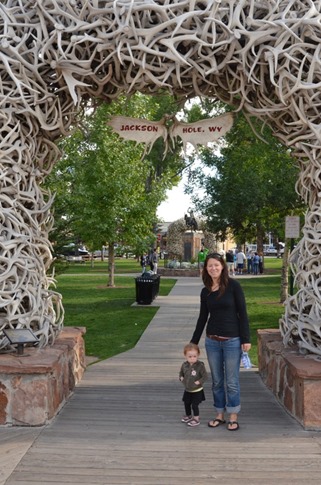 A deal was struck (striked… striken? Stroked, no that's not right…) that the girls would go to the spa for a few hours one morning while the guys watched the kids. In exchange, we'd get a night out at The Million Dollar Bar, known for its horse saddle bar stools, fine carved wood trimmings and, of course, the best country music in the Rockies. 8:00 pm came around that night, and Ann asked if we were going out the bar. Eh… it's kind nice just hanging around the house with friends, maybe playing some music in front of the fireplace. GUYS NIGHT OUT FAIL.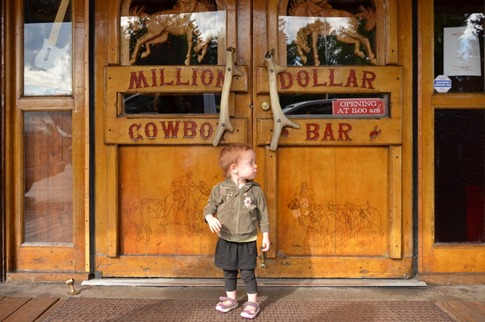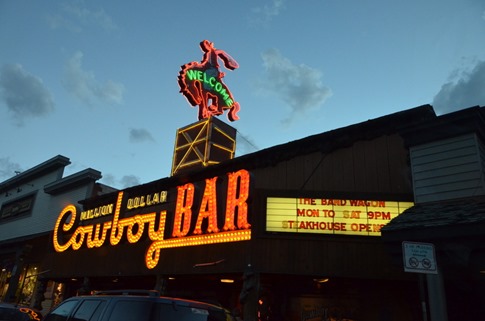 There's an interesting response people have when you come visit them in your trailer. They always generously remind you that you're welcome to come inside "the real house" to use the bathroom or take a shower or put something in the fridge, etc. I guess some RV'ers are desperate to get out of their rigs to use campground bathrooms and showers too, but we're quite comfortable in the trailer and would probably just rather use the facilities we have onboard.
The rental house was in Wilson, about 10 minutes from Jackson, but provided a great little back road into the Grand Tetons National Park via the Moose-Wilson Rd. Along that one lane (but two way!) road, we came across a group of tourists peering into the woods. We pulled over and Ann got out to see what they were looking at. About 15 feet away, a black bear was sitting down in some brush. A little close maybe for all these people to be crowding it? One of the guys standing there excitedly told Ann, "He was just up on his hind legs a minute ago." Oh, you mean, like in a threatening posture warning you of an imminent charge if you don't leave him alone? I think we'll leave you geniuses here to take more of this crappy picture.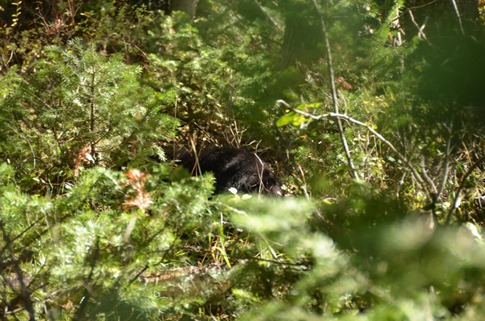 A little farther up the road, the ranger had traffic stopped while another bear decided where he wanted to go.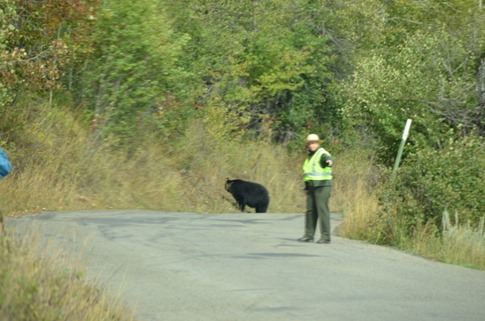 This was his decision, and it looked pretty refreshing.
Continuing the drive, I remembered the pictures from MaliMish and The Democratic Travelers from Mormon Row and Moulton Barn and routed us there. Not a bad place to set up a small community for the first half of the 20th century.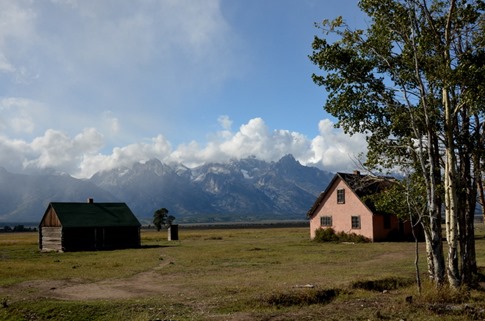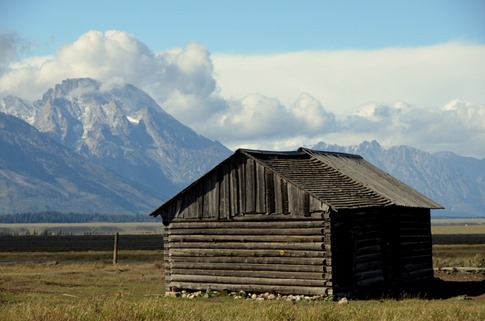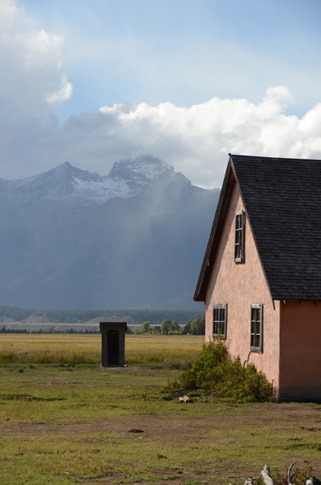 Why they faced the outhouse away from the mountains, I'll never know. Silly Mormons.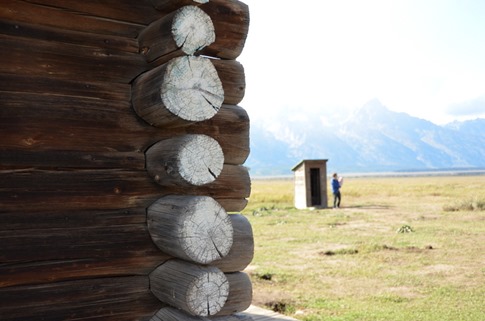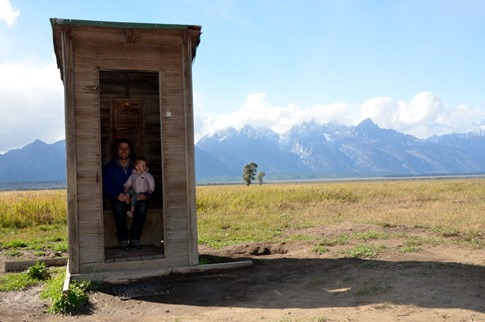 A pretty photogenic place, even if we couldn't really figure out how to prevent the mountains from washing out in our pics. The barn below is often confused for Moulton Barn and, like the original (coming later), was hard to stop taking pictures of.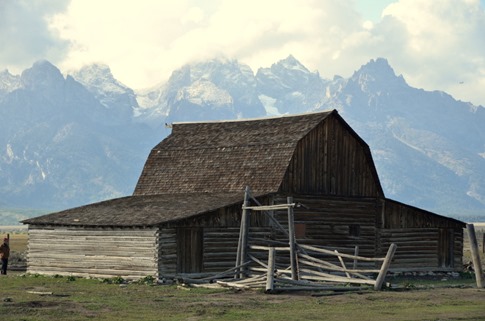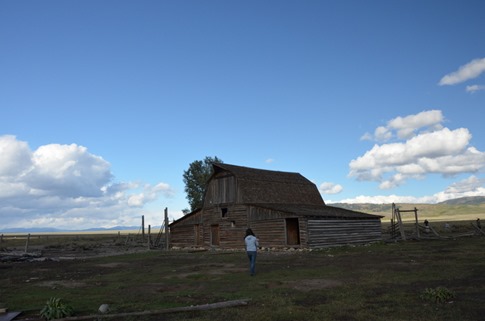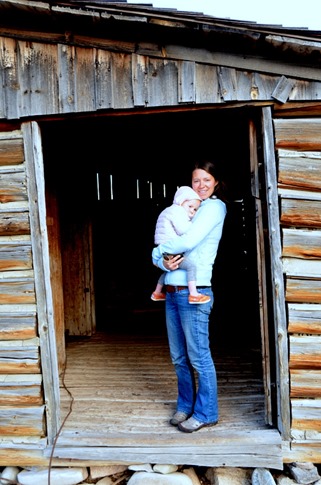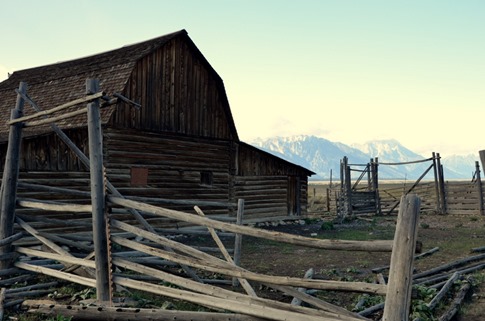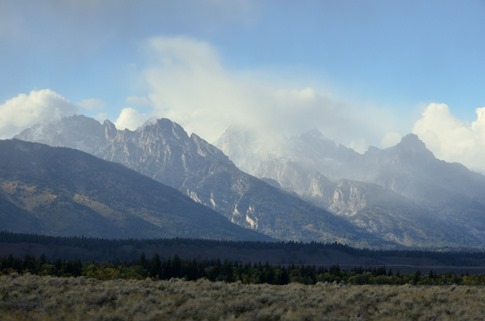 Speaking of things that are hard to stop taking pictures of…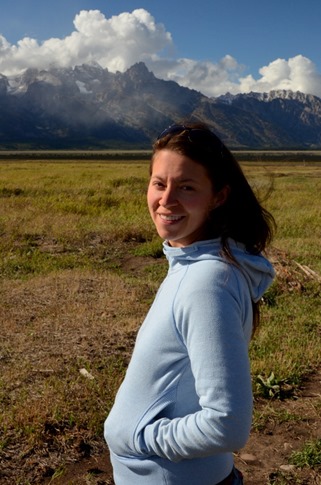 But you deserve a look behind all the glamour… Can we pan out a little? Okay, yeah, that's about right…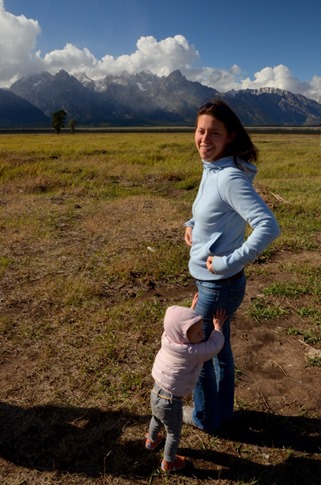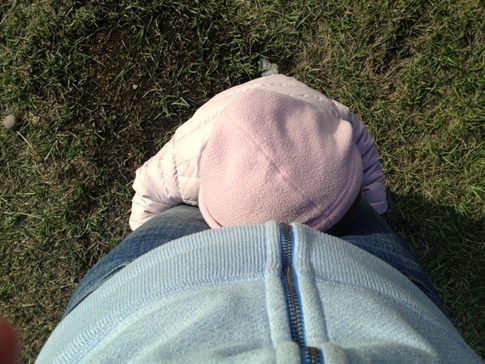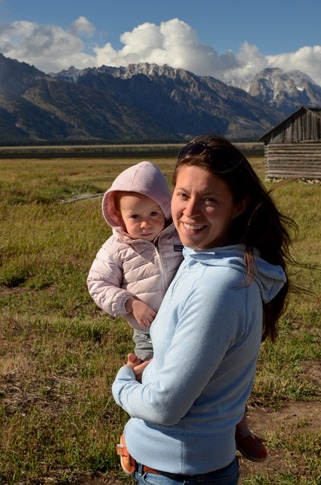 Family photoshoot.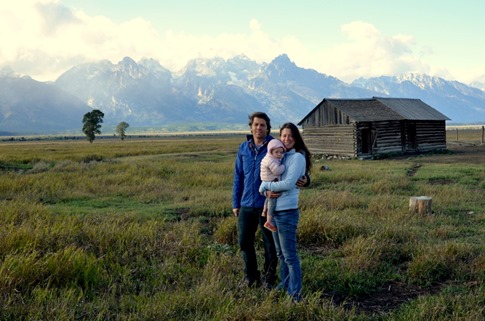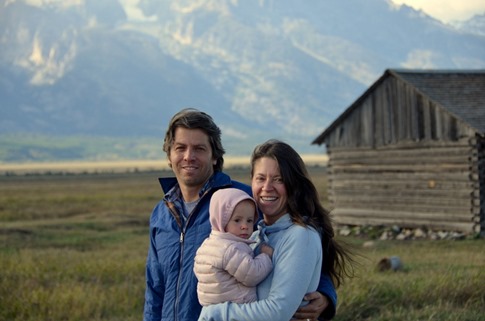 The "real" Moulton Barn.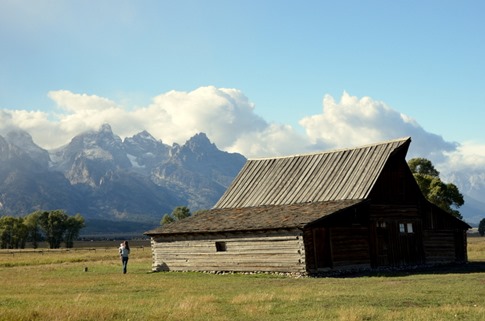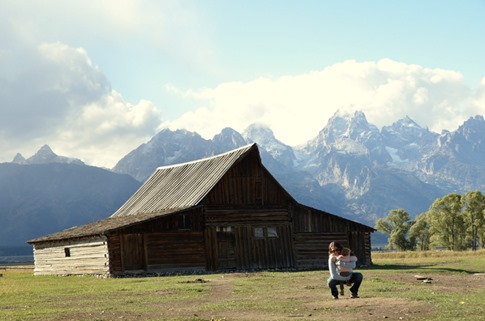 And more of my favorite subjects…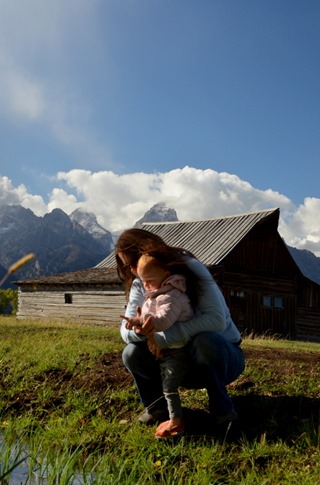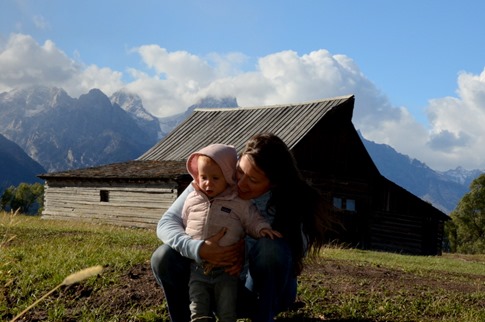 Our whole group. Thanks to Richard and Alix for letting us crash their vacation!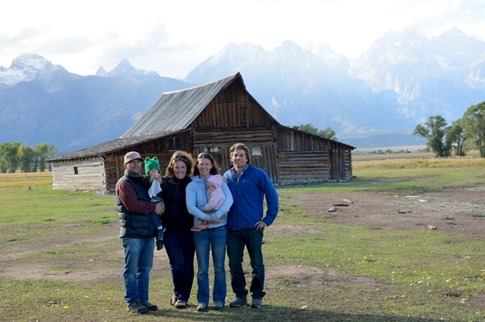 Our last morning, we all headed over to Jenny Lake to take the boat ride across. On the way, this bull elk was presiding over his herd.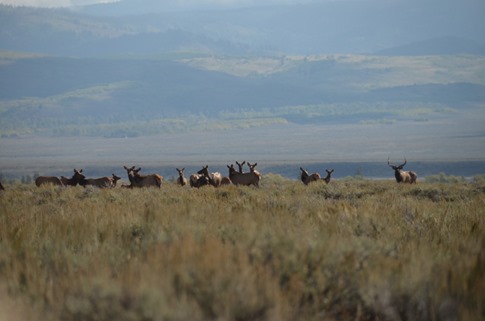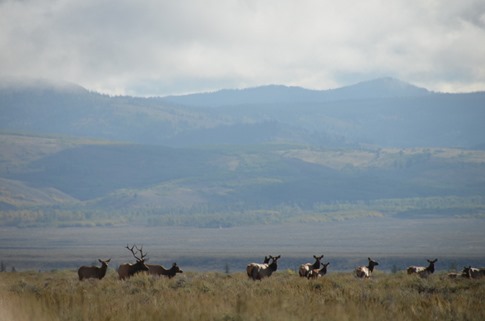 On the 15 minute (tops) boat ride, we just left the kids in the hiking backpacks which they didn't seem to mind one bit.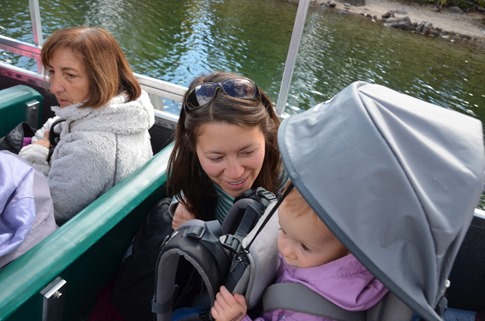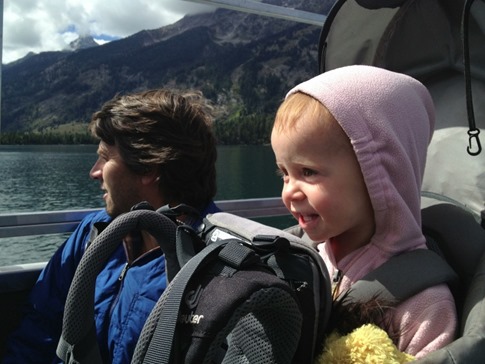 I had a faint recollection of coming to Jenny Lake at some point in the past, possibly while driving across the country from California to college in Connecticut and likely on the trip between my freshman and sophomore year. While leaving the campground in the Tetons one morning, my roommate and I heard a local radio segment called "Trash and Treasures." People were calling in and leaving messages with stuff they had to sell or giveaway. On this morning, an older gentleman had just finished listing the contents of his attic when he thought to mention that his sister also had a litter of husky mutt puppies she was giving away. He added that the mother was a purebred husky and "something had jumped the fence" when she was in heat. We left the sister's house that afternoon, heading back to school with a 5 1/2 week old puppy we named "Jackson." Till the day she died at 17 years old, we were convinced she was half coyote, a coydog.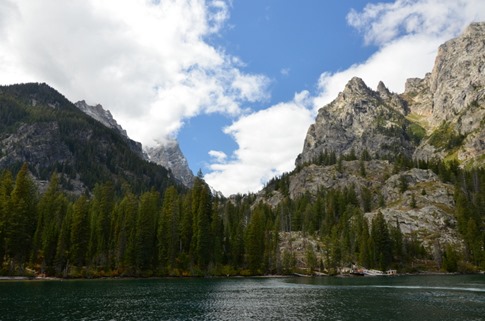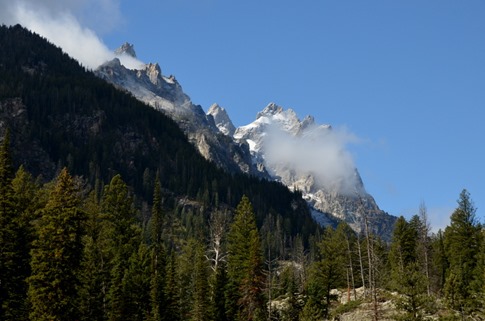 On the far side, we took the 3 mile round trip hike up to Inspiration Point. We did this despite our friend Alix's insistence that once we got there, we would "all neck."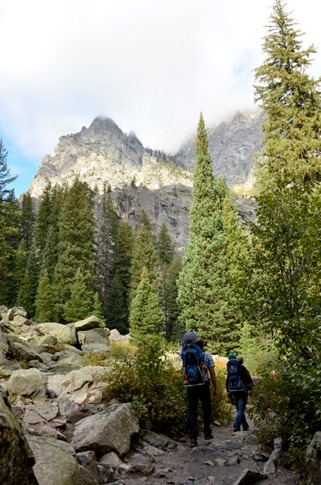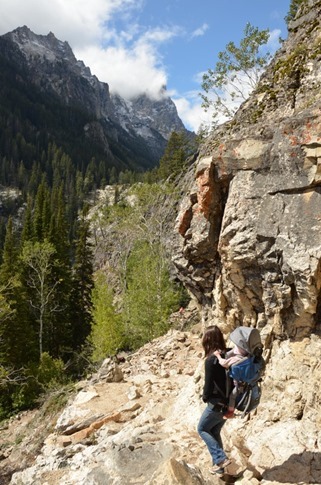 This final section above Hidden Falls (wasn't that hard to find, there were signs) felt pretty dramatic.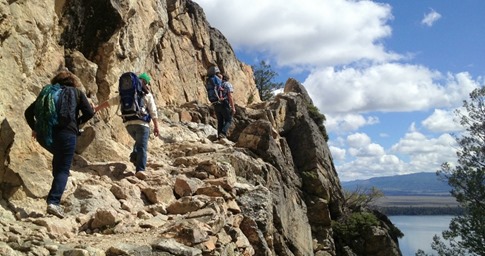 And the effort was rewarded with a great view of the lake and valley beyond.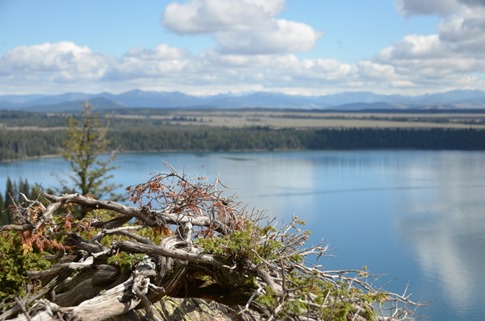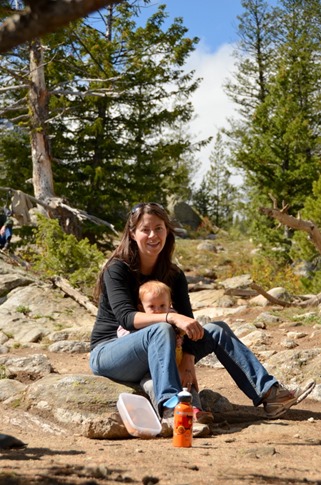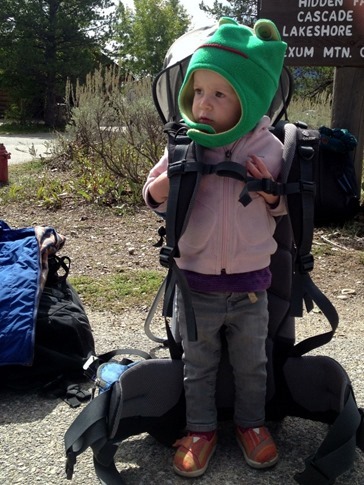 We took some dramatic family shots…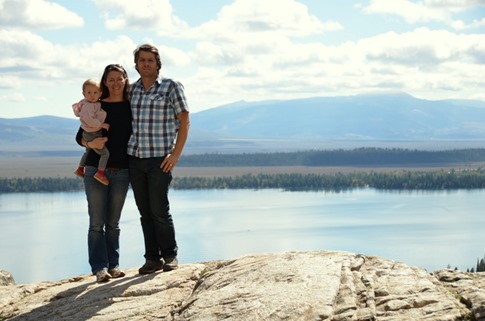 … but otherwise just kinda hung around…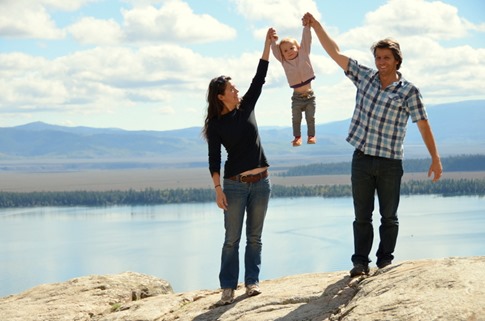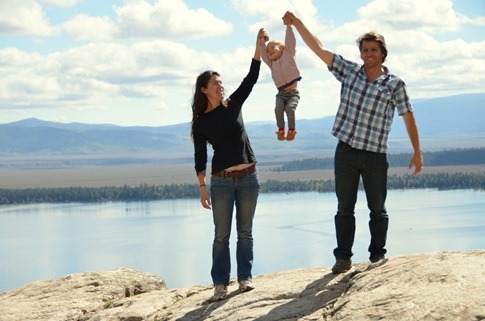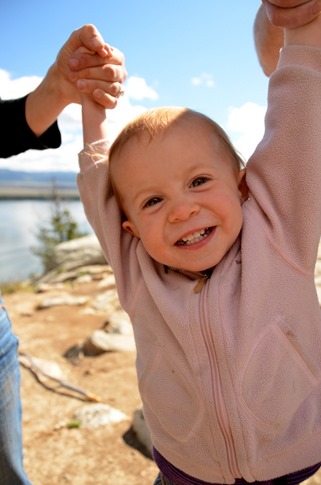 She was also having fun hanging with her friend, Gus.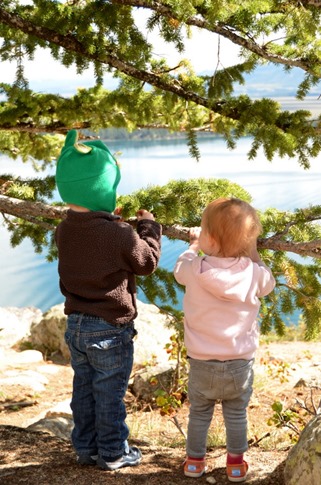 We parted ways with our friends in the afternoon so each family could pursue its own mostly likely course for getting their toddler to nap. Ours, of course, was finding the bumpiest dirt road we could. Works every time…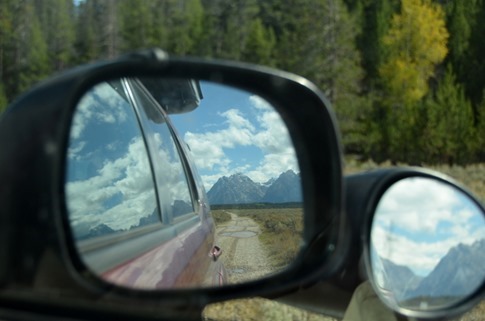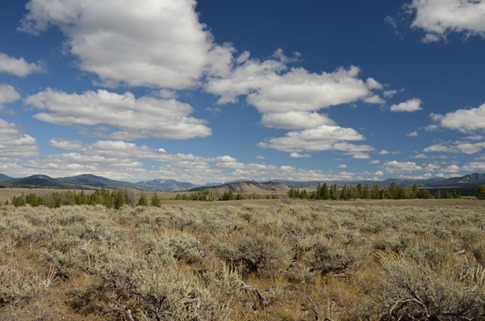 The road was actually shown on the park map we'd gotten at the entrance gate and was marked as 4WD only. In reality, there were only a couple short sections – a series of rock steps and some loose gravel slopes – where it was at all necessary. And maybe some of the deeper puddles left after the afternoon rain the past couple days. After cutting east from the main inner road towards the main outer highway, the road turned south and followed the contours of terraces left behind by extreme variations in the level of the Snake River during glacial retreat and advance.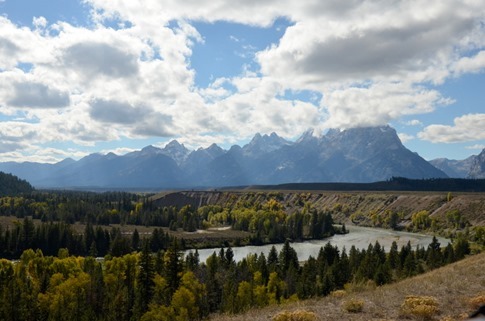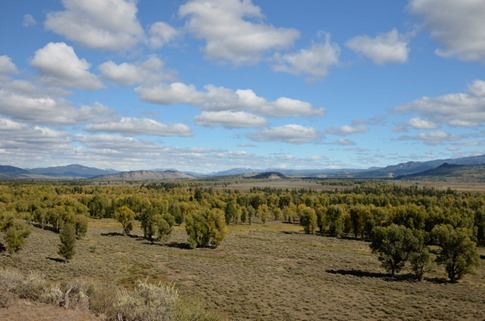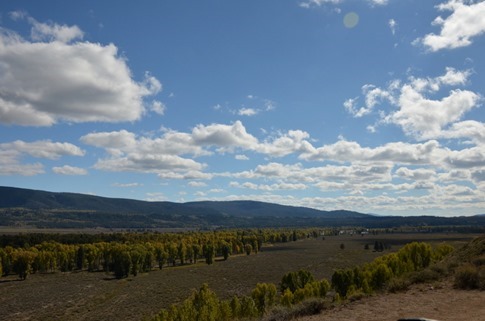 Down in these fertile valleys, we spotted herds of pronghorn sheep that looked like they were on the Serengeti. Look for the specks in the lower left corner below the lighter green swath of grass.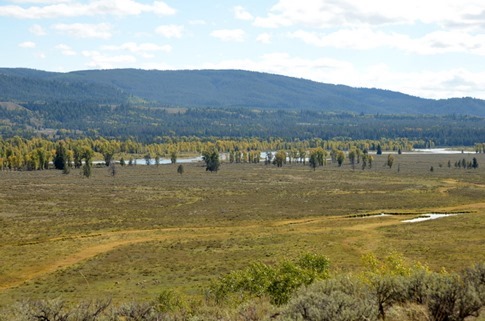 And a closeup.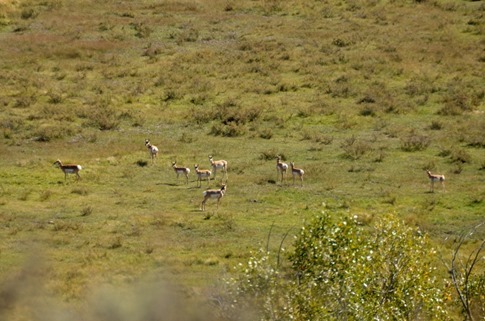 Another clearing was home to a herd of elk. Look for them along the bottom of the pic in the bright green patches.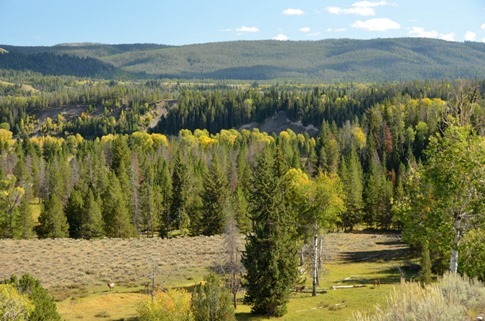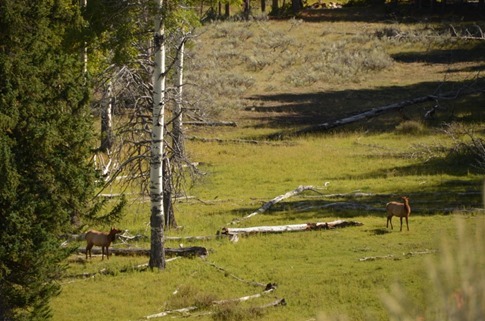 After several miles, the road turned back west to put the entire stretch of the Tetons in our windshield. I couldn't help remembering the tight women's T-shirt we'd seen in town with the words "Not all Tetons are Grand." These were still pretty fun to look at…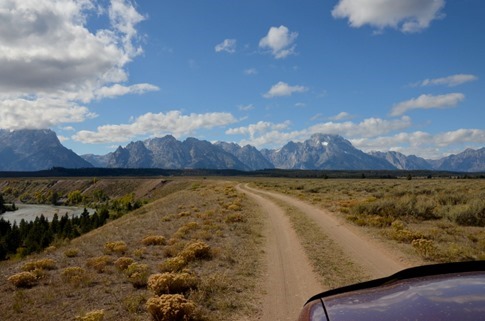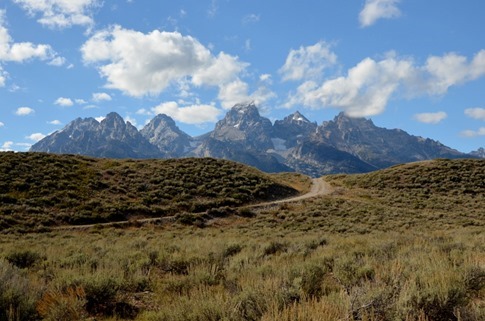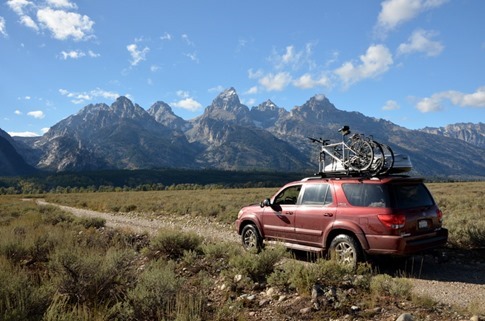 We returned to the rental house that afternoon with a fresh coat of dirty water on the truck. "Someone" felt the need to try to get water up over the fenders on the last couple puddles. You know, we bounce around quite a bit on what interests us at a given moment - remember, that's why our friends think we're a bit crazy – but, I've come to the conclusion that there's one thing that will always, always, always put a smile on my face. And that thing is driving a vehicle of any kind through water. Don't believe me?
Moab water crossings on an F800GS (remember, Ann's on the back!)
Mud puddles in the San Juan Forest on an F800GS (same co-pilot!)
Driving the Osa Peninsula in Costa Rica
Since we've been traveling a little more, we've noticed that, while less frequent, the time we do get to spend with friends is that much more meaningful. The only people we see are those we make time to see and who make time to see us. Visits are limited so conversations delve quickly into relationships, life choices and future plans. While it's always hard to say goodbye, we do it feeling like we're closer after a short visit than we might have been after several months of all living our parallel lives back at home. And with that feeling, we hitched up and pointed the trailer towards Teton Pass and our first progress westward since we left the Oregon Coast.