The caravan was back on the road and headed for Glacier National Park - not the one in Montana, that's later – but the nine Airstreams were all lined up and heading out of town. Wait, nine? Yeah, for a few kilomiles there, we gained another trailer with BC plates, but he turned off before we could talk to him. Prevailing theory? The NSA got a secret warrant to follow us 'cause they overheard walkie talkie chatter about something involving the British and Columbia.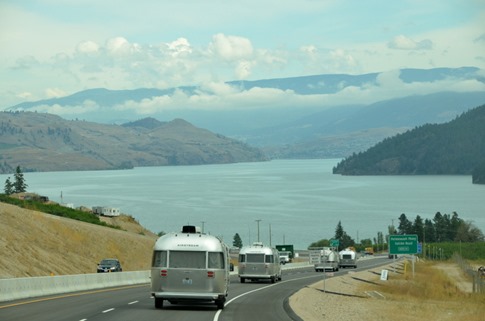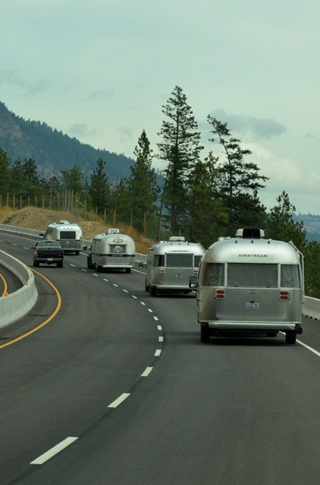 In fact, walkie talkie chatter has been quite amusing. With eight trailers, the leader passes stuff on the road a while before the rest of us get to it, so we'll hear something like "creepy robotic guy on a treadmill" and then have to wait a couple stoplights to see the animatronic exercising manikin out front of a fitness studio.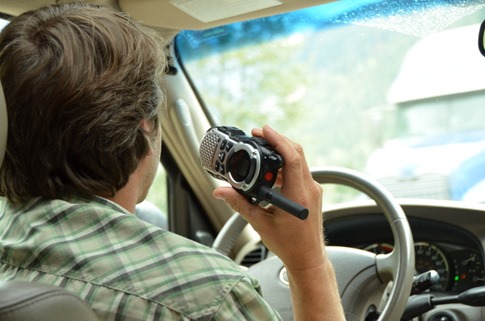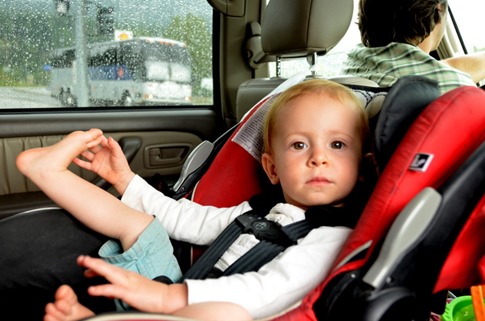 And, I'll admit we've been having some good-hearted fun with Canada. It all started with an analysis of the money at our first stop in Kelowna. What the heck is a "loonie?" Oh, the one dollar coin with the bird on it? And what's with the one color accents on some of the quarters? And could the dimes be any thinner? Let's bend some! And if this is British Columbia, how come all the signs are in French? Why does Ann keep giggling when I say "Regina?" Yes, silly observations, but we all were getting a laugh out of a well-timed, condescending "Oh, Canada" (with implied slow head shake) over the radio, especially when passing something like a "Boston Pizza" restaurant.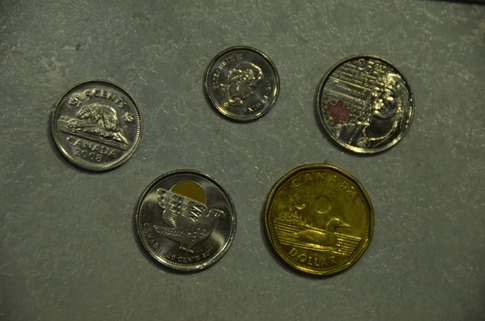 MaliMish, The Democratic Travelers and we pulled off for gas and to wait for the Works who had stopped to experience a Canadian Subway franchise and upload an Instagram binge. Dan pulled out his wifi extender and set the McDonald's across the highway in his scopes before announcing, "Okay, we're online. Network is "malimish," no password." These guys are pros.
John and Laura explaining to Wynne who's in charge.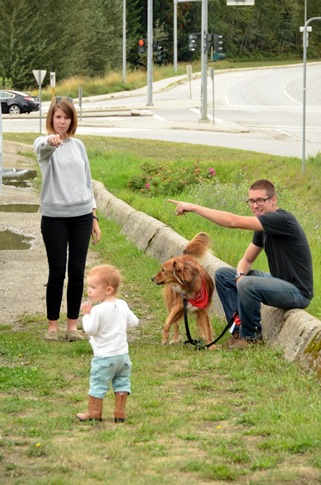 Roadside frilly shirt capri pant boot yogurt.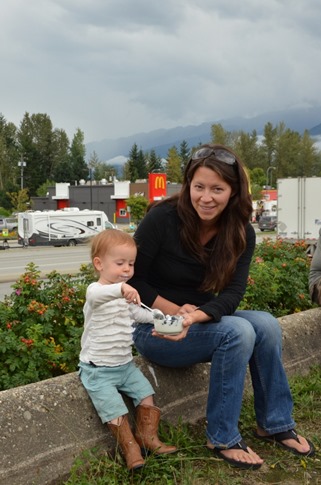 But before too long, the ugly American convoy reached Glacier National Park. All we could remember was that the first-come-first served campground we'd planned to stay at had four "l's" in the name. "Nope, not Loop Brook, three l's short." When we finally pulled into Illecillewaet, we were glad to find space for all of us pretty much right in a row. We took advantage of the Short Bus' size to jackknife into a smaller spot, and the view didn't suck either. That big white thing in the crook right above the bikes is a glacier!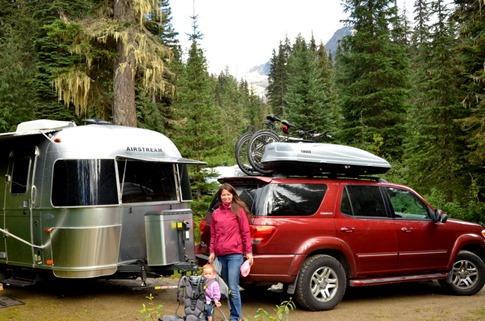 After discovering that this campground was the trailhead for tons of hikes, the entire group rallied to get out on the trail.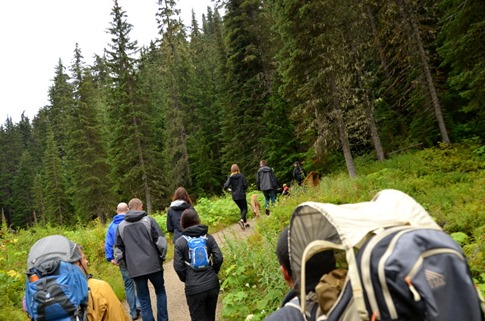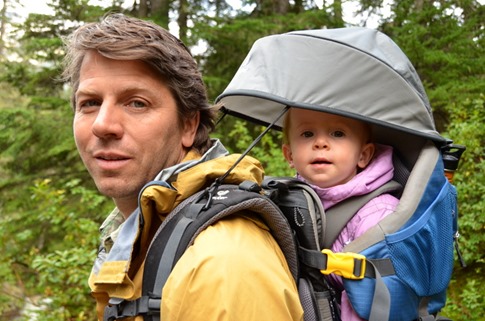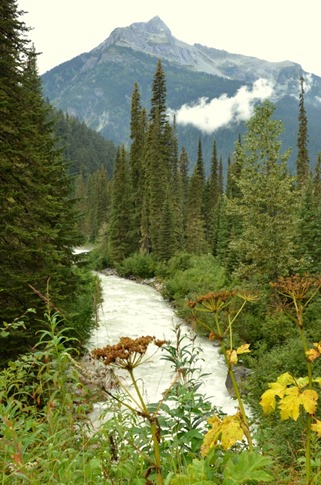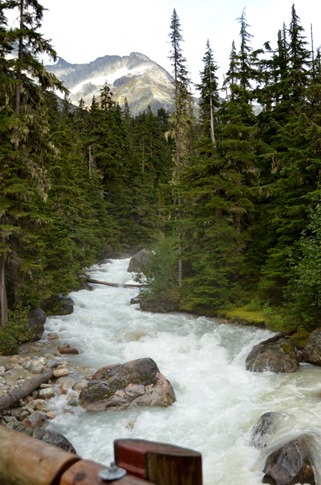 Bear warnings were everywhere. In fact, you could be fined for hiking in a group of less than four, and people would wait at the trailhead to join up with others.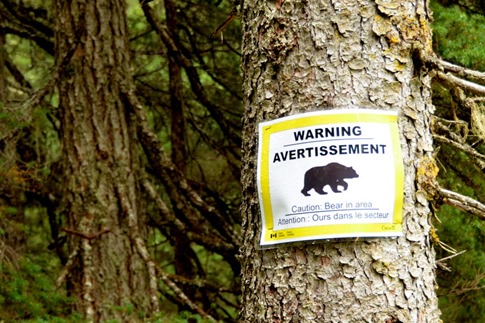 That evening, the rain came and went in bursts, and the best course of action seemed to be to settle in and warm up the trailer by making a bunch of spaghetti sauce to put in the freezer for quick meals. I can't see the aroma of garlic, onions and the last of our hyperlocal pork sausage wafting from our range fan being a problem in bear country, can you? Excuse me for a second, something is scratching at the door…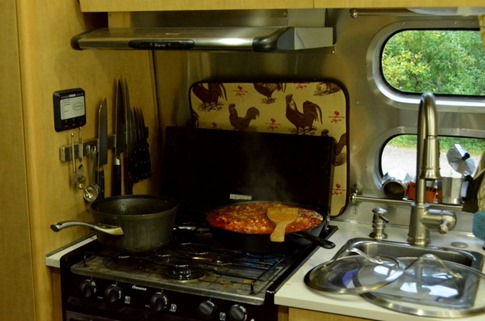 The next morning, we set off for a hike with Josh, Jessa and Jack Works. The first plan was to drive about a kilometer up the road to another trail head, but upon noting that the signs here mentioned grizzlies instead of just black bears and used language like "hikers are less likely to be attacked in groups," we opted against it.
Views from the summit road.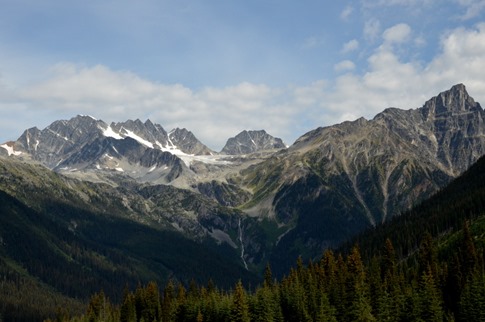 And looking back towards Illecillewaet.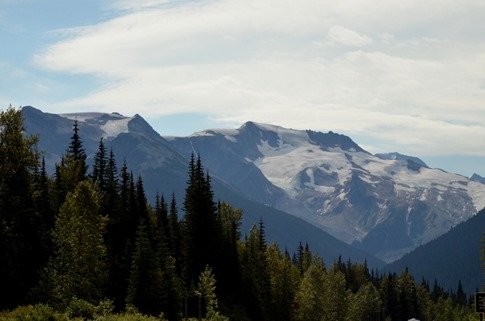 The hike started through wet sub-alpine forest that reminded me of the Japanese gardens we'd visited in April 2012.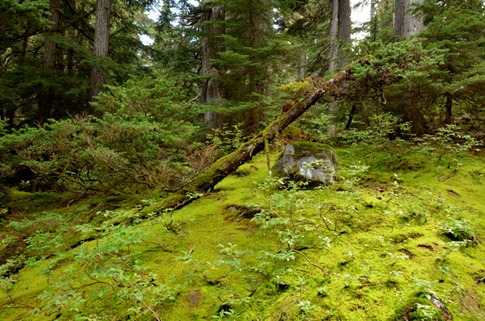 With the variety of berries, it's no wonder this was such a good bear habitat.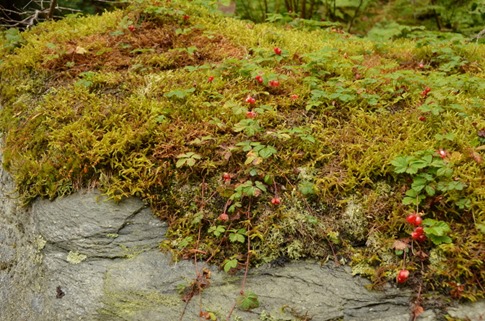 Plus tons of different kinds of mushrooms, some of which seemed to form themselves into cups to catch rainwater which would ultimately dissolve them into oozing stains of jelly from which I could imagine next year's fungus rising like the Terminator.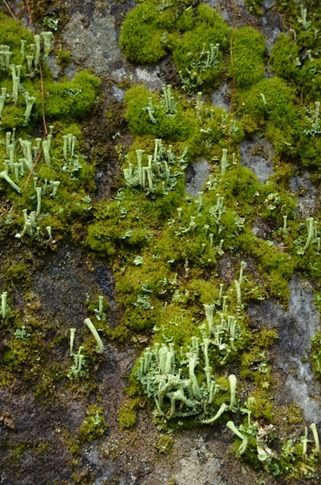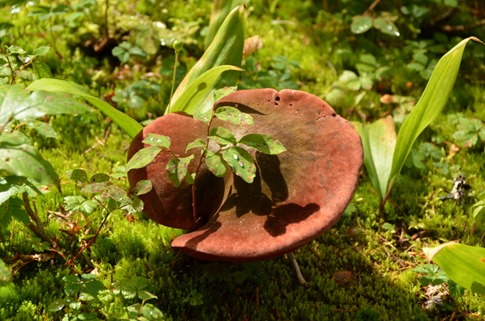 Gray Buns at the ready for nap time.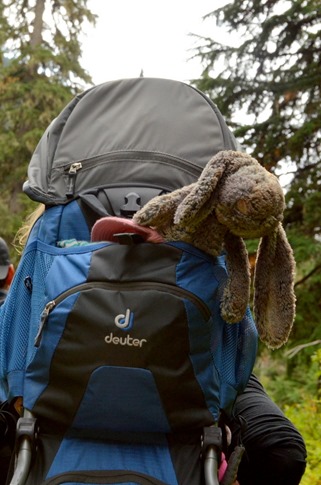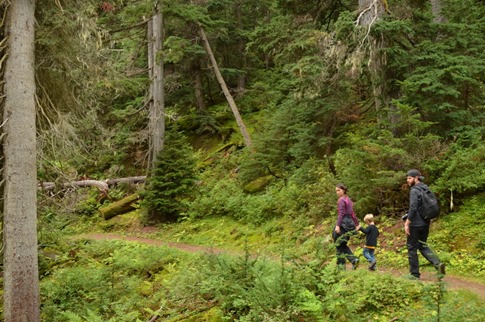 Streams were crashing down with silty water from the glaciers above.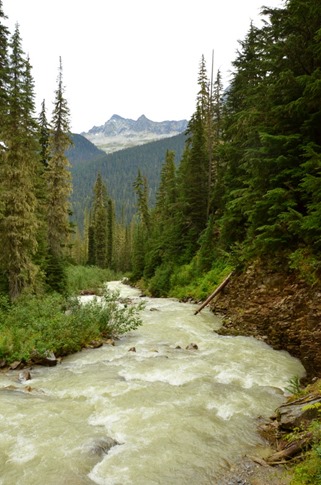 Riller is not a ran of bridges where you can see through the boards.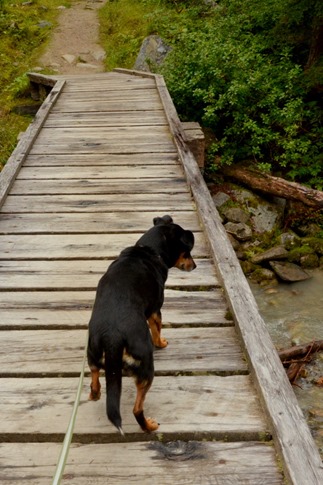 But Ann and Jessa barely stopped chatting.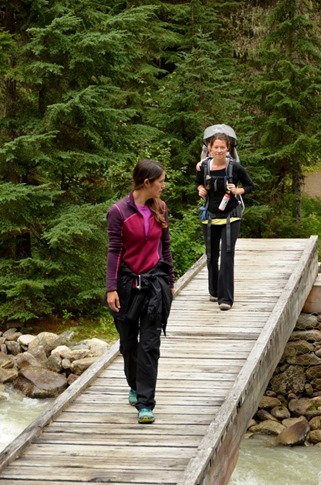 Glimpses through the trees of the peaks and hanging glaciers all around.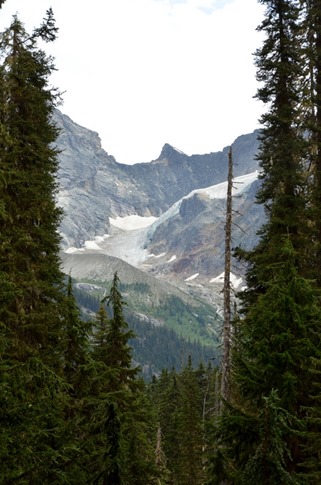 Before too long, we emerged into a beautiful alpine valley tracing the stream towards its source.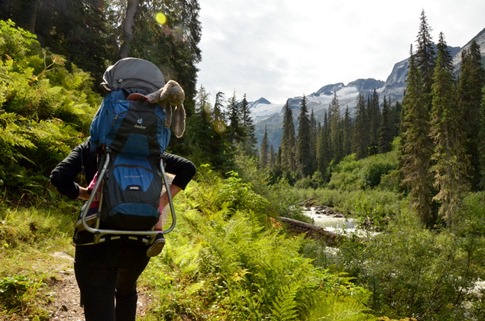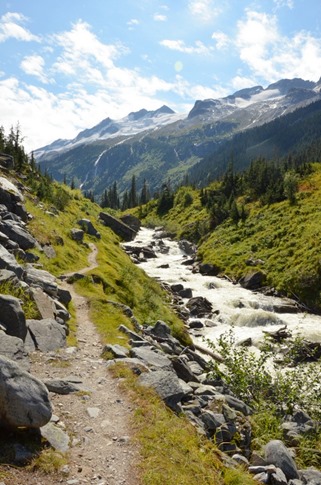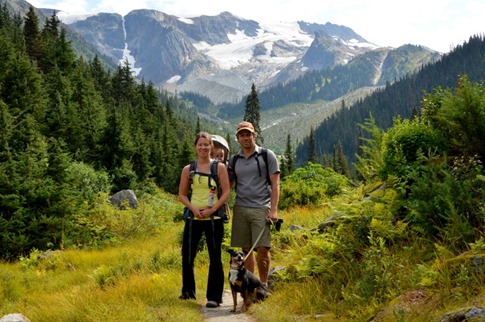 This marmot hung out on this sunny rock across the stream while we ate lunch. He was still there when we passed by on the way back. Maybe he was waiting for a friend.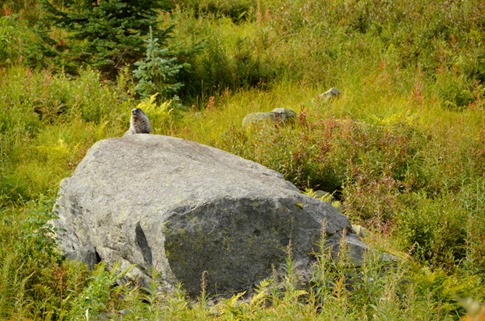 After a few "administrative chores," the preference spearheaded by 4 year old Jack who had already hiked at least 3 miles uphill was that it was time to head back.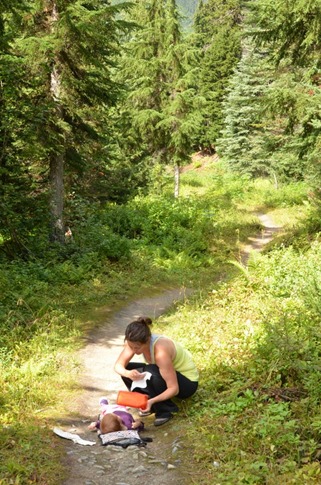 Of course, he proceeded to run and skip most of the way, taking any available opportunity to break off trail and climb up on the rocks.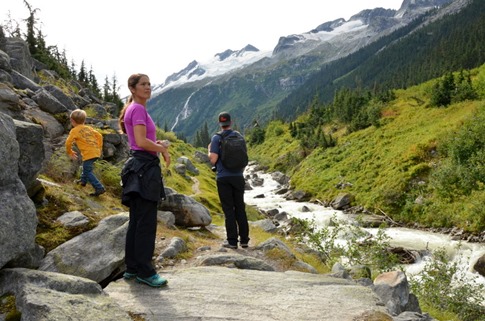 The Works seemed to be well-matched hiking companions for us, the primary goal of most parents being to get outside for a bit and get everyone home without tears. Mission accomplished.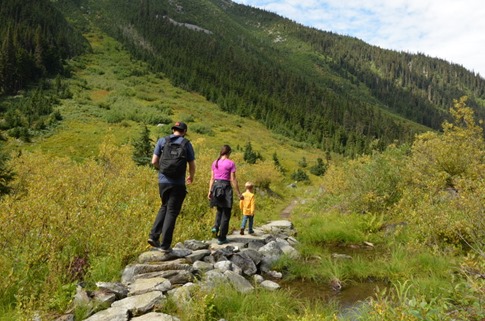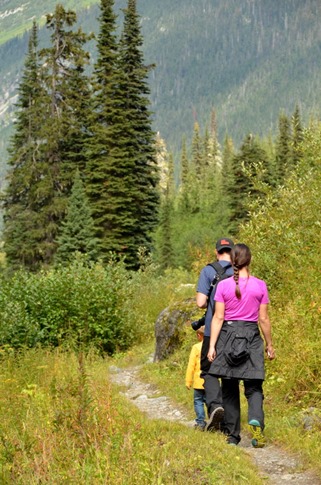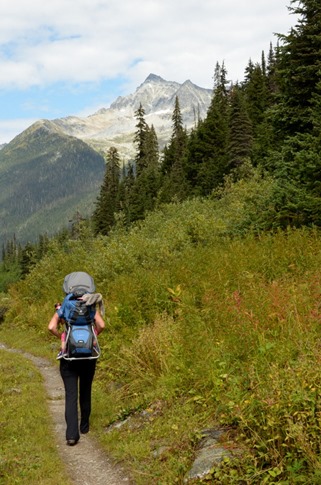 Evenings were spent packing ZipDee chairs (and cheap, substandard, non-Airstream sanctioned imposters) around a firepit. Most Canadian campgrounds stock campsites with wood and offer an unlimited supply at a central location, but charge $8.80 for a fire permit. Once again, Wynne found Eva's bunny chair and was not about to leave it.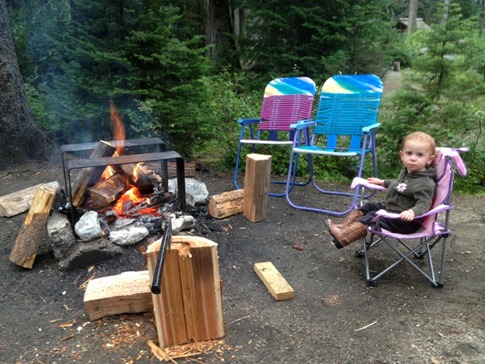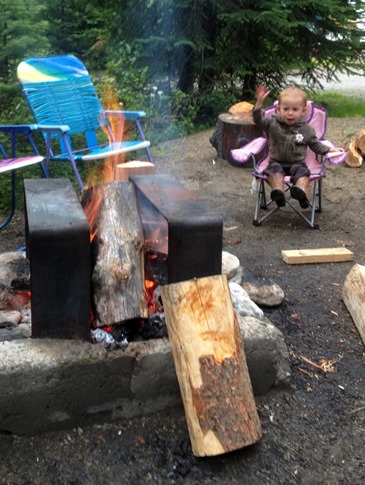 Glacier was a great introduction to the Canadian Rockies and Illecillewaet was a perfect base for the hikes, but the next morning we were heading for the main event, Banff.