Leaving Mormon Lake, our GPS turned us south instead of north back towards I-17, but we didn't think much of it. After another right hand turn towards Stoneman Lake, the road turned to dirt, but there were no signs discouraging RV's or trailers. 15 miles of pretty mountain scenery – and one fairly well rattled Airstream – later, we pulled back onto pavement just before the the I-17 entrance ramp only about a half an hour from Sedona.
We arrived at the Rancho Sedona RV Park around 11:15 am hoping to put Wynne to sleep for a rare out-of-the-car-seat nap while we spent a couple hours doing laundry and catching up with the world on the decent wireless. Unfortunately, I overheard the last part of the conversation between the front desk person and the guy arriving before me in which she explained that since the check in time was noon, they'd have to park in the overflow area until then. After being read a barrage of rules – sleeping in tents is prohibited within the city of Sedona, no exterior lights after 10 pm (light ordinance), black water hoses must be suspended off the ground and about 50 more in addition to being asked to sign a separate set of dog rules – I wasn't so sure she'd be willing to break the check in rule for us, but when I made the case for a baby who needed a nap, she quickly found us an open site. On the way out she called, "Don't let that other guy see you pulling in, or if he does, make something up!
We were all glad to get settled…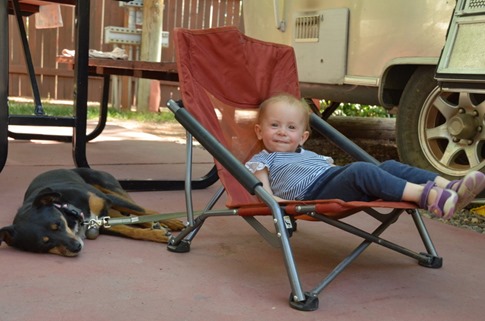 I actually spent most of her nap being barraged with Facebook messages from Luis from Lost World Expedition and TREE from SprinterLife who were finally hanging out together in Bolivia after travel for both had been stalled by labor union protestors setting up roadblocks. It was pretty hilarious to picture them sitting across from each other at a table in the hostel bar over 5000 miles away, TREE tapping madly on the MacBook he uses for "work" at his company OutdoorPlay and Luis' thumbs flapping on his iPhone. This day, the happy hour fueled debate centered around which of them was my favorite overlander. I responded by telling them all about how much fun I'd had with Brenton from Ruined Adventures over the weekend at the Overland Expo.
While we'd packed an impressive amount of food from home into the trailer and the Engel fridge in the back of the truck – enough frozen homemade lasagna, chili, ground pork, pork chops, bacon and farm eggs to be the basis of our meals for three weeks! – this was the beginning of the fourth week and supplies were running low. We'd been going out to dinner once a week on the trip anyway and tonight seemed like as good a night as any. A quick Yelp search led us to a schmancy shopping complex called Tlaquepaque ("ta-locky-pocky" according to the locals, aptly derived from a word meaning "place above clay land") where we walked around the huge bronze sculptures before trying a couple local beers and mediocre pub food at the Oak Creek Brewery and Grill.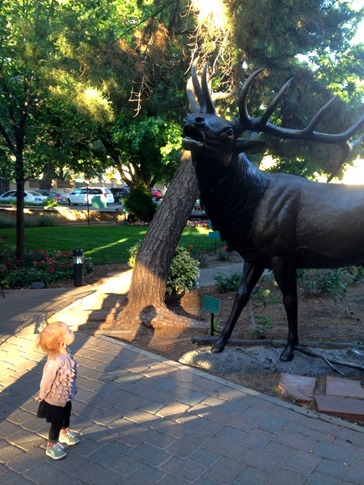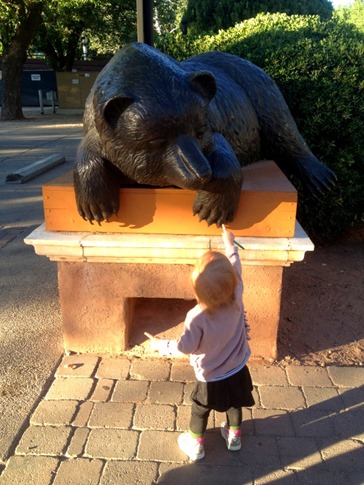 Toddler pale ale photo bomb…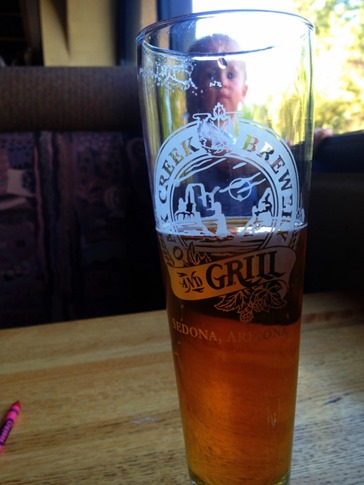 The next morning, we decided we'd take a drive up Schnebly Hill Road, an old dirt shortcut from Flagstaff to the small mountain community of Sedona. The road had been built in 1901 and used by Carl Schnebly to transport the lumber used to build his home there which happens to now be the site of a fancy resort just behind The Locky Pocky place we ate at. Even more interestingly, when ol' CS petitioned the government for a post office near his new home, he proposed town names of "Oak Creek Crossing" and "Schnebly Station," both of which were rejected as being too long. Instead, he went with "Sedona," his wife's name.
All we really knew about Sedona was "red rocks." Yep, there they were, all surrounding the town. And we'd heard that you need some different combination of passes and permits for just about everywhere you'd want to go. On the way up Schnebly Hill Road, we stopped at the first trailhead to pick up a "Red Rocks Pass." The limitations were a bit boggling. You can use this pass to see plenty of red rocks, but not Red Rock Park. You don't need this pass to drive Schnebly Hill Road, unless you want to park. So if you're just passing through, you don't need the Red Rocks Pass. Just to park. But remember, it doesn't get you into the Red Rock Park. It's just a pass to see the red rocks. Unless you keep driving past them. Now that that's clear, how about some pictures?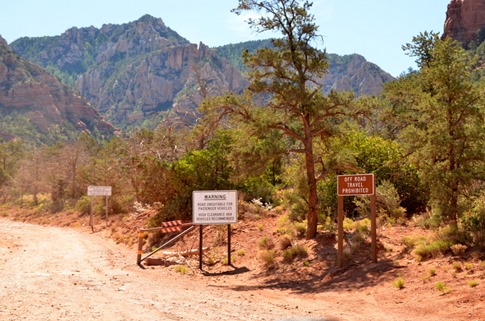 The road was rough dirt with some decent sized rocks and a few "steps" to climb up. Still, nothing a stock SUV couldn't handle. I even stubbornly refused to put it in four wheel drive for most of the way, finally giving in when Ann threatened to puke from my momentum runs at each obstacle. I had to remind her that I had pictures of her driving our truck with only three wheels on the ground from the Expo so by comparison, my driving was quite smooth. While some careful driving probably could have gotten just about any car up there, there were a few signs of those who had tried and failed.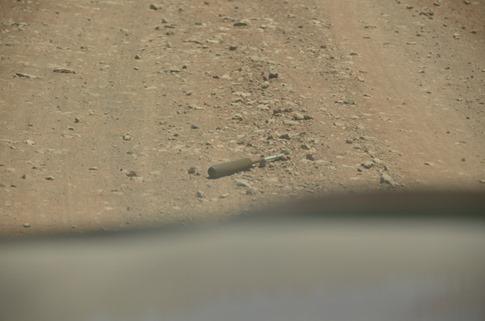 Views were great looking back towards Sedona.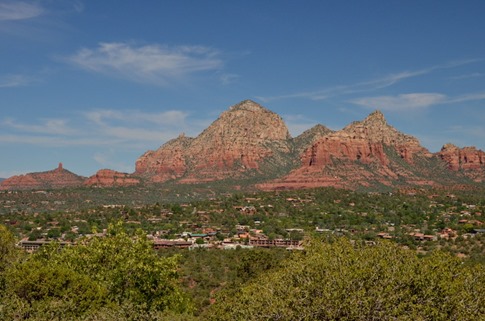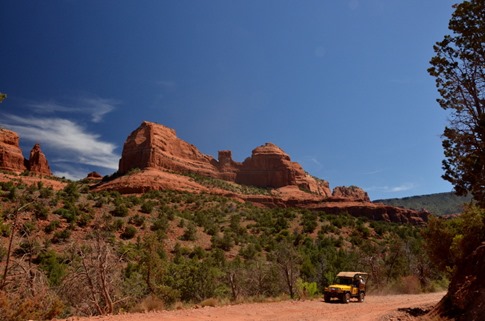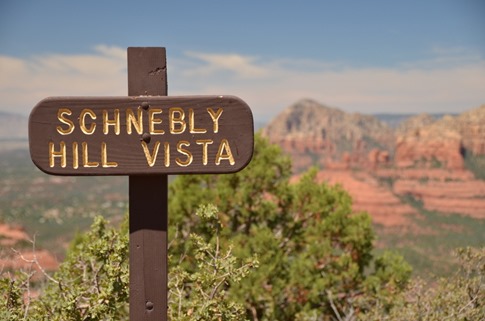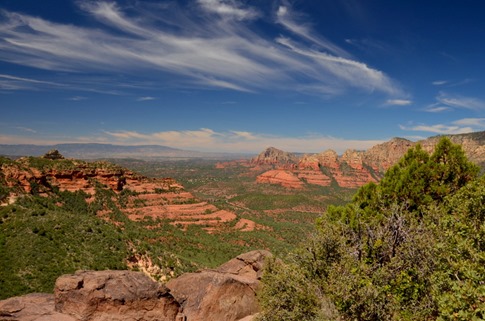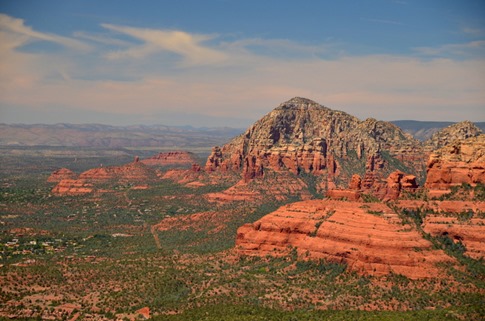 Some fauna…
And flora…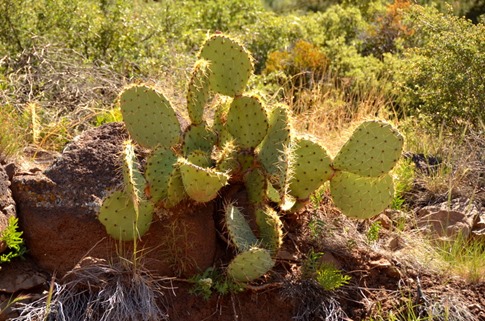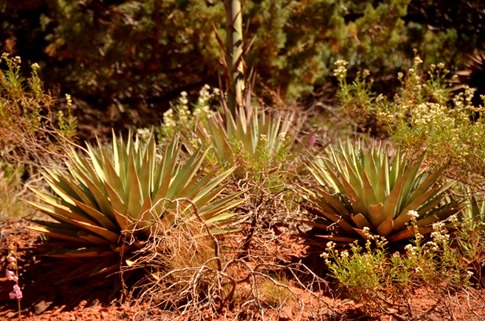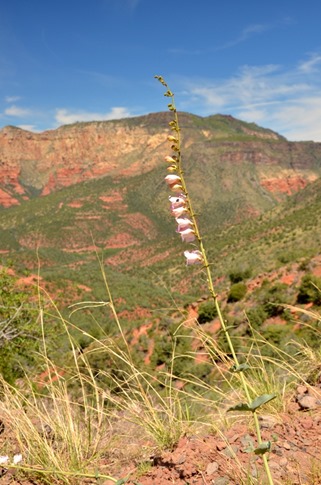 Of course, Wynne fell asleep just as we left the overlook, but a quick look at the map showed that we could continue east and hit I-17. In fact, we'd connect back north of where our dirt route from Morman Lake had taken us. We'd seen a caravan of 4 or 5 EarthRoamers back at our campground, obviously having come from the Expo. I *really* hope they took Schnebly Hill Road the opposite direction from I-17 down into Sedona. While the first few miles coming this direction would have been fine with the Airstream – and we saw a couple fifth wheels camped off of this section – the downhill from the vista would not have been a good idea.
We charted out a route we thought might take "a nap's worth" of driving but remembered along the way that we'd been told to visit the little town of Jerome. We followed signs, winding up into the hills to find something pretty much out of the history books. Jerome grew up around a huge copper mine in the late 19th century, at its peak with a population of 20,000 people (current residents number just over 400) who operated and supported the 21 bars, 8 brothels and 13 hotels. Along the way, it earned the title of "The Wickedest Town in America," an image it seems they are now quite proud of despite the small town, artsy vibe of walking the streets. We grabbed some food to go from one of the restaurants (too hot for Gorilla in the car) and had a picnic in a great little park in the center of town with a great view.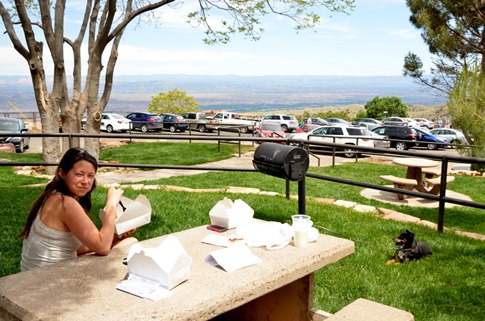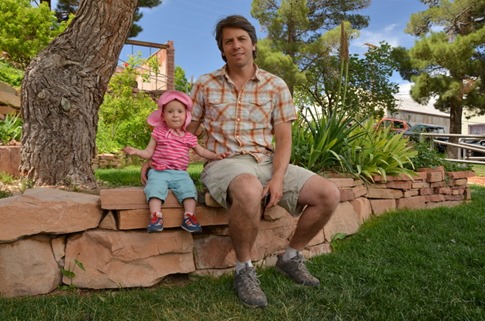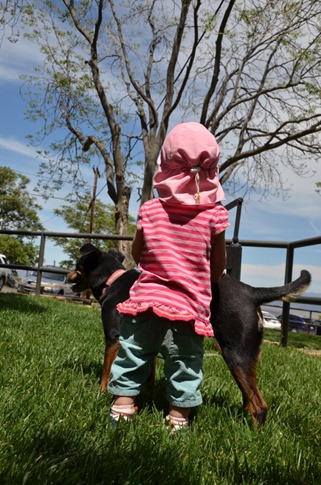 Oh like you wouldn't rock capris, pink cowboy boot socks and Adidas trainers if you could pull the look off.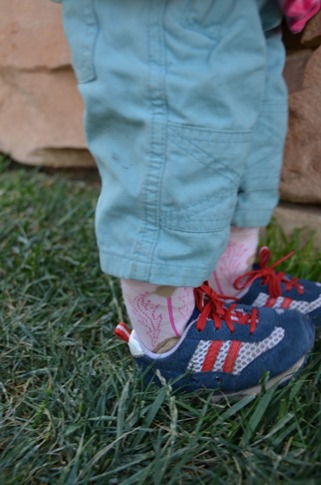 Walking around town…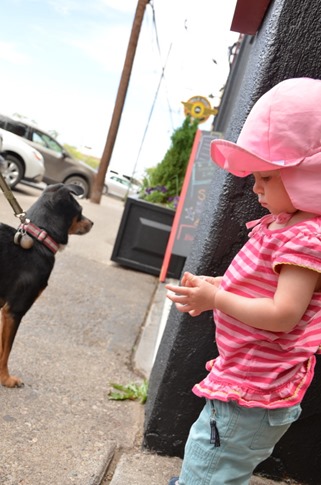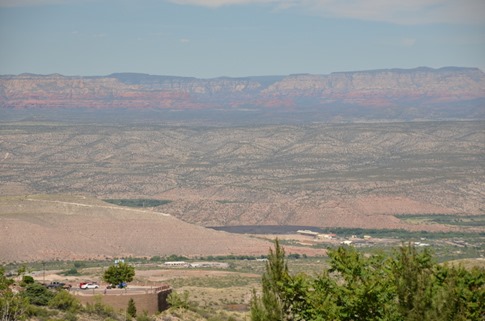 We finished the loop with an expensive but productive stock up at New Frontiers (think Whole Foods plus 10%) including all the fixin's for me to make another lasagna we could freeze portions of for the rest of the trip. While "pork" is probably among the most frequently used words on this blog ("naptime," "stabilizers," and "new kicks" being the others), we'd made the decision for the trip to only eat meat we'd either raised ourselves or could be sure had been fed well and treated ethically. We'd kinda spaced on restocking some pastured meats when we'd had the chance at the farmer's market in Santa Fe, and I thought New Frontiers might be our next opportunity. Standing in front of the butcher counter, there was no information whatsoever about where their meat came from or how it was raised. No help there. I resorted to the seafood and was happy to find markings of farm-raised or wild-caught along with where they came from. I decided I'd be okay with farm-raised fish, but then everything seemed to be coming from Argentina or Canada or Alaska and my head started spinning with the environmental implications of diesel consumption and depletion of wild species and and and… I'll remember this feeling next November when I'm out in the pasture, slipping around in pig shit, setting up new fences so our little porkers can root around in some fresh grass. Veggie lasagna it is!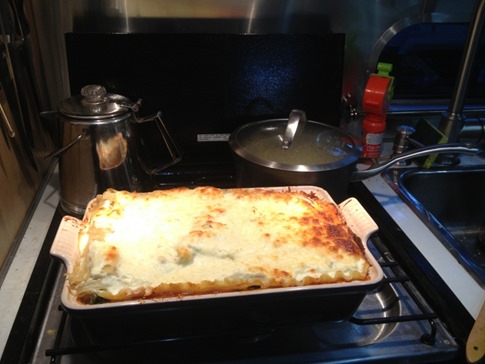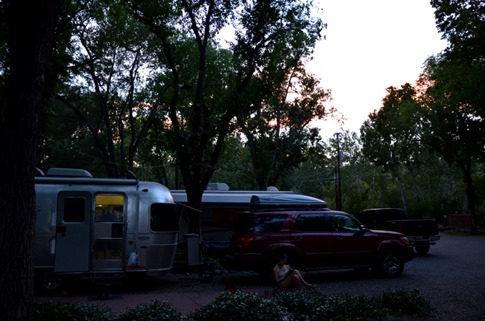 In Sedona, we'd gotten a text from Ann's brother saying that he was going to be at a conference in Albuquerque for the next few days and could come out to visit us. That would mean he'd be driving about 5 hours each way. We took a look at the map, identified a few green shapes (State Parks, National Forests, etc) a little closer to him and offered to try to shorten his drive a bit. With a couple options in mind, we told him to plan on driving west from ABQ on Weds afternoon and we'd text him a rendezvous spot at some point. We were also trying to cross paths with another friend who was on a motorcycle trip, covering a lot of territory on dirt roads but with a SPOT tracker reporting his progress by satellite. So at 70 miles an hour heading east on I-40, Ann was Googling places to visit southwest of ABQ while attempting to triangulate the progress of our two wheeled friend. Felt kinda exciting…
We targeted El Morro National Monument a couple hours southwest of ABQ and, despite reviewers online saying the local RV was pretty run down, were enticed by the effusive reviews of the green chile burgers at its café. As we pulled in, we confirmed the first half of the online reviews and noticed a sign on the café that seems to follow us everywhere we go: "CLOSED WEDNESDAYS." As an alternative, we checked out the campground in the monument itself and were happy to find several of the 9 well-spaced sites available, easy access to water to refill our tank and you just can't beat the price.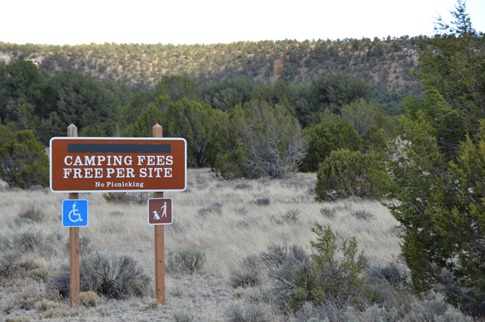 Scenery wasn't bad either.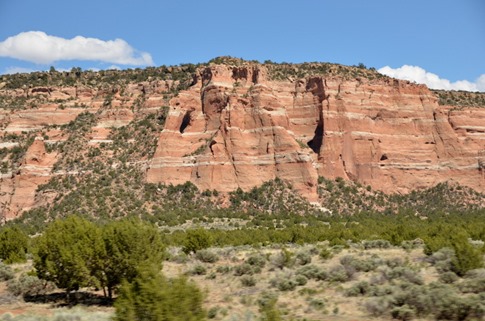 We managed to grab enough bars of service to text out the rendezvous point to Ann's brother who pulled in an hour or so later for a couple beers, the last of our ground pork tacos and some East Coast uncle time.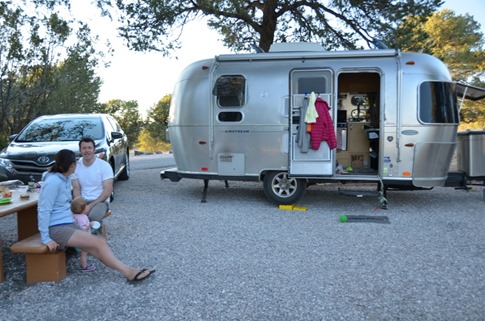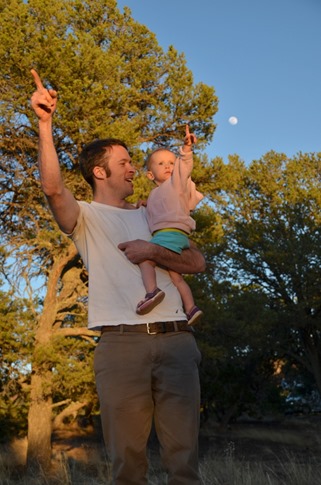 I guess she's gonna be a Beetles fan.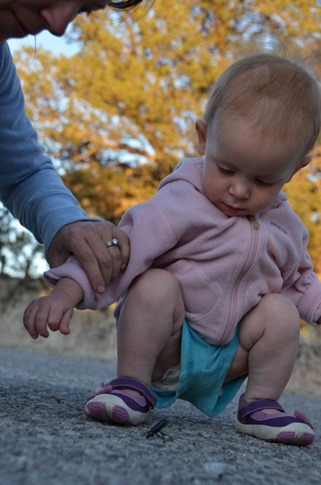 The next morning, we walked around the monument which is primarily composed of one large rock formation with a unique feature; Its mostly flat top happens to divert a large portion of the rainfall and run off from snow into a pool at its base. This oasis has sustained not only permanent settlements of early Puebloan people but centuries of travelers moving west, first the Spaniards following legends of golden cities (as they were prone to do at the time) and later American pioneers heading towards California. As each group came, they left intricate inscriptions on the wall, providing a fascinating timeline.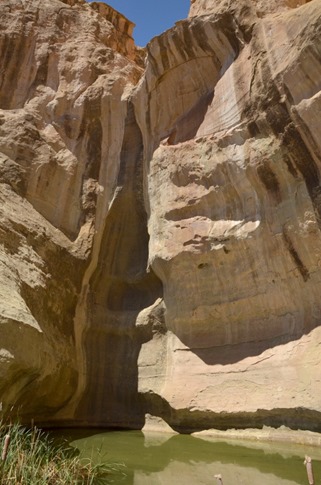 If you're not sure of the history of a national monument, it's best to just pretend you know what you're talking about until you have time to check Wikipedia.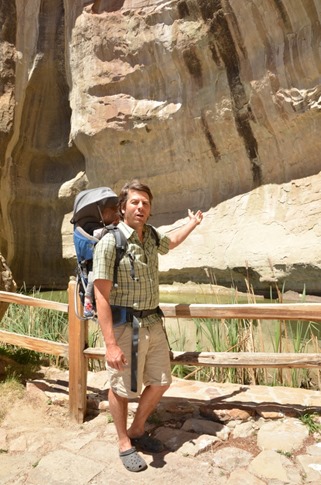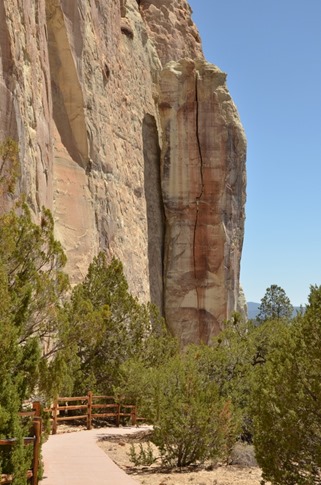 These inscriptions, ranging from figures of men and animals to early Spanish to the fanciest English calligraphy, are all intermingled along the base of the wall above.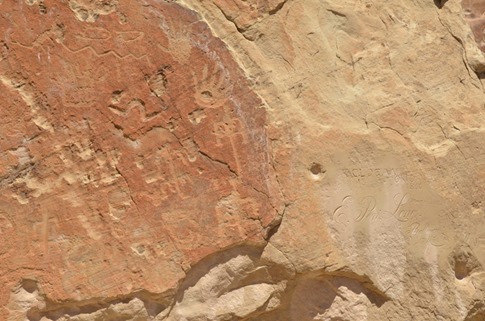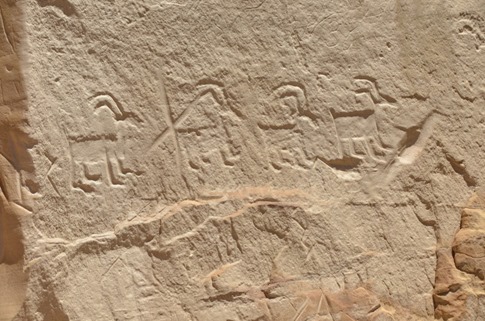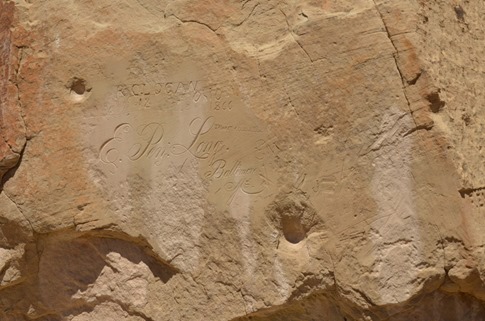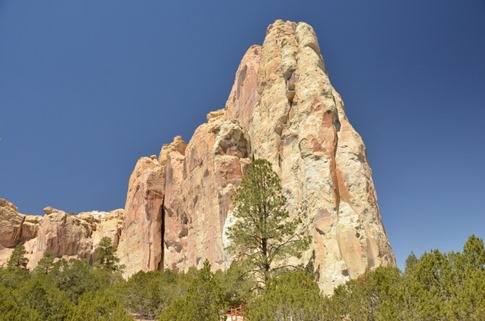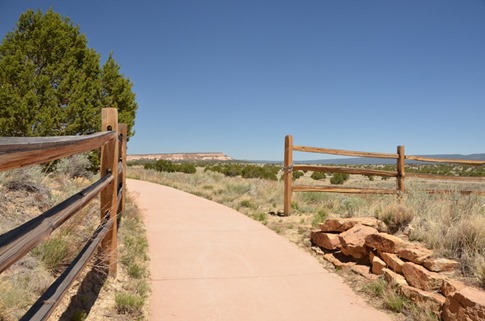 In looking for a place to meet, we'd also seen something about a Wolf Sanctuary in the area. Sounds good! Twenty minutes of driving through more depressed looking reservation towns and we arrived just as the tour was starting.
This guy's got a lotta old trucks…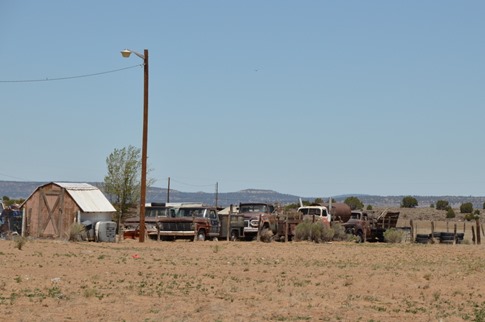 … and this guy's got a lotta old campers. Maybe I'll introduce them if we have time on the way out of town!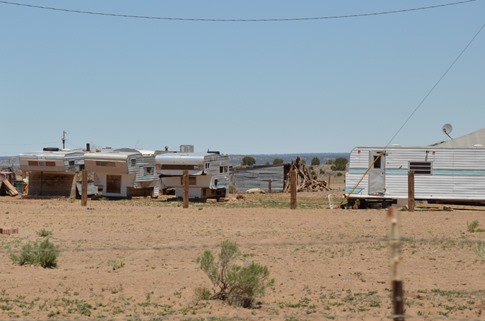 The sanctuary was a pretty cool place with nice sized enclosures and healthy looking animals. While some of them were true wolves, many were hybrids or even dogs that had been raised wild and mistaken for wolves The sanctuary takes them in and tries to find permanent homes.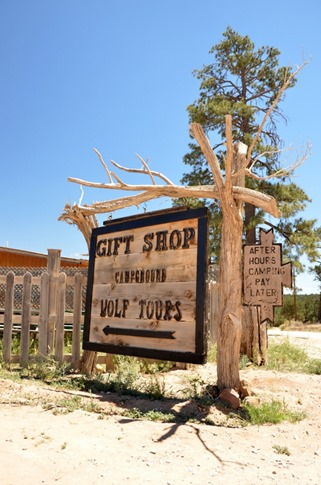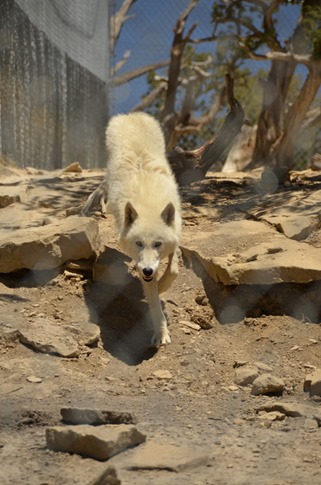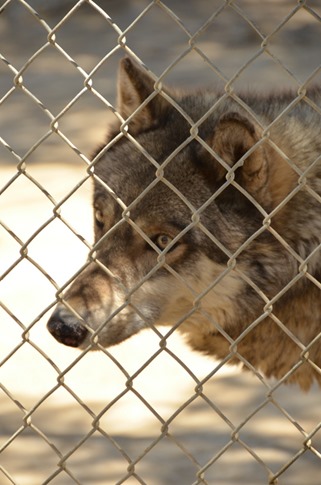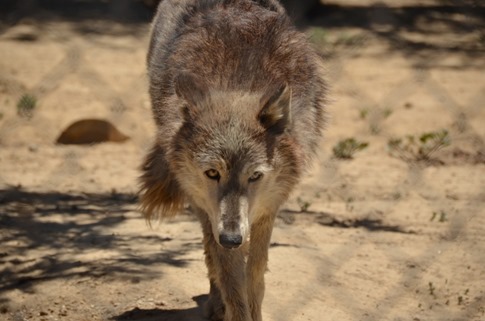 Now, "what sound does a doggy make" is a total no-brainer question for our little girl, so she proceeded to disrupt the entire tour by pretty much constantly howling.
I tell ya, some parents just don't know how to control their children.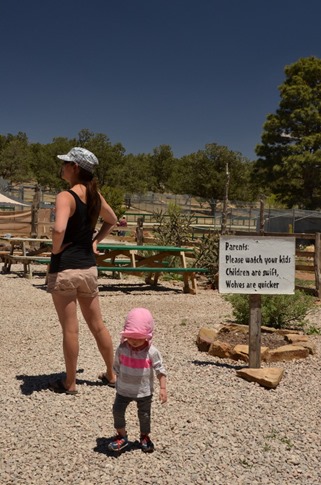 What she was probably looking at… AIRSTREAM! Well, close… I wonder if this guy knows the truck guy and the camper guy?