The other main inspiration for taking this 5 week loop through the Southwest in the Airstream was to attend the Overland Expo at Mormon Lake Lodge just south of Flagstaff, Arizona. Technically, overland travel would include any mode of transportation other than flying or going by water, but the term is typically used to describe those traveling in their own vehicle for extended periods of time. While our trip thus far in the trailer would probably meet the criteria, we wanted to go to the Expo to meet some other people who had done similar trips to our 5 month adventure on the Pan American Highway from San Francisco to Panama.
Just who these adventurous youngsters are, I don't know…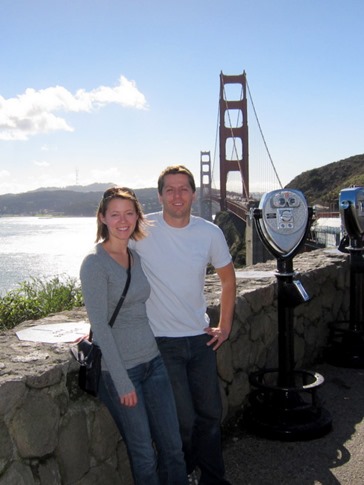 When we first started got the idea of driving a portion of the Pan Am, we found a few blogs, usually written by young couples with the same story – tired of the routine at home and feeling the need for some real adventure. Though they've also traveled the world in a catamaran, Pat and Ali's (Bumfuzzle) road trip to South America in a VW van inspired us to consider doing something, The Darien Plan made us feel like it was completely doable and Luis and Lacey's posts from their Lost World Expedition got us hooked on the idea. We compiled tons of information from these and a few other blogs on where to go (and where not to go), what to bring and what to expect.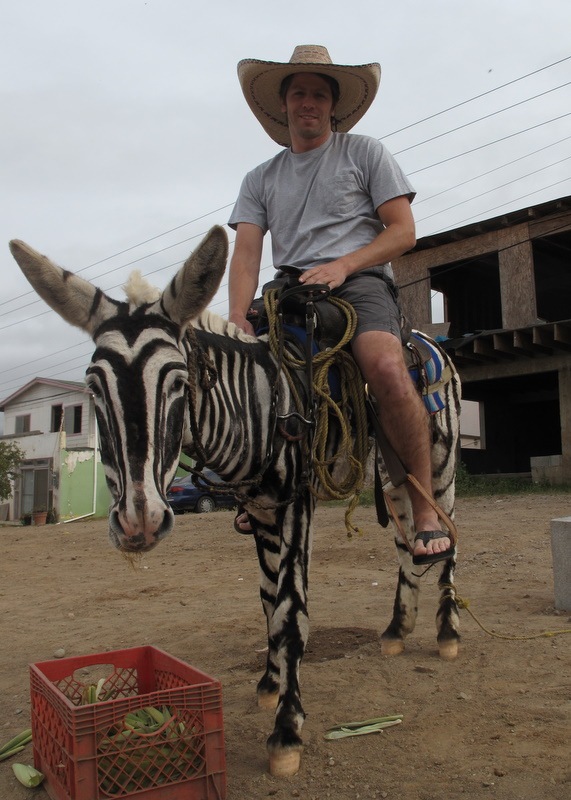 When we set off on our own trip, we also kept a detailed blog of our planned route, vehicle preparations and gear lists and updated it with stories, pictures and videos as we went. While the primary purpose of the blog was to document the trip for ourselves, it also functioned to connect us to other travelers who were on the road at the same time. Through it, we met up with Tree and Stevie from Sprinter Life, Chad and Emily from Pleasure Device and Espen and Malin from UnUrban Adventures who we traveled with for portions of the trip. Meanwhile, there was another wave of people getting tired of their routine at home and feeling the need for adventure looking for sources of information to plan their escapes. Leaving soon after us were Logan and Brianna from PanAm Notes and Brenton and Shannon from Ruined Adventures to name just a couple. While people have been driving the Pan American Highway for decades, the prevalence of blogging and connections through social media, not to mention access to easy internet connectivity for the bulk of the route, has resulted in an explosion of information, documentation and just plain entertainment from people – let's call them "overlanders" - undertaking this and other grand adventures around the world.
Since we got home from Panama and settled down on our little Farmlet in Northern California, we've been following this flood of travelers, some of whom started before us and are still on the road in big, fat, white vans – even spawning offspring while on the road as an excuse to maintain their painfully slow pace – through social media. There's a really incredible, supportive community of likeminded people that's developed online, and we've even had the chance to invite a couple of them out to the Farmlet to meet up in person while they were passing through. We've all made the comment of how well we feel like we know each other from the often intimate experiences shared on our blogs and how that often translates to a real friendship offline. The fact is, for many of us, our friends and family – while incredibly supportive, trusting and loyal! - don't really understand why we set off in the first place, the experiences we had while gone and how we've been changed as a result, yet it's something we share with these other travelers.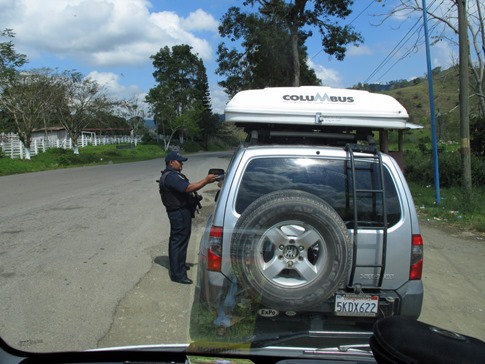 There were several different kinds of people who attended the Overland Expo (and I'm gonna generalize quite a bit here). There were the travelers, those who had undertaken long term trips, usually outside of the US, and had either returned home or were taking a break from their travels. Then there were the those who were planning to travel, either getting ready to leave in a few weeks, gathering information for a trip that was coming together or even those with just the "tired of the routine at home" part who hadn't quite figured out the adventure they needed. Another group was (typically) domestic off-road travelers, four wheel drive and adventure motorcycle types with all the bells and whistles on their Jeeps or BMW bikes. This group included enthusiasts of specific vehicles or vehicle types like truck campers, expedition roof top tents, expedition trailers or – my favorite – the four or six wheel drive Pinzgauer military vehicle developed for the Austrian Army. After watching a few YouTube videos of these things plowing over obstacles, I'm trying to come up with an excuse as to why we need one on the farmlet. And the last group was vendors, those with something to sell - whether it was a winch that could drag a 747 up a mountain trail or a jungle safari complete with personalized khaki vest and pseudo-authentic black and white neck scarf - and there were lots and lots of those.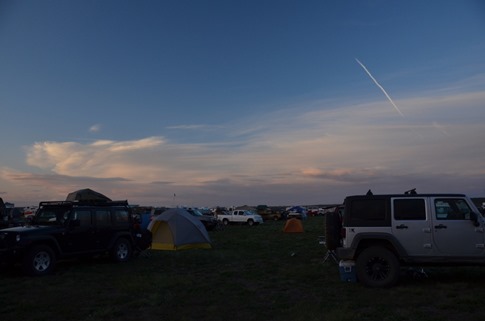 As people pulled into the camping area on Thursday evening, really just a big lumpy field, they would scan for others with the same vehicle. Jeeps found Jeeps. Landcruisers found Landcruisers. Even the mighty EarthRoamers - huge truck campers built not on a Ford F150, not a Ford F250, not 350 or 450 but a F550 chassis! – found themselves circling the wagons. With no other expedition Airstreams in sight, we just found an open spot and oriented the trailer to block some of the wind. It's a little odd actually, especially given that soon after arriving, a friend brought over a copy of Overland Journal (the magazine produced by the people putting on the Expo) with a great article on Wally Byam, the founder of Airstream. Wally built the trailers for people to actually use them to get out and see the world, and to assist with that goal, he led caravans of Airstreams through Mexico and Central America in 1955 (the road ended in Managua, Nicaragua at the time),  Europe in 1956 and Cape Town to Cairo in 1959. The picture of 40 some Airstreams circled up in front of the Great Pyramids is pretty amazing!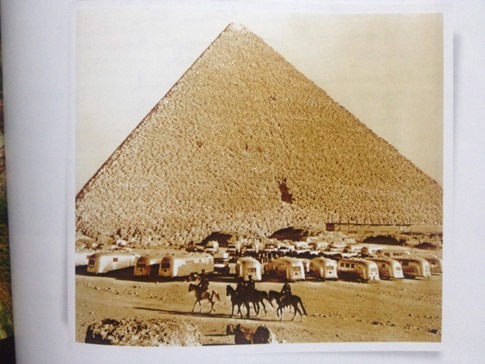 The article included a quote from Wally Byam that we love, enough to consider sticking it up somewhere inside the trailer:
"Don't stop. Keep right on going. Hitch up your trailer and go to Canada or down to Old Mexico. Head for Europe if you can afford it, or go to Mardi Gras. Go someplace you've heard about, where you can fish or hunt or collect rocks or just look up at the sky. Find out what's at the end of some country road. Go see what's over the next hill, and the one after that, and the one after that."
One of the more amusing aspects of setting up camp lately has been Wynne's involvement. We found that we could either have one of us try to distract her while the other took care of things or just give in and get her involved. Without question, her favorite part is lowering the stabilizers, the four "feet" that crank down so the trailer doesn't rock as we plod around in it. When we pull into a campground, I'll say, "Wynne, let's go do the stabilizers!" and she'll waddle towards the storage hatch at the back of the trailer to get the crank. At each corner, she'll drop down into the cutest little squat, sometimes with hands clasped behind her back like a tiny supervisor, and lean forward with her face inches from the swing of the handle just so she can see the metal feet lowering to the ground. She'll then pop up and waddle to the next corner to repeat the process. When we're done, I'll hand her the unwieldy crank and she'll carry/drag it to the back of the trailer and (with a little help) stow it until next time.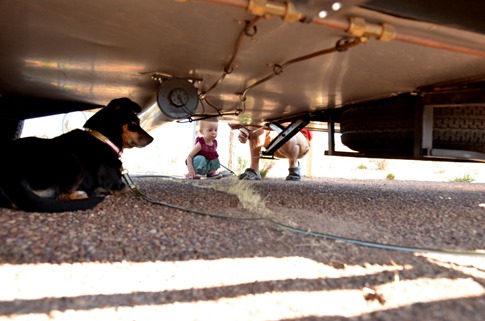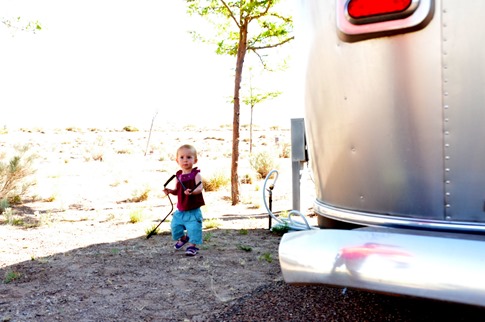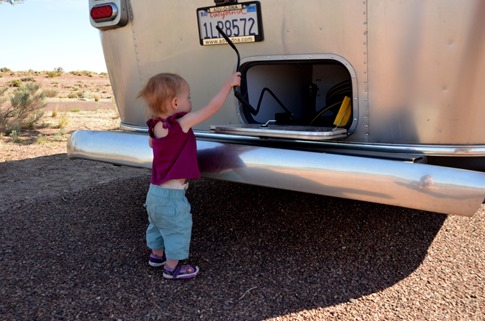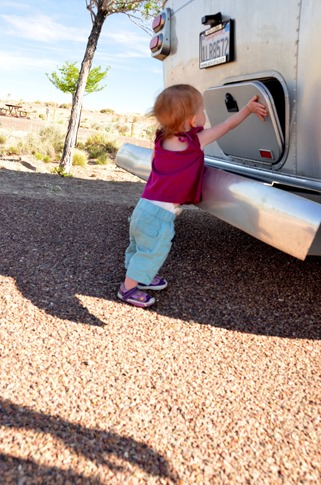 And then it's time to kick back and enjoy…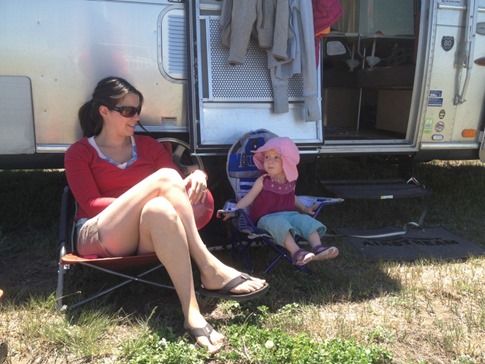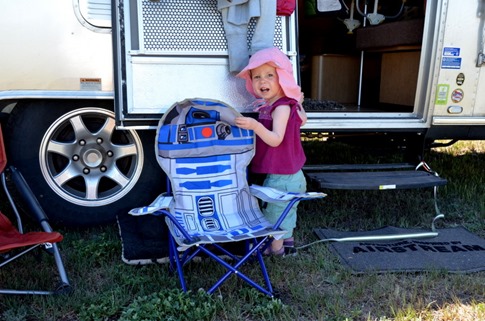 We knew Brenton and Shannon from Ruined Adventures were going to be at the Expo and had made plans to hang out – er, well, I guess you could say "meet." They set out almost a year after us so we never met up while traveling, but we'd become friends through back and forth snarky remarks on Facebook as we followed their progress. After 13 months on the road, they left their faithful 1987 Toyota 4Runner in Uruguay to return home to see family, make some money and – as a perk – attend the Expo. Of course, seeing as how we're somewhat tied to our trailer after 7 pm when Wynne goes to sleep, we're not exactly the social butterflies, so we were glad when we got a text that they'd arrived and were on our way out to see us. Now, I must assert that we were totally not pretty much already getting ready to go to bed and were in fact ready to toss back some brewskis or whatever the kids say these days. By the time they arrived, we had an inviting lantern glowing and the two burner Mr. Heater hooked up to the 15' accessory hose I'd plumbed into the main propane tanks of the trailer. Conversation came easy as we all felt like we knew each other after having read about everything from hopes and goals for our trips to street food induced bathroom emergencies, and when we killed the lantern at the impressive hour of 10pm, we realized we'd probably been keeping all the poor suckers huddled against the cold in their roof top tents and expedition hammocks awake.
The next morning, I had to give them just a little crap about their car parked in the "Featured Expedition Vehicle" area, a gold Toyota Highlander they'd borrowed from family for the drive out to the Expo. It honestly looked like one of the Unimog owner's moms had come along to make sure they played nicely with others.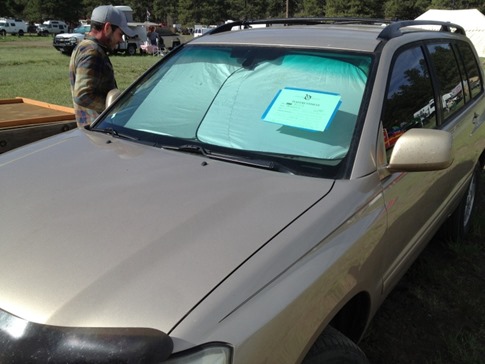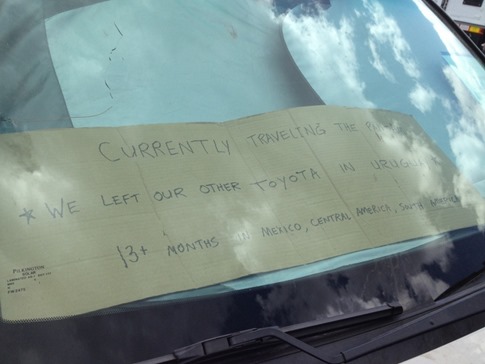 We lured Brenton and Shannon back to the Airstream a couple more times for farm-raised pork and really enjoyed getting to know them better.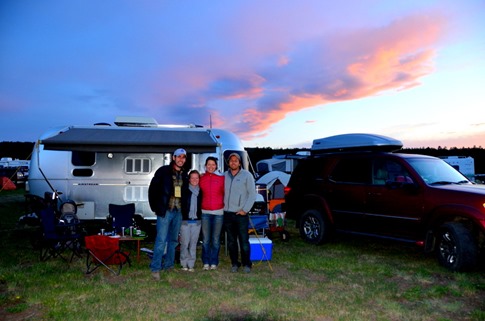 While we'd signed up for full days worth of seminars and panels on topics ranging from tire repair to digital photography to expedition first aid, we just didn't feel very motivated other than attending and participating in sessions for "Do Good As You Go," an organization that pairs travelers with volunteer organizations and for which I've been doing some technical work since we've been home. Instead, we pretty much just spent the days wandering the aisles of exhibitors, poking into every type of vehicle we could. We entertained ourselves by positing that if we could have any one of these vehicles waiting for us in Cartagena, Colombia to travel for a year in South America, which would we choose? And remember we'd have at least one child with us, and who knows what might happen on the road…
Unimog. If you look very closely, you can see a *tiny* baby in a *tiny* wagon next to a *tiny* dog near the front wheel. A little uber-kill?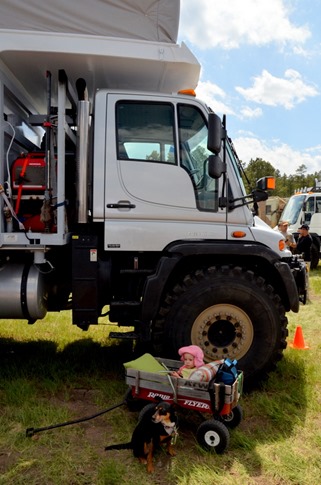 The venerable Earth Roamer. The only problem would be deciding between the slate and the Carrera marble countertops. Other features include huge storage tanks for extended range, a king size bed with flat screen TV and a star gazing hatch. Comes with a lease payment the size of a mortgage on a house.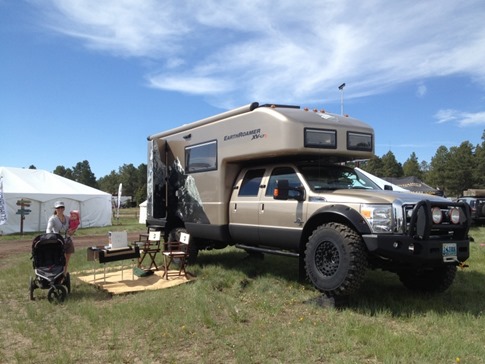 A pretty setup on this Landcruiser but might not work great with a newly mobile toddler.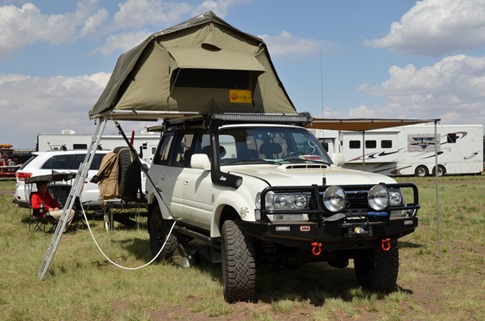 I mean, she almost fell out of the trailer just trying to put on her Uggs the other day… #glamping
One of the many options built on the Mitsubishi Fuso 4x4 platform. The living area extends up or can compress to fit into a shipping container for transport to your next continent. Still space inside seems limited for such a big package.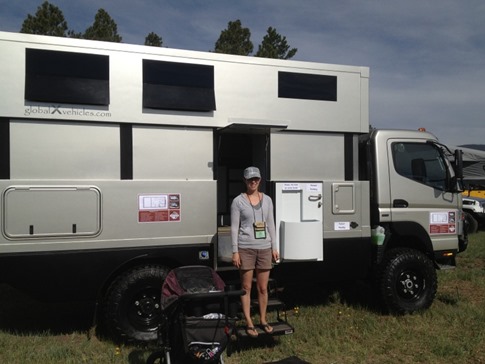 All varieties of truck campers. Unfortunately, none of them really seemed to have enough room for a little family, even these cool XP Campers with various methods of popping up.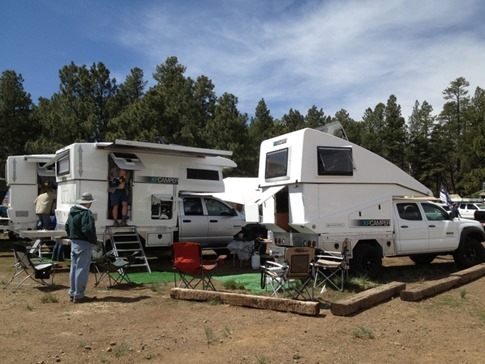 Yes, Wynne, while riding buffalos to Machu Picchu would be awesome, your mother feels – and I agree (nods at wife) – that it really would not be practical… at this time.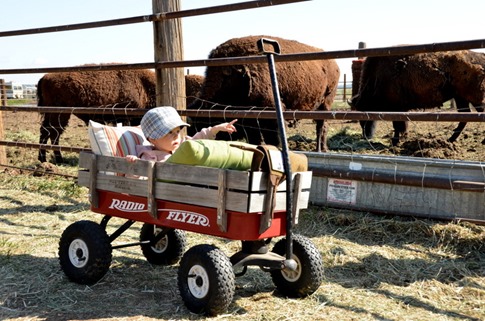 I didn't even have to do the sales pitch on the Ural motorcycle and sidecar idea (which would totally rock, BTW). This character took off with Ann before I knew what was happening while his wife stayed behind to tell me about how all their daughters practically grew up in sidecars.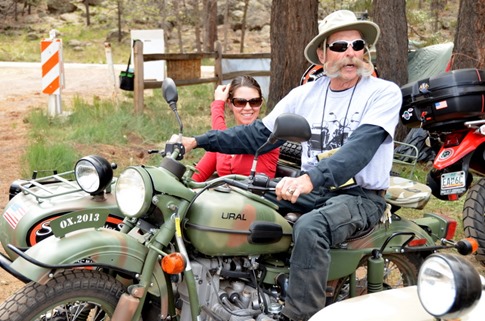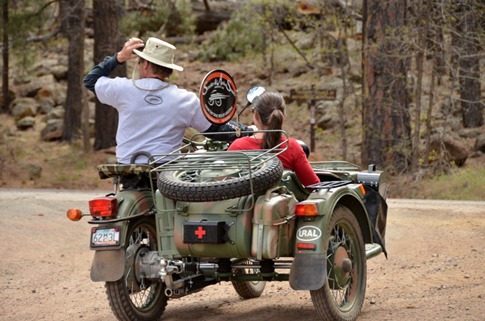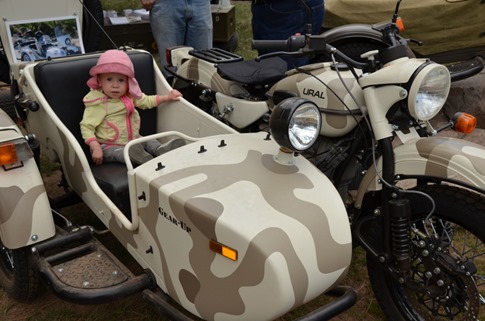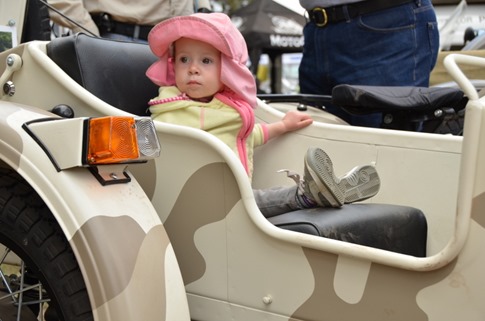 In reality, it's a tricky thing picking a platform for a (theoretical!) trip like that. An SUV works great but doesn't have any living space, despite what Brenton and Shannon will tell you. Space on the inside means a big body, less maneuverability through small streets and parking issues. A huge 4x4 platform seems really conspicuous and perhaps overkill but an RV or (gasp) Sprinter meant for the highway might not be up to the challenge. In the end, we decided that after towing it around the US and Canada for a while, we'd take the axles off our 19 foot Airstream and bolt the whole thing onto the back of a Fuso truck. Sure we'd look like a gasoline tanker, but we'd be comfy and could drive over anything. (Holy %$#&%, it's basically been done. Something between this and this!)
To get ready for 'wheelin' our Fuso, we sent Ann out onto the driving course built for the Expo by Land Rover in our tow vehicle/grocery-getter.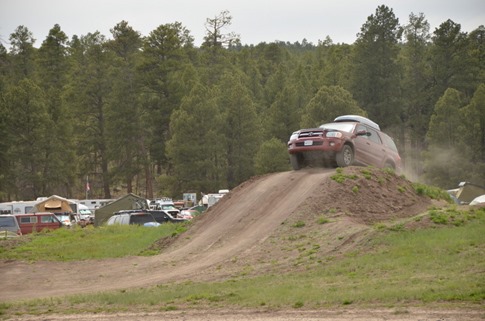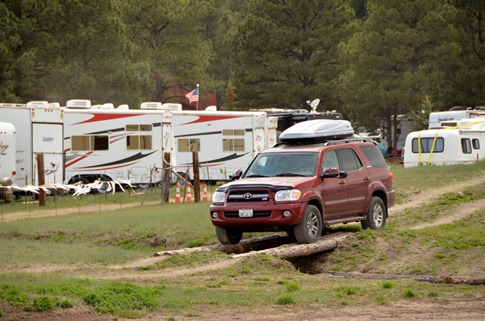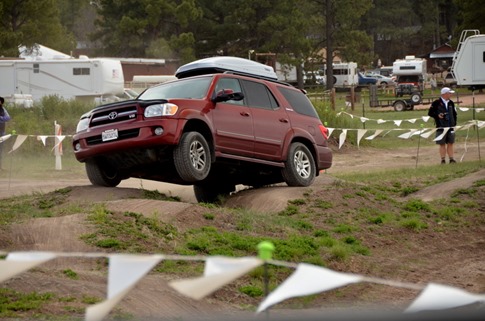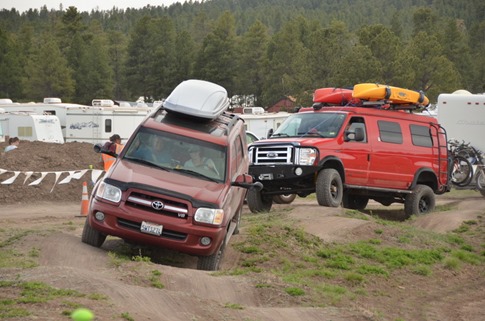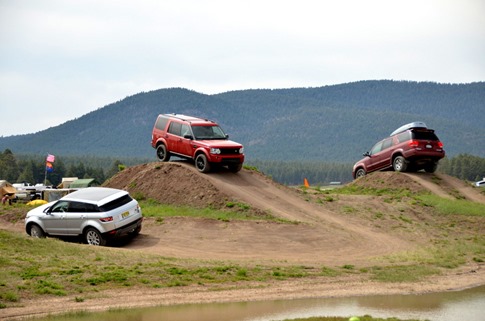 I drove the course the next day in a loaner Range Rover that you could practically feel yawning as it negotiated the obstacles. While I'd say our Sequoia held its own against the other more "purpose built" four wheel drive options, the course didn't do much for my careful organization of the contents of the roof top box.
Some shots of other vehicles on the course…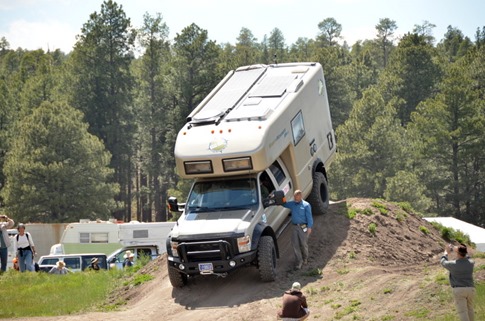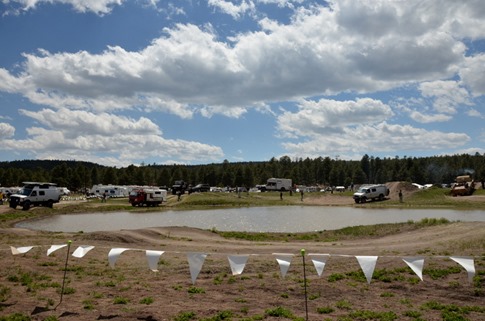 Wynne's taken up another pretty funny thing. When we get to a campsite, Ann usually hops out with Wynne and guides me as I back into the site using hand motions for "come on back," "to the left," "to the right," etc. Now when Wynne sees a truck moving slowly, she'll put out a hand and curl it back towards herself to say "come on back!"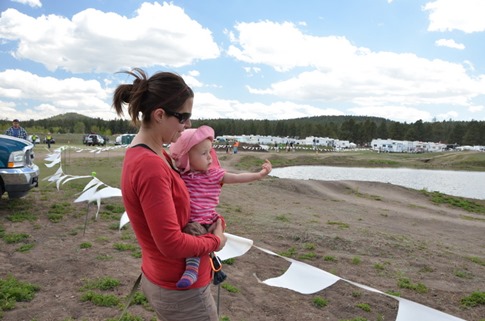 No driving course for her, but she tested her mettle on the intimidating slide at the play structure.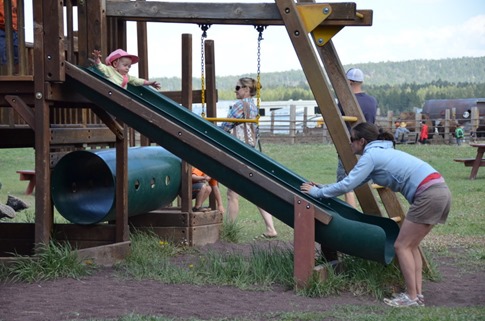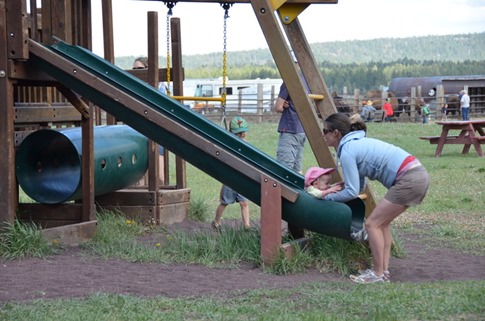 Daddy helmet cam…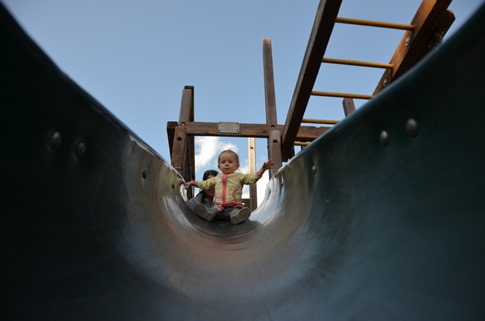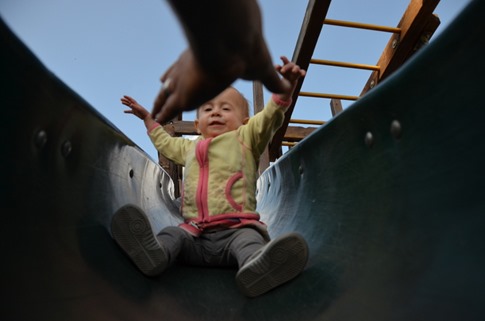 And there were a few other things to keep a little girl interested…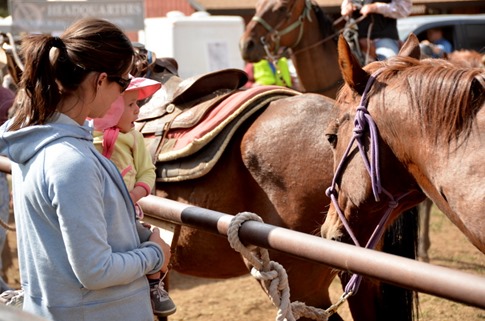 But it wasn't all just fun and games…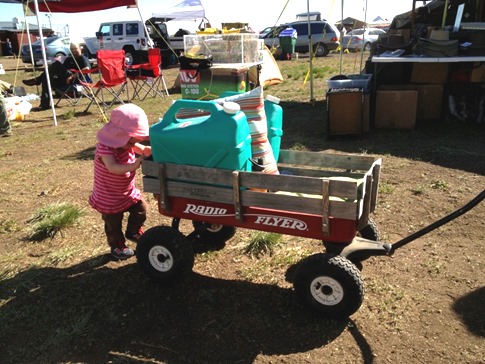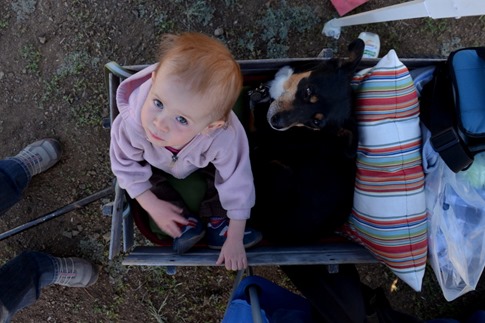 The weekend culminated with a final BBQ which for reasons known only to Ruined Adventures and the guys (and gal) from Life Remotely (and a case or so of wine consumed one night near Mendoza, Argentina) was to be attended in full Star Wars regalia. Wynne's R2D2 chair was unfortunately left back at the trailer.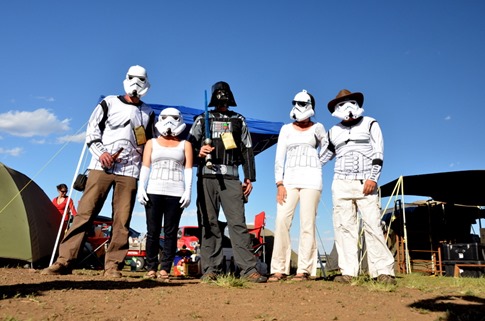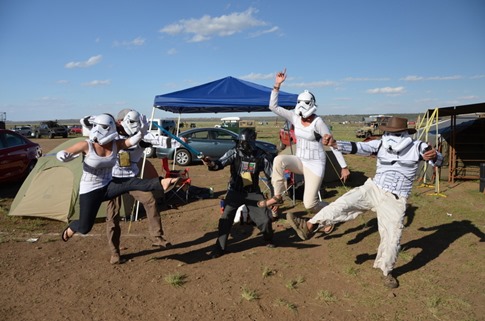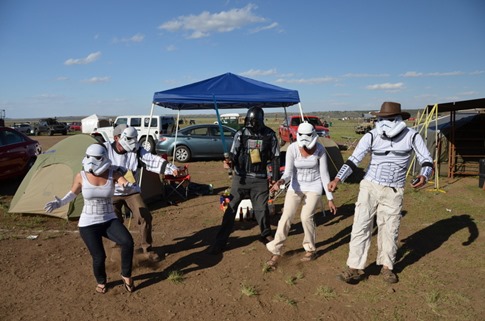 We left the Expo with a lot of ideas about things we might want to do, but one thing was for sure, after having done even our relatively short trip on the Pan Am, a lot of other adventures seemed really "possible." I think the best advice you can give to someone considering extended overland travel is, just do it. Dip your toe in. You'll learn as you go, and the next time you attend something like the Overland Expo and meet a buncha people who have done all kinds of cool things all over the world, you'll wonder what the big deal was.