While we didn't need to spend any more time than we had to at the Oasis RV Park in Las Vegas, we couldn't resist dragging the Airstream down the strip on our way out.
Wynne was mesmerized by the huge screens and tall casinos rising up on either side of us.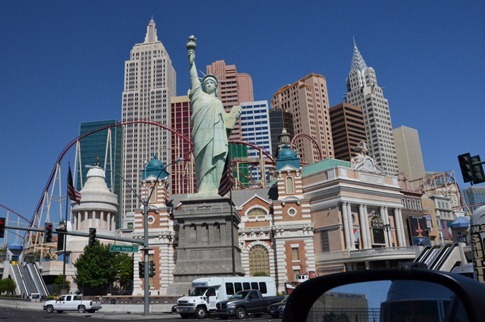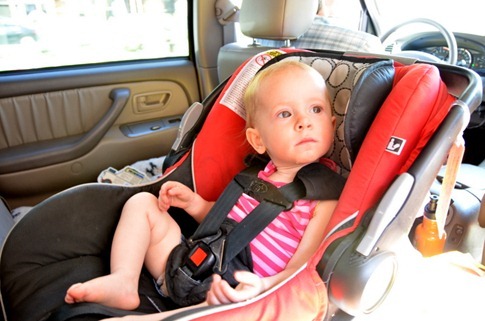 While there's a great view of Red Rocks while descending into Las Vegas, continuing east is when the grand rocks start emerging from the high desert.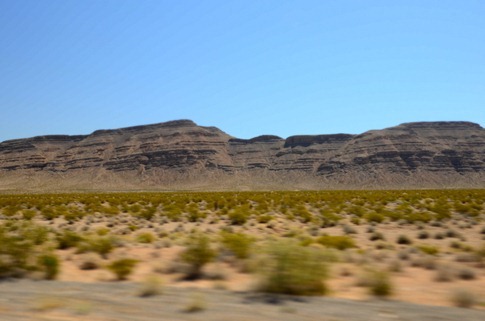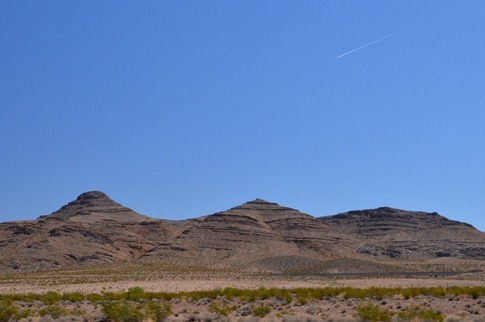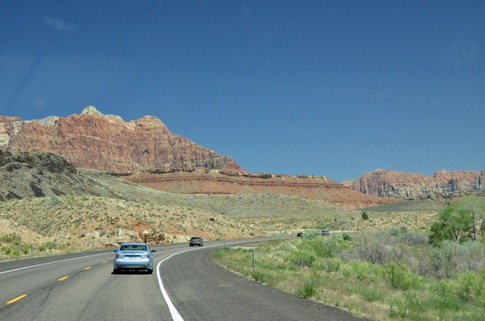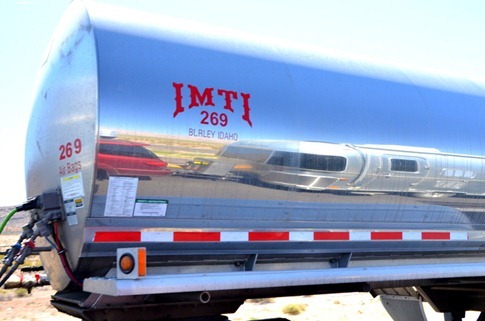 As we approached Zion, I was getting nervous about finding a campground. We'd been warned that the campgrounds inside the park fill up quickly. One, Watchman, takes reservations but had been booked for months, and the other, South, is first come first served, but if you're not there by 8:30 am or so, good luck. Add to that the fact that, despite having left first thing in the morning as opposed to at Wynne's naptime, we were still arriving on a Friday afternoon. Just as I'd feared, at the entrance to the park we were told all campgrounds were full. We decided to try the private campgrounds, starting with the closest, one just outside the entrance. We'd read mixed things about it while researching our backup plan, but most comments seemed whiny, like that the person who worked at the counter was clueless. Big deal we thought. 
I walked up to the counter and inquired about campsite availability. The woman said they had room and asked how many nights. I told her two. She asked how long we were. I said we had a 19' trailer. She grimaced and sighed at her computer screen for a while tapping on the keys. Without saying anything, she pulled out a Sharpie and started drawing the route from the office to the site that the computer had returned onto a map of the campground. She wrote the site number in big block letters on the top of the page.
Then she said, "That site's only available tonight, so you'll have to move to a new one tomorrow. Come back then and we'll find another one."
"Huh?" I replied. "We don't really want to move once we get all set up. Isn't there a site available for both days you could put us in?"
She sighed again deeply and went back to clacking on the keyboard. She drew a line through the previous site number and wrote in a new one beside it, circling the new location lower on the map. I left with my shower tokens for the day and returned to the truck to let Ann know we were all set. Despite not having a revised Sharpie route to guide us to the new site, we were able to locate it and pull in. Well, we could pull the truck in… or the trailer. The entire pull through site was about 25 ft long, and our trailer itself was 19 ft. We drove back up to the registration area. When I walked in, thankfully the woman who had helped me the first time was busy and another lady asked if she could help me.
I said, "I hope so. I was just in here and we got assigned this spot, E-10, and when we went down there, we really won't fit in it."
"How long are you?" She asked.
"We have a 19' trailer," I replied.
"Oh yeah. You're not gonna fit in that spot."
"Yeah. I didn't think so."
Though she seemed to have a better relationship with the computer, she looked up after a minute or so and said, "We don't really have another site available." And then before I could start a protest, "Well, we have one just across from the riverfront sites."
"That sounds great!" I said, leaning over the counter to try to peer at the screen.
"But you'd have to back into the site," she continued. "Would that work for you?"
"Yes, I can back my trailer into a campsite."
I walked back to the truck composing the review I'd later post of the campground, particularly the front desk staff, while trying not to sound whiny that is.
In reality, things worked out perfectly for us. When we noticed some RV's just across the river, we realized that they were parked in the Watchman campground. Over on our side of the river - though we were paying a little more - we had water, power, sewer and (albeit pretty terrible) wi-fi service. Plus, 6 minute timed hot showers, with possession of a token, of course.
Since we'd be staying for a couple nights, we took the opportunity to get a little more set up, including inflating Wynne's hot tub.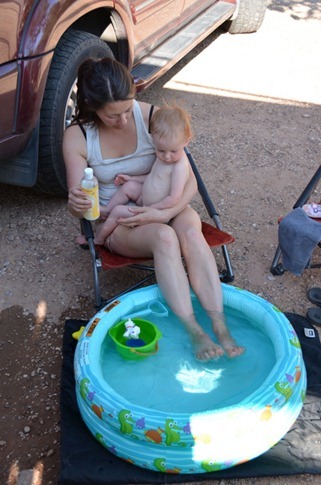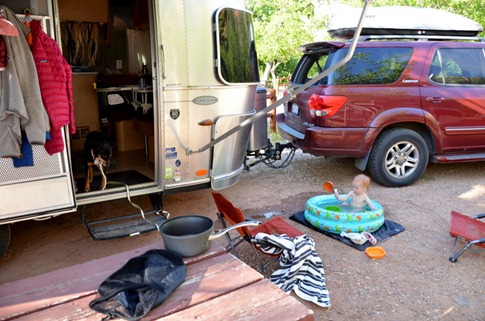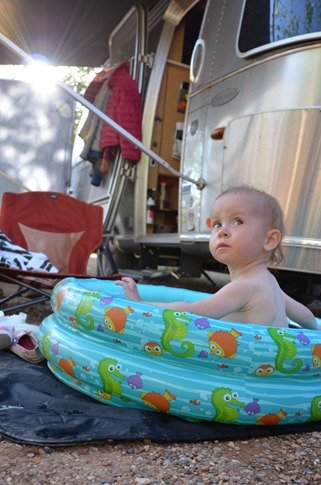 We also had time for one of our more involved dinners, homemade pizza. When we'd first gotten the Engel 17 fridge we used as part of our "camp kitchen" (read a funny story on building it) on the trip to Panama, we'd set the dial to 3 (out of 5) only to find all our stuff frozen. For this trip, we decided to take advantage and use it as a deep freeze riding in the back of the Sequoia. When the small freezer in the Airstream was full, we started packing away cuts of pork and frozen homemade lasagna and chili into the second freezer. I've been doing a lot of baking at home and decided to make a couple big batches of pizza and wheat rye bread dough before leaving. I'd divided each batch into 4 balls packed into Ziplocs and frozen them. On the day we left, two of each went into the Engel and the rest in the trailer fridge to slowly defrost.
Our first night at Zion, I let one of the balls of pizza dough come to room temperature and then, with a lot of flour on my hands, pressed it flat on the cover that folds down over our three burner stove. I'd read that keeping a pizza stone in the Airstream oven can help to even out the heat. The other advantage? You have a pizza stone! With the oven and stone preheated to the tick mark above 450 and below "Broil,"  I pre-baked the crust for a few minutes until it started to puff up. I then loaded it up with sauce (canned, we like the one from Muir Glen), grated mozzarella, pepperoni and artichoke hearts and put it back in while we walked around outside, taking pictures of the sunset on the rocks surrounding the campground.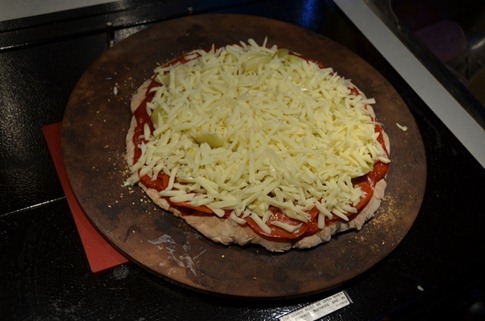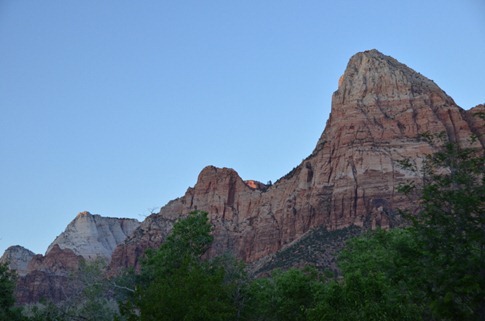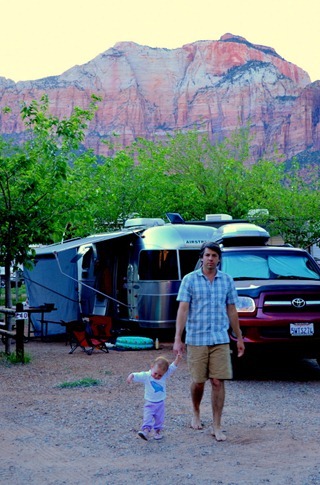 After about 20 minutes or until the cheese was just a little brown, it was ready. I'd actually done a little experiment on this one, putting the pepperoni and artichoke hearts on before the cheese so they wouldn't dry out. While everything tasted as good as ever, the sauce and toppings formed a slick layer on top of the dough that caused the cheese to avalanche off with each bite. Next time, I'll return to my usual technique and just enjoy the crispy edges of the pepperoni.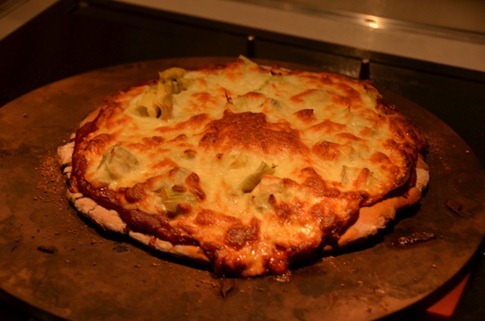 We'd gotten some great info on hikes in Zion from Amanda and Tim, more full-time Airstream travelers who blog at Watson's Wander, but were aware that we would be subject to the endurance and whims of a 16 month old. We set our expectations low, but were excited to get out and at least see a little of the park the next day. We were blown away by the beauty and what we were able to accomplish.
Hiking post coming up next…