While we'd like to think that we'd eventually be able to serve a dinner for friends using only things we've been able to produce on the farm, thus far, all we've really been able to make is carbonated water. Somehow, the sparkling mineral water that we often like to drink instead of a soda has become a symbol of a new way we're starting to think. Still, the first time we saw a SodaStream, a countertop device that pumps CO2 into tap water to make it taste like that fine Italian mineral water we like so much, we said, "Oh, come on, that's ridiculous." But after a little thought about the 10,000 mile diesel-powered journey that the green bottle in the refrigerator must have made, the second time we saw it, it was "So, what does it taste like?" Pretty much the same as the fancy stuff, it turned out. But there's another company only a couple hours away in Calistoga that also bottles mineral water and uses a lot less energy to get it to us. Of course as the empty bottles - even after switching from individual servings to the larger size - started piling up in the recycling bin, we started thinking, "Actually, that thing makes a lot of sense for us." With a wedding gift card to Bed, Bath and Beyond in hand and confirmation that the CO2 cartridges are refilled and reused by the company, it became "I MUST HAVE IT!" and our brand new line of "Dave and Ann's Farmstead Fuzzy Water" was born. Of course we can only make one bottle at a time, and we drink that one ourselves pretty quick…
Whether it was seeing the aisles of processed food in every supermarket in Central America, shipped in from around the world, or the garbage and pollution overtaking the countrysides, making a self-dependent life less and less possible for the locals, at times we felt like we were looking into the future. Of course, the same could be seen in the US, but we have some measure of controls and regulation to slow the progress and educate the population. And perhaps, we have the disposable income to make better choices about what we eat and how we want to live. We returned from the trip committed to exploring how we could be making those better choices. 
My point is simply that, more than ever, when making choices about our consumption, we're trying to be conscious of the costs, less at the cash register, and more to the environment and community. Of course, there are pitfalls to this pursuit. First, there's the fact that you can annoy your friends with your unbridled self-righteousness but we tend to counteract that by completely contradicting ourselves and ordering a full Pottery Barn bedroom set from time to time. And second, it's not always easy to know or consider all the facts; For all we know the SodaStream company could dump toxic plastic waste into a river behind their plant, and Pellegrino might be working on an algae-powered undersea pipeline that doubles as a habitat for a rare species of grouper. But we're trying and so far, we've found buying local to be a great way to get to know our new community and have had great luck with the local services we've found off Yelp.
Still, at some point, we're going to want to produce something more than water with bubbles on the farm, and to that end, progress has been continuing on the garden. You may remember that we tore down a ratty fence off the small greenhouse and mowed and tilled a space about twice as large. My project has been getting that area fenced, and I had plans for what amounted to a fortress around our precious seedlings. Lucky for me, in an extreme example of neighborliness, Bruce from the house behind us stopped by one day. "Hey, I've got a 12 inch auger I borrowed from a guy up the road mounted on my tractor. Want me to come by and drill your fence post holes?" That Saturday morning, Bruce's blue New Holland tractor rumbled down the road carrying him and his two kids as well as a really thoughtful housewarming present of a bottle of wine and two sets of work gloves. I saw them first so dibs on the flowered ones!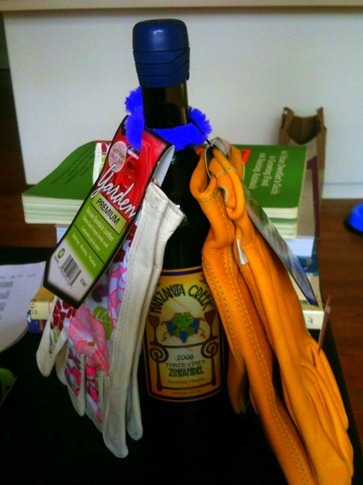 Tractors have what's called a "power take-off" (PTO) that allows a variety of attachments (say "implements" when you're talking to someone who owns one) to be powered by the engine. You can hook up mowers, tillers, or in this case, a huge drill.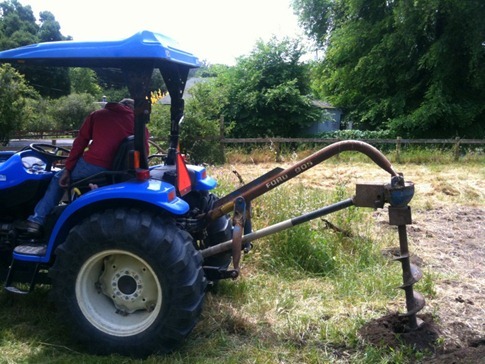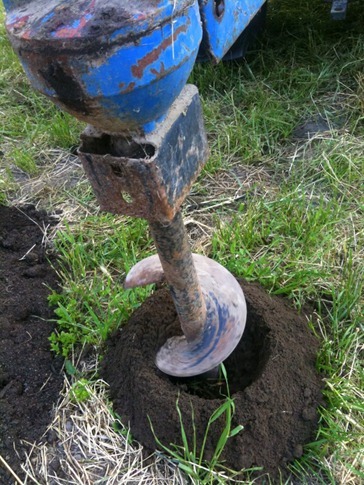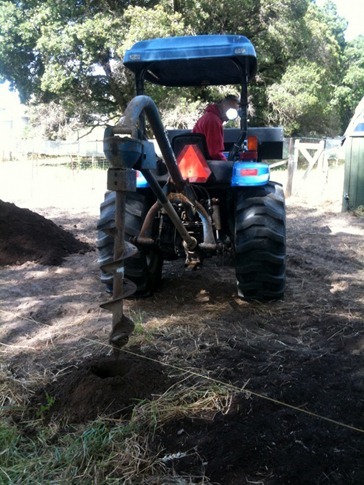 Twenty minutes later, 15 holes 3 feet deep and 12 inches in diameter - what would have been hours of back-breaking work for me with a handheld posthole digger – lined the garden perimeter. When I told Bruce the trouble I'd been having connecting with a guy on Craigslist about some 9 foot tall, 5 inch diameter treated vineyard poles, he insisted I come up and take a look at some he had lying around the back of his property. What a nice guy. They were just what I was looking for and were loaded in the back of my new utility trailer soon after.
On that note, despite my desire for a big ol' bad-ass farm truck, I finally decided that a 6' x 10' utility trailer towed behind the "expedition vehicle" would serve the purpose for now. And within the first week of having it, I had already loaded it full of stuff that never would have fit in the beds of most pickups. Best of all, I can load it up with tree trimmings throughout the week and only hook it up when I'm ready to unload into the sizeable pile I'm developing up near the chicken houses. The goats think I'm a food truck.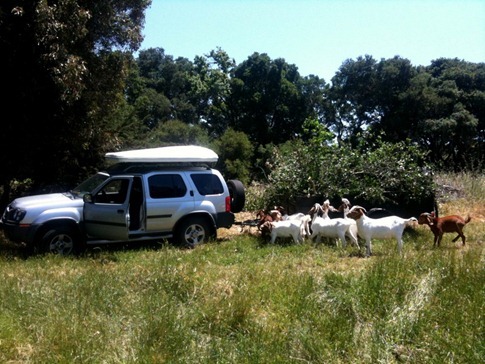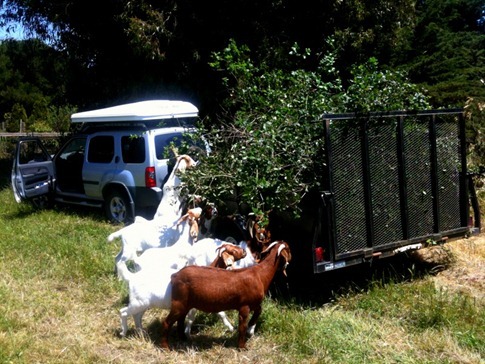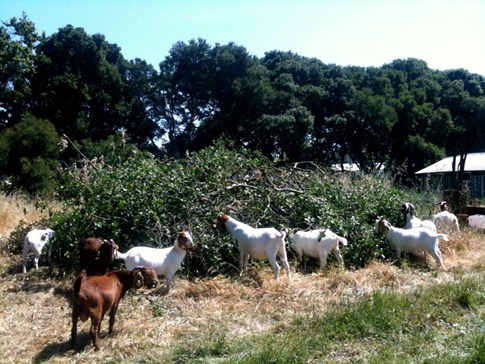 After a few days of laying out the the tall posts in the holes and setting them in place with concrete, I took an hour for some fun building a garden gate. With no real idea of what I wanted, I just tried to use every inch of the four pressure-treated 2x4's I'd bought and ended up with a cool double "Z" that not only feels solid but might just become the brand of the Zimmerman farm. Note that to set the posts plumb, I used a level on each side and then wedged them in position with 2x6 supports that will later be top boards on the fence.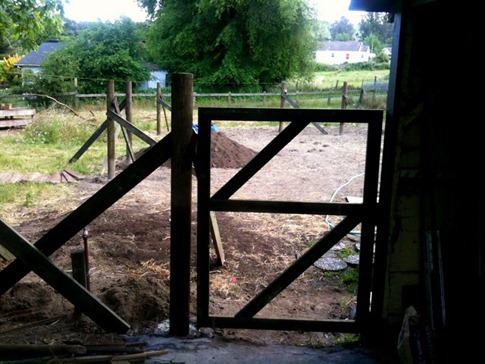 After the cement had cured, our little Xterra was pressed into more service that would make her long for the potholed roads of Costa Rica, as an anchor while my friend Jim and I pulled the six foot tall, deluxe woven metal fencing tight around the new posts. It was about 5 years ago that I first learned what a "come along" was; My dad's idea of farm work was young San Francisco Giants players spending two years in the minors in Fresno. A big, burly rancher guy in a wide white hat and deep blue, creased Wranglers handed me one of these human-powered mechanical winches at a bluegrass festival where I was suspending a shade tarp over the audience area. I accepted it confidently and proceeded to scrape all the skin off every knuckle and spend the next two hours at the top of a 24 foot ladder in constant fear that a tensioned cable would decapitate Alison Krauss. But after the past five years of increasingly complex rigging, I now actually knew what I doing, and with my brand new come along pulling tension from the rear bumper of the Xterra, we got the fence up and stapled in place with my pneumatic nailer.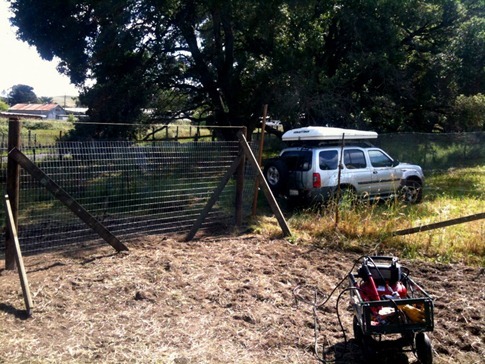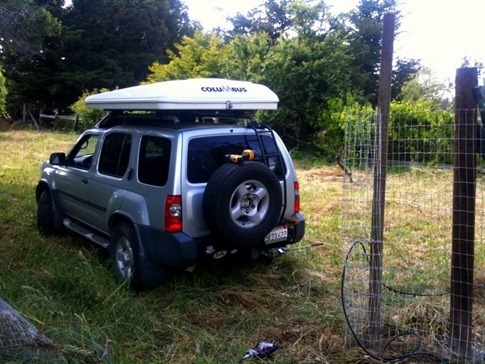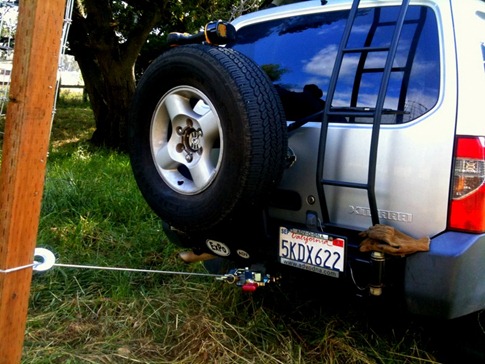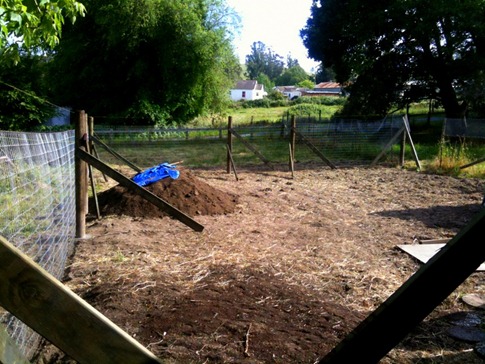 While I was checking out the vineyard poles, the neighbor Bruce had also insisted that I take a look at his new planter boxes. He'd heard about a mushroom farm a few miles away that had gone out of business after the EPA realized that the runoff from their operation, thick with over-nutrified compost and a strong dose of pesticides, was running directly into the Marin Creek behind their operation. Now, they were selling off hundreds of the 4x8' redwood compost frames, probably $75 worth of thick 2x8" wood, for $8 a piece, and Bruce had converted them into raised beds for his garden. We made an appointment to meet the owner, hooked up the new utility trailer – another case when a pickup wouldn't have been big enough – and loaded up two trips worth, enough to make 7 planters, for a grand total of $112.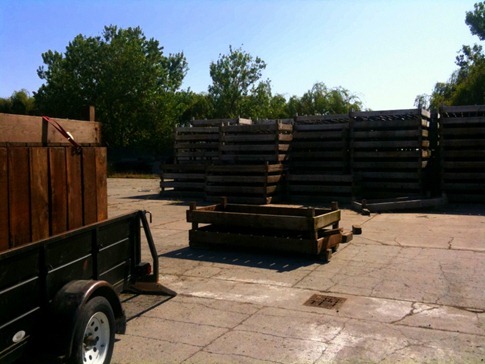 Over the next couple weeks, I slowly figured out the best way to dismantle the frames and put them back together as 15" high, 4x8' raised beds.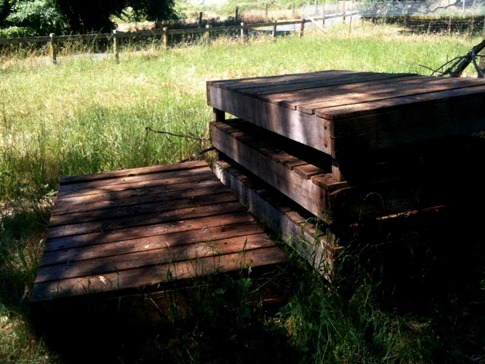 A pry bar was tearing apart the paneling on the top of the frames, but my cordless SawsAll worked like a can opener around the edges to slice through the nails and free the boards.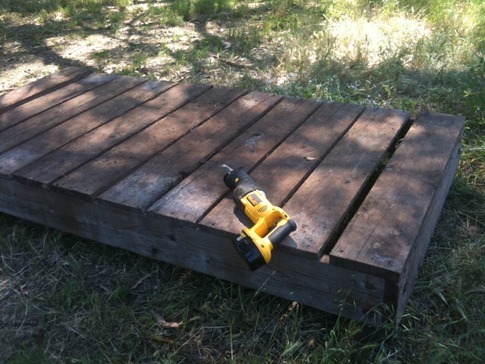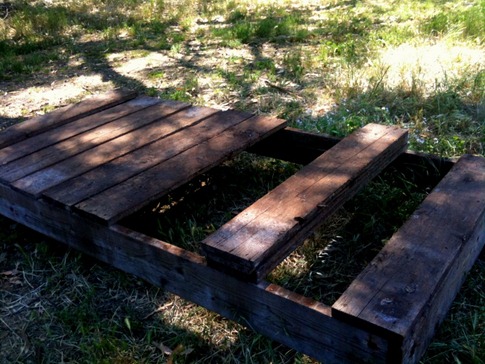 Each frame yielded a wagon full of "rustic" redwood that would be perfect for paneling a chicken coop or maybe making some furniture down the road.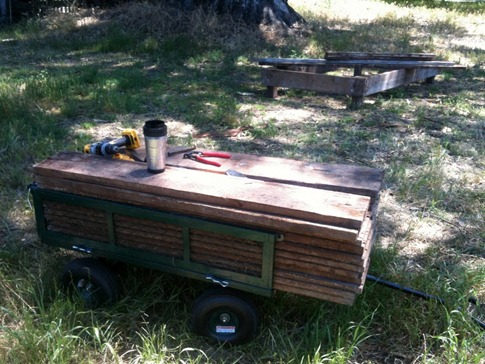 Sometimes I feel like a homeless person as a putter around the property with all my possessions in a wagon, but these things, one larger and one smaller, have been incredibly useful. Notice how the sides and back can be dropped to make a flat bed.
The frames then required some cleanup to remove as many nails as possible. The running joke on Habitat for Humanity building projects is that they're the most thoroughly nailed houses in the world because volunteers are just told to keep putting in nails to stay busy. Lucky for me, that provided plenty of opportunities for me to come by and make jokes about "getting hammered" on the Habitat project where Ann and I met. Based on the number of nails I had to pull from each of these frames, there must have been a lot of flirting going on while they were being built.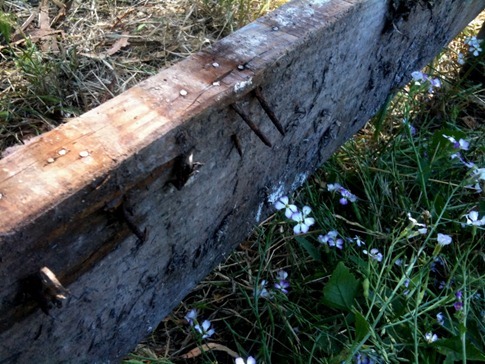 These nasty edges will be hidden in the final product.
There was no way the nuts on the rusty carriage bolts in the corners of the frames were going to turn, so the SawsAll came out once again to slice them off. Hammering them out from the inside showed that there wasn't much metal left after years in contact with the wet compost.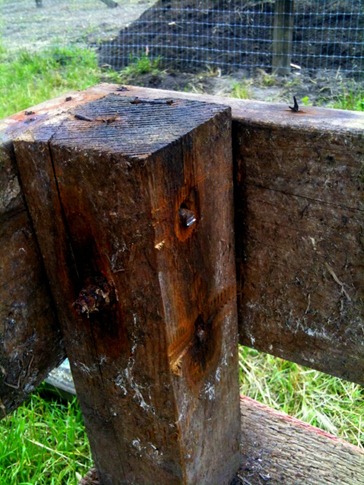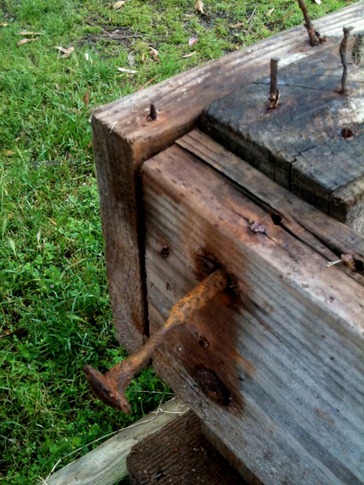 Wood from one completely disassembled frame was then added as a top row to a frame with just the paneling removed for a combined 15" height. Note that wood that's called 2x8" is actually 1.5" x 7.5".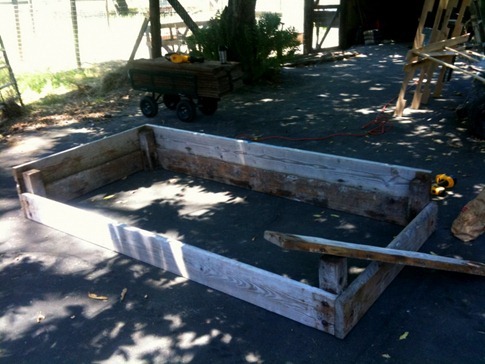 While we were building the beds, Ann's mom came out to visit. We let her put her stuff in the guest room and sit for a full 5 minutes before we pressed her into service stapling wire mesh onto the bottom of the beds to keep the gophers out.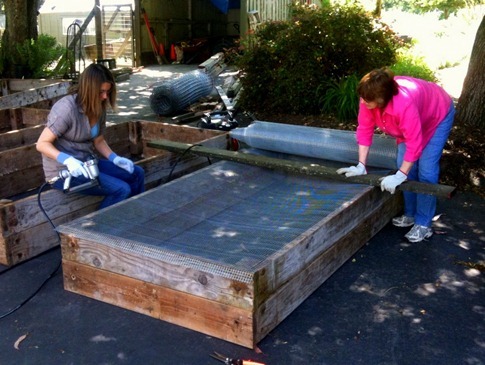 I'm thinking about submitting this shot in to one of those magazines where guys send in hot pictures of their chicks.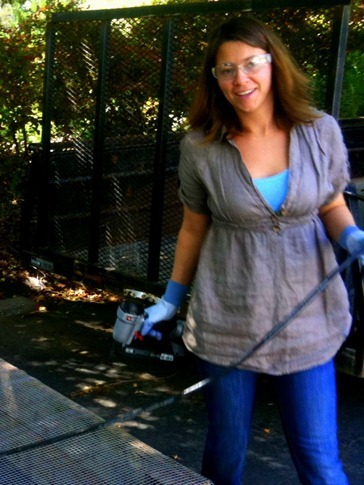 With the money saved on the wood, I had absolutely *no choice* but to justify the purchase of a pressure washer. I know, I was in a tough spot, but the satisfaction of blasting away years of muck and revealing clean wood was the real payoff.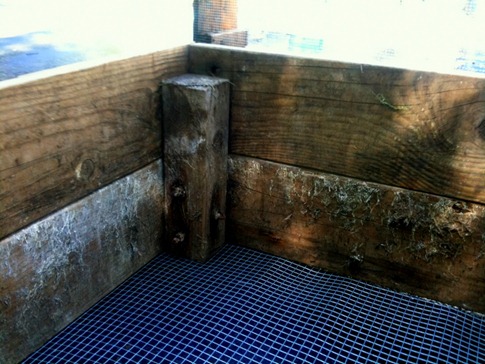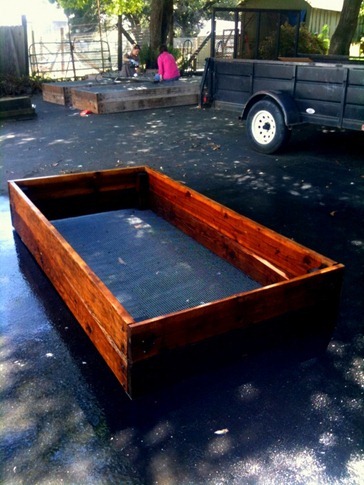 To continue the neighborly goodness, Al on the corner yelled over the fence that he was having some soil delivered from the local compost company and asked if we wanted any. A retired finish carpenter, he'd taken the liberty of calculating the volume of the beds we were building and figured out that we'd need about 7 cubic yards of soil to fill them. We gave him some cash and the next day, a truckload of soil magically appeared in the yard.
We put the wagon to work again, first moving the heavy boxes into their new places in the garden.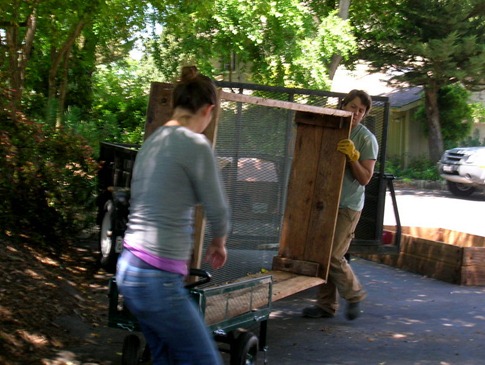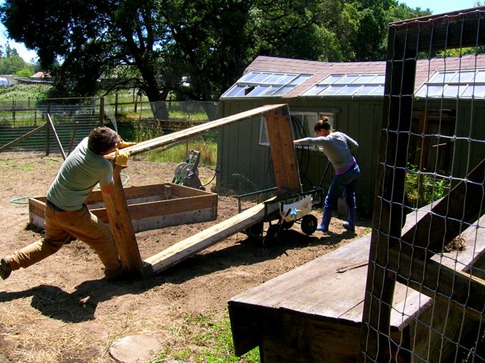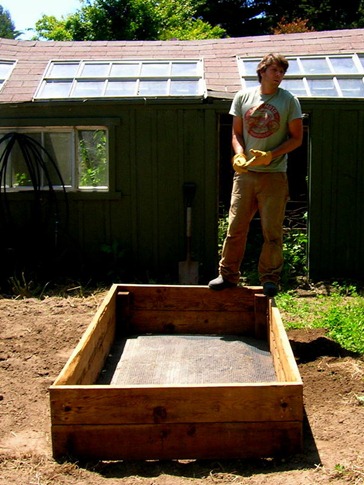 And second, dumping countless loads of soil. The tarp provided the dumping action.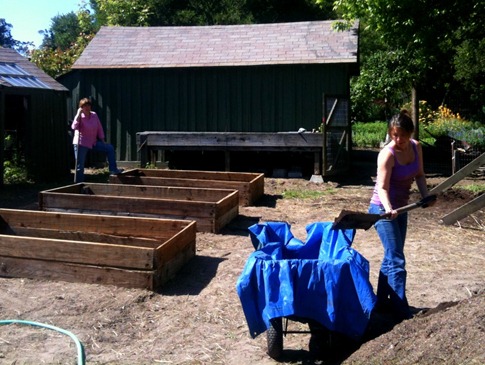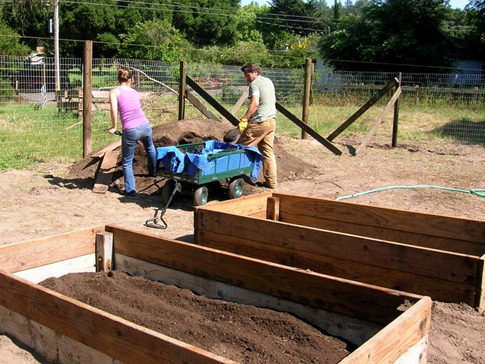 I convinced Ann's mom that the poles needed to be watered because I wanted the fence to grow taller. Actually, she's keeping the cement holding up the 4x4's I set in between the vineyard poles damp while it cures.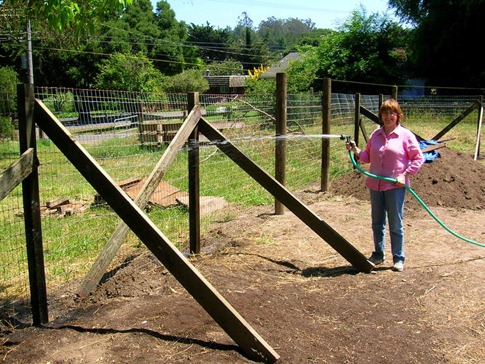 With two beds filled, Ann and her mom got down to planting corn, melon, beans, tomatoes, carrots, lettuce, cucumber…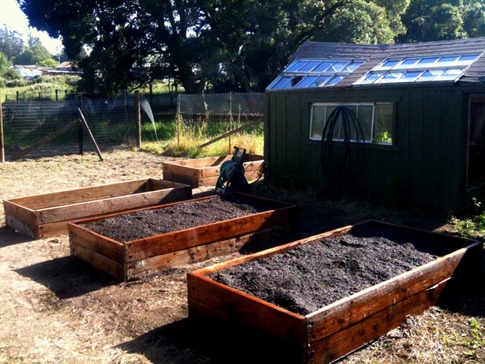 … and garlic right from the clove.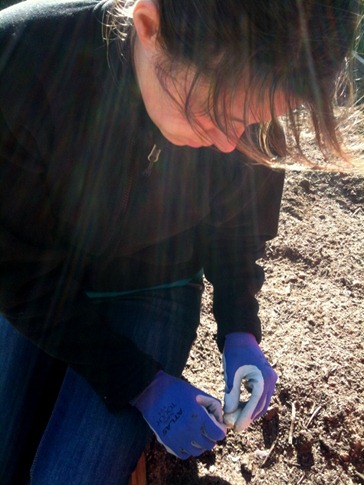 With the addition of the 4x4 posts and the 2x6's secured as top boards, it started to look like the fortress I'd imagined. Except that every time the new fence met an older section, I'd decide to tear down it down and extend the new fence for one more length.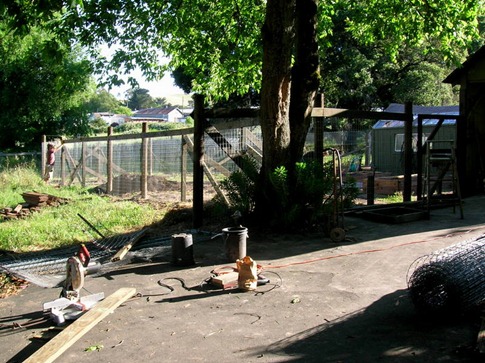 Be careful about coming to visit us; We might just put you to work. My brother's family found themselves hauling dirt and nailing fence boards after stopping by for lunch.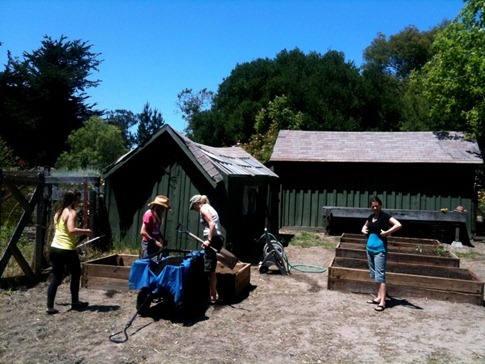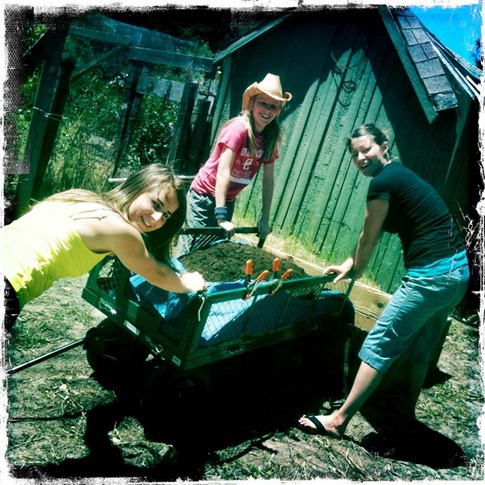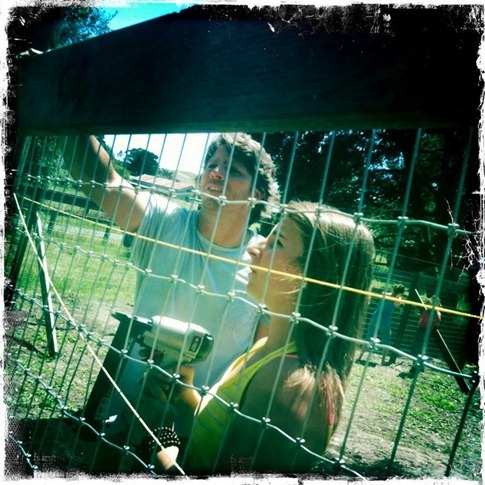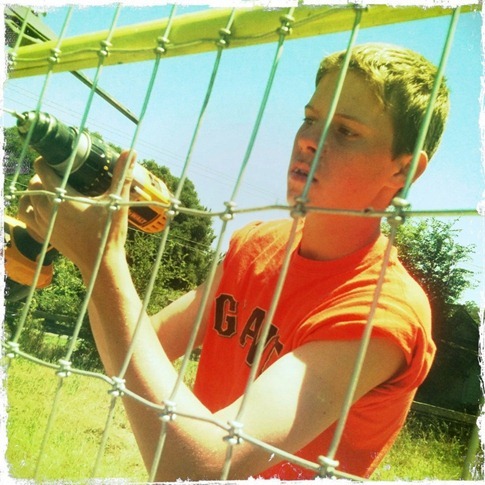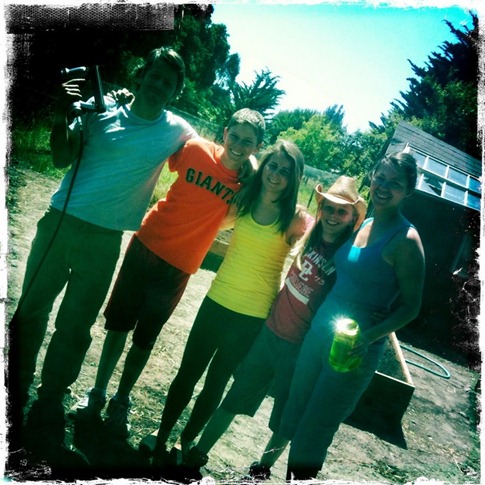 We're feeling like we're really making progress now…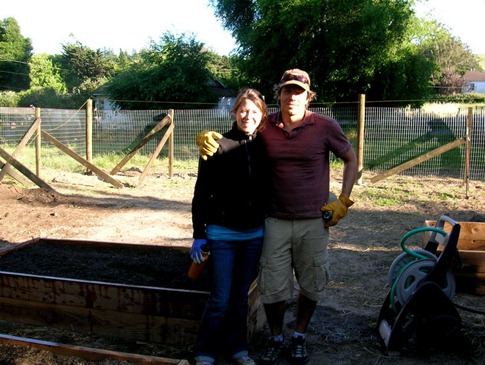 … and within that week, we started to see the first stalks of corn peaking up through the soil.