Laguna de Apoyo to the Costa Rica border at Penas Blancas took about 2 hours, including stops for pictures of Volcans Concepcion and Maderas that make up Isla de Ometepe in Lago de Nicaragua. There are supposed to be great fincas, small homesteads, on the island, many owned by gringos, where you can stay for a few days. A ferry leaves from San Jorge on the southern coast of the lake and with a reservation, can have you and your car on the island in an hour. If Ann did better on boats and we weren't so excited to get to Costa Rica, it would have been on our list. As it was, a night on Laguna de Apoyo did the trick.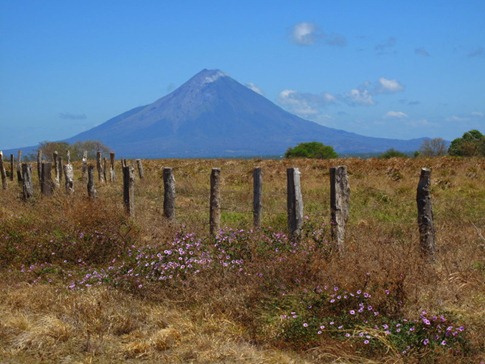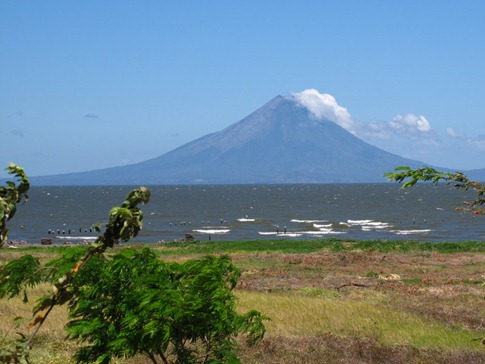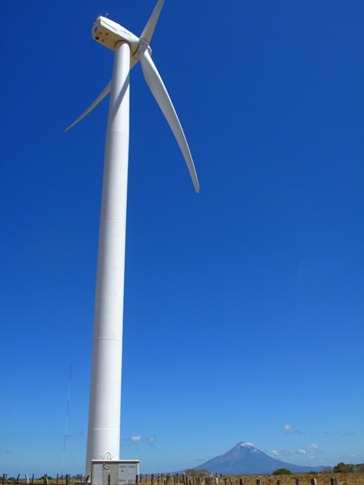 Since Mexico and Guatemala, there have not been as many random donkeys by the side of the roads. As such, I've had many fewer opportunities to point at them and say "Look at this jackass" as we speed by. This has negatively affected my mood. Nicaragua, however, has provided an alternative, although I'll admit that saying "Nice melons" is not quite as fun.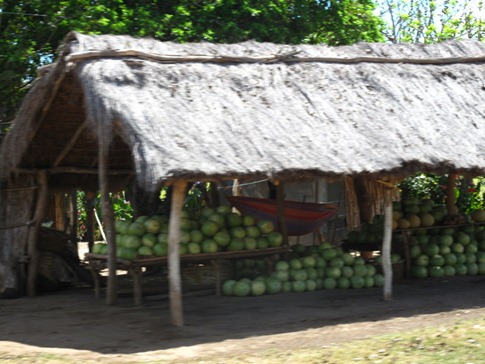 As we approached the border, a line of trucks a couple miles long filled the right lane of the two lane road. We'd read a few accounts of the crossing and knew we could bypass the line and go right to the front. Still, oncoming traffic in the opposite lane had some input in the matter.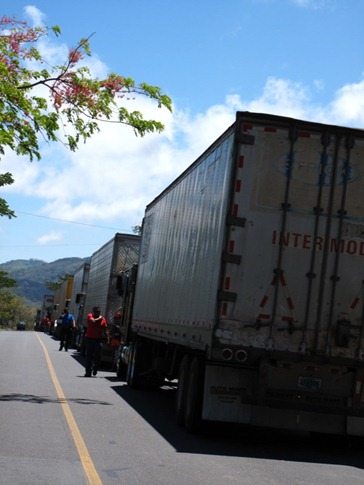 At the border, the usual swarm of helpers saw our plates and gathered 'round. We said our "No gracias" as they shouted out our next steps. Guys, it's not that I know what I'm doing or doubt that you do; I just need a second to have a look around and see if I can figure it out myself. An official at the first checkpoint scrawled something on our vehicle permit and pointed down the road. To the left, a line of trucks was jockeying to cross the road ahead of us, and beyond them, we saw a blue sign for parking. We found a spot in a lot filled with busses and were approached again by helpers and money changers. We just tried to smile and act like we'd done this a hundred times. At this point, we'd done it 6 times but each had been just different enough to make us feel like we were starting over.
I finally asked a guy in a white uniform where Nicaraguan Immigration is, and he pointed to the unmarked building in the back left corner of the parking lot, closest to the Nicaraguan side, like it was the stupidest question he'd heard in his life. It was hard to tell where the entrance was but people seemed to be crowding in a side door. As I approached, more helpers were waving small white forms at me. I ignored them and walked in. Inside there was a line in front of two computers manned by agents at a table on the far end and two more on a table to the left. At the front of the line, I was given one of the white sheets, like a customs declaration form you get on an international flight, and got back in line at the end while I filled one out for each of us. One of the agents at the side table started randomly calling people out of the line. I was able to slide into a spot in front of him. He took the white sheet, stamped our passports and asked for $4. I paid him and he wrote out a receipt.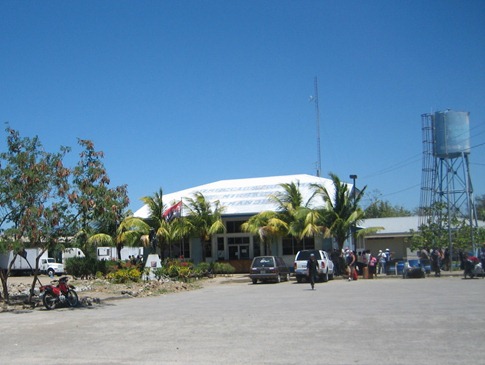 Farther down the parking lot, towards the Costa Rica side, people were lined up on both sides of a small building with counters and windows. With all signs in Spanish and not particularly clear, I did a couple laps and settled at a window with a few helpers attached to gringos. The window said something like "Unica Turistas" or "Tourists Only." The British woman in front of me was trying to explain to the agent that the car was titled in her name; It didn't matter, the agent explained, and insisted on having the man she was traveling with sign the forms. When I got to the window, the agent said I needed stamps from "an inspector and the policia" before she could cancel our permit. She pointed back towards immigration. I confirmed with her that I could find "an inspector and the policia" back there.
We drove back over towards immigration where I wandered around looking for anyone in a uniform. Another helper approached, and I figured I'd at least try to get some information. I showed him the vehicle import permit and told him about the signatures I needed. He gave the pitch about how he could help and was only paid in tips. I confirmed with him, "Como unas dolares?" (like a few bucks?) and he said some people give him $5 but whatever I wanted. With no idea where to find the signatures I needed, I agreed. With my passport, license and the vehicle permit, he raced up onto a concrete landing where bus passengers were having their suitcases searched. He lingered behind a couple agents, and when they looked up for a breath, jammed the papers in front of them. They signed. He did the same with a police officer on the platform. "Vayase con su esposa y se encontrara en Aduana." Go with your wife and I'll find you at customs. With that he sprinted off towards the other building, and we followed in the truck. By the time I got up to the window, the customs agent and another police officer sitting next to her just had to glance up at me and hand me my canceled permit. I gave the guy $3 which was money well spent.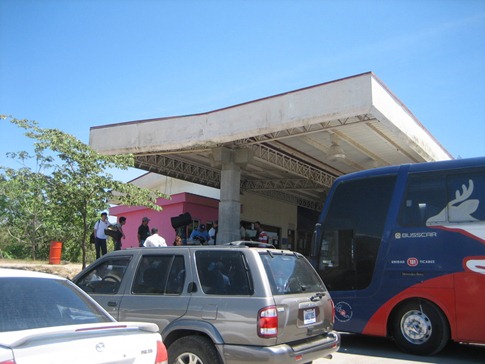 At the final Nicaraguan checkpoint, a young agent looked at our passports and the canceled vehicle permit. He then said we were missing one signature. We told him we'd gotten both "an inspector and the policia." He said we needed one more, another inspector. We explained that we'd used a helper and that he'd assured us we had everything we needed. With that, he just shrugged and waved us through.
So, final analysis on checking out of Nicaragua? I'd say, just grab a helper at the first checkpoint. Tell them you'll pay them $5 for helping with immigration, getting inspection and police signatures and canceling the vehicle permit. Then pull into the lot on the left where the blue sign for parking points you. Park in the back corner towards the Nicaragua side. Deal with immigration there, have the helpers get your signatures, then follow him to customs to get the permit canceled. Took me about an hour but with a helper, I bet you'd be done in 30 mins.
On the Costa Rica side, there was a checkpoint where a guy wrote down our plate number, but I don't think we stopped. We were directed through a fumigation process which consisted of driving through some little puddles and being sprayed like a car wash, presumably both with some nasty pesticides. A building appeared in the center of the road, and we went around it to the right where we were swarmed with more helpers and money changers. These guys really had no business being there since, despite being unsigned, immigration was easy to find in the building on the left. I filled out two more forms for us and our passports were stamped in a matter of a couple minutes.
Across the street at the clearly marked Aduana window, a nice woman asked a few questions and told me we needed to buy insurance and get some copies. Back through the immigration door, the first office on the left sold insurance for $6,735 for three months. Oh, wait. I should probably specify that that's in Colones which are 500 to the US dollar. I went out to sit in the truck for a second while figuring out that the 1000 Nicaraguan Cordobas we had (22 to the dollar) would be worth something like 23,000 Costa Rican Colones and changed some money. With our $13 worth of insurance and copies made in the same office, I returned to the Aduana window where I filled out a form with some general info about the truck. The woman stapled it all together and told me they could issue the vehicle permit with this packet of info up the road at the main Aduana. Still confusing as hell, but at least everyone was being helpful and nice.
It took us a few laps around and near head-ons with trucks to figure out that Aduana was exactly where the sign pointing to the right just beyond the immigration buildings said it was. We finally got up the courage to drive right into the parking lot full of eighteen wheelers and snake our way around to the back. We found a building with loading docks and at the far end, I entered a delightfully over-air conditioned office with a couple windows. A guy in a John Deere shirt took my papers, and a minute later, handed me our permit.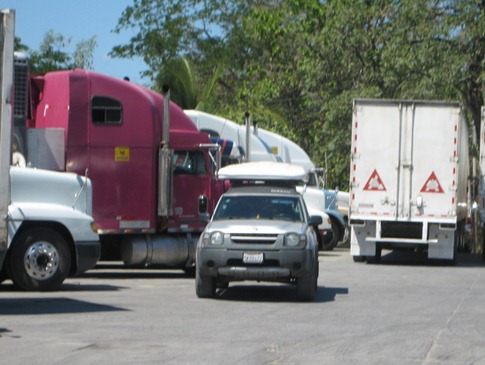 One more time past a long line of trucks to a checkpoint, and we were on the road in Costa Rica. Note, within 30 minutes of crossing the border, we were stopped at two checkpoints and asked for passports and vehicle permit but no funny business.
So, Costa Rica side rundown. No helper really needed. Change at least $20 or so into Colones (that's 10,000!) as you pull up to the immigration building. Immigration is through some doors on the left next to an old bus ticket kiosk. A sign inside the doors says something about a bank. Keep going to the back. The s]process is easy. On your way out, buy insurance (in Colones only) at the office you passed walking in. Get the usual copies (license, passport stamp page and picture page, title) plus a copy of your insurance. Give those all to the lady at the Aduana window across the street and fill out her form. On the right about 300 feet, look for the Aduana sign and turn into the crowded parking lot full of trucks. Go all the way around the building to the left and in the doors on the far end. You should be enjoying the AC and about to be in CR.
Once in Costa Rica, the weirdest thing happened; There were road signs with mileages (or at least kilometerages). In Liberia, we turned southwest towards the Nicoya Peninsula. We stocked up on groceries at the junction, stung by prices at least as high if not higher than in the US. Then again, can one really put a price on Honey Nut Cheerios? We opted to bypass the Papa John's and Subways and headed towards Playa Brasilito, mostly because it had been starred in the 2006 Lonely Planet we borrowed from our friend Vera.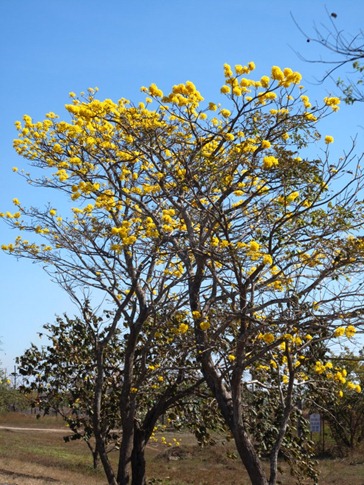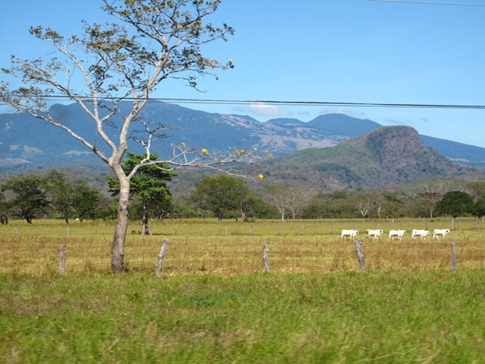 Soon after, we were settled in the yard of the Brasilito Lodge, something of a dump but with a location at the end of the few shops and restaurants in the tiny town and right on the beach. It was fun to be camping again, and we remembered how much we liked the way we had the truck set up. We walked up the empty beach at sunset, soaking in our first night of the Pura Vida.