If you've only seen one picture of Guatemala, it might very well have been of the deep blue Lago de Atitlan with Cerro de Oro and Volcan San Pedro rising steeply from its shores; Volcan Atitlan and Volcan Toliman, though taller, are hidden just to the south. Long having been one of Guatemala's top tourist attractions, Lago de Atitlan has both thrived and suffered under the weight of tourism, experiencing tremendous growth and problems from crime and environmental destruction. Camping for two nights on its beautiful shore, we saw a little of everything.
On the way out of Antigua, we flagged down a couple with foreign plates on a Toyota 4Runner just to see where they were going and where they'd been. Turned out, they'd just rented a cottage on Lago de Atitlan for a month for $350 and couldn't say enough good things about it. Starting in British Columbia, they'd driven through the US and followed Mex 200 down the coast before turning, like us, up towards the Yucatan Peninsula. Unfortunately, they'd had a window smashed near Belmopan in Belize and lost their video camera. We're prepared to hear these stories, though we haven't actually heard many. And when we do, we want to know as much information as possible about them so as to reason away the likelihood of it happening to us. "Oh, well," we'd think, "We have the window break detector which would scare someone off before they could take something or tinted rear windows so they wouldn't have been tempted in the first place." But these things just happen, and it's a challenge to figure out what the real risk level is. Of course, we had the windows in the Xterra smashed twice in front of our house in San Francisco within a couple months of leaving for the trip. Generally, we try to leave the car where we can hear the alarm and try not to be an easy target.
Also in Antigua, I ran into a guy on a BMW 1200 GSA - the mothership of the venerable GS line to which my F800GS at home belongs - the extra "A" standing for "Adventure" in the form of an extended gas tank and a few other hard-core bells and whistles. From Holland but now living in Bolivia, the rider - who goes by the handle "Gertmans" on the ADVrider web site - had bought the bike sight unseen on eBay from a guy in Texas, registered it in New Hampshire to avoid paying sales tax, rode it to Alaska and was now on his way home to Bolivia where he expected to make a $4000 profit on the transaction. That's right kids; Drop out of school, live in South America and ride motorcycles for a living. He actually worked in other businesses and was doing this primarily for the adventure. I was secretly proud seeing his eyes light up in disbelief when I told him about Ann and I riding our bike 2up and fully loaded over the 13,000 ft passes two summers ago in Colorado.
We left the clean, cobble streets of colonial Antigua into a "real" Guatemalan town, streets overflowing with people shrouded in diesel fumes from the brightly-colored, repurposed school buses that function as public transportation and three-wheeled tuk-tuks, many with appointments rivaling the busses, careening through it all. But we soon wound up into the mountains, through pine forests and with glimpses of volcanic peaks, for more than an hour before coming to the junction for the brake-boiling descent to Lago de Atitlan.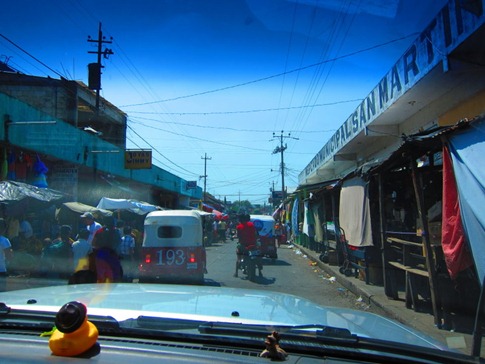 This guy has to ride with the eggs to keep them from falling over.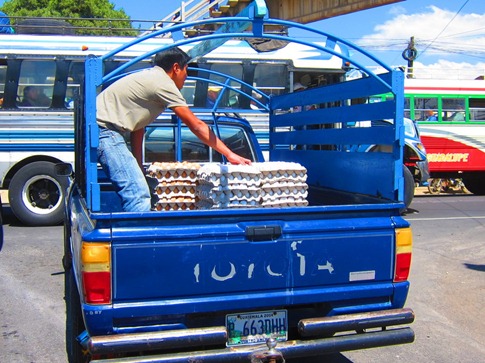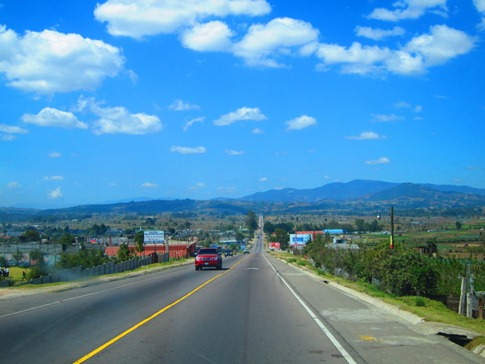 First view of the lake.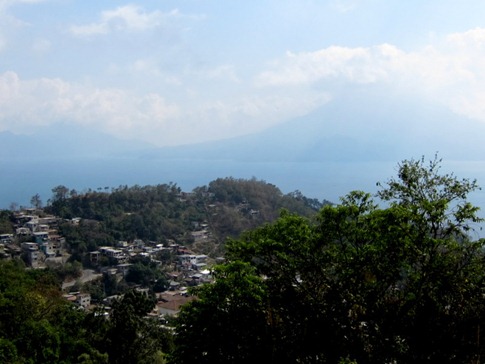 The grassy slope in front of the Hotel Vision Azul has a pool area and three palapas  with lights and electricity right on the water. We quickly decided that the main attraction for us of Lago de Atitlan was going to be sitting at our picnic table and looking at the two volcanoes towering over the lake. Some more entertainment presented itself in the form of a helicopter coming and going from a lakeside heliport belonging to the swanky hotel next door.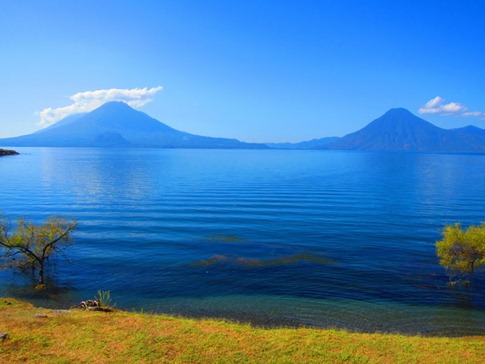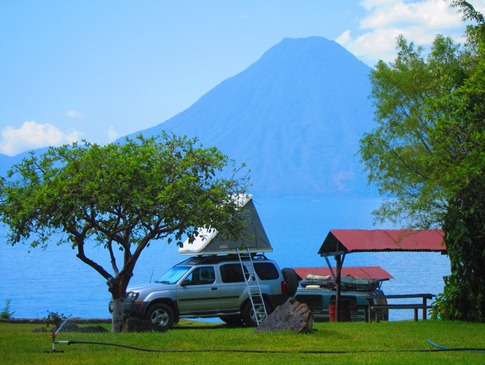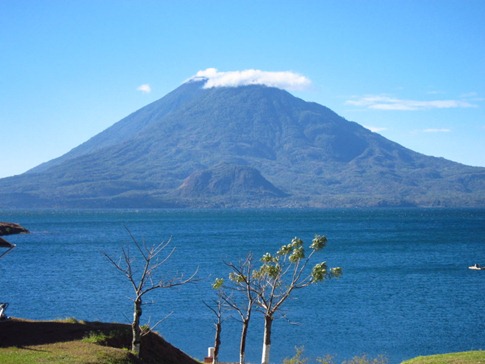 The view from the hill above. The boats are in front of the hotel with the heliport.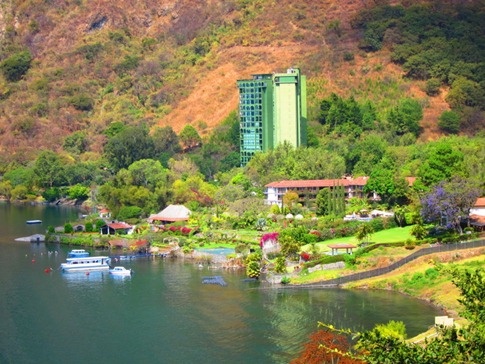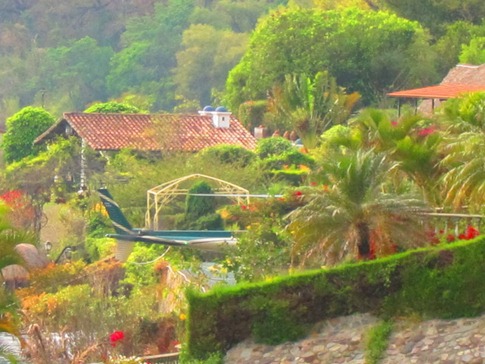 And our little trucklet is by the upper red-roofed palapa.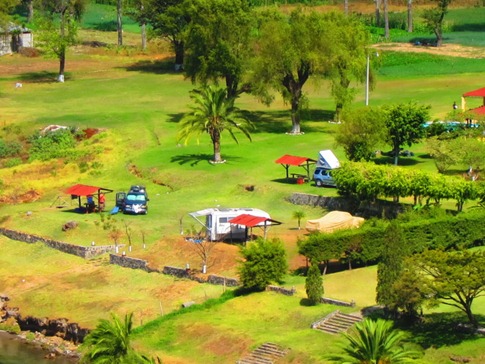 Weird succulent.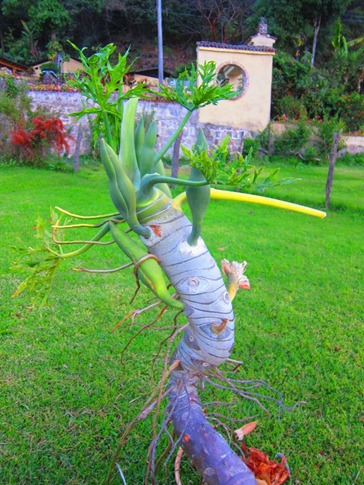 Espen and Malin had actually warned us about this little bird who would attack rear view mirrors in this campground, meanwhile crapping all over the side of you car. Some paper towel over the mirror seemed to do the trick.
Inconveniently forgetting James and Angela's warning about the restaurant at the Vision Azul, we walked up for a sunset snack. We should have been suspicious when we asked for a menu and they kinda shrugged and said, "Que quiere?" (What do you want?). Our "nachos" were stale Doritos with a thin drizzle of Cheese Whiz and a bowl of spaghetti sauce.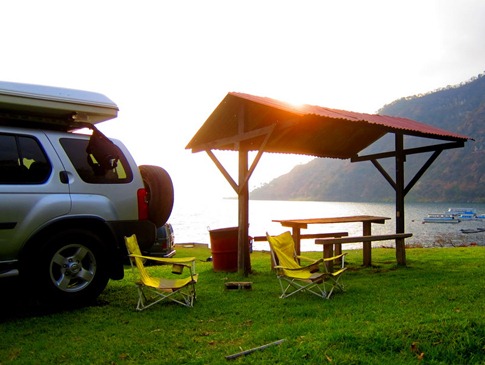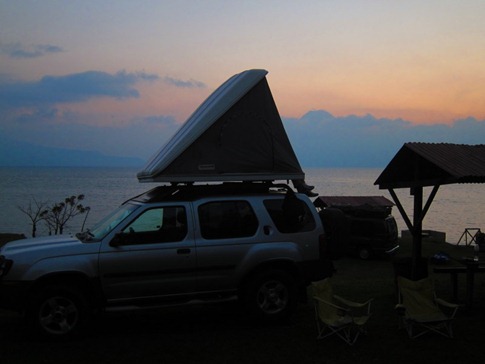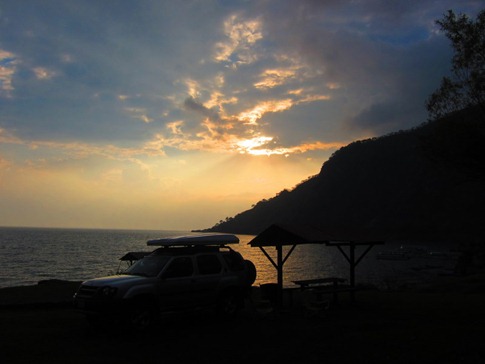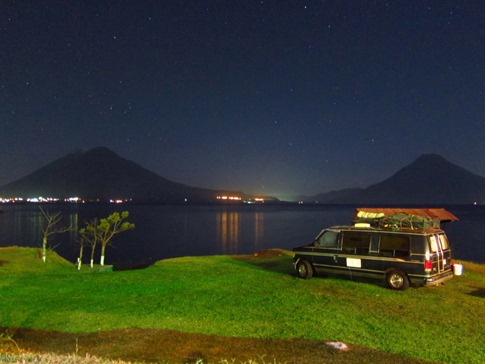 Honestly, we didn't find that the nearby town of Panajachel had much to offer. Calle Santander was bursting with shops selling cheap touristy crap and overzealous hawkers offering lanchas (boats across the lake), tours to the indigenous villages surrounding the lake, tuk-tuk rides, and cheap restaurants. Add to that a sketchy feeling down along the otherwise beautiful lakeside path, and we'd quickly had enough. We did manage to hide behind a tree on a rock wall where we could look at the lake for a while; With purple flowers weighing the branches down over the clear blue water and a local fisherman feathering a single paddle through the water to move his flat bottomed boat through the shallows, casting a handheld fishing line every few minutes, it was almost possible to forget what was behind us in the town. Cue the 5th guy in 10 minutes to stand behind us yelling "Cacahuates! Cashews!" When one of us would turn around and say "No gracias," he'd turn his attention to the other of us until they too turned around and said "No." It was clear he did not believe either of us had the authority to make unilateral nut-buying decisions.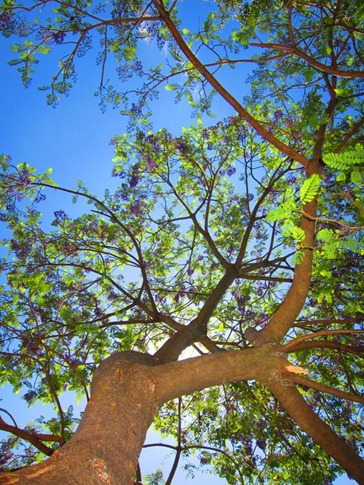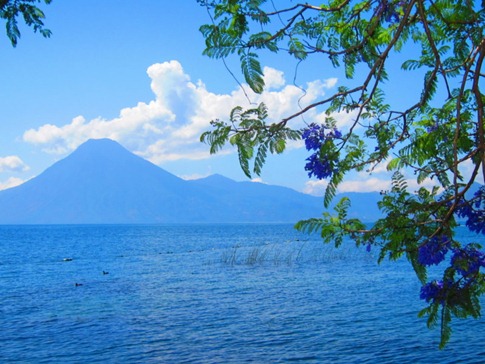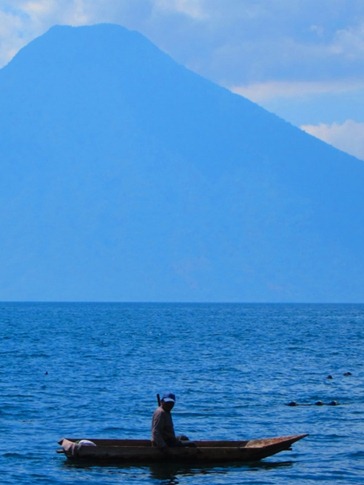 Though we'd just spent 13 days together in an apartment in a foreign city and about 90 on the road, it's really only when we're camping that we sit and have long talks or play games; There's just not much else to do, and that could be a good thing. That afternoon, we sat under our tin-roofed palapa playing Travel Scrabble and looking at the lake for a couple hours. The sky had been darkening for a while when we decided to zip up the doors and lower the rain fly on the roof tent just in case. Two minutes later, the clouds released a downpour. Rain hit the corrugated roof so hard and fast that it couldn't find the rusty nail holes scattered above our heads; Instead, the drops were pulverized into a mist that wafted back under the eaves. We retreated to the front seats of the truck to finish out the game – I beat Ann by the same embarrassing margin by which she'd beaten me in dominoes the night before – and watched a downloaded episode of "The Office" before the rain stopped. We went back into town for a mediocre dinner at a parrillada (grill) but couldn't be back in the 20 Queztal tuk-tuk that would barely have enough power to carry the driver and us up the hill to the Vision Azul soon enough.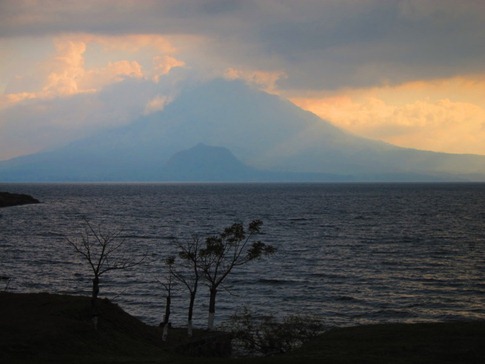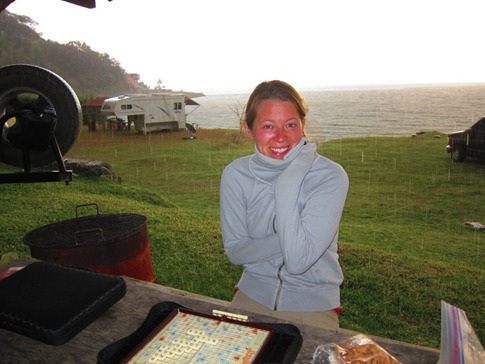 In the morning, for the second day in a row precluded from showers by a school group using the pool area for a St. Valentine's celebration, we drove into Panajachel to find a coffee place a missionary named Miguel on his way to South America in his converted van had told us about. Based on how fast Miguel talked, we gathered that this was the place for strong coffee. An assortment of gringos sat at the bar of the Crossroads Café where we met the owner, another Michael. We learned that he'd actually started the Union Square Roastery in San Francisco and had lived in Mill Valley before that. Our common roots earned us a tour of the "secret room" behind a bookshelf where burlap bags of coffee beans from the San Lucas area south of the lake were stacked high. For this load, he'd made the cash payment by speed boat and then hired a large van with a turbo diesel engine to make the pickup, explaining that unpredictability was the best way to avoid run-ins with banditos on the backroads. When we asked about driving this same road to San Lucas along the east side of the lake and south to connect with CA-2, he called a few people on his cell phone, consulted with a patrons at the bar who had driven it lately and told us "It should be fine," but then added a "but who knows" shrug.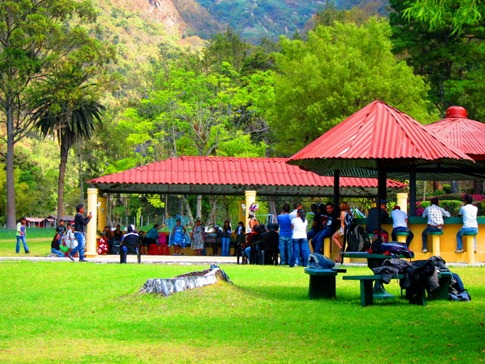 The road climbed steeply beyond a strip of auto parts and repair shops outside of Panajachel, at several places reduced to one lane by mudslides. We wouldn't have taken this route if we really thought it was dangerous, but still, I slowly peeked the truck around each turn expecting to see men with bandanas covering their noses and cheeks. I dunno, what do you think "banditos" look like? And no wonder they're mad; I mean, doesn't the word bandito mean "little bandits?" Kinda patronizing if you ask me. Instead of banditos, all we found was small towns with terraced hillsides and great views of the lake below.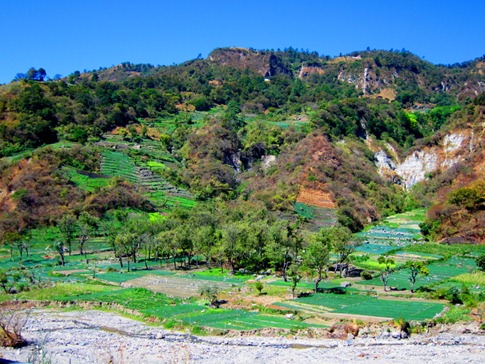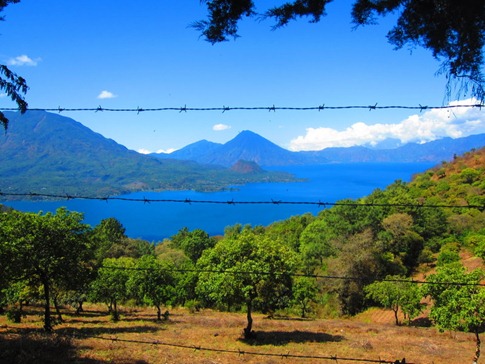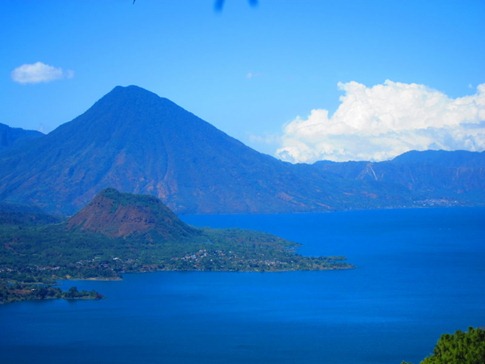 We asked a tuk-tuk driver at the next crossroads who again confirmed that the road was safe and, despite a couple wrong turns that were made much less disastrous by the new GPS maps we got from Espen and Malin, we made it through to the large coffee fincas on the south side of the Volcan Atitlan without incident. 
On CA-2, we were now driving eastward, south of the Fuego, Acatenango, and Agua Volcanoes that had loomed over us in Antigua.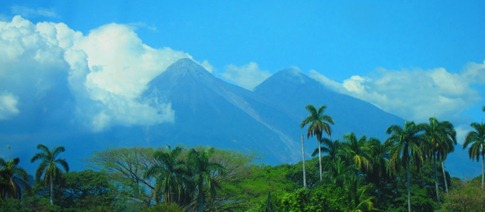 At the AutoMariscos, a roadside waterpark listed in the C & C book, we set up camp along a row of palapas with fans and stone picnic tables across the lawn from the pools and waterslides. We used to go to waterparks when I was a kid in the 80's, but they all seemed to close down soon after; Too many accidents and people suing. I was ready to relive some of my childhood, and the Guatemalan waterslides were just what I'd hoped for: lawsuit-imperviously fast and a little dangerous.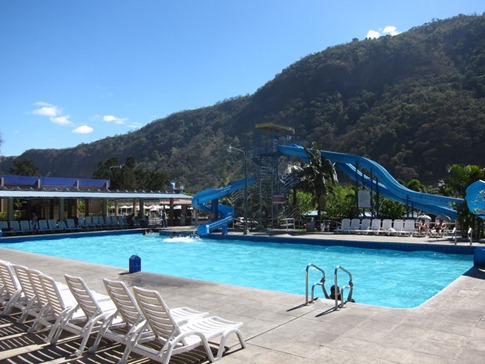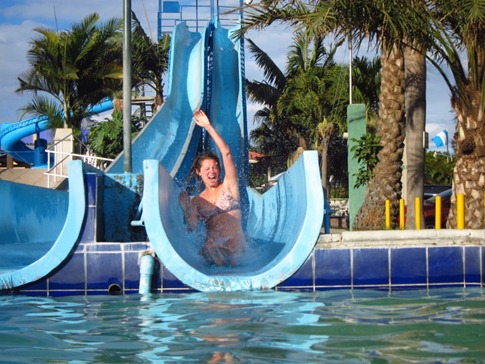 The sunset behind our campsite turned out to be the lights of Guatemala City.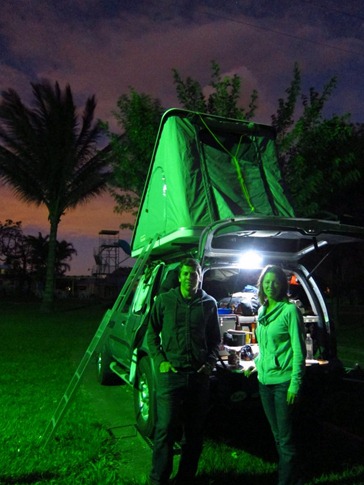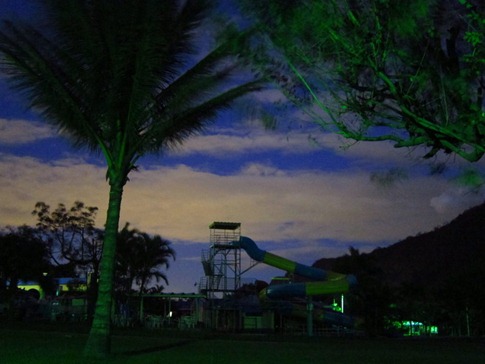 The reason we'd decided to stay in the area was to climb the Volcan Pacaya, one of the three active volcanoes in Guatemala. After a lazy morning, we drove about 30 minutes up through dirt roads that picked their way through tiny towns built on the volcanic rock. This was potentially just an exploratory trip as we'd heard that the best time to see lava was at sunset. In the parking lot at the top, we were mobbed by kids renting long wooden walking sticks and men offering horses and guide services. They didn't believe our claim that we weren't going until later but shifted their attention when another car pulled in. We talked to an official-looking guy. We based this evaluation mostly on his dirty, olive green jacket with a Pacaya National Park logo on it and his position in front of the 4ft by 4ft open-air shack with "Turistas Polica" messily painted on the side and and decided to overlook his lack of any front teeth or the fact that he looked like he hadn't showered in a month. While a guide is required to hike on the volcano, he also suggested paying a guard to watch the car and to be there if we descended after dark.
When we returned just after 4:30 pm, we were once again swarmed and reluctantly convinced that hiring horses for the trip up was the only way we'd make it in time to see the sunset. The five or six people gathered around us in the parking lot all nodded in agreement, not fighting over who would take us; This was the first thing that made us uneasy. We also met our "guard," a man with fewer teeth than the Chief of Tourist Police but with a confidence-inspiring walkie-talkie.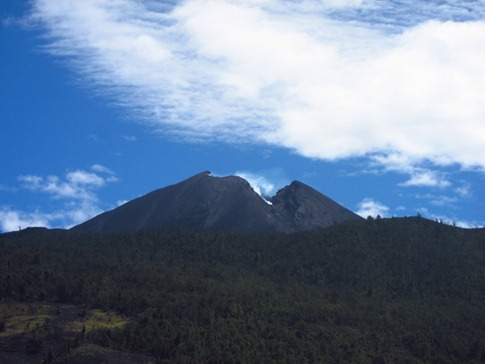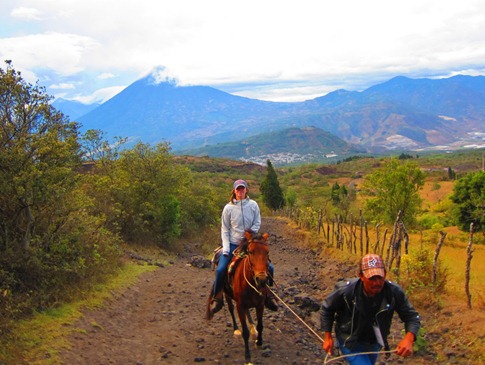 After regretting our decision to ride on the first stretch of mellow trail, we became happier and happier as the sand became looser and the incline increased. Not making us happy was the repeated use of the word "camionetta," meaning small truck, SUV or van – a description that's been commonly used for our Xterra – in the rapid and unintelligible conversation between the guides. Then came the cell phone calls that seemed to be apprising someone of our position, and we started to get more suspicious; It was starting to feel like a carefully choreographed ploy to lead the gringos away from their car for a set amount of time while it was stripped of its valuable contents. I offered a few exploratory "Gee, I sure hope our car is safe comments," both to feel out their responses and to remind them that we spoke some Spanish.  They'd have to be sneakier than having conversations right in front of us. Our guides assured us that the parking lot was very secure and that they were both members of a family who lived on the mountain and kept everything safe; The people we'd seen before were their brother and sister and their father worked as a guard above on the mountain. We felt silly for being so paranoid. That's when we heard a car alarm go off.
There are a lot of different car alarm sounds. You know, the one that sounds like a siren, or a buzzer, or alternates between the two sounds like a French police car playing Operation. But ours is just the horn, and it's loud. And we've developed a pretty keen ability to ignore the others, knowing that there's no reason to peek out the curtains of the hotel room to check unless we hear that distinctive horn. And that's exactly what we heard, far below our current position on the mountain and echoing in the valley so it was hard to pinpoint its origin. We were lead around the next bend in the trail and the sound faded into the distance.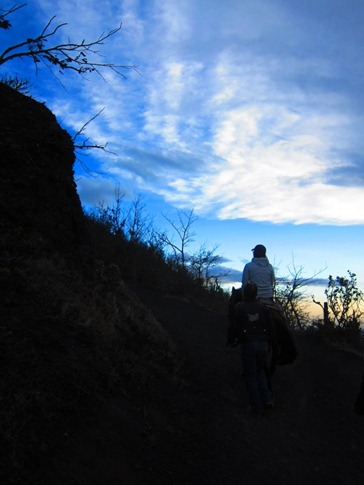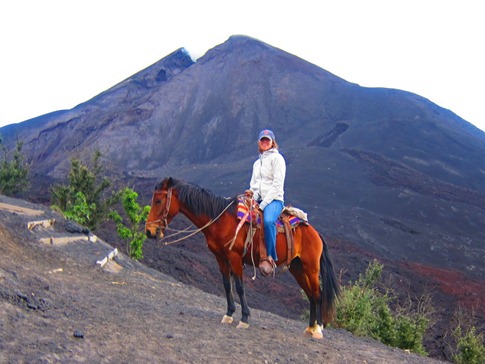 Unfortunately, from this point on, each minute of the hike equaled another degree of certainty in my mind that we'd be returning to a broken window. But we didn't really feel we had much of a choice. The only option would be to say we wanted to go down immediately, implying that we didn't trust our guides or their families and thought they were crooks. And for the life of me, I couldn't figure out the scam; We'd agreed to pay full price for the horses, guide and the guard. If they broke into our car, we sure as hell weren't going to pay and would make sure no overlanders or tourists in general ever came back.
And then there was the quality of the tour. We left the horses where the trail narrowed and crossed a barren slope of crushed volcanic rock. Above, smoke swirled out of the gash left behind after frequent eruptions in the past 50 years have blown off the iconic triangular peak. From here up, no plant life had been given enough time between eruptions to take hold. The last major eruption in May of 2010 rained ash down over Guatemala City and Antigua and closed airports, just a month after the more publicized eruptions in Iceland.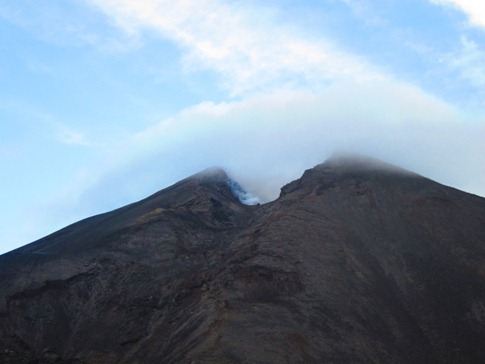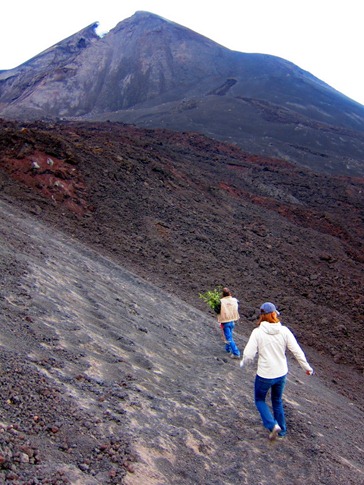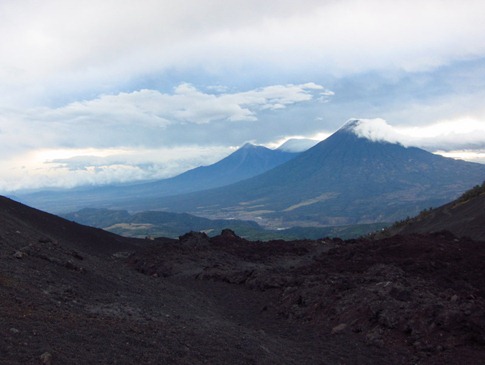 Our guide knelt down and picked up a handful of crushed rock from the windswept slope; It was warm to the touch. To further illustrate the point, he bent over a crevasse by the side of the trail and placed a bunch of branches he'd lopped off with his machete below tree line. Within 15 seconds, the branches burst into flame and were reduced to embers.
Nagging in the back of our heads: If this is a robbery set up, they sure are giving us our money's worth on this tour!
Below the smoldering peak, we reached as far as it was safe to go (and probably a little farther). Unfortunately, there was no flowing lava which we'd seen pictures of from other travellers, but we escaped the howling wind inside a small cave where the temperature immediately rocketed to the level of a dry sauna, at least 150 degrees Fahrenheit. Around the edges, three or four dogs curled into balls, hunkering against the wind, just close enough to the vent to stay warm. Apparently these dogs live up there and get just enough food from the tourist scraps to survive. The only casualties of the eruption in 2010 were 10 dogs that had been living near the vents at the time.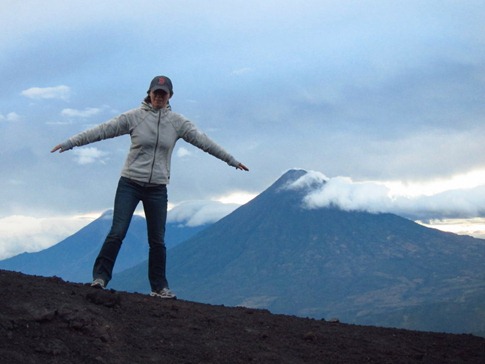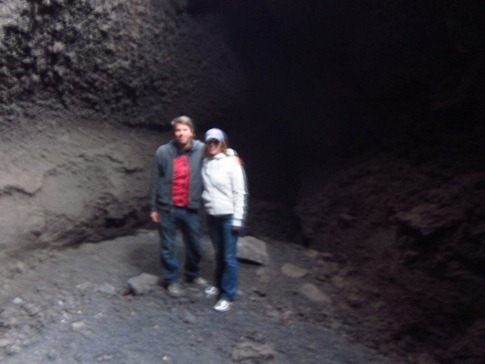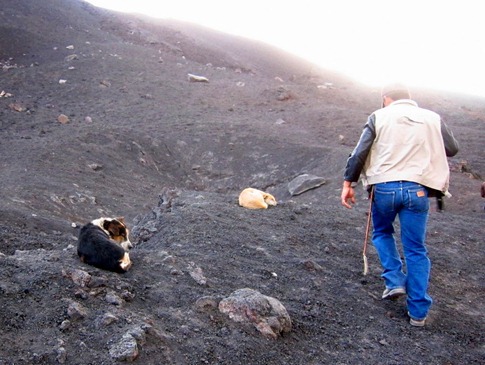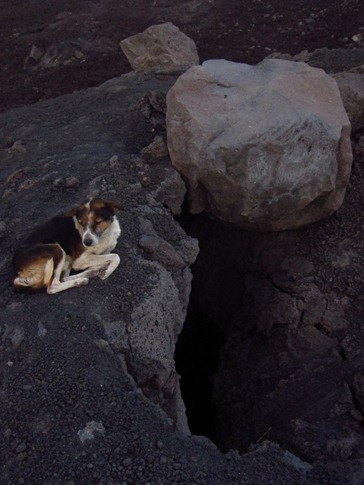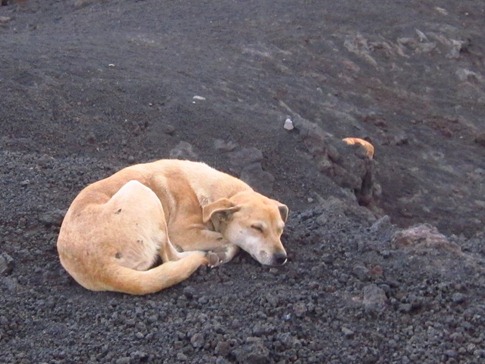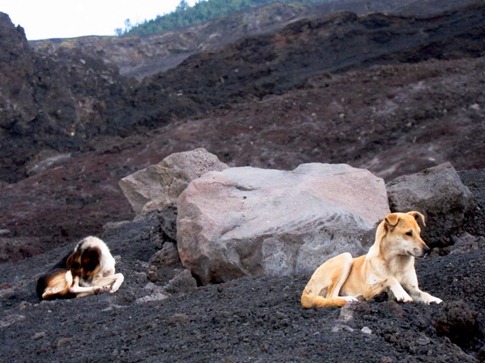 The original plan had been to stay on the mountain until dark when we'd be able to see a red glow from the molten lava beneath the surface. But as unsettling as the feeling of moving lava and scorching hot vents below our feet was, the thought of the truck being rifled through and arriving in the parking lot after dark was even more so. As we slipped and slid down the loose sand and volcanic gravel of the return trail, I confided to Ann that I was preparing myself for the worst; She was too. Almost at a trot when we reached the parking lot, we found the truck safe and sound under the watchful eye of our guard.
We'd done everything right; We'd talked to locals for advice, we'd not been stingy over a few bucks for people's services and actually paid a guard, but still hadn't been able to shake the feeling. In the end, I don't know what the lesson was. I guess it's plan for the worst but expect the best. With the exception of a momentary lack of confidence that put a small cloud over an otherwise incredible experience, thus far, this approach has served us well.
Off in the distance, Volcan Fuego (leftmost in the picture below) released an orange spurt of lava from its peak followed by a black smoky plume as the lights of Guatemala City twinkled on in the valley below. The next day, we'd be crossing the border into El Salvador.