From El Tunco, we backtracked west along the coast before cutting up to Sonsonate and the beginning of the Ruta de Las Flores. Passing through small villages dubbed "Pueblos Vivos" by the Salvadoran tourist office, the same idea as Mexico's "Pueblos Magicos," our destination was the Bosque El Imposible, 31 square kilometers of nature preserve near the Guatemalan border in the Cordillera de Apaneca, the name of which was a judgment on the likelihood of transporting coffee across its terrain.
We'd first heard about El Imposible while reading the Lost World Expedition blog. Luis and Lacey had accessed the park from the south and camped at the non-profit organization SalvaNatura's visitor center, taking hikes from there. We'd also read about a northern entrance at the town of Tacuba which would involve less backtracking for us. Seeing a good looking road running through the park from north to south on our El Salvador map, we figured we'd head for the northern entrance to make our way into the campground. It wasn't until we'd get to Tacuba that we'd learn through broken Spanish that this road had been closed since SalvaNatura took over control. The only way to drive into the park and/or to camp, is to enter from the south off CA-2.
We were a bit at a loss as to how the Ruta de las Flores got its name, though we found out later that the coffee flowers bloom in May. And to be honest, the Pueblos Vivos were a bit… well, dead. Each relatively small town of 6-10 square blocks with a mercado and various shops but nothing terribly different than the countless others we'd seen thus far on the trip aside from pleasant views of the rolling hills sectioned into coffee fincas with tall volcanoes looming in the background. In the larger center of Ahuachapan, we stopped in a great chain grocery store and stocked up on fresh food for the few days of camping we were still under the impression we'd have.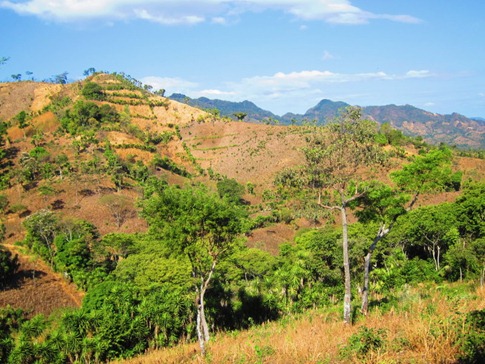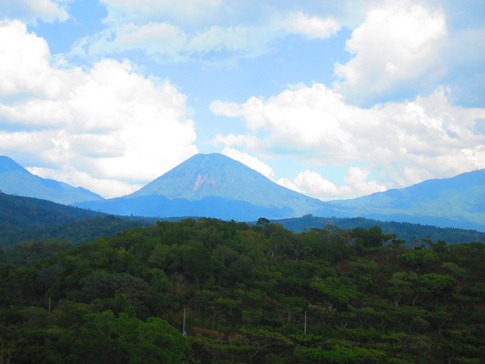 Of course, you can always find something interesting in any town…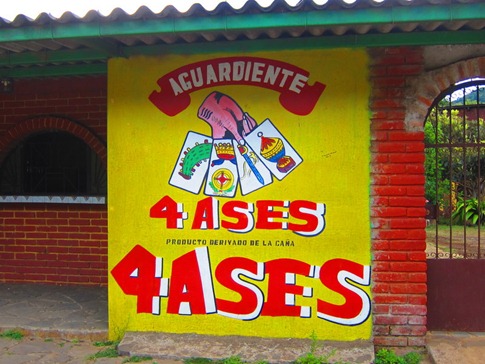 In general, we've been struck by how "middle class" El Salvador has appeared. Everywhere we've been, we've seen nicer cars, people of all ages on cell phone and with MP3 ear buds, and tourist destinations catering to locals from bigger cities like San Salvador.
In Tacuba, we patrolled the streets, drawing curious stares from the locals as we searched in vain for any sign of the national park. The few people we asked, including a group of police and military officers, looked more confused than we would have hoped, and all would eventually say the name "Manolo." We'd read about Manolo's Imposible Tours and Mama y Papa's hostel owned by his parents. To be honest, we'd found mixed reviews online with some question about Manolo's professionalism (he apparently likes the gringas) but others raving about the experience. A single sign in town pointed an arrow towards Mama y Papa's, but it was no where to be found in that direction. It took us asking two more people before we honed in on the residential house fronted by a nice garden. See our Route page for GPS coords.
Inside, we were able to glean from Mama's rapid and animated Spanish that there was no way to drive into the park and/or camp from the north side, though she revealed that the family was working on providing camping on their nearby coffee finca. With no other option, we allowed Mama and her staff of two girls make us feel completely at home in a simple but pleasant room at the top of a garden stairway. The room included a set of four ducks that seemed to be guarding the door, and the covered roof deck not only had a commanding view back down the Ruta de las Flores but the best wireless connection we'd had since the beginning of the trip!
When Papa came home – why do I want to type "he whooped us" after that lead in? – he described a few of the tours they offered. While we'd read about 30 foot leaps into pools on the waterfall tour, there wasn't one scheduled for a couple days, so we decided on "Vistas and Campanas" (views and Ridges). I was also secretly relieved to learn that Manolo himself was out of the country, and I wouldn't have to grin politely while he flirted with my wife.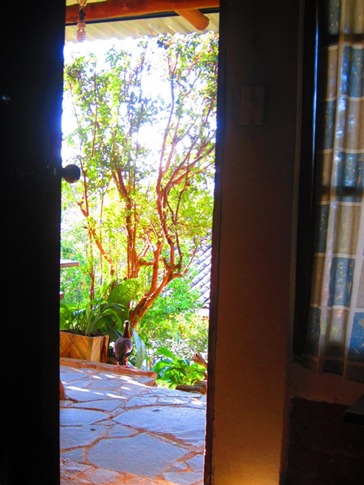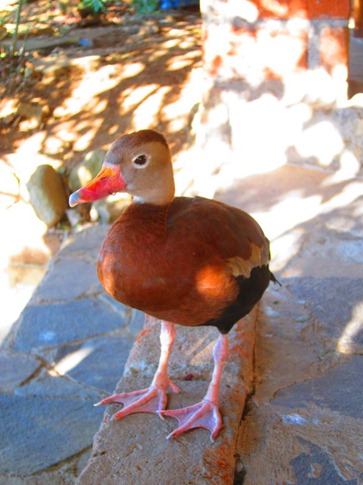 After a short ride bumping around in the back of Papa's mid-80's Nissan pickup truck, we started walking up a steep dirt road with our guide, Enrique. Along the way, he pointed out the coffee plants on either side and identified the national flower of El Salvador, the Flor de Izote. A little later, we'd see the fruit of this plant that looked like a combination of a bunch of grapes and a jester's hat. Of course, while we were on a nature tour with a guide, women of all ages, including one who looked about 80, walked by carrying heavy loads of wood or water on their heads.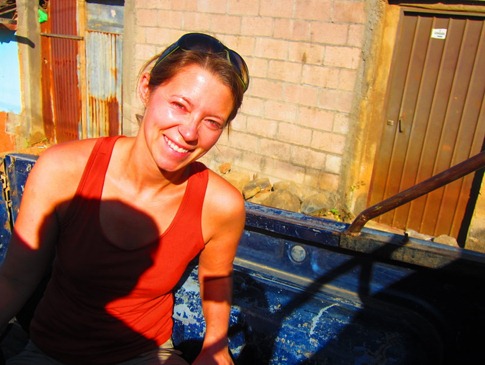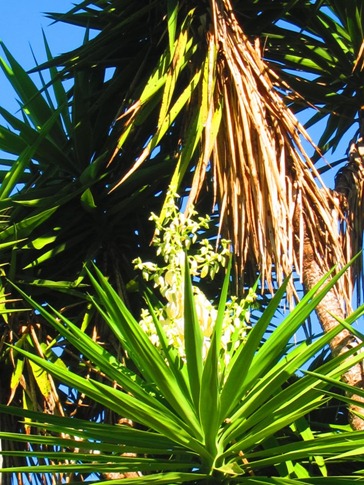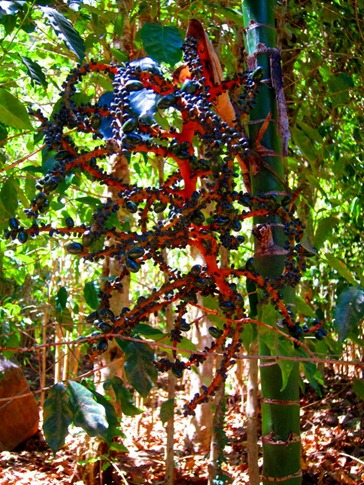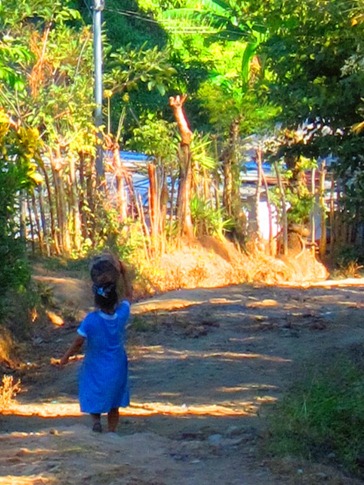 The trail wound up through coffee fincas, some actually inside the park boundaries though growers are prohibited from cutting down any trees to get more light for the crop, becoming steeper as it went. These were the same trails the pickers would use to harvest the coffee berries, filling apron-like pouches with 25 pounds of coffee for which they'd receive $1 before heading back up the hill for another load. Enrique's eyes grew large when I told him that we pay $8 a pound for that coffee in the US. He plucked a couple berries off a plant and handed them to us to eat; A thin layer of slightly tart, planty flesh covered the two white lobes we know as coffee beans.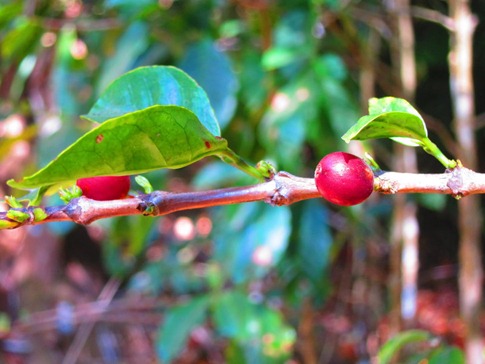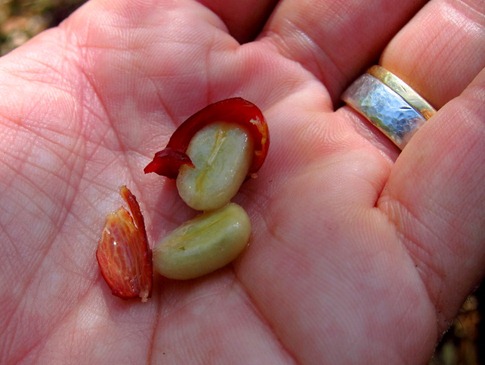 We kept climbing, at this point my shirt more sweat than cotton, as the trail grew more and more faint. To our right, we spotted the rare, Torogoz, the national bird of El Salvador. It reminded us of the Motmot we'd seen in the Chiquibul Forest in Belize, with a tail that forked into two plumes, each with a bare section that ended with a dot of feathers like an exclamation point. Balancing on a tree branch, their tails looked like pendulums on a clock as they swung back and forth to provide balance. This just in: Our research department (aka Wikipedia) just confirmed that they are, in fact, the same bird.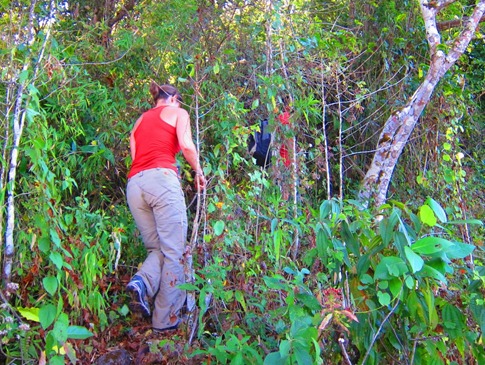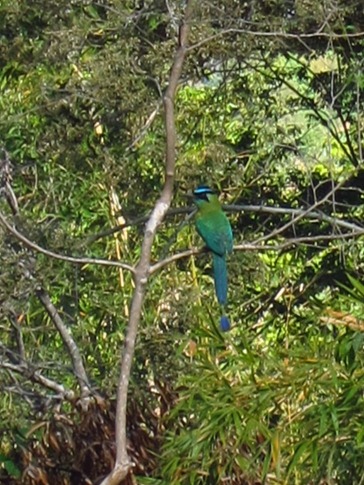 At the top of a rise, the trail looked to level out. We'd been climbing steadily for an hour in mixed sun and shade, wearing the long pants Papa had recommended to protect against mosquitos and thorns, and sweating like crazy. Enrique turned the only direction where there was still up to go and lead us up a faint track that followed the shoulder of the ridge.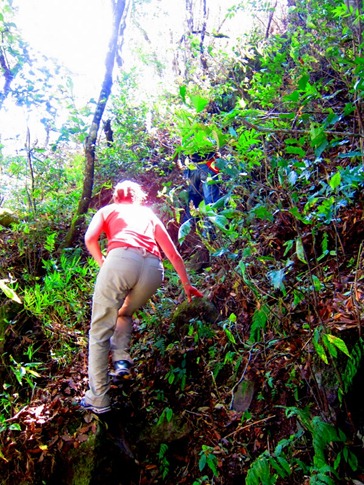 Along the "trail" was evidence of the persistent and resourceful nature of tropical plant life: Orchid-like flowers growing from the crooks of trees and "strangler" vines that would surround their victims until they rotted away leaving a hollow core.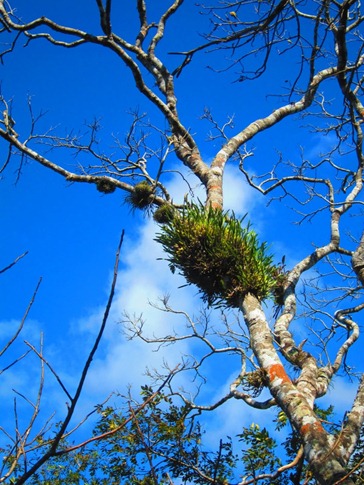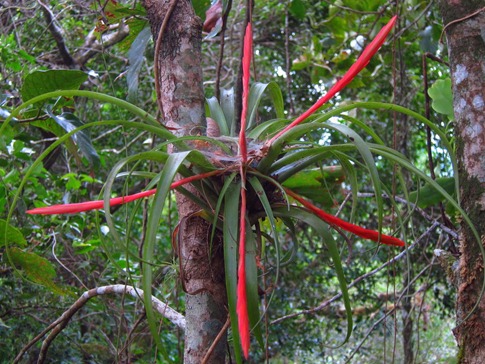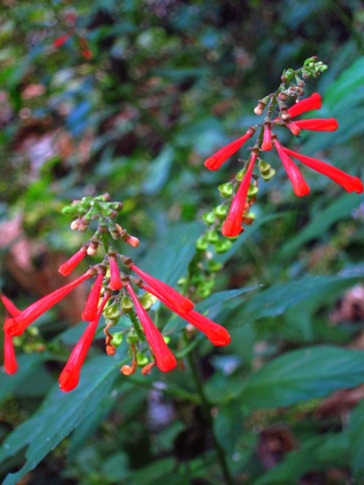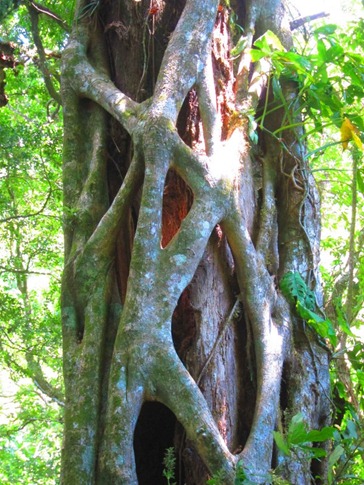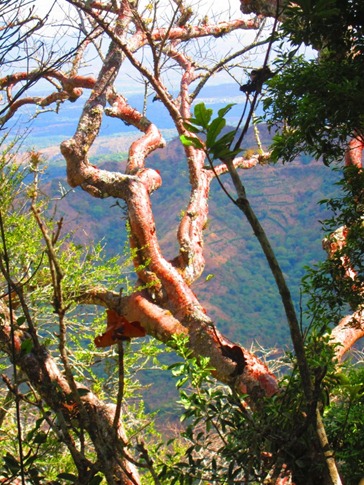 Our heads were on a swivel looking for a species small wild pig our guide simply called "cerdo" or "pork" and an armadillo-like creature he said he caught a glimpse of as we came around a bend. We found the wing of a huge dragonfly and spied a camouflaged cousin of the iguana hiding in some bamboo.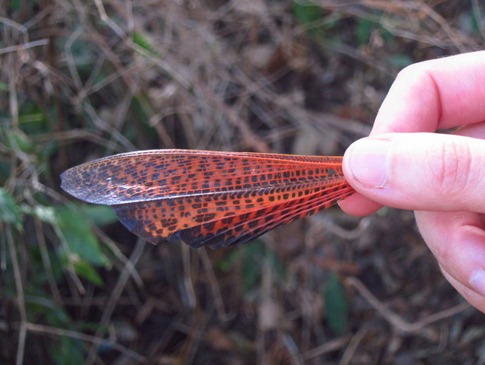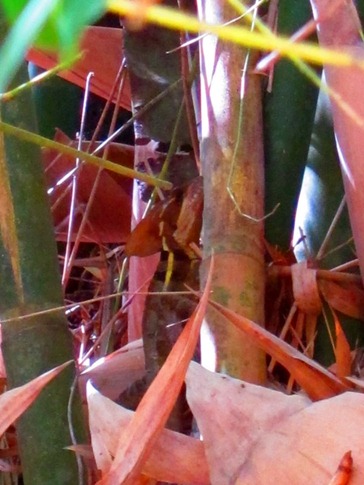 On the top of the ridge, views opened up northwest towards distant volcanoes on the triple border of Guatemala, El Salvador and Honduras.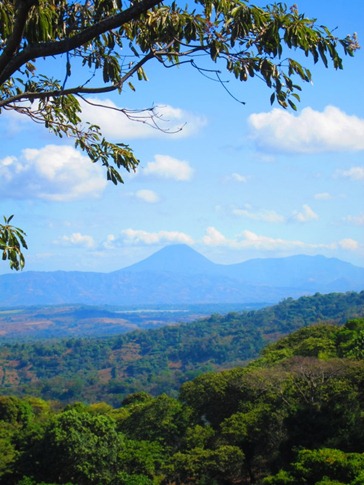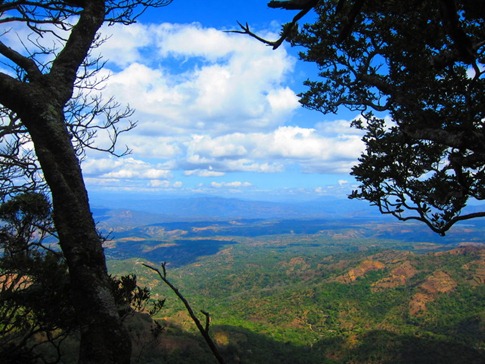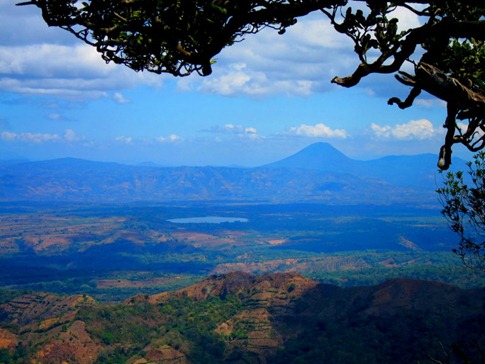 And south all the way over the park and back to the coast.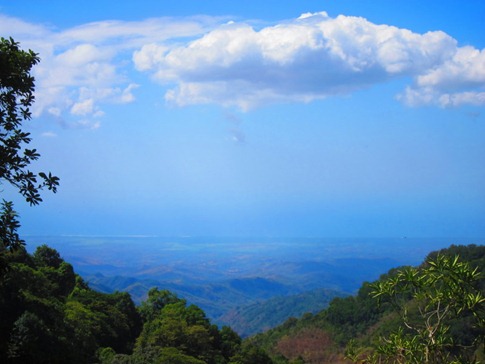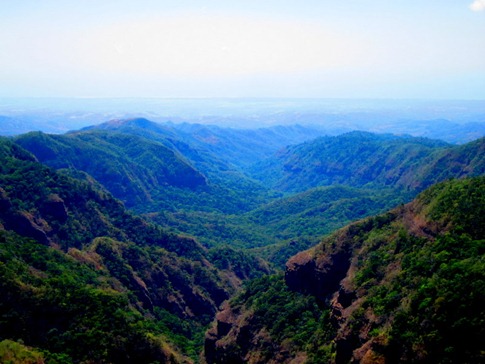 Even though we were able to communicate to Enrique that we did not want to extend the hike by taking the cut off for the "Paso de los Muertes," "The Pass of the Dead," we still returned to Mama y Papa's 6 hours after we left, legs not at their strongest after 3 months of sitting in the truck.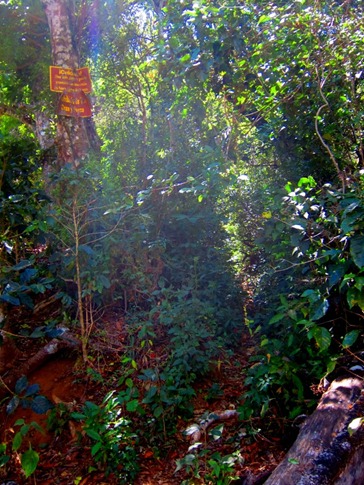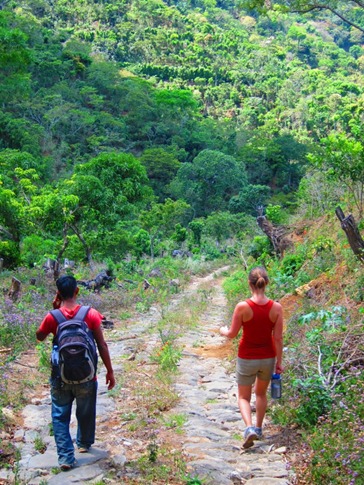 A few more guests arrived at the hostel later in the day, an American girl and her Salvadoran boyfriend showing the countryside to the girl's mother. The mother asked where we were from and how long we were traveling. For some reason, our response to this question is always a little sheepish. We've been meeting so many seasoned travelers, many a year and tens of thousands of miles into a trip whether by bus, car or bicycle, and at times are not sure where our little trip fit in. The traveling has been pretty easy for us. We've indulged in comfortable hotels from time to time and have been riding in air-conditioned comfort while listening to hours upon hours of "This American Life" podcasts. How hard-core were we really?
"We're from San Francisco. We actually drove down here in that truck over there."
"How long? Uh, well, we left San Francisco about 100 days ago and have been driving down through Mexico, Belize and Guatemala since then."
"Why? Well, just to see the world a bit. We actually just got married in October."
"Yeah,I guess you're right. This really is a pretty awesome honeymoon."