After crossing the border into El Salvador, CA-2 sweeps down along the coast, through 5 tunnels and at times bunching up like ribbon candy into tight turns. When the road allowed, our eyes were glued to the black sand beaches lined with palm trees that welcomed in set after set of the waves that make El Salvador a surfing mecca.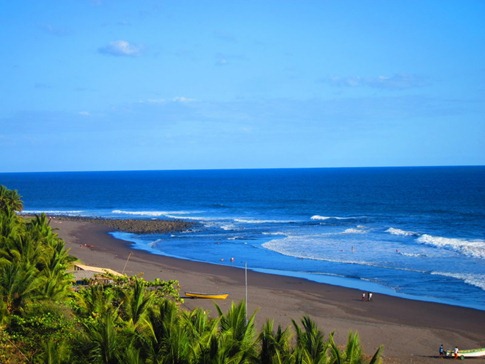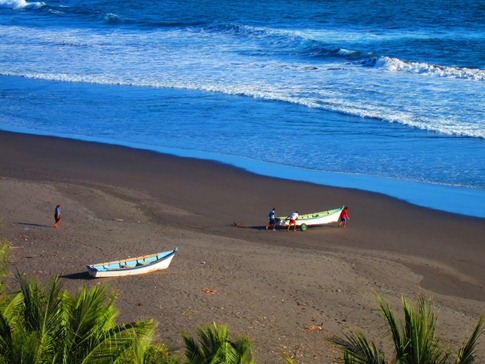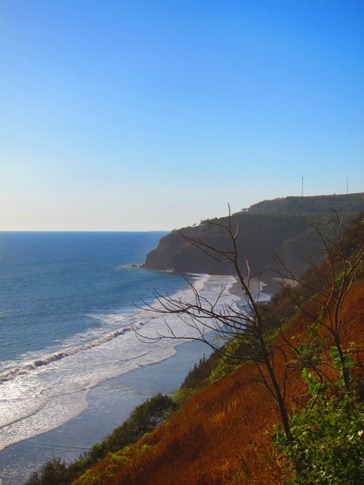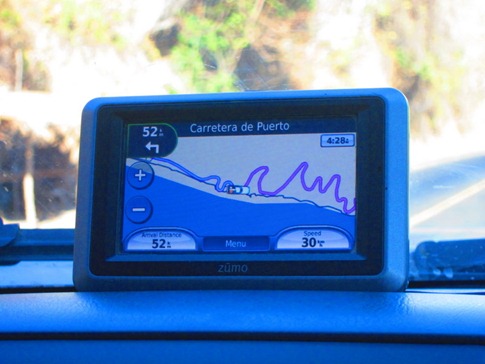 Our destination for the day was El Tunco, "The Pig," where we planned to meet Tree and Stevie from SprinterLife. They'd suggested we get there soon for a "big party" which they later revealed was a wedding; Their wedding! Engaged on a rafting trip in Colorado before packing their belongings into a converted Sprinter van and leaving for what might end up being a trip around the world, Stevie had only accepted the proposal on the condition that they could get married in every country they traveled through. Tree, a savvy business man and founder of online kayak retailer OutdoorPlay.com, was able to negotiate her down to once per continent. And this was to be the first.
But before we could get there, the El Salvadorian police wanted to have a word with us. The officer standing by the side of the road near a few cones waved us over as we approached, and we pulled on to the shoulder just past him. Don't worry, just stay calm; While we'd yet to be pulled over, we had a procedure in place: pretend not to speak Spanish and, whatever you do, don't give him your license. The officer walked up and asked if we spoke Spanish. I quickly said "Yes." He then asked Ann for her license and she obediently complied. Crap! That did not go well. He returned a minute later, pushing his head in towards the open window. Catching a glimpse of the GPS on the dash, he said "mapas?" When we nodded, he gave a thumbs up, and we were back on the road in 30 seconds.  We'll try to stick to the plan a little better next time.
At this point, it's hard for much to surprise us on the road; A herd of horses walking by themselves around a blind turn, unattended roadside fires and two guys trying to wrestle an uncooperative pig into the back of a pickup truck aren't going to do it.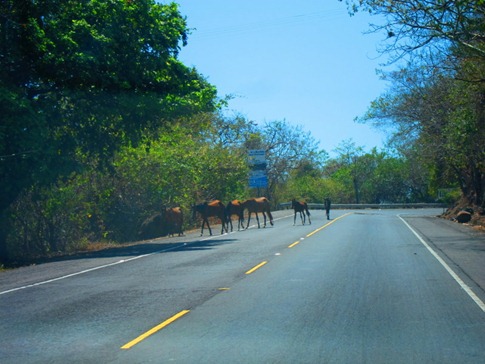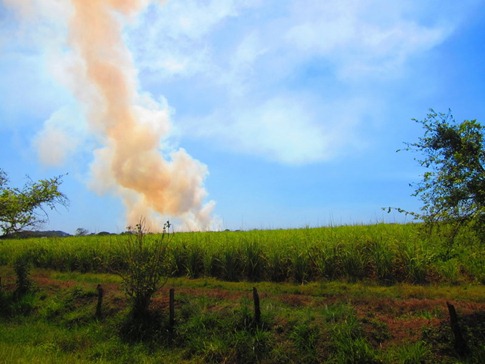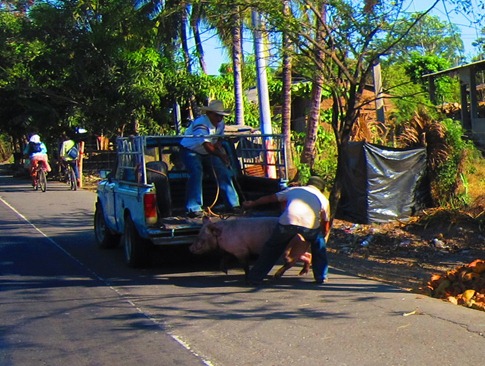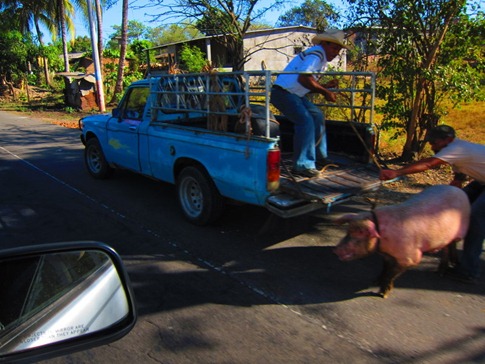 On the shoulder, people loaded piles of wood onto homemade carts with small caster wheels. These guys took the idea to the next level and were coasting their version – complete with mud flaps - at 30 miles an hour down a hill. What happens at the bottom?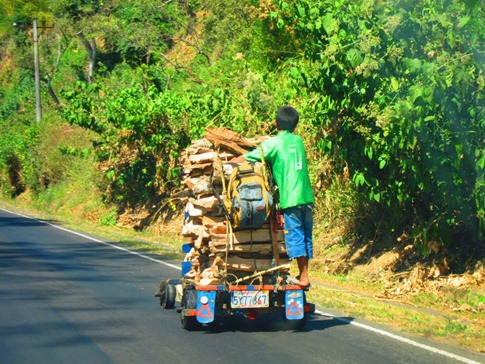 We passed the road into El Tunco three times before realizing it was tiny, one lane and unmarked. The signs for surf camps gave us confidence as we wound down to a barricade in front of the 300 foot long, 10 foot wide main street, lined on only one side with a few shops, restaurants and places advertising board rentals and cheap rooms. A little ways up the beach, we found the white Sprinter van and within minutes were walking to the beach, cocktails in hand, to watch the sunset with Tree, Stevie and Kiki, their 12-year-old, cuddly bear of a dog. This became a bit of a habit over the next four days.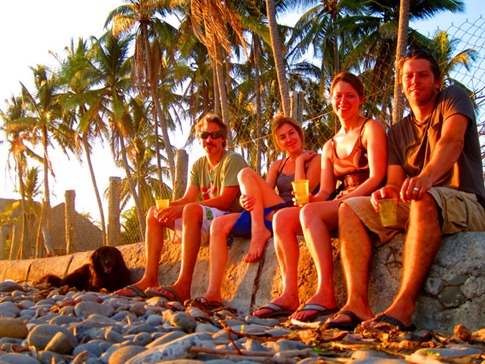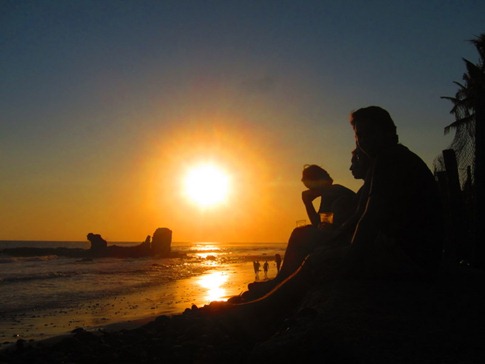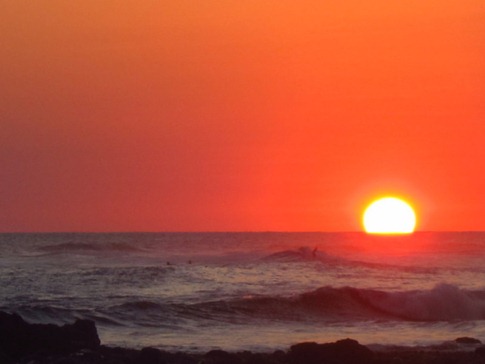 The El Tunco network had been activated and Carlo, the manager of the 5 room complex next to Tree and Stevie's place, rode up on a bike a short while later to let us know he had a room and we could pay him whenever. "Tranquilo, amigo. Tranquilo." Our room at the Eco del Mar was on the second floor, clean with a modern feel, a little kitchenette, and a balcony with a hammock where we could poach the signal from the Hotel Mopelia next door. We didn't feel too bad about it since it not only seemed like standard operating procedure for the whole town but because we proceeded to eat breakfast and dinner under the palapa of Mopelia's Cinco Tunco Tres bar for the rest of the time we were there.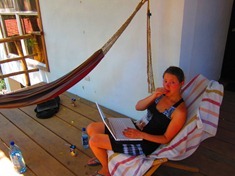 A few days in, Tree made good on his promise to take me out surfing. I've tried to surf on more than a few occasions, each time culminating with the decision that it's not for me. Of course, my teachers – so called friends – always have an explanation. "Ocean Beach is a really tough break for beginners," "I probably shouldn't have sent you out there on a 5'3" board" or "Maybe it was the altitude." But the next time someone offers to take me out again, I usually say yes.
Paddling out on a perfectly sized board, at sea level, towards the wave known as "The Pig," it didn't take long for me to remember what I don't like about surfing: getting out there. Start with the awkward position on the board, usually just too wide to allow me to dip my hands far enough into the water to feel like I'm getting any purchase. Then add the fact that the kid operating the wave machine refuses to turn it off long enough for me to get outside of the waves. As my shoulders started to ache, I'd see a set of waves forming on the horizon and start the calculation; Based on my current position and progress, speed and height of the wave and presence of dudes with tattoos hurdling towards me on boards with sharp pointed noses, should I paddle as hard as I can so the wave passes just beneath me or let it break in front of me and face the bubbling turmoil of the white water while clinging to 8 feet of plasticized foam?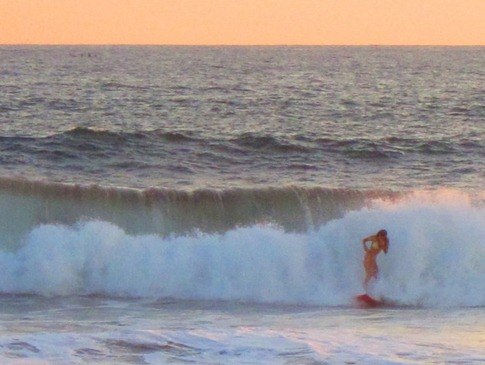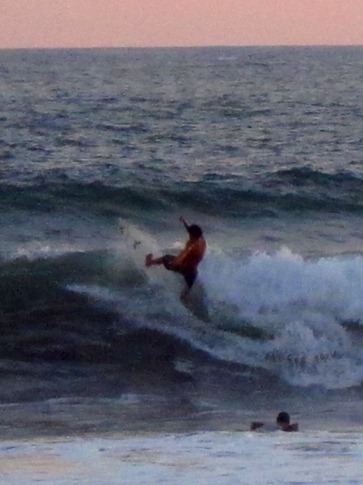 And all this to get to that perfect spot, the spot everyone else wants to be in as well, where a few well timed strokes will give the board just enough speed to mesh with the wave like a short merge onto a freeway onramp. But on this night, no matter how hard I paddled, that spot remained off in the distance. Landmarks on the beach confirmed that Tree and I were not making much progress against a stiff current, and after 30 minutes or so, we gave up and let it carry us back into the beach. I tried to do the cool surfer exit, maybe throwing a spray of water with a shake of my salty locks outlined in the setting sun. Instead, I fumbled to lift the slippery board with my weakened arms, probably looking more like a guy trying to wrestle an uncooperative pig into the back of a pickup truck.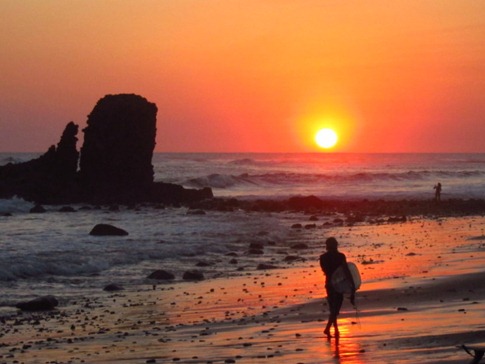 On the day of the wedding, Ann and I flagged down a chicken bus on the main road for a $0.25 ride into the nearby town of La Libertad. We'd taken on the responsibility of putting together the post-ceremony cocktail hour, and were on a mission to find gin. The word for gin in Spanish is the same as the word for the Swiss city of Geneva, and while it's possible that the two store owners and a taxi driver we asked thought we were looking for the latter, we finally concluded that vodka was going to be easier to find. Once paired with some sparkling water, pineapple and guava juices and translucent orange plastic cups with a lime wedge, we didn't think we'd get any complaints. In the 85 degree heat, we were happy to have a bag of purified ice melting in our laps on the way home.
Tree, Stevie and their wedding party of 3 other couples driving the Pan American Highway, met on the beach at 5:15 as the sun began to sink, the bride in a white bikini and sun dress and the groom in white board shorts. We all took pictures and video as Chad (trip blog at PleasureDevice) performed the short and sweet ceremony, holding The Lonely Planet Central America book as a stand-in for the bible. At the pronouncement, a huge wave crashed into the large rock formation behind the couple and erupted into a triumphant spray as we lifted our orange cups filled with the cocktail that would come to be known as the "Treevie Sunset." While the beachfront volleyball game didn't pause, it was clear that they were quite moved by the event, a fitting celebration for a couple that loves the water and the spirit of travel.
Below are some of my pictures of the evening…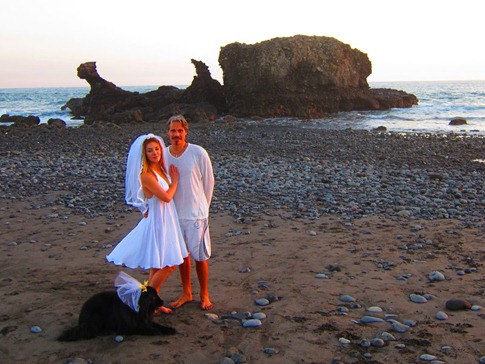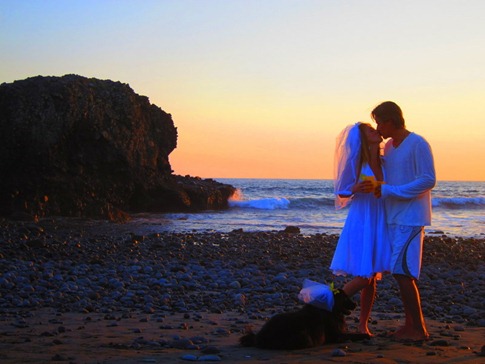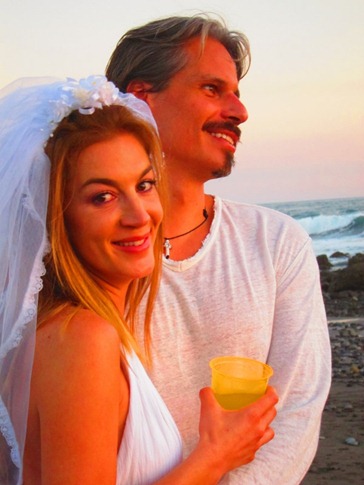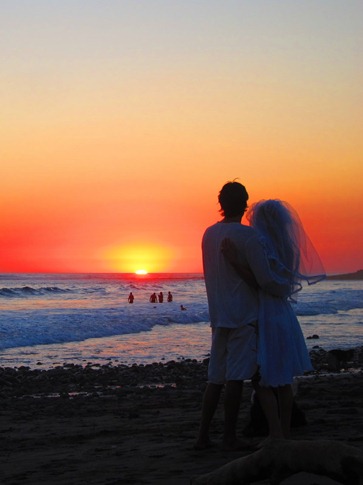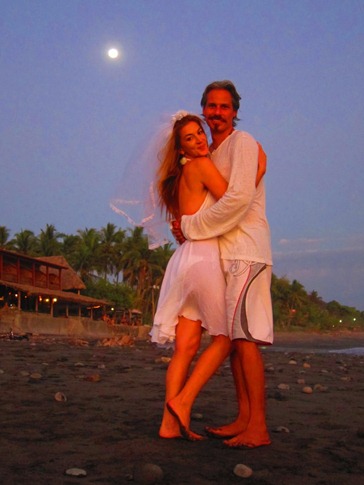 Kiki, the Mutt of Honor. And yes, that is a custom veil made from mosquito netting.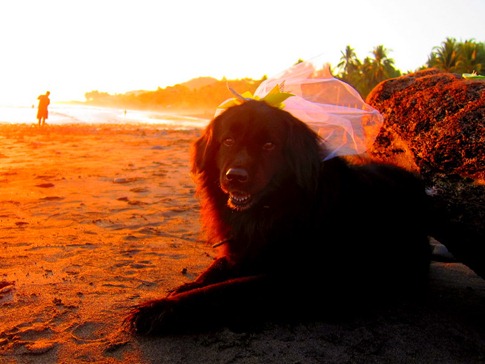 One from someone else's cam…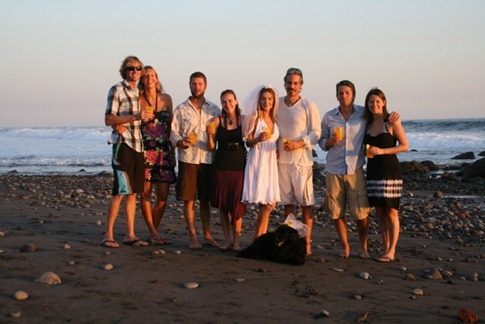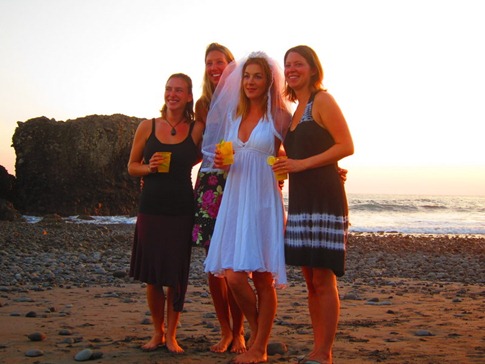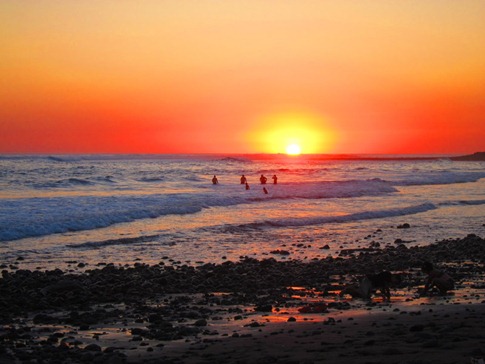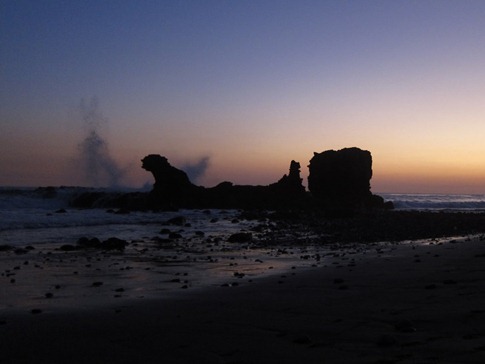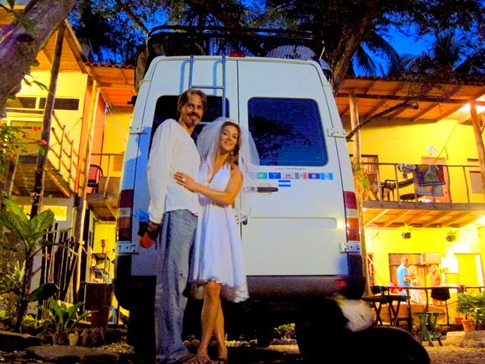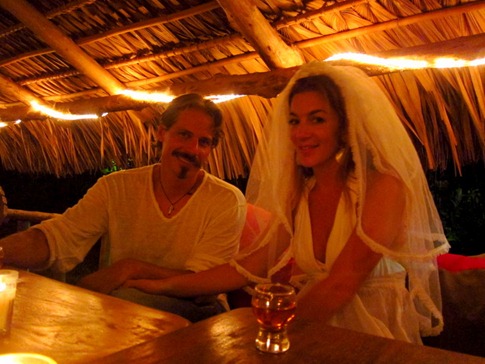 The next night, Stevie made us an incredible eggplant parmesan in the kitchen of the hostel where they were staying. We all talked about our plans for the next weeks, us making our way into the mountains of El Salvador before crossing into Honduras to take the southern route across and them following soon after but continuing on to the Caribbean coast for some diving in the islands. We also talked about long term plans, acknowledging that our latest feeling is that we might ship our truck north back to San Francisco from Panama in May rather than on to Columbia.
Our goal for this trip had been to get out of our comfort zone and immerse ourselves in another world. We'd said from the beginning that we thought six months was the minimum time in which we could do that. The past three months traveling through Mexico and Central America have been absolutely bursting with incredible experiences from the surprising colonial interior and breathtaking natural beauty of Mexico to meeting fascinating people and exploring ancient cultures in Belize and Guatemala. Everyday for the past 100 days has been an exciting series of challenges from finding food and shelter to communicating in a new language and experiencing different ways of doing things. And we've loved every minute of it.
But our current feeling is that another three months will be just about perfect for us to continue to love it, to have room in our memories and energy enough to fully take in the rest of Central America. That to continue on towards Columbia, Ecuador, to Machu Picchu, the Salar de Uyuni, and Patagonia, would both crowd out where we've been so far and prevent us from fully appreciating where we're going.
While we're already talking about the next trip, a couple months from San Francisco to Alaska and back sometime within the next two years, we find ourselves envious and excited for the other travelers we've met who will be continuing south on the Pan American Highway. For us, we're thinking we'll be excited to return home from Panama and reinvest ourselves in our friends, families and lives for a while.