We'd been warned that Antigua is a city where gringos disappear; That once you come down here, meet a few people and take some Spanish lessons, you might just never leave. That was 13 days ago.
We arrived in the late afternoon after having taken an unplanned and ill-advised scenic tour of Guatemala City. The three major tourist destinations in Guatemala are Tikal, Antigua and Lake Atitlan; We were coming from the first and heading towards the second and third on the major highway, yet there was not one sign telling us which way to go, and the city was unavoidable. So we just dove in, assimilating vague info from our insufficient maps and once again, trying to draw the right shape using the blue line that keeps track of our progress on our GPS. Oh, and asking gas station attendants every 5 minutes. Around the fourth time stopping for directions, we started receiving "todo derecho," straight ahead, responses and finally popped like a slippery meatball from the spaghetti of roads.
Approaching Guatemala City, we'd climbed steep hills behind chicken buses cornering so hard their rear wheels would come up off the pavement on the inside of the turns. Coming down the hill into Antigua, the road pointed straight downhill necessitating emergency runaway vehicle ramps on several curves. At the bottom, two lanes of traffic roaring down the hill at 60 km/hr were forced to take a 90 degree right onto a narrow bridge and an immediate left into the narrow cobblestone streets. Suddenly, we felt like we were back in the colonial cities of the Mexican Interior with streets spreading out in a grid from a central square and tourists walking the narrow sidewalks.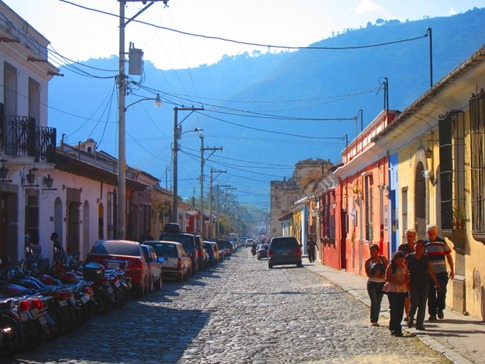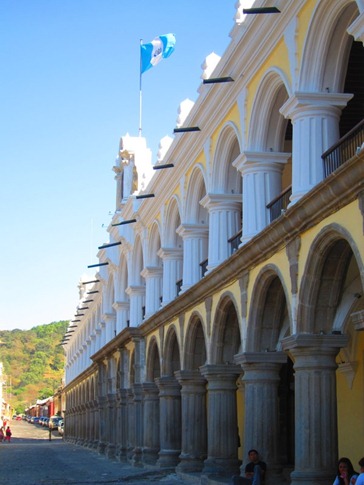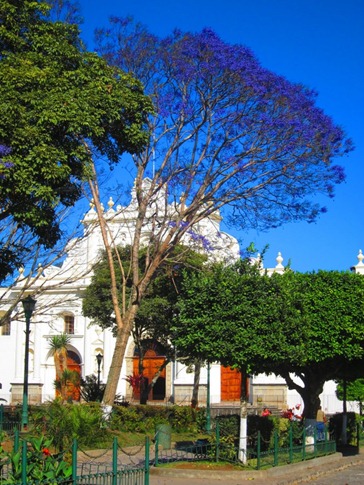 Both our Lonely Planet and our Rough Guide (DON'T BUY!) were under the strict impression that we were traveling "on a shoestring" and included full listings of hostels with shared dorms and communal hangout rooms for $6 a night. As of two months ago, not even Ann is still in her 20's, and we'd decided when planning the trip to travel on a thicker rope than that. Plus we needed secure parking. Unfortunately, we couldn't seem to find much in that key $6-$60 range, and when we were able to talk a $150 room in a boutique hotel down to $75, we decided on yet another "splurge." Sitting on the rooftop terrace the next morning with pancakes, eggs, orange juice and coffee in the shadow of the massive Volcan Agua, it was hard to second guess ourselves.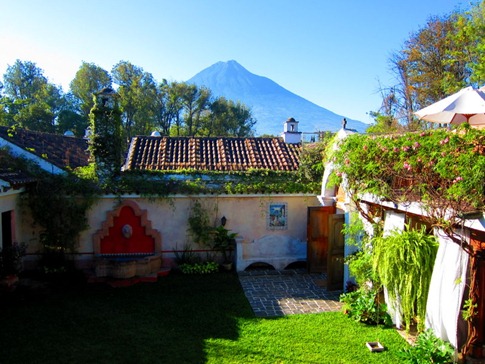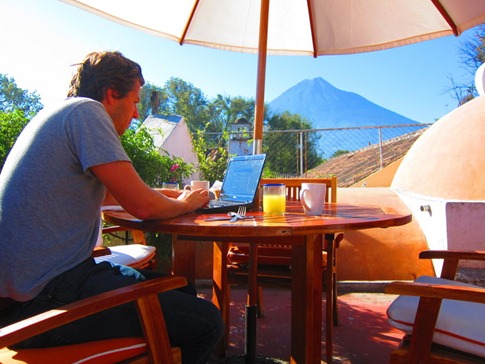 But even our rope couldn't support that place for long so we set out to find an apartment for the week. Our usual approach when looking for apartments while traveling is Google searches that lead us to Trip Advisor forums that mention local resources. In Antigua, many suggested VRBO, "Vacation Rentals by Owner," which tends to be on the expensive side but had some beautiful places. We eventually stumbled onto an odd scuba diving and sailing resource that listed a few complexes that did short-term rentals. We searched individually on the complexes, found contact information and, when we didn't receive email responses, just showed up at one close by. Unfortunately, he explained, they didn't have any apartments for two people, only four. And that's how we ended up with a huge two bedroom, three bath apartment at the Suites Bougainvillea's for $300 for the week.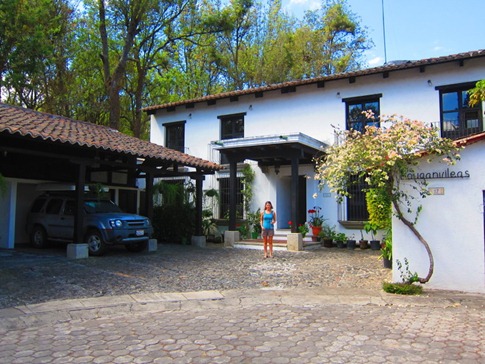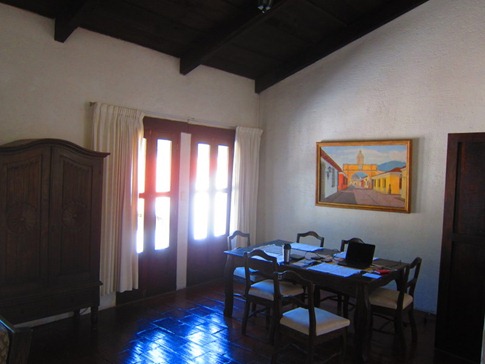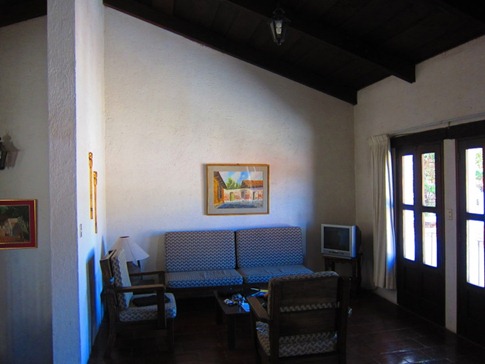 That evening we walked over to the Tourist Police, a walled compound where travelers can camp for free on a trash strewn and rubbled but otherwise grassy field behind the barracks. Despite the constant comings and goings of Tourist Police pickups and motorcycles, a marginal bathroom, and the warnings of "no amigos, no musica, y poca cervezas," the compound has a great location on one side of Antigua and is the place to connect with other overlanders. There, next to their massive and fully-kitted Nissan Patrol, we found Espen and Malin, two Norwegians I'd met before we left as they'd passed through San Francisco. Their trip, chronicled at www.unurban.no, started with shipping their truck to the west coast of North America and driving north to the end of the road in Alaska. From there, they came through Canada and into the US, exploring off-road trails in Moab and Death Valley along the way, and down the Baja Peninsula. Since they took the ferry across to the mainland, we'd been hitting a lot of the same spots but hadn't met up on the road until now.
We capitalized on the fact that Malin, a chef, hadn't had a decent kitchen to work in for months and convinced them to come over the next night to make Norwegian meatballs, potatoes and cabbage;There goes that two piece I was hoping to fit into for the beaches of El Salvador. My portable hard drive also ended the evening engorged with about a hundred movies and some really good maps that would run on our GPS.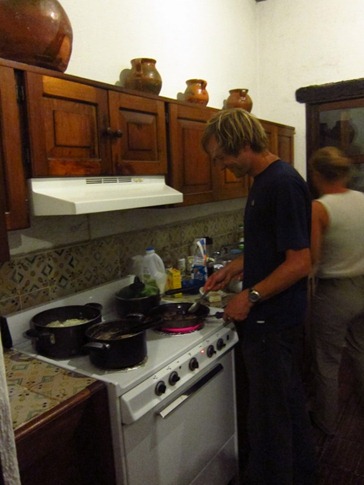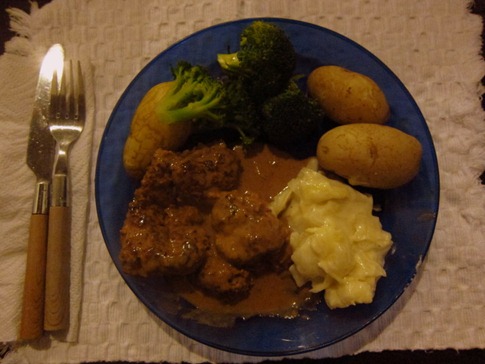 On the weekend, we met up with Tree and Stevie from SprinterLife who finally caught up after having been about a week behind us for the past three months. They're driving a Mercedes powered Sprinter, commonly used down here as tourist buses, that has been converted by Sportsmobile into an RV. These vans are a great mix of big enough to have all the amenities but small enough to go most anywhere. And for Tree and Stevie, this is not a trip, but a lifestyle change. Their destinations change day to day and have no timeline for returning home.
We'd been exchanging emails with them since we left and joked that, unless we decided after meeting in Antigua that we didn't actually like each other, we'd plan to link up on the beach in El Salvador to take advantage of their offer of surfboards and paddleboards. After dinner at an Irish bar with Espen, Malin, Tree, Stevie and another overlander friend, we were all trying to get the waitress' attention for another round of Gallos when Ann tapped me on the shoulder and said, "Uh, I'm gonna wanna wrap this up." "But the night was just getting started," I thought, wanting to stay out for at least a couple more beers. I mean, sure, I could see how she might be jealous of Stevie's quirky from-the-road-to-the-runway fashion sense or be intimidated by the fact that Tree looked like he could have been the lead guitarist for a hot LA band; Then I realized she was talking about her chicken curry, and we all went out for mojitos.
In addition to nice boutique hotels, restaurants (see the garden at McDonald's below), and the three ever-present volcanoes looming over the colonial architecture, Spanish schools are a main attraction of Antigua. We both decided to sign up for private classes: two hours a day for the next five days held in small outdoor cubicles surrounding a garden at the San Jose El Viejo Spanish school. This 20 hours of instruction was to cost us $55 each; We'd taken 20 hours in San Francisco before we left and paid over $400 each.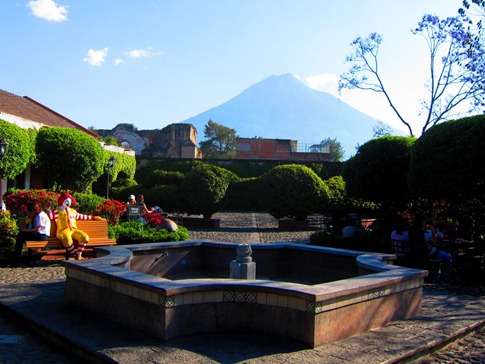 My Spanish is at a level where I will try to say anything, am acquainted with all the verb forms I would need to say it, but still go blank and/or horribly confuse everything I know to such a degree that one might think I know nothing. With a bursting quiver of present, present perfect, past, past perfect, future, and conditional, "Me eat now" - which would have been incorrect but perfectly intelligible - becomes "I might could had eating." After a couple such instances, my teacher, Aura, a smiling Guatemalteca I would have put at about 50 but who very well might have been my age, went back to basics and drilled me on regular and irregular verbs in the two past tenses.
After two days of some much needed review, we moved on to some reading comprehension exercises. It was at this point, she made one fundamental error; She taught me the phrase "Esto no tiene valor para mi," or "This doesn't have any value for me." I didn't want to conjugate verbs in written passages about Mexican independence, I wanted to gain confidence and practice real world situations to clarify what I knew. With a "Hey, it's your Quetzal" shrug, we proceeded to spend 2-4pm for the last three days just chatting in Spanish. Topics included kids playing violent video games and the moral value of Roadrunner cartoons: If you try to blow someone up with dynamite, you're the one who's gonna blow up. Aura commented that some cartoons premises were very farfetched, and I was particularly proud of myself for correctly forming a sentence pertaining to a certain sponge by the name of Bob who lived in a pineapple "abajo del mar." Also discussed at length were "I Dream of Genie" ("La Pequena Genie") and Knight-Rider ("Mi Amigo Coche"). We spent the rest of the time talking about how to get the best price on pirated DVD's at the mercado. Now this had value for me, both in saving a couple quetzales and in getting better at moving more fluidly between the tenses while just speaking off the top of my head.
By mid week we'd sampled a few of the nice restaurants in town and had some great meals but were ready for something simple. I was on my way home with a pizza from the little Italian restaurant around the corner when I entered our gated cul de sac to find our downstairs neighbors, a German family with three kids, sitting on the sidewalk. Just as I turned towards where they were looking, Volcan Fuego, silhouetted perfectly against a rich, dark blue post-sunset sky, released a spout of bright orange lava from its very peak. From where I was standing about 10 miles away from Volcan Acatenango on the right and Fuego on the left, it looked about half an inch high. My best guess is that the molten rock fountain had probably actually gone about 200 feet into the air. I confirmed with the German family that this was a regular occurrence and that there was no clear and present "achtung," but by the time I got Ann to come out, there were only a few small orange bursts and puffs of smoke coming out of the top.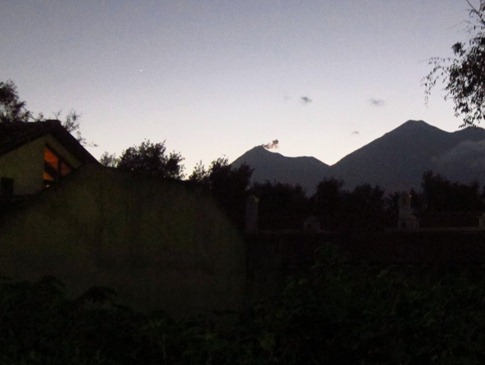 Oh, we have a little bit of an announcement; We're gonna stop using prophylaxis! Yeah, turns out the malaria prophylaxis we've been using, chloroquine, has been making Ann constantly dizzy, a known side-effect, so we've decided to stop taking them. I mean, I don't want anyone to get the wrong idea; We are definitely "trying" …not to get malaria but it's possible that the side effects of the drugs outweigh the realistic risk of getting it. Sure, we talk about it a lot and someday in the not too distant future we want to …go to Africa, and there's enough risk there that we'd want to take an anti-malarial. Anyway, I don't want this announcement to be confusing so let's just say, we pulled the (malaria) goalie. We decided to take advantage of the apartment, a social scene, and a beautiful and accommodating city to extend our stay and give the chloroquine a few more days to get out of our systems and the spinning to stop.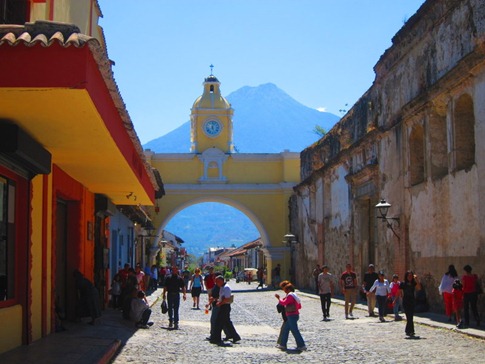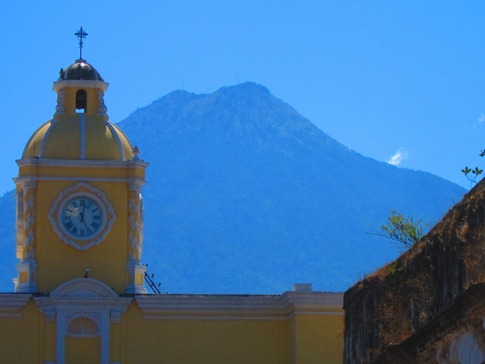 As we pulled into town, a huge gringo wedding was just leaving this church. We're considering getting a divorce so we can do it again here…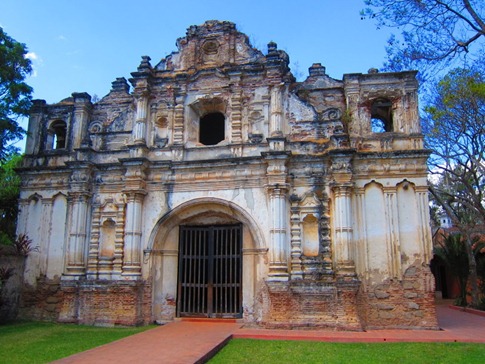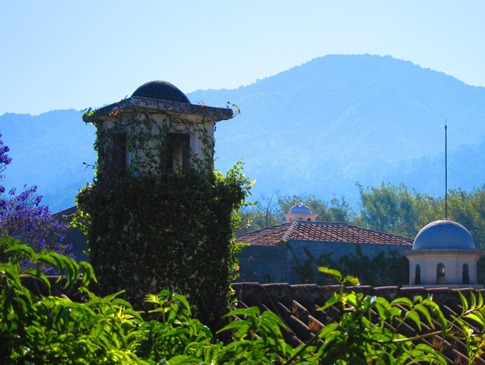 A couple days before we left, I took a field trip into Guatemala City with Espen and Malin. They were 7,000km overdue for an oil change and Guatemala City was the first place with a Nissan dealership that sold the Patrol and would have the filter. Half of the people we asked said that it was too dangerous to drive into the city and the other half said it was fine. Of course, we and SprinterLife had both driven through. We eventually were told a few "zonas" to avoid and navigated our way through the maze of one way streets to the dealership.
I had another errand to do in town: going to the US Embassy to get a few documents notarized on some family business for one of my brothers back home. I took a cab from the dealership to the embassy and told the Guatemalan guard what I needed. He replied that notary services were only available 8-12 pm; It was 12:30. He may have detected the ramp up to my "Listen pal, I pay your salary" speech and said that if I came back at 1:00 and had a US passport, he'd let me in to check. At 12:45, relieved of my iPhone, charging cable, a USB memory stick and a length of surgical tubing I had in my backpack for a camera rig, I was deemed sterilized and approached the American Citizens Services Unit window. Just as I was sure I would be turned away, the woman behind the glass accepted the papers and said they'd be notarized in a few minutes. I wasn't completely sure how a "USA, USA, USA!" chant would go over so I just thanked them and left.
Catching a cab outside the embassy, I chatted in Spanish with the friendly driver as we whizzed around the city looking for a DHL. Just as we accepted defeat, we saw one, and he waited outside while I put the documents in the mail. I opted for 2 day shipping, secretly hoping my signed papers would make it there from Guatemala City before my other brother could return his from Oakland.
Back at the Nissan dealership, Espen was holding court with the service techs, explaining the extensive camping and off-road performance modifications he'd made to the truck. Of course, the last thing they wanted to do was make a mistake and, working methodically, weren't done until 5:00. By now, Ann knows that every time I leave her in a big, bad 4x4 truck and say I'll be back in two hours, it'll be 6 hours later and dark when I return. And at that point, we still had to drive over to the showroom for some show-and-tell and a photo shoot with the sales staff. I had to get in on the act and mention that we were in a Nissan as well, but I can't blame them for not being too interested in our bone-stock Xterra. Just as darkness fell, we were driving out of Guatemala City, Espen and Malin's already packed truck now bulging with Nissan water bottles, gifts from the really nice, enthusiastic staff at the dealership. And when I got home, an email was waiting for me with contact information from the dealership should Ann and I need anything on our trip.
We spent our last day in Antigua grocery shopping, going to the "Bagel Barn," and getting a haircut at the Las Vegas Barbershop by a Guatemalteco who'd lived in Vegas for two years until his visa ran out and wanted to practice his English the whole time. I suppose like San Miguel de Allende, Antigua could be accused of being too accommodating to international travelers, but it was nice to just feel like we were living in Antigua for a little while, and we saw why people liked it. If you're thinking about taking a week or two for some intensive Spanish lessons, want to climb a volcano, or just like really good bagels, we highly recommend Antigua.