The thing about nude beaches is that it's kinda gotta be all or nothing. Okay, bad choice of words but bare with me. Damn. At some point in the past, a bunch of gringos seem to have decided that Zipolite is a nude beach; But they may have forgotten to tell anyone else. It might just have stripped their minds (sorry).  As it stands now, on any section of Zipolite beach, there are probably about 7 naked white people, lying on towels under umbrellas, haggling with the strolling merchants over the cost of a coconut water (unfortunately in most cases, they are not interested in the colorful beach cover-ups nor mercifully, the hammocks) and taking pictures of each other on their beach vacation to Mexico, undoubtedly triggering many work acquaintances to "unfriend them" soon after they update their Facebook profile pictures. And rest assured, should you choose to allow yourself just 15 seconds of unrepentant "perving out," somehow the perfectly curved and tanned ass you've been staring at will roll over and you will see schlong. It happened to a friend of mine. Just a friend. You don't know him.
We'd been told the drive out to the coast would take 6 hours, but it didn't really seem like it could take that long. The Guia Roji showed a nice double-lined toll road for part of the way, but it became dashed as it approached the coast, usually meaning it was under construction. We were sure it'd be done by now (It wasn't).
We climbed out of Oaxaca through pine forests and woodsy lodges and into a dense, muggy mist at the top of the ridge. Descending out of the clouds on the other side, everything changed; Palms replaced pines and the people were wearing shorts and flip flops rather than jeans and hoodies. Towns were no more than a tiendita surrounded by a few houses, some with walls made of mud packed into a framework of thin poles, and the road was dotted with people waiting for one of the privately-owned covered pickups that form the public transportation network in the hills. In the end, the 158 mile drive took every bit of the 6 hours with the final 4 a brake-boiling decent through sharp curves that seemed to go on forever as the coast remained just out of reach on the GPS screen.
In the Rancho del los Mangos Resort in Playa Zipolite, we joined a few expats in RV's and groups of Mexican families in tents in the campground surrounding a pool and decent bathrooms, although my favorite spot would become the "Flashdance shower" where I could strike a pose, reach up to pull the chain and be drowned in a deluge from the 1 foot diameter shower head. All I needed was a chair and some backlighting.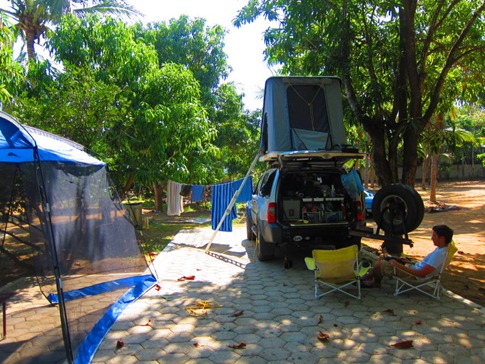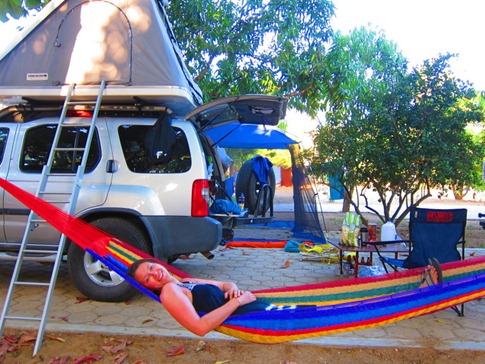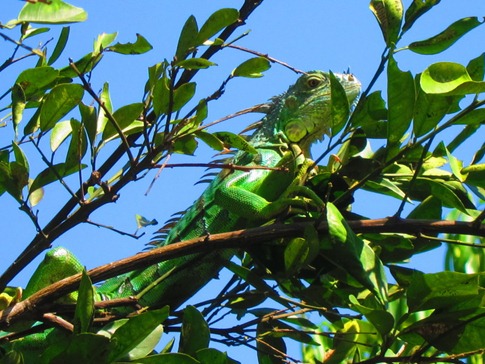 We'd planned to stay a couple nights before heading an hour and a half up the coast to Puerto Escondido, known as a surfer's paradise and home to the "Mexican Pipeline." A walk down to the large, flat beach lined with hammocks hanging in front of casual, thatched roof restaurants and the lazy mainstreet, blocked off from traffic by locals at various times of the day with a few stacked cinderblocks, and we decided that Zipolite was what we'd hope Puerto Escondido would be, so there wasn't much point in leaving.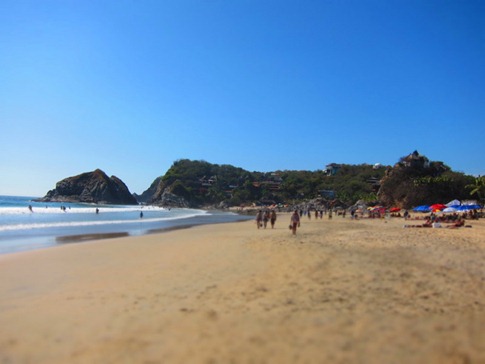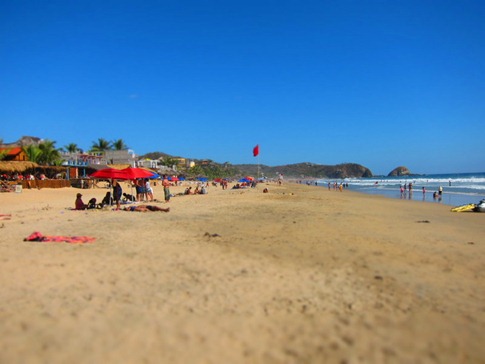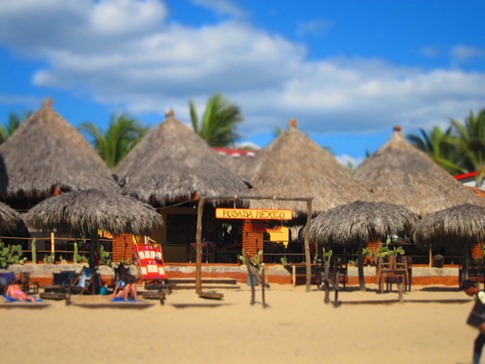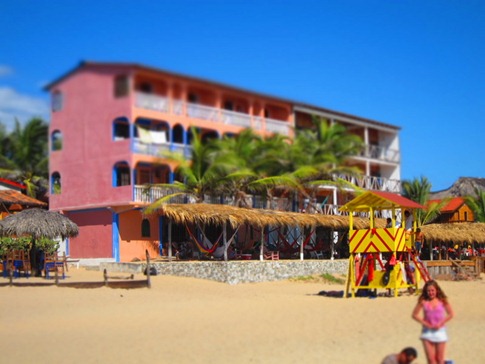 And so our routine began; Wake up around 8:30 and brew the remainder of the fresh-ground coffee we got in Oaxaca, make some breakfast of oatmeal or eggs (or French toast on Ann's birthday), sit in the hammock surfing the web or checking email for a couple hours, set up the giant umbrella we bought in town in the same spot on the beach, read and watch naked people frolic in the surf between cooling dips in the ocean and strolls into town for cold juice drinks, return home for a "Flashdance shower" and more downtime before grabbing dinner in town and watching an episode of Mad Men. We did this without notable variation for 4 days.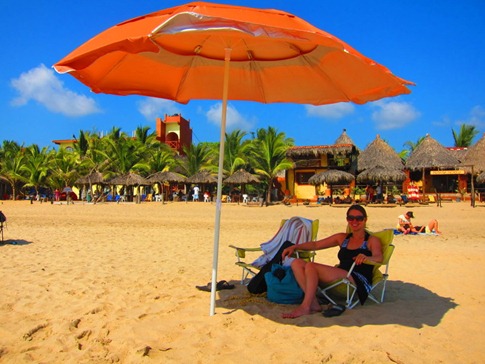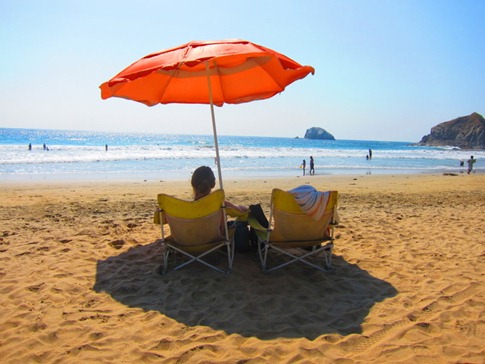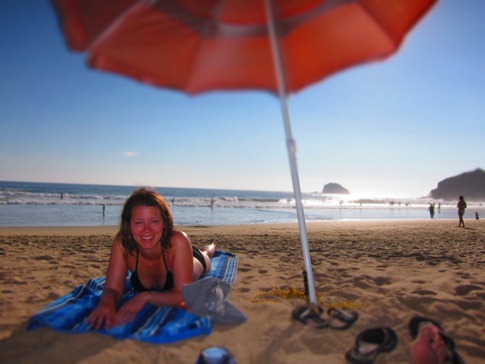 What she's looking at…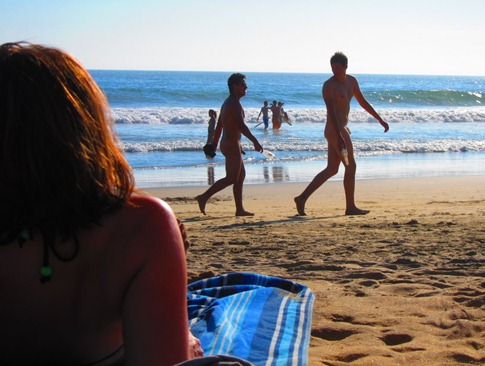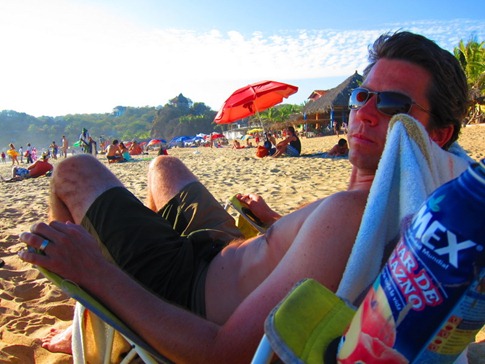 Lifeguards fishing naked dudes out of the rip current.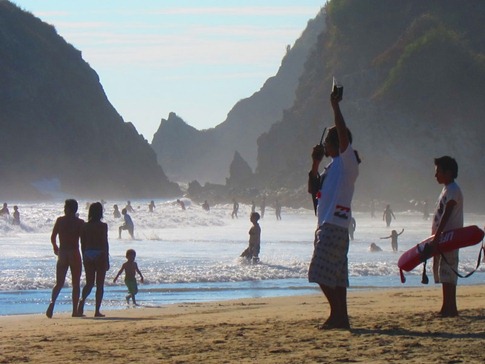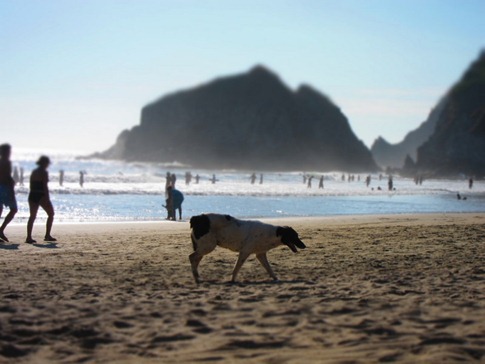 After a couple days of camping, we asked around at a few of the beachfront hotels for a room over New Year's Eve. The week between Christmas and New Year's in December and Semana Santa in April seem to the two big Mexican vacation times, so while they were never willing to say no, each day we were told to check back the next day and inevitably came up short. Given that the option would have been an expensive but mediocre room with a bathroom for 800 pesos ($70) or a dingy and bare room with a bed and a shared bathroom for 400, ($35), our comfy sheets and pillows in our nice clean truck (and don't forget the "Flashdance" factor) for 300 started to sound better and better.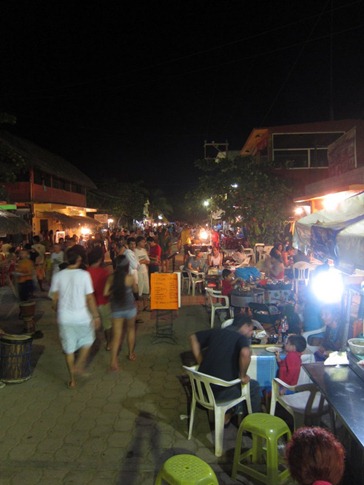 The town of Ziplolite consists of the mainstreet lined with mini markets, clothing shops and beachfront hotels and extends into small places offering cabanas and tent camping spots on the periphery. In addition to the Canadian presence found just about everywhere in Mexico, there seemed to be a lot of French and Italians who had opened restaurants, making French bread and decent pizza nice alternatives to the taco and torta stands. Still, two primary populations made up the bulk of the demographic: Mexicans and hippies. The Mexicans were families and young couples down from Oaxaca or other inland destinations to enjoy the beach. The hippies were either gray-haired gringos or 23-year-old white girls trying to make their father's hair go gray. Fine, I'm getting old, but all I could think of was them telling the story 30 years later: "Oh, that was a crazy six months. I took off and lived in this little Mexican town on the beach and met a Mexican guy named Marco who played dijeridoo in a nuvo-traditional culture-fusion exploration band for tips while I sold bracelets tied from hemp twine and beads we later found out were made in China. Marco sold a little weed on the side while I'd wander topless on the beach, trailed by three stray dogs that I would tell people embodied the spirits of the sun, moon and sea. I was such an idiot."
The shakeup came on New Year's Eve with the arrival of Christian and Shaun, an active member of the Expedition Portal and a friend on the way to Panama to start up a very hush-hush business venture about which we were told we'd be excited. We'd been in email contact for the past couple weeks, and last we told them, they could track us down using our SPOT. When they arrived at about 6 pm after a marathon drive, I was running my own race against the sunset after setting off to find an ATM and ending up needing to drive more than half an hour back to the highway junction. I returned in the fading light, barely able to make out the curves and trying to keep pace with taxis as an early warning system for the unpredictable and ruthless topes, all the while swearing I'd never be caught without an extra stash of pesos again (I'd run out again two days later).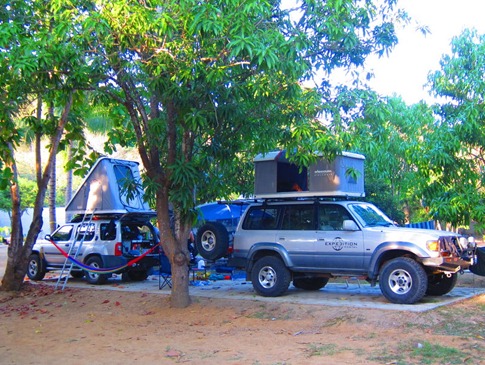 When I pulled in, their huge silver Landcruiser with a similar roof tent, oversize tires, a lift kit and aftermarket bumpers was parked behind our tiny silver Xterra, looking like a magnified and distorted reflection in a fun house mirror. Actually, it just made ours look like a toy. Adding to the wow factor was a hitch-mounted motorcycle carrier for Shaun's KTM Super-Motard which they'd been taking turns riding in the twisties along the coast on Mex 200. The most relevant piece of equipment to the evening, however, turned out be the 40L refrigerator, the only contents of which were a bottle of champagne.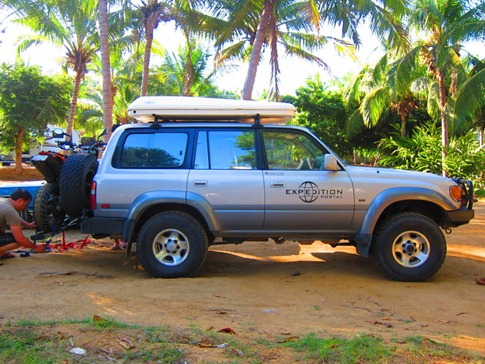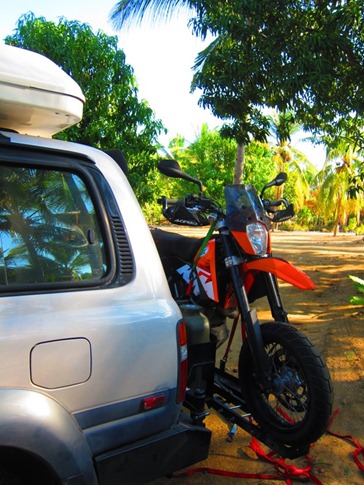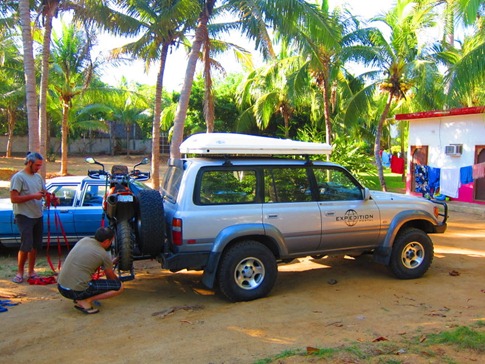 As night fell, we made our way down to the beach where bonfires were burning and people were enjoying the evening in the open-air restaurants. We'd been told about a ceremony at the yoga center up the hill at the northern end of the beach, so we huffed our way up the path, against a stream of people completely dressed in white. At the top, we pressed into a crowd gathered around traditional dancers wearing headdresses and loin cloths, all chanting under a palapa. It was clear that the ceremony was powerful for the participants, but to be honest, it seemed a bit new-agey and pretentious for all these white folks, clothing and skin color, to be dancing around chanting words in a language they likely did not understand. The similarity of the melody to "What Shall We Do With The Drunken Sailor" probably didn't help me get in the mood.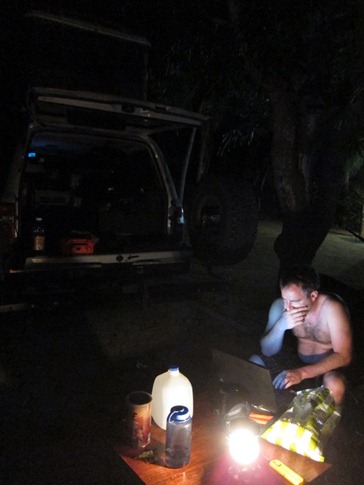 Online and on an expedition. Christian was in heaven.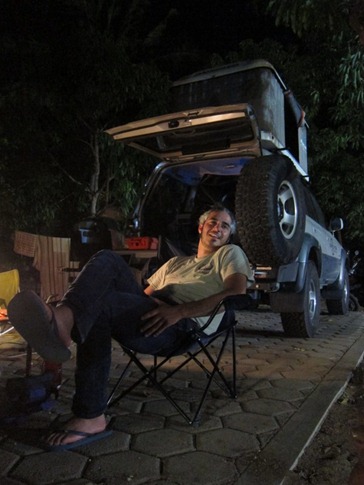 Shaun found a pair of flip-flops in town to complete his "native" look.

Skyping from a hammock is the ultimate way to say "na-na nana-na!"
Back on the beach, the four of us had a great dinner of steak in bleu cheese sauce and other French-inspired dishes while we traded travel stories and practiced our Spanish on the waiter. No one really seemed to have any idea what time it was, and by the time we asked someone, it was 11:54. Approximately (and I do mean approximately) 6 minutes later, the guitar player at the restaurant behind us on the beach abruptly stopped playing to start the countdown. "Cinco!" he shouted into the microphone, but then realized another countdown had already been started by patrons at the bar. Thinking on his feet, he continued in sync with them jumping directly to "Dos, uno… feliz nuevo ano!" We popped the cork on the delightfully chilled champagne which Christian and I proceeded to polish off as we all walked from party to party on the beach discussing their business plans and confirming that we were in fact, excited about them. Still hush hush, but you'll read about it here in a couple months if you haven't already on the Expedition Portal.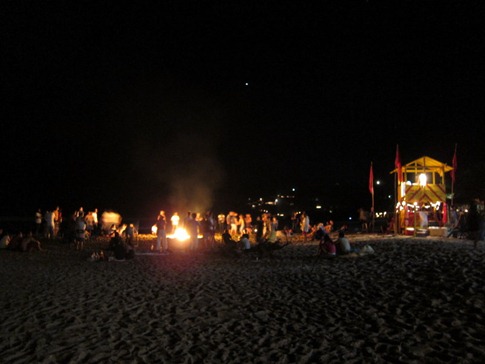 We left Zipolite refreshed after a couple weeks without covering too many miles, but excited to get farther down into Chiapas and on to the Yucatan.