Belize has only three main highways creatively named Northern, Southern and Western. All road signs are shockingly casual with small green signs and white lettering; Don't blink. We followed one of these signs off the Western Highway just past the Belize Zoo. After 50 feet, the dividing lines disappeared and the road turned to dirt for 40 miles; This was the main road, marked in our book, out to Dangriga on the coast.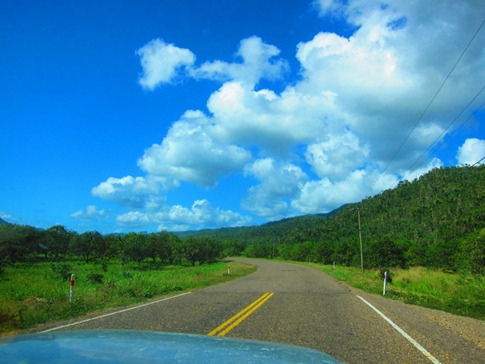 Ann suggested we walk a couple of the wooden bridges before taking the truck across.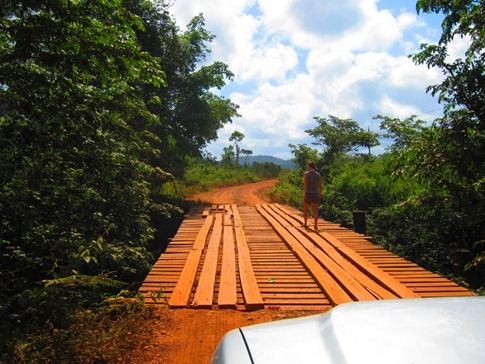 At the coast, we took a fork north and found the little town of Gales Point at the bottom of two inland lagoons. This area had been hit particularly hard by Hurricane Richard a few months before in October, and seeing the tiny shacks built on stilts, we wondered how they'd survived at all.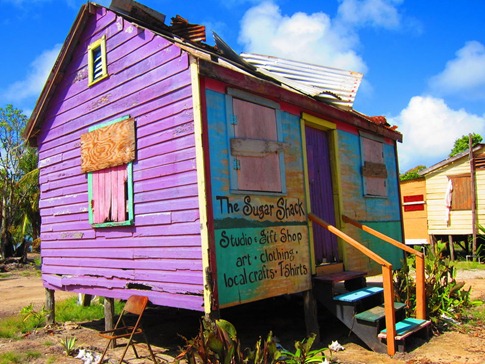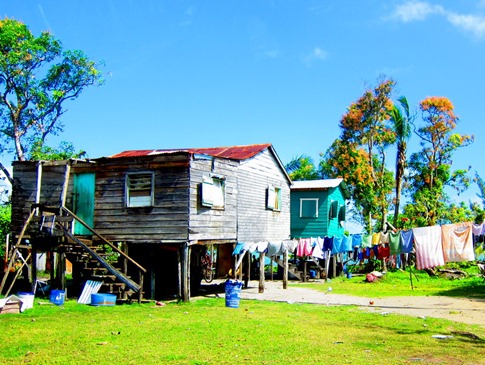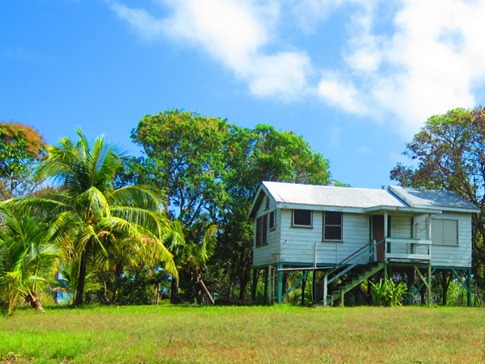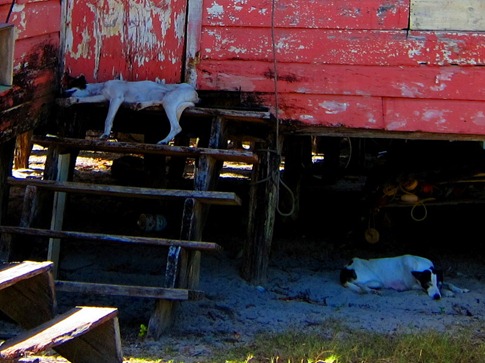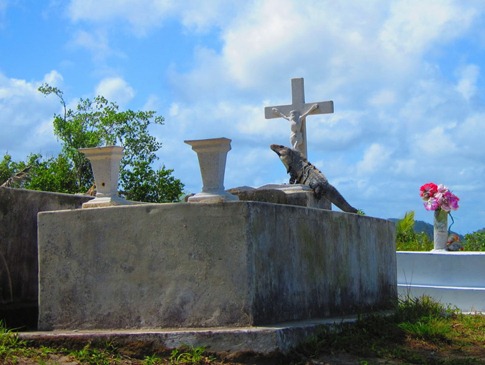 The locals were all friendly, waving and asking if the gringos knew where they were or needed directions. We'd had a couple instances since entering Belize when we took wrong turns and random locals would point back to the main road as we drove by; We must not have been the only people who had made the error. A few residents out there offer boat tours to see the manatees in the lagoons. While we didn't feel like a boat ride, we sat on the porch of "Gentle's Cool Spot" and drank huge sodas in heavy, refillable glass bottles. Is laziness the only reason we don't still use these bottles in the US?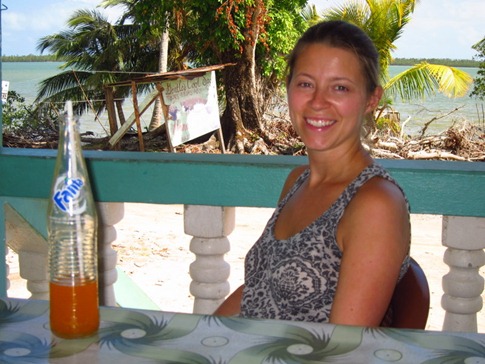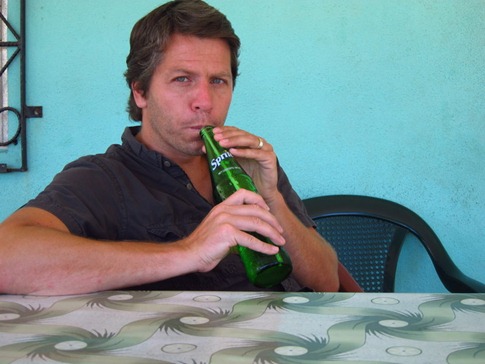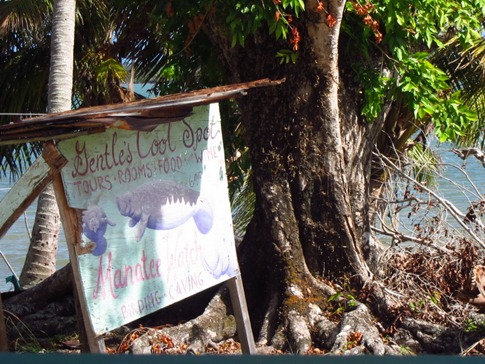 Note, almost all roadside businesses have signs from a beer or cola distributor with their names and the type of business written on them: "Theresa's Restaurant" or "Maggie's Store." "Cool Spots" are also a popular business type.
South of Gales Point, we connected with the paved Hummingbird Highway leading from Dangriga inland to the capital at Belmopan, built after most of Belize City was destroyed by Hurricane Hattie in 1970. The Hummingbird winds 40 miles inland through rolling hills, small farms called "fincas," and orange groves. Just before the Caves Branch River, we saw a small sign for the Caves Branch Jungle Lodge and remembered it being mentioned in the Central America Rough Guide, though we should mention that this is a book we're starting to loathe. After driving the dirt road 1km into the jungle and seeing the beautiful lodge and pool beside the river, we knew we had to stay.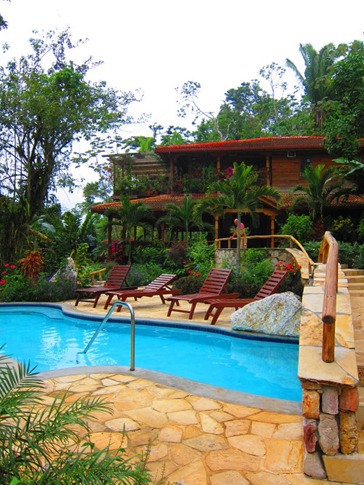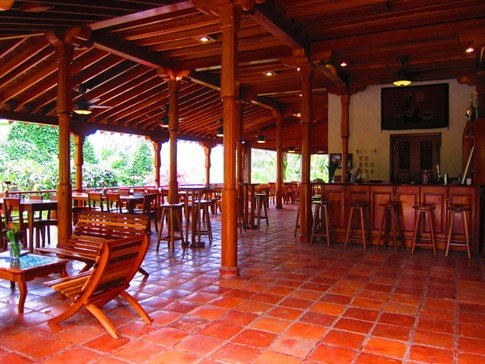 Canadian Ian Anderson came to Belize about 20 years ago to work for one of the first large hotels to be built in Belize City. An archeologist friend took him into a cave where the ancient Maya had performed religious ceremonies; He was blown away and started the first cave tour company in Belize, a country now thought of as a mecca for cave explorers. Soon after, he secured the 58,000 acres that now include the Caves Branch Lodge and a number of caves into which his guides lead guests. Currently, the lodge features luxury tree houses, thatched roof jungle suites with modern fixtures and detailed tilework, and simple but comfortable jungle cabanas with screened windows and fans in addition to a botanical garden that supplies the landscaped grounds native plants.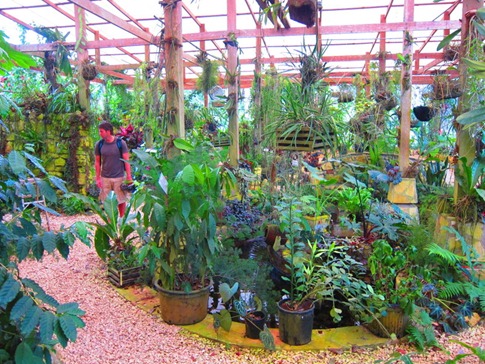 We settled into one of the simple jungle cabanas to find a comfortable bed, mosquito coils (spirals that when burned act as a repellent), a 10 gallon jug of purified water and a towel monkey we immediately set about reverse engineering.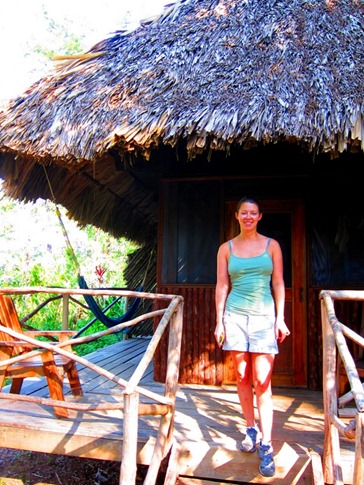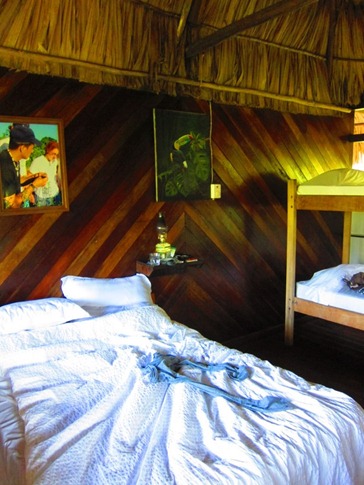 The shower had plenty of "jungle-cache" but also plenty of hot water.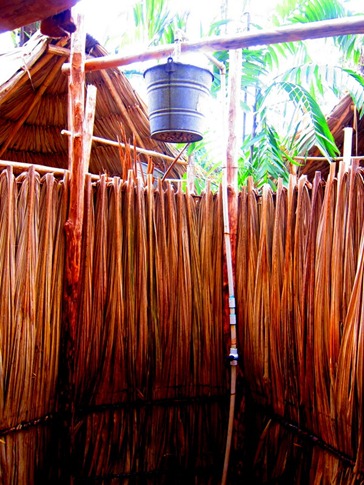 Despite Ian Anderson inviting himself to sit down at our table during breakfast and detailing his accomplishments for 10 minutes, it was hard to find him braggadocios; He really had created something pretty impressive and was anxious to share it with people. And that morning we were going on his Cave Tubing Expedition.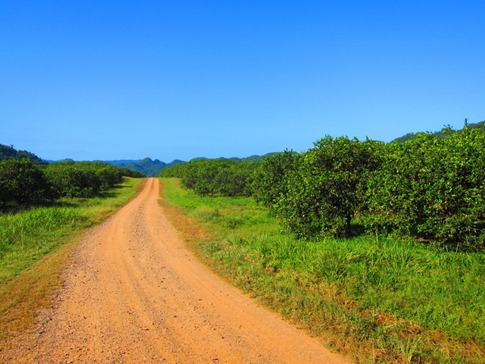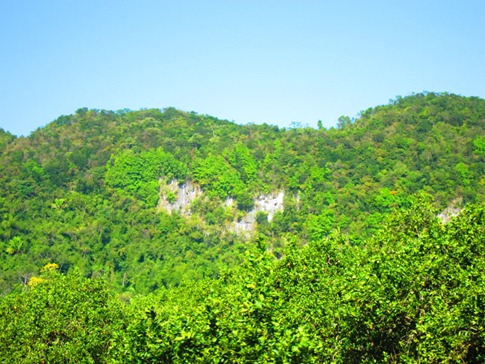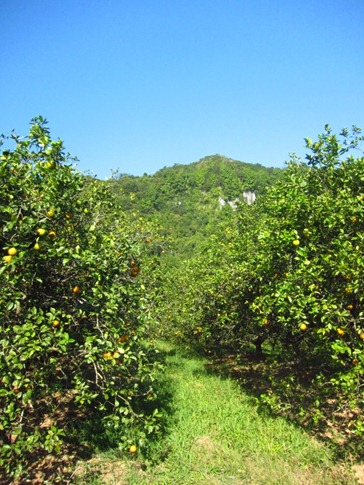 We boarded an old school bus, windows knocked out and replaced with nice wood trim, and were driven by our guide, Esperanza, through vast citrus orchards owned by the lodge. We turned into a gated lot filled with farm tractors and equipment and down a road past barracks-like buildings that appeared to house pickers. It was starting to become clear that the lodge might not be Ian's largest money maker. The bus rumbled across a shallow river and stopped among the rows upon rows of yellowish oranges; Ian's son who was tagging along on the trip explained that this variety was developed for juicing and thus its appearance wasn't important. Esperanza produced inflated truck innertubes and a pile of headlamps from the back of the bus and handed them out to us; Derek and Erin, a nice couple from Santa Cruz we'd met a dinner the night before; and Ian's son and a friend. We geared up and marched down a path to the river.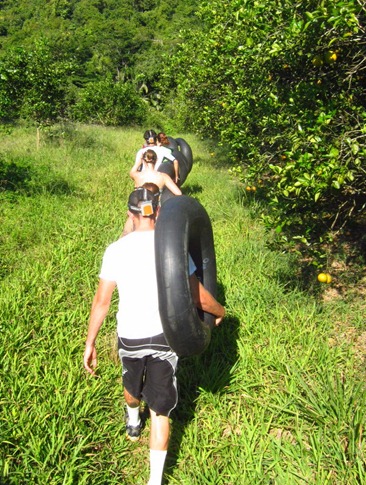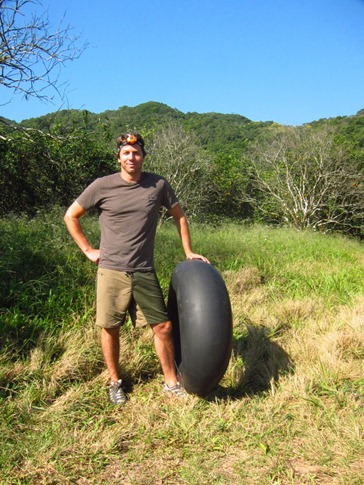 Once in the water, we floated, butts squeezed into the hole of the innertube and hands in the water as paddles; The easiest direction to move was backwards towards the mouth of the cave.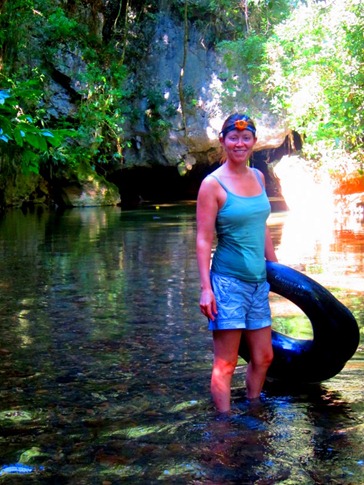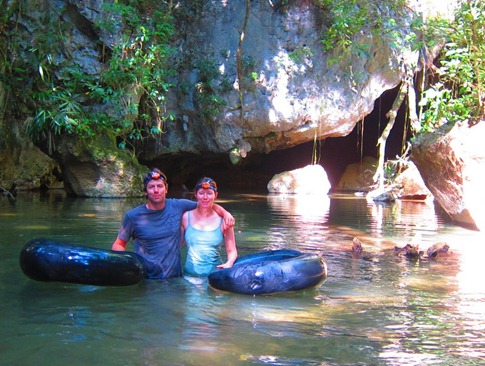 Inside the cave, we alternated between floating and walking with Esperanza leading us up side passages while explaining how these caves and the formations are created; Limestone left behind after an ocean recedes is eroded into huge caverns by underground rivers. Dangling stalactites (which hang "tite" to the ceiling) are created when decaying organic material on the surface makes groundwater acidic and it eats down through the limestone, picking up minerals as it goes. When this mineral-rich water reaches the cave roof, it drips leaving a small bit of the mineral load behind. When it hits the floor of the cave, it can begin to form stalagmites (which you "mite" walk into) that slowly grow upwards. As the distance between the dripper and the drippee closes and they eventually meet, a pillar is formed. Other features include curtains, wavy-looking walls that look like petrified waterfalls, and an assortment of bizarre crystalline shapes, basins, and sparkling flows. It was easy to see how the Maya, upon finding these caves, came to the conclusion that they were the gates to the underworld. Shards of pottery, broken after each ceremony to assure they couldn't be used again, and remnants of smoke on the ceiling are left behind as evidence of their presence as recently as 1000 years ago.
Inside the cave was completely dark except for the illumination by our powerful headlights. I put together this little video of our tour…
Back at Caves Branch Lodge, the attentive and friendly staff kept us filled with Belikin, the Belize national beer, and put out an amazing buffet spread at the communal tables on the veranda. Normally, we're not big on having to make small talk with a buncha strangers but the shared experiences of the tours and the fact that these were all the type of people who would choose this kind of vacation made it actually kind of fun. I definitely don't think the fact that the Belikins were flowing and we'd been spending 24/7 together for the past 75 days had anything to do with it.