We'd gotten the impression that San Miguel de Allende might just suck us in. In hindsight, this could possibly have been from Lost World Expedition's post "San Miguel de Allende… it will suck you in," but you can never be sure. At the San Miguel RV Park and Tennis Courts, there are fifteen spaces tucked between two tennis courts (an odd but apparently profitable counterpart to the RV park) filled with rigs ranging from something you'd expect to see on its way to the Grand Canyon to something you'd expect to see crushing old cars at the Cow Palace on Monster Truck Sunday (Sunday! Sunday!). And in the middle was us.
Within minutes of pulling into the campground hidden away in the center of town, we knew everyone's names, a few life stories and had heard about the German couple who had planned to stay two days and have now been there two years. We were greeted with questions about our trip, insights on things not to miss along our route, and invited to stay for Christmas (which would put us in the company of Mike and Terri Church, authors of the venerable and indispensible Church & Church Mexican Camping book. This great bunch of interesting folks inspired us with the lifestyle choices they'd made to end up in San Miguel and generally made us feel like part of the group. But for some reason, we started talking about leaving almost right away.
San Miguel has everything – a real sushi bar, a pretty good pizza place, a tasty burger joint - but we weren't really looking for any of that. We'd only been on the road for about four weeks and close to two of those had been getting out of the US and relaxing with Kim and Alex in San Pancho. We'd just started getting the hang of traveling in Mexico, using our Spanish and shopping in the local markets, finding tortillerias and panaderias and carnicerias and honestly, we liked how it made us feel. We had driven 2,000 miles into a country that many people in the US are too scared to enter, if not because of drug wars then because you can't drink the water, and we were having a great time, learning new things everyday and frankly, feeling a little proud of ourselves. This is despite the fact that the 80-something year old couple in the RV next to us had also made the trip as they had done for 20 plus years including the first time with 4 kids in a station wagon. Still, we just felt like we really didn't want something we could have gotten if we'd just stayed home.
But there were a few things we did want including clean laundry and some information on classes at the Instituto Allende, a language and art school central to the culture and tourism scene of the town. We were quickly informed by the seasoned pros that a guy came by on Mondays and Wednesdays to pick up laundry at the campground and would return it that evening. Well, of course, that sounded incredibly convenient but wouldn't give us a chance to remember that "pesar" means "to weigh" or to figure out the conversion between pounds to kilograms (or underwear to grams) when we brought it to the laundromat where they charged 20 pesos a kilo. These were small things we'd been taking pleasure in. And at that price they still folded everything perfectly and wrapped it in plastic, but that was an indignation we were willing to suffer. And we fared no better at the Instituto where we were told that there were no new classes starting until after Christmas.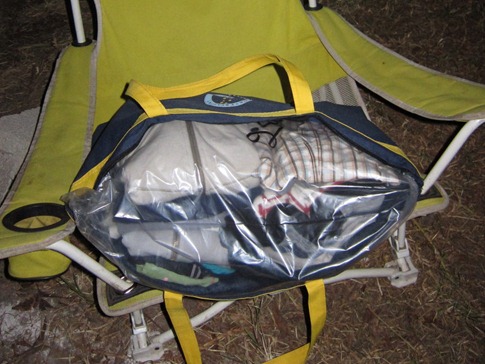 The afternoon would have been a total loss were it not for the shining light of hope that was the tortas, grilled Mexican sandwiches with toasted bread, pulled pork, cheese and a carefully hidden jalapeno pepper, we picked up on the way home. Neither of us could get through the whole thing so we had our second halves wrapped (new verb: envolver). We returned to the truck satisfied if a little discouraged, but the sun was out and the atmosphere in the campground was peaceful and friendly, so we settled in take advantage of the great wireless connection and make the best of it. While we weren't looking, one of the campground cats got into the tinfoil wrapping and ate the rest of Ann's torta. Left its footprints all over the stainless steel table…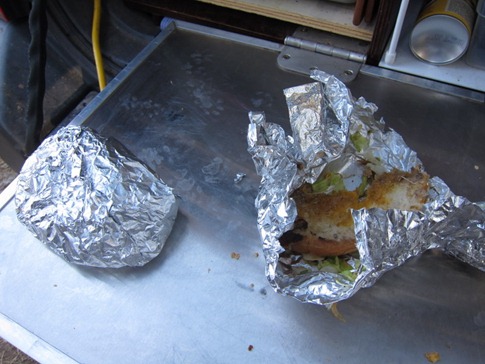 Before we left for the trip, we met someone who asked if we'd be doing a blog. When we said we would, she said "Can I offer you one piece of advice?" Thankfully it was not "Don't indulge yourself in painfully detailed accounts of what you had for breakfast and use sentence after sentence to awkwardly set up jokes that only you will find funny." We would have been completely out of luck. Instead it was, "Don't spend the whole time complaining while the rest of us are back at home wishing we traveling." And that's not what I'm trying to do, but rather to make a couple points we knew would be the case. First, that everyone's looking for different things in a town or a vacation on the whole, and second, that your impressions of a place are often determined by your mood or the experiences you happen to have while there. We may not be looking for the same things as a retired couple spending 6 months out of the year or a family on a week vacation might be, although, after giving ourselves a day to sulk and mourn the momentary loss of challenge in our life, we did start to see why people are so fanatical about San Miguel de Allende.
Like Guanajuato, San Miguel de Allende is a great town for wandering. You can sneak into the Instituto and wander around to the patio in the back for one of the best views of the Parroquia, then hit the narrow streets to weave your way up to it.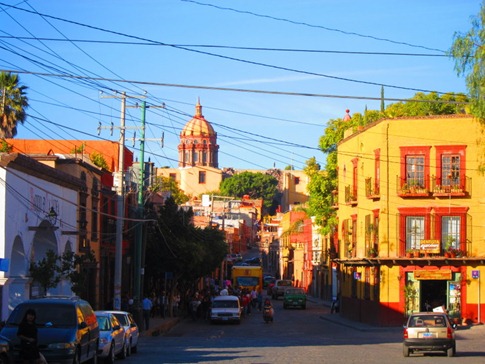 Sure, along the way, you'll see the burger joint and the pizza place and have a chance to duck through a tiny traditional door into the Harley bar, but you'll also pass all the local shops, art galleries and corner taco stands before emerging into the main square in front of the church. There's no question that the Parroquia is one of the more picturesque we've seen in Mexico, and the rumor is that it was designed by a guy without architectural experience based on postcards he'd seen of European churches. Reminds me of going to see Neuschwanstein Castle in Germany on my first motorcycle trip in 2006, which was supposed to be the castle that Disney's Magic Kingdom was based on.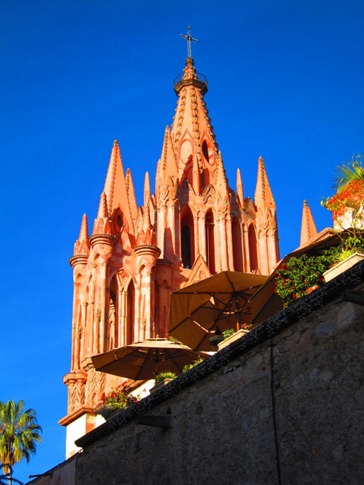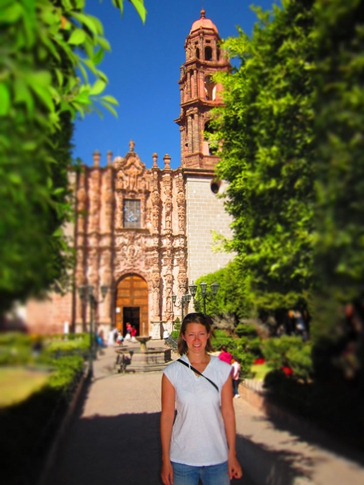 And by the time we were walking home, we were stopping every block to take pictures of everything around is. They say the same thing about Provence: that there's just some different quality to the light. It's said to be what inspired the founder of the Insituto Allende to settle here.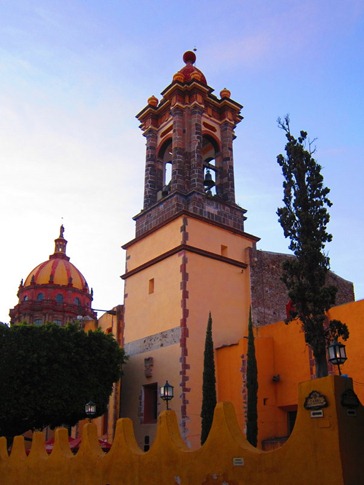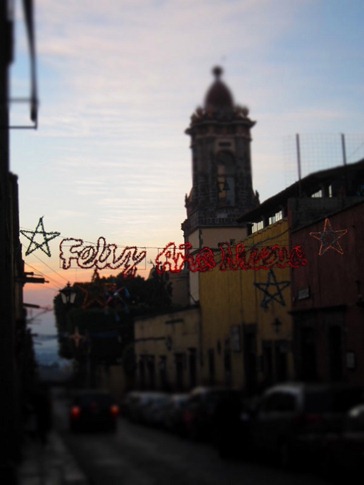 The next morning, the world was new. We were happy to be in San Miguel and understood completely why people loved it. We had a leisurely breakfast with muffins and sweet rolls from the panaderia and must have walked up to the church three separate times on errands for food or to buy Christmas presents for friends and family back home, each time saying, "My mom would love it here" and "We've gotta tell my brother about this place."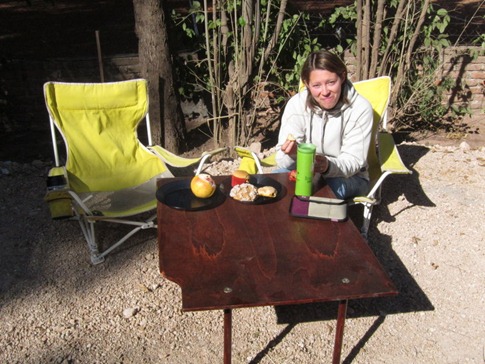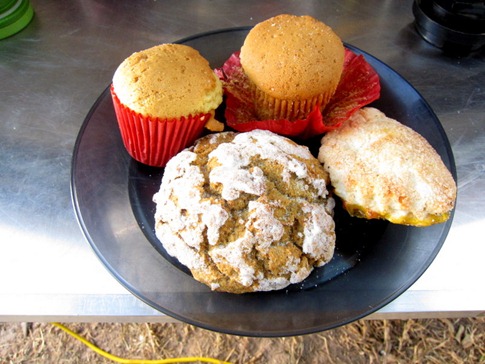 Note one of the two sleeping platforms we built to use  inside the truck but later realized made great coffee and cooking tables. The legs screw into T-nuts and the tables store under the mattress in the roof top tent. More info…
While hanging around the campground, I took the opportunity to catch up with the Expedition Portal forums, including one thread entitled "Mexico: possible dangerous scenarios/response" in which a poster started a discussion on what one might do if they found themselves approaching an armed roadblock or worse, someone trying to harm them or take their vehicle. Security in Mexico has been a common thread topic on the forums recently and one that we've done our best to stay informed on. As always, responses in this thread ran the gamut from "Are you insane? You will die." to "S'all good, brah. Just chillax and the universe will provide."
At one point, there was a response asking whether there were any specific areas that should be avoided, and someone living in Mexico City posted "Avoid Michoacán at the moment" with a link to an article from the BBC describing the killing of a cartel leader near the city of Apatzingan in Michoacán, the Mexican state we'd been in the few days before. I chimed in that we had been in Patzcuaro, 150km from Apatzingan, and hadn't noticed anything and made the parallel to being in Calistoga while violence was happening in Oakland. San Miguel de Allende is more like 400km from Apatzingan, so I added that it was like we were now the same distance as Lake Tahoe from Oakland and that generally, it was a better idea to vacation in places like Calistoga and Lake Tahoe, rather than Oakland.
There was some more discussion including links to news stories about the violence having been more widespread than just Apaztingan. In fact, on Thursday, two days after we'd been in Morelia, there were reports of the five major roads out of the city having been blocked by gunmen and barricades of burning cars. In hindsight, the convoy of 10 Policia Estatal trucks we'd seen in Morelia on Tuesday could have been part of an escalation leading up to the Wednesday raid in Apaztingan that killed the cartel leader and the spillover of activity on Thursday. In the end, we feel that we would have had to have been very unlucky to have found ourselves on one of those roads just as the barricades were being set up and have seen online forums reporting that local officials set up their own roadblocks to divert traffic from the area.
During the discussion, poster of the "Avoid Michoacán" response, "TommyD," generously offered to meet up with us if we were coming through Mexico City to exchange some more information and have lunch. We got in contact with him and made plans to try to make it happen while in Teotihuacan, just north of the Mexico City. We also got in touch with Kevin and Ruth, a couple we'd heard about from someone in the campground, who were currently in Michoacán at the Monarch butterfly sanctuaries where we were planning to go next. Their blog and the email we received back from them reported that they hadn't seen anything that concerned them and that they felt safe. We decided to continue with our approach of sticking with "Calistoga and Tahoe" destination and getting current information as we went.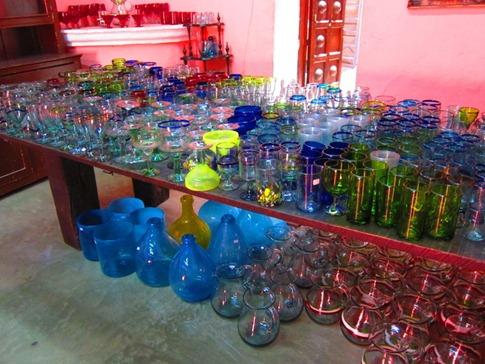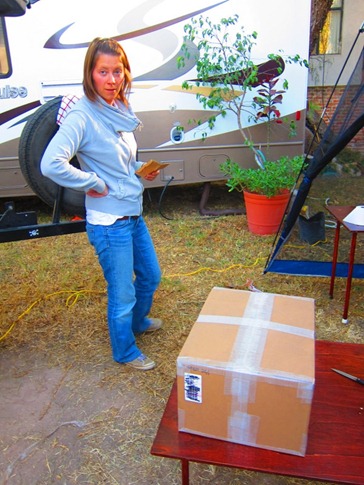 We spent the rest of the day doing some more shopping, often feeling like we had no choice; We just couldn't pass up four beautiful handblown wine glasses, two huge beer glasses, and two shot glasses at the store in the picture above for about $20. We tracked down a box and packed them up with the rest of our treasures to be sent home.
Back at the truck, the temperatures dropped as the rest of the campground denizens retreated into their steel walled apartments. Ann was sitting in the passenger seat Skyping with her mom when I suddenly remembered a plan that had come to me on one of the many afternoons I spent crawling around in the truck in preparation for the trip. When she was done, we moved the two Action Packers that sit on the backseats into the front footwells, put the cooler and extra battery on the front seats and flipped the seats forward. In about a minute, the cluttered backseats had been transformed into a comfy living room couch. We hung our towels on each side as curtains in front of the windows, set up the laptop on the armrest between the front seats and cozily settled in for an episode of Mad Men. Who needs an RV?
The bombas started around 10 pm. And then the bells. And then the brass band. This had pretty much been the pattern every night since we were in Tequila on the 1st, but this was December 11th and the next day was the official celebration of the Virgin of Guadalupe. This was the main event. Welcome to our evening…
Later in the day, we were walking back to the campground and noticed a castillo like the one we saw in Tequila set up in front of the church. We returned after dark with a blanket, partially for warmth, but based on how close to the crowd they were setting up the fireworks, we thought it might also come in handy to snuff out any stray sparks. Como se dice "Stop, drop and roll" en Espanol?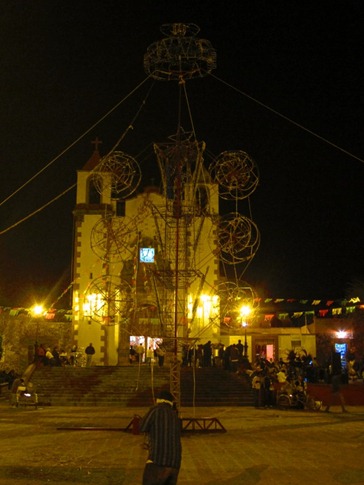 And this castillo did not disappoint. We left with ash on our clothes and the smell of combustion in our nostrils.
We'll admit it; We arrived in San Miguel de Allende amidst a little too much hype and not particularly open to what it had to offer. But, as promised, it sucked us in. A couple days before we left, a German couple pulled in to the campground on two adventure motorcycles. We went right over, told them our names, our life stories and all about the the German couple who had planned to stay two days and have now been there two years. We asked them questions about their trip, offered insights on things not to miss along their route, and told them they were invited to stay for Christmas. And yes, that night we went to the pizza place. And you know what? It was pretty good.