Senor Garmino has not been very confident when giving directions. In fact, each time we start driving, he throws a conniption and starts furiously trying to undo some unknown damage we've done to his suggested routing. When his maps show a dogleg to the right but the road continues straight, he just rotates his map slightly and proceeds as if he knew it all along. If it were up to him, we'd constantly be driving on a road about 50 feet out into a field beside the highway. But he's been about as accurate as we'd expected a GPS unit loaded with the Garmin World Maps and the Smelly Biker/Wanderlust Maps to be.
Leaving El Fuerte, he was adamant that we continue through town the way we'd arrived but neither the paper map nor the Lonely Planet could corroborate the existence of a route in that direction, so he was vetoed. As we backtracked towards Los Mochis, he suggested shortcuts across to Mex 15 but the few times we fell for them, we found ourselves cut off by irrigation ditches and endless planted rows of a farmer's field. He offered no apologies, stubbornly insisting that we proceed. About the time we started seeing signs on the main road, he piped in, "Yeah! Take a left here in the direction the sign's pointing." Still, he's usually helpful in giving us an idea of distances between towns, shows us generally where we are on the map, and keeps track of where we've been so we can upload our route to the web site.
Since the border, we've typically been driving on the "cuota" or toll sections of Mex 15, usually a 4 lane road in good condition and with speeds up to 110 km/hr (68 mph). There's also a "libre" or free side road that goes through all the towns. Still, on the mega highway, you never know what you're going to find, from a smoking truck with a trailer crawling at 20 km/hr to a modern, luxury bus whizzing by at 10 km/hr over the speed limit. Throughout, there are old men biking down the side of the road in the afternoon heat, herds of bony cattle grazing in the median tended by a lone cowboy, and unattended grass fires smoldering on the shoulder, but no one gives any of it a second look. Business as usual.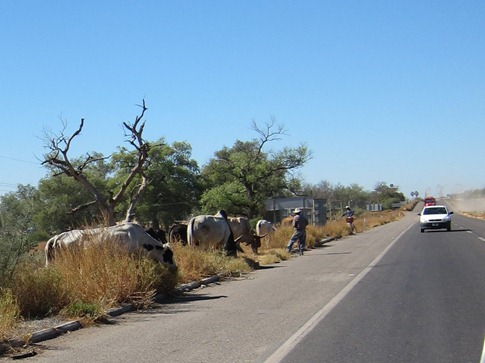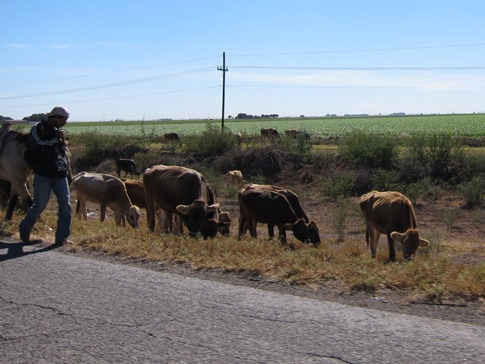 From time to time, a sign will signal a "Reductor de Velocidad," speed bumps also known as "topes," around an intersection or where a bus lets off passengers. Though locals usually know just the right path on the shoulder to avoid them, hitting them head on at anything more than the posted 40 km/hr will loosen your fillings. Leveraging the threat, authorities will sometimes post a sign but just paint lines on the pavement that look like bumps, scaring people enough with these "faux-pes" to be effective.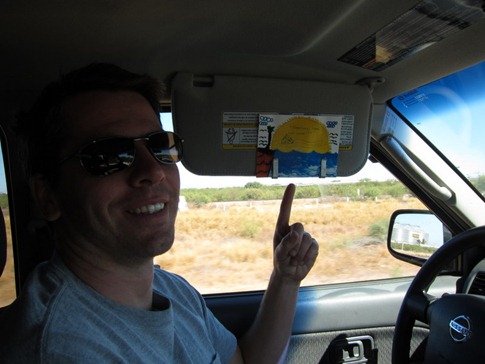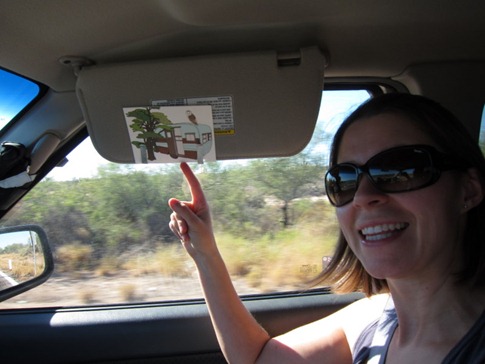 Some cards friends gave us before we left have taken up positions of honor in the truck.
At each casetta de cobro, probably numbering 10 or so from the border to Mazatlan, a sign will indicate a seemingly arbitrary toll ranging from 45 pesos ($3) to 165 pesos ($13). While expensive, the road has been in very good condition with lonesome crews of a few guys in orange vests out in the middle of nowhere repainting the curb or sweeping the shoulder a common site.
Maybe another 10 times since the border, cones have appeared in the road narrowing it down to one lane, or we've approached a more official looking checkpoint manned by one to five Dodge Magnum Policia Federal cars and stern looking officers. Each time, we've been waved through before we could even roll the window down. There's a definite impression that the Federal Police have stepped up their visibility and vigilance, but thus far, we've been left feeling like a) the road is safer with them there and b) they don't really care much about us.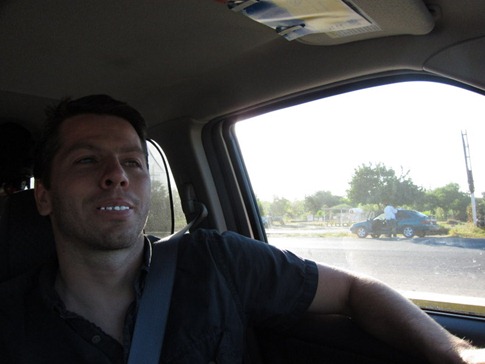 Mints make awesome fake teeth when you're trying to affect an aire of confidence.
Despite Senor Garmino's (frankly childish) insistence that Mazatlan was still 1615 km away, we knew it was more like 25 once we reached the final casetta. Either way, we'd been on reserve for 30 minutes at 60 miles an hour and we weren't going to make it. Dumping the 33oz MSR fuel bottle we use to fill the stoves into the tank only added a quarter gallon, maybe 4 more miles, but we didn't feel like risking it. And of course, we'd yet to fill the 4 gallon spare tank we keep between the rack and the roof tent. As I settled back into the driver's seat, having confirmed with the woman behind the counter at the casetta store that the closest gas was all the way in Mazatlan, we were starting to discuss the options when my eye caught something in the rearview mirror: Five gallon jugs of sloshing yellow liquid being loaded into a van. Some rudimentary Spanish and a few minutes later, the guy had a piece of green garden hose running between our gas tank and the jug. With the jug elevated, he sealed the mouth of the jug where the hose entered with his lips and exhaled fully. The added pressure in the jug forced the fuel out the hose and the siphon was started. We paid him 150 pesos for about a 1/4 tank, just a bit over what we'd been paying at the pump.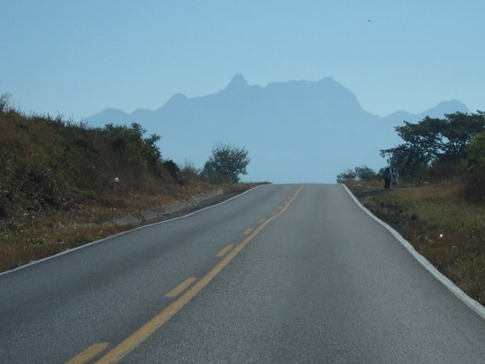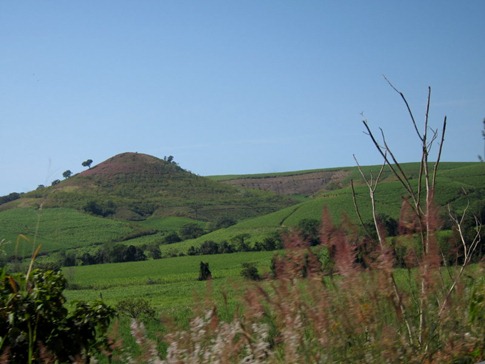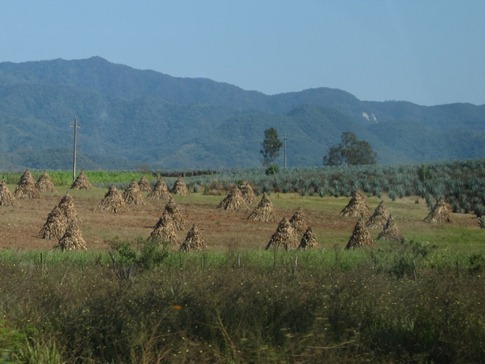 Pictures are actually from a little south of Mazatlan, entering Nayarit. A volcan appearing in the distance. Farm land becoming a little more well defined and organized. These are NOT pygmy villages but those *are* agave plants in the background.
Both the C & C Mexico Camping book and the Lonely Planet seem committed to offering at least a few places to stay in each town but then systematically explain why you should not stay at any of them. "The Grand Hotel del Rio is centrally located with a beautiful lobby and immaculately kept rooms… that you'd only want to stay in if you like the smell of vile effluent flowing from pipes into the river behind the hotel." "Los Casitas Amores feature charming one bedroom units nestled into private gardens with a view of the central church… which was built on a graveyard whose spirits have driven the staff insane causing them to scream profanity at guests. And the tortillas at dinner were a little stale."
But the description for the Mar Rosa RV Park in Mazatlan only warned that ocean front spots are booked years in advance and overnight space might be hard to come by in the high season. It would appear that the US economy and security fears have changed all that. Expect the latest edition of C & C to update it description: "The Mar Rosa RV Park is clean, secure and well maintained with private beach access and sites ranging from beachfront to ocean view… but is too dangerous because of all the unoccupied spots where you might trip over their tiled patio or electric outlet."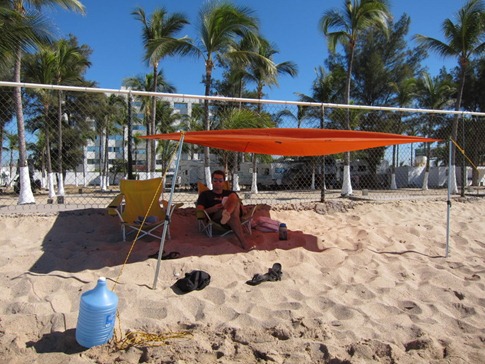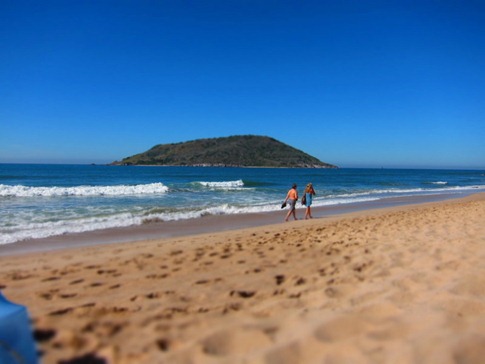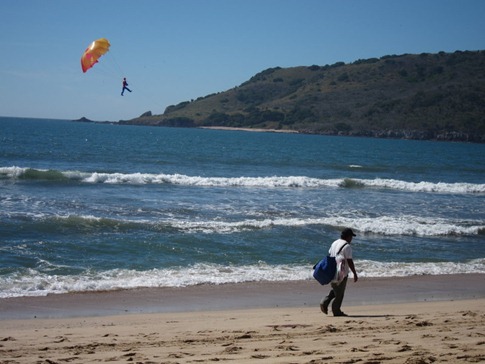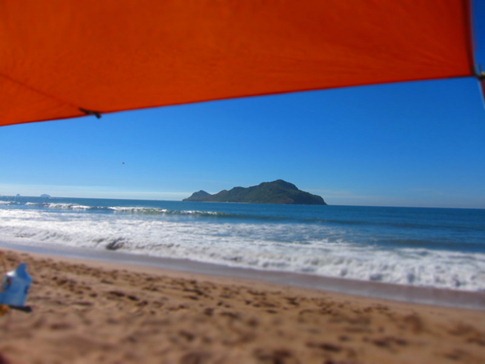 Our shade structure on the beach right in front of the Mar Rosa. A couple shots use the titl-shift effect on our Canon S95. I think it ads "zing" to know that the mini parachuter is Spiderman.
Half resulting from our fuel scare and half in an effort not to blow through every town, we realized that we could spend the whole next day in Mazatlan and still get to our friends' house in near Sayulita when we'd planned.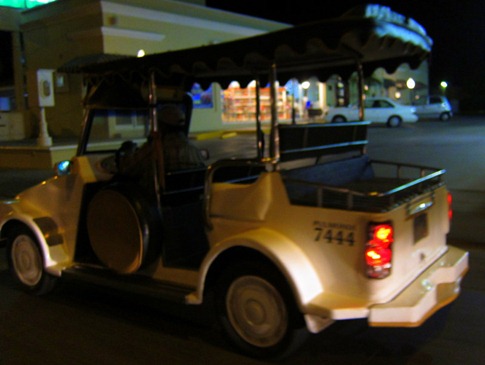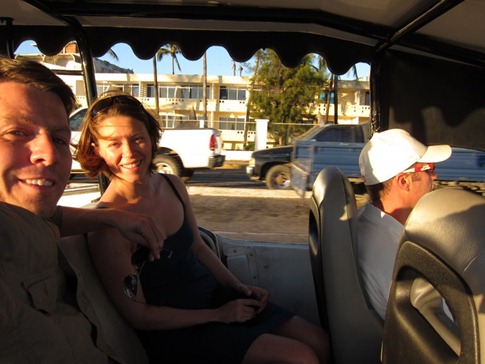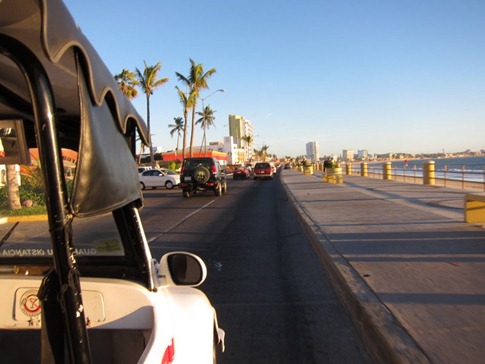 After a relaxing morning on the beach, we grabbed a cab that looked as if a golf-cart and a VW bug "did it" and rode down the malecon to the marchado in the old town.  All of a sudden, we were back in our summer trip to France with café tables spilling out onto cobblestone sidewalks surrounding a plaza where families and couples strolled arm in arm as the sky turned pink and orange and the street lights flickered to life. A friendly but insistent waiter convinced us to have a drink and some nachos while we watched scores of tiny ballerinas flow out of the school for the arts after the evening class, twirling for their parents as they walked towards home. After a delicious tortilla soup and shrimp tacos at the next restaurant up the plaza, the shore launch from one of the ships in port must have just arrived because 20-30 gringos in their "sexxy sixties" or "svelt seventies" (and a few that could have been in their "naughty nineties") emerged en masse and took over every available table at the restaurant on the corner, clearly the one listed on the activity board on the Lido Deck. We don't seem to be able to keep up with their parties lately so found a caddie, er.. cabbie, to drive us home.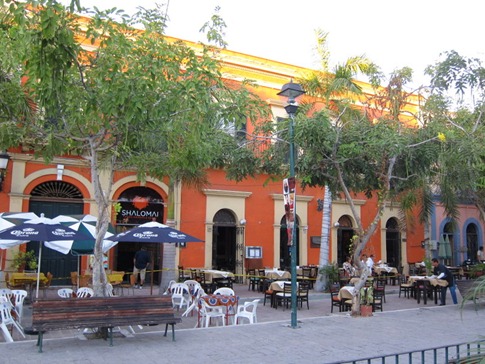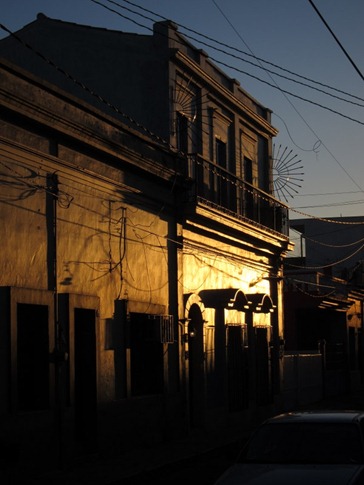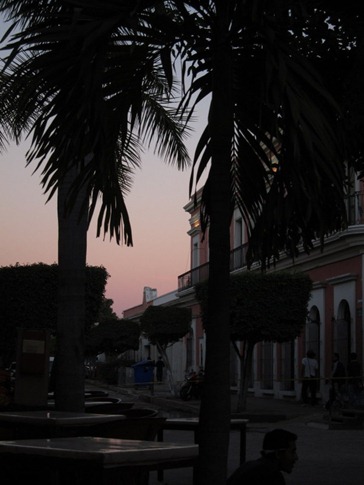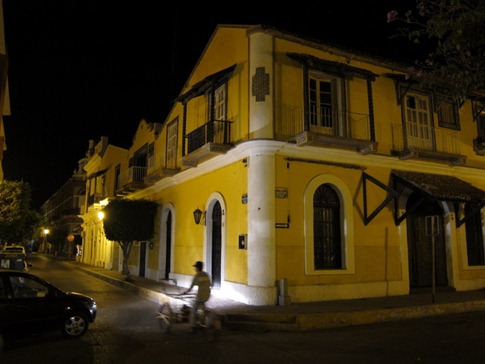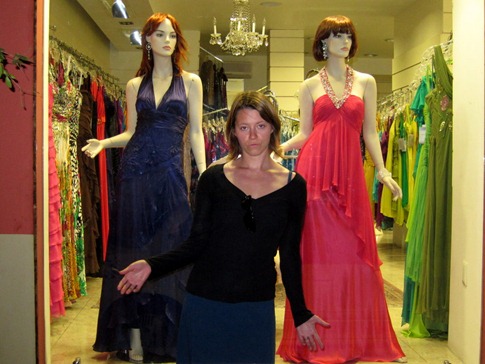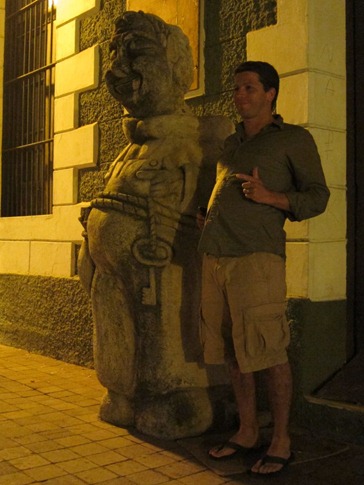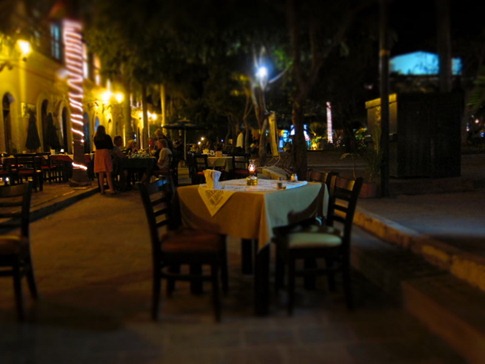 As a special treat, the driver BLASTED the Guns n' Roses Appetite for Destruction album through the tiny speakers for the entire ride home.