"Hey, when are you guys leaving for your trip?" We've been getting that a lot lately (possibly since all we talk about is the trip) but lately, we've had to ask for some clarification. "You mean the BIG trip or… did we tell you we're going to be in France for a month in July?" Uh yeah. Life's tough. We may very well not have made this such an extended trip if our plans had been more fully developed for "the honeymoon," but it made a lot of sense while we were booking it.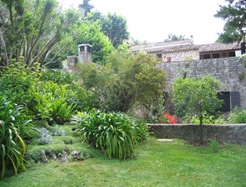 The original inspiration was for our whole family to rent the house my sister in law had lived in while growing up in Provence. While English is her first language, she's been told that based on her French accent, a Provencal local could practically tell her what street she lived on in the town of Vence, 20k or so up into the hills from Nice. After finding the house, an old olive oil mill (moulin), available for rent on the internet, she put out the word to the family and we all jumped on board.
Ann and I have some friends planning on touring Spain around the end of June/ beginning of July, so we started looking for flights around the 28th of June in the hopes we could meet up with them before joining the family. Then we heard from Ann's dad that his family might be in Paris in the third week of July. Well, great, we'll go meet them and fly home around the 28th of July! Of course, after all that, the Spanish connection isn't going to work out and Paris turned out to be a lot more expensive than Reykjavik, so we found ourselves with about a week on either side of the family trip to entertain ourselves.
Not a bad problem to have and before long I'd booked us a BMW F800GS (like the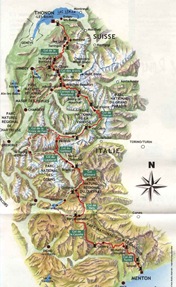 one we've taken to Mendocino and Colorado) for the first 10 days. I'd rented a bike in Germany in 2006 (see full trip report) and found it to be such a great way to explore Europe that I wanted to do it again with Ann. The plan is to head west from Nice, spend the first night in Aix-en-Provence, and continue on to the Pyrenees. We'll have time to explore the Cote d'Azur later with the family. From  the Pyrenees, we'll angle back northeast and make our way towards Chamonix and Mont Blanc before following the Route des Grandes Alpes south back to Nice. If anyone has any suggestions on places to see and things to do, we'd love to hear 'em.
On the tail end, we'll see how we feel. We fly out of Munich so one good option would be to drive north through the Dolomites, possibly with a detour through Locarno to attend a lakeside festival where I'd met some people and sat in with the band in 2006. No matter what, I'd like to get to Munich a couple days early to show Ann the Englischer Gardens (open space, people watching and beers the size of your head).
We'll try to keep the blog up to date with stories and pictures as we go. Feel free to follow along and chime in.