Highway 120 through Yosemite National Park is the highest pass in California at over 9,900 ft and is usually closed due to snowfall from around the end of October sometimes into early June (October 17 was the earliest closing date I could find in 2004, July 1 the latest reopening in 1998.). The road up to the summit from Tuolumne Meadows only gained 1,000 ft. Inside the car, the air vents were blowing stifling hot air on us despite the thermostat being set to 67 degrees like it usually is; Then we noticed the exterior temperature was 47, and what was usually an air conditioning setting was now a heater fighting against the cold outside.
I'd heard a few horror stories about towing trailers down the steep 3000 ft descent on the east side of the pass, but I'd driven the route tons of times back in my climbing days, when we'd leave weather in the Valley stuck behind the Sierras and  escape to Owens River Gorge for some sport climbing and a soak in the hot springs, and didn't remember it as being too bad. It sure is impressive from the top.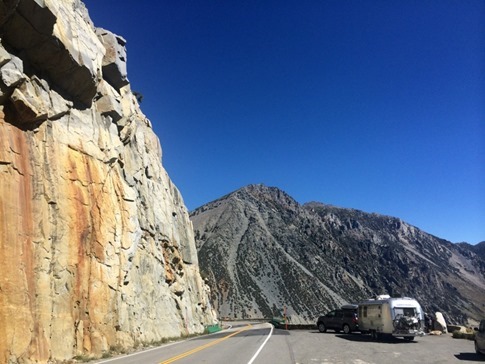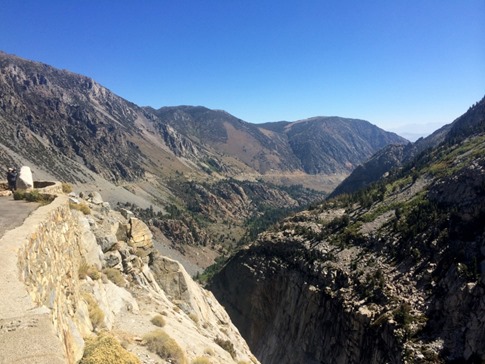 I touched the breaks as little as possible, allowing the tow/haul setting on the Sequoia to use the transmission to keep our speed in check, but 13,000 lbs of metal can tend to build up a bit of momentum. About half way down, a lighted icon appeared on the dash: Traction Control. My best guess was that the trailer was pushing so hard, it was actually starting to lighten the rear of the truck, causing a loss of traction. Not good. I took it as slow as possible on the last section, and when we pulled off for a potty break that had been insistently requested for the past 15 minutes as I white knuckled my way down the pass, there was a distinct smell of burning brakes in the air, although I'm sure ours were only adding to an olfactory cloud that lingers there on a daily basis.
Note: I now think I had the sensitivity for our brake controller set *way* too low. The procedure I'd learned was to drive on a flat smooth road at 25 mph and use the manual activation lever on the brake controller to apply the brakes fully. You then turn up the sensitivity until they lock up when you activate them, and then dial it back bit from there. At this setting, I still found that they'd "grab" a bit in parking lots or gas stations (which feels a lot like the trailer hitting a Lexus) so I tended to dial it back even further. From now on, I'll keep them set a little higher and use the "boost" setting on the Prodigy P2 brake controller for roads like the Tioga Pass. Instruction manual for the P2.
With no real plan other than finding a spot with some good sun to recharge our batteries, we set our sights on June Lake. We also have a bubbling plan somewhere in the back of our heads of having a house on a lake sometime in life and make a point of trying to visit every lake we can to check it out. The June Lake Forest Service campground seemed to have plenty of room, but the camp host told us she couldn't guarantee us a spot for more than a day since all reservations had been cancelled the week before because of the fire in Yosemite and now she was waiting for updated reservations from Reserve America. Ugh, this again? Reminded me of our experience in Humbolt Redwoods earlier in the Fall, so I did what I did then: occupied a site and then got online and booked for the following days through Reserve America. This systems needs a few tweaks.
The site was great. Full sun to the panels but nestled in a little clearing in the Aspens. Unfortunately, we also needed to dump and were told by the host that the closest one was about 15 minutes back the way we'd come at an RV park. So I left the girls on the beach at the lake and did what good husbands/fathers do.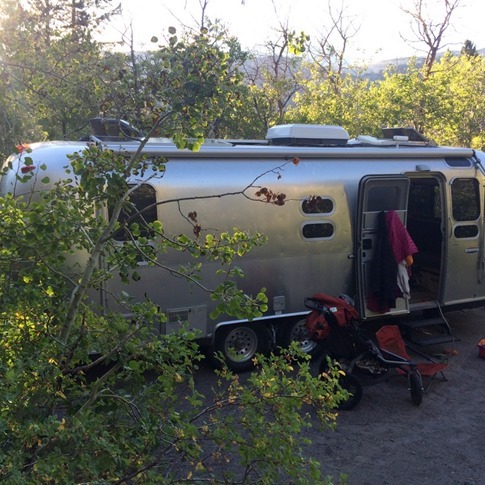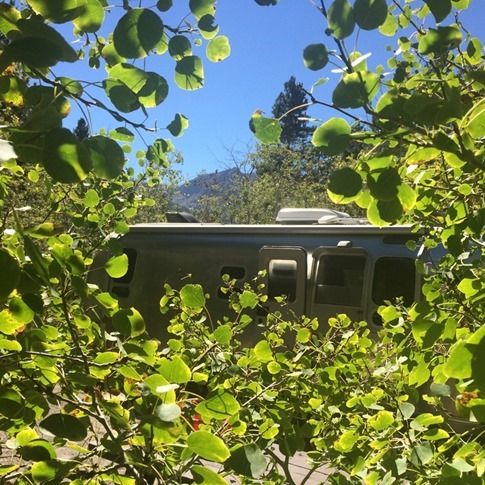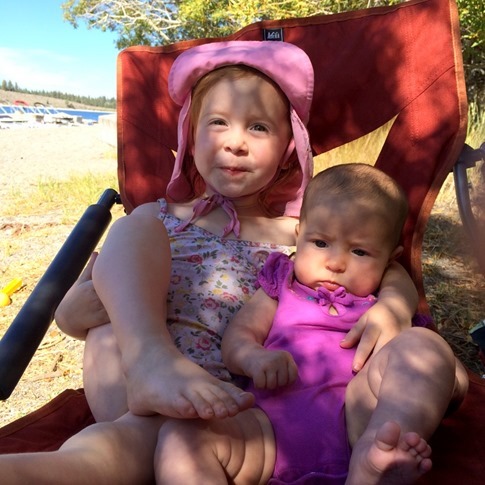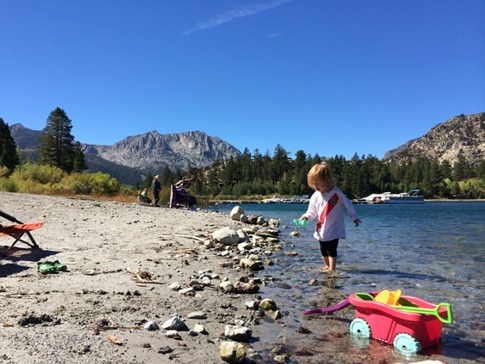 We spent a nice couple days at June Lake, mostly just hanging around the beach and taking in the views. One morning, Wynne and I were kicked out of the trailer for Mae's nap and took a short trip into town. We hung out for a while at Trout Town Joe, a homey little coffee shop with an owner who insisted on running upstairs to her apartment to grab more children's books for Wynne. Sitting there drinking my coffee, sharing a muffin and reading to her, I got a little sense of what I'd like our next year to feel like. Basically, trying to "make ourselves at home" wherever we find ourselves. To do what locals do. Interact with the community as if we lived there.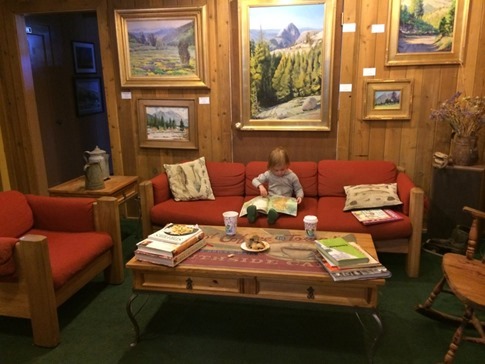 And of course, ride "The Champion" just like the one back home in Petaluma (though this one's name was "Sundance").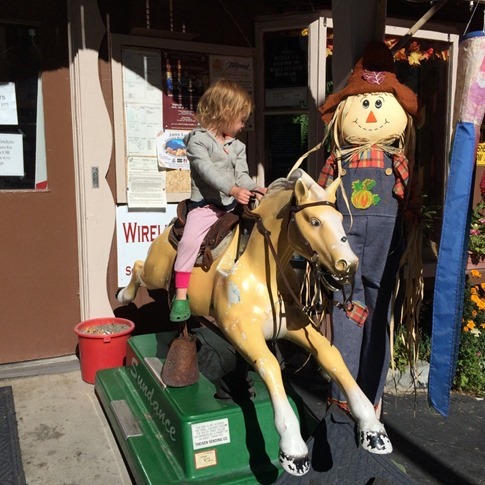 We, however, did not get a chance to try 7 Hills Chili in this cool Airstream food truck.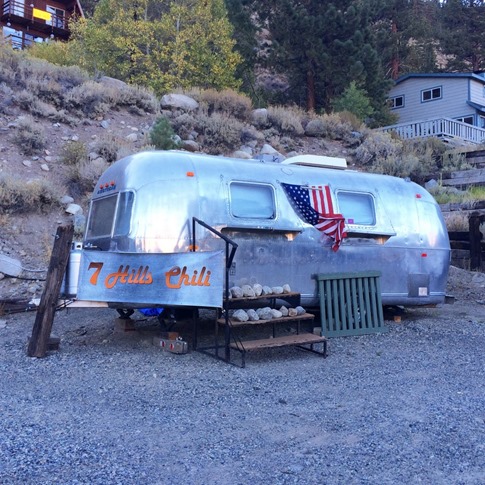 On the way back to camp, we drove up to the Oh! Ridge Campground at the south end of the lake. From a distance, it had looked kinda exposed and sites were farther from the lake, but I could see the appeal as we drove the campground loop. Sites were on a little saddle with a spectacular view of June Lake and mountains beyond (pic below). That explains where the name came from. Oh! and one more thing. Contrary to what our camp host had told us, Oh! Ridge did have a dump station that would have been much closer than the one I'd hauled to.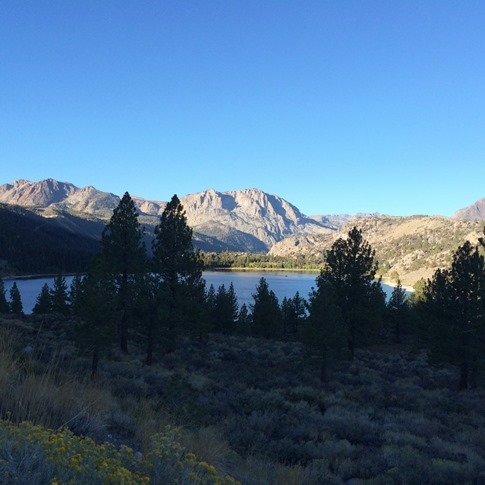 One evening, we took a road trip up to Mammoth Lakes. About 10 minutes into the half hour drive, we heard the first request for a potty stop. We looked at each other defeated, knowing that in the hustle of getting two kids out the door, neither of us had asked Wynne if she needed to go. "Just a little farther, honey," we begged, unable to bring ourselves to pull off the highway for a roadside tinkle. We had already left a lot later than we'd planned and would soon be coming up against dinner time and then bedtime and didn't want to waste any time. Then, "I peed!"
What are you gonna do at that point? Nothing can be done. So the seat's a little wet. She can sit in it for another 10 minutes. Besides, we realized, we'd run out the door without the bag with the "emergency clothes." In travel, marriage and parenting, flexibility is essential. Ann started Googling children's clothing stores in Mammoth Lakes, and minutes later, we were enroute.
What was I just saying about flexibility? Oh, yeah, the children's store was closed for the mid season lull between summer and the winter ski season, but an outdoor store a few doors down was having a clearance on last year's gear. She really did need a new pair of long underwear, and at 30% off, these red striped Patagonia ones were gonna have to do. Though she only need dry bottoms, she insisted on wearing the whole ensemble to dinner. What ya gonna do?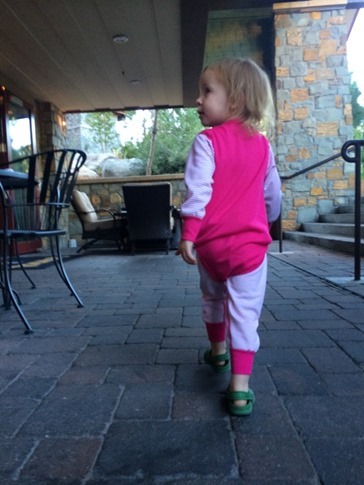 On the way back to the car, we stopped into a little general store to grab some milk for the morning. The older guy at the checkout insisted that Wynne take a candy cane from the sweet shoppe because it matched her outfit.
We came into Mammoth Lakes one other night while staying at June Lake, this time heading to the other side of town from the swanky ski resort village. While still fueled by the ski season and tourism, the rest of the town seemed very livable. We picked up a few things at a thrift store, browsed T-shirts at the Mammoth Brewing Company and had a nice dinner with a view of the mountains at the Mammoth Tavern where there was no children's menu but Wynne seemed to enjoy her braised pork tenderloin four cheese grilled sandwich anyway.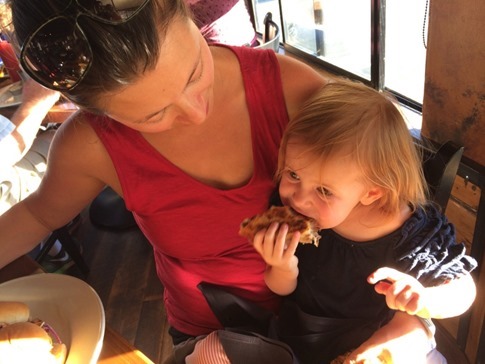 As I recall, Mae was asleep on me in the front carrier when I took this picture. At just a little over two months, that's about all she was doing…
As excited as we were for a time when we could travel without much of a schedule, this time we did need to make it up to Lake Tahoe to meet Ann's dad. He'd planned to visit us while we were home in Petaluma for a week earlier in the month but had to postpone. No problem, we said. You'll just have to come to wherever we are! The decision to meet him in Tahoe may or may not have also been influenced by a developing plan for a bachelor party for a good friend in Reno…
Driving north on 395, the views over Mono Lake were incredible. I wrote in an Instagram post:
"The wind was blustery when we woke up this morning, and passing Mono Lake, we could see white caps on the water and dust storms on the far shore. The whispy whites, deep blues, earthy browns and yellow flowers, dotted with the imposing shadows from high islands of clouds, was absolutely stunning."
Nothing I could do could capture what I was seeing as we whipped past at 55, a photo stop not an option with a sleeping baby in the back seat and a lot of miles to cover. Coming through Lee Vining, I noticed an Airstream parked along a curb and barely had time to give a little honk as we left Dave and Kelly (Wandering with Purpose) behind.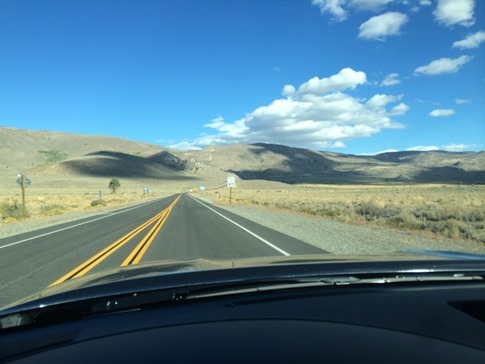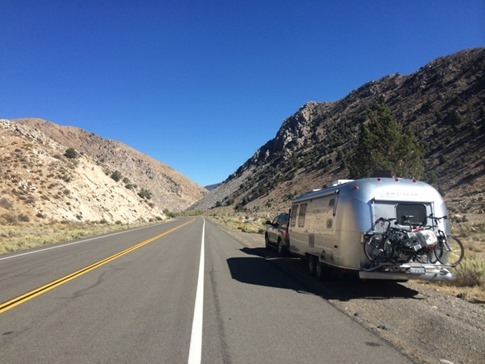 We'd arranged to leave the trailer at a storage lot just across the highway from where we'd be staying in Tahoe and had done most of our packing into duffel bags the night before. Still it felt like I ducked back in about a 100 times to grab that one more thing we'd need for the week in a stick house. The trailer had everything we needed to feed, clothe, wash, entertain and rest two kids, not to mention ourselves, and the process of "moving out" of it was exhausting.
Still, we had a great week with family and friends planned and were excited. We pulled out of the storage lot, happy to see that at least our trailer would have a friend to keep it company until we got back on the road.