A little over 20 years ago, I graduated from college and came back to my home town in the San Francisco Bay Area. Of course, despite substantial amounts of money spent by my parents on a prestigious East Coast university for the Bachelor of Arts degree with a major in Economics I was handed as I walked across the stage in May 1994 (but I couldn't tell you the location of currently), I seem to have spent more of my time in that little New England town studying eastern religions, playing in a funk band and rock climbing.
Back home, I got a job at an outdoor clothing and gear retailer just down the street from my parents house and, despite my employee discount, had no problem spending the majority of every paycheck on camping, climbing and mountaineering equipment. I was in my 20's and surrounded by likeminded people; After work, we bouldered on the makeshift climbing wall in the stockroom, drove to out-of-the-way hillsides to find hidden rocks dusted by chalky hands and spent weeks in the Yosemite Valley.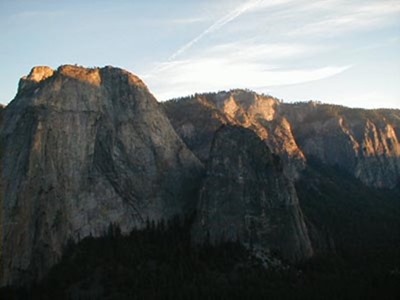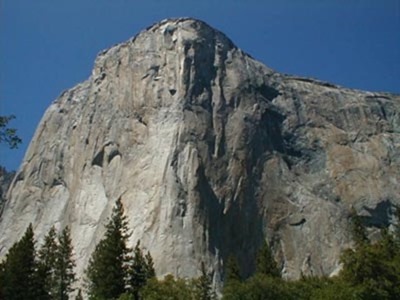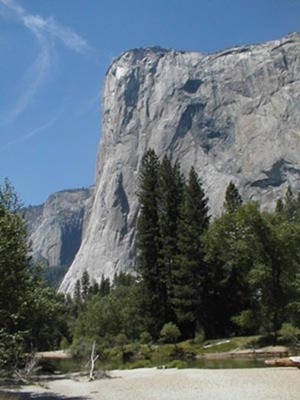 At first, we set out to tick off as many classic climbs as we could, those with 5 star ratings in the guide book, often established by the legendary names of climbing from the 60's and 70's. Then, we climbed higher, exploring mutli-pitch climbs that required the first member of the party to belay the second up to his position so he could continue climbing higher and repeating the process as many times as needed to get to the top.
After some time, we set our sights on the big walls that rise steeply for thousands of feet above the valley floor. Though El Cap and Half Dome were still a little ambitious, I made an attempt with a friend of my brother's on the South Face of Washington Column, an 1800 foot, 11 pitch climb that takes most aspiring big wall climbers at least two days. Unfortunately, as we ascended the ropes we'd fixed in place above the comfortable "Dinner Ledge" where we'd spent the first night, the party above was rappelling down reporting that they'd almost been struck by lightening. Sure enough, as we turned to look behind us, we noticed the formerly crystal clear view of Half Dome at our backs now shrouded in ominous looking dark clouds. We made the decision to descend, mostly for our safety, but also because we realized that we'd already consumed all of our water and the Gatorade we had left was not going to taste great when used to rehydrate the lentil soup we'd packed for that night's dinner.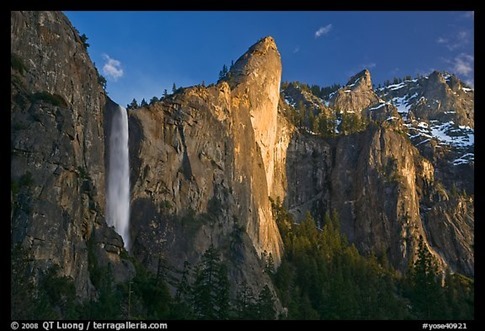 Photo from Terra Galleria
The next year, another friend and I successfully climbed the West Face of Leaning Tower, a nauseatingly overhanging wall (seen above in the sun) near Bridalveil Falls  that took us the better part of three days. One of the most memorable moments was tying into the ropes we'd attached to the slanting wall the night before, setting our weight on them and letting ourselves swing out over the valley floor. As we climbed the ropes using mechanical camming devices, there was no way to avoid a slow, dizzying spin with nothing but 500 feet of air beneath. That's me in the picture below, trying not to look down…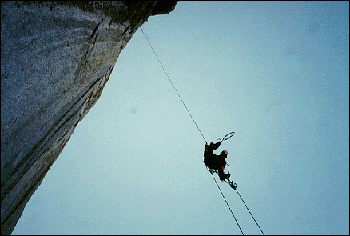 Honestly, that first night on the wall, dangling off the side of a rock from a nest of hardware and webbing in a swing chair we'd made from a piece of plywood and some cord, my knees not even touching the wall because of the slant, I remember thinking, "Why am I doing this? Why am I taking this risk?" Of course, we'd also spent months if not years preparing our minds, bodies and gear specifically to minimize the risk; Each system had multiple redundancies, each rope and piece of hardware had been inspected for signs of fatigue, and we'd drilled ourselves on processes for when things went right and when things went wrong. So, why were we doing it? As a test of our abilities? For bragging rights? 'Cause we were young a little stupid? You bet.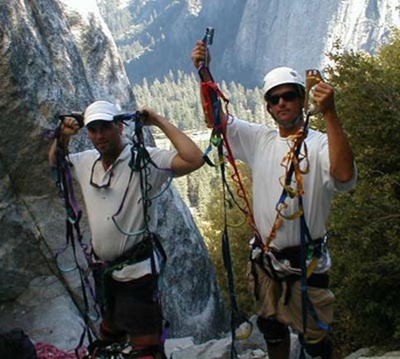 I bring all this up because being back in the Yosemite Valley, seeing all the climbers with their packs piled high with ropes and helmets and all those shiny carabineers stirred up a lot of memories, memories I was more than happy to share with Ann who (mostly) indulged me; Memories like the AH-mahzing feeling of sneaking into the bathroom at the Yosemite Village to wash our hands with warm water after a week of knuckle-busting crack climbing had left them more scab than skin, like how good that first ice cold beer tasted after a full day of hyperventilating on an exposed granite face, and of the tremendous feeling of satisfaction of standing on top of one of the rock walls that most tourists only see from the Valley floor.
And honestly, the last couple months have pretty much been all about child care for us, although, as I've written in posts before, at least we've done it in some pretty beautiful places. And generally, we're actually okay with that. We love being able to spend so much time with the kids, particularly while they're young, and this won't last forever. When we recently went through a bit of a purge, I decided to sell my prized BMW F800GS adventure motorcycle that Ann and I had ridden all over Colorado and Utah, figuring it'd be another decade at least before she and I could take another motorcycle trip like that (or before I could take one with Wynne!). And that was the same realization I had when I came across the description for the hike up the back side of Half Dome in the Yosemite Visitor's Guide we'd been handed when we came through the entrance kiosk; It was going to be years and years before the kids would be ready for something like that.
Still, here we were in the Yosemite Valley with nostalgia pumping through my veins and a building need to prove to myself that I could break out of our nap-schedule-driven existence and once again stand on the rim of valley. Ann agreed to let me go… provided I was back before the end of Wynne's nap. Well, it was a step in the right direction…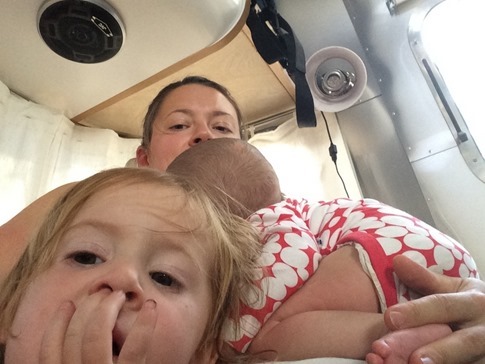 The hike from the Upper Pines Campground to the top of Half Dome is 7.1 miles, and then you have to get back down. Many opt for the slightly longer but less steep route along the John Muir Trail for the return, making a round trip of about 15.3 miles which takes most people over 10 hours to hike. Permits are required to climb the final section to the top of Half Dome, a 400 ft wall protected by cables supported by posts, and the 225 slots available for each day (plus 75 more for backpackers who overnight at Little Yosemite) are pre-booked through a lottery open only March 1st through the 30th. Luckily for me, an additional 50 or so permits are made available through a last minute lottery two days ahead of time. On Monday night, I fired up our Wilson cellular booster to get enough 4G signal to submit an application and was notified late that night that I had been granted a permit for Wednesday. Oh crap, now I actually had to do this.
On Tuesday, I loaded Wynne in the bike seat and made the 10 minute ride over to Yosemite Village to stock up on some energy bars and a find a replacement for my missing sunglasses. That night, I loaded a day pack with two salami and cheese sandwiches, a peanut butter and jelly sandwich, two bananas, dried fruit, sun screen, extra batteries for my headlamp, two half gallon water bottles, moleskin for blisters, the small camera and my leather work gloves (which were recommended for climbing the cables) and tried to drink as much water as I could.
Of course, my increased fluid intake meant that even though I'd managed to get to bed early, I was up every hour needing to pee. It didn't matter anyway since, as always seems to happen when one has an early morning alarm set, I couldn't sleep. And as such, I was already awake when I heard a faint "Dada?" growing to a more panicked "DADA?!" from the other side of the curtain that divides my bed in the Airstream from the converted dinette where Wynne sleeps. "I wanna sleep in YOUR bed!" This was not a completely uncommon request, and in the trailer, the easiest thing to do was just to indulge it before she woke everyone else up. But, it was 3:30 am, and I'd planned to sneak out at 4:00 to beat the crowds and be back before my post-nap curfew. It looked like I might already be facing my biggest challenge of the day, and I hadn't even started the hike yet.
I scooped up the four or five stuffed animals she'd insisted on sleeping with that night, grabbed her pillow and blanket and transferred her into my bed, leaving just enough room on the outside edge for me to lie down and plan my quick getaway. She immediately located her orange and black kitty (named "Kitty Kitty") from the tangle of plush, clutched it tightly and rolled over. Bingo! I was getting confident now. I gave her 10 minutes to settle and peeked at my phone. 3:45 am. I swung one leg over onto the floor and started to move the other.
"Dada, can you hold my hand?"
"Crap!" I thought.  "Sure, baby," I responded calmly.
I knew if I couldn't get out of there soon, I'd have to call off the hike. Or worse, if she woke up while I was leaving, Ann would be stuck with two over-tired kids for the next 10 hours and sore legs would be the least of my problems when I got back. Wynne grabbed my hand and pulled it into the cuddle with Kitty Kitty. I was trapped. 3:55 am. I laid with my eyes open, staring at the curved aluminum ceiling and beginning to accept defeat. And then I heard the exhale, the one all parents know, the exhale that signals the end of the fight against sleep, where breathing becomes deep and regular. I carefully reclaimed my hand and slipped out through the curtain undetected. Minutes later, coffee was brewed, the pack was on my shoulders, and I snuck out of the trailer with only a faint click of the door latch. 4:02 am.
For the first 1/2 mile, I walked down the center of the two lane road from the campground to Happy Isles in the pitch black night. Despite (or perhaps because of) my headlamp, every shadow was a bear, every rustle of leaves a protective mother looking for her cub. I practiced a couple emergency reaches for the canister of bear spray that hung from the shoulder strap of my backpack, a remnant of our time the Fall before in Banff and the Rockies though now usually just kept inside the door of the trailer in case of a Zombie apocalypse. Still, I felt great, invigorated to be setting off an adventure at least faintly reminiscent of my younger days. Just before the trailhead, I sat down for my banana and peanut better and jelly sandwich breakfast on the curb in the middle of the bridge over the Merced River, a spot chosen so that the only way a bear could sneak up on me would be James Bond style, stealthily surfacing out of the river and stripping off his wetsuit on the shore before coming up behind me with a karate chop to the trapezius.
After a bit on a wide dirt trail, a sign directed me onto a more narrow paved walking path that began to climb towards the base of Vernal Falls. At this point, I was still a bit on edge about the prospect of running into a bear and was patrolling the woods on either side of the path with the extra bright LED flashlight I'd brought along. At the bottom of the falls, I saw another person filling water bottles, presumably heading the same way as I was, and I began to feel a little better. That is, until I started the climb towards the top of the falls.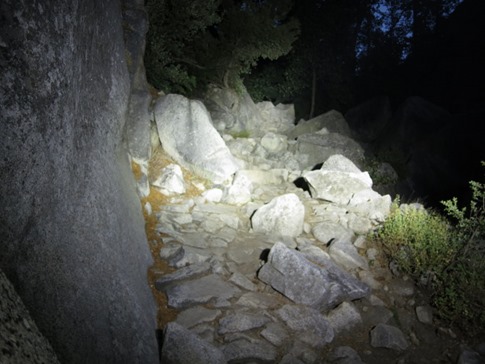 Here the trail climbed about 800 feet in about 1/2 a mile. In the dark and with a full pack of water and food, these chunky granite steps quickly started to eat away at my confidence. What had I been thinking? I wasn't in shape for this kind of hike! Here I was only a couple miles in, and my legs were going to jello and my lungs burning. Luckily, I hadn't really told anyone other than Ann that I was going to do the hike and the thought crossed my mind that I could easily just back down and get a couple more hours of sleep before the kids woke up.
But as I stumbled up the final set of stairs to the top of Vernal Falls, I saw three headlamps up ahead. I sat down next to where the hikers were resting, in similar shape to me after the exhausting climb. They were two brothers and their 75 year old dad who had asked them to accompany him on the hike for his birthday. I asked if I could hike along with them, figuring I could use the motivation and in a pinch, the dad and I could use the brothers as human shields in the event of an ursine ambush, and they agreed.
I realized at that point that I'd been hiking way too fast, pushing hard to get the disorienting night hiking out of the way, and already concerned that I would get home later than planned. I hadn't stopped to rest other than to catch my breath in almost two hours. Hiking with the group, I found a much better rhythm started to regain confidence. When they stopped for a longer break 1000 ft higher at the top of Nevada Falls, I decided to continue on alone as the sun started to rise. And now, I'd already posted something to Instagram and Facebook, so there was no turning back.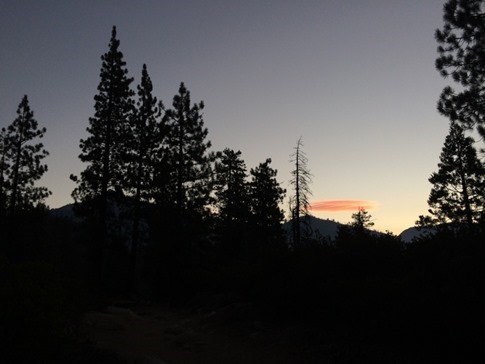 My first view of Half Dome was from the flat, sandy trail up to Little Yosemite Valley. The smart hikers (and those without 25' trailers and 2 month olds) had hiked up the day before and were still nestled cozily in their sleeping bags somewhere just ahead. Not only did they have a much shorter hike to the top, they could be back in camp with their feet soaking in the Merced before lunch.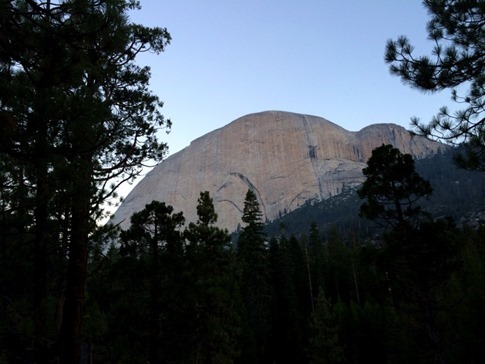 Just past the backpacker's camp, the trail turned uphill. As the shadows appeared between the trees and the landscape lightened, my calves began to complain bitterly about the pre-dawn ascent. I knew this was really just the beginning; I was only about half way up and didn't exactly know what climbing the cables would require. I sat down at the first switchback to take a few long swigs from the water bottle, eat a banana and stretch.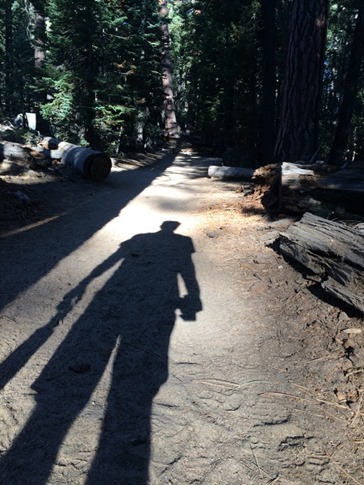 I had been surprised to have at least a couple bars of AT&T service most of the way, and by now, comments of encouragement (and the equally motivational jealousy) were starting to come in. It's funny, opinions about social media and using technology in wild places usually tend toward how disengaging it is. In this case, it was quite the opposite. I didn't have a climbing partner with me to talk me through the "why am I doing this" moments; I didn't have Ann or the kids with me to share the experience or give me that little primal push not to show weakness and be confident in front of them; But with a quick glance at my phone during the increasingly needed stops to stretch, I felt like I had a little virtual cheering section consisting of a mix of family, friends and "Insta-friends," those who I may not have even ever met in person but who enjoyed our adventures or inspired us through their own.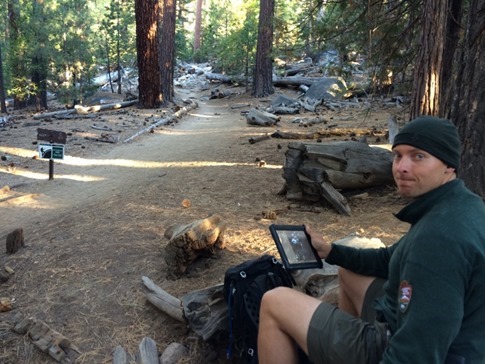 And no, this guy was not checking his Instagram feed. He was a ranger checking permitted hikers in on an iPad (okay, and also probably playing a little Candy Crush). After giving him my name, he suggested I tuck the bear spray canister back into my pack, adding that it was illegal in the park. It seems they'd had more visitors mace each other (or themselves) than bears and that the local black bears were pretty docile compared to the Grizzlies of the Rockies. That was all well and good, but I'm still keeping it in the trailer in case the walking dead come knocking, not that it would have woken either of these two up, Wynne still asleep after a disjointed night and Mae *back* asleep for her first morning nap.
The next section climbed for a few miles through beautiful forest, much of which bore the scars of at least one fire. In fact, one of the reasons I may have been able to get a permit so easily may have been the fire that had been burning just above Little Yosemite and extending up towards Tenaya Lake. The trail I was on and the cables I was heading for had been closed just the week before, and other visitors may have cancelled their trips over concerns about smoke. As I got a little higher, I could look down higher up the Little Yosemite Valley and see the blackened forest still smoldering from where the fire passed just a few days before.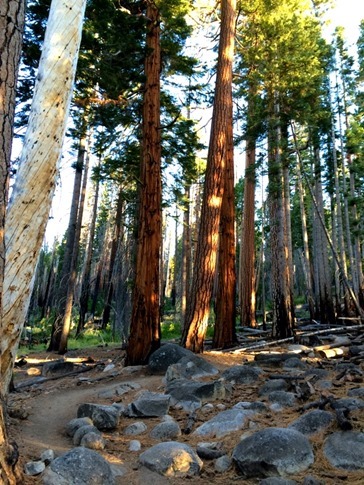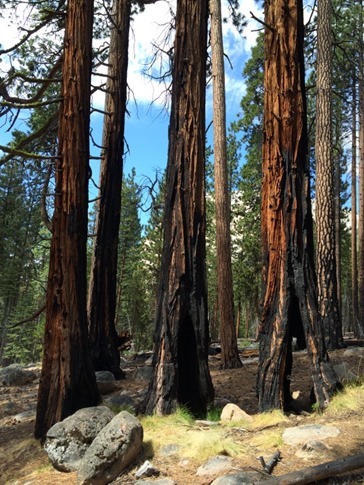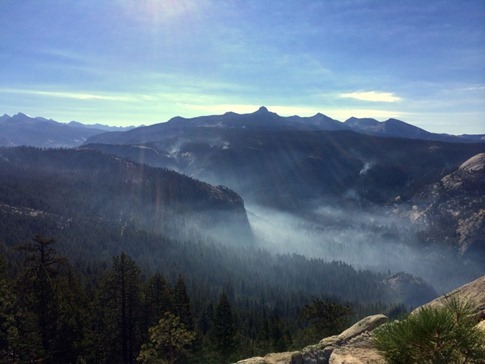 This was extremely pleasant hiking although, by this point, my calves were really cramping. But I'd come this far, and views of Half Dome off to my left were not going to let me quit now.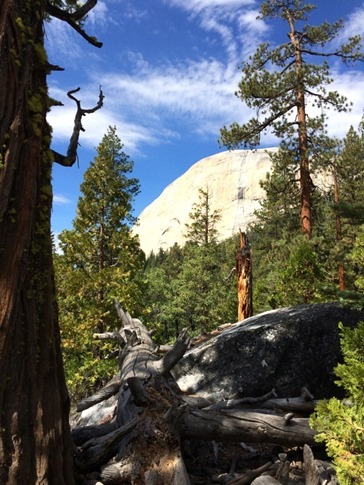 Still, it was hard to exactly see where the cable route made its way up the side of the granite dome until coming to a little clearing with a great viewpoint. From there I could see the route as a whitened track on the face to the left of the vertical wall below the Visor.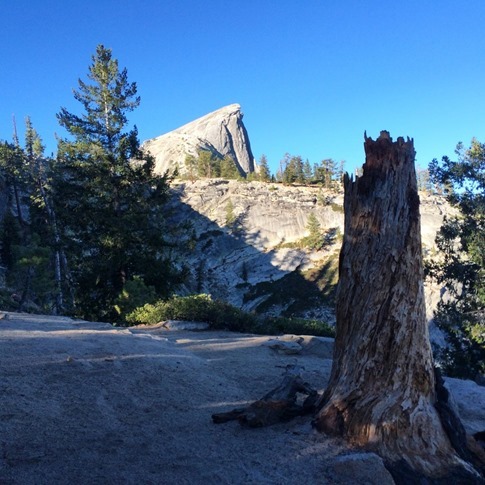 But there was still a ways to go, and it was steeeep. And more large granite steps. May as well get my quads in on the rebellion my calves were leading.
By now, it was just before 9:00 am, and I had already been hiking for five hours. At the corner of each switchback literally carved into this 500 ft rock pile, I was hit with a combination of exhaustion and vertigo as I tried not to look over the edge. Still, it was hard not to with expansive views back above the Yosemite Valley and into Tuolumne Meadows.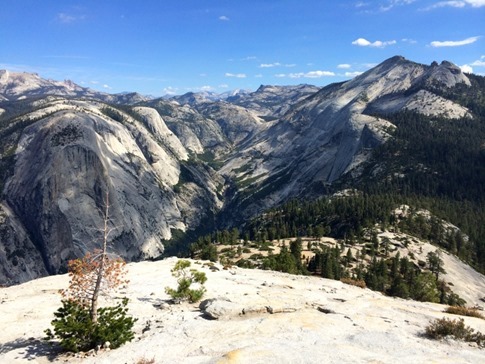 Towards the top of the dome, the trail seemed to disappear while still on some relatively steep granite. While many around me seemed to be looking for broken up granite or sand as a sign of where others had gone before, I found staying on the solid rock and working my way up crack systems to be much more secure. After scrambling to the top, the final challenge lay immediately ahead of me.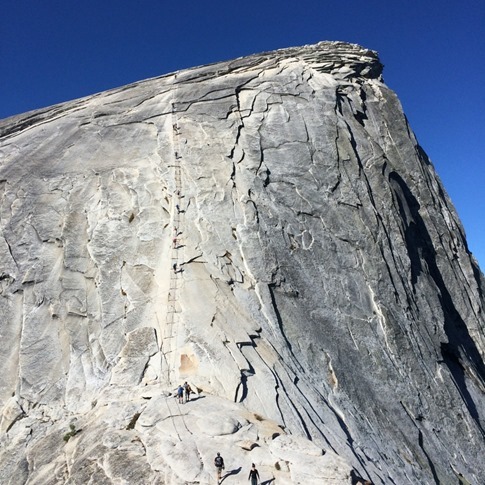 I'd seen accounts of long lines of people waiting to climb the cables, and despite things being better since the permit system was put in place in 2012, I was glad I'd gotten up there early. Though I'd brought some leather gloves, I'd read somewhere that there was a pile at the bottom of the cables, and sure enough, I found a good fitting pair with a thick rubber palm that would give a nice grip and started up.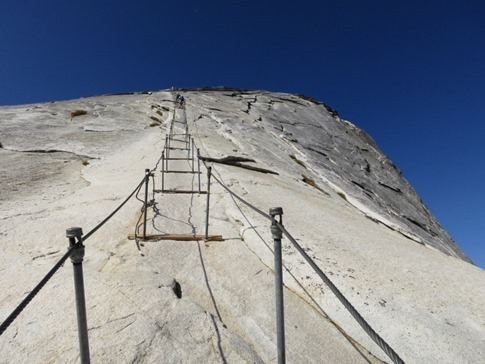 The large steel cables, maybe 1/2" thick, are secured at the top and a few places along the way but are held up off the rock by poles fit loosely into holes drilled in the rock. Every couple poles, there's a 2x4 piece of wood that can be used as a foothold, otherwise, you're smearing your feet on the granite and pulling yourself up with your arms. At this point in the day, I was quite happy for an upper body workout that would give my legs a bit of a break.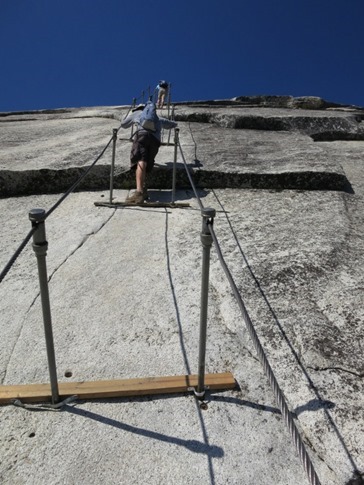 At least that's what I was thinking until it got steeper. By this point, people in front of me were getting pretty tired, foot positioning was getting a bit careless and those without the grippiest of footwear were starting to have some slips. It was easy to see how attempting this climb in anything but completely dry weather could be a recipe for disaster, which in fact, was the case in the majority of the 5 or 6 deaths that have occurred on the route over the years. Interestingly enough, there have been many more deaths just on the Mist Trail that I'd hiked earlier that morning past Vernal and Nevada Falls, though those were typically the result of people ignoring warning signs and climbing past railings.
While perhaps I wasn't exactly reliving my glory years in the Yosemite Valley, I was certainly feeling challenged and was glad for the rock climbing experience I had while choosing foot positions and finding ways to rest along the way up. This section definitely reminded me of the Angels Landing hike in Zion from a couple summers ago; I love the fact that the Park Service has trails like these available, but it's hard to believe there aren't more accidents on them.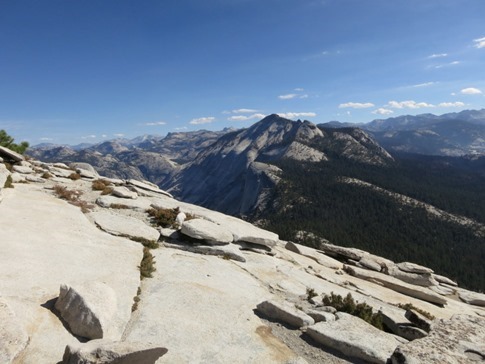 As the dome sloped out at the top, the cables ended, leaving me on top of a huge open area. Along with the other hikers, dazed from the exertion and the accomplishment, I wandered up over a small shoulder and out towards "The Visor" to find a place to sit down and take in the view. After 6 hours of grueling hiking, I was looking down onto El Capitan and the rest of The Valley. I was a tiny speck on top of the huge, magnificent dome we'd been gazing at from the valley floor all week. Though barely visible, I was there in the pictures of hundreds of tourists who had just come around a bend on Highway 120, gotten their first glimpse of the Yosemite Valley and hastily swerved into a pullout. I was in the pictures taken by those arriving from the south via Highway 41 as they came out of the Wawona Tunnel and were treated to the one of the many views that Ansel Adams made famous. I was in pictures taken from Glacier Point, high above where Ann and the kids were now probably just about done with breakfast and thinking about taking a walk around the campground. I was even in pictures taken from Olmstead Point up near Tuolumne Meadows, though admittedly, they would not have been of my best side.
And of course, I was in pictures I set up using the self timer on my iPhone and the Gorilla pod tripod I'd packed optimistically for the victory shot.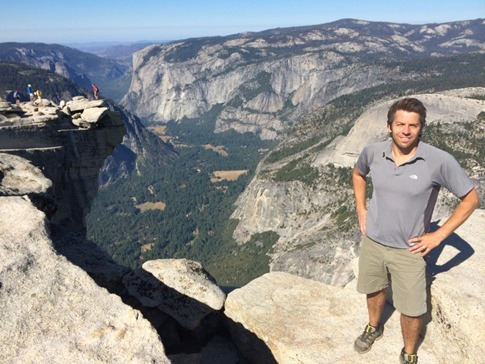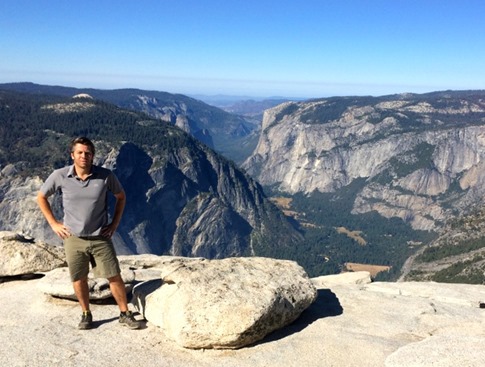 I stayed on the top for about a half an hour, eating a lot of my food and posting a few pictures and a text to Ann via the strong 5 bars of 4G cell coverage on the unobstructed peak, but knew I still had more than half of the hike left and felt the draw to get moving. 
Descending the first section of the cables, I moved quickly and confidently, like walking down a slight ramp with railings on either side, but as the ramp became a wall, it was suddenly very awkward to keep my feet under me and difficult to use my arms to hold myself back. At that point, I remembered a comment I'd read somewhere the night before while researching the route about descending backwards. At the time I'd thought, "Why in the world would you wanna do that? You'd miss the view and always be looking backwards at your feet," but it proved to be *much* easier. Take a step back, lower yourself down with your arms and repeat. For about 400 feet.
For the next few miles down to Little Yosemite Valley, I was practically skipping, very happy with my accomplishment and feeling the adrenaline. But by the bottom, my legs were burning and my toes aching from being crushed into the front of my shoes. The day was warming up, and while I was glad I was not going to be on the top of the Dome at noon, I was starting to sweat and had a lot of hiking to do.
Just as I was starting to feel sorry for myself, I heard boots on the trail behind me. I turned to see these guys (and one girl) in full gear and carrying heavy packs and tools on their way down from working on the fire above Little Yosemite coming up fast behind me.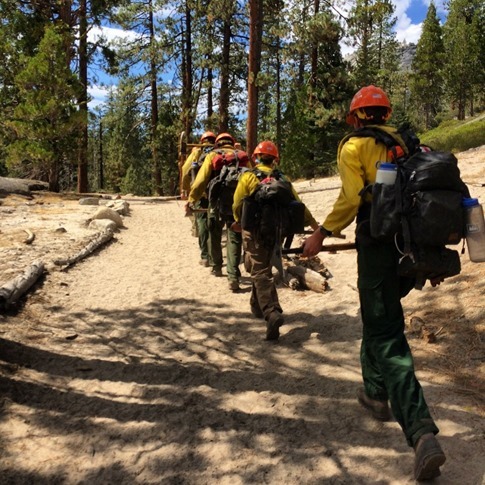 That made it a little harder to pity myself, but I still stopped at the first place I saw to stick my feet into the cold water of the Merced River and munch the rest of my snacks.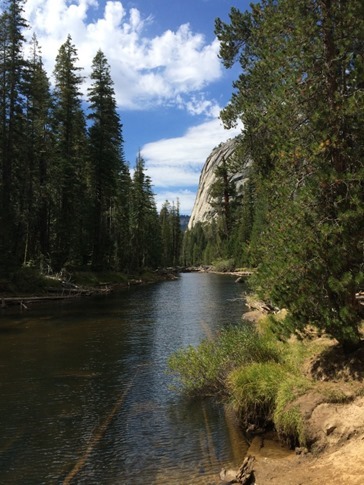 At the top of Nevada Falls, I made the decision (well, my toes really made it for me) to take the less steep route along the John Muir Trail even thought it was about a mile and a half longer. Notice the Darwin Awards finalists on the rock ledge just up and to the left of where the falls goes over the edge.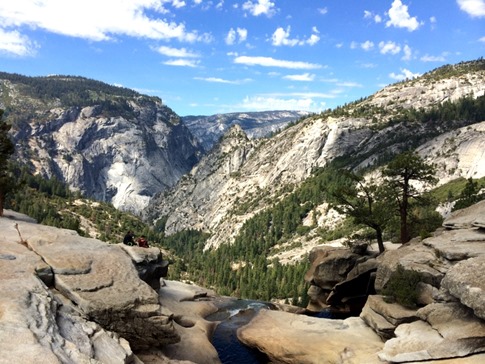 While the views of Nevada Falls, Liberty Cap and the back of Half Dome were really spectacular, in the end, I think the stairs of the Mist Trail would have been tougher on my legs but easier on my toes.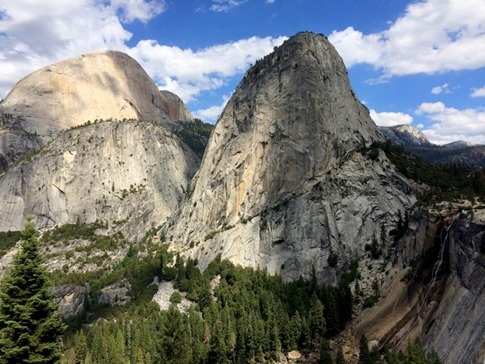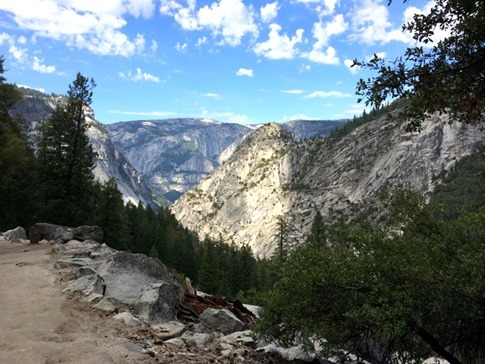 But there was no turning back now. I winced with every step down the seemingly endless switchbacks until merging a few miles later with the hikers on the paved path at the footbridge across Vernal Falls. I'm sure I got some sideways looks, gingerly placing each footstep, drenched in sweat and obviously completely spent at half past twelve in the afternoon as hordes of flip-flopped European and Asian tourists pushed strollers past me on their way up the 3/4 mile path from the valley floor.
Back on flat ground at Happy Isles, I picked up the pace, excited to be near home and pleased be arriving a little before when I'd expected. As I cut into the campground from the paved road I'd walked down in the dark 10 hours earlier, I picked the trailer out of the trees and headed straight for it, taking note that Ann had diligently moved the portable solar panel into the full sun while I was gone. I peeked in through the lower oval window by the door and saw Ann sitting on the lounge where she put a finger up to her lips before emerging to inform me that I'd made my deadline; I got back before the end of naptime.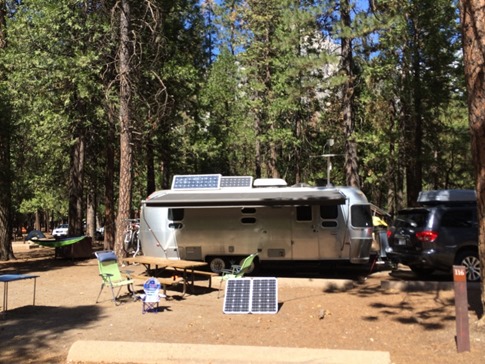 Even just a few hours later, the hike started to feel like a distant memory (though I'll admit that my legs didn't let me forget for about a week) as we fell back into our regular routines. We spent the rest of the afternoon just hanging around the campsite, mugging at Mae and laughing at the static in Wynne's hair from the hammock, before taking a walk up to the little beach along the river.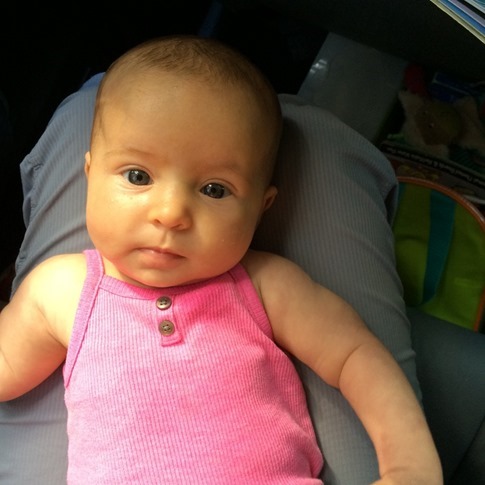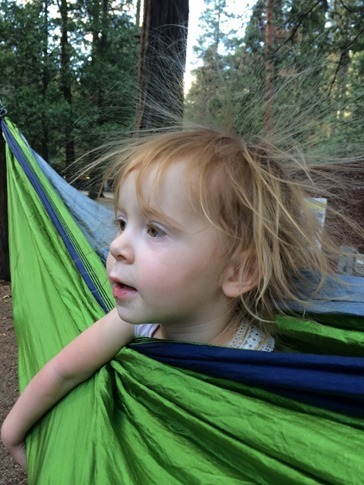 So, why did I do it? As a test of my abilities? For bragging rights? 'Cause I was longing for the days when I was young a little stupid? You bet.
So it turns out my days of adventure aren't necessarily quite over, though I'm not sure the next time I'll want to strap on a harness and swing out over an abyss. For now, I'm pretty content with negotiating late night wakeups, coordinating multiple nap times and finding new places to hang the hammock, but it's nice to know that, should the opportunity arise, I'm up for the challenge. And that in a few years, if they'll indulge me, I'll have some more great stories about standing on the rim of the Yosemite Valley to tell my kids.