The Icefields Parkway runs over 200 km north along the Continental Divide within Banff and Jasper National Parks. We'd been planning on leaving Banff and heading south back towards the US border and Glacier National Park, but after hearing a description of the Columbia Icefields and the Athabasca Glacier, we didn't think we had a choice but to change our route. We had a couple extra days built into the schedule and have said that we wanted to stay flexible. Besides, how cool is the word "Athabasca?"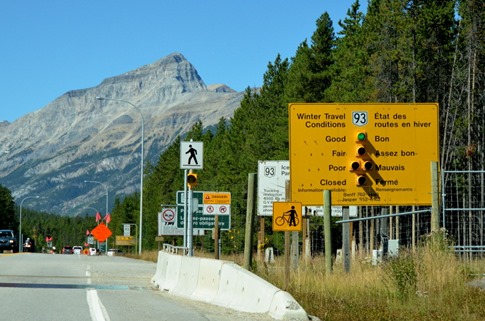 When we got to the kiosk marking our transition from Banff into Jasper National Park, we skeptically asked if what we'd heard about applying the daily parks rate we'd been paying since Glacier - Parks Canada charges per person/per day for access to national parks in contrast with the US approach of charging a fixed fee per vehicle for a 7 day period – to an annual pass, could possibly be true. With a mish mash of crumpled receipts and a few permit slips from under the seat, the ranger figured out how much we'd already paid and subtracted something like $70 off the cost of an annual Parks Canada pass. Someone had figured out that 6 days was the point at which it made more sense to buy the annual pass for two people (and a free toddler). We were beginning our 6th day in a Canadian National Park.
I've heard it said that people who like pictures of roads disappearing into the distance in front of majestic backdrops are geniuses (and generous lovers). So.. enjoy.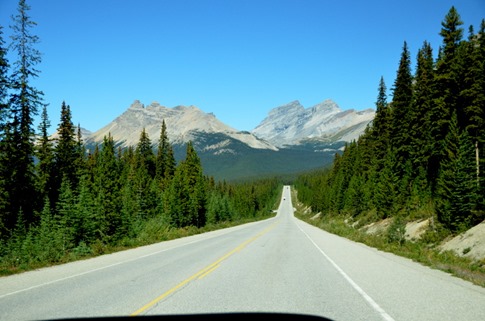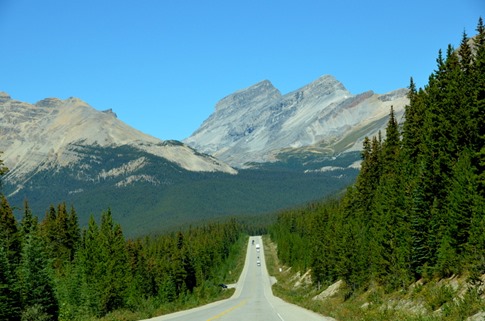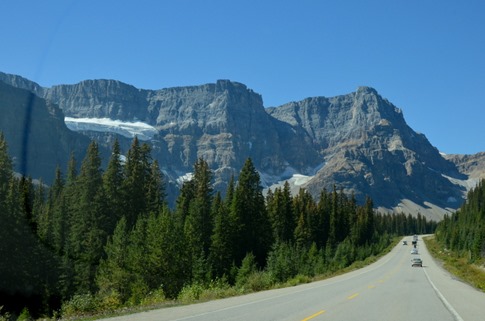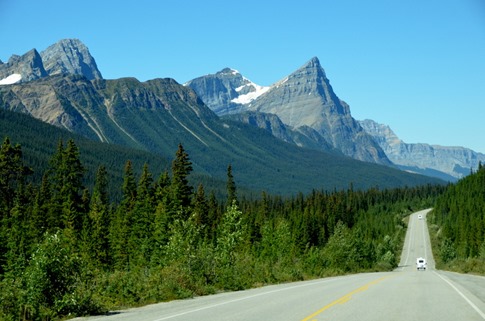 I'd also heard it said you could drive the Icefields Parkway in 2 hours, but you shouldn't plan on less than 4. The reason? Just about every pullout is an absolutely jaw-dropping view of either a lake or a glacier, but usually both.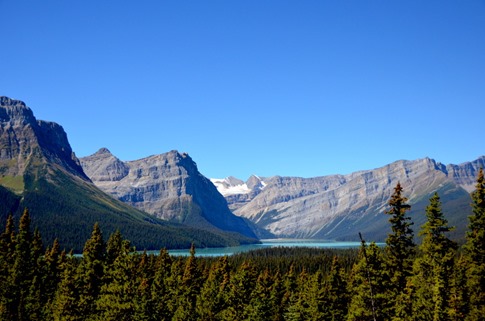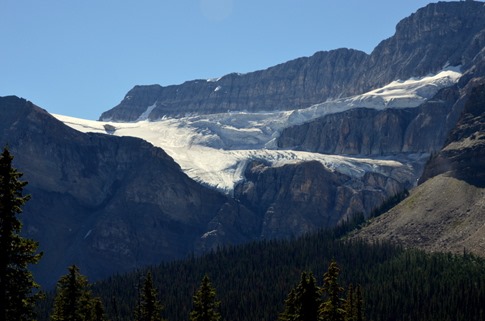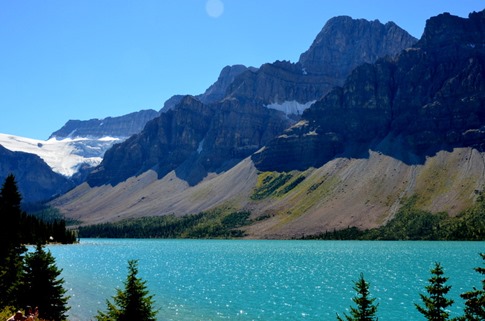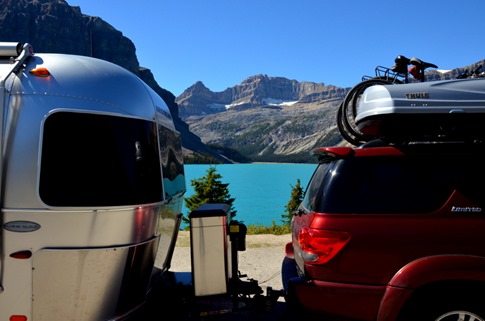 Eh, this looks like as good a place as any to stop for lunch…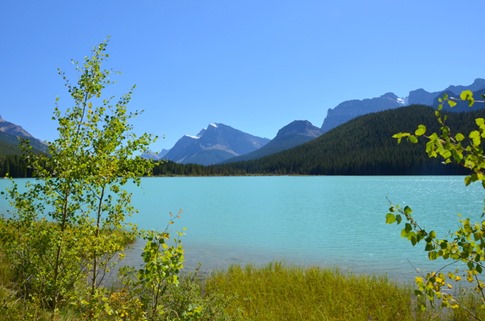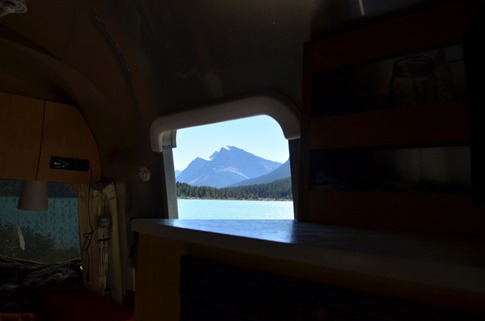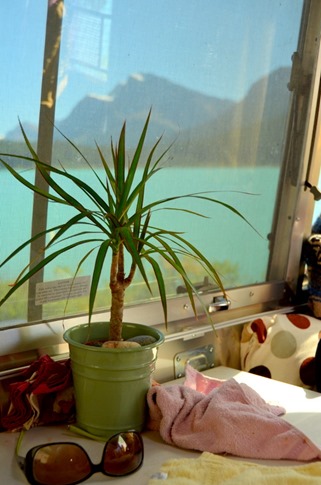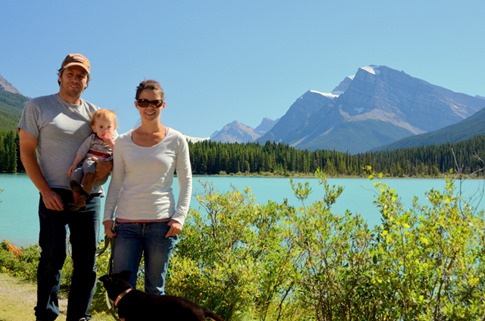 I think she looks like a little doll on a movie set somewhere in these.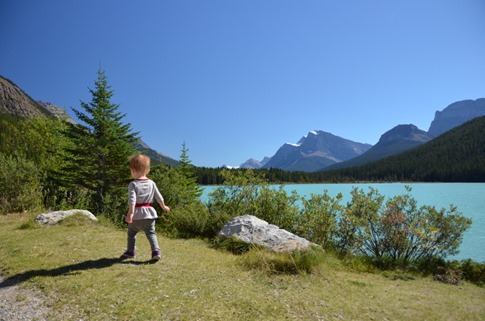 Here's a couple more for ya, stud.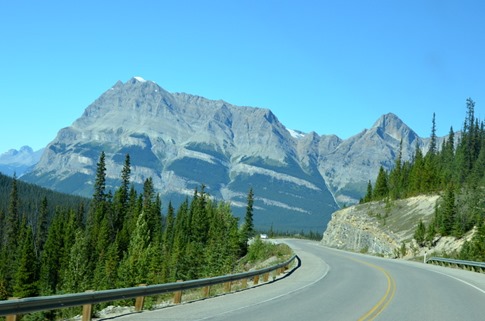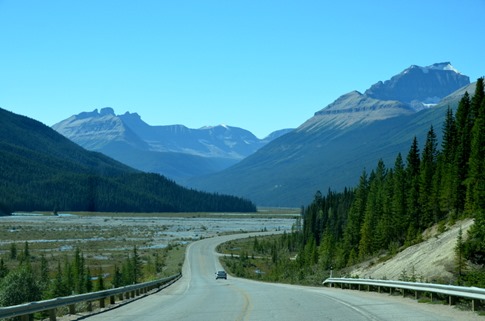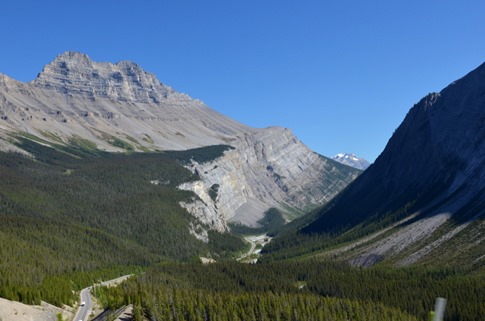 Our destination for the night was the Columbia Icefields. We'd been told you could camp right at the Icefields Center – oh, sooory abooot that, Canada, I meant "Centre" – but we didn't really see anything other than an RV parking lot when we got there. There was a sign a little ways back for some camping, so we backtracked a couple km's to the Wilcox Campground where we found a nice tight spot on one of the 10 or so rows of sites that switchbacked up the hillside. I think the sign listed a length limit of 21' for trailers but you probably coulda snuck a 25' up there. While we were pretty happy with our spot, we later learned that you could boondock in that RV parking lot. It's just on pavement, but based on the pics from other members of the caravan who did it later, the view was pretty nice.
Our campsite. Glacier behind and jagged peaks in front.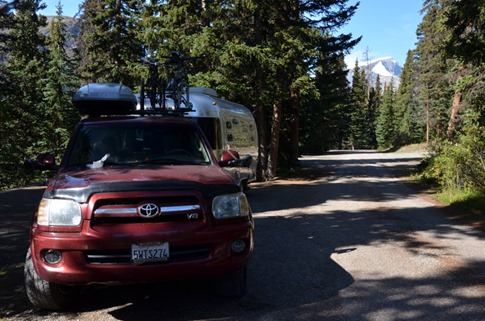 Coming…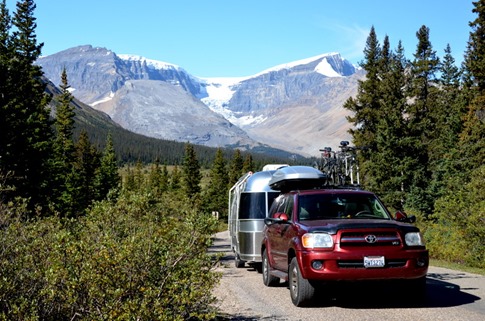 … and going.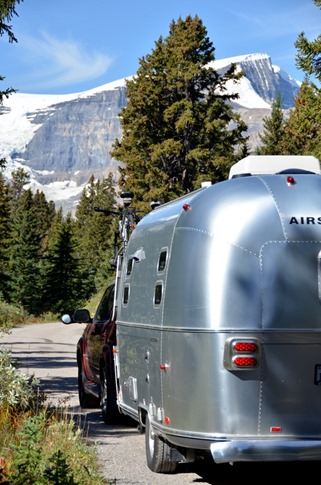 We had a nice walk around the campground as the sun faded, stopping to talk with a couple from Germany who had rented a car in Vermont and were driving around North America for 3 months and another from Atlanta who had flown to Jackson Hole, WY and driven a rental car north into the Canadian Rockies. I can't say I woulda thought of doing this in a rental car, tho why not? Rental motorhomes – even truck campers – are everywhere.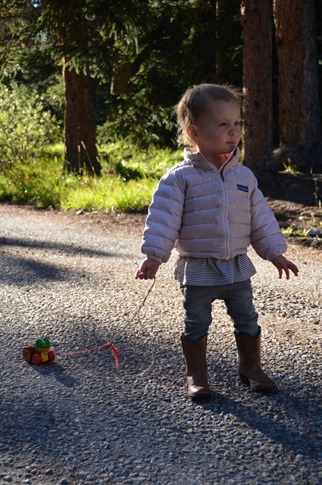 Wynne spotted String Frog in a Goodwill store in our home base of Petaluma, CA. We'd just watched the annual Butter & Eggs Day parade, the one that two years earlier had convinced us that this was just the kind of small town we wanted to put down roots in after 5 months on the Pan American Highway, and had 10 minutes to kill before going to friend's house for a BBQ. Of all the creepy dolls, unicorns with rainbow manes and stuffed animals in there, she didn't want to leave without him and $2 didn't seem like a lot to pay to avoid a public parenting failure in the middle of a thrift store. Since then, he's spent periods in miscellaneous toy baskets and drawers, but every time she sees him again, it's like the first time. Well she found him again, and he came on this and most future walks (you'll see).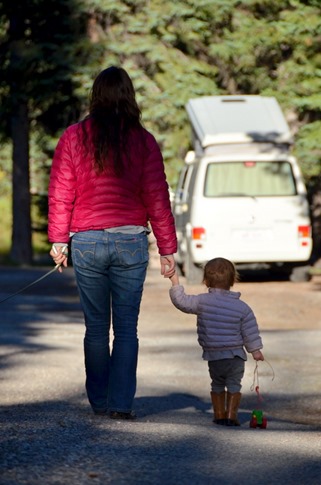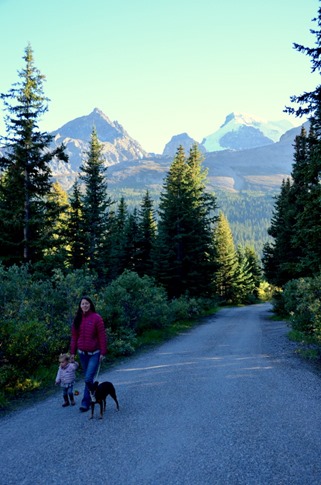 The next morning, we headed down early to avoid the Labor Day crowds at the Columbia Icefields. The Icefields Centre offers 3 hour guided glacier walks or rides on their huge TerraBusses (think airport shuttle meets the "Grave Digger" monster truck). Not really wanting to commit to either, we walked up the steep path of rock and slick rock and gravel left behind as the Athabasca Glacier has been retreating in the past 125 years or so to the "toe of the glacier." Wynne would have no part of being carried and insisted on walking the 1 km or so up to the ice. We successfully managed to convince her that the terrain was a bit ambitious for String Frog.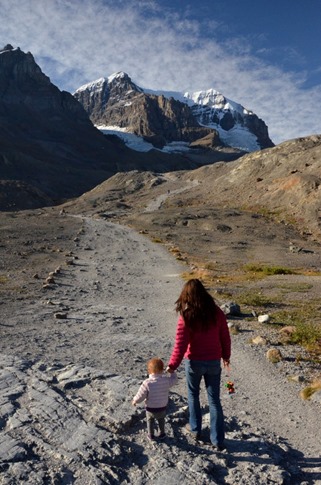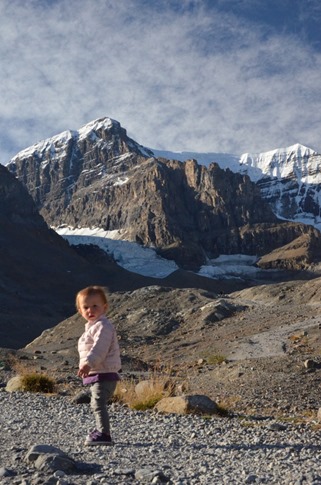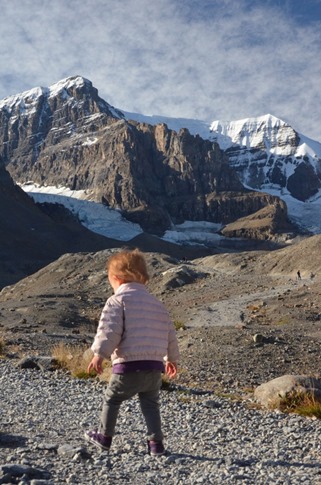 Okay, in truth, she's not the fastest hiker at the moment, and I had some time to get some other pictures.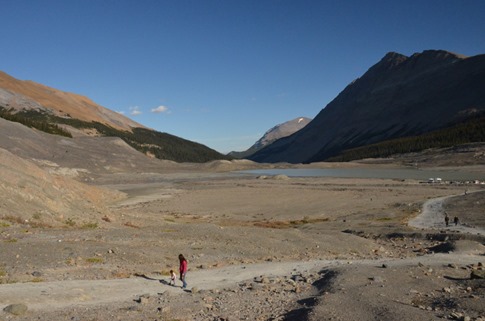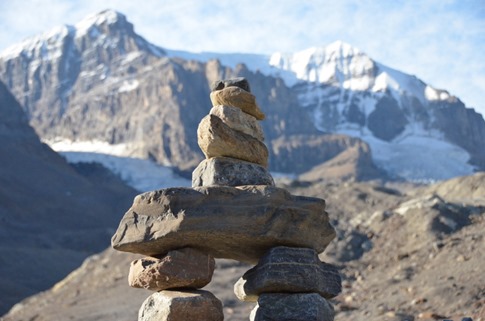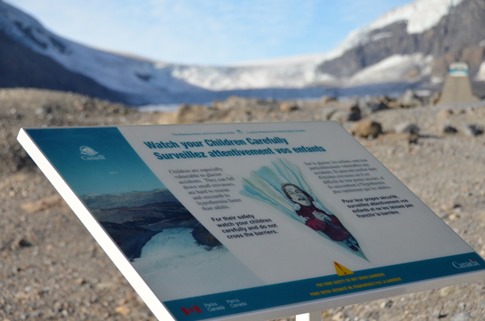 According to my dear friend Wikipedia, the Athabasca Glacier has receded more than 1.5 km since the late 1800's. There was one guy walking the loop who we overheard saying, "See, honey. Look at this sign. The ice *was* all the way up here when we were here in 2006." Scary.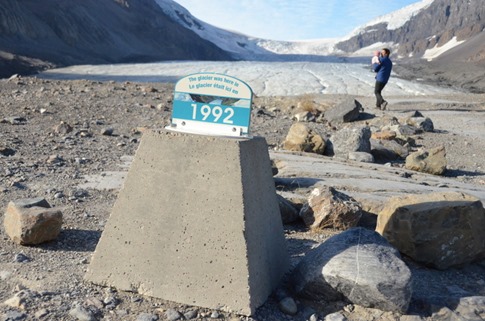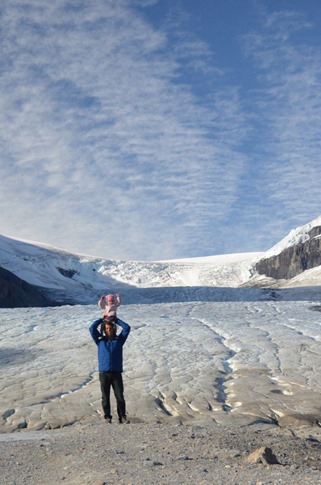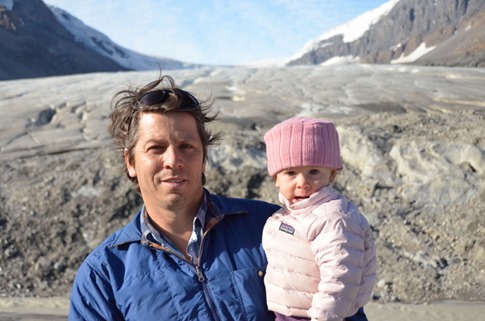 Being up on the glacier – or least near to it – I was trying to remember a "last time I was at that glacier" story of my own. The two I can think of were riding a motorcycle in Switzerland over the Grimsel Pass and paying 5 Francs to go into an ice tunnel carved into the Rhone Glacier and walking up onto the Fox Glacier in New Zealand with a tour group including Ann and my mom. I just checked with my research department and guess what? The Rhone Glacier has receded almost exactly the same amount in the same time period. And when was I there? 2006. I now completely understand that guy's shock. Interestingly, the Fox Glacier had been receding for the first 100 years of that period but has recently been advancing at a meter a week.
And speaking of advancing, String Frog made a strong showing once we reached the toe of the glacier, surprising all of us at his agility on rough terrain.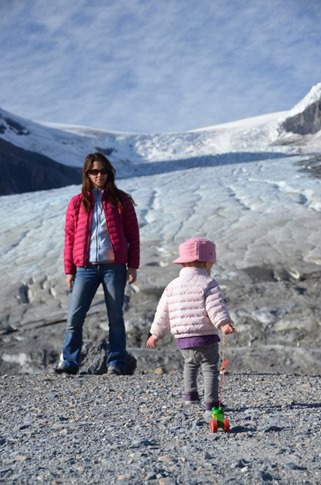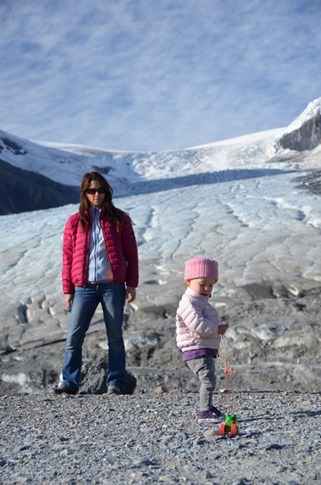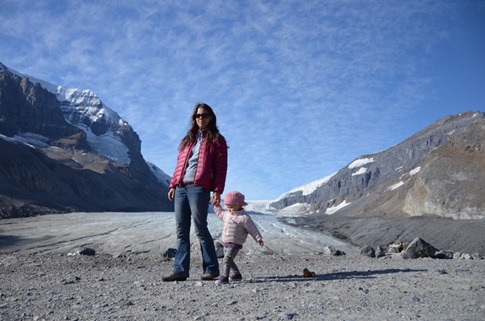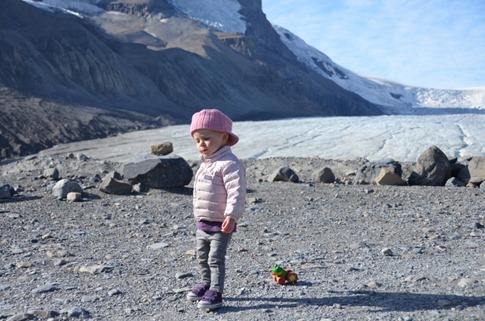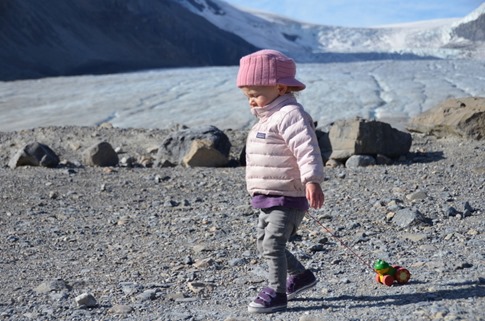 I mean, of course, there were sections where not even the most experienced String Frog pilot - much less a 20 month-old wearing gray skinny jeans, a pink pseudo-military wool hat turned backwards, a filthy Patagonia down jacket with a tag that reads 6-12 MO and purple cord sneakers with velcro closures - would have been able to keep traction on his two larger off-center rear wheels and two smaller front wheels.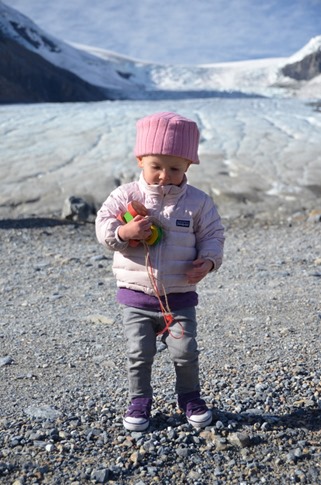 We thought he deserved a commemorative photo at the end of the hike.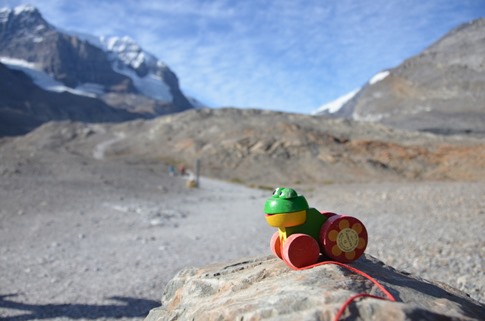 That's it, break time's over. We got 50 more meters to cover back to the car. Let's do this thing…