You're saying "What? We have a bison range?" Yes, you do, Americans, and it's between Glacier National Park and Missoula. Our friends MaliMish had posted pictures from it, but we'd totally forgotten until we saw the sign flying by at 65. We flipped a U-turn and headed out.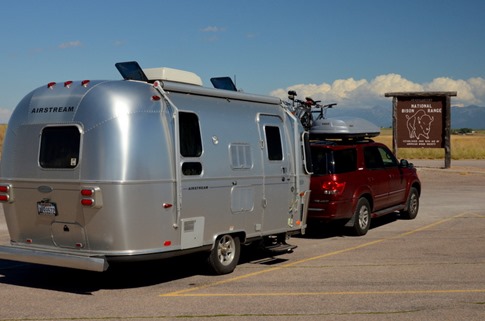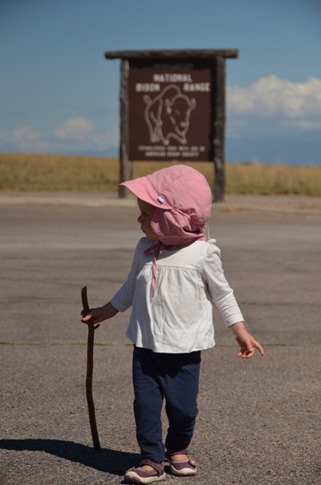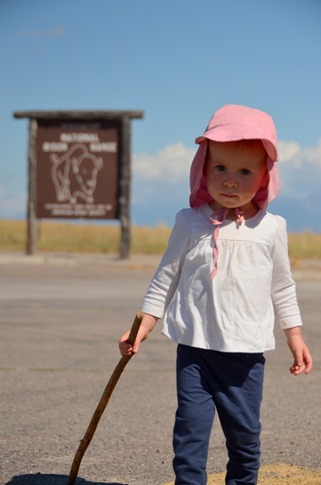 The huge pile of antlers in the parking lot was pretty impressive, almost as impressive as the number of yellow jackets living in it. In fact, the whole parking lot was lousy with yellow jackets. As I write this, I don't have an internet connection. Can someone check Wikipedia to see if there's a National Yellow Jacket Preserve right near the National Bison Range?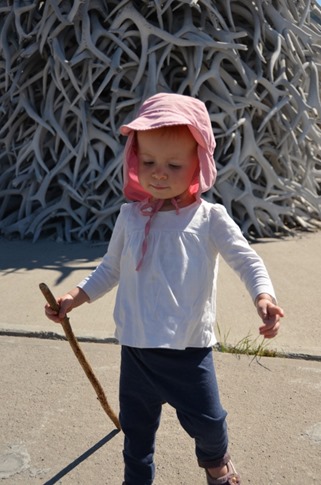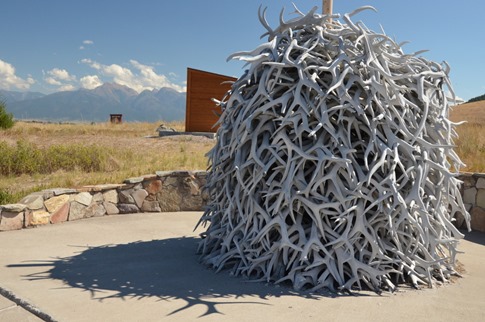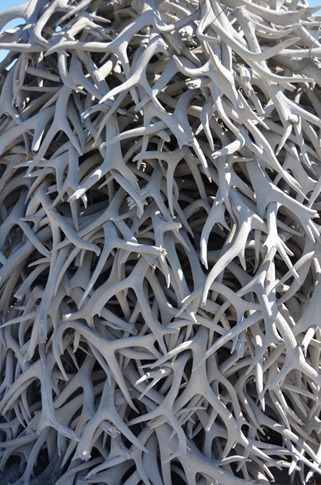 We've actually been commenting that everywhere we've been in the last week, there have been tons of these flying pests. Add to it that ever since being stung by six of them in our back pasture and having an allergic reaction similar to the one I had in Palenque, Mexico with some fire ants, every time I feel one flying near me, I scream like a 6-year-old girl and flail around like I'm on fire. Not a great look.
After a quick flash of our National Parks Interagency Pass, we unhitched the trailer and head up the dirt road into the park. Almost immediately, we saw three bison grazing on the hillside. Absolutely HUGE animals.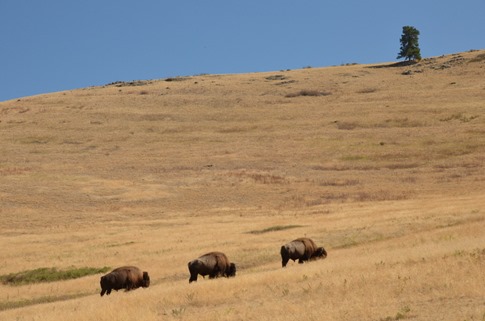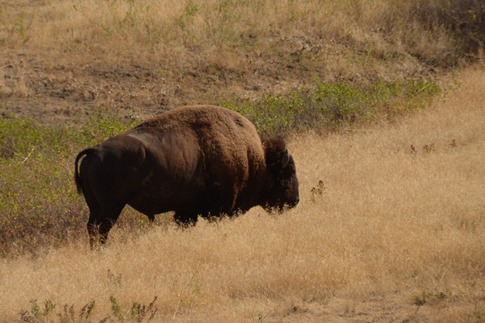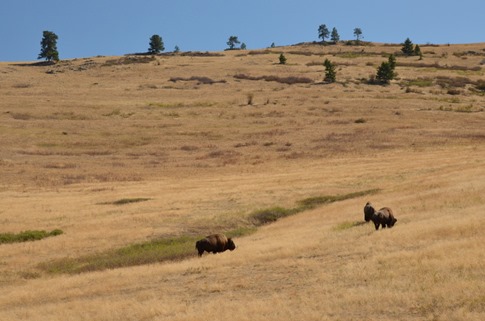 Soon after, we saw this lone pronghorn sheep posing dramatically against the horizon.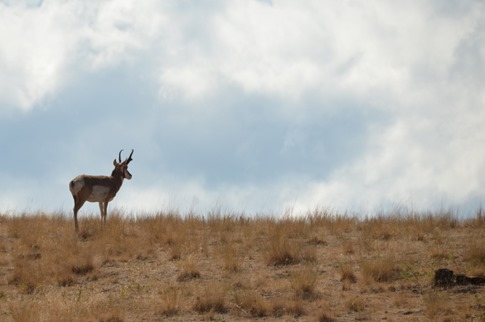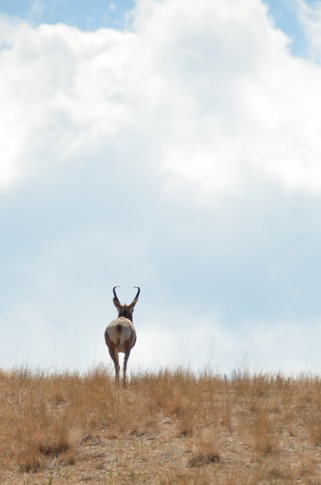 From the highpoint of the 17 mile loop, the land below looked strangely flat until we read that this entire area used to be glacial Lake Missoula, formed 15,000 years ago behind a huge ice damn. When the damn broke, all the water flowed across Washington State and to the ocean via the Columbia River. The informational plaque mentioned an interesting fact: In one particularly narrow ten mile section, the flow while the largest lake was draining would have measured 9.5 cubic miles of water per hour. According to the plaque, that's 10 times the flow of all rivers in existence today. From the checkerboard fields, it looks like the departing lake left behind a fertile valley.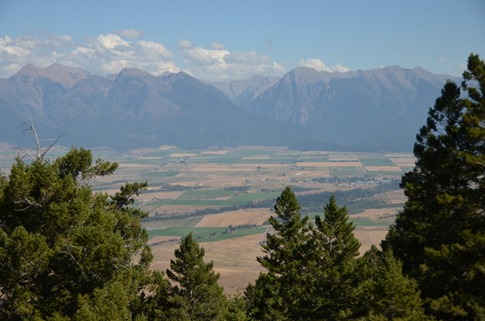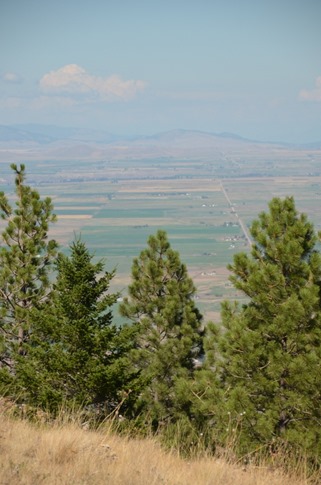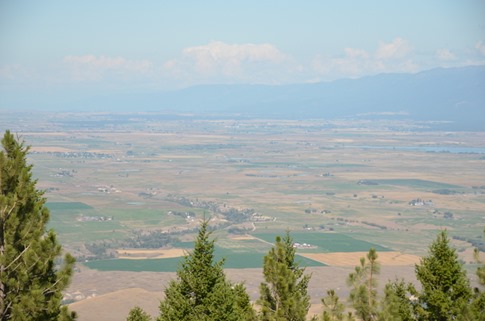 Driving down the former banks of the Lake Missoula…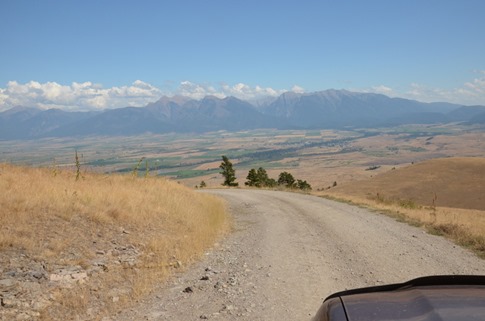 … and more pronghorn sheep livin' the dream.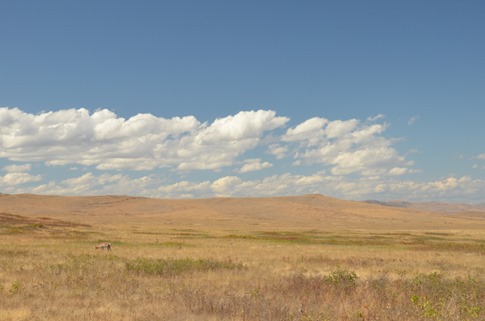 Outside of Missoula, we found our way to Jim & Mary's RV Park where unfortunately, we'd once again missed John and Laura (Democratic Travelers) and Brian and Leigh (Aluminarium) by a day.
So, here's the deal. We had pretty high hopes for Missoula. Two good friends had met there at the University of Montana and seemed to love it. Then again, they moved away after they got married. The RV park was about 20 minutes from downtown and we ventured down to South Higgins, the main street which included such encouraging areas as "the Hip Strip," a couple times each day.
Missoula's "Sunday Streets" sounded promising. 10 blocks or so were closed off to cars and people could stroll or ride their bikes. The problem – in addition to threatening weather – was that all the stores were closed on Sunday. There was pretty much nothing interesting to stroll or ride your bike to or by and pretty much no one out. Meh. There was a firefighter challenge thing that pitted teams against each other on a little course that included climbing a 6 story tower and other skills related to the job (spoiler alert: Missoula Firefighter Team 1 swept the competition), but that was about it. Meh. As the rain started, we returned to the park to do some laundry, get some stuff done online and generally lay around the trailer. Meh.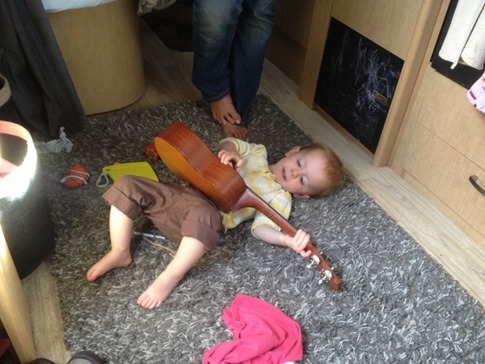 We went back downtown in the afternoon and found a really nice playground that Wynne loved. Yeah! Then found a brew pub at the end of S. Higgins but there were a buncha skeevy redneck jocks loudly hitting on a weathered bar fly that kinda made you wanna lock up your daughter. Eeeew.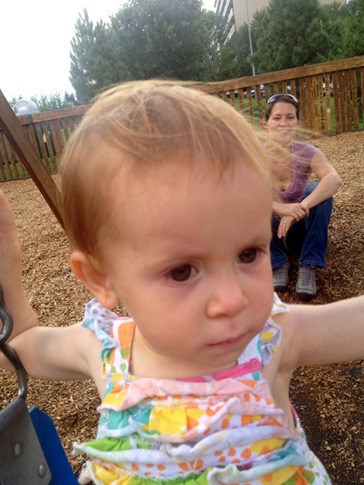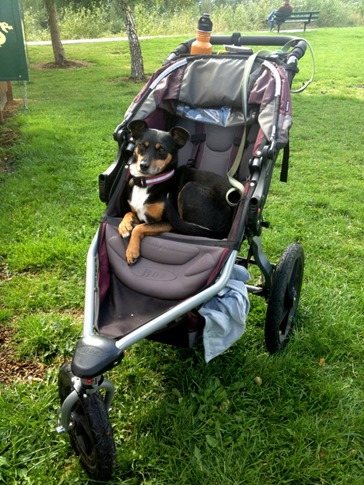 The next day, we had a bit more luck wandering the downtown. We found a few stores to poke around – yeah, we're the parents who bring our kid into your high-end baby store and let her slobber all over your shelves of stuffed animals – and got a replacement CO2 cartridge for our SodaStream. Yes, SodaStream. We live in a trailer, we're not animals.
The coolest thing we found was a long wall of a parking structure painted with chalkboard paint and spaces prompting people to fill in their answer to "Before I die, I want to ________________." Ann also posted these to our Instagram (@advodna) but here were a few that resonated.
In the afternoon, we stopped by an RV dealership we'd seen off the highway. There was a line of shining Airstreams parked in one row and, well, there have been more than a few conversations lately about how a little more space would be nice if we plan to take more trips of this length and when/if our family grows. We'd been looking at layouts and pictures online and just wanted to step into a few to see how they felt. We've said over and over how nice the 19' is for squeezing into tight campsites and parking lengthwise in two spaces at the grocery store, but then again, we'd just parted company with several fulltimers who make it work with 25's and longer. When we inquired, the salesman said they were all sold and wouldn't even let us look at them. Meh.
Limited space becomes particularly apparent when returning home with a full load of groceries and playing with Wynne in the morning.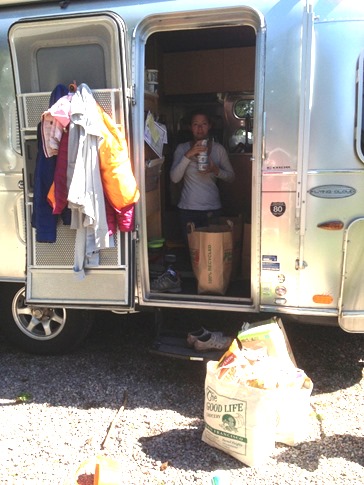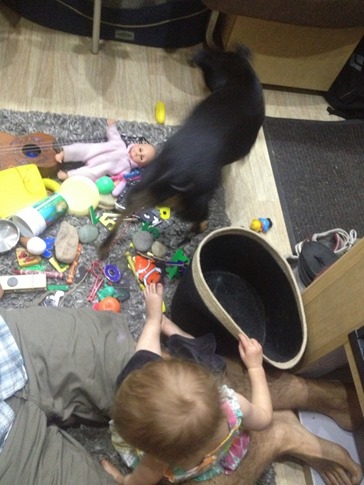 While there are seemingly endless beautiful national parks and interesting side trips to take, we also really like just poking around a new town, doing the things we'd normally do at home and getting a feel for it. We were really excited to do that around Missoula, but… meh. Honestly, it didn't do it for us. Now, if you're thinking we're just road weary and whiny, you're only (at most) half right. We're really settling into life in the trailer and enjoying our best Airstream trip so far. And if you're tired of the last couple whiny posts and don't believe us, follow along to Bozeman…