We'd chosen the Wapiti Campground in Jasper National Park over Whistler's because it had fewer icons next to it on the park map. I 4recognized the icons for RV's and dump stations and even electricity – those are the ones we're interested in – but there were too many others for various types of shelters and amphitheaters and campfire circles and convenience stores that didn't really seem like what we're looking for. After a loop through the Jasper townsite in an attempt to stretch out Wynne's nap, we swung by Whistler's to see if we might want to move there since a few other members of our Airstream caravan had reservations there a couple days later. I love the fact that the rangers at Canadian National Parks have the ability to pull up your reservation on a computer screen using your email. In fact, the guy at the kiosk was looking at a modified version of exactly what I'd used to book online a day earlier. What I didn't like was that he said Whistler had something like 700+ campsites and we could pretty much have our pick. That meant we'd have about a 1 in 700 chance of being near the others anyway and would be stuck in a huge campground. We checked in at Wapiti and set up camp.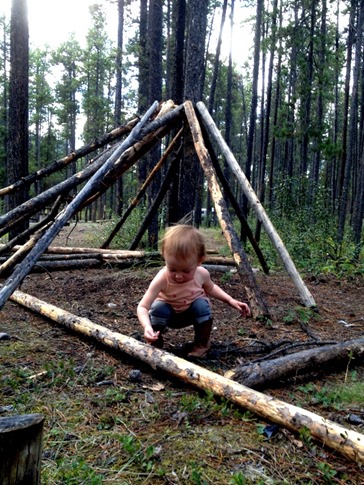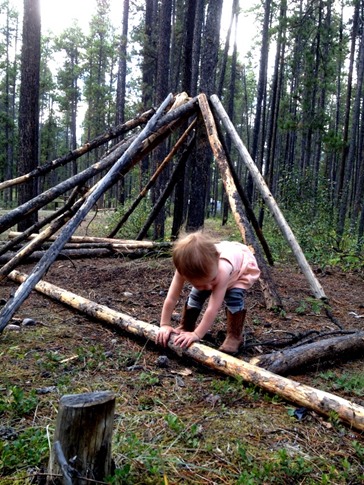 That evening, we went back into town, thinking we might find a coffee shop with some wifi. It seems we're a two connection-addict family at the moment, me wanting to keep the blog at least reasonably up to date and Ann getting excited about creating an Instagram feed. That's right, before parting company, we cornered the Instagram fanatics in the caravan, particulaly Dan (@malimish_airstream) and Jessa Works (@@jessaworks), who evangelized on the community and inspirational nature of the Instagram culture. Whereas Facebook can sometimes be overrun with gripes about the jerkoff in  in front of you in the line at Starbucks or posts desperately fishing for responses ("OMG! Could this day get any worse?!" Uh, okay, I'll bite. What's been going on, random friend from high school?), Instagram is people out doing interesting things are sharing what they see as a creative outlet and to inspire others. While it depends completely how you use either network, some people say that Facebook is the friends you've had forever, and Instagram is the friends you want to have in the future. So, you've obviously gotten enough input from me through the blog, it's time everyone got to see a little through Ann's eyes. Follow us on Instagram at @advodna and check out her great start. 
When a coffee shop with a connection was hard to come by (get your shit together, Canada
), we decided to grab an early dinner at the Jasper Brewing Company. (Here's a tip for all you budding brewpub entrepreneurs – name your restaurant "THE-NAME-OF-THE-PLACE-WE'RE-AT" and then "Brewing Company" and we'll probably have dinner there the night we go out to eat.) After ordering a salad, a burger, a plate of spaghetti for Wynne and an IPA for me, we noticed a FREE WIFI sign. Best of all worlds! I'm afraid of how we looked immersed deeply in our phones at the table ravenously consuming status updates and posting our own after connectivity starvation in the Canadian wilds while our daughter covered herself in pasta.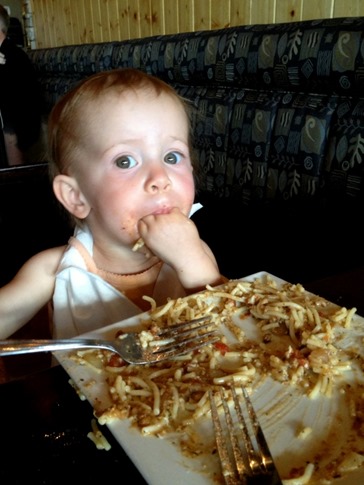 We've experienced it again and again on our travels; Our impressions of any place are overwhelming influenced by our state of mind while we're there, and there are going to be up and downs on any long trip. Honestly, by the time we got to Jasper, we weren't really in the mood for hiking, had been looking at dramatic mountains for over a week and just needed to recharge our batteries a bit. Unlike some of the other fulltimers we'd been traveling with, when we're in our trailer, we're usually in sightseeing mode. We generally want to see everything and do everything and don't feel like we have a day to waste, and that can be exhausting. We're slowly learning to give ourselves some time to relax, to do laundry, to veg out and watch a show on the Apple TV. We call it a reset, and we tend to need one at least every two weeks.
We looked and looked at the Jasper hiking map for some inspiration but always ran up against a restriction against hiking with dogs or a desire to minimize time in the car after a lot of driving in the past weeks. In the end, we settled on a hike up to some lakes just behind the town. Of course, to someone reading this at home on a couch, this sounds terrible, but it was just kinda "meh" for us (see first sentence previous paragraph). I kinda hate writing these posts, but we've always said we're gonna include the bad with the good (the whiny with the hyperbolic?).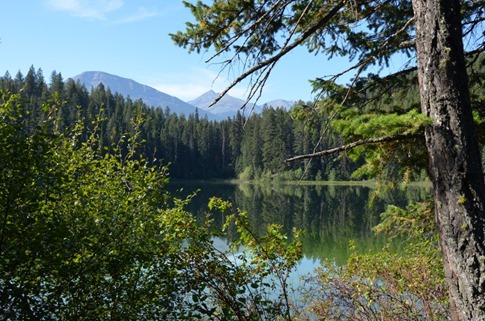 The beginning section just kinda felt like a nice little hike in the woods, not really National Park worthy, but we started to come around while taking in the reflection of these mountains in a big lake we had mostly to ourselves.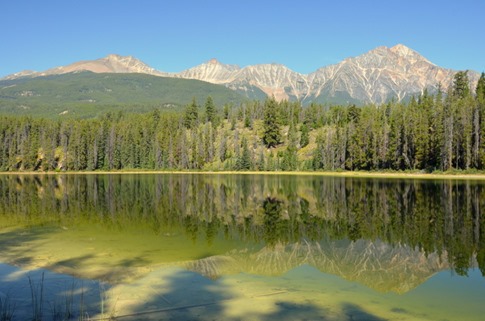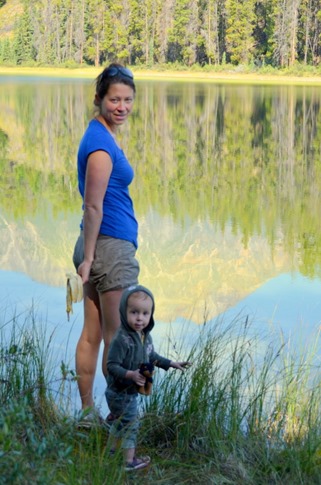 Riller was not thrilled with our threats of replacing her with smaller, younger, more bean-bag-filled version of herself.
And then just about the time we were thinking, "Eh, oh well, Jasper's not really doing it for us," I looked up into a stand of Aspens to my right and saw a big boulder move. It was a black bear, our first sighting of the trip. We'd actually thought about stopping in town the day before to pick up a couple cans of bear spray and a bell for Riller's collar, but… then there was beer and Internet. Luckily, this bear was the perfect distance away from us and moving the other direction, allowing us to snap a couple quick pictures with the zoom lens and point her our to Wynne.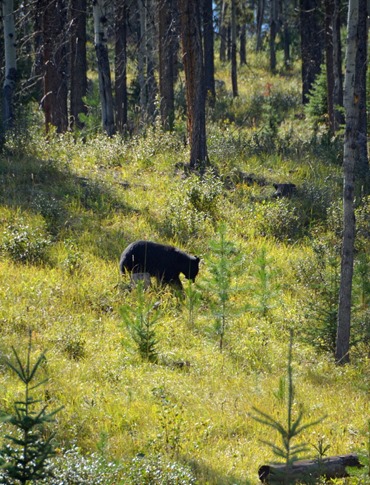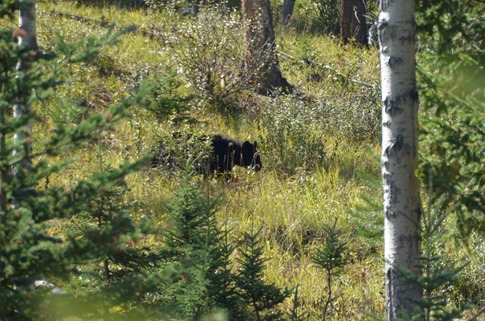 We continued down the path musing, "Yep, there are wild predators with huge claws and teeth and a deadly instinct to protect their young roaming out here, and yet we choose to take leisurely strolls through their habitat with our baby. Makes sense."
And that wildlife sighting was just the beginning. As we made our way back down the Icefields Parkway the next day, we saw a big horn sheep…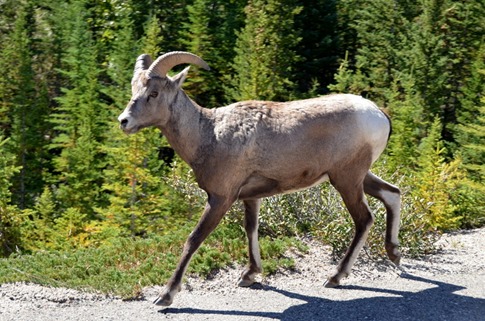 … and mountain goats. How prehistoric do these things look?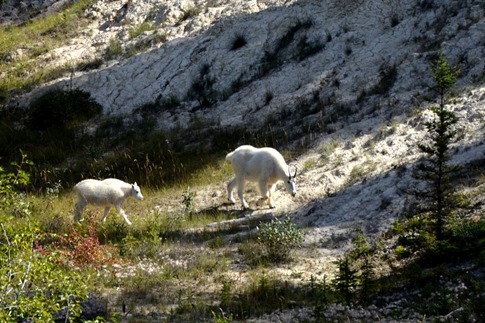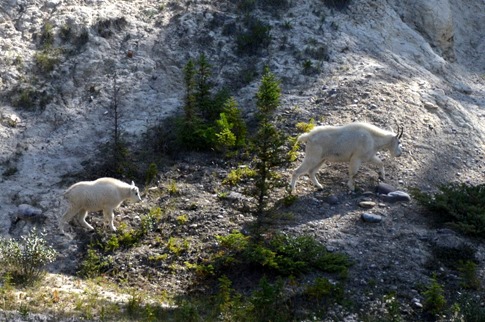 Unfortunately, no elk…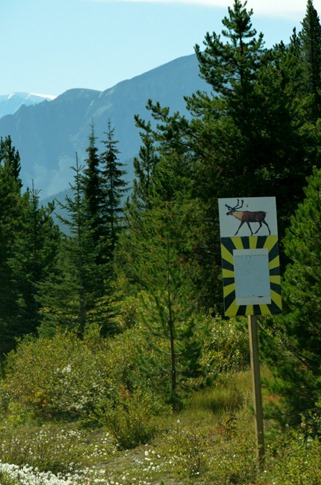 … and no moose (despite Ann yelling "SHOW YOURSELF, MOOSE!" every time we'd pass a nice open meadow) …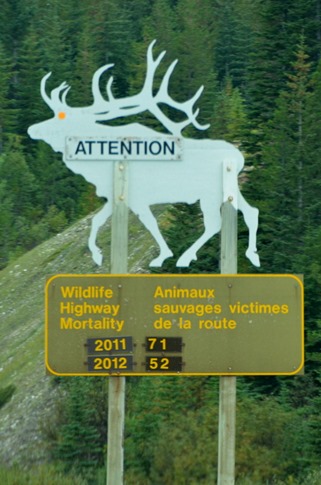 … but we did see a lion, three bunnies, a bobcat, a moose (purse), a rainbow hedgehog and two freaky looking babies …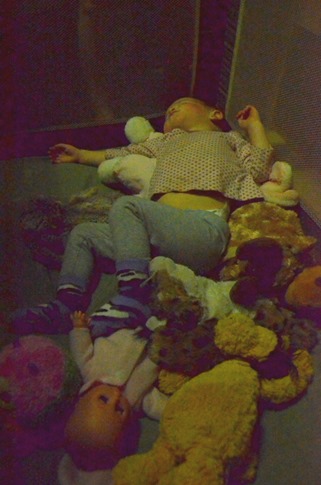 … and this overland truck with plates that looked European, likely Switzerland given the flag. We actually ended up following them for miles trying to get a closer look at a sticker we thought was from our friends Luis and Lacey from Lost World Expedition (below the Swiss flag), but it ended up being for the Argentina LandRover Club.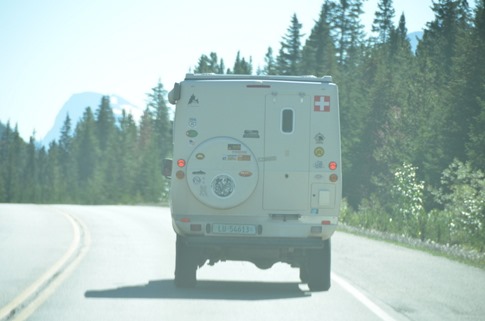 A couple more shots from the road that I love. These rental RV's always make me look twice thinking that the people have locked their dogs…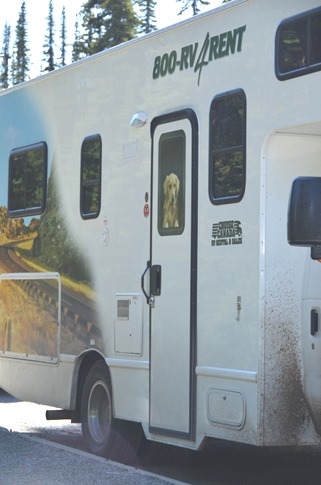 --- or kids in the motorhome. Don't they look like they're clawing at the glass to get out?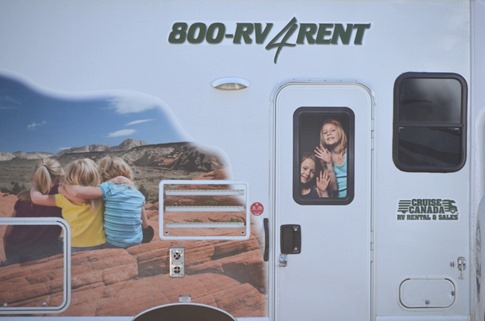 One stop we'd missed on the trip north was the overlook at Peyto Lake. In this case, Ann's new Instagram addiction paid off when she saw a couple stunning images that we had to go see for ourselves. From a non-descript parking lot - not a surprise we'd passed it by before - we started a 10 minute walk up a paved path. Well, it would be 10 minutes for the average tourist or perhaps a 90-year-old with a walker. For anyone who, like us, planned to do it with a toddler who insists on walking herself, I'd allow 45 minutes.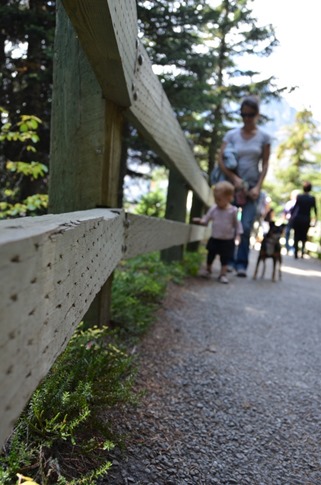 Well, *mostly* walking…
And *mostly* on the path…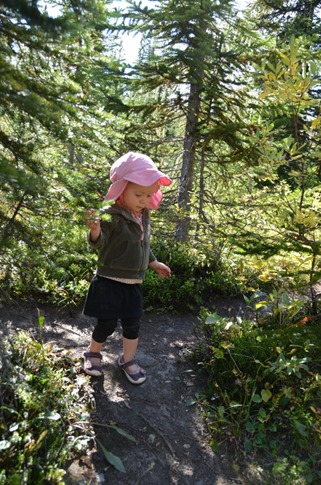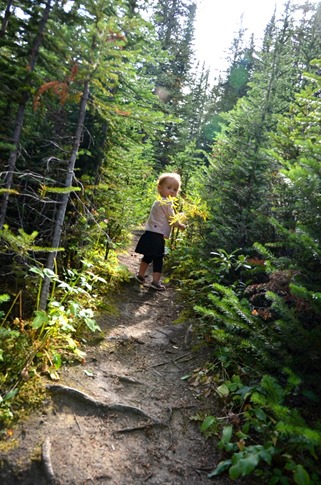 But no matter how long it took, the views were absolutely worth it!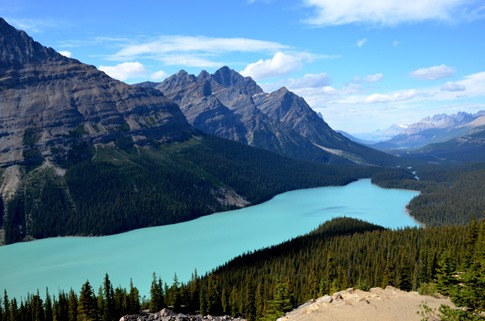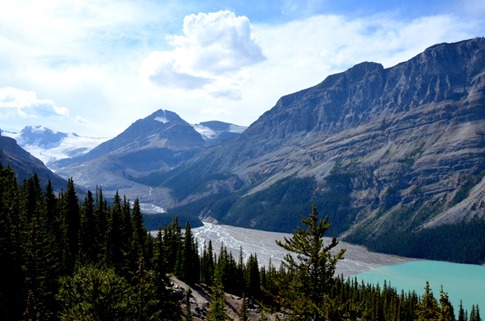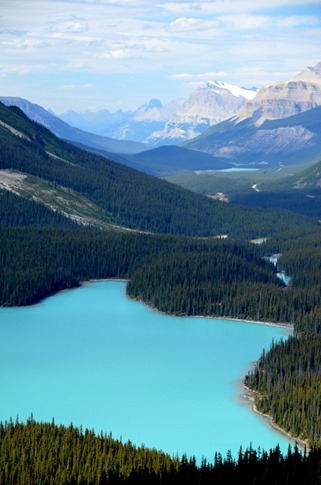 We made it all the way from Jasper down through the Kootenay National Park that branches off near Banff. The info we'd seen showed all the northern campgrounds closing just after Labor Day, and this section of park seemed absolutely deserted. In fact, there were signs warning about wildfires in the area and we could see the hillsides smoldering but no signs of fire crews or planes dropping water.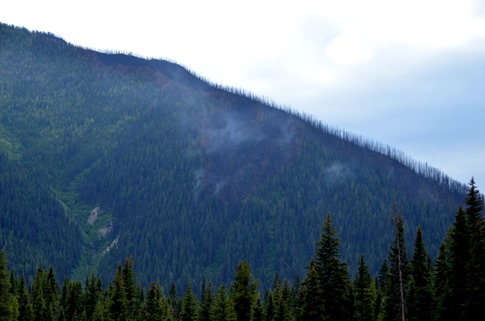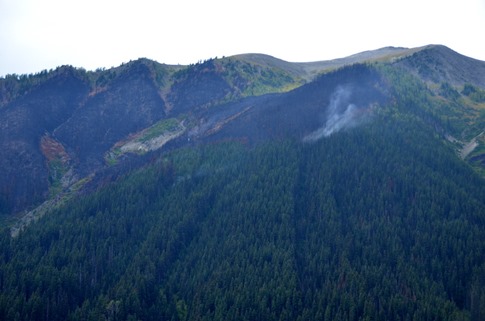 It was clear that large fires had come through the area in the past. It seems they just let them run their course since no one is living in the area, probably the best thing for the forest in the long run.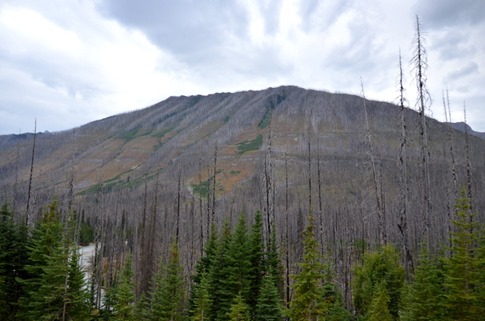 Our last potential wildlife sighting was our favorite. I had to look twice when I saw the sign. Alas, we didn't see any, but it was a fitting warning for our last night in Canada.