Just as we pulled in behind four or five cars to wait our turn to cross the border, our phones leaped to life with texts, voicemails and Facebook updates. Up in the left hand corner of the screen, we saw the letters ATT and four glorious bars of 4G coverage. As one final neener neener neener to the always-patient Canada, ATT had clearly installed a cell tower they knew would reach just 30 feet into their national sovereignty.
Why I still get nervous at borders I don't really know. It's not like I've ever had anything to hide beside the occasional citrus fruit or crown of contraband broccoli. Still, when the border guard asked if we'd brought anything back with us from Canada, I couldn't stop myself from nervously blurting "Just pictures and memories, sir." I replayed it over and over in my head as we pulled away, cringing.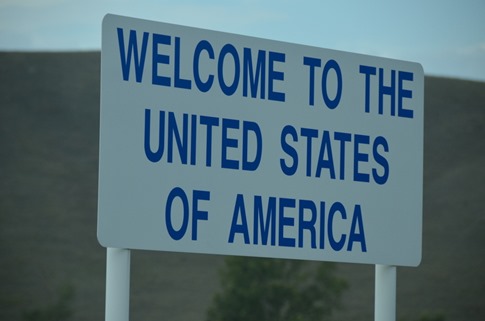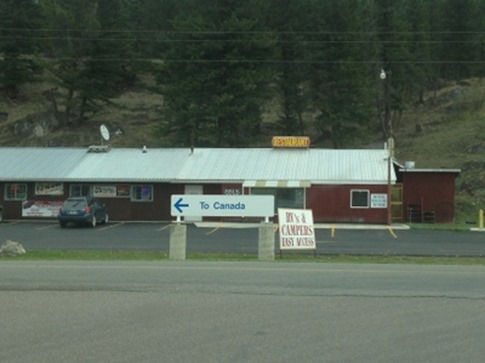 We've enjoyed finding that most vehicles towing an Airstream will wave or flash their lights when they see us pass. After all, we do have the same color trailer. When the white F250 pulling a 25 footer didn't see us and just drove past after turning out of the entrance to Glacier National Park, we thought to ourselves, "Psht. Newbie assholes." Then we thought, "Wait, don't we know them?" A quick text to Leigh and Brian (Aluminarium) confirmed that it had been them on their way to Missoula after a few days in the park. They also let us know where to find Tim and Amanda (Watsons Wander) who were staying one more night in the Apgar Campground. Walkie talkies were fun but it's nice to have our phones back. The grandparents don't mind it either now that regular Facetime sessions are possible again.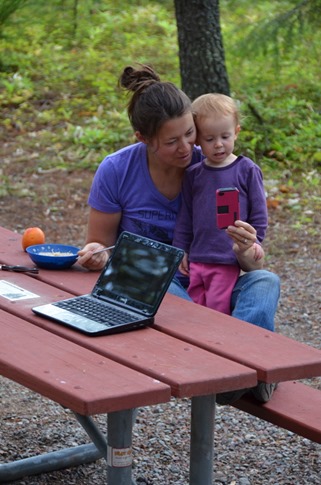 It's handy to camp with other Airstreams so you can always keep one in the background of every picture.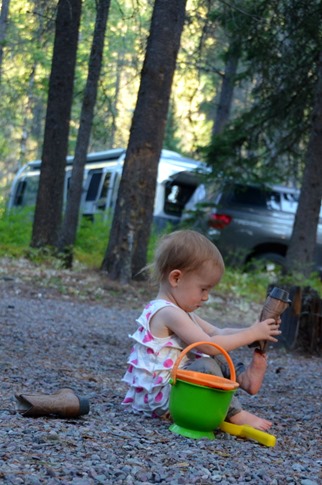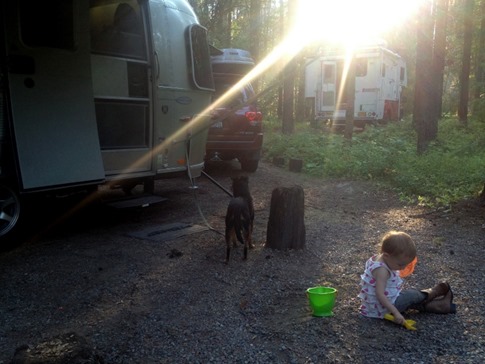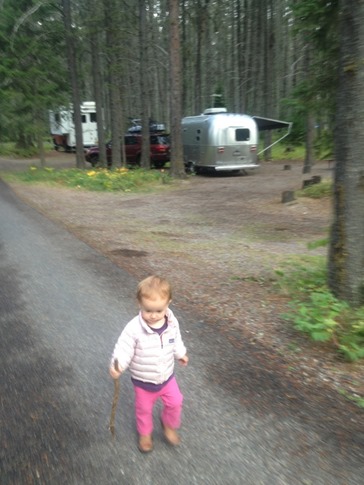 With thundershowers forecast on and off for the whole day, we decided to drive the "Going to the Sun Road" around Wynne's nap time. She passed out immediately on the twisting, narrow road – so narrow, in fact, that the park brochure states that you must remove extended mirrors when not towing – as we climbed high above the valley.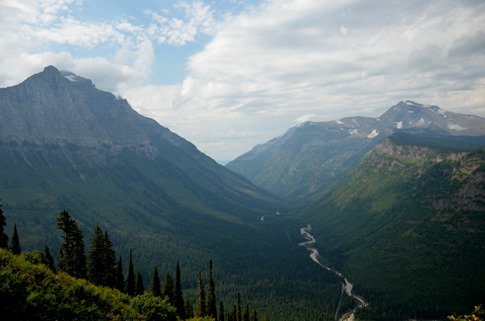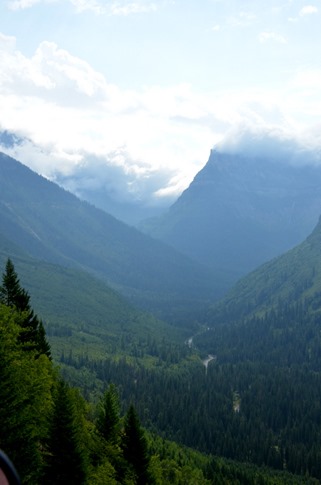 Soon, the road practically hung to the steep hillside with a few waterfalls crashing from the cliff above only to run beneath the road. We dodged rental cars and the cool old-fashioned Glacier tour busses as they weaved in and out of the tight overlook pullouts.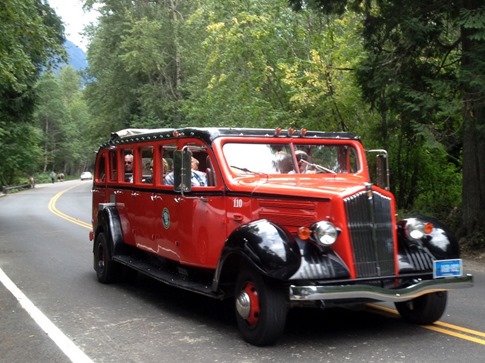 The eerie fog shrouded the highest peaks and, at times, the very road we were driving on.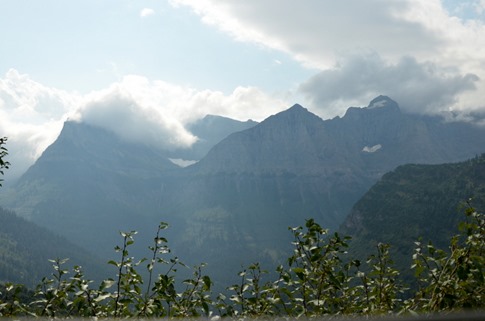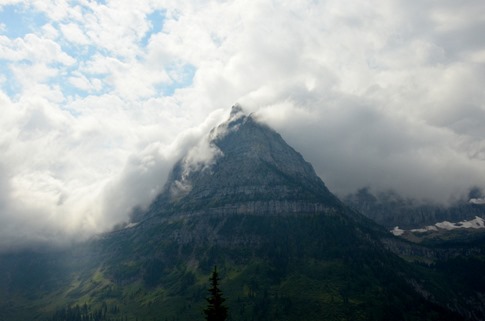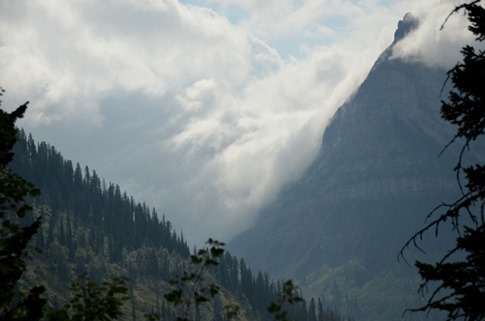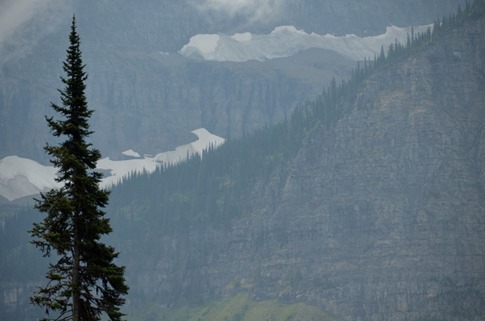 We were pretty much in a whiteout as we topped Logan Pass but descended back out of the clouds on the other side. Down in the flats with a sleeping baby, there wasn't much else to do but turn around and drive back.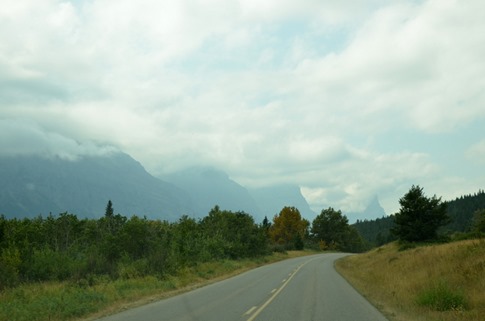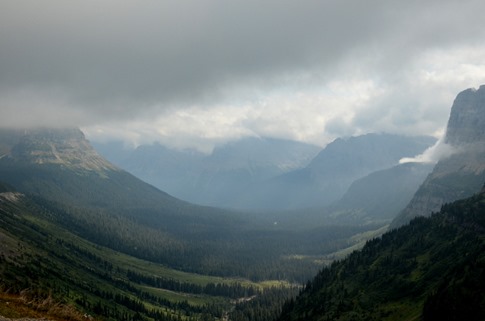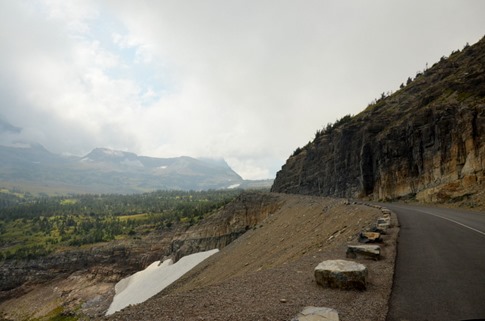 Amanda (Watsons Wander) had told us about an easy hike that might be good with Wynne in a backpack up to Avalanche Lake. About 30 seconds after we'd found a coveted parking spot, packed the backpack carrier with everything from diapers to snacks to milk, filled our water bottles and clipped our newly purchased bear spray to our packs, we heard the first thunder clap. Luckily, we waited in the parking lot for a few minutes to see what would happen before the sky opened up on us.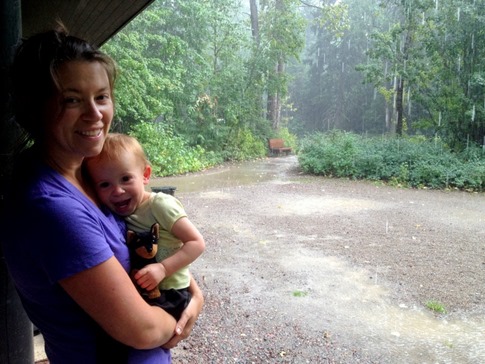 When it slowed down a bit, we decided to walk the shorter "Trail of Cedars" boardwalk to a neat little waterfall.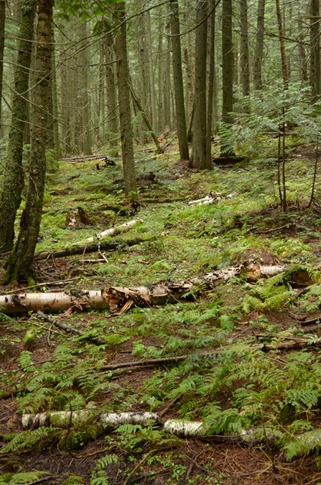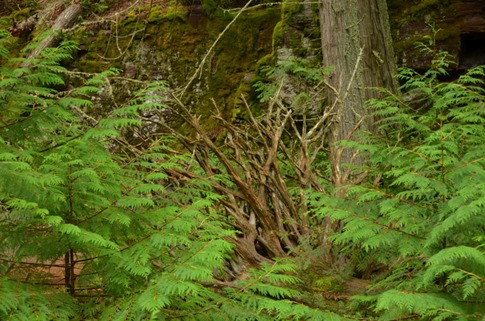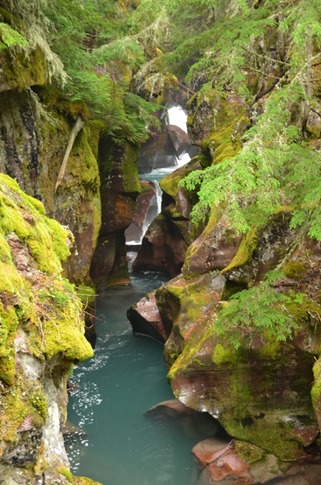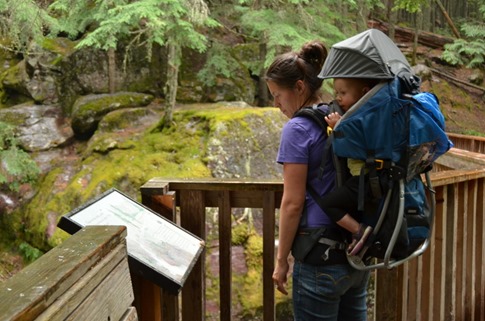 Ann has been taking her new role as Director of International Instagram Services very seriously and the pics have been great. Follow the stream at @advodna if you haven't already.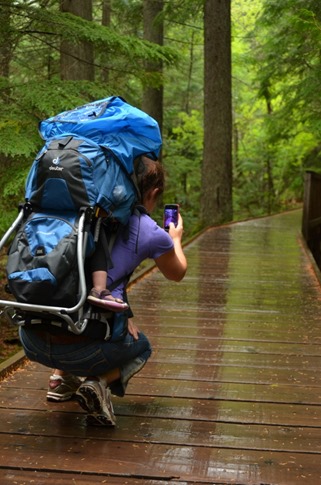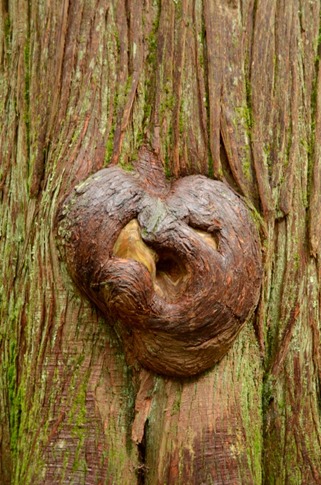 Yes, there were scary signs, but it's possible that our two cans of bear spray and the incessant jingling of our bear bell was a little overkill for this particularly heavily traveled path. The best part of the sign below is "If you are attacked, use a firearm only as a last resort. Wounding a bear even with a large caliber gun, can put you in far greater danger."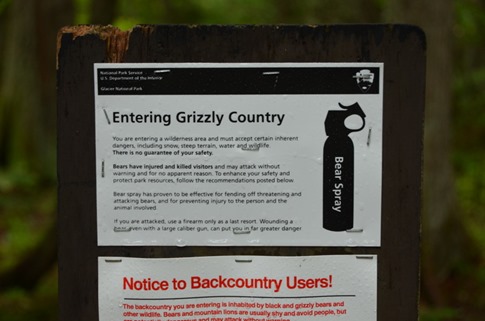 That evening, we walked down to McDonald Lake, not to far from the Apgar Campground. The clouds had largely cleared and it was shaping up to be a beautiful evening.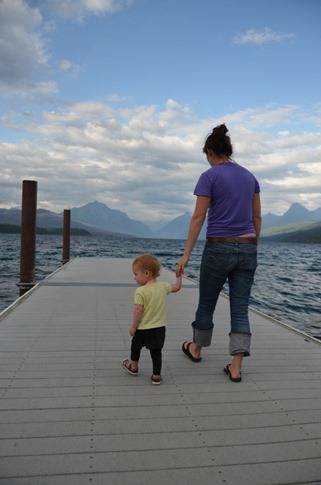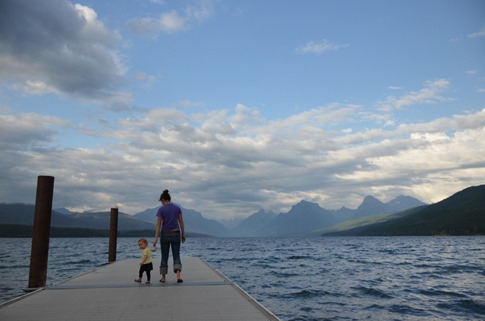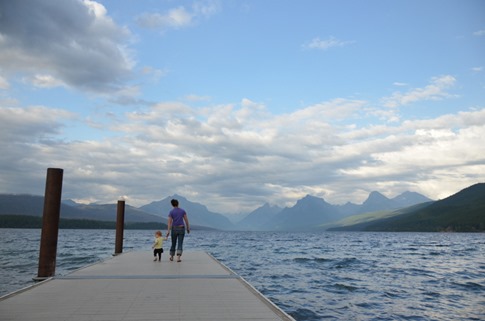 \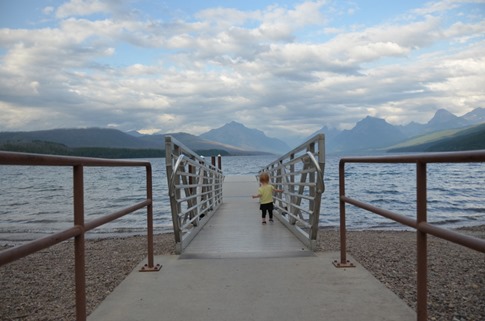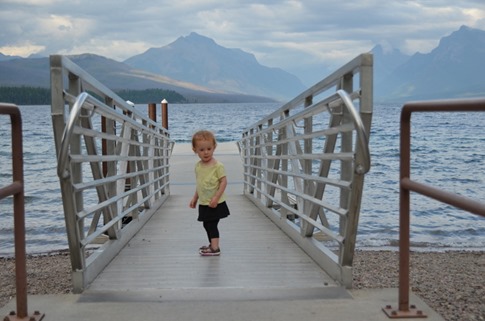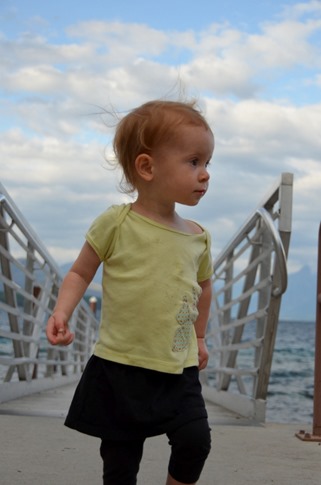 Something about that sky that night just seemed to confirm Montana as "the Big Sky state."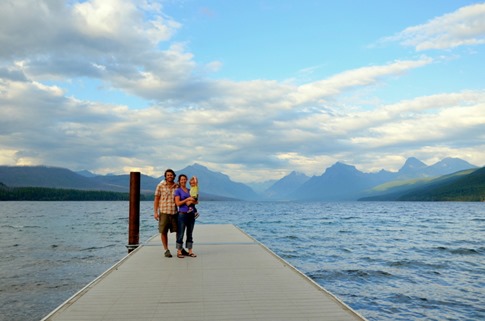 Wynne played happily with the rocks on the beach while we hung around and watched the light fade.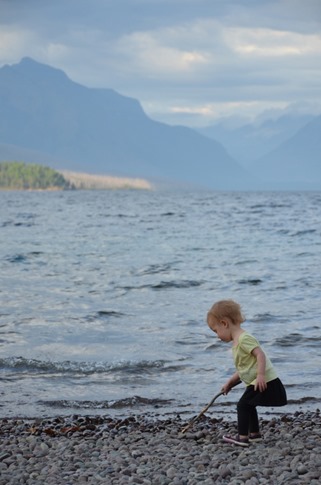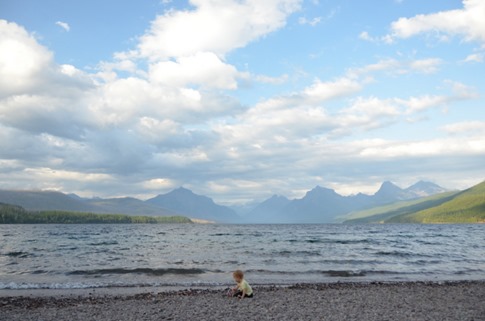 Okay fine, she's currently got a little bit of a "Yoda-thing" going on right now with the walking sticks.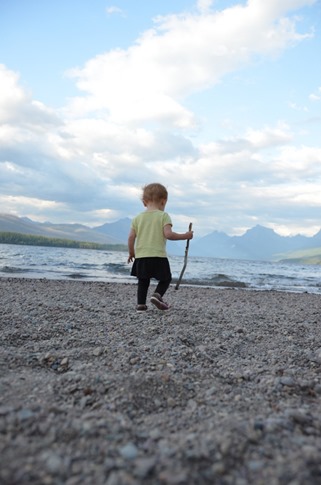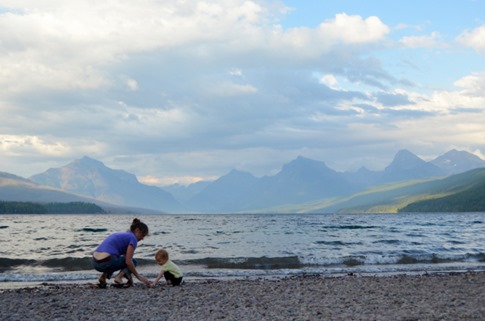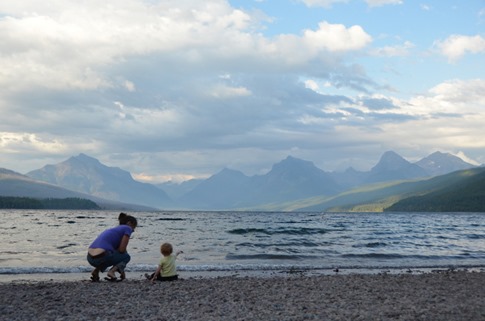 Don't worry, we're working on toughening up her image…