To drive through Zion National Park, you need to go through the 1.1 mile Mt. Carmel tunnel. Trailers our size and larger require an escort so we can drive down the center of the narrow tunnel to avoid clipping a mirror on the side or an air conditioning unit on the top. Despite paying our $15 escort fee at the park entrance, it seemed that rangers were running one way traffic through the tunnel for all vehicles anyway.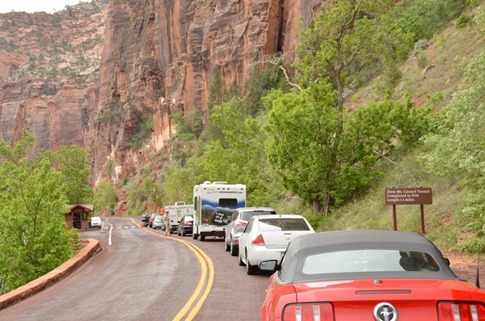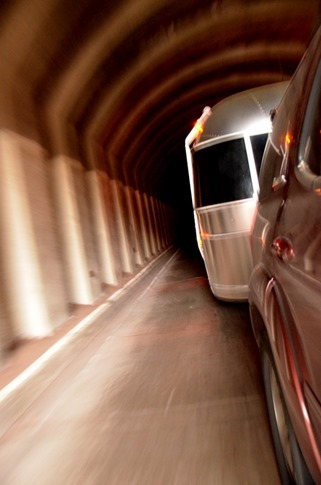 Several of these windows provided light and brief views out into the canyon. They reminded us of the tunnels Ann and I had ridden our rented BMW F800GS through in the Alps a couple years before.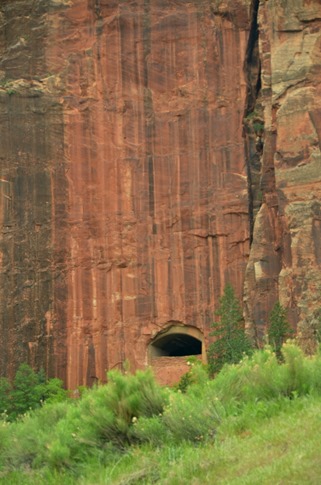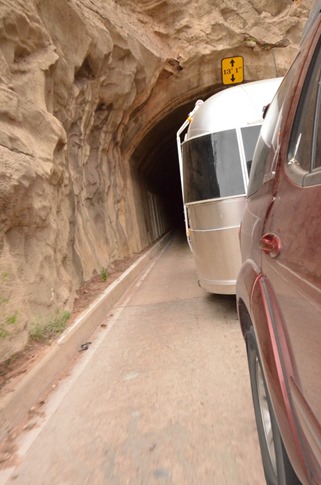 On the other side, the landscape changed quickly as the high vertical red cliffs gave way to sloping pink domes with veins of orange and red. In fact, we were driving up something geologists call the "Grand Staircase," layers of rock of differing ages compressed and flexed at the same time the Rockies were being created. The exposed edges of the layers have eroded at different speeds, limestone and sandstone more slowly leaving vertical cliffs and others more quickly leaving benches and slopes. The result is a series of steps running from the Grand Canyon all the way up to Bryce Canyon. We were blown away by the incredible variety of landscape we went through on this drive connecting Highway 9 north of Zion to the Highway 12 Scenic Byway.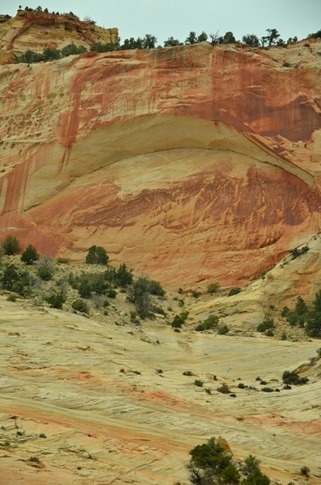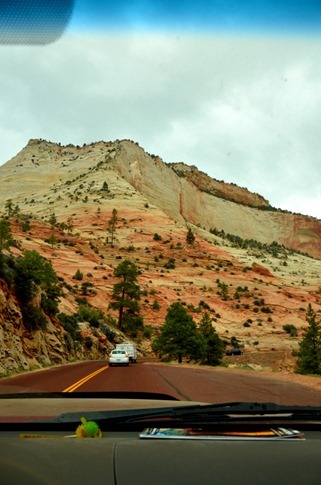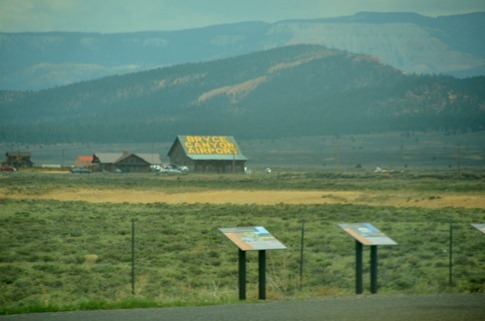 One of the scenic highlights is clearly the youngest rock comprising the top layer at Bryce Canyon. We pulled into the parking lot of one of the first overlooks about lunch time and crawled into the trailer to whip something up. One of the best things about traveling like this is the ability to hop out of the car after a long stretch of driving, poke through the fridge for something to eat, lay back on the bed or sit at the dinette and immediately feel like you're at home.
Still, even halfway through a diaper change, Wynne couldn't wait to get out to the overlook.
And it was worth it. There can't be another place like Bryce in the world where this perfect erosion of the top most layer of rock has formed fins which, through the almost nightly year-round freeze and thaw in the high canyon, have broken down into the pillars known as "hoodoos." The view from Inspiration Point is just incredible.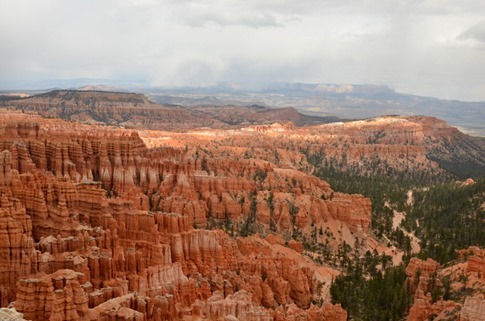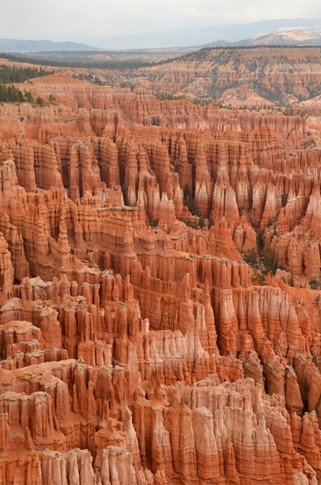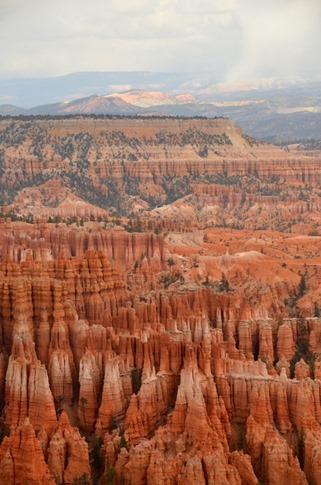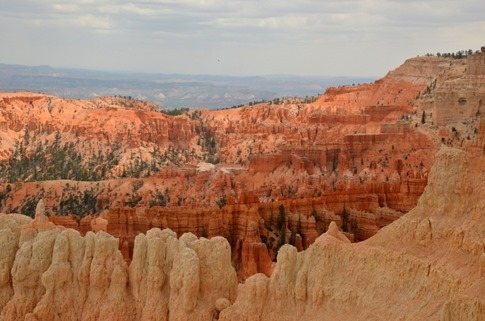 Look for the two tiny hikers towards the top of the zig zag trail in the foreground.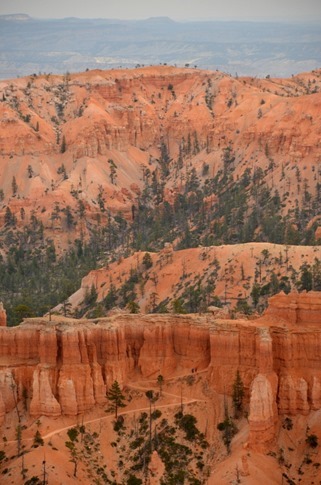 Now look for the "Mother of the Year" candidate with the baby in the stroller perched on the edge of the cliff in the upper left. We couldn't watch… but also couldn't look away.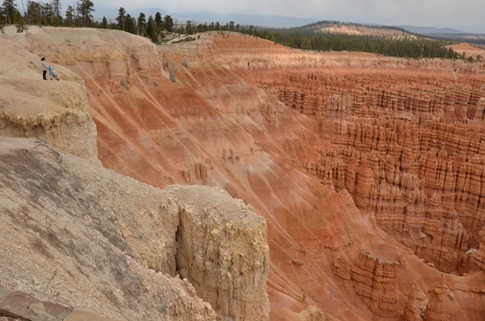 Still, we preferred to keep our baby somewhere a little safer.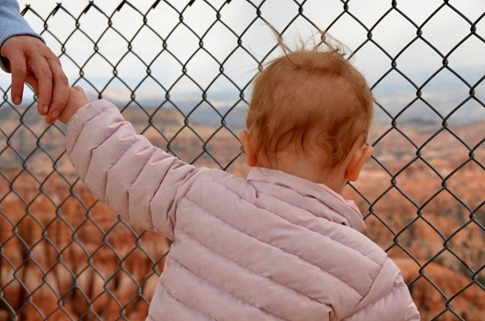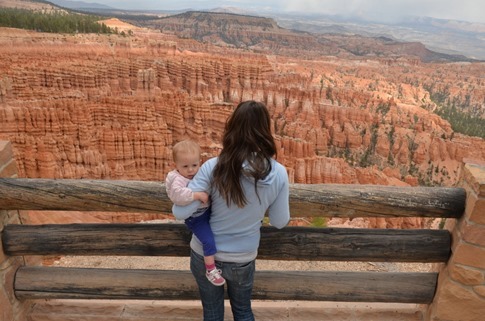 Beyond Bryce, the landscape changed again to white and gray cliffs as we wound our way towards the Grand Staircase Escalante National Monument, a huge but little known area that showcases some of the incredible geology of the region.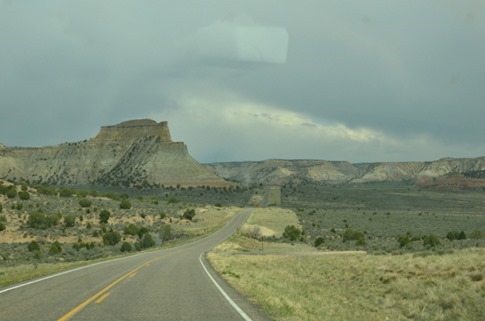 We'd thought we might head towards the town of Escalante where we'd read on the Mali Mish blog about an RV park called The Shooting Star Drive-In where you could not only poke around several vintage Airstreams they had available for nightly rentals but you could watch a movie on a large drive-in screen while sitting in your choice of classic convertibles! I'd come across Mali Mish one night when googling around for info on families living on the road in Airstreams. Dan and Marlene set off with one child and now have three living in a 25 foot trailer and looping around the country. Despite being mobile, they seem to live a pretty normal life, homeschooling – or rather, "roadschooling" their kids and constantly searching for the best hamburger in the country. I had remembered something about the Shooting Star being up for sale and sent Dan a Facebook message to double check. He confirmed my recollection so all we could do was catch a speeding glimpse from the freeway as our road-weary toddler started getting antsy.
After descending back down into the red rock, we started to see canyons carved by creeks lined with Cottonwood trees and decided to check out one campground.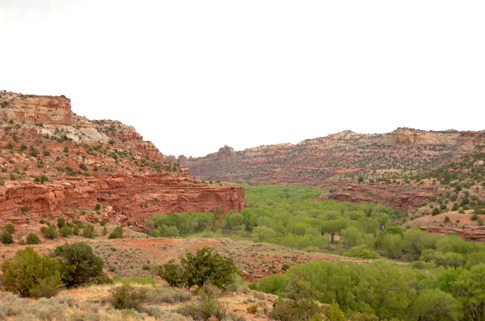 And were happy to see a tiny stream crossing where we could take Airstream glory pictures.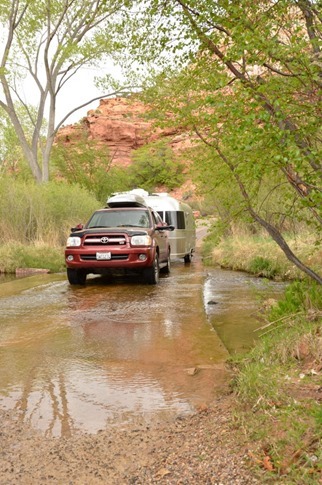 But unfortunately, this one was Calf Creek, one of the more popular areas known for a great hike through narrow canyons to a 126 foot waterfall. No space available. We continued on, taking in spectacular views over Grand Staircase Escalante on a ridgetop section of Highway 12 called "The Hogback."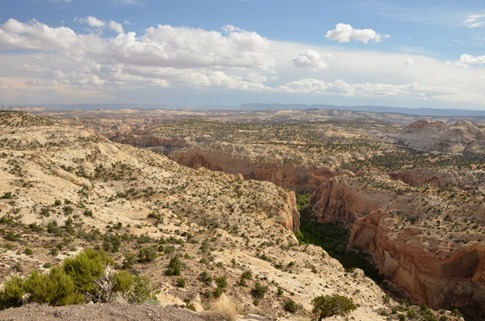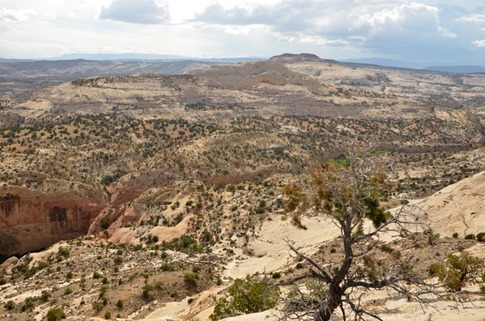 When researching this area before we'd left, I'd read about the Burr Trail Road, a 66 mile backroad that runs all the way from Highway 12 to Lake Powell through slickrock formations in the Grand Staircase Escalante and Capitol Reef National Park. While I knew we couldn't take the Airstream on it – 30 miles are paved but the rest, including switchbacks dropping 800 ft, are gravel and worse – I had had fantasies of setting up camp somewhere and driving the road in the Sequoia. When I saw a dot for the Deer Creek Campground a little ways down the Burr Trail Road near the town of Boulder, it actually looked like our best bet for finding camping within the near future and it would scratch my itch. Based on some turns in the road we could see on the map, we dropped a pin on the spot in the GPS and started down the road.
For the first couple miles, we wound through farms nestled on plateaus in between the rock formations.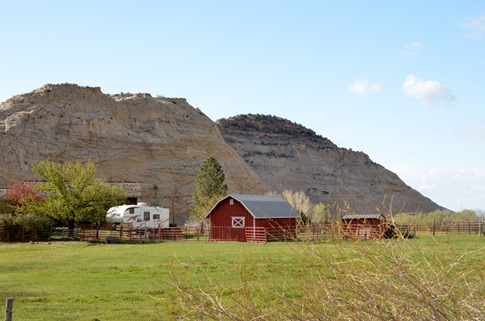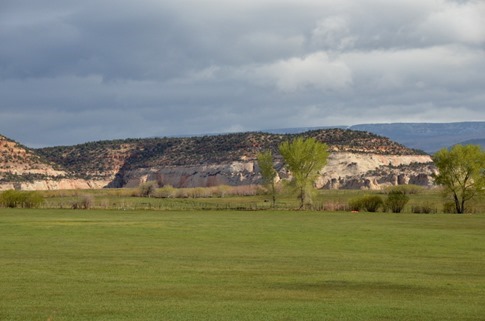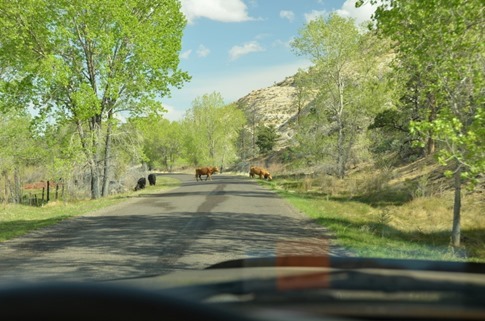 After a little over 4 miles, we saw a sign for the Deer Creek Campground and pulled in. One of the first sites we came to was available, but it didn't look like it would fit our trailer. Further up, we saw another one that might work, across from a site with a small Casita trailer. As we continued up the road, the Casita owner rushed out and flagged us down, telling us that the campground road just kinda ended up ahead. In fact, it drove right into a river.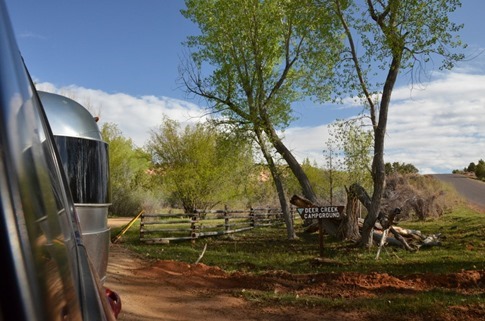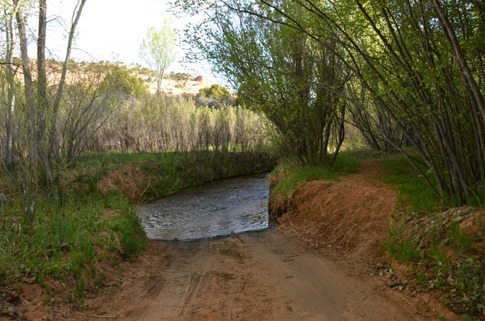 We were lucky enough to be able to back up to the second spot we'd seen and tuck the Airstream in along the road, but if we'd been in a bigger rig, who knows what we would have done. There were no warnings or anything posted at the entrance to the campground.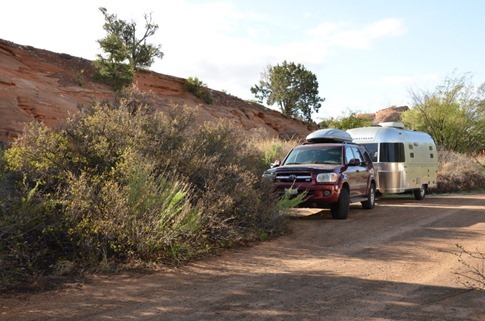 We proceeded to get everything set up and leveled (see, Leigh and Brian, the system *works*).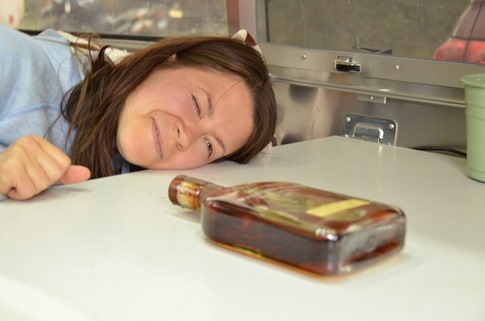 Wynne had some concerns about my unhitching process but was ultimately satisfied.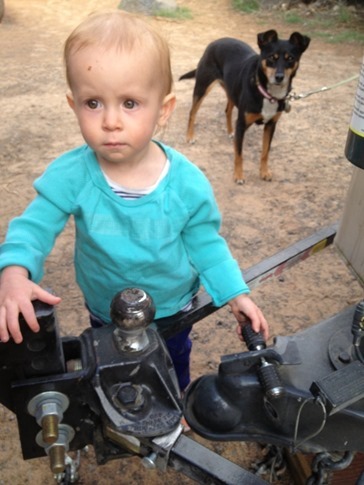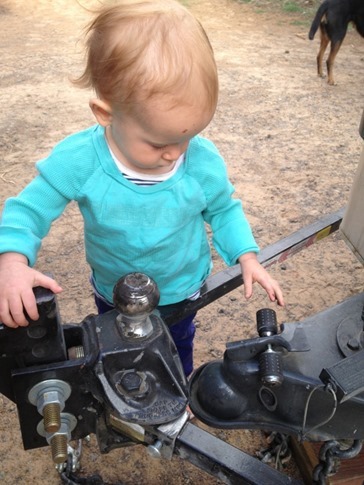 I didn't feel too bad 'cause she kept a close eye on Ann's stabilizer deployment technique as well…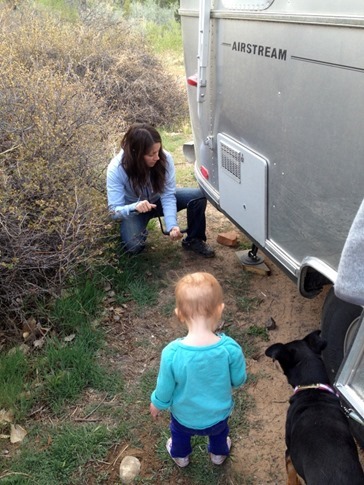 But generally just kept busy trying to pick up bigger and bigger rocks.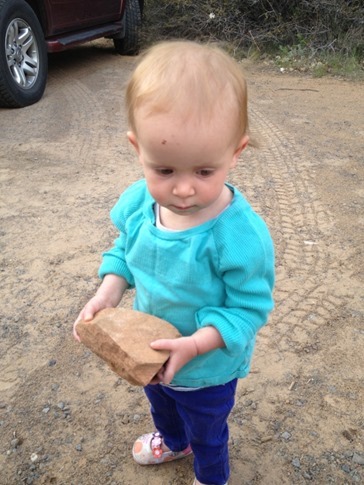 The campground was tiny (maybe 6-10 spots?) but beautiful, lined with Cottonwoods including one really big one. $4 a night but slashed in half by our Interagency Pass. Can't beat that. Plus, it turned out that the Casita owner was a former mayor of Santa Cruz and was caravanning with a couple friends on BMW F650GS's. I talked their ears off about alternate routes they could take home on the endless miles of dirt that I'd explored with my buddy Dave while trying (despite mechanical problems with my bike) to follow the TransAmerica Trail in 2009.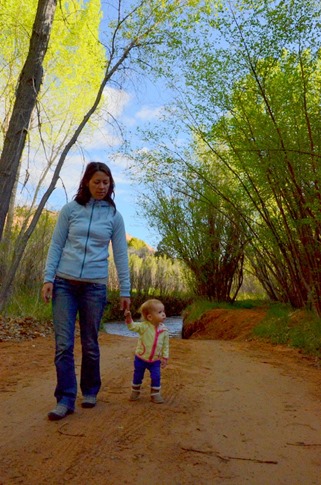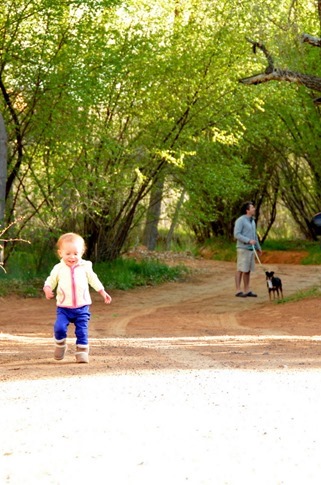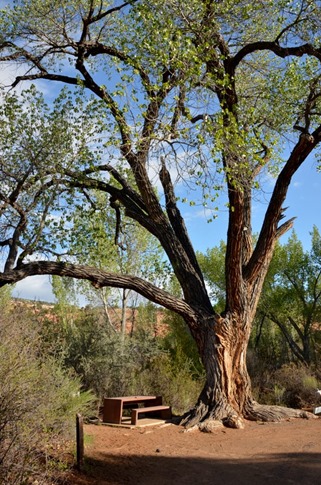 The next morning, we crossed into yet another landscape as we climbed up Boulder Mountain. It was actually snowing for a bit as we crested the 9600 ft summit. Despite being dressed in shorts and flip flops (okay, fine, Crocs), it was impossible not to get out of the car and take pictures (and even harder to choose which ones to include here so enjoy them all!).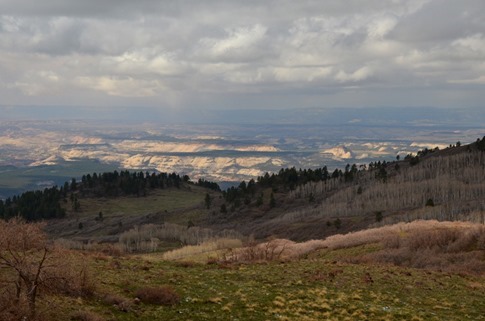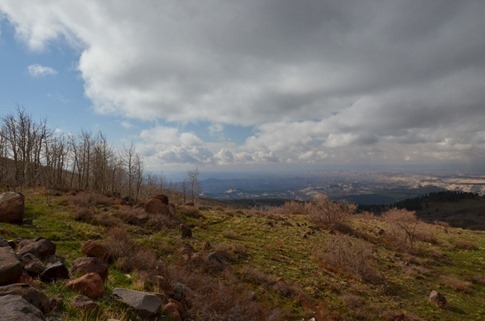 From up here, it was like you were looking down through the rock layers of the Grand Staircase.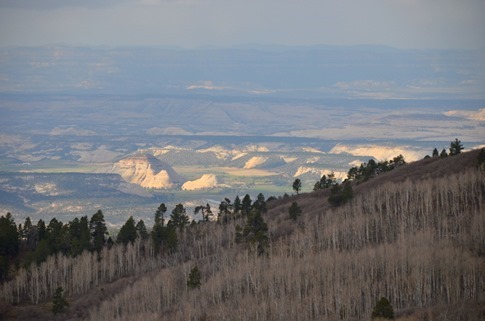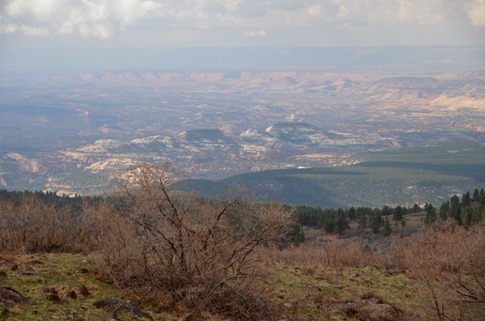 And, of course…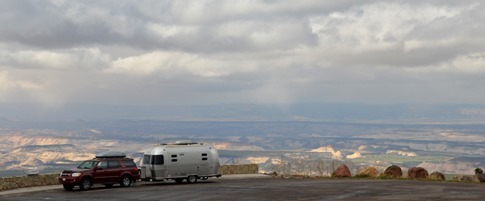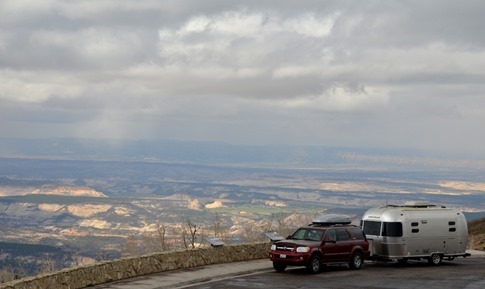 From the pass, we connected with Highway 24 as it dropped down into Capitol Reef National Park and more red rocks. Again, what a spectacular range of scenery.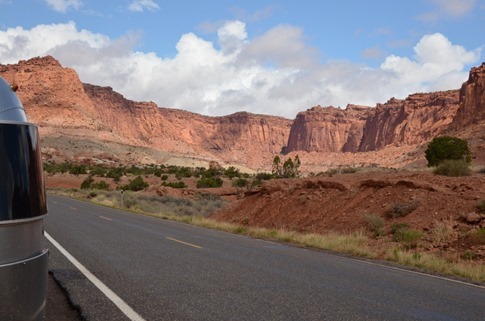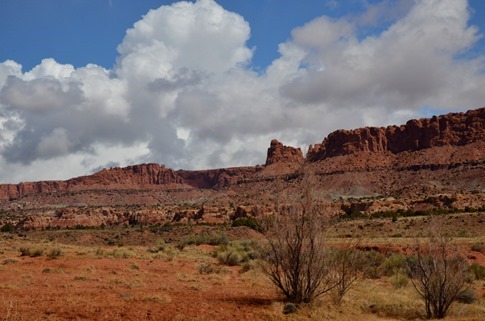 And this wasn't a bad addition…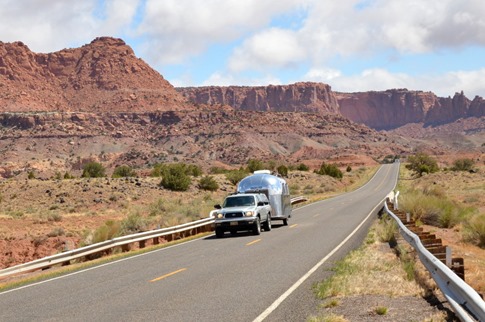 And though our day of driving was not yet over, this post is. There's just too much more to say and too many more pictures to show before we reach our goal, a fittingly spectacular campsite and a rendezvous with two more new Airstream friends.