One of the inspirations for taking this trip in the first place was to visit some friends who had recently moved to Sante Fe, New Mexico. Now, of course, if we'd just wanted to visit them, we could have hopped a plane and been there in a few hours, not dragged a trailer 1500 miles across the mountains and deserts. But in addition to having been friends for almost 20 years, we also had an Airstream connection with them. Just over a year ago, Carmen had me up with the news that she, Brett and their two kids – plus one more on the way - would be moving to Santa Fe at the beginning of the summer. She also wondered, and this part is totally by chance, if we'd ever done any research into Airstream trailers. Now the assumption that we're the kind of people who have pretty much looked into everything and then flitted about trying each thing for a period of time before becoming obsessed with something new and then moving on is offensive to me. Okay, fine. It pretty much describes our life together…
The fact was, not only had we been devouring the Airstream forums and prowling the classifieds, we had a reservation the next weekend to stay in an Airstream trailer for a night at a KOA near Santa Cruz. We invited them to come along and, while the weekend didn't exactly turn out like we'd planned (read about some unfortunate happenings on the farm), within a month or so, we'd both bought Airstreams. They drove theirs to Santa Fe but returned at the end of the summer to meet us at a music festival in the Sierras. We told them that next time, we'd drive ours out to see them.
A roadside 'Stream…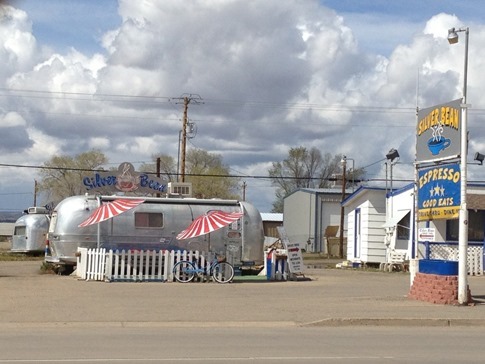 Heading east from Goosenecks and Valley of the Gods, we'd planned on visiting Mesa Verde National Park which was conveniently near Durango, Colorado, a town we'd heard good things about and wanted to explore a little. The route took us through the Ute Mountain Indian Reservation which was characterized by wide open expanses of not particularly attractive land dotted with towns filled with rundown shacks and doublewides surrounding beautiful new schools and administrative buildings. I don't claim to know a lot of the politics or funding arrangements involving these reservations, but there's a very strange dynamic happening that seems to leave the people very poor despite other excessive spending. Honestly, it just made us want to keep driving…
In Durango, we stocked up on groceries and evaluated the options for campgrounds. There was a KOA and a couple other RV parks several miles outside of town, but we'd also heard about a Forest Service campground up in the hills. We took a chance, following a small road through nice neighborhoods with big houses on large plots and then along a rough dirt road past trailheads. Switchbacks climbed higher until we reached the Junction Creek Campground at 7300 ft. The campground host explained that while they had sites available – they were practically empty – everything was half price since the water had not been turned on at the sites because it was awaiting final testing by the Forest Service. She went on to say that the spigots the hosts were using were approved but they weren't supposed to let anyone else use them. Before I could get halfway through my "but we've been dry camping for two nights and we're out of water and the baby needs a bath" routine, she offered that she supposed if we were to do it without her seeing it then it wouldn't really be anything she could be responsible for. I pulled the trailer forward to screen the spigot and nonchalantly whistled a super inconspicuous tune while I topped our tank. Our site was huge with electricity (key to running our furnace overnight at over 7,000 ft), a picnic table and a tent pad. Oh, and it was half off the half price 'cause of our Interagency Pass.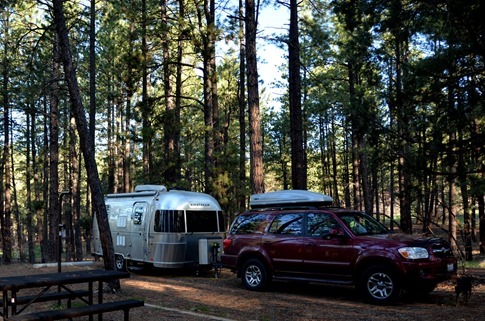 We drove through intermittent showers the next morning back to Mesa Verde, one of the parks I remember having visited with my Mom more than 25 years before in a rented RV. I can't help but think I didn't enjoy the visitor's center as much as Wynne did.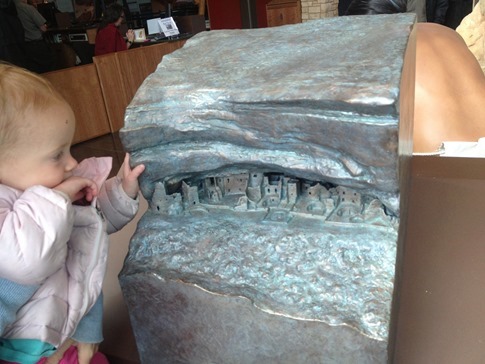 She immediately identified this stuffed bobcat as a must-have…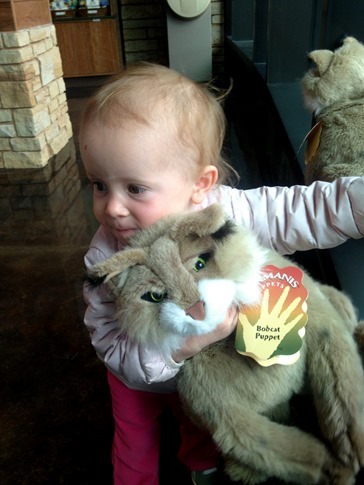 … but through some skilled parental slight-of-hand, we were able to turn it into this bear at 1/4 of the price and size.
I kept telling her that putting a bear ass in her mouth was not a good idea, but there was just no convincing her.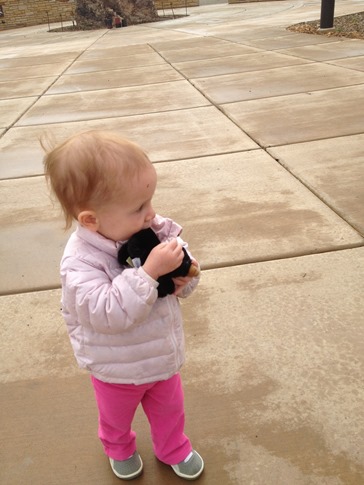 Once in the car, she promptly fell asleep meaning that once again, we'd alternate which one of us would hop out at each observation point to take pictures and report back to the other. The canyon these cliff houses were built into was cut down into a high mesa (and it was a green mesa, by the way), and it was easy to see the strategic value of their location (see the dwelling just below the overhang in the upper left, closeup below).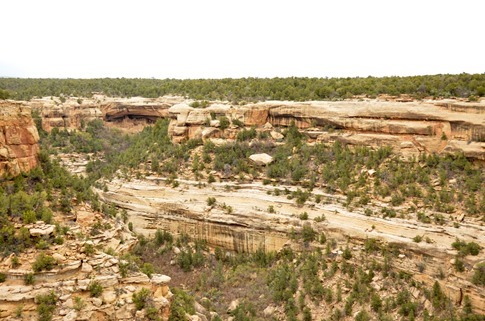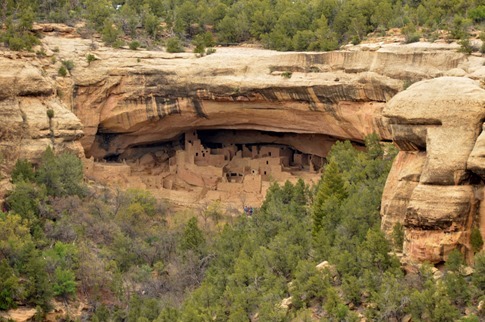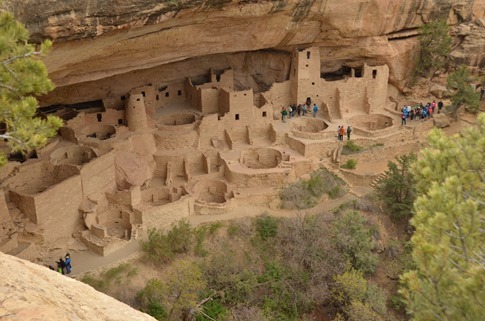 While we might have attempted to carry Wynne on the 30 foot ladders and crawling tunnel entrances on the ranger-led tours of some of the dwellings, the timing wasn't going to work for us, so once Wynne woke up, we explored the only self-guided option called the Spruce Tree House.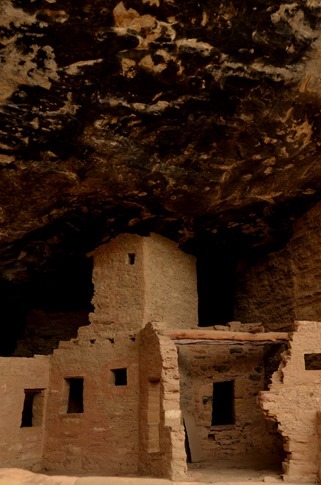 Down into a Kiva, a circular room beneath the dwellings used for ceremonial purposes.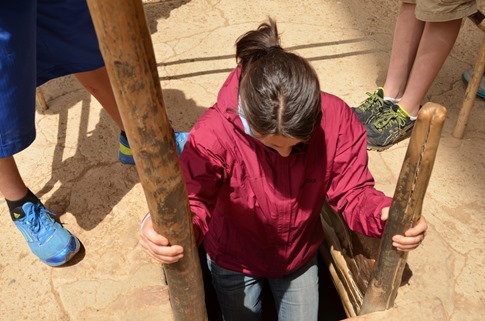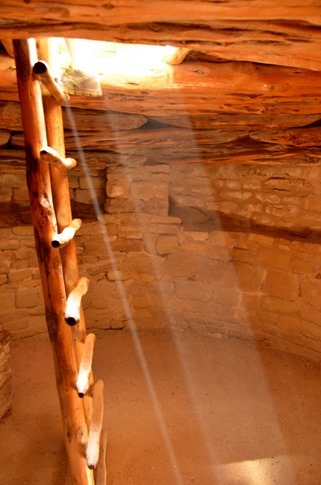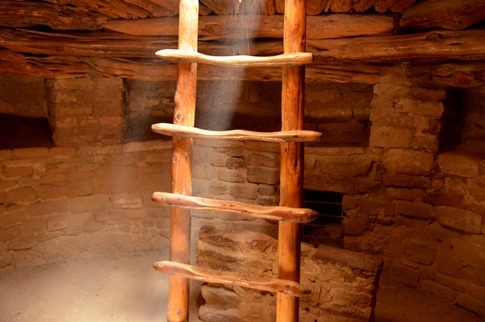 Up close, it was incredible to see the skill of these early masons.
I didn't hear an explanation on these stones and slabs, but I'm assuming they were to grind wheat or corn into flour. Either that or a terribly primitive version of skeeball.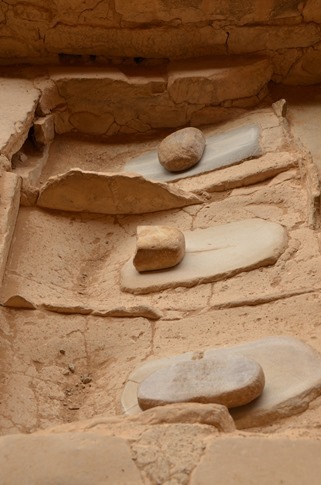 Wynne really seemed to appreciate it the construction. Actually, she mostly just hung out trying to get noticed by the people who place pictures for the Patagonia toddler catalog. Waiting by the phone…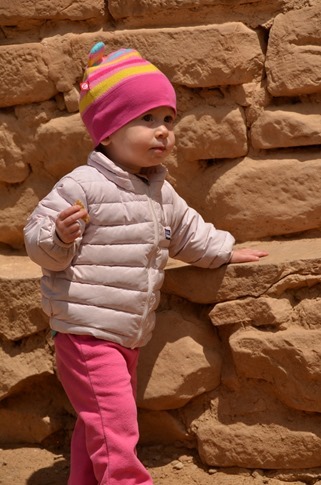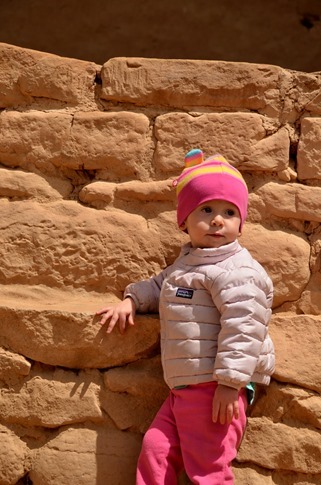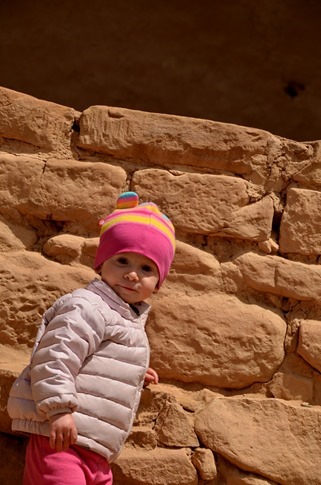 She actually insisted on walking most of the way back down from the site and back up the steep paved switchbacks to the canyon rim.
That afternoon, we walked around Durango, poking our heads into shops including one café with a big box of kids toys and querying Yelp for a place to eat (hard to choose when pretty much everything has 4 or more stars). As we'd expected, Main Street was a nice place to stroll and flyers in store windows promoted all the things like music festivals and farm tours that we like. We ended the evening at the Steamworks Brewery with a set of tasters including one "chili beer" which, while novel, was the only one not polished off by the end.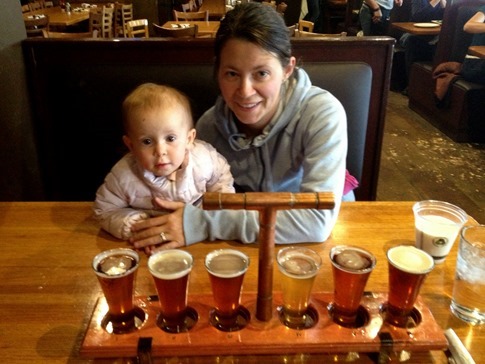 The next morning, I snapped a couple pictures of the inside of our trailer to give people a feel of what our lives look like. Yes, it's small, but pretty darn comfy. At some point, I'm going to write up some of our modifications but you can see a couple things like the magnetic chalkboard face on the fridge, the curtains Ann made and Wynne's toy baskets emptied out onto the grey shag.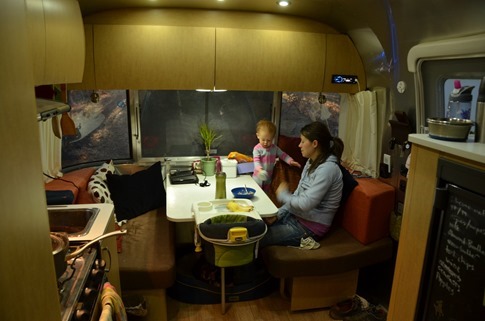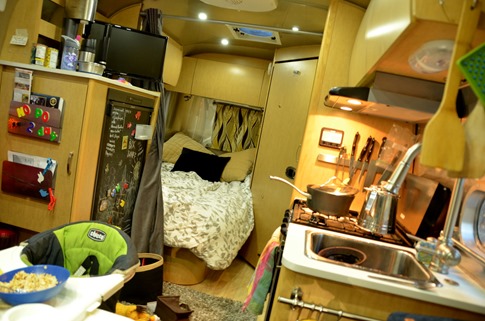 Hwy 160 out of Durango climbs to a high plateau dotted with larger farms and a few smaller homesteads that reminded us of ours. Too bad we didn't have time for a couple farm tours! It also provided a great view back down over the town and mountains that ring it, some of which we'd been camped in the shadows of. The four or so hours south to Santa Fe go through some pretty empty country as far as we could tell, or maybe it was just that we were anxious to see our friends.
The next couple days, we got a top notch tour of the town, particularly those destinations best suited to families with kids – 'cause Carmen and Brett now have three! We all paraded our Bob strollers to the Saturday morning farmer's market, a couple thrift stores (see Wynne's new kicks below!) and ended up taking shelter from a brief downpour in the back patio of a bar that had a play structure to keep everyone mostly occupied.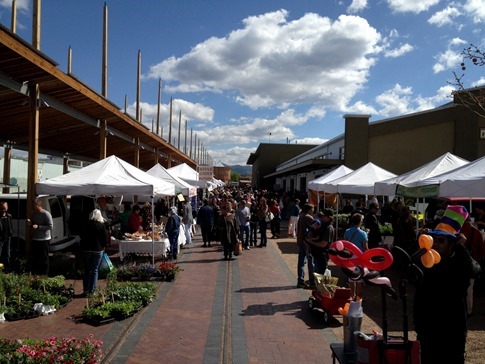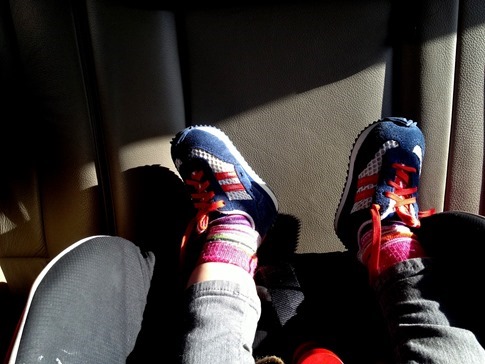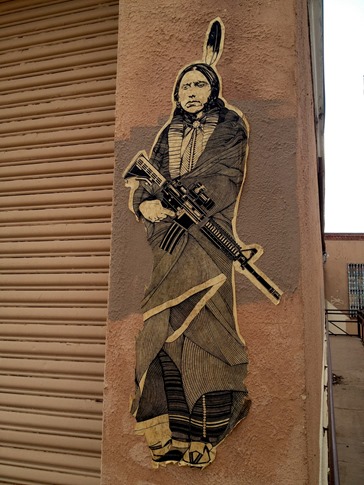 For Mother's Day, Brett and I offered to get out of the ladies' hair and just disappear for a while (I think he wanted to go back to the play structure and drink more IPA's), but they had other ideas. We ended up having a nice breakfast on The Plaza and taking a hike in the hills above town with entire combined family.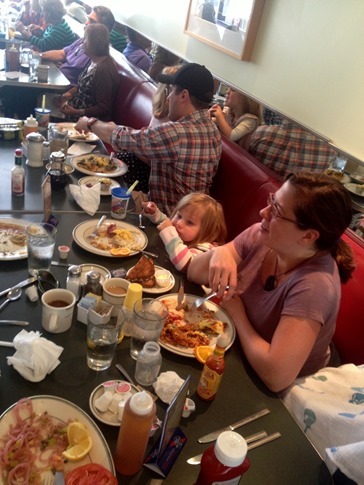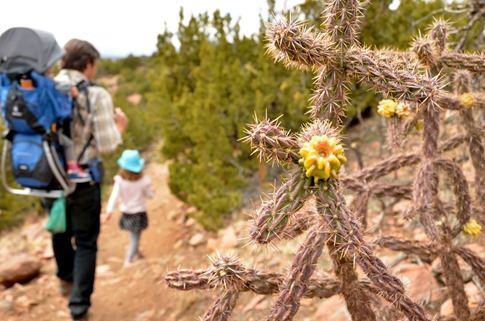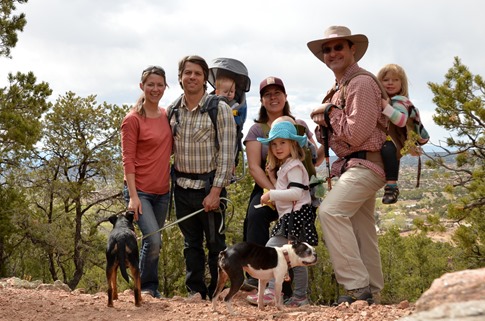 Now, lest you feel that this post was short on Airstream content (not likely), Ann and I did poke around their 21 foot Sovereign trailer. Yes, while we love our 19 foot and talk about how nice it is to have everything so efficient and tight, we also spend a little time considering how a longer trailer like a 25 foot might be well configured if/as our family grows. As it turns out, we've been communicating a little with a few families who travel extensively (or live!) in their trailers and many of them have 25 footers.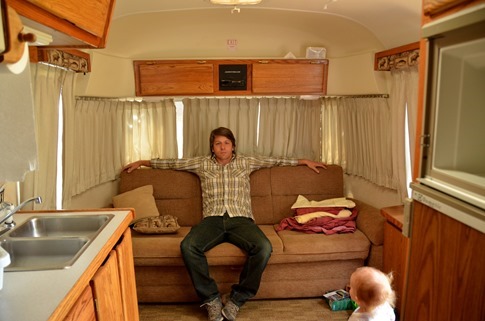 In any case, one thing we were sure of was that after spending three nights on a lumpy motel bed with a heater just quieter than the Santa Fe railway and none of the routines we'd gotten used to in the two weeks prior, we were actually anxious to get back into the trailer. We had a great time in Santa Fe and loved getting to spend time with some good friends in their new town, but it was time to hit the road.