Leaving Lago Patzcuaro loaded up with catrinas and ceramic plates, we continued north across shallow wetlands filled with wading birds and (oddly) livestock with views of far off mountains in the background. We were bound for Guanajuato.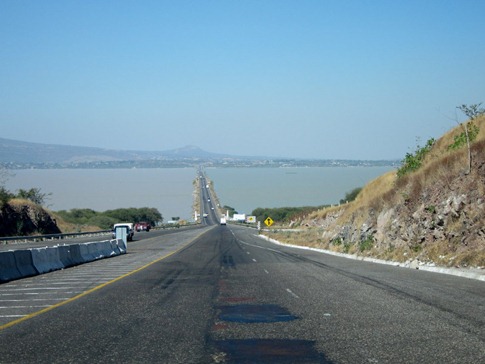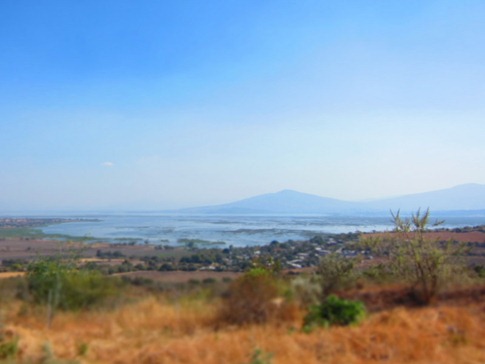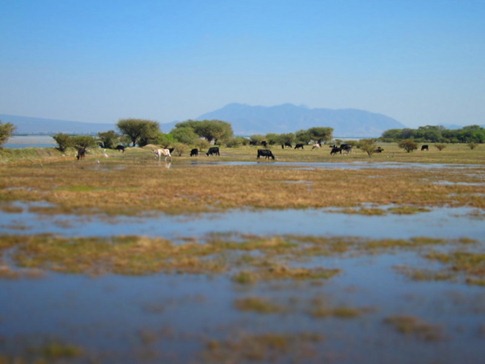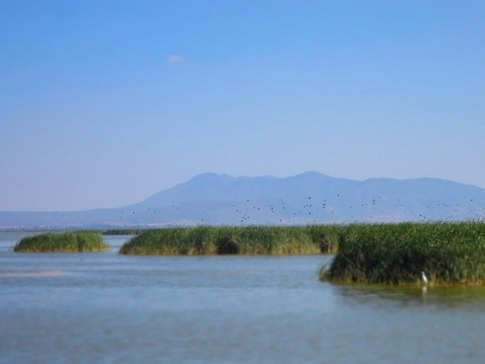 But there were other interesting sights along the way as well, like these "auto hotels." We'll let you figure them out for yourselves. They are right on the highway. They have high walls all around except for an offset entry way. Inside, you can barely see rows that look like a self-storage place with roll-up doors where a car can be parked (and hidden). There are no windows in the rooms or if there are, they have blackout blinds. When you check in, they don't ask how many nights but rather how many hours. Yup, the ultimate evolution of the "no tell motel." There are at least five between Morelia and Patzcuaro and once we saw one, we started to notice them everywhere. Chica-boom!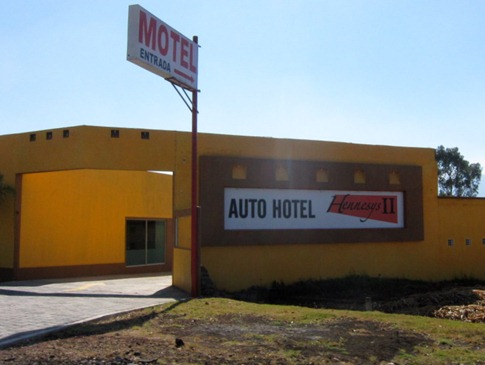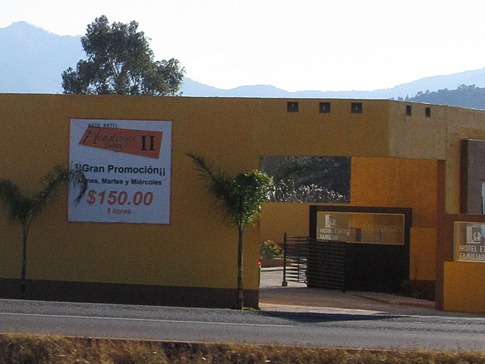 But service is terrible. We only ended up needing 5 minutes and they wouldn't give us a refund.
We'd heard Guanajuato described as a UNESCO World Heritage Site with 500 years of history, nestled in a tight valley, hillsides dotted with multicolor houses surrounding manicured plazas and a majestic cathedral, but we drove in through the sewer. No, I'm not talking about the 5 guys on each corner waving us down with tourist info pamphlets on the outskirts, I literally mean the network of tunnels, barely wide enough for two cars to pass, that winds beneath the city.
The tunnels were added after two major floods almost destroyed the city in the late 18th century. A damn upriver 200 hundred years later allowed them to be converted to roadways to deal with the new flood: tourism. And sure enough, we flowed right into them with no idea where we'd be washed out. Thankfully, tiny arrows we'd see at the last second indicated which ones were one way since our GPS track became a dotted line as the signal flicked in and out with each new tunnel. Daylight would reveal the city 20 feet above, and we'd scramble to match the landmarks we could see to the map before things again went dark.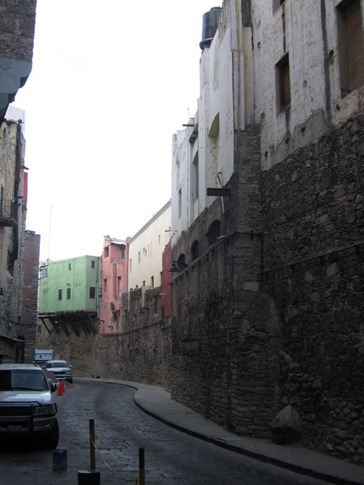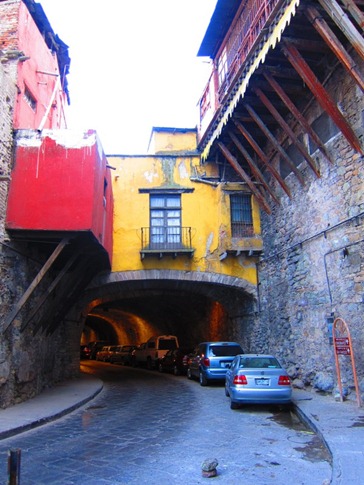 And of course, just when we assumed we'd have to loop around for another ride through the flume, we found ourselves right where we wanted to be, in the Plaza de Embajadoras. After settling in to the Hotel Embajadoras, we left the room with only the goal of getting lost in the alleyways and side streets of Guanajuato. The excursion was a huge success and Guanajuato turned out to be everything that was promised.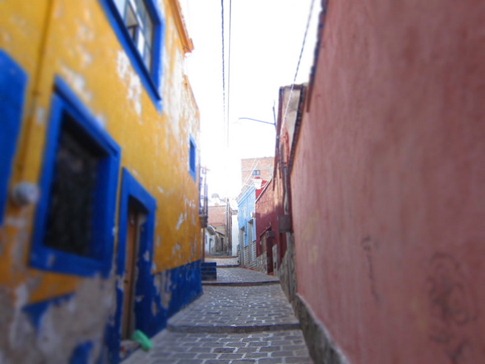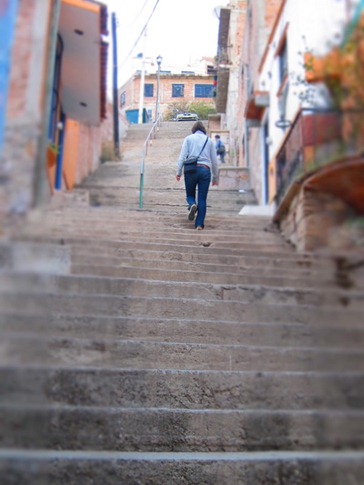 Our first exploration up a narrow, cobblestone alleyway began as a gentle slope between brightly colored, stone houses. We kept looking for an offshoot that would lead us back down into town, but the incline only increased and the path turned to steep stairs. Every so often, a window opening onto the stairs would serve as a hillside tienda where residents could get supplies without having to descend to the centro. The climb paid off as views of the stunning city of Guanajuato began to peek from between the houses.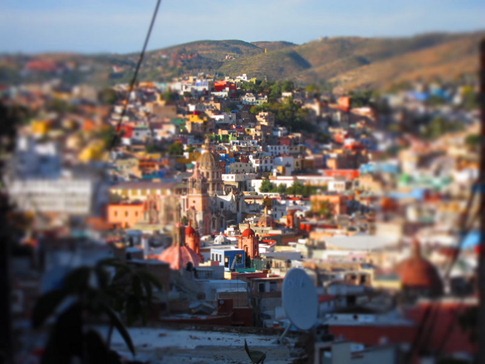 And on the ridge above the city, we got a panoramic view of the houses, tunnels, and cathedrals that are the trademarks of Guanajuato.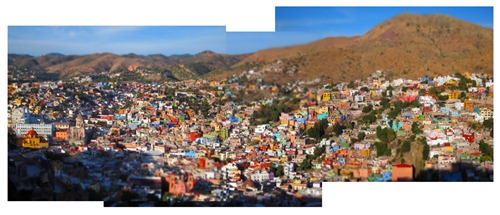 We tried to follow a couple locals on the switchbacked walkways, hoping they were headed for town rather than their organic chemistry class at the modern University of Guanajuato building perched on the top of the hill. We came across one group carrying a bed up the street and figured that in Guanajuato, if your friend is moving on the weekend, I bet you don't pick up your phone on Friday.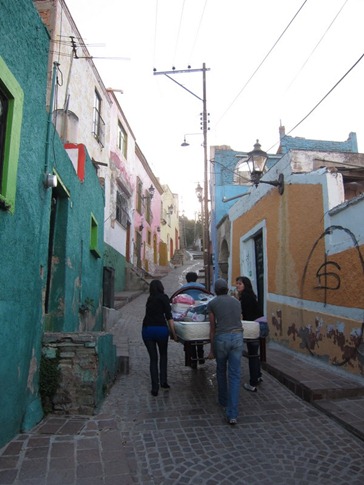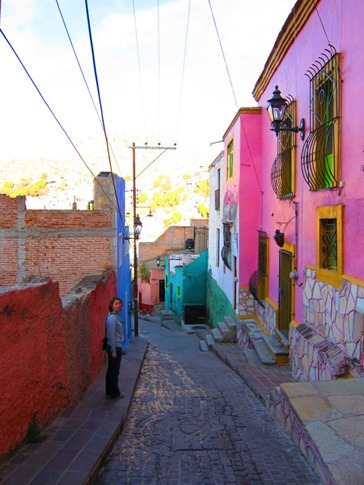 2010 marks the bicentennial of the beginning of the Mexican War of Independence. In cities and towns of every size, you'll see a Calle Diez y Seis de Septiembre commemorating the day that Hildalgo mounted an army of insurgents and marched from Dolores (today Dolores Hidalgo) to San Miguel (San Miguel de Allende) and on to Guanajuato where they defeated a band of Spanish troops in the first battle of what would be an 11 year war. A statue of the poor miner known as "El Pipila," credited with strapping a slab of stone to his back to repel the Spanish archers while he set fire to the Alhondiga, overlooks the city. In 1821, the Spanish signed the Treaty of Cordoba recognizing Mexico's independence, almost 400 years after they'd arrived.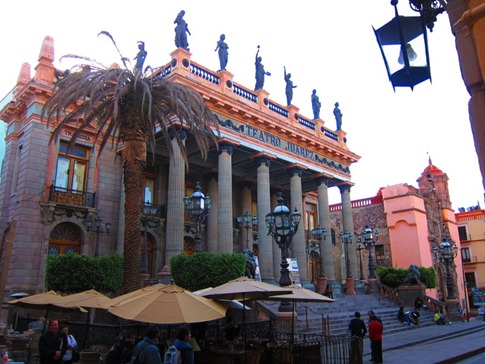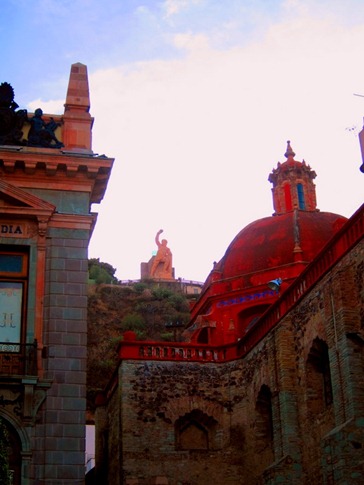 Guanajuato was filled with a blend of locals, traveling Mexicans and, for the first time we'd seen in the interior of Mexico, younger travelers. We started to see backpacks and hostels and could see how a city like Guanajuato and Mexico on the whole could be a preferable alternative to the idea of backpacking through Europe. Restaurants were a mix of everything from the open living room door with a old lady sitting in beside a steaming pot to modern places with trendy décor and names like "Fork" to tourist places that only have business because of their location in front of the cathedral. After the paella place we read about in the Lonely Planet was full, we went next door and had the first truly bad meal of the trip. With nothing inspiring on the menu, Ann ordered spaghetti which arrived in a tinfoil bowl on a plate with a few vegetables drowning in butter. Lesson learned.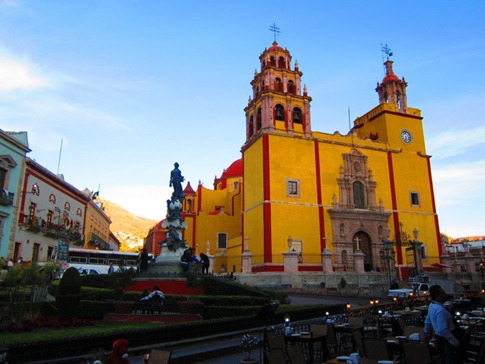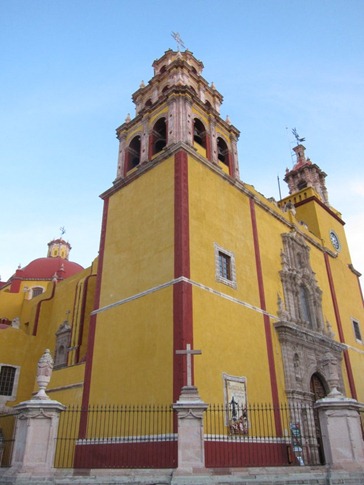 The narrow streets and hidden plazas had a way of leading our walk. We would catch a glimpse of a fountain or a church and set off towards it, finding more along the way, and easily spent three hours exploring.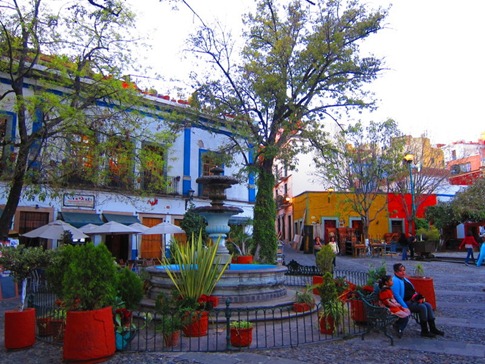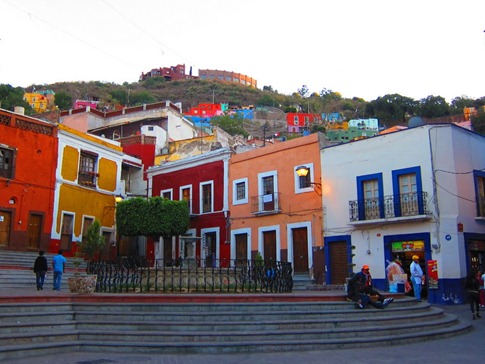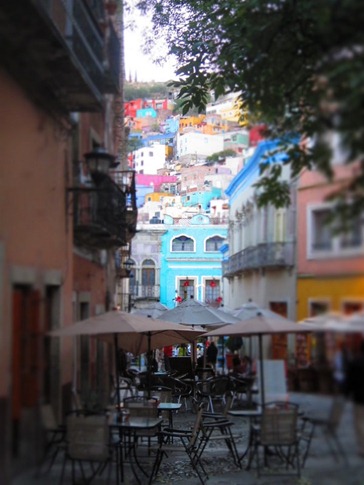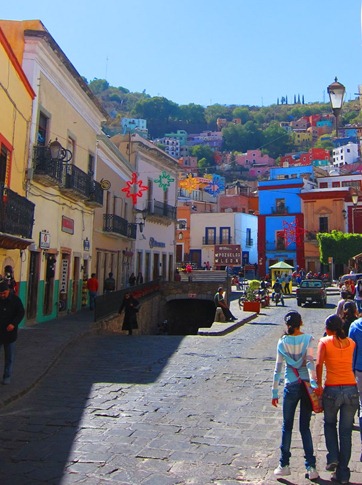 The Callejon del Beso comes with a legend of young neighbors falling in love across this narrow alley with balconies so close they could lean across to kiss. Today, the two kids who live in these houses probably just "sext" each other.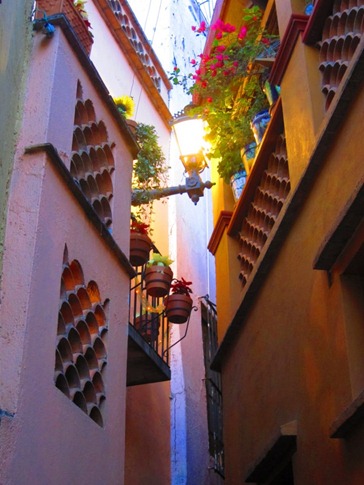 The Jardin de la Union is downright civilized. Shaped hedges provide shade over the green wrought iron benches and polished stone sidewalks that surround the central gazebo.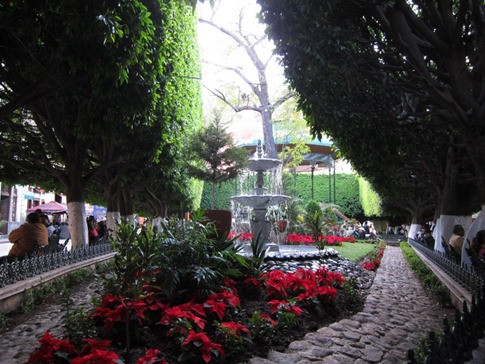 Costumed mariachis wander with instrument cases over their shoulders, mingling in a giant game of concentration until they find others wearing the same suit. Once assembled, the guitars and violins tune while the trumpets release flurries of notes like rodeo broncos bucking at the gate as a senior member trolls the café tables for business. "Musica? Musica?" When he gets a nod, the band snaps into position, often 10 guys strong with a guitar, guitarron, a tiny 5 stringed vihuela and the rest trumpets and violins. They swoop down on a tiny café table and surround their 50 peso paycheck like hungry lions while their prey looks around awkwardly.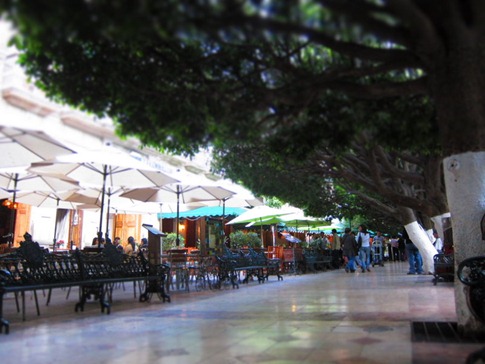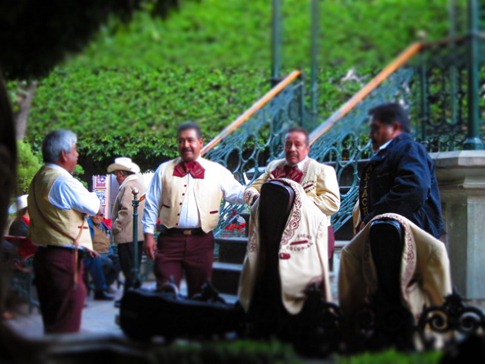 Sometimes before the song starts, you'll see two violin players shake hands like they haven't seen each other in a while, reminding me of how the Bluegrass jams that have been such a big part of my life for the past 10 years begin. Musicians coming together to play music as much as a social interaction between the players as it is enjoyable to those listening. And like those jams, these songs are standards. As soon as someone kicks one off, everyone else jumps on board and knows how their part fits in from the call and response of instrumental fills to the tight vocal harmonies. To be honest, this singer wasn't the best but the trumpet player was great and it was interesting to watch the four fiddles work together.
Of course, in honor of our friends from the great city (is it a city or just a town? Do you guys even have a stoplight on mainstreet at this point?) of Santa Rosa, our favorite band was clear. They we quite happy to take a picture although were a little disappointed upon learning that I wanted to be in it too.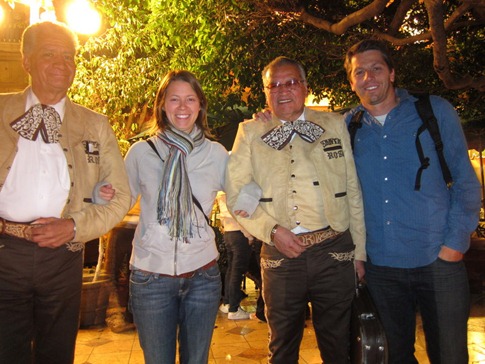 Walking back to the hotel again felt like we were in Europe.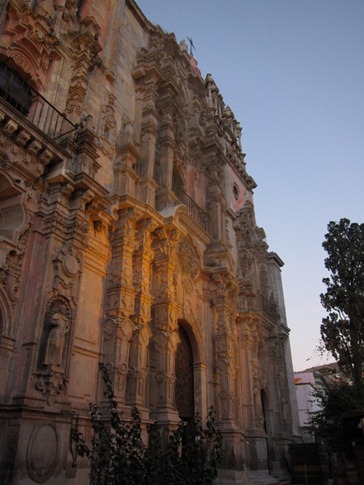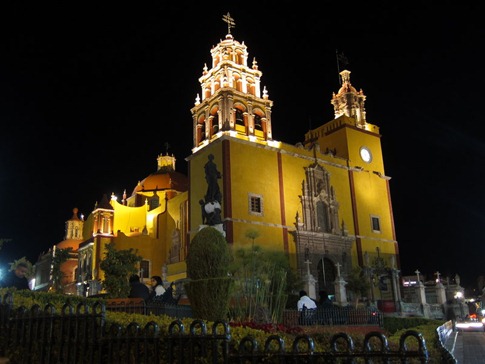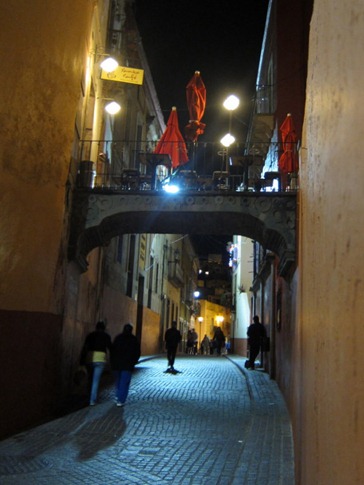 The next morning, we wandered a little more, having an egg and cheese bagel at a hostel café and making our way towards the Museo de las Momias. While the Mummy Museum is on the short list of attractions in Guanajuato, it might not be for everyone. Start with the fact that unlike most mummies, these are only about 150 years old and not pharaohs and kings but rather townspeople, preserved by the lime and clay in the soil and exhumed from a local cemetery to make room for new arrivals. Then add the fact that these shriveled corpses of men, women and yes, babies, are displayed along with playful signs about how they may have met their demise. "This cheerful fellow's jaw is frozen in a smile. It looks like he may have died laughing." Or "Ha ha ha, this baby died of typhoid." I think we prefer the catrinas as a example of the whimsical Mexican relationship with death and might suggest the squeamish take a pass on the Museo de las Momias.
And now on a lighter note, PICTURES OF DOGS!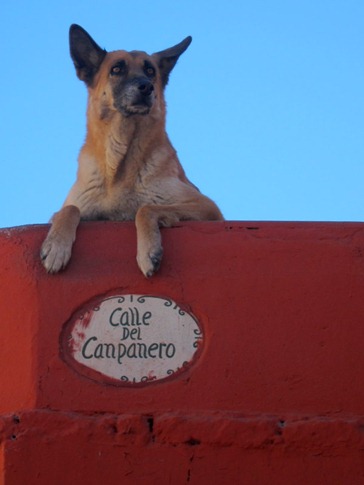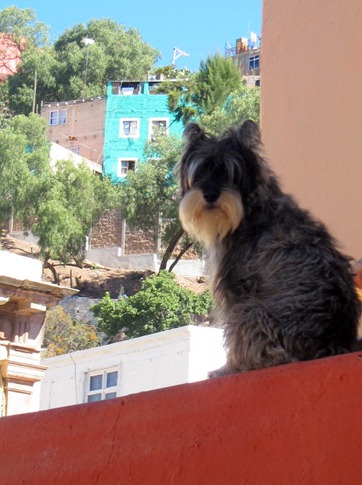 We only spent about 24 hours in Guanajuato but really enjoyed its tightly packed mix of history, culture, and beauty. Here's little video I put together that I hope captures the feeling.