While in San Pancho, we'd made plans with Paulina and Mao to meet up in Guadalajara, their hometown, on the weekend. Guadalajara is just 45 minutes or so east of Tequila, so after sleeping in a little to make up for the 5 am fireworks wake-up call, we had a leisurely breakfast (delicious scrambled eggs with ham and cheese for $3 each) in town before hitting the road.
Speaking of hitting the road, between San Pancho and the toll road on Mex 200, the morning often gives clues to the chaos on the roads the night before. These twisted 18 wheelers are unfortunately not an uncommon sight and are good reminders of the cardinal rule: don't drive at night in Mexico.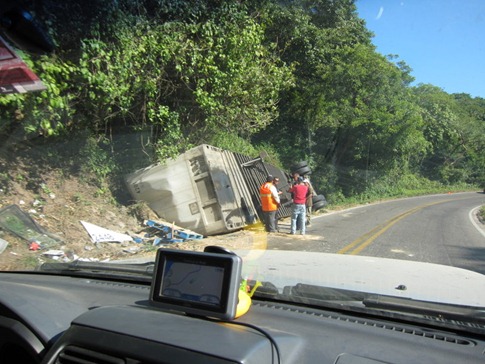 The cuota (toll road) to Tequila and on to Guadalajara passes through some beautiful country. Mountains rise out of the fields and you can feel that you're gaining elevation as you head towards the highlands of Central Mexico. At times, you can see signs of more recent volcanic eruptions along the sides of the road.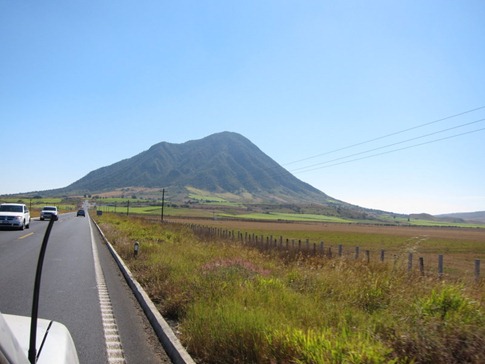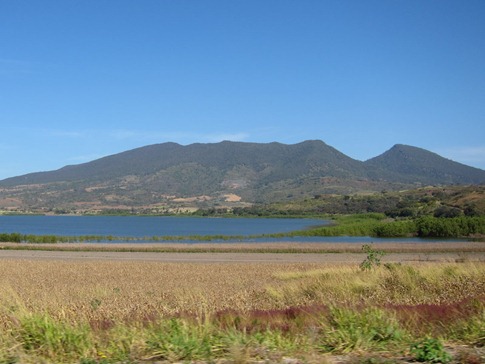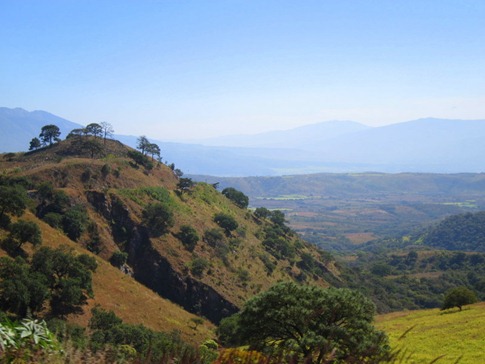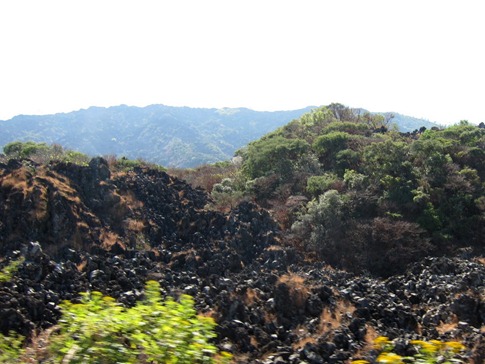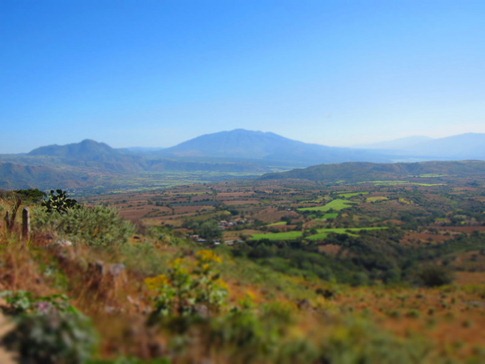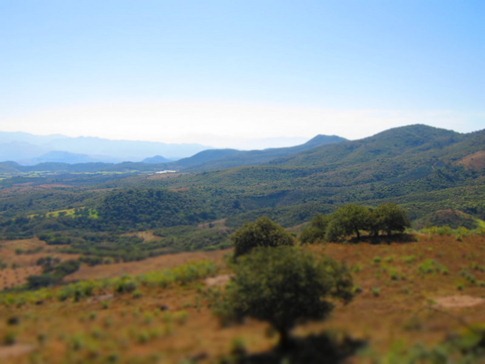 Outside Tequila, we stopped at a nice looking ferreteria, a hardware store typically with a full width roll up door in front and a counter where you can ask for what you need. I ran in to see if I could buy some chain to lock our ActionPackers, the only thing not really attached, into the backseats. Again, just trying to slow down any would-be opportunists. I made a dead-on charade for chain, linking my fingers together repeatedly but in hindsight, it could have also been confused for "the itsy bitsy spider." In the end, we agreed that what I was looking for was "cadena" and the guy behind the counter cut a length for me, the extreme size of the cutter he used giving me some degree of confidence in the strength of my purchase.
Not knowing exactly where we were going to stay, we followed signs for "Centro" as we entered Guadalajara and before long, found ourselves in bumper to bumper traffic, crawling along incredibly narrow two way streets. Intersections did not appear to have lights and when they did, it pretty much seem that whichever side had traffic flowing better had the right of way. Could have been stressful but in reality, we had time and no one else really seemed to be too concerned about it. We were very glad to have the Xterra with a relatively small footprint and a good turning radius.
Once in the Centro, we abandoned Paulina's recommendations and went with the Lonely Planet which actually had a map and an indication of which hotels had parking. We found Hotel La Rotunda on a less congested side street and Ann ran in to ask about price and availability while I circled the block. She eventually came out saying that the hotel was beautiful and that we were all booked. Parking was around the corner.
"What's the clearance?" I asked. While we have a smaller truck, we still have the roof tent, and I'd actually had the forethought to measure (and convert to metric thankfully) our height before leaving home. A check of the Notes app on the iPhone confirmed that we needed 2.182 meters. We circled the block to check. The parking was 2.1 meters. Not feeling like trying our luck and possibly having to back up a line of what-the-eff-is-this-gringo-doing parkers if we didn't fit, we went in search of another hotel with taller parking. We'd walk by this one later and get our money back.
Foreign plates, a truck in desperate need of a wash and our confused looks were enough to attract a guy claiming to be from some kind of city tourist services office who was happy to recommend a hotel, even running along side the car while we negotiated. I actually think he was legit and despite his speaking at about 6 times the speed at which I can process Spanish, we understood him to say that his services were not at any charge to us and that he got a commission from the hotels. Okay fair enough, so what you got with at least 2.183 meters of parking clearance?
As we circled a block at his urging, he would emerge from the other side, having run to meet us and wave us down in front of the next hotel. The first was a dump and seeing our reaction, his next suggestion was the Best Western. He suggested he could ride with us, but unfortunately, our backseats were full so instead he ran out in front, turning around every few steps to make sure were were following him like an anxious puppy on the way to the park. And to continue the metaphor, he looked like he'd been kicked when we called him over the window, said we didn't want to stay at the Best Western and that we'd prefer to be back on our own.
We went back to the first hotel and explained the situation. They said we could leave the truck outside in the loading zone, not an option as far as we were concerned in the downtown of the second most populous city in Mexico. Some head scratching and learning a couple more useful Spanish verbs (medir – to measure, reembolsar – to reimburse), and we were told to give them 10 minutes to work on something. When they directed around the back of the hotel, a rollup door opened and we squeezed the truck into a tiny service garage. We explained that we were paranoid Americans and thanked them excessively.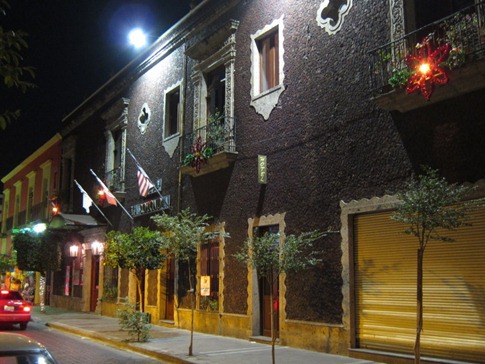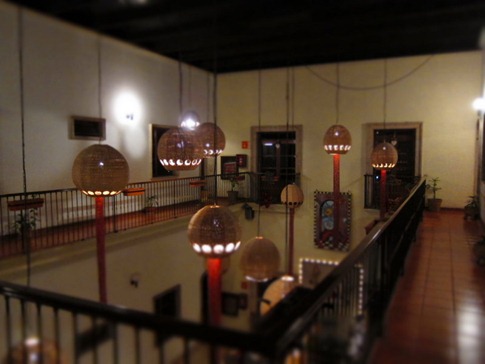 And yes, we did painstakingly reverse engineer this towel swan heart thing and will be sneaking into your bedrooms and reproducing it while you are in the shower.
Just outside the front door of the Hotel La Rotunda was a modern downtown with department stores, bookstores, and coffee shops on every corner, punctuated by plazas decorated for Christmas and filled with people enjoying the atmosphere on a mid 70's December day. The trees wore bright red flowers in their hair like proper Mexican senoritas and horse drawn carriages were lined up to take tourists, mostly Mexican, on a ride past the Plaza de Armas and Plaza de la Liberacion to celebrate the centennial of their independence. Vendors sold massive bunches of balloons in the shapes of animals and trucks and entire families occupied the wrought iron benches flanking the open space. The whole thing felt very European, the narrow cobblestone side streets between stone buildings and café tables spilling out onto the squares transporting us back to our summer in France. I think this is a Mexico not many people outside the country really know.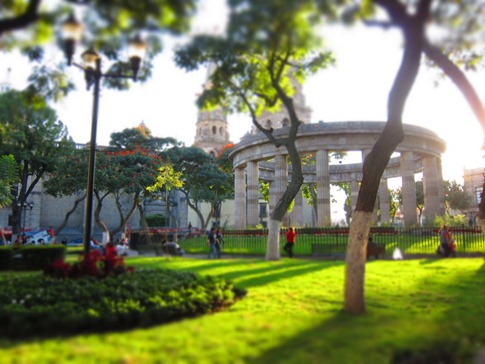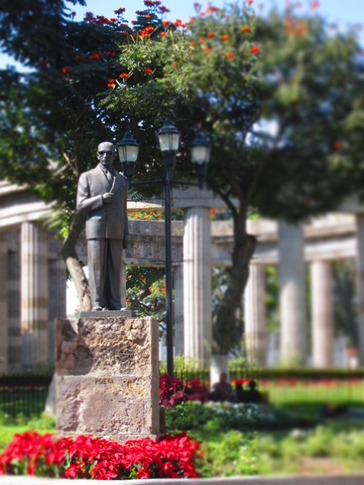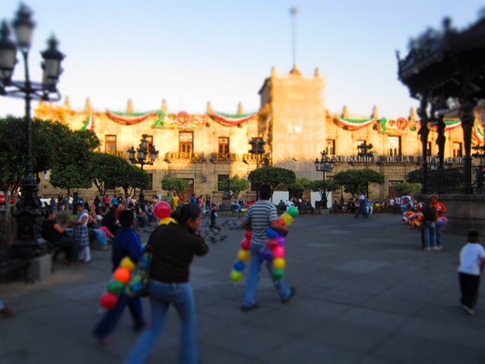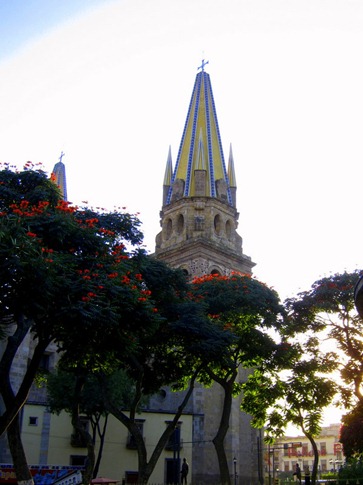 We let ourselves get lost as we wandered through markets in practically every plaza, ending up at the Mercado San Juan de Dios, a huge indoor market with thousands of stalls, that looked like it was designed by M.C. Escher. Now we were back in Mexico, a direct evolution of the wandering, tarp-covered markets that seemed to spring up in every parking lot and central square.
We ended up on the Plaza Tapatio, the nickname for people from Guadalajara, where artists were preparing for the Festival del Arte en Piso ("Festival of Art on the Floor"). As impressive as some of the complete paintings were, there was something even cooler about those with just portions starting to emerge from the pavement of the plaza, like the figures were floating to the surface from beneath the concrete.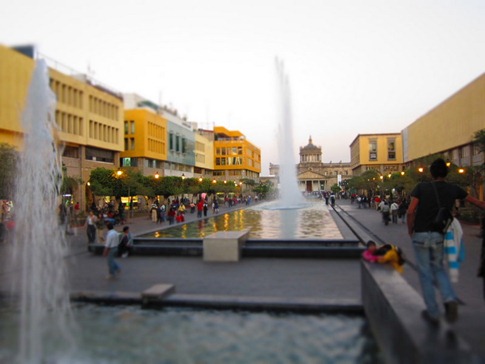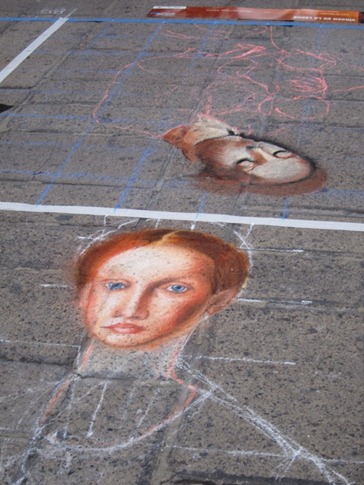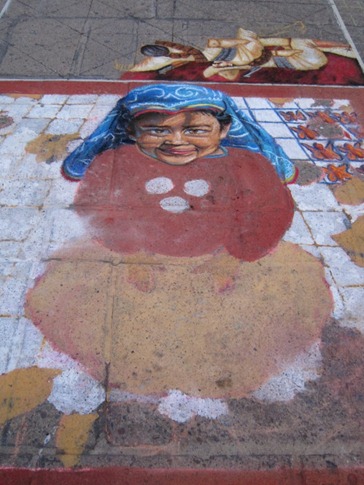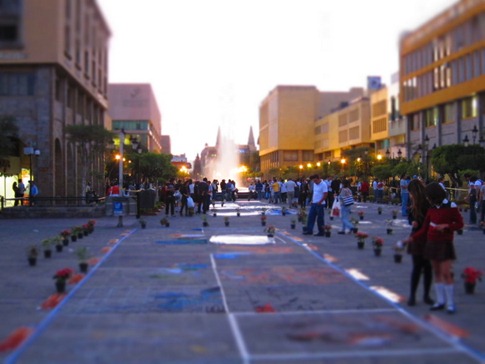 And at this point I should probably reassure you; your eyes are not slowly losing their peripheral focus. Something about the vivid colors of downtown Guadalajara and the scenes of crowded plazas just seems to lend itself to the dreamlike quality of the tilt-shift photo effect (called "miniature" on our Canon s95). Spoiler alert: we become obsessed with this effect in the next couple weeks. We credit our friend Dave Walker for introducing us to tilt-shift. Therefore, you may also feel free to blame him should your head start hurting from looking at them. If you want your head to start hurting from your mind being blown, check out anything by Keith Loutit at http://keithloutit.com/.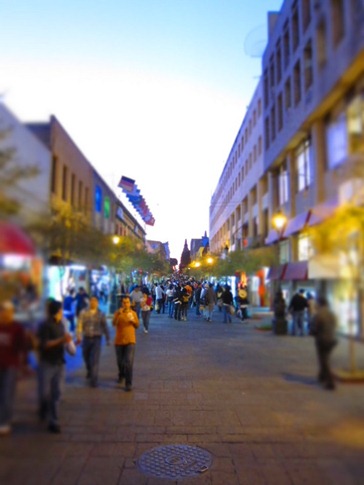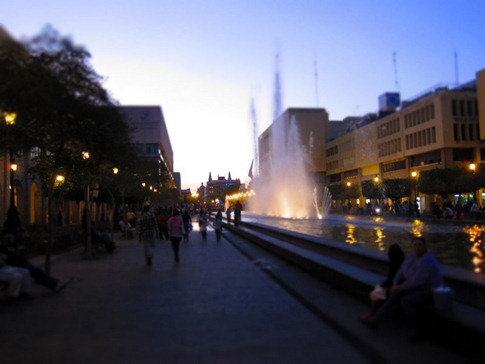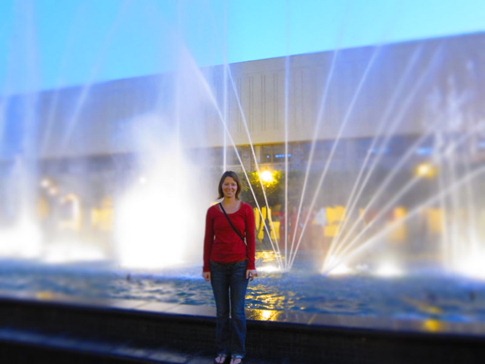 Paulina's a petite, energetic girl who could pass for anywhere from 21 to 30 years old, with English much better than our Spanish and delivered through an endearing accent. The three of us communicated in a relatively fluid Spanish/English mix, switching back to our native tongues when the words eluded us. She'd generously offered to take us out when we met her in San Pancho, and despite us both feeling sore throats coming on (see, Kim and Alex, we don't have superhuman immune systems), we couldn't pass up a night out with her on a "music tour" of Guadalajara.
The plan was to meet up in the swanky Zapopan area so we hailed a cab in the Centro and tried to make small talk with the driver on the high-speed, 20 minute ride. I think this was one of those cases where we wouldn't have understood him in any language, but we gathered that he usually gets most of his fares dispatched by phone "for security." Maybe people who have access to a phone are a higher class of people? We later realized that he was saying we should call a cab instead of hailing one for our security. Lonely Planet confirmed that this is the case in Mexico City but probably good practice in any big city in Mexico.
In Zapopan, we got a bite to eat and a beer while waiting for Paulina. Once we met up, we got in her car and drove most of the way back across town to pick up a friend of hers and check out a new bar near Avenida Chapultapec. The scene in this place reminded us a lot of the Mission District in San Francisco, not only because we felt 10 years older than everyone (the drinking age in Mexico is 18), but because each person seemed to be trying harder than the last to show off their "quirk," the result of which was that they all blended into the crowd. 80's hair, shoes, tight pants and "thrift-store sheik" were so normal that we stood out in Levi's and a nice shirt. But it was interesting to see a side of young, urban Guadalajara that reminded us a lot of home. The band was interesting too. The guys on guitar, bass and drums were pretty good but the guy playing the MacBook Pro was really talented.
The next stop was near the University of Guadalajara yet seemed to attract a older crowd. Lights hung low over the tables and red velvet was draped from the ceilings. The four piece band, drums, piano, trumpet and saxophone, backed up a young, attractive female singer who probably preferred to think that everyone was there for her voice. While she could sing the Latin and jazz standards well enough, when she ventured out on a couple Jason Mraz and Adel songs, checking for the words on her Blackberry between verses, not even Paula Abdul would have given her props. But all was forgotten during up-tempo Mambo numbers when, between verses, the sax player would spin her off the stage, and the two would heat up the aisle in front of the small riser with passionate, Latin dance moves that made you question whether they were going to start fencing or f#@king.
We worked our way into a table and tried to carry on conversations over the band, but our sore throats and the 5 seconds it would take for our ears to figure out whether they should be listening in Spanish or English made it tough. We met a friend of Paulina's, Raul, who had grown up in LA, worked in London, and recently returned to live in Guadalajara where his family lives. Nice guy and interesting to get perspective on Guadalajara as a modern city that would hold appeal for such a worldly guy. Just about the time I decided to test my Spanish and order a "Russo Blanco" from the bartender, we looked at the clock and realized it was 2:00 am, time for us to get back to the hotel and finally let our colds take hold.
Now, I'm sure for some of you, even a 2:00 am night at the clubs in Guadalajara isn't quite enough of a wild time. Well, have we got something for you. You are in for a treat because we just so happened to be in Guadalajara on the weekend of the world famous Ferria del Libros! That's right, everybody, it's the BOOOOOOOOOOKKKKK  FAAAAAAAAAIIIRR!!! (for some reason, I was trying to make that sound like Oprah telling the studio audience to look under their seats for a surprise)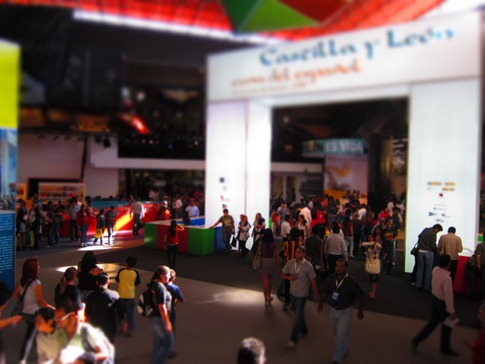 This is actually a huge event in Guadalajara filling the entire expo center with publishers and distributors from around the world. We took the opportunity to look for a book we'd been wanting since San Pancho. Turns out, asking in Spanish for a book in English about Spanish is as hard as you'd think it might be. "Buscamos un libro, en Ingles, se llama 'Quinientos y Uno Verbos en Espanol.' Pero es en Ingles, entonces, se llama '501 Verbs in Spanish,' pero, el libro es en Ingles." We finally found it, rendering the entire event a success.
The afternoon was a battle pitting hangover and sickness against our enthusiasm for Guadalajara. Ann thought Guadalajara might pull out the win when it brought out the big guns: motorcycles.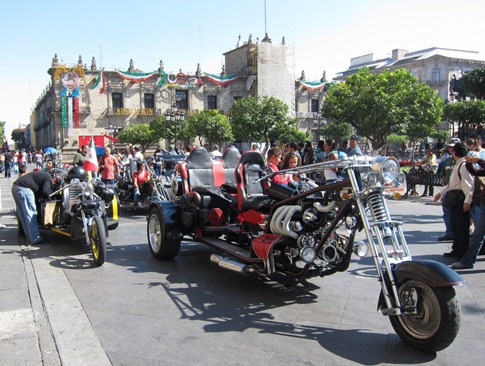 But the lure of a hotel bed and a movie on TV in English was too much.
We did make it out in the evening for one last trip out the famous "El Fuente" bar, known for the piano player singing infectious canciones, a rowdy local clientele and the vintage bicycle hung above the bar (no, "fuente" means "fountain"). Now a connoisseur of fine tequila, I ordered a beer and a Herradura Antiguo Blanco. I swear the guy was pouring that shot for a full 30 seconds. In the end, it stood 4 inches tall and had to have had something to do with us weaseling front row seats to the "Festival de la Danza en Mexico" in the Plaza de la Liberacion on the way home.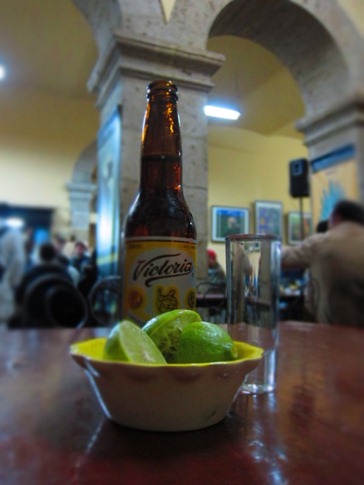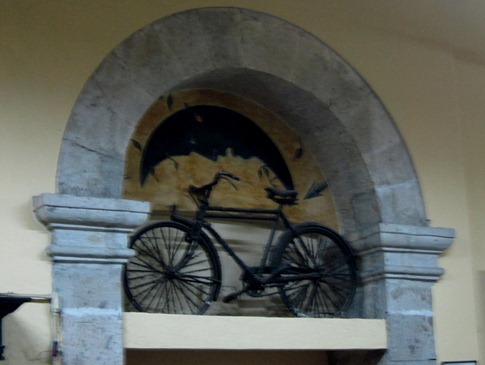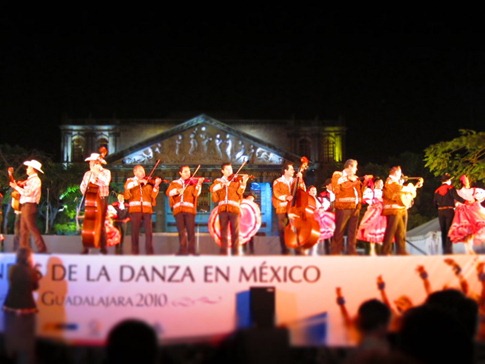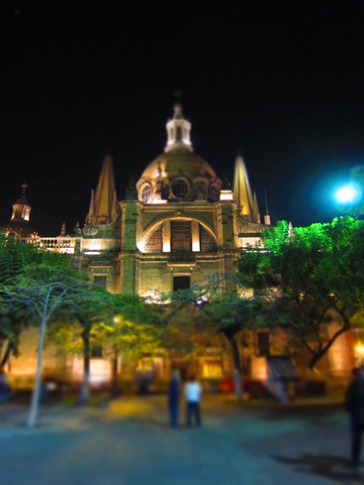 The smell of pine wafted down our street as we approached the hotel, and we just had to weave through one final Christmas market. Every possible blinking light display and just the right figurine for your nativity scene. Don't have a car? Taxi's will gladly strap a tree on the roof. Guadalajara was full of surprises for us and though we'll miss family and friends, we're excited to be spending Christmas in a country that seems to do it right.