After goosing Wenceslao with a cup of freshly brewed Peet's ("Here's how we make your traditional coffee in the good ol' US of A"), we said our goodbyes to Osito, Filipo, Pulgarcito, Micro and the rest and hit the road. The night before, the C & C book had advised us to drive about 10km south before finding a "retourno" and approaching the driveway for the rancho from the other side of the highway. By means of refuting this detour, we pulled straight out across the northbound lane, crossed the dirt median and turned south directly into the speeding path of a Federale who didn't bat an eye.
To us, San Carlos didn't have much to offer other than good wireless, a $20 slot in the big RV park, some laundry and an Ochito (8 pack of Pacifico light – "1/2 the calories and 1/3 the taste of the leading brand!"). While there  were some pretty volcanic spires and a nice bay, the rest of the town seemed to exist only for tourists and the cruisers inhabiting one of the two swank marinas.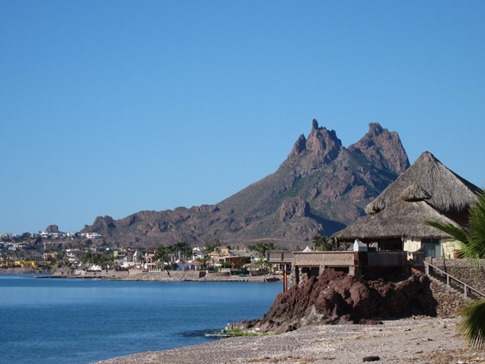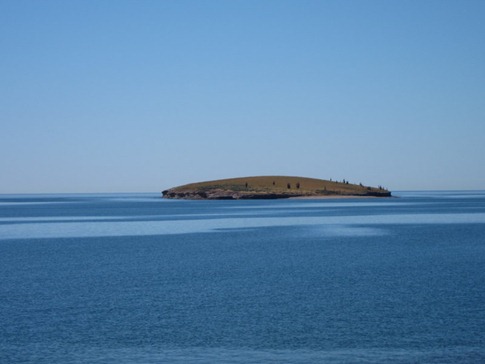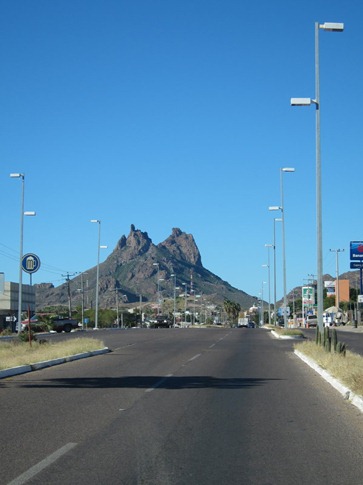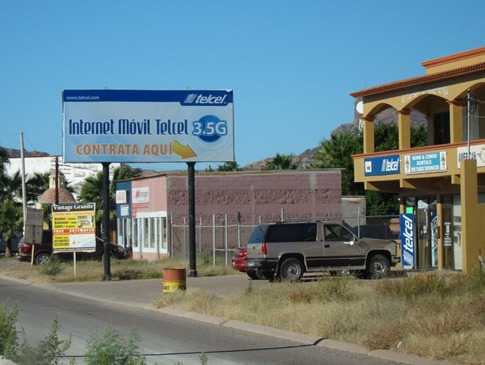 AT&T better get on it. They already have 3.5G in Mexico.
Traveling in this connected age is clearly a different experience, though one I think I greatly prefer. We've said before that we're not taking this trip to escape our lives; Our lives are great. We're taking this trip to expand them, and part of that is connecting with friends back home and making new connections that would never have been possible before. Case in point. While in San Carlos, I mentioned to my brother on instant message that we were heading to Copper Canyon. He responded that he'd read a great book called "Born to Run" about the long distance running capabilities of the Indians who lived in the canyon. It turned out that Ann had it on her Kindle already but if not, we could have had it downloaded in minutes.
An online connection also led us down to one of the marinas in San Carlos to try to get in touch with some friends of Michael and Ceacy's who were anchored on a catamaran in the harbor. Ultimately, we couldn't find anyone with a radio we could use to "hail them" on the open harbor frequency, so we settled into a distinctly gringo-operated and occupied wine bar for a drink and to take advantage of "American Taco Tuesday." In the end, I couldn't help feeling like we were the ones being taken advantage of with so-so food and American prices.
The night was not without some fun however. After we settled into the wine bar, I went back out to the car to get my cell phone to text Michael to ask if there was another way to contact his friends. After our "Tacos Americanos," we walked back out to the parking lot at which time I slowed my gait, panned my head from side to side, and whispered a hushed "Oh shit…" as we approached the empty spot where we'd parked the truck. Ann was silent for about thirty seconds before coming to the realization that moving the truck to get a rise out of her was exactly the kind of thing I'd do. Even before she spotted it on the other side of the lot, she shook her head and just said "Dumbass."
The best example of the possibilities of globally connected travel is clearly our rendezvous with Edmundo. As we approached Los Mochis, primarily known to travelers as the gateway to the Copper Canyon, I placed my first call to Edmundo, a local who'd become an active member of the Expedition Portal forum and a valuable resource for people interested in visiting the canyon. I'd first seen Edmundo's name while reading one of our favorite Pan Am (esque) blogs, Lost World Expedition, and had been emailing back and forth a little through the forum. It was as the phone was ringing that I realized I was about to hook us up with a guy I met on the internet by way of another guy I met on the Internet.
Turns out, Edmundo is an absolute prince, and the way he was warmly greeted by everyone as we explored Los Mochis with him, we started to suspect that he just might in fact be royalty. Within minutes of meeting him, we were on the way to a spot where he'd arranged for us to camp. When we read Luis and Lacey's account of meeting Edmundo, they raved about the place he had arranged for them. When we met him, he said, "I have a much better place for you."
Still, princes have been known to hunt humans for sport (come on people, grow up – it happens) and neither of us could remember Edmundo's exact wording; Did he say he'd "take us to dinner" or "have us for dinner" and could we have missed something in the translation? Nonetheless, we trustingly followed his tan Chevy Blazer 20 minutes out a long stretch of highway and as it made lefts and rights on various dirt roads, all the while keeping an eye out for evil islands or gates with skulls and crossbones on them. When we did reach a gate, it was an entrance for a future upscale development, and we followed Edmundo to the single model house built on the top of the hill.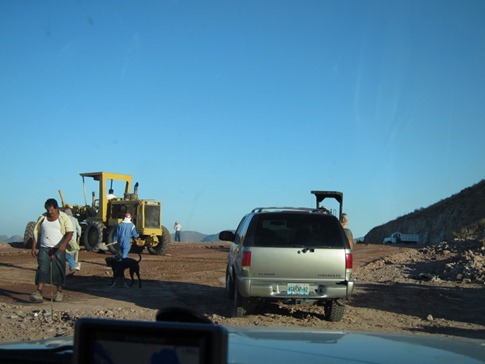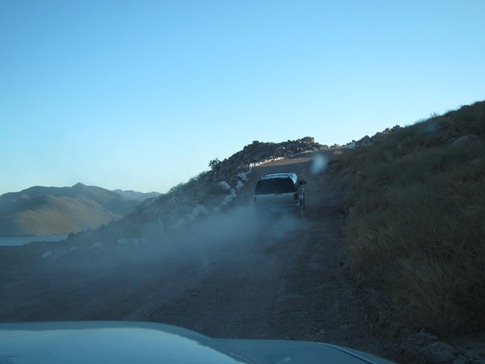 At this point, I should mention that for the past few nights, we've been indulging in a guilty pleasure. After the sun's gone down and the temperature starts to drop, we'll crawl up into the roof tent, set up the laptop on the shelf at our feet and watch an episode of the first seasons of both Mad Men and Arrested Development in our own private rooftop theater. It's pretty awesome and we laugh giddily at the luxury of it each time. But, if you've watched Arrested Development, you may remember that they end up living in the only model house built on an otherwise empty development and by a weird coincidence, we were being led to one that looked equally isolated.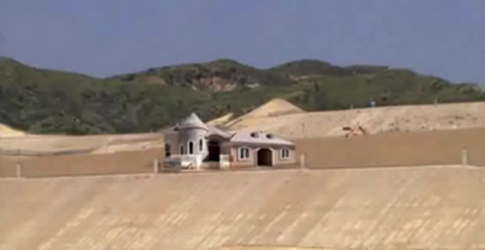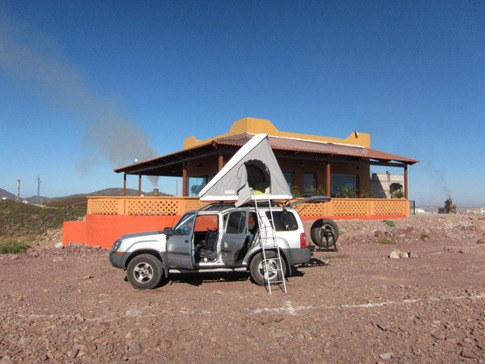 The only difference was that this spot had a 360 degree view of Ohuira Bay and Topolobampo. Picture San Francisco Bay but take away any development in the North or East Bays. Instead of the Golden Gate Bridge, there's a breakwater where the ferry coming across from Baja pulls in each night around 10. Now replace the City with a tiny fishing village, cramped houses jutting out over the water on stilts, each with a 15 foot, white and blue open deck fishing panga bobbing in front of it. Sutro Tower becomes a picturesque church perched at the highest point. Now imagine the $14 million parcel at the top of the hill in Belvedere with a view of it all and you have an idea where we spent the night.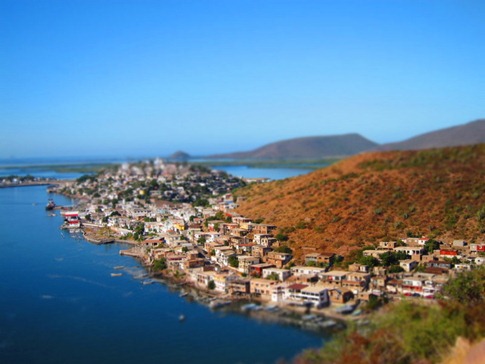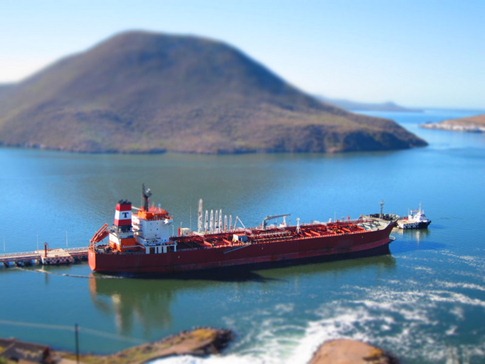 A couple "tilt-shift" shots of Ohuira Bay.
After some sunset cocktails with Edmundo below in Topolobampo, we returned to the house, really more of a sales office, and decided to set up camp in the truck. The night watchman who slept up on the terrace made it clear that we were welcome to share it with him but as he said, we're "accustomado" to our set up and had everything we needed.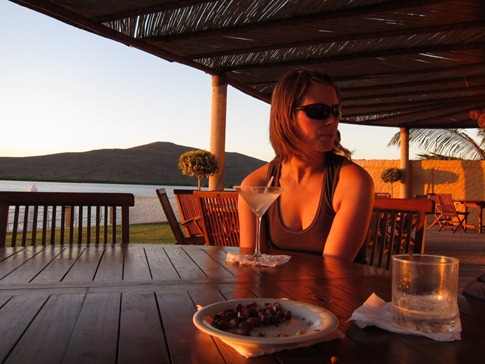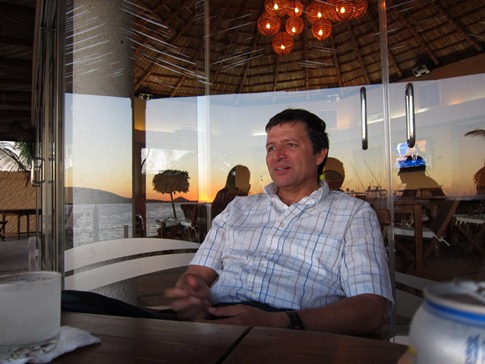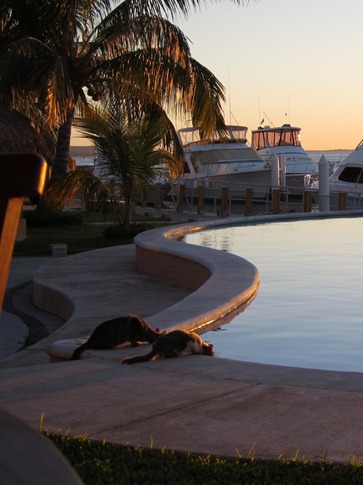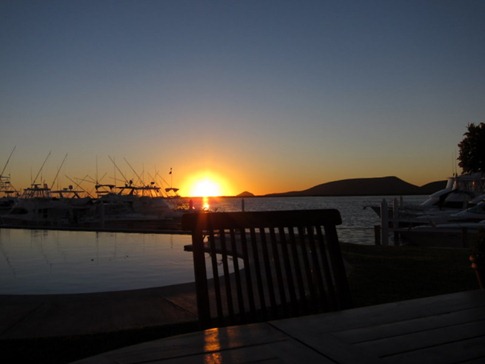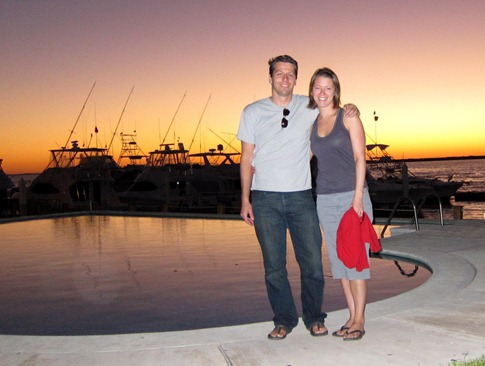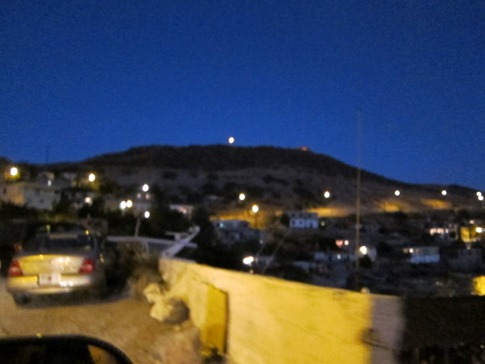 The light at the top of the hill above is where we stayed.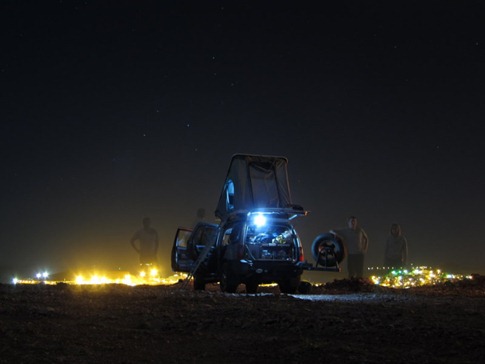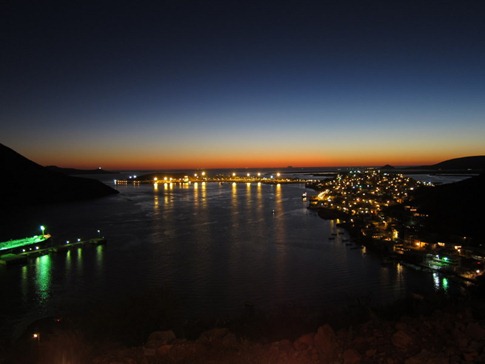 And sunrise the next morning…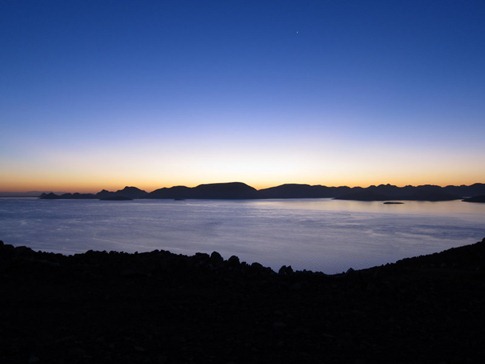 In the morning, we drove down into Los Mochis. Edmundo was wrapping up a few errands, so we went about trying to get our tickets for the train into Copper Canyon the next day. The "linea" was out so they couldn't take credit cards, but we managed to find an ATM conveniently near a Starbucks. Now, I know many people have a guttural reaction to hearing there's a Starbucks in Los Mochis, but I just can't resist going in wherever I see one. What I can appreciate about Starbucks is that they provide a consistent product, brand and overall experience anywhere you find a store. Even more so than McDonald's which tends to mold itself slightly to fit each environment (think "Royale with Cheese"). So, with everything else the same, differences in people should really be emphasized, but you know what I find interesting? In Starbucks I've been in from New Zealand to France to the US to Los Mochis, the people all seem the same. It's a purposeful, generally well put-together crowd, dangling keys to a late model car in one hand and a cell phone in the other, and I think, given the impressions some people have of a Mexico that's all burros, sombreros and comically large guitars, it's a valuable thing to see.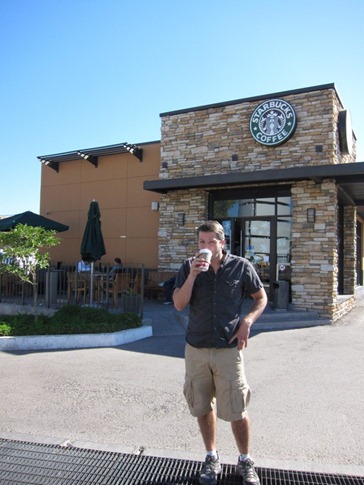 In the afternoon, Edmundo took us on a tour of some botanical gardens in Los Mochis we would never have known were there without him. Throughout the tour, and really throughout our visit, Edmundo would say things like "We found the original plans for the garden and are restoring it" or "We're putting on a four day festival to commemorate the founding of Los Mochis" which really communicated both his level of involvement and pride in the direction things were going. Every city would benefit from having more people like Edmundo, and Los Mochis certainly has.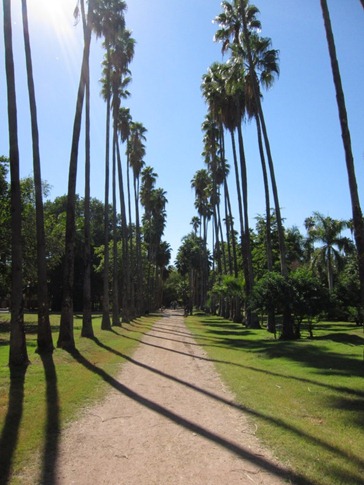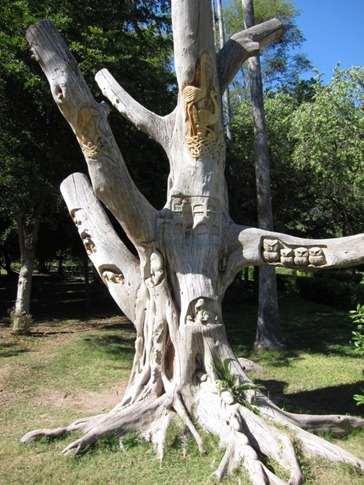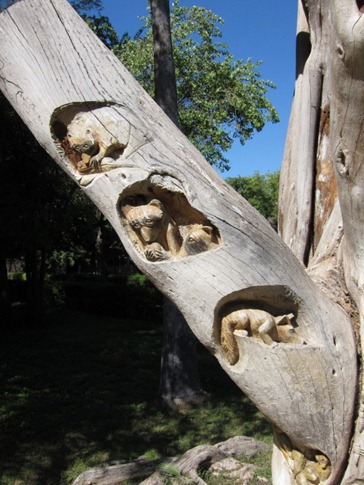 A final act of warmth and generosity, Edmundo took us to the CIE, a combination gallery, public computer center, and technology display where we played with a giant touch screen version of Google Earth on which he pointed out key locations in the Barranca del Cobre. Afterwards, he finally allowed us to pay for something, a delicious seafood lunch of maguro tuna, calamari rolls and the centerpiece, a whole fried sea bass stuffed with shrimp salad and served with butter-drenched fresh tortillas. Incredibly rich but delicious, and there was no way we could get away without the flan soaked in maple syrup.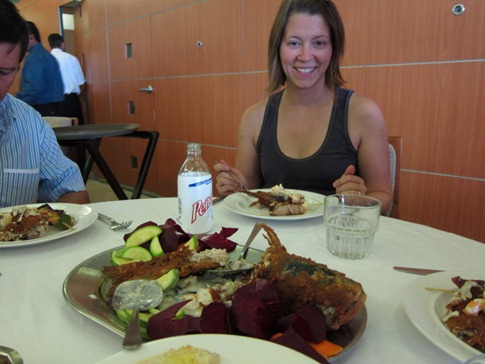 Outside, we found the truck right where we'd left it under the watchful eye of an octogenarian parking attendant. When we pulled in, he'd insisted on us stopping right in the middle of the two available spots at the curb explaining that if we left too much space behind us, someone would come and try to park there. Not sure the reasoning but he was adamant. This parking approach would have resulted in 17 angry notes within 3 minutes in San Francisco. 
Edmundo had called ahead to El Fuerte to be sure a hotel room was available so we could avoid the first unexciting two and a half hours on the Chihuahua Pacific line from Los Mochis in the morning. After completely missing the cute town of El Fuerte hidden behind the usual dusty and crowded main road, we gladly pulled the truck into the secure courtyard just as the sun was going down. After promising (and paying) to spend the night again after our train trip, we were assured that the truck could be safely left in their courtyard while we were gone.