The lease with the couple from Boston, friends of friends, who are renting our house as they (and their 7 month old baby) get settled into a new job in San Francisco is finalized. Going away dinners and happy hours are on everyone's calendars. I even finished my buy-10-get-one-free punch card at the cafe down the hill. We sleep each night with a Lonely Planet on the bedside table, pages still warm from the now extinguished bulb of the reading lamp. We're ready to be on the road.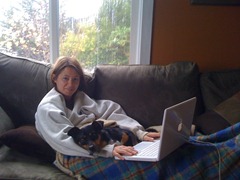 It's a rainy San Francisco Saturday, a week and a half before we plan to be packed up and heading south, and there's not much to do besides break out the dueling laptops.
After a few completely unnecessary but nonetheless productive web site tweaks (including adding a third column to the right side of the site layout with quick links to deeper spots in the blog), I decided to consolidate the sections on books, travel blogs and web forums onto a single resource page to make some space in the sidebar. While there, I figured I'd click a few links and check in on some of the other travelers who have been informational and inspirational to us in planning the trip.
Coincidentally, I got an email from Luis from Lost World Expedition, one of the blogs that's been the most helpful and entertaining, earlier in the week saying he'd flown in from Panama and was in San Francisco. The next day, I met Luis, Christian (2aroundtheworld), and Espen and Malin (unURBAN Adventures) for lunch at Crissy Field. Fun to get together with some people who had done similar trips or who we might see along the way. We talked about the usual – gear, trucks, budget and security. It was good to hear that 99% of stories people were hearing about robberies etc were the result of particularly poor decision making – driving at night, camping in random spots, being flashy. I asked Luis whether they were tending to accumulate stuff along the way or get rid of stuff. He said it felt like they were a hot air balloon running out of fuel the way they were jettisoning unneeded weight over the side! Good to know when fighting the pre-departure pack-creep.
While catching up on the latest from "Bumfuzzle" (if you haven't heard me say this already, go to the archive page of the above link and start reading from the beginning), I came across a link to a book called "Get Her on Board," a guide for men trying to convince their significant others to buy a boat and set off. And no, I'm not in any way implying that that's the case with us. Really, it's not! But we did both enjoy a video series the author, Nick O'Kelly, has on his web site dealing with "Dreams vs. Reality" of setting off – in this case on a sailboat – and the effects this kind of trip has on relationships, gender roles, and life in general.
Start with the first video at http://www.getheronboard.com/?p=99 then use the "next" link above the post to see the next in the series (10 total, I think).